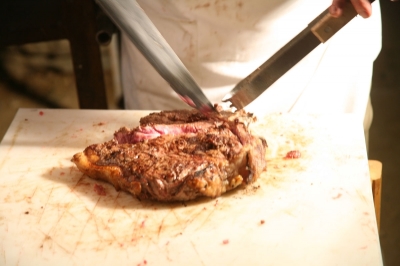 Chianina meat and Wine tasting in Montepulciano
Everyone knows what a « Bistecca alla fiorentina » is, but maybe, only a few people is aware that the delicious meat this steak is made of, comes from Valdichiana and it is called Chianina Breed.

We are happy to suggest a new tour with the goal of letting you know all the secrets of this animal and its flesh , from the breeding to our dishes.

Let us delight you with the tour with private driver. Don't worry about drinking while tasting.

The Chianina breed has very ancient origins, it is native of the territory of the Valdichiana, in Tuscany, from which it takes its name.
The first information about Chianina breed date back to pre-Roman times, but the period of greatest development of the Chianina breed began in the late 1700 and the first half of 1800 in parallel with the great reclamation of the Valdichiana prepared by Fossombroni and with the establishment of farms.
In 1932, at the initiative of prof. Giuliani activated the program selection morpho-functional, which soon led to the improvement of the race.
The selection of the race has continued until today with rigorous scientific methods, which led to the harmonious shape that sets it apart.
Only thanks to the passion of some breeder who has protected this important genetic, economic and cultural heritage, the Chianina cow has achieved its fame because of the kindness and the unique features of his flesh: excellent in terms of taste, aroma, organoleptic and content nutrients. In particular it should be noted that it is precisely by Chianina cow that are obtained the famous Fiorentina steak.

Tours can be arranged both at lunch and dinner time and only on Thursday, Friday and Saturday.

Here all details of the tour "Chianina meat and Wine tasting in Montepulciano":
Pick up at your accommodation.

9.30 - Departure to Montepulciano; arrival to the winery in Montepulciano: winery tour, wine tasting of Rosso and Nobile di Montepulciano (3/4 labels) accompanied by typical Tuscan products.

Departure to the town: visit of the town center on your own (45 minutes).

12.00 – arrival to a farmhouse where cow have been breeding since 1934 when it got the title of "selection and registration on the genealogical book of the Chianina cow race".
The tour of the breeding will be followed by a Chianina meat sampling composed by: hamburger, tartarre, roast beaf and steak (wine not included).

14.30 - Transfer back to your accommodation
Prices:
2 ADULTS € 380,00
3 ADULTS € 400,00
4 ADULTS € 420,00
5 ADULTS € 450,00
6 ADULTS € 490,00
7 ADULTS € 530,00
8 ADULTS € 560,00
Prices include:
Transfer with authorized driver, visit to a winery and wine tasting, visit of the farmhouse and chianina tasting / lunch.
Please, contact us for any info.