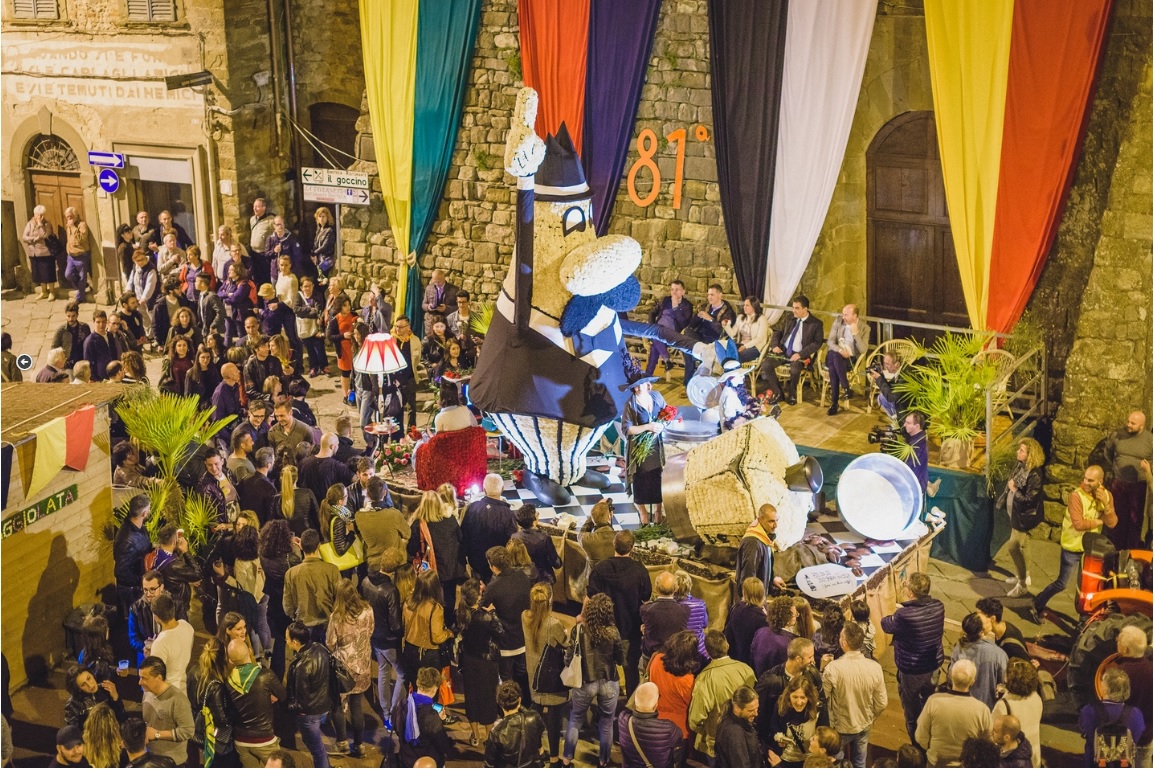 Maggiolata Lucignanese
The Maggiolata Lucignanese is parade of allegorical chariots, realized with flowers, and take place every year during the last two weeks of May, this year from May 31st to June 7nd, plus the evening event of Tuesday, June 2nd, 2020. Lucignano is a charming Tuscan medieval village situated midway between Arezzo and Siena and it maintains the Medieval walls and the narrow road of the historical Centre intact and well preserved.

The Maggiolata Lucignanese is an event bound to the best rural Tuscan tradition, something like a new celebration for the arrival of the good season after the long winter, almost a propitiatory rite for an abundant harvest.
Today, as in the past, the celebration has really precise connotations: the parade of allegorical chariots, completely realized with flowers, the bands and the folk groups coming from every part of Italy and from abroad, which pass along the entire ring of the village lanes, the historical procession etc.

For the event of La Maggiolata the village of Lucignano is divided into 4 Districts, Rione di Via dell'Amore (colours yellow and red), Rione di Porta San Giovanni (colours yellow and green), Rione di Porta San Giusto (colours white and black), Rione di Porta Murata (colours red and Blu), each will realize an entirely covered of flowers chariot which will compete for the final victory .

The main characteristic of the festivity are flowers, not only on the chariots but also on the streets, on the balconies and on the doors of every house in the village of Lucignano A REAL FLOWERS SHOW

For more information www.maggiolatalucignanese.it/

CLICK HERE to see all the accommodation available in Lucignano, where you can spend just a few days or a full week of vacation, in this wonderful village during the Maggiolata Lucignanese.