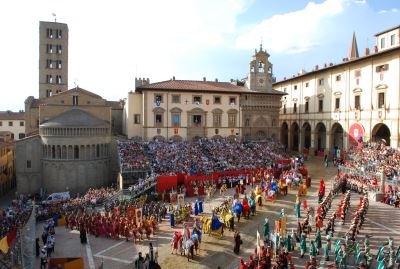 Giostra del Saracino di Arezzo
The Saracen Joust of Arezzo (Giostra del Saracino di Arezzo) is an ancient game of the chivalry age, but dates further back to the Middle Ages and it was born as an exercise for military training.
The joust – which became a typical tradition of Arezzo at the beginning of the 17th century – declined progressively during the 18th century and eventually disappeared, at least in its 'noble' version. After a brief popular revival between the 18th and 19th century, the joust was interrupted after 1810 to reappear only in 1904 in the wake of the Middle Ages reappraisal operated by Romanticism.

Finally, the joust was definitely restored in 1931 as a form of historical re-enactment set in the 14th century, and quickly acquired a competitive character.
The competition of the Giostra del Saracino of Arezzo takes place every year in the historical scenary of the beautiful Piazza Grande on the last but one Saturday of June (in the night) and on the first Sunday of September (in the afternoon).
The dates 2016 are Saturday 18th June, and Sunday 04th September.
The town Quarters "Quartieri" participating in the Joust are 4: Porta S. Spirito (yellow and blue colours), Porta S. Andrea (white and green colours); Porta Crucifera (red and green colours) and Porta del Foro (yellow and crimson colours). The whole town actively participates in the organisation of the Joust and everyone is wistfully involved.

On the day of the Joust the historical procession marches on parade through the centre of the city, before entering Piazza Grande. Here the Herald reads the 'Challenge to Buratto' (a poetic composition written in octaves), the Joust's musicians (Musici della Giostra del Saracino) play the Saracen Hymn; a great performance of the flag wavers (Sbandieratori di Arezzo) entertains the public.
The show begins… The knights of the four quarters gallop their horses with lance in rest against the Saracen, an armor-plated dummy representing a Saracen (Buratto, King of the Indies).
The competition, guided by the 'Maestro di Campo', is won by the couple of knights who hit the Saracen's shield obtaining the higher scores (scores range from 1 to 5 depending on the difficulty in touching the numbers).
In the event of a draw between two or more Quarters after the standard number of charges (two sets of charges for each knight) the prize is assigned with one or more deciding charges. The quarter associated to the winning knight receives the coveted 'Golden Lance'.

'I have seen outriders roam your countryside, O Aretines, and seen raiding-parties charge, Tournaments clash and knights galloping...' Dante Alighieri, The Divine Comedy, Inferno Canto XXII.

For more information about Giostra del Saracino Arezzo: www.giostradelsaracinoarezzo.it/

If you wish to take part in the wonderful event of the Giostra del Saracino Arezzo take a look to Villas, Farmhouses and Apartments in Arezzo.