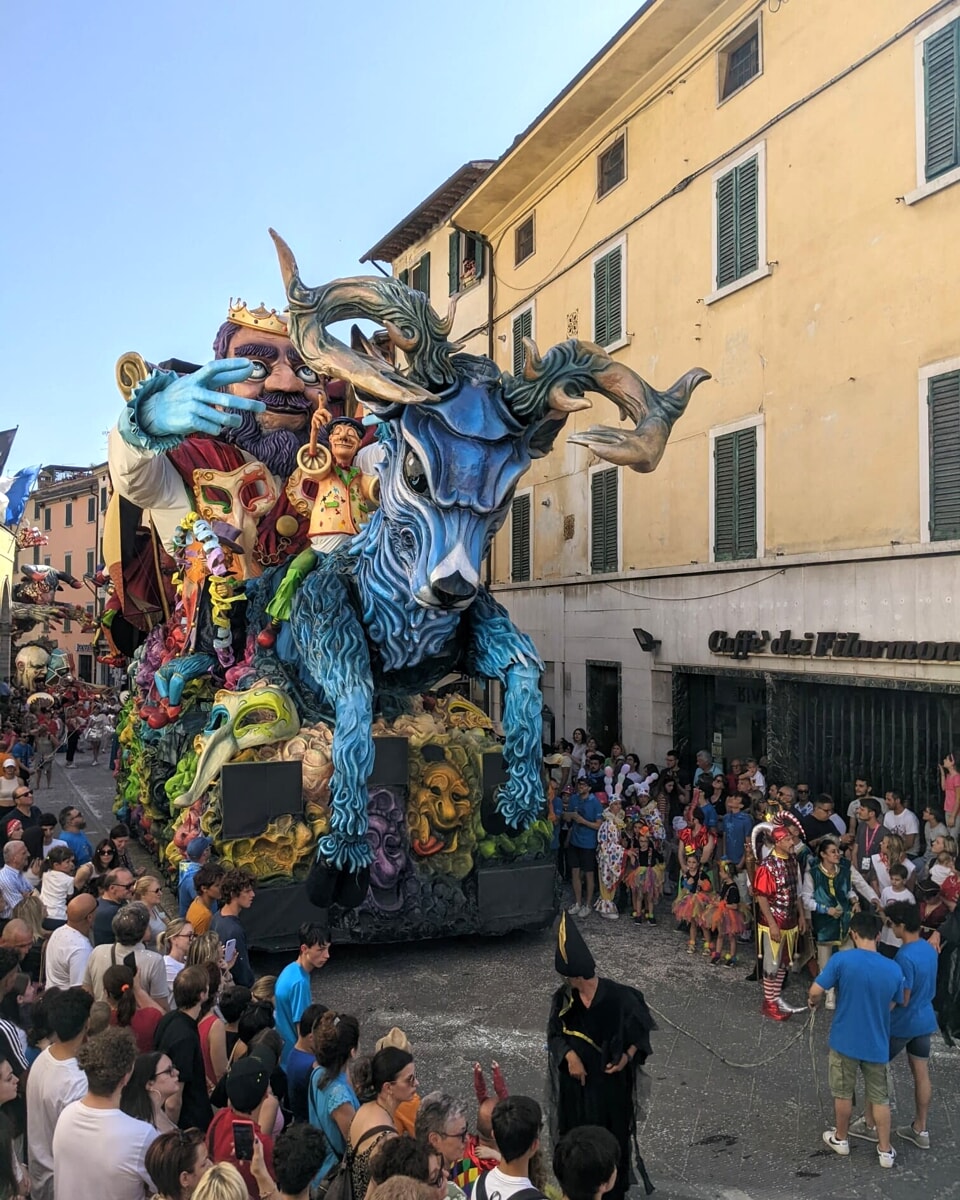 Carnival of Foiano della Chiana
The Carnival of Foiano della Chiana is the oldest in Italy and the 2023 edition will take place on Sunday 5 - 12 - 19 - 26 February, 5 March from 12.00 to 19.00, and is considered one of the most important in Italy for its spectacular choreography and historical tradition.
I particularly care about this Carnival because it is the feast of my country and I also participate in the masquerade of one of the 4 shipyards. But I want to remain impartial so I won't tell you which one it is.
When the floats of Foiano were invented they were not made of papier-mâché and were not meant to represent allegories. They were simple wagons of the village where some citizens climbed up, armed with sacks of lupins, chestnuts and cod, and threw generous handfuls of them to the population. Since then the carnival rite has evolved towards more modern and desecrating forms with the representation of phantasmagorical allegories, events, politicians, films or popular fantasies.
The carnival festival that takes place every year in Foiano della Chiana most likely finds its roots in medieval propitiatory rites. The Rogo di Giocondo, the king of Carnival, which the citizens of Foiano represent as a puppet of rags and straw, is considered a moment of purification. Before Giocondo is burnt in the main square, tradition has it that the "Testament" is made, i.e. the more or less positive facts that happened during the year are read on the Public Square, and that a real funeral is held, that of the winter that is about to end.
The town of Foiano is divided into four shipyards that face each other and challenge each other to win the coveted trophy making beautiful papier-mâché floats and cheerful masked parades.
They are called Azzurri, Bombolo, Nottambuli and Rustici the four yards that throughout the year give life to this cheerful event.
The Wagons are made by true masters of papier-mâché and mechanics. Their dimensions, which must be strictly adhered to the regulations, reach up to 17 metres in length, 10 metres in width and 13 metres in height.
For more details on the Carnival of Foiano della Chiana you can consult the website http://www.carnevaledifoiano.it/
Here my suggestions for accommodation near Foiano della Chiana: https://www.eurocasa.com/en/toscana/cortona-and-valdichiana/
* Photo by ArezzoNotizie