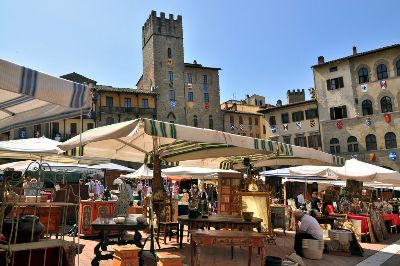 Antique Fair in Arezzo
The Antique Fair in Arezzo has been founded in 1968, the first in our country, it has not been interrupted for forty-six years .
It takes place every first Sunday of the month and the previous Saturday, on the Piazza Grande and the characteristic streets of the historical city center by offering the public , collectors and fans of the genre a large amount of objects that have built up our history and our culture. Almost four hundred exhibitors from all parts of Italy , offering thousands of visitors to their objects of art, furniture , jewelry and costume jewelry, watches, books and prints, scientific and musical instruments, toys, linens and so on.

The Antique Fair in Arezzo has always been considered the largest and most beautiful between the one who take place outdoor, thanks also to the extraordinary historical and architectural context in which it is set, allowing each visitor to take an unforgettable memory of the city home.
In recent years, moreover, the Fiera Antiquaria has suggested a new self-image, more up with the times and it has attracted public from abroad.

If you have the chance of staying some days around, we will be glad to give you some suggestions of holiday homes and apartments in Arezzo: https://www.eurocasa.com/en/toscana/arezzo/arezzo/

Don't miss the next edition of the Antique Fair in Arezzo !