Podere Cantalena
Cortona, Toscana
---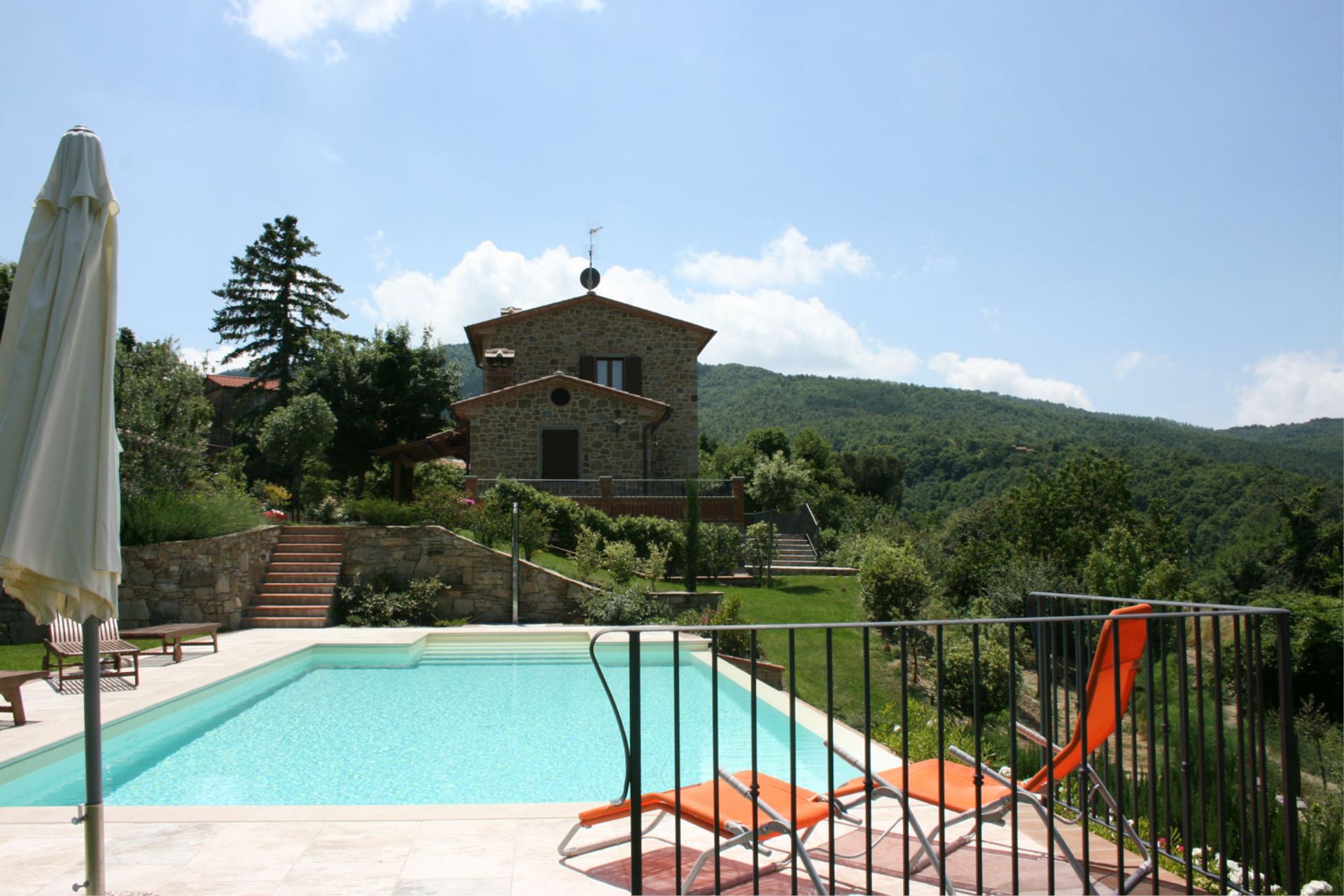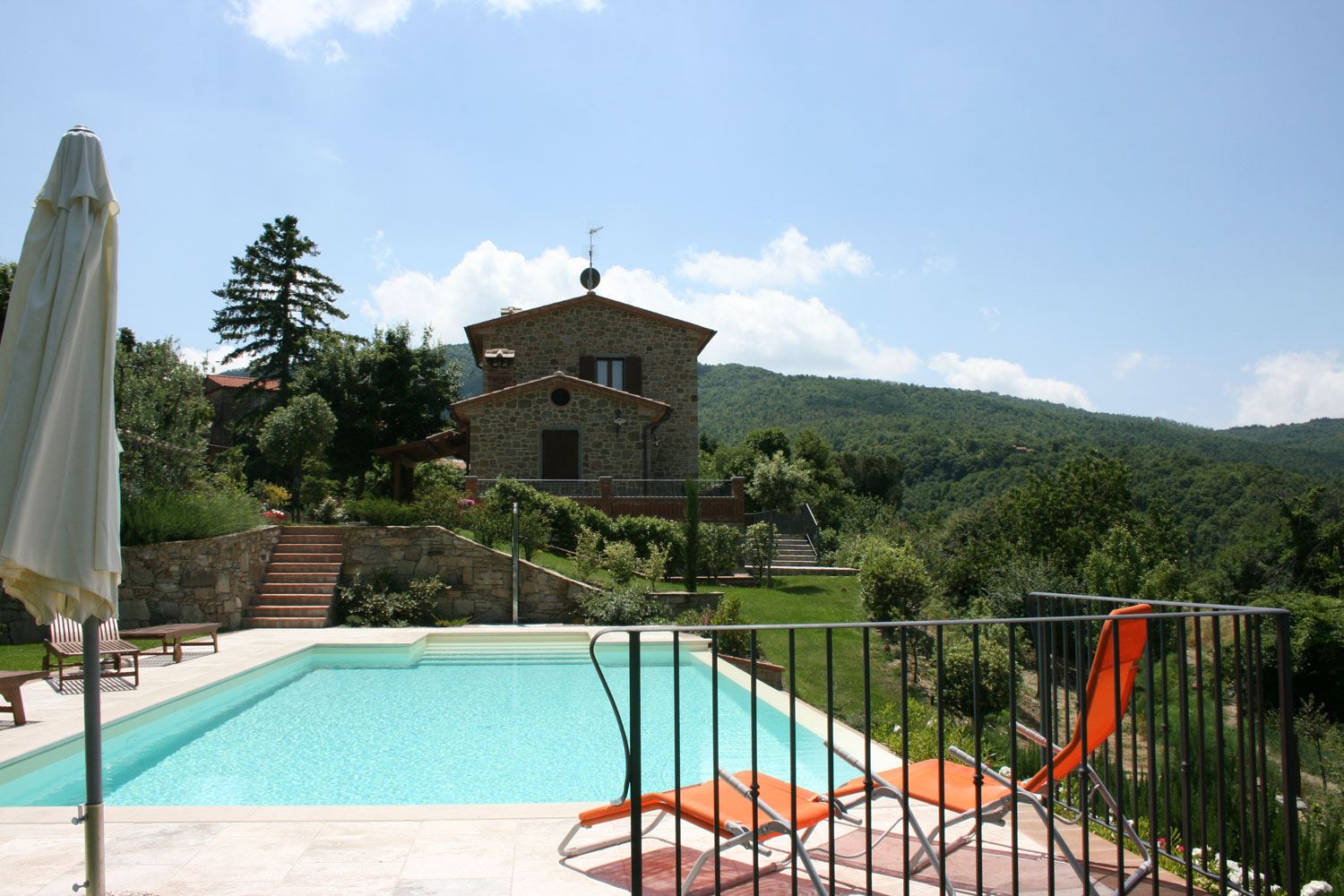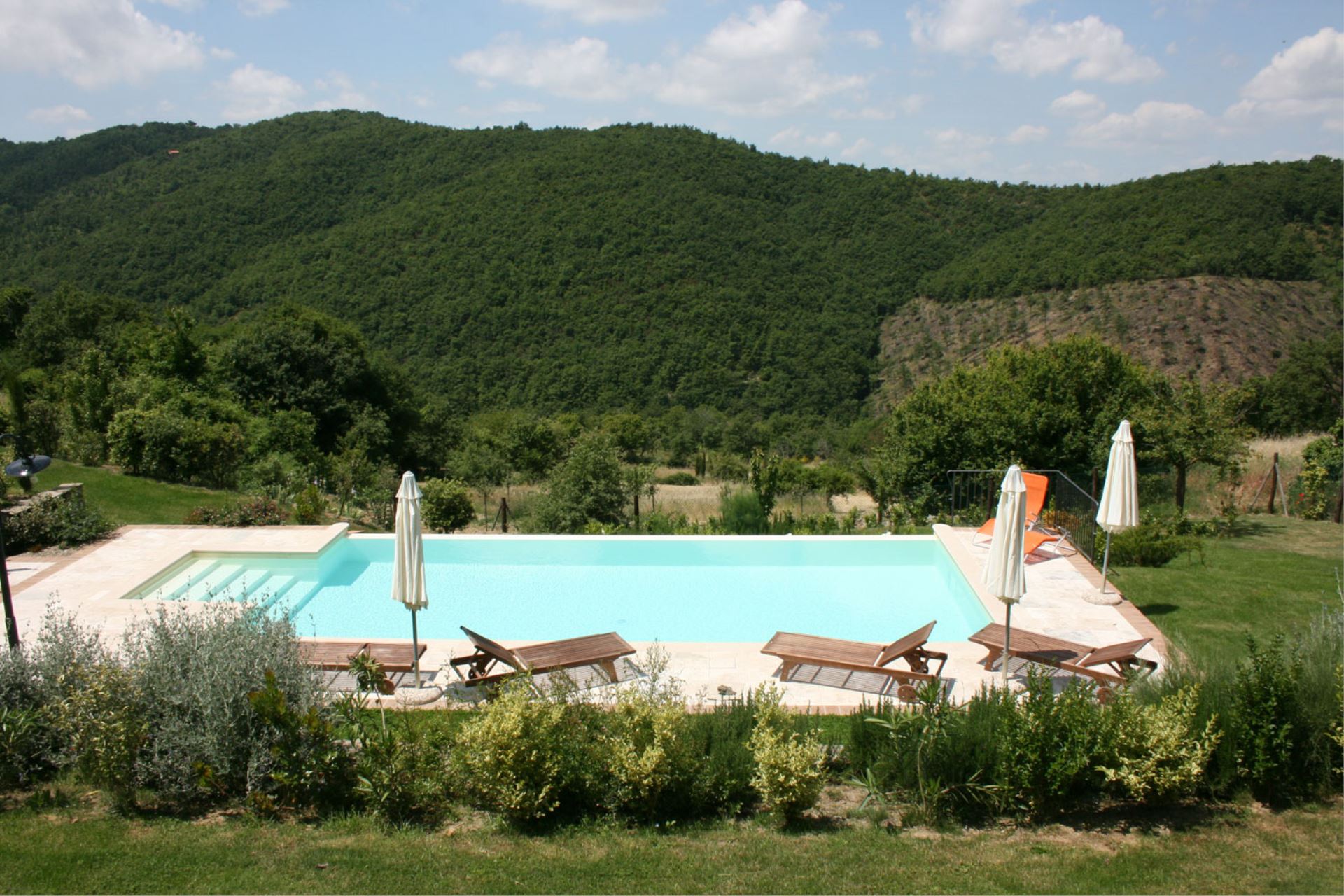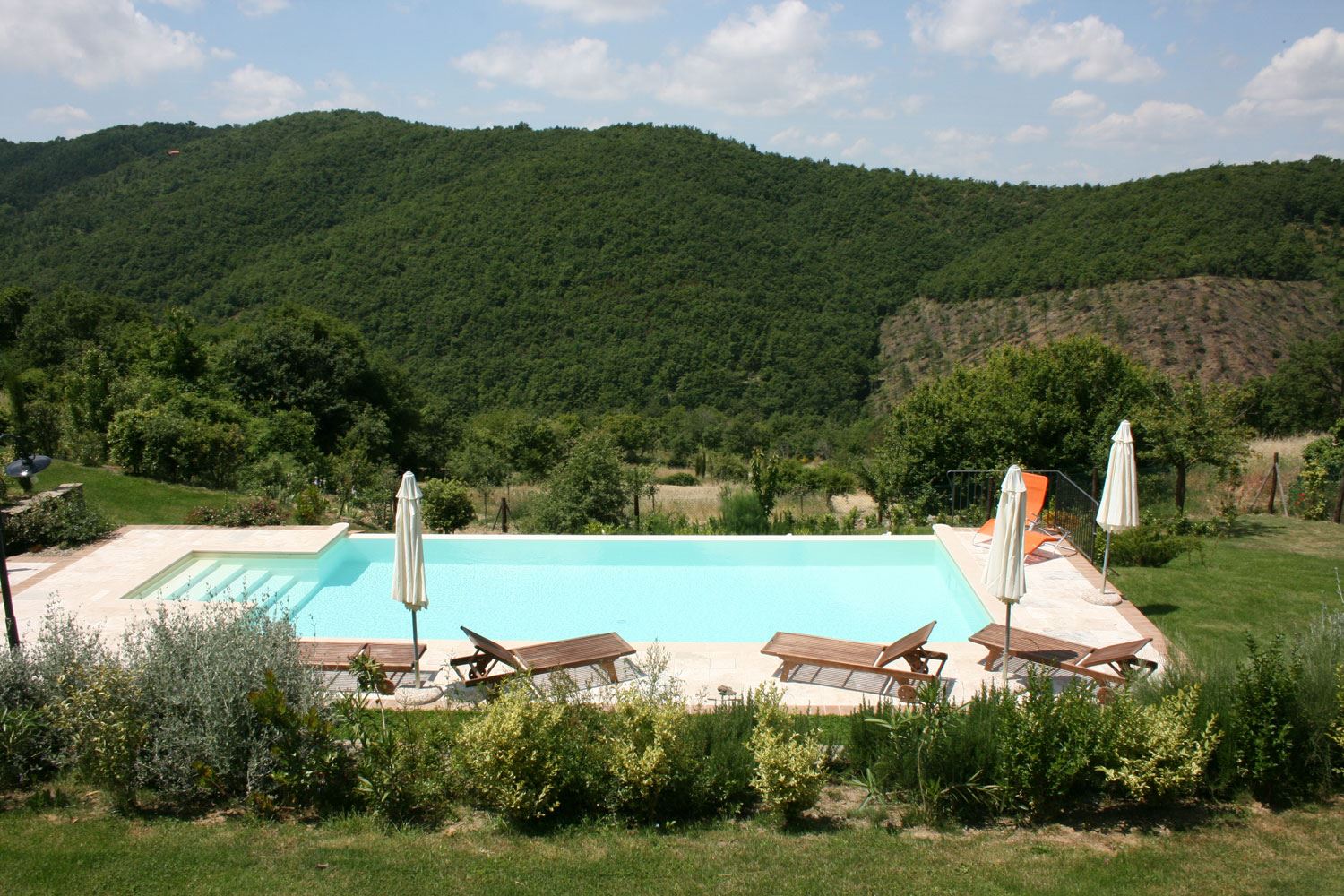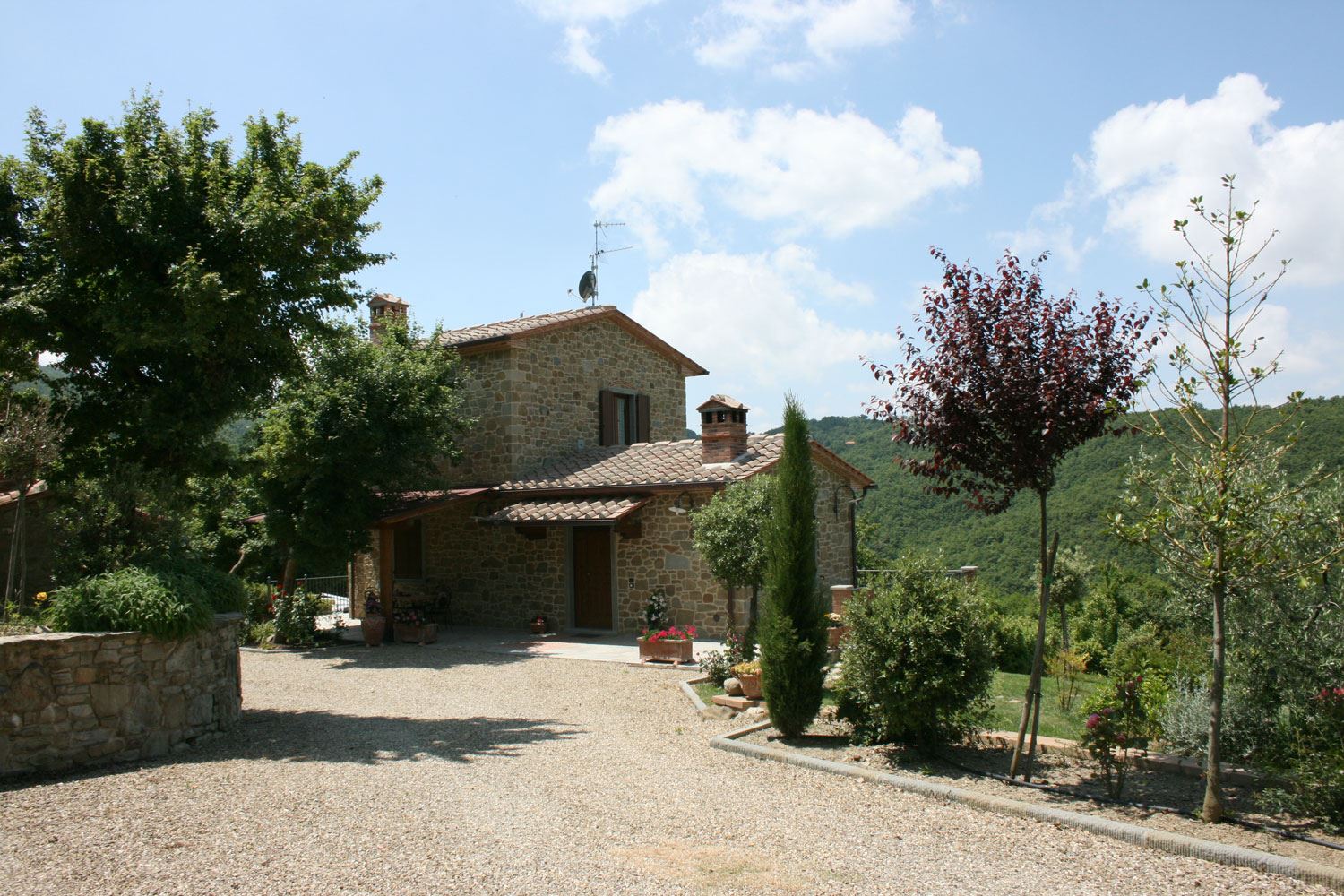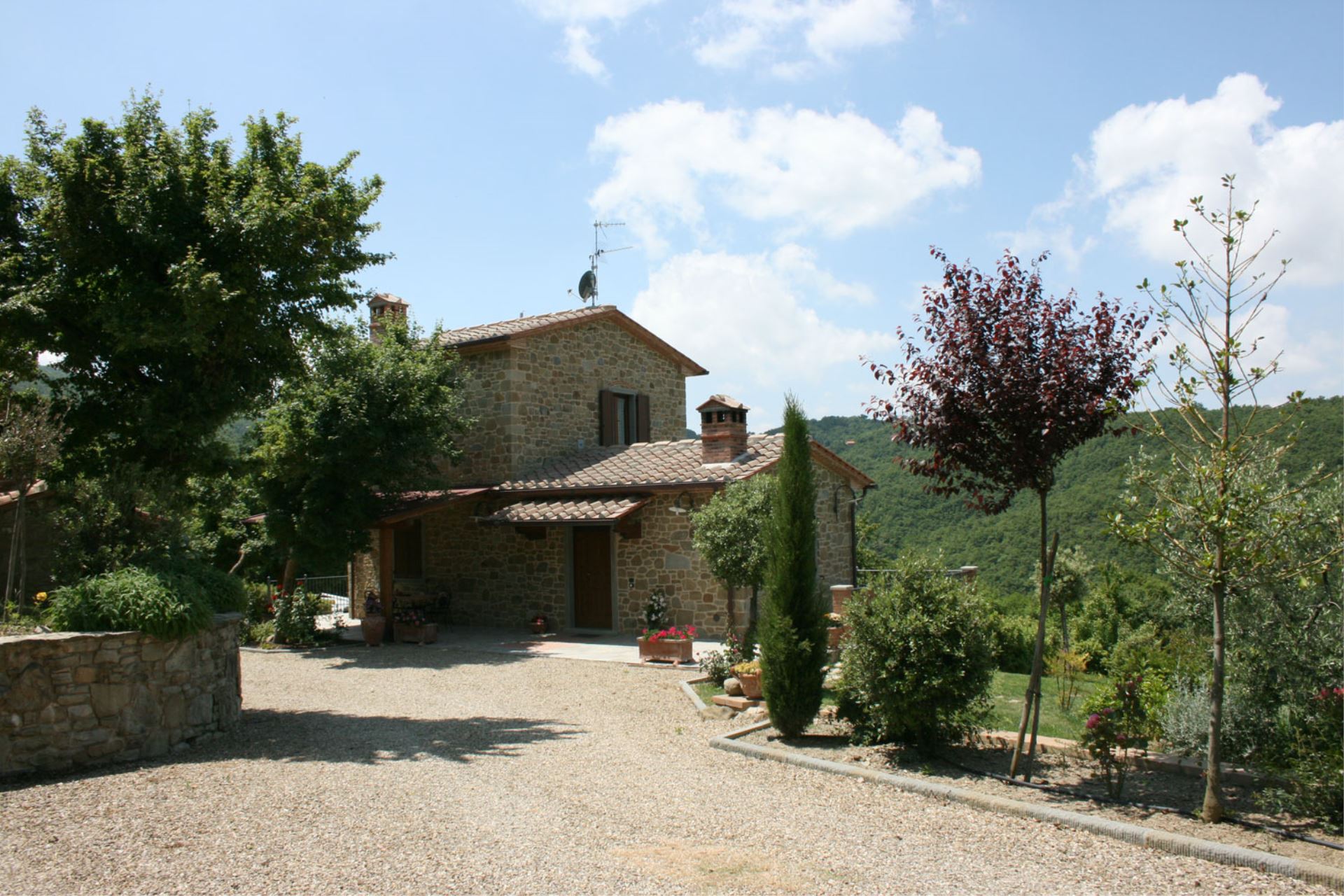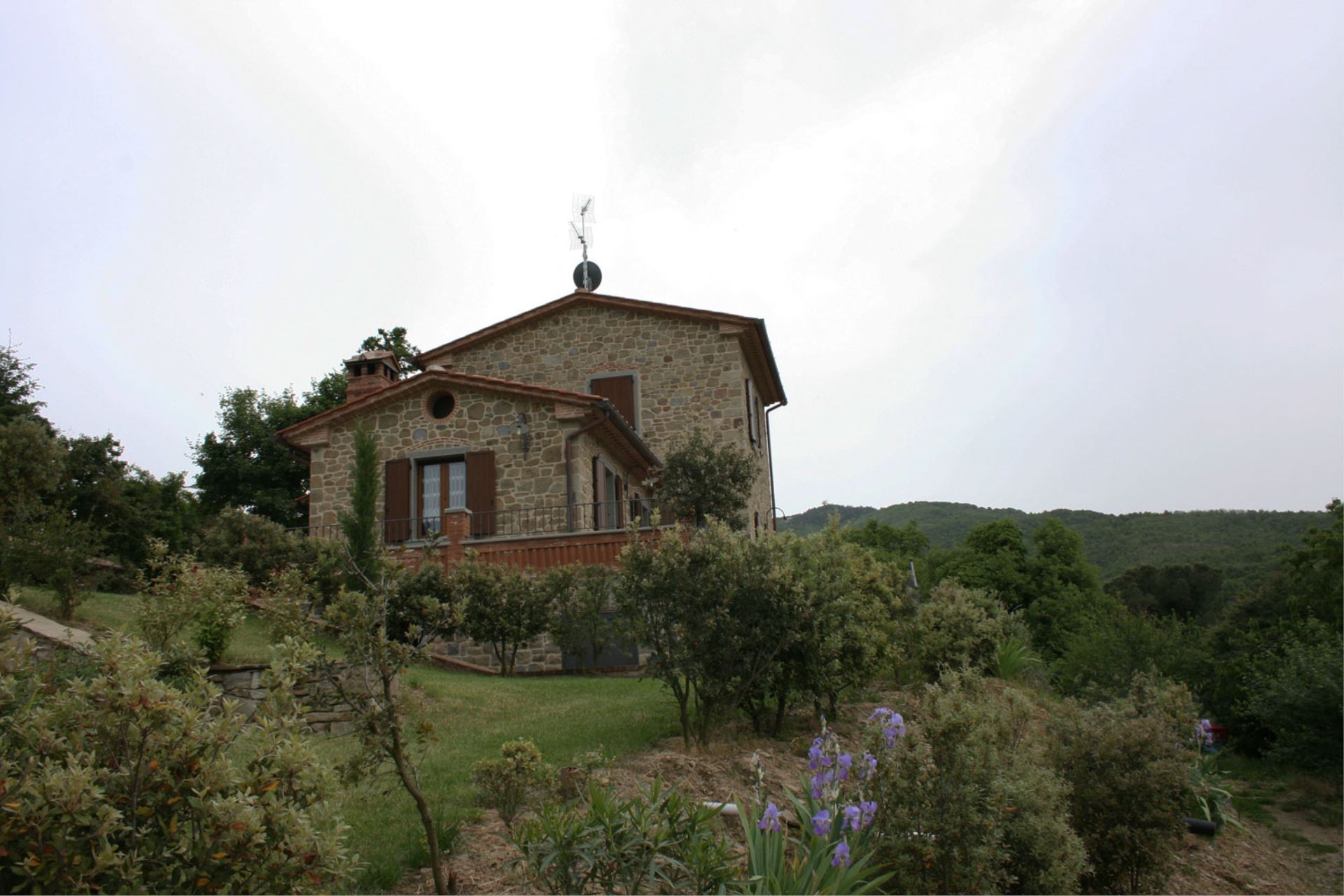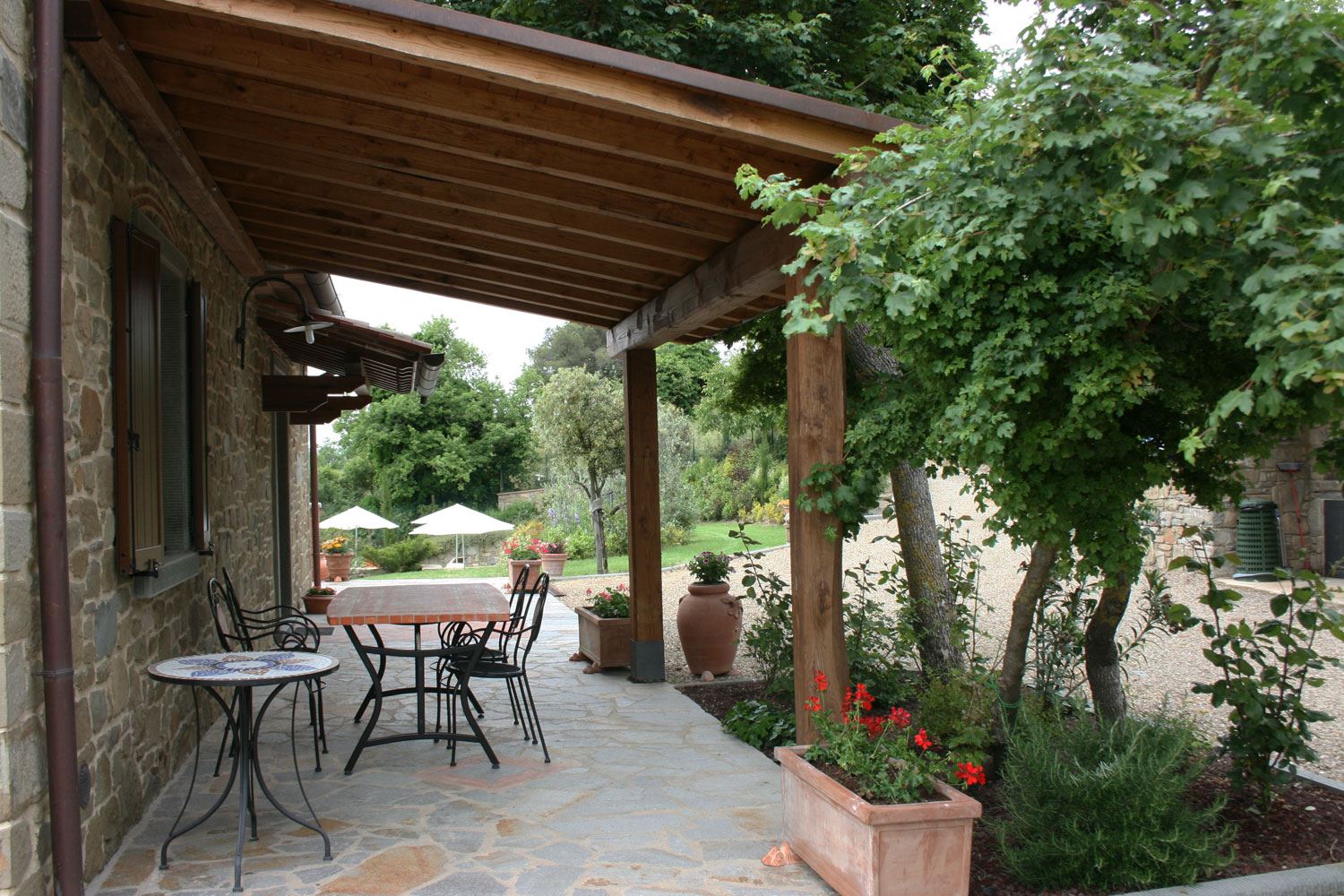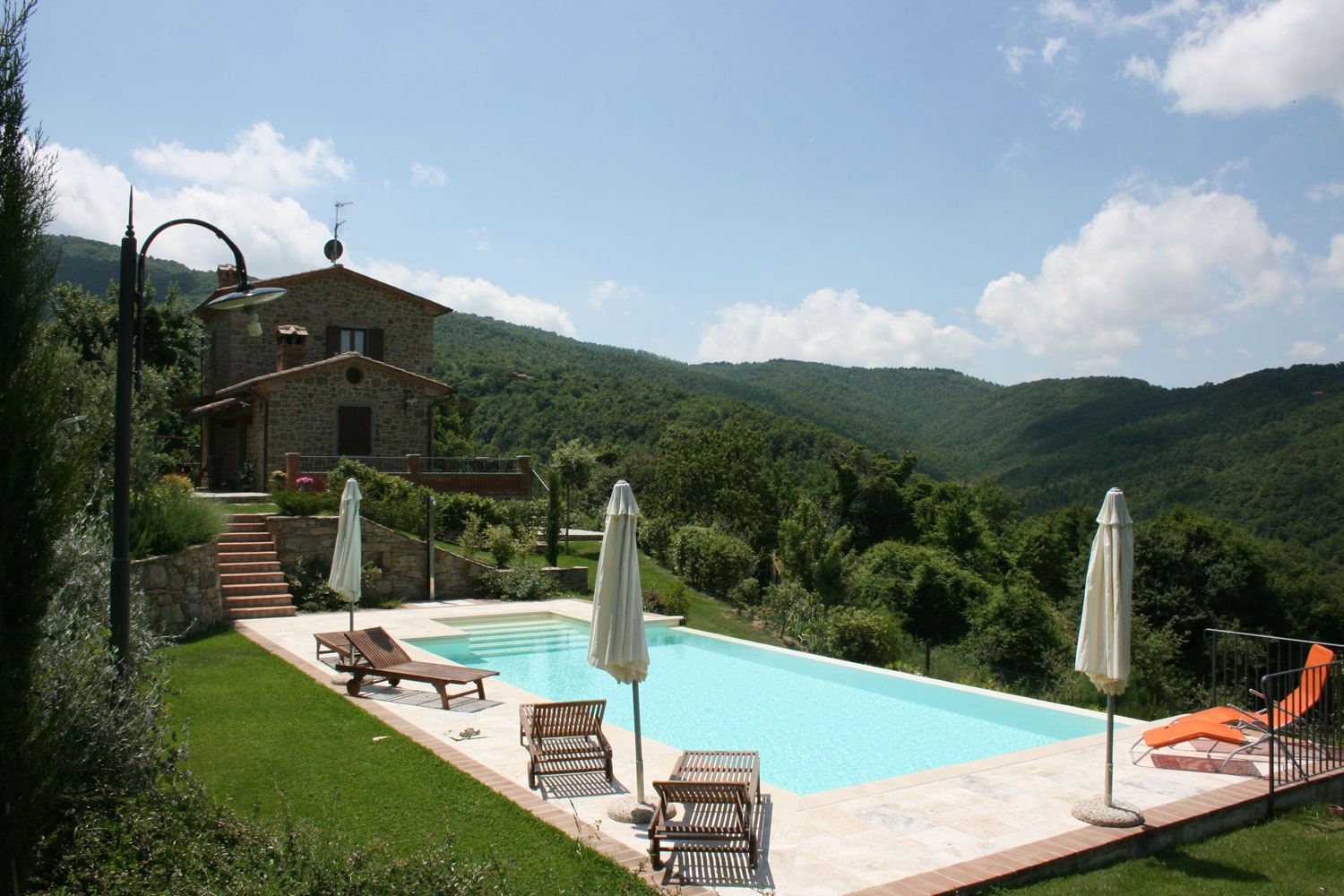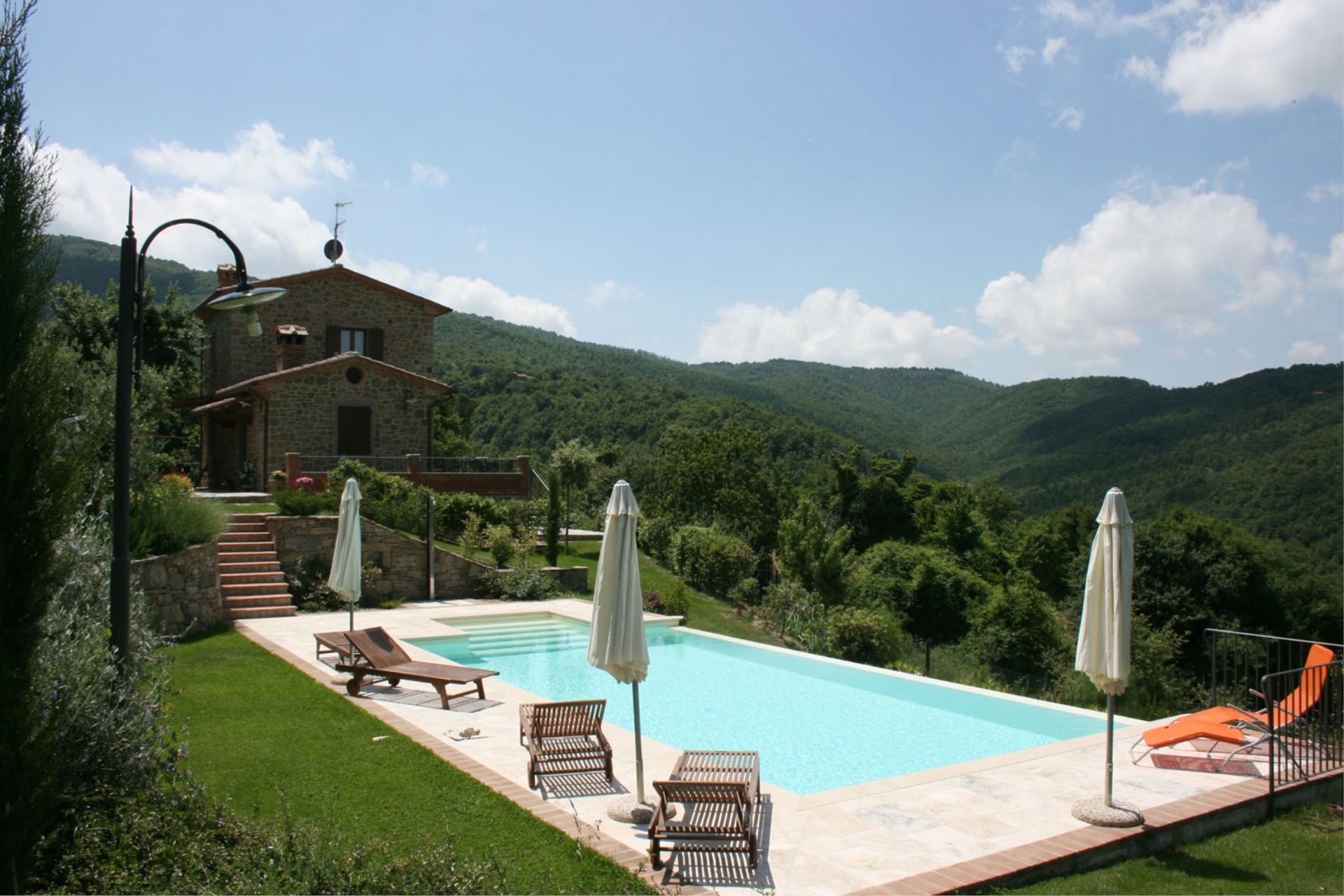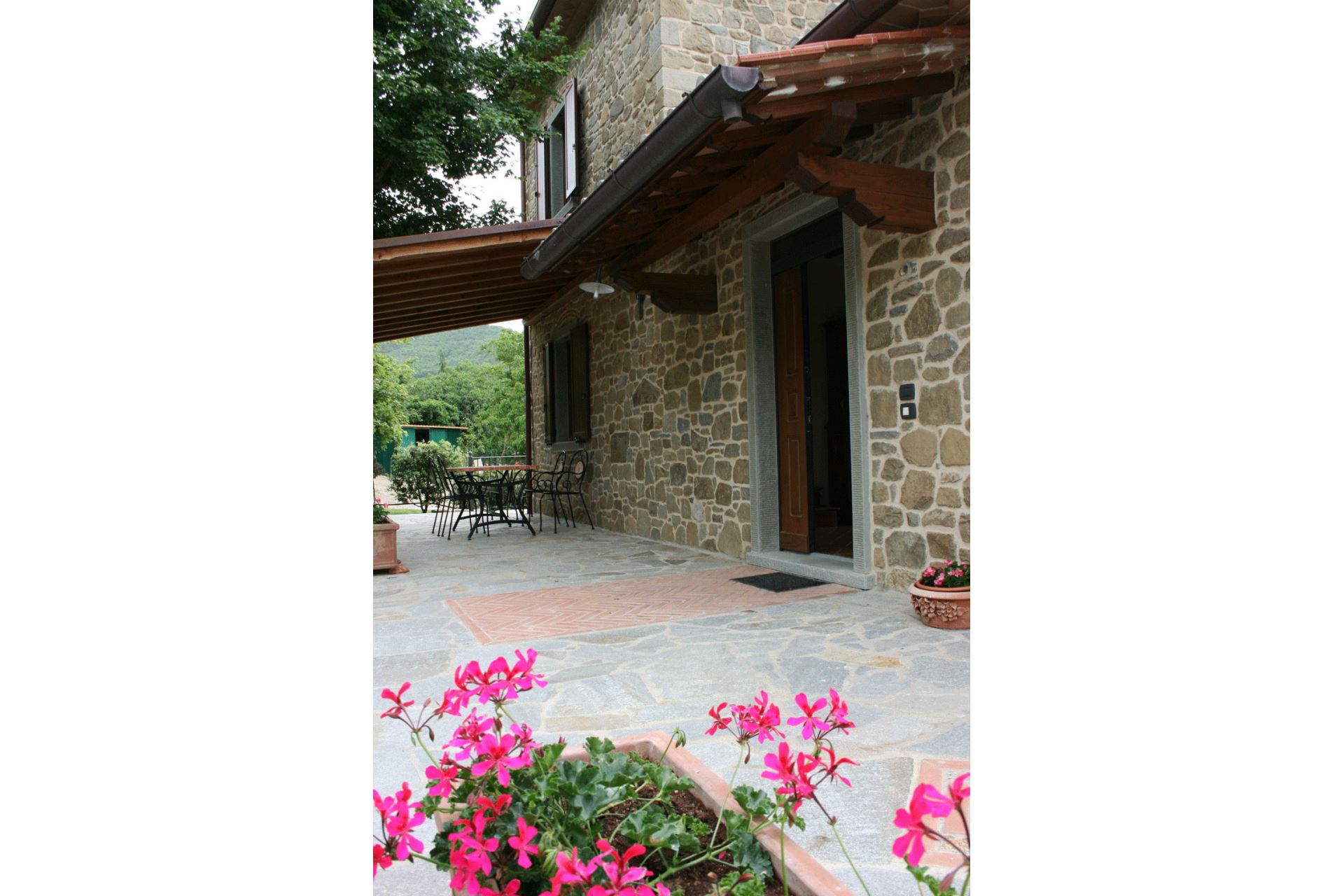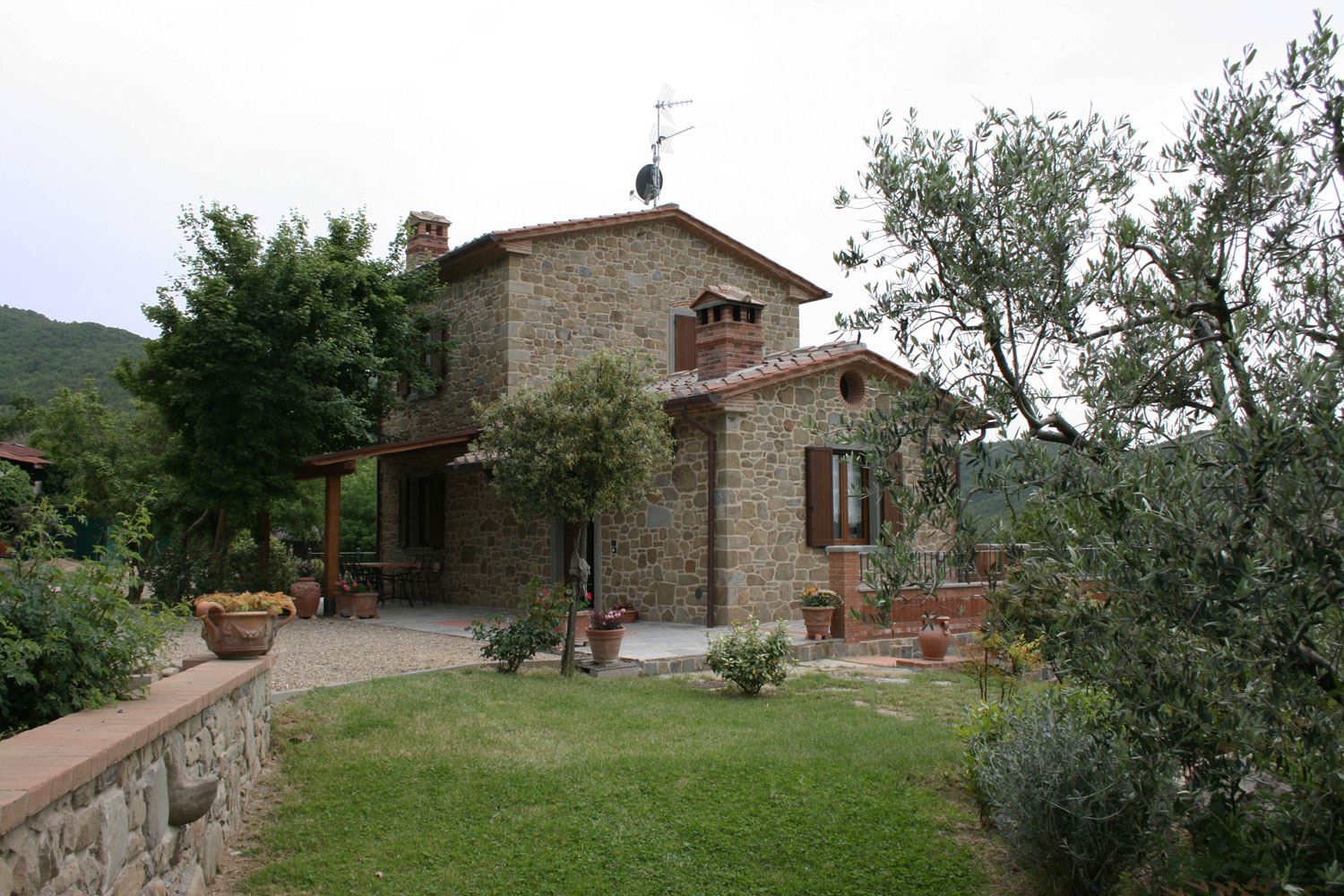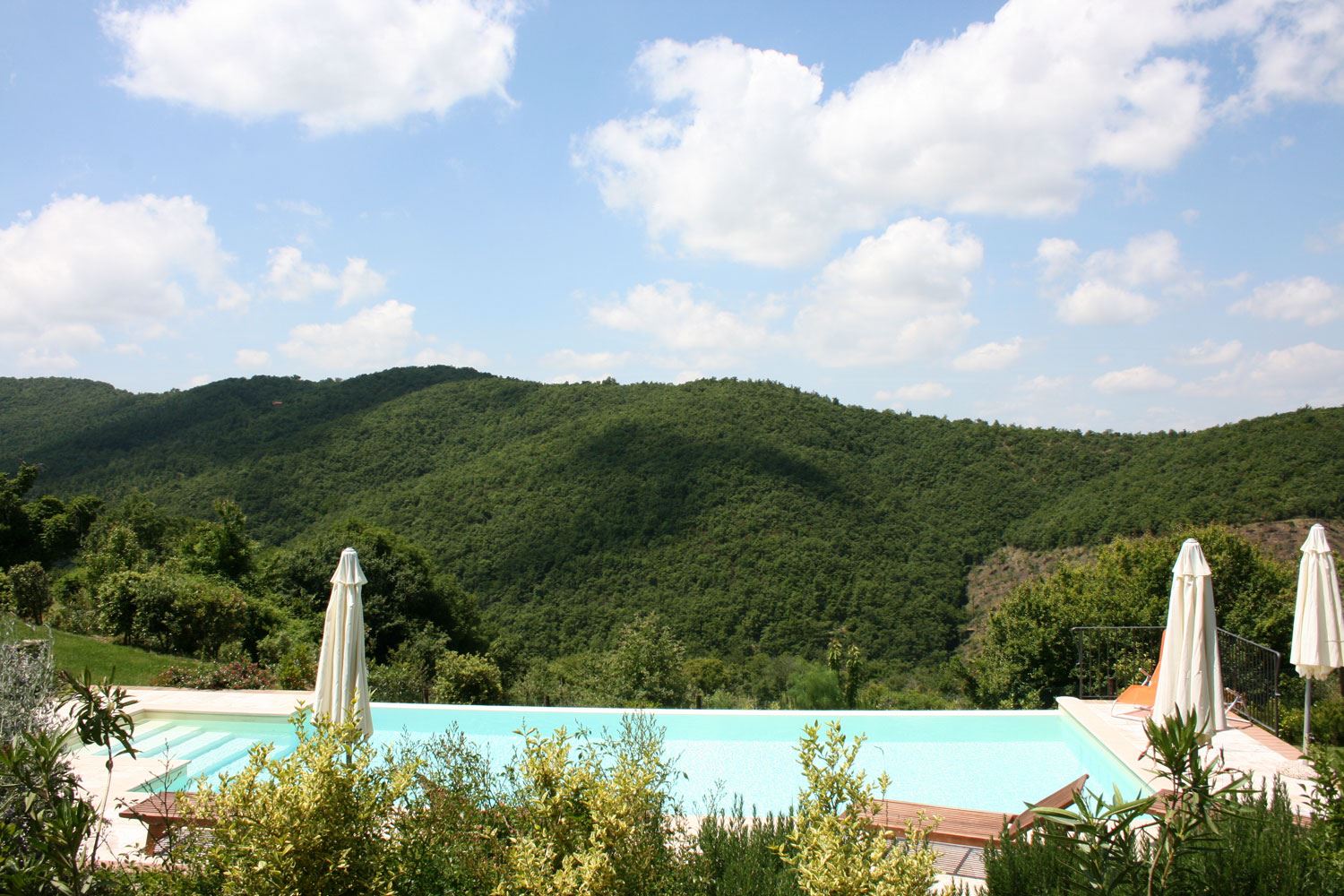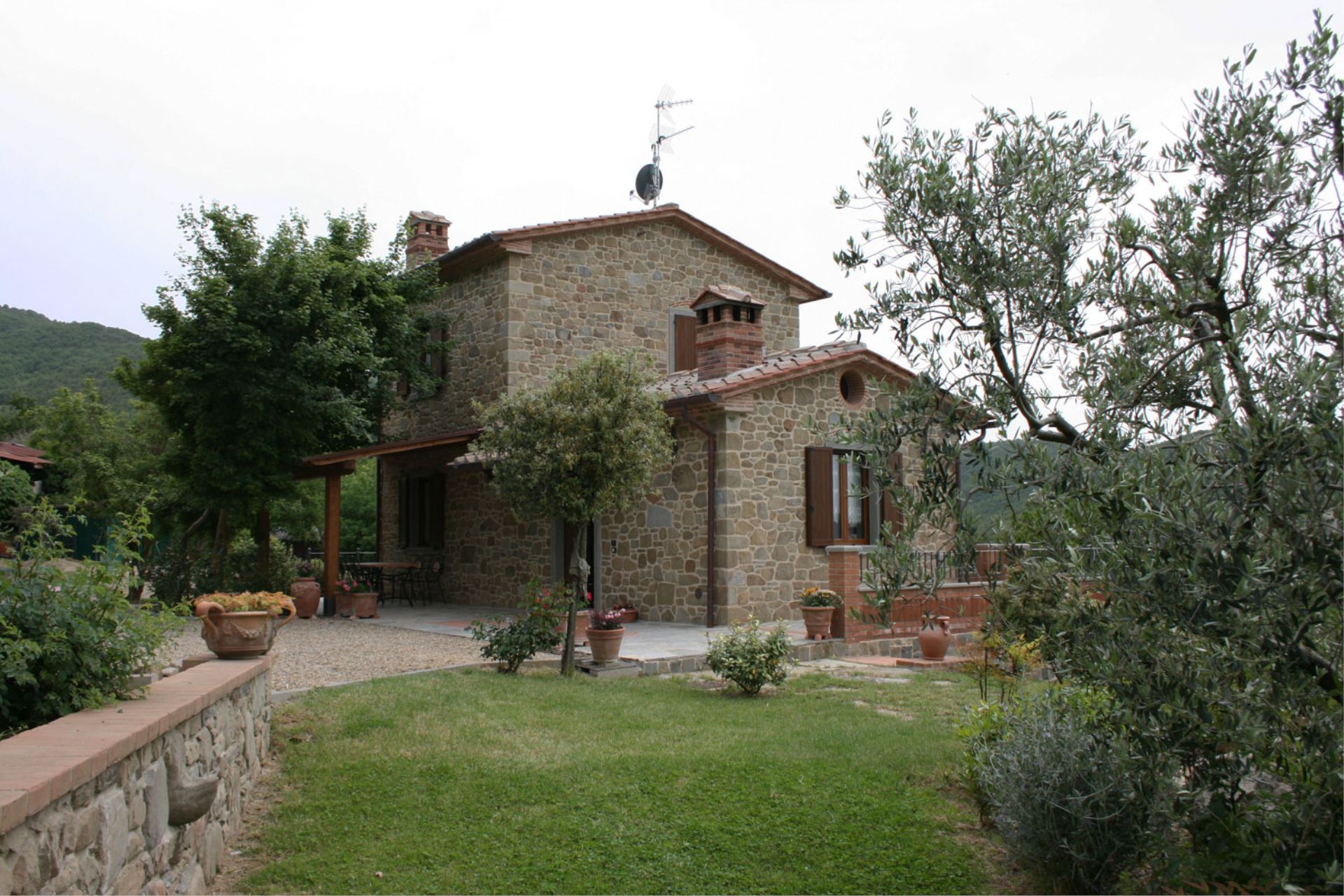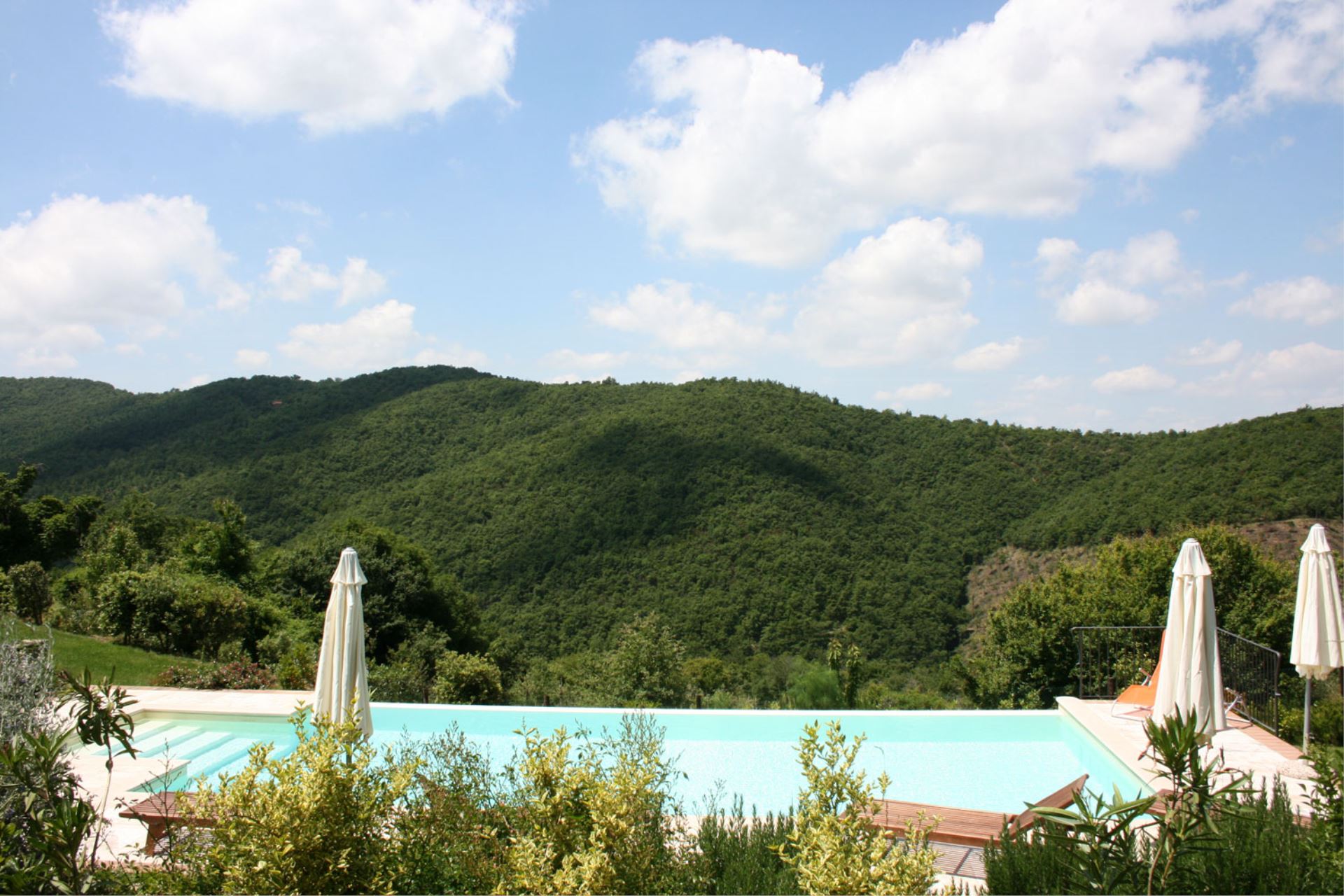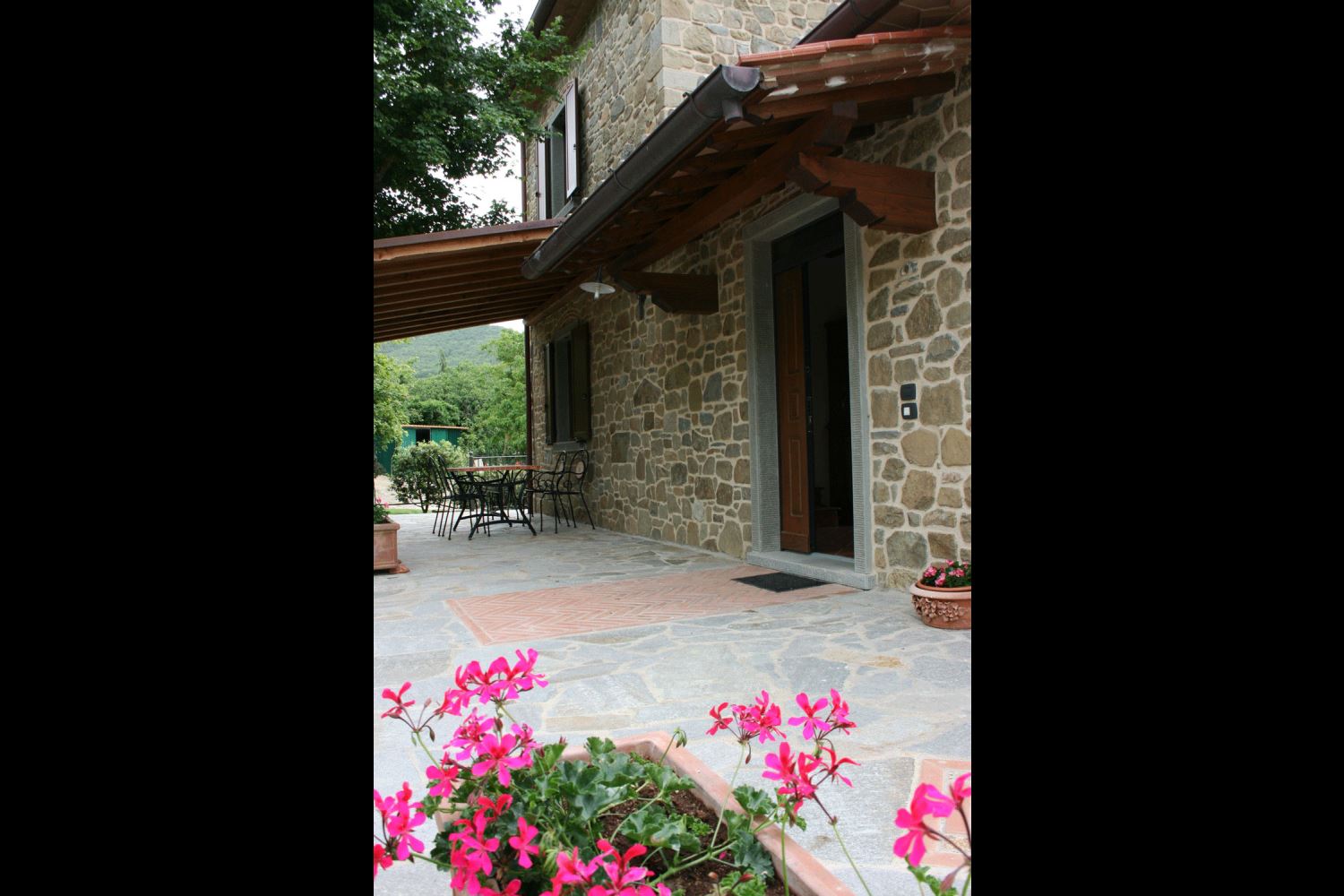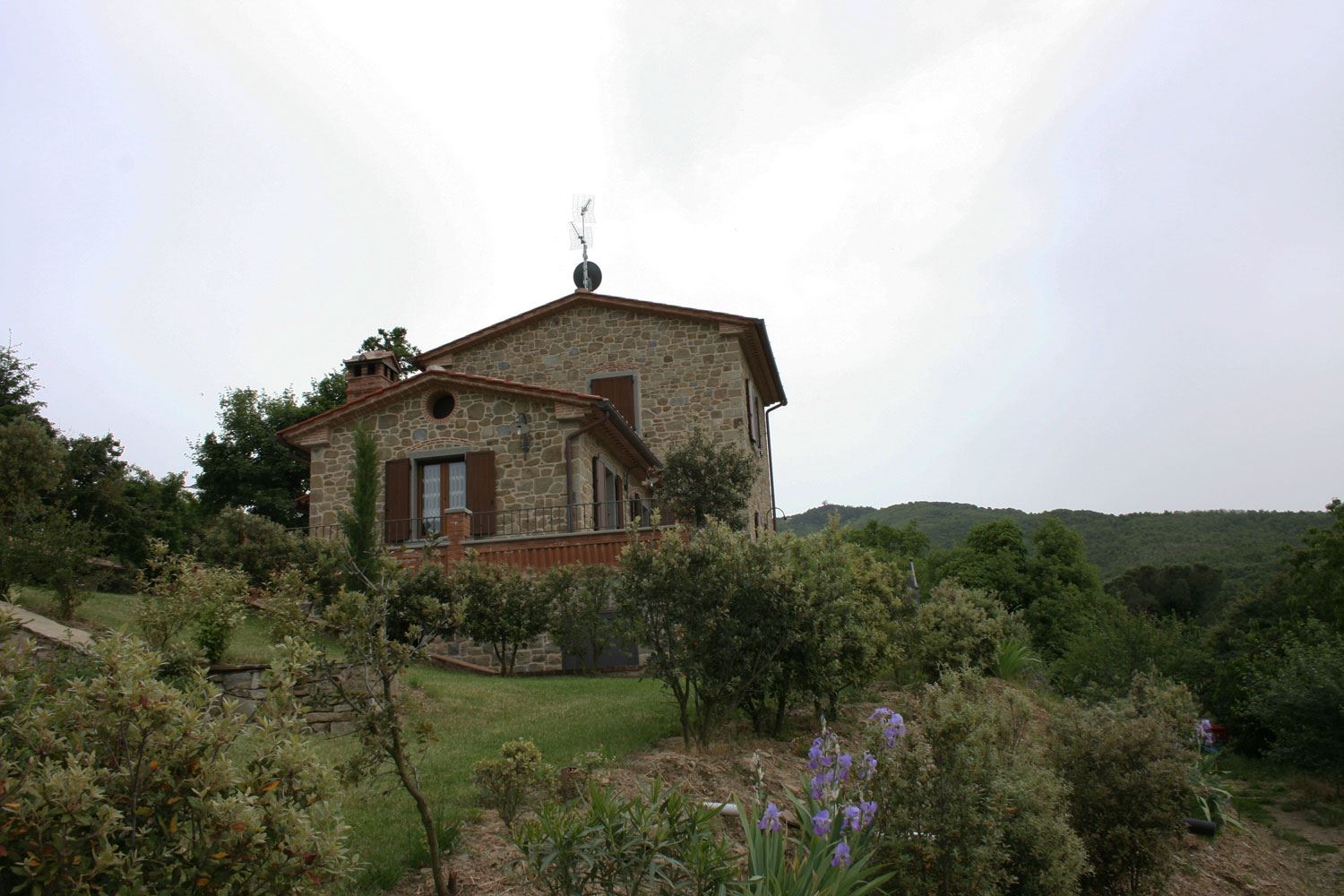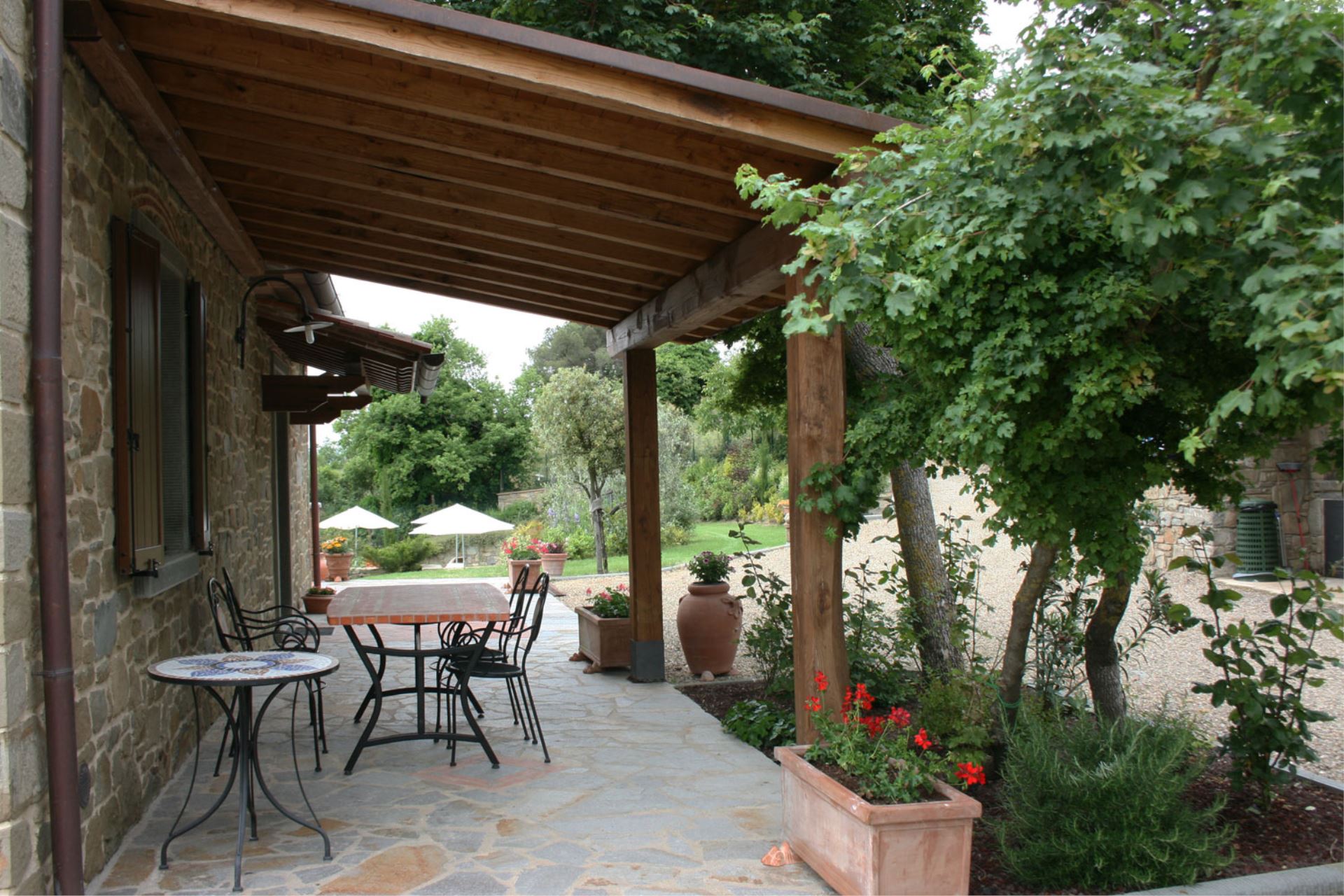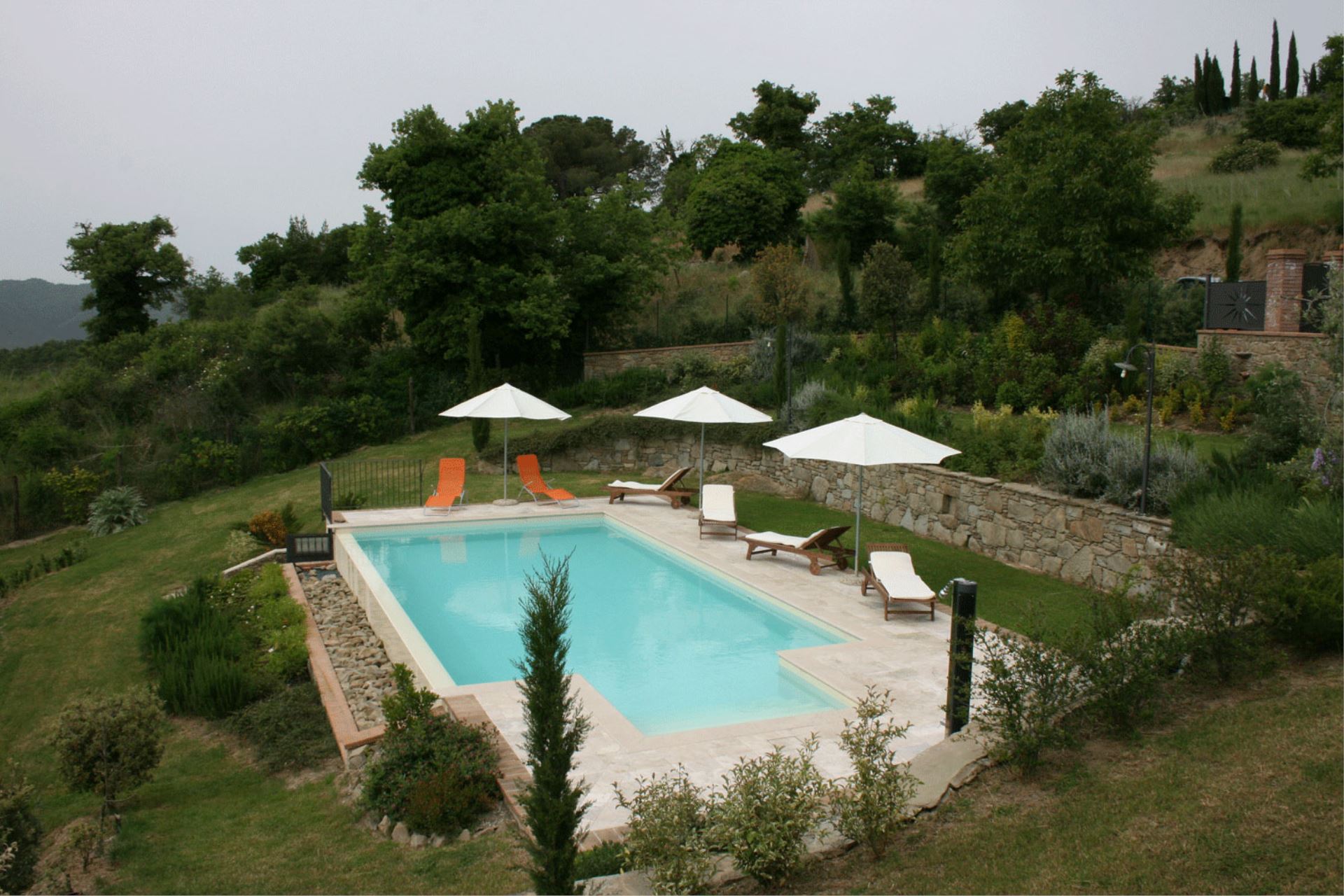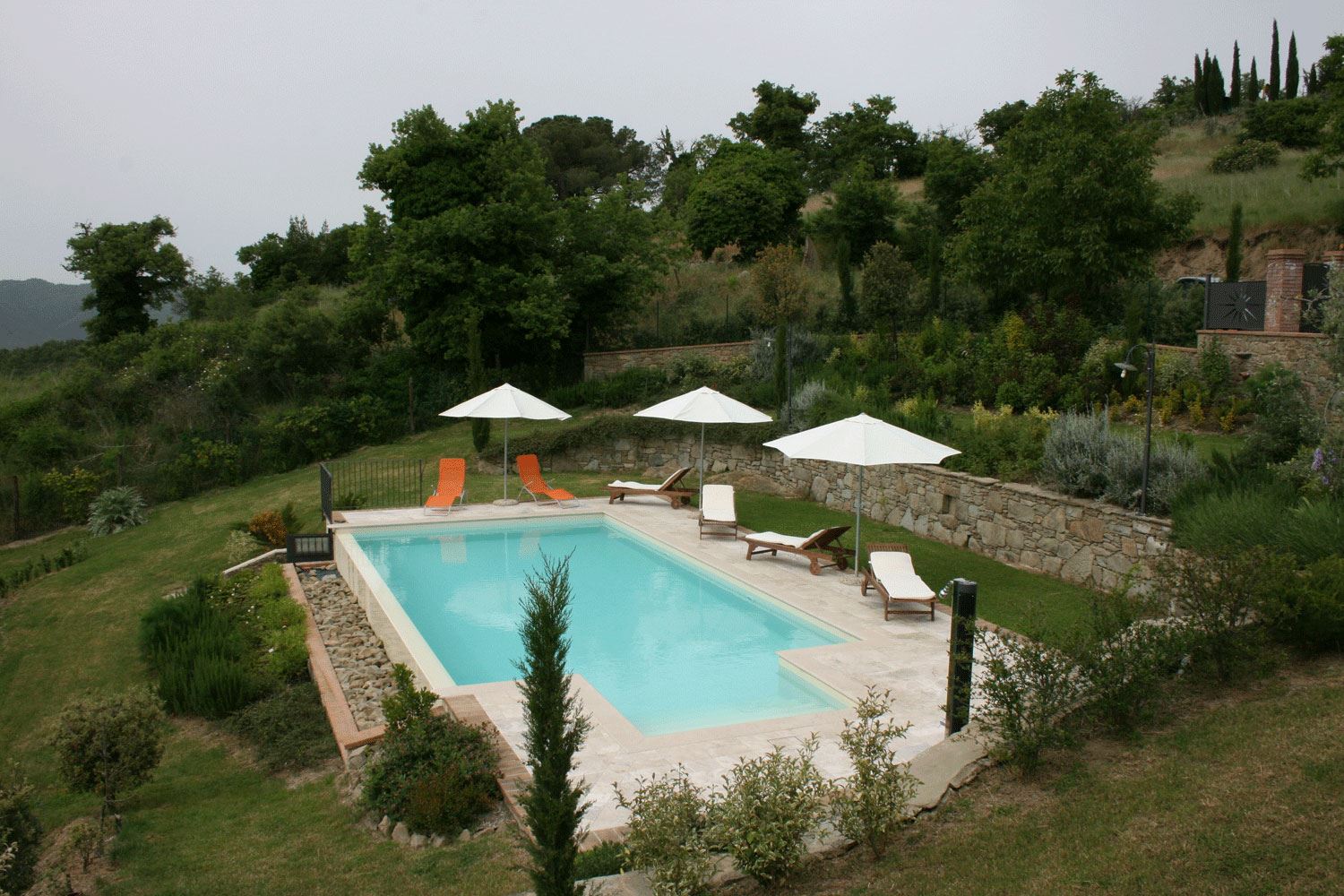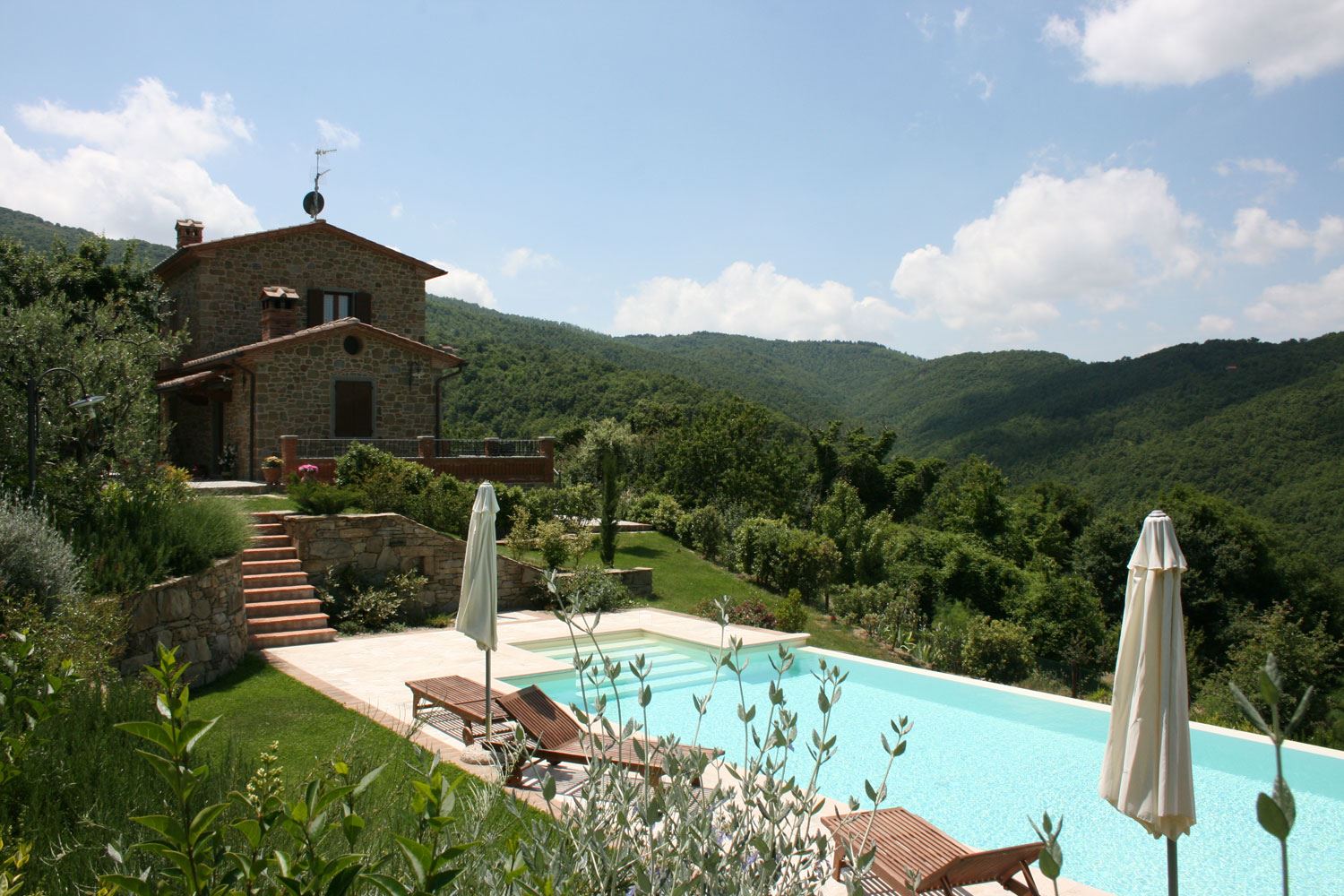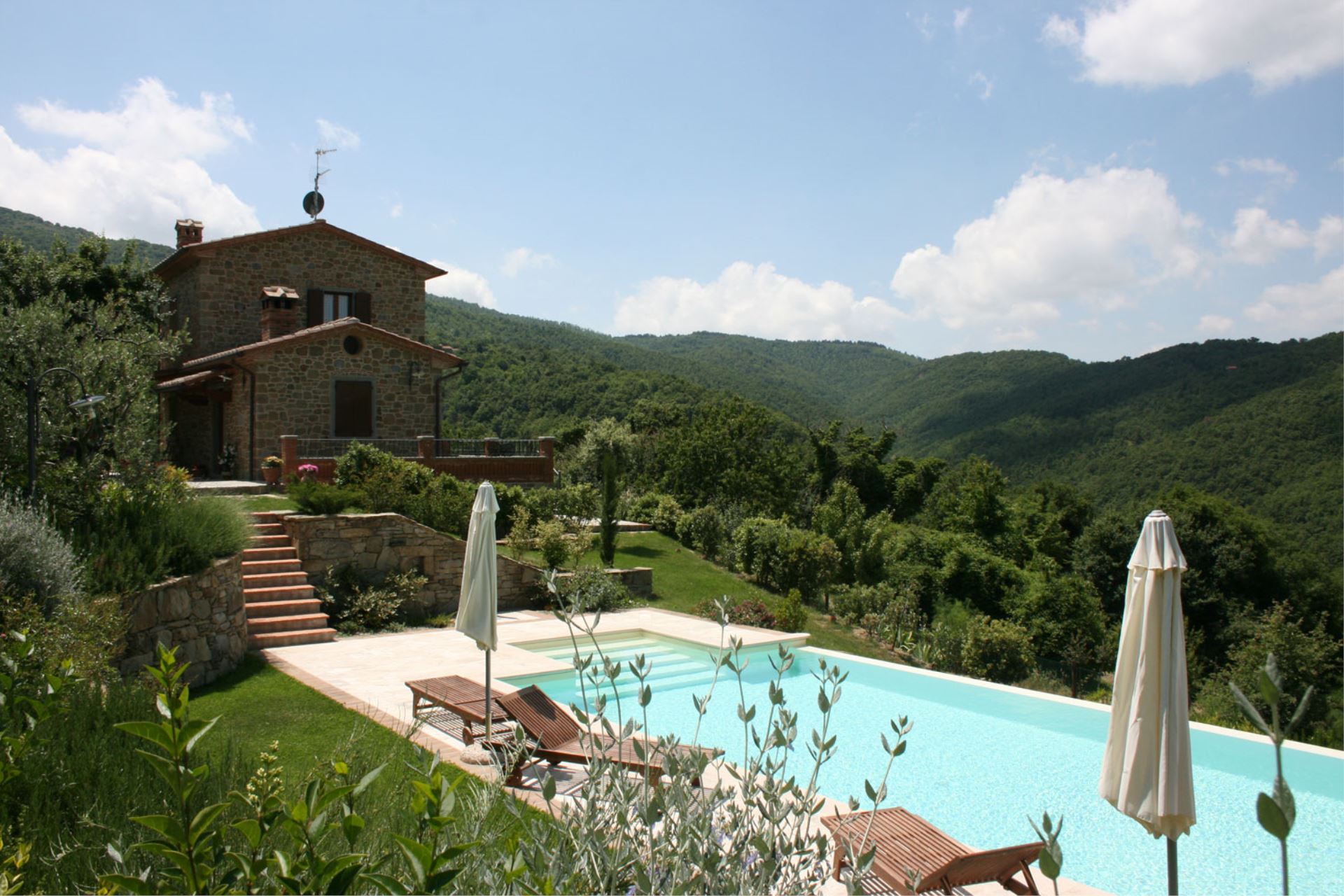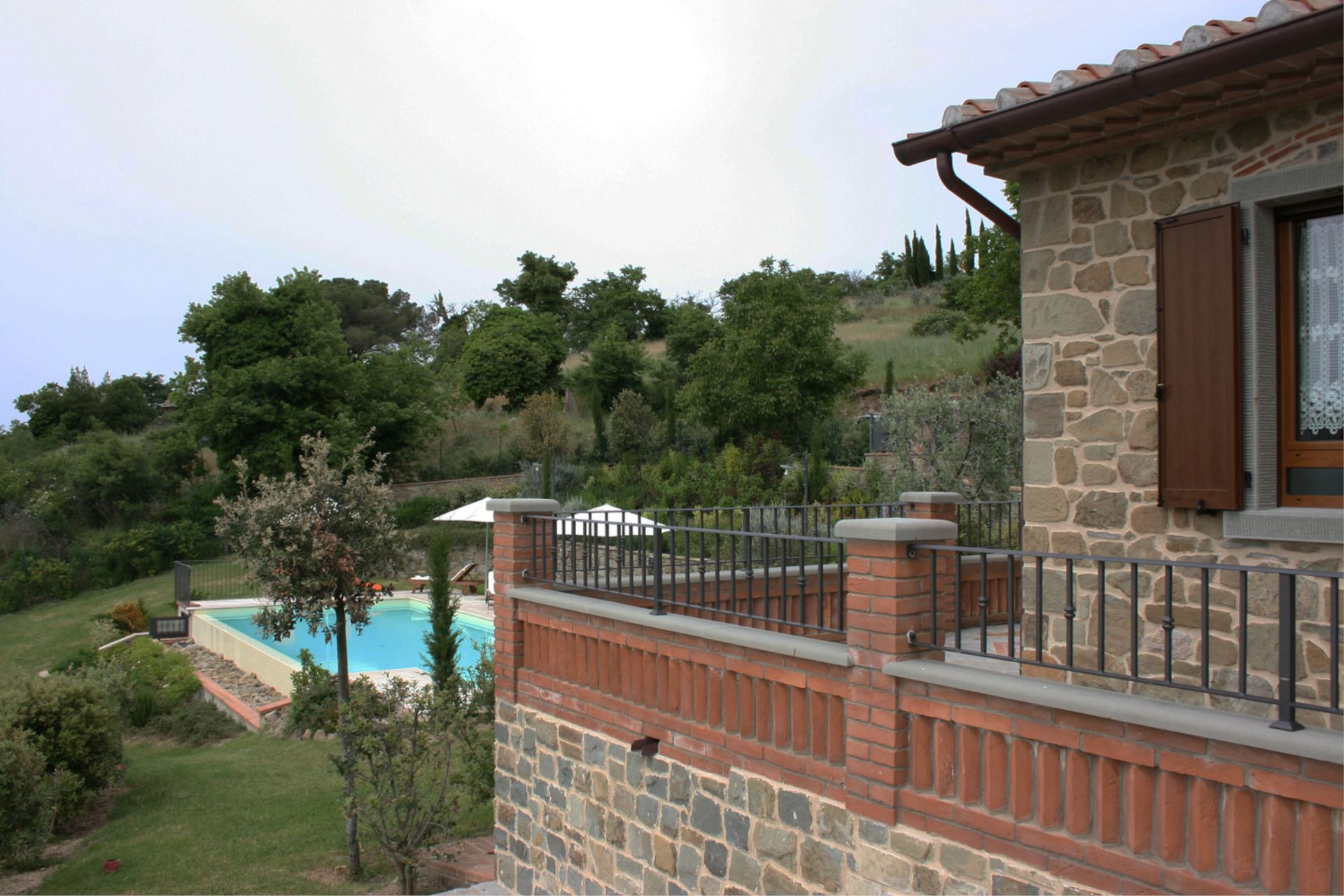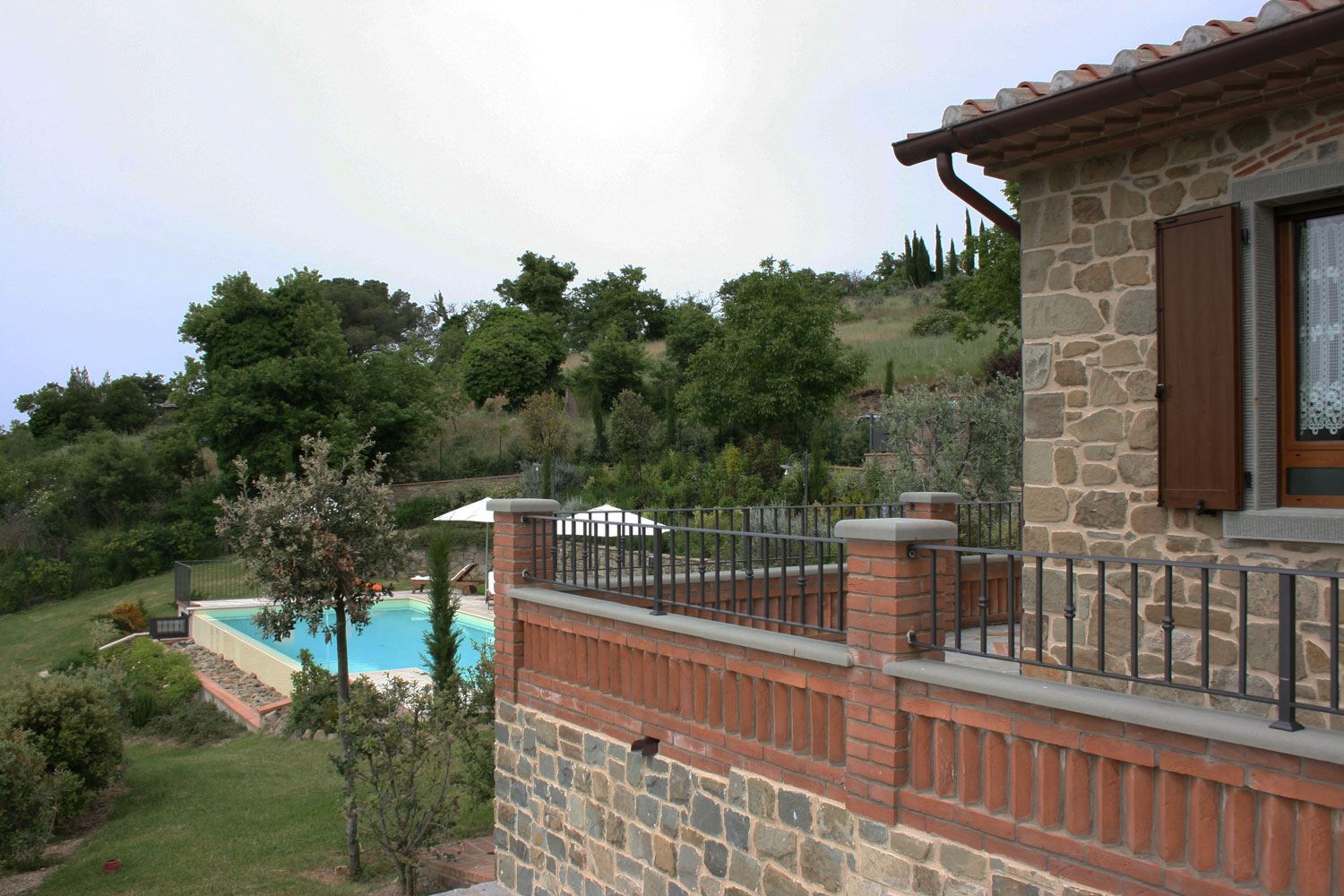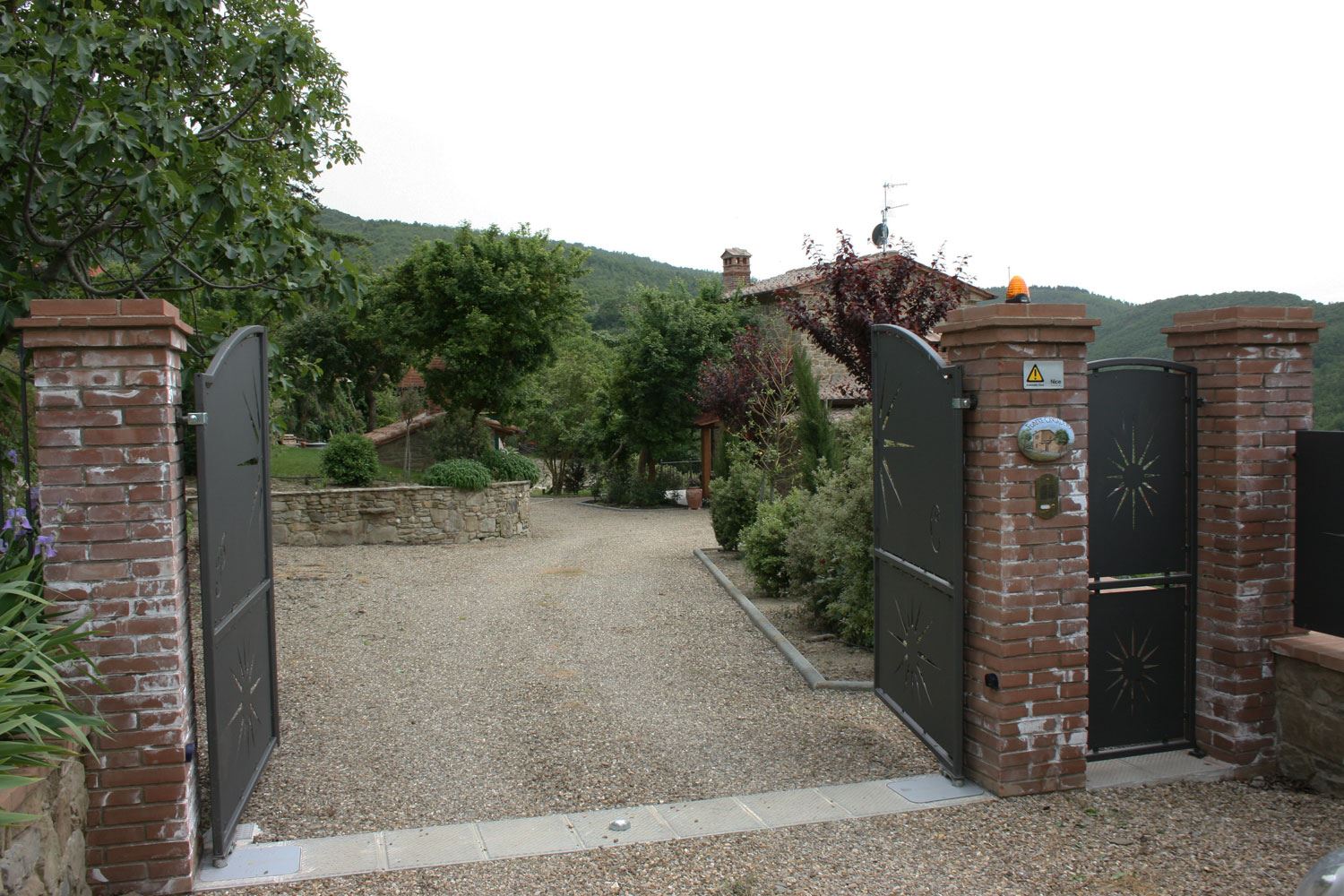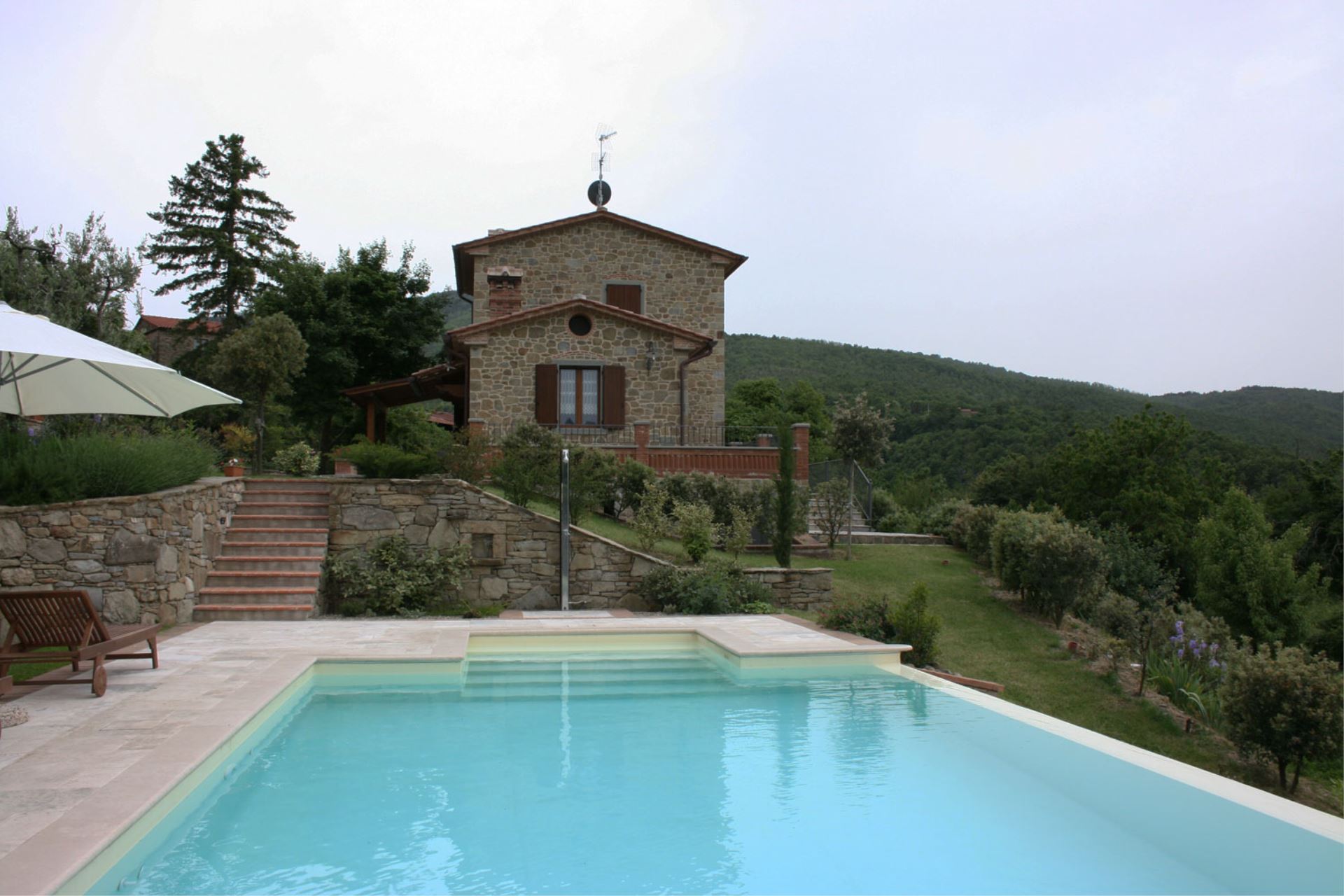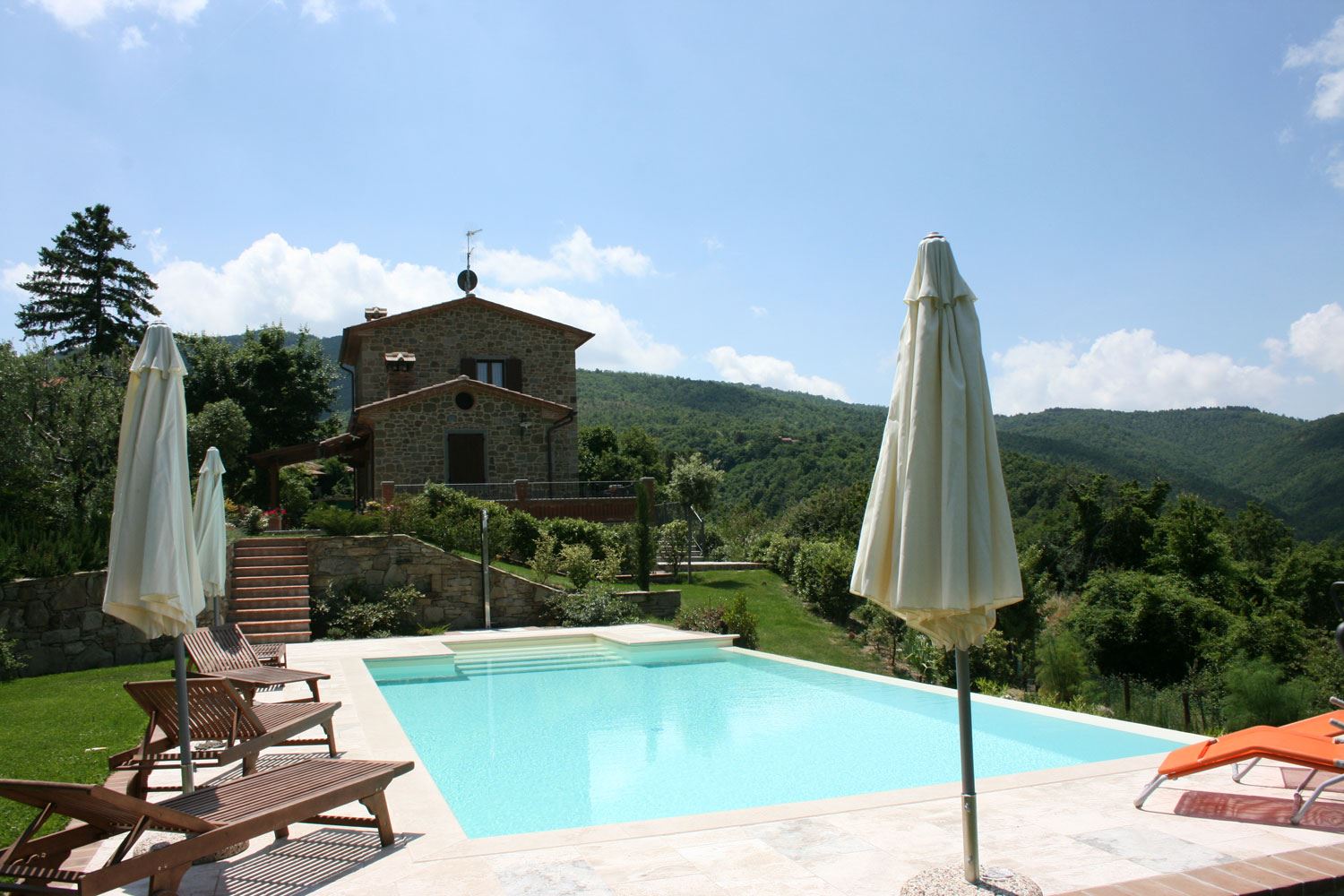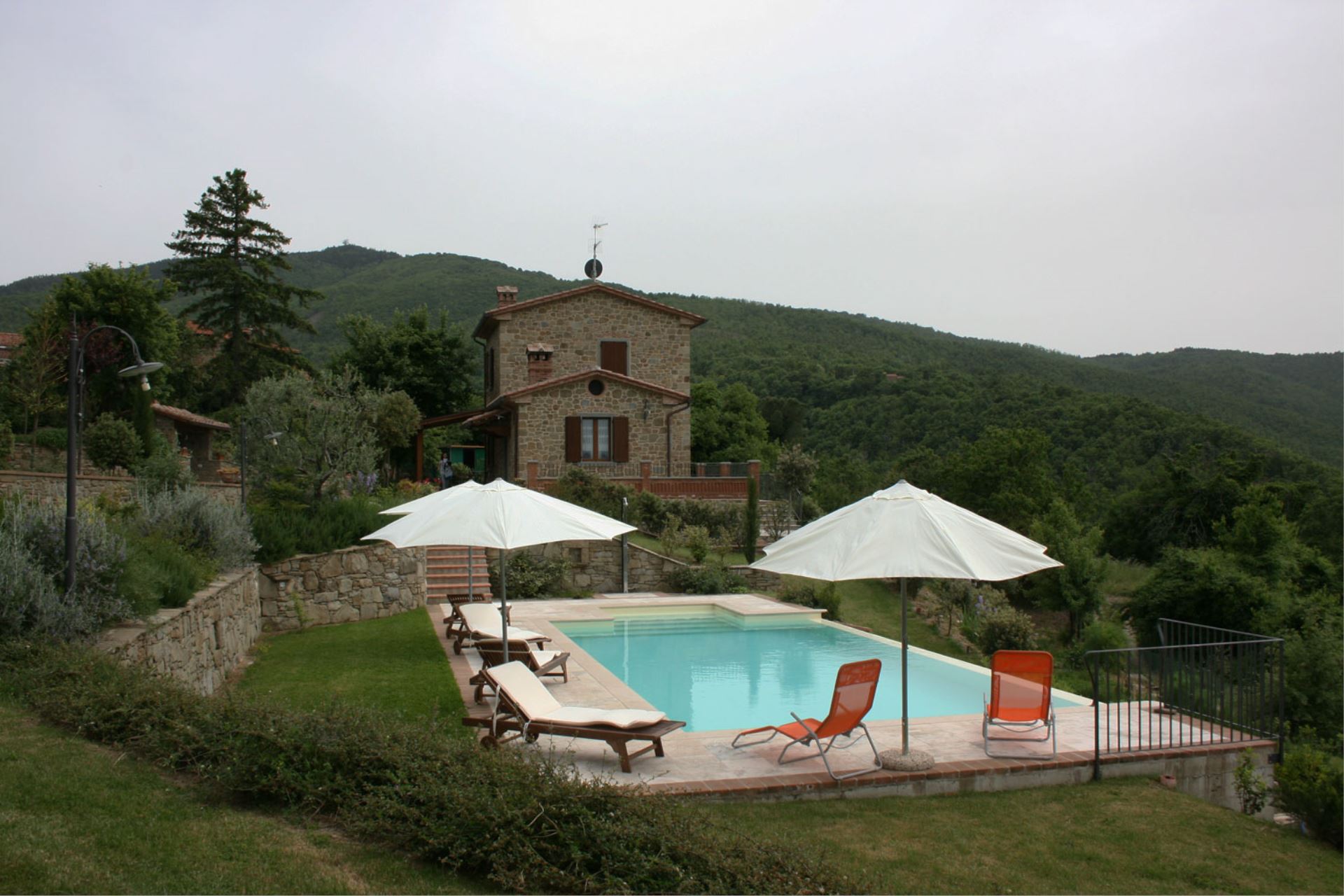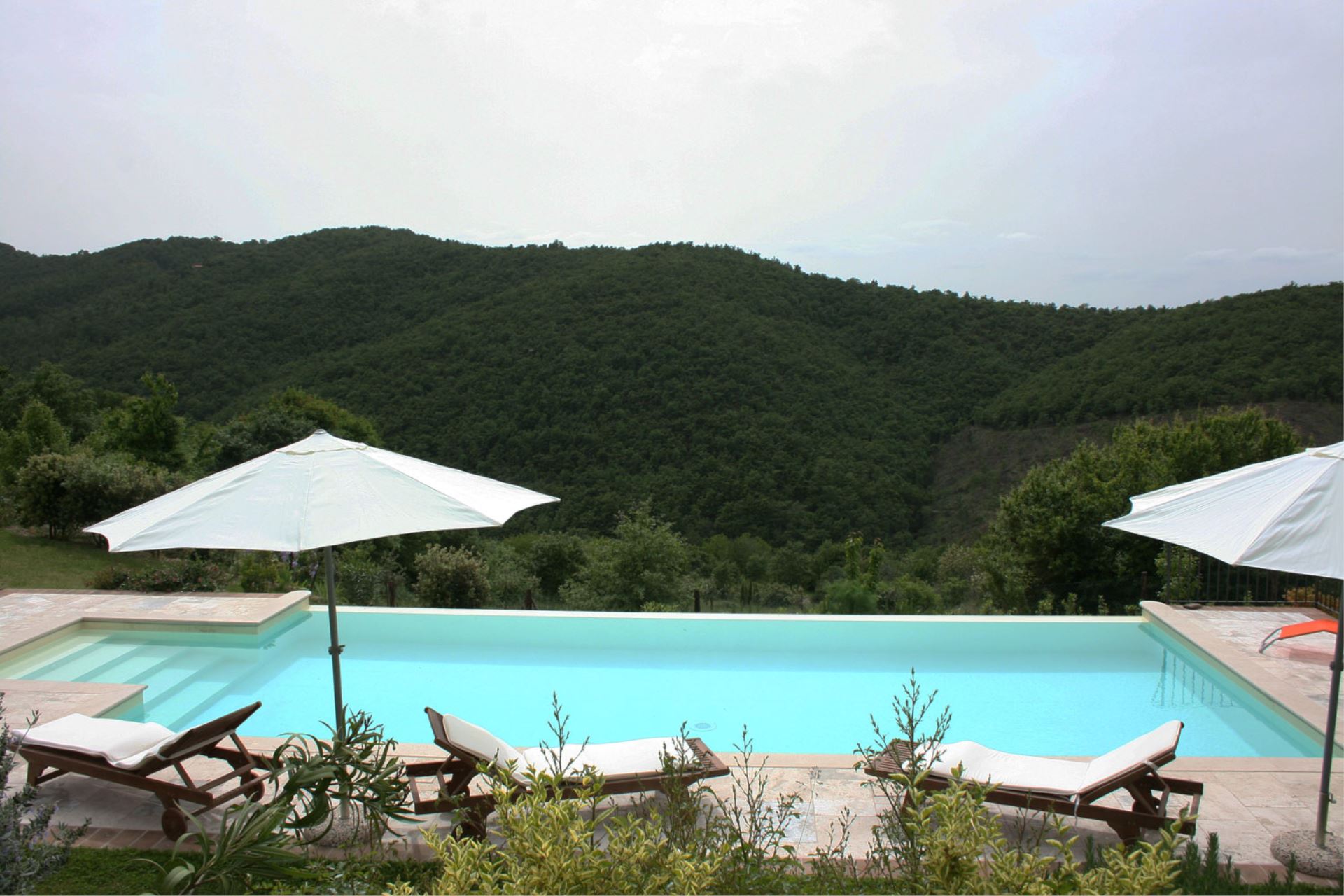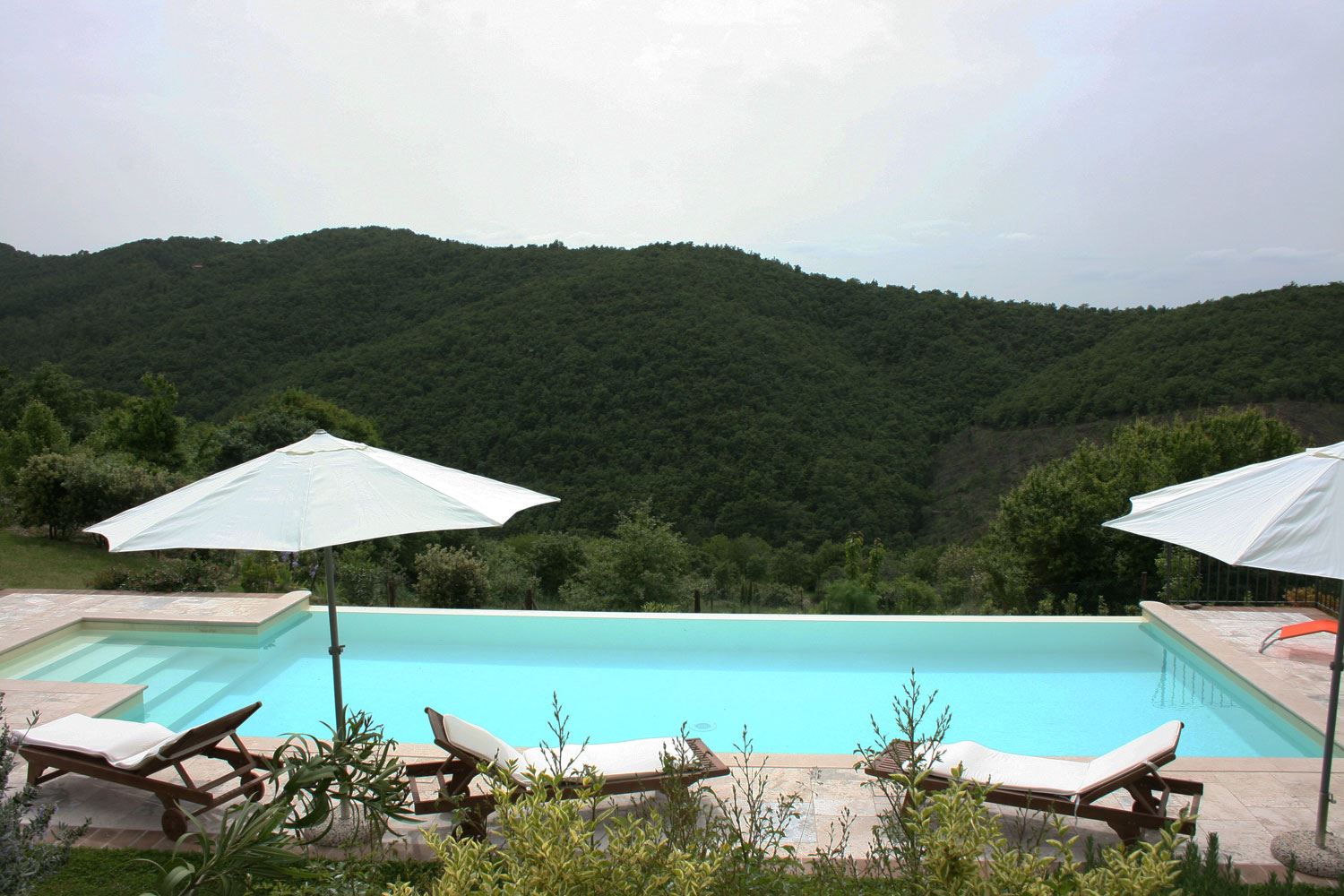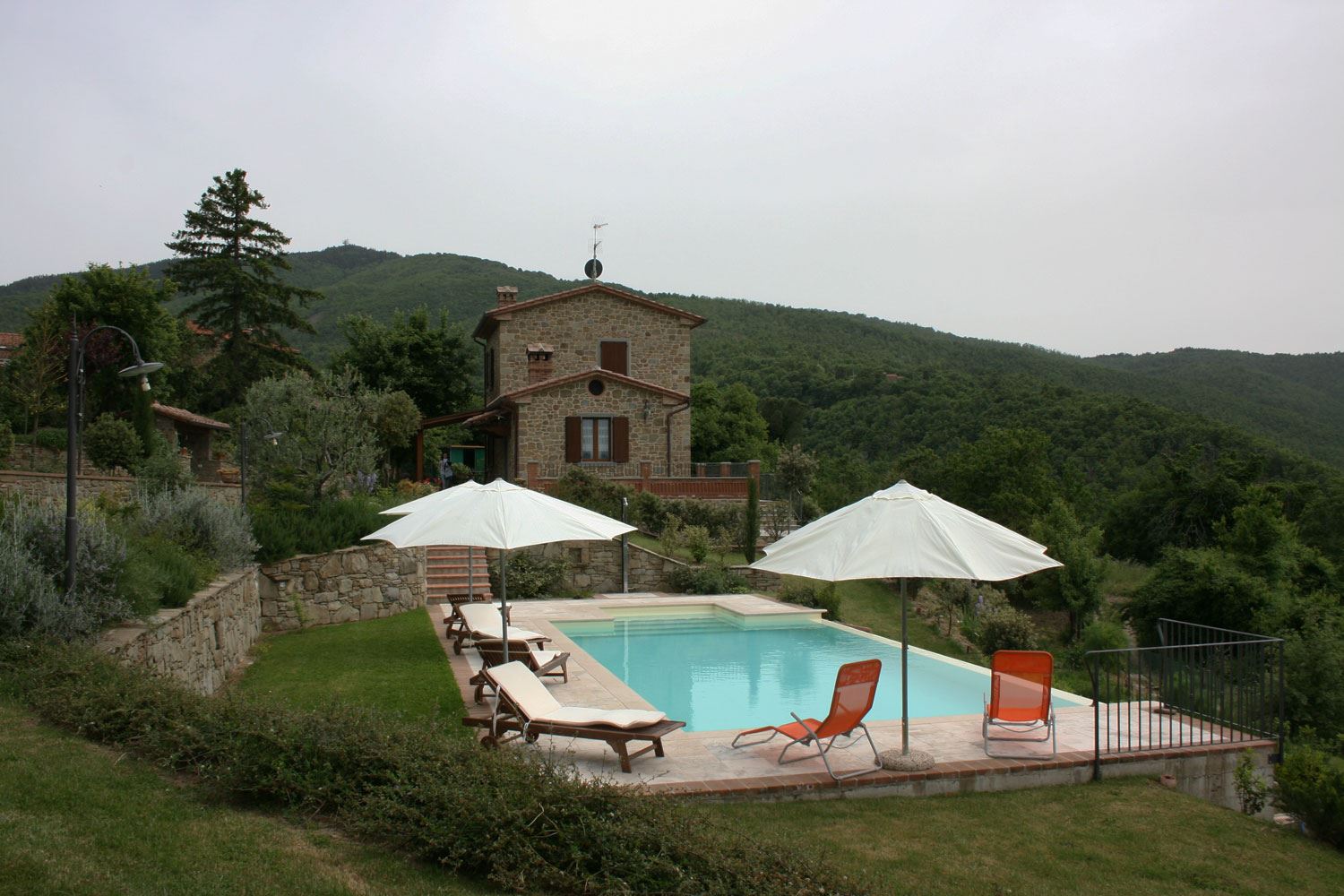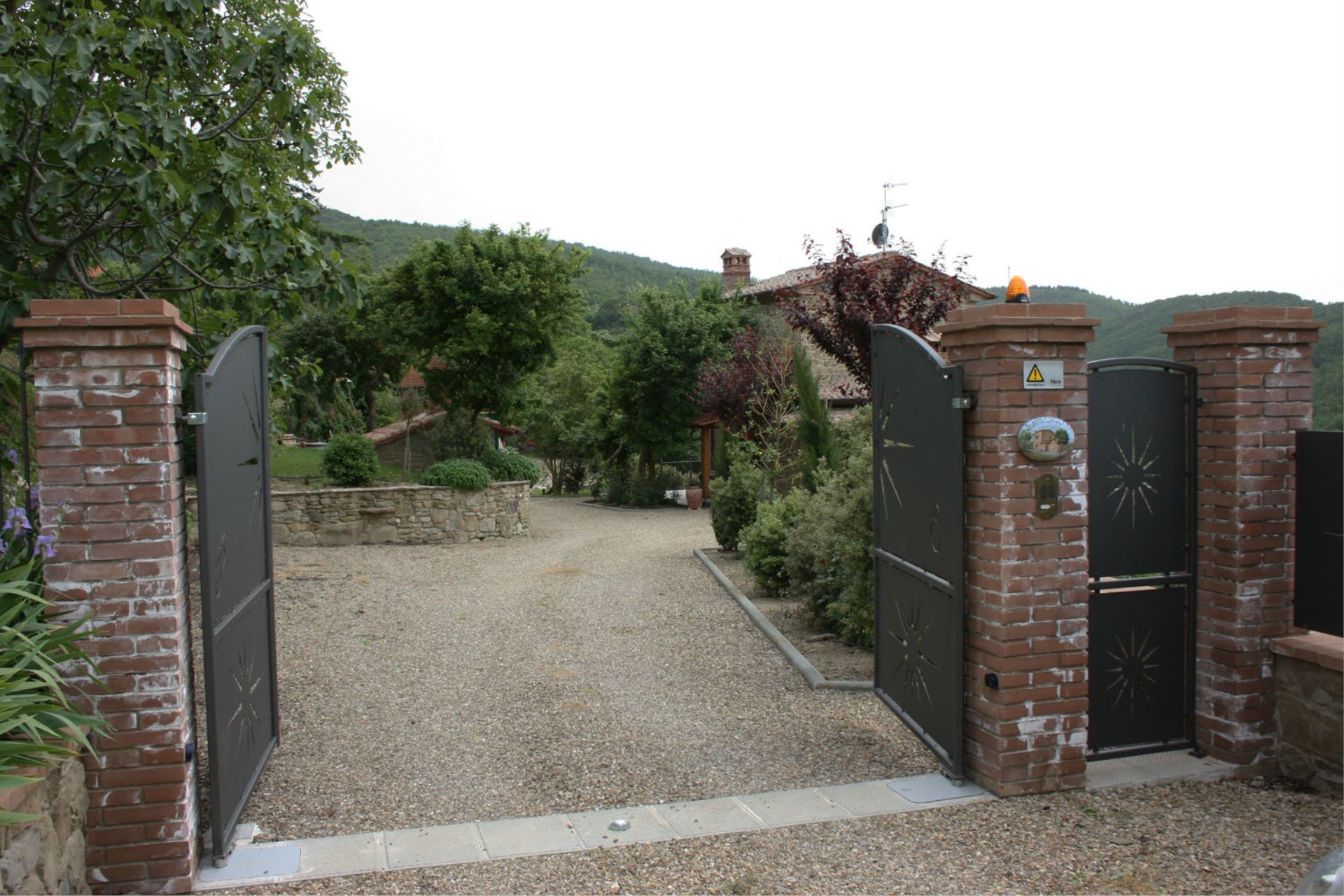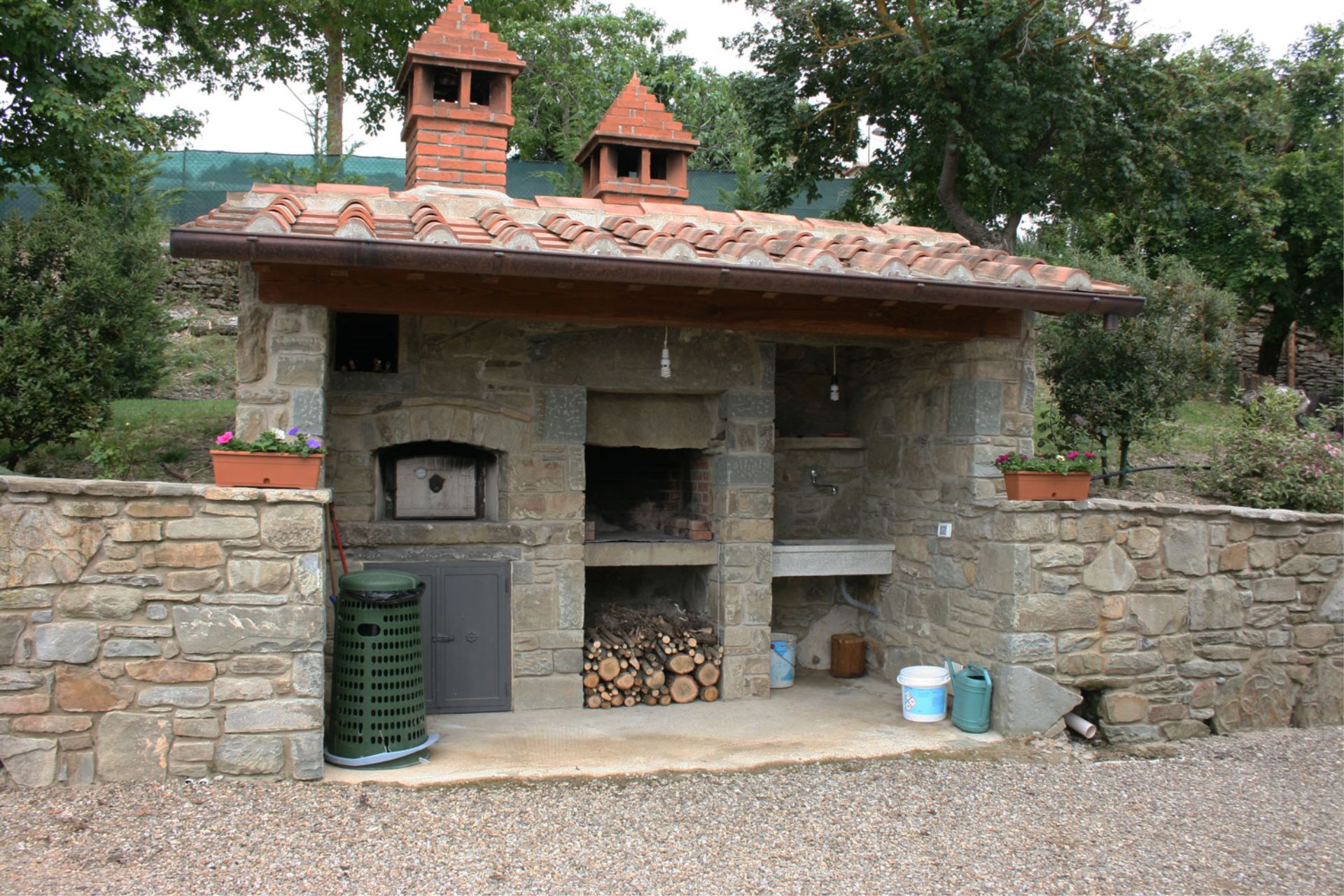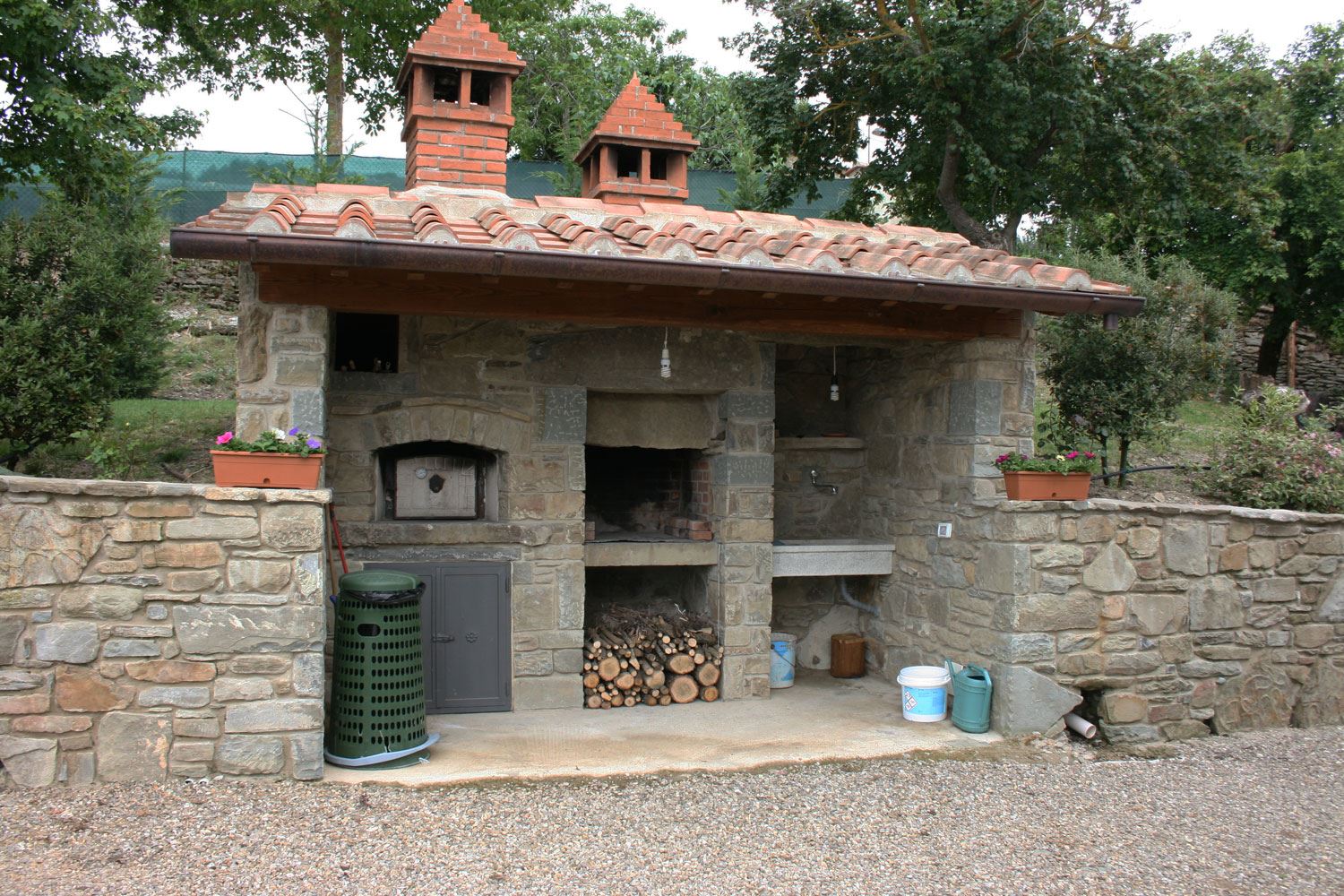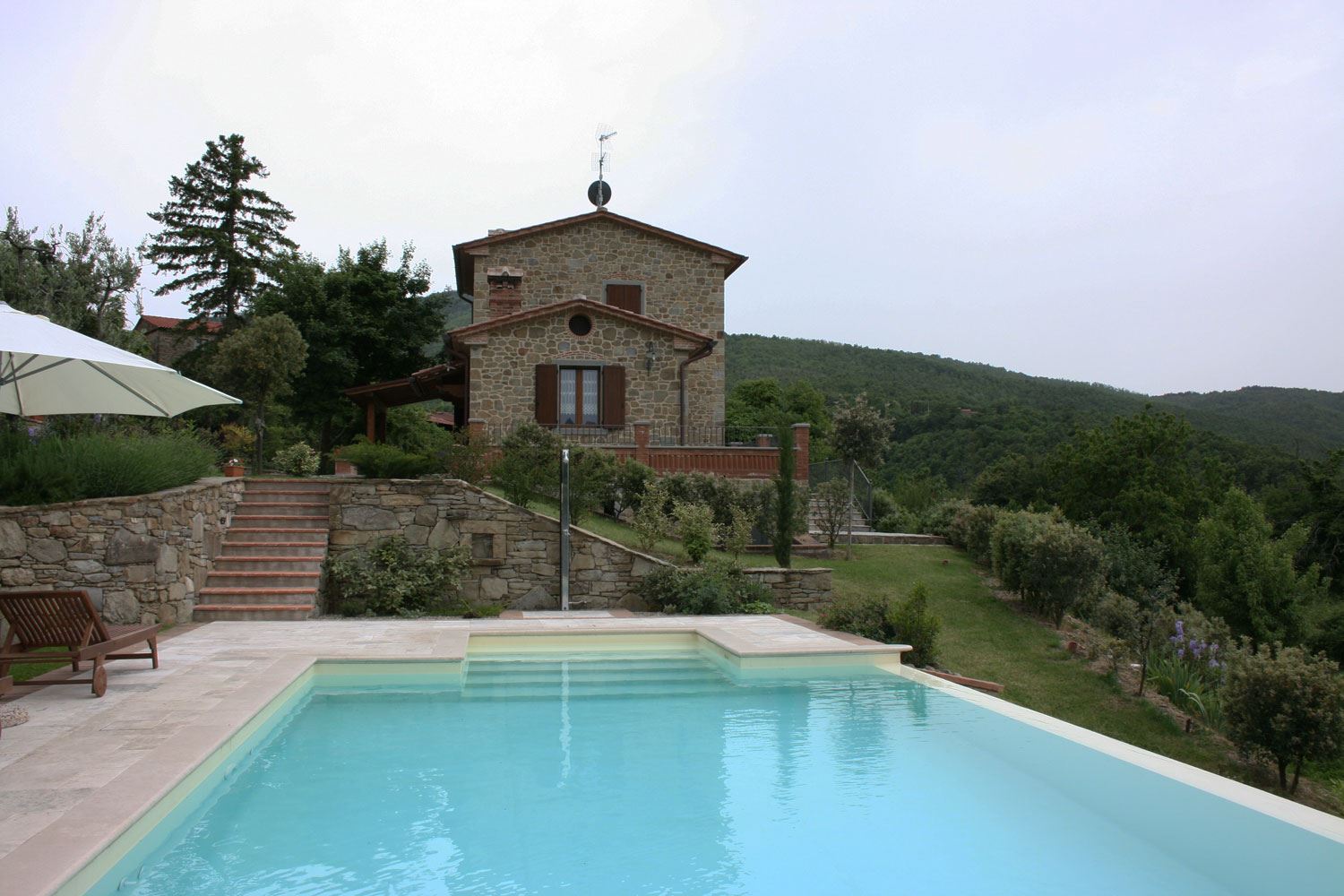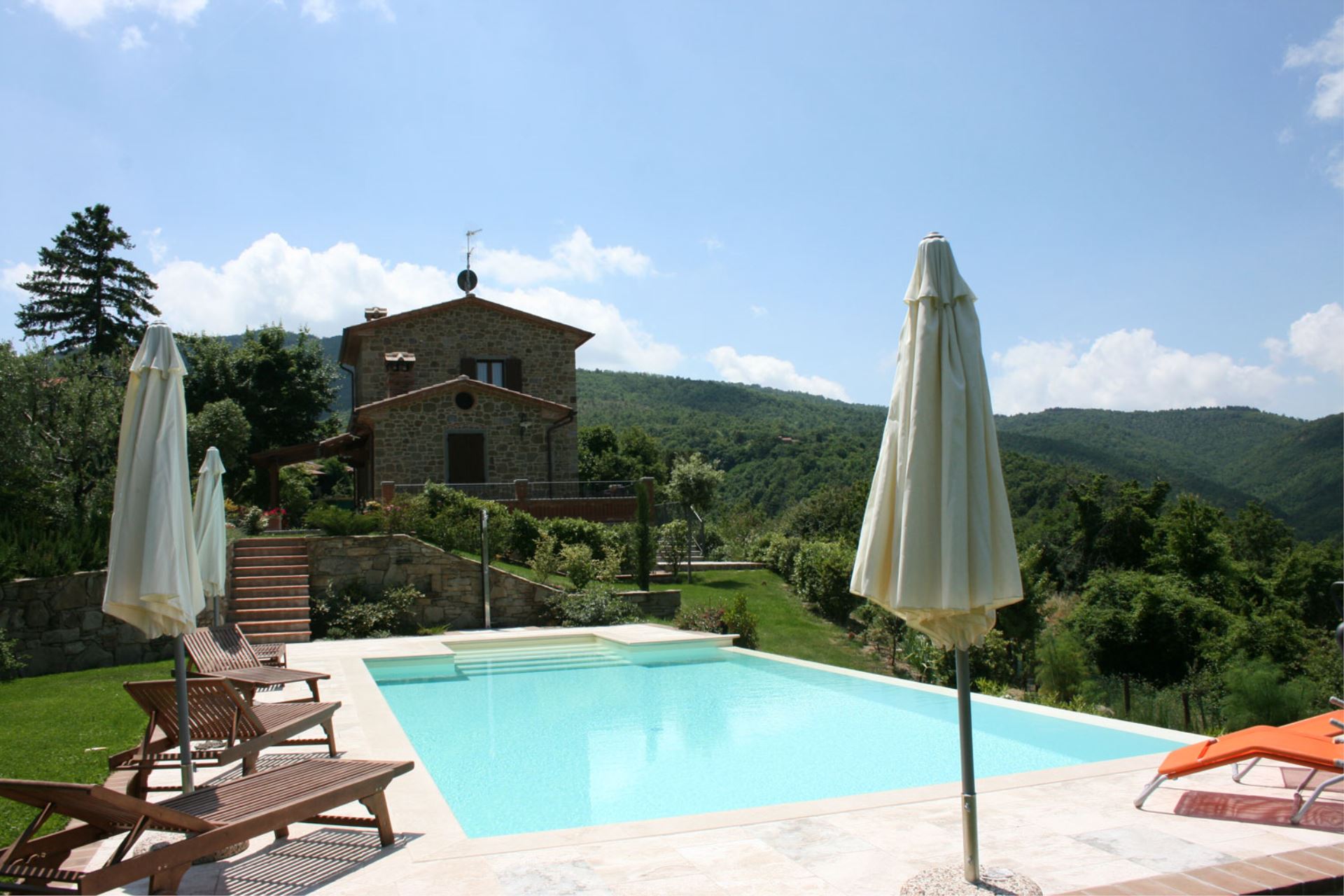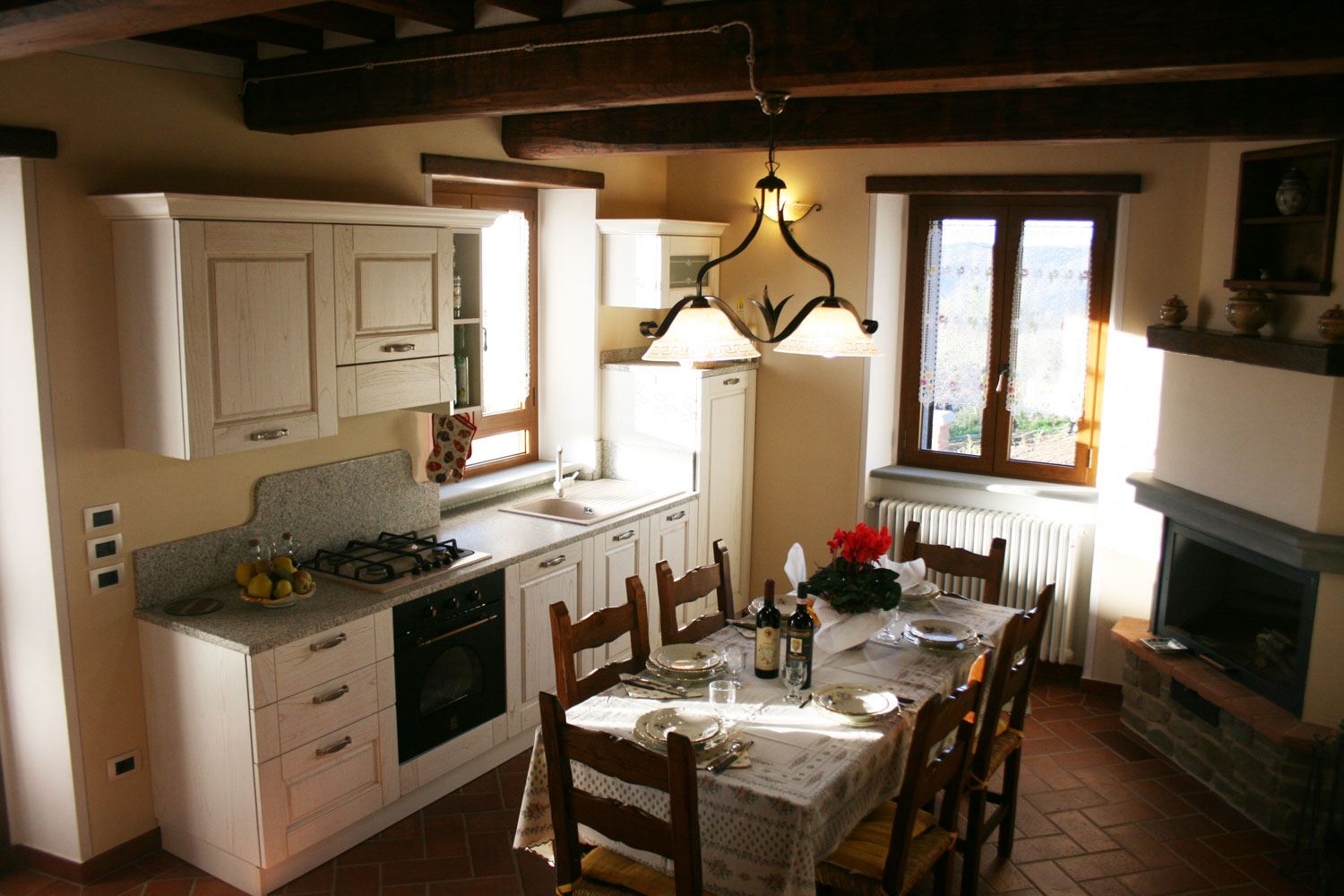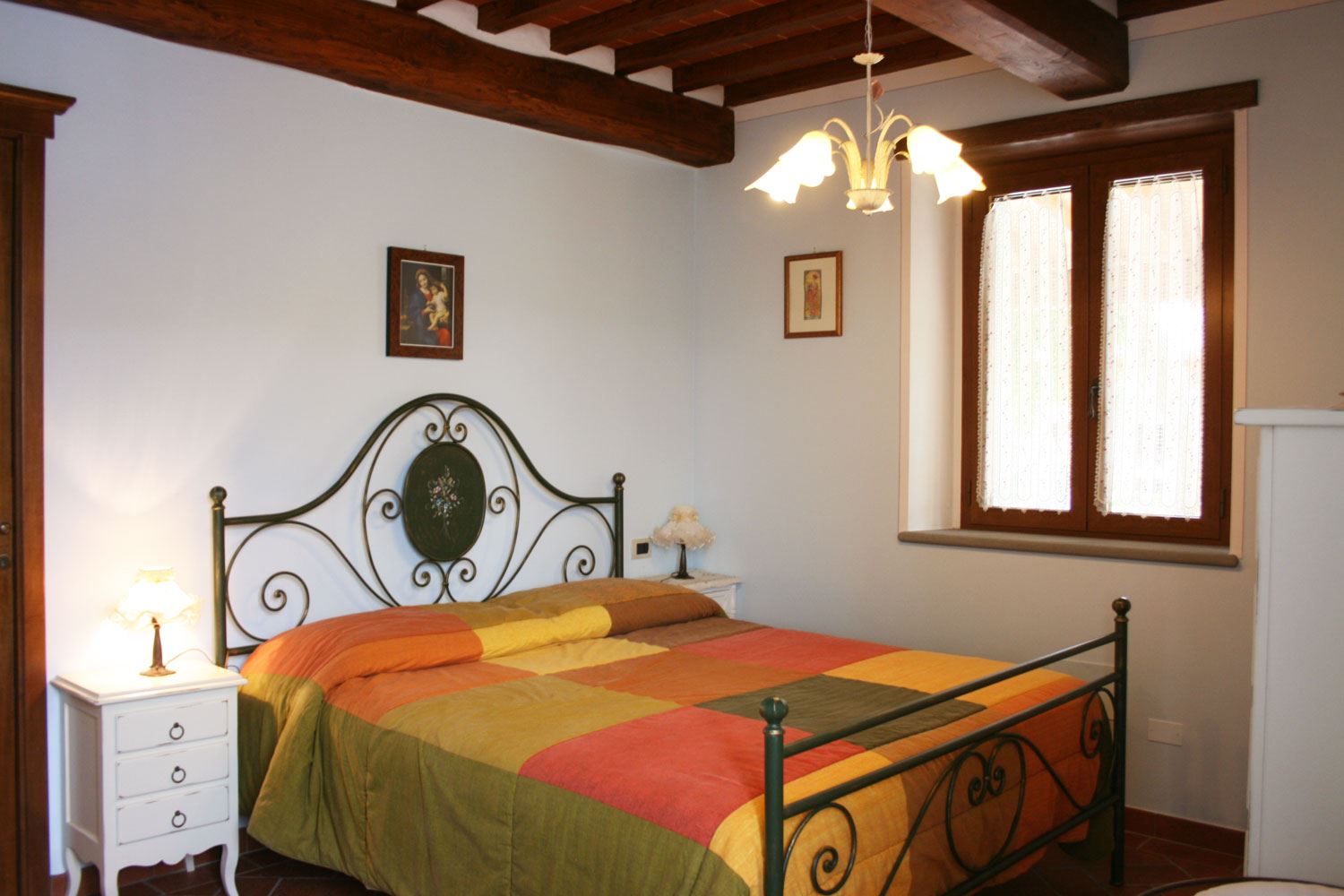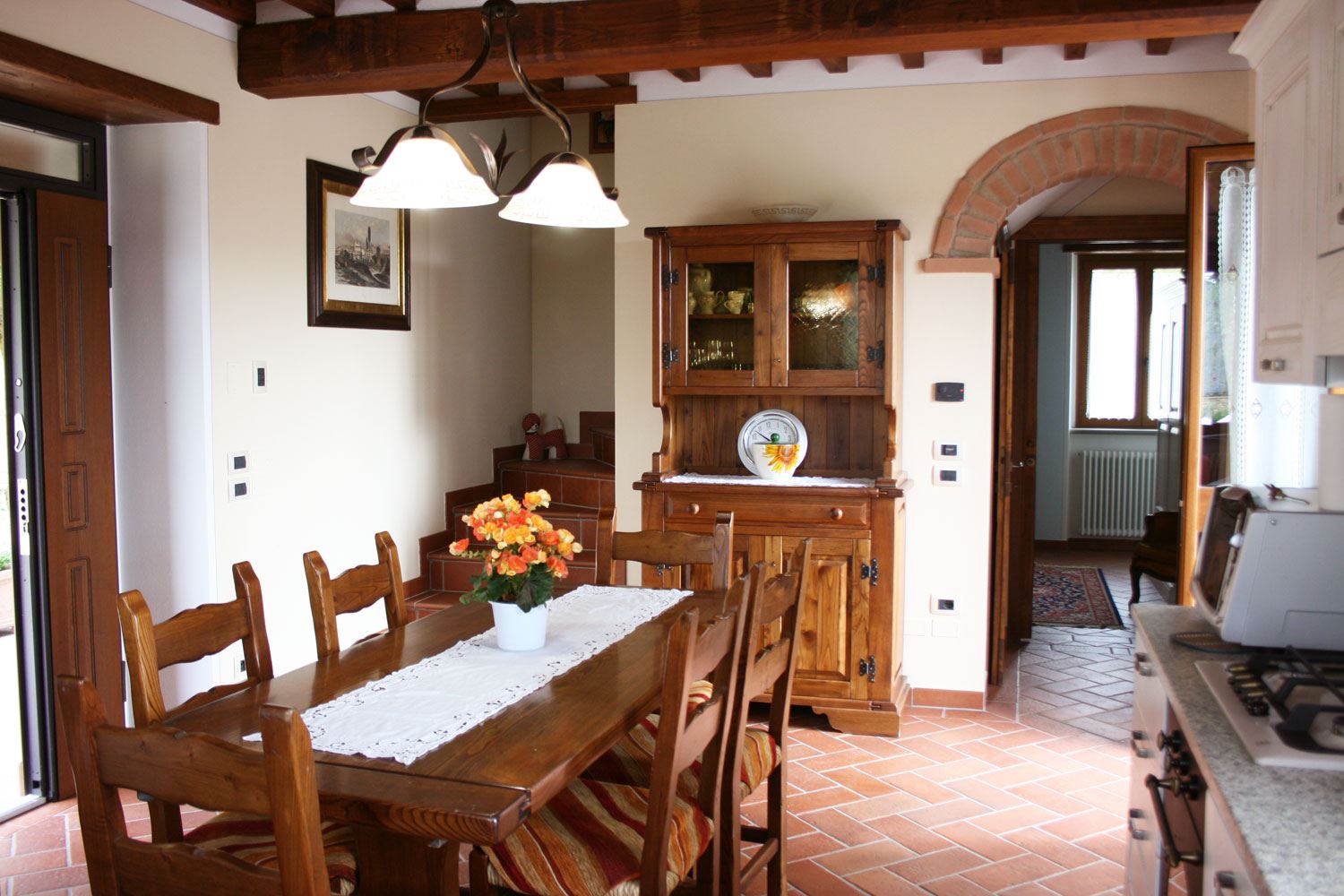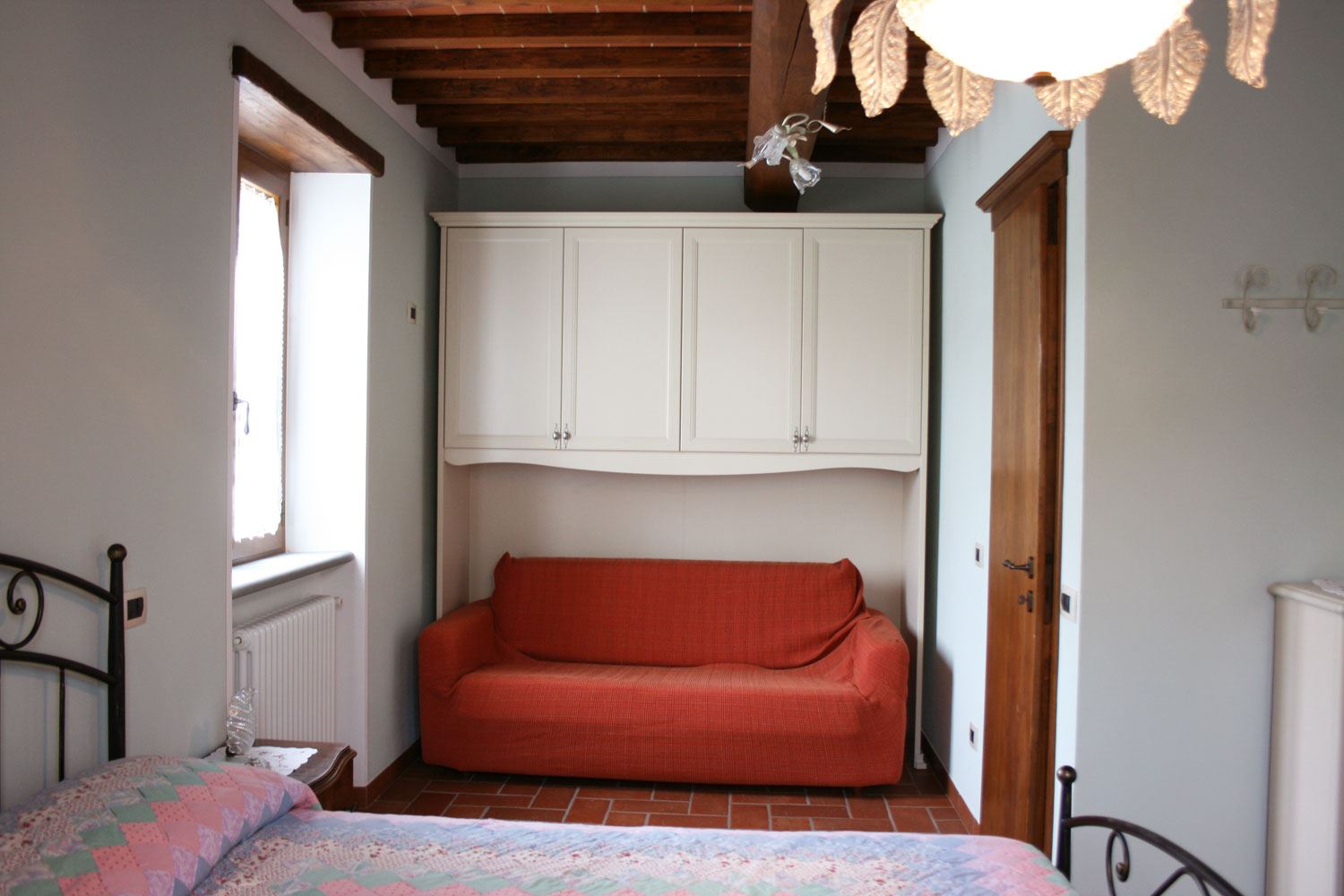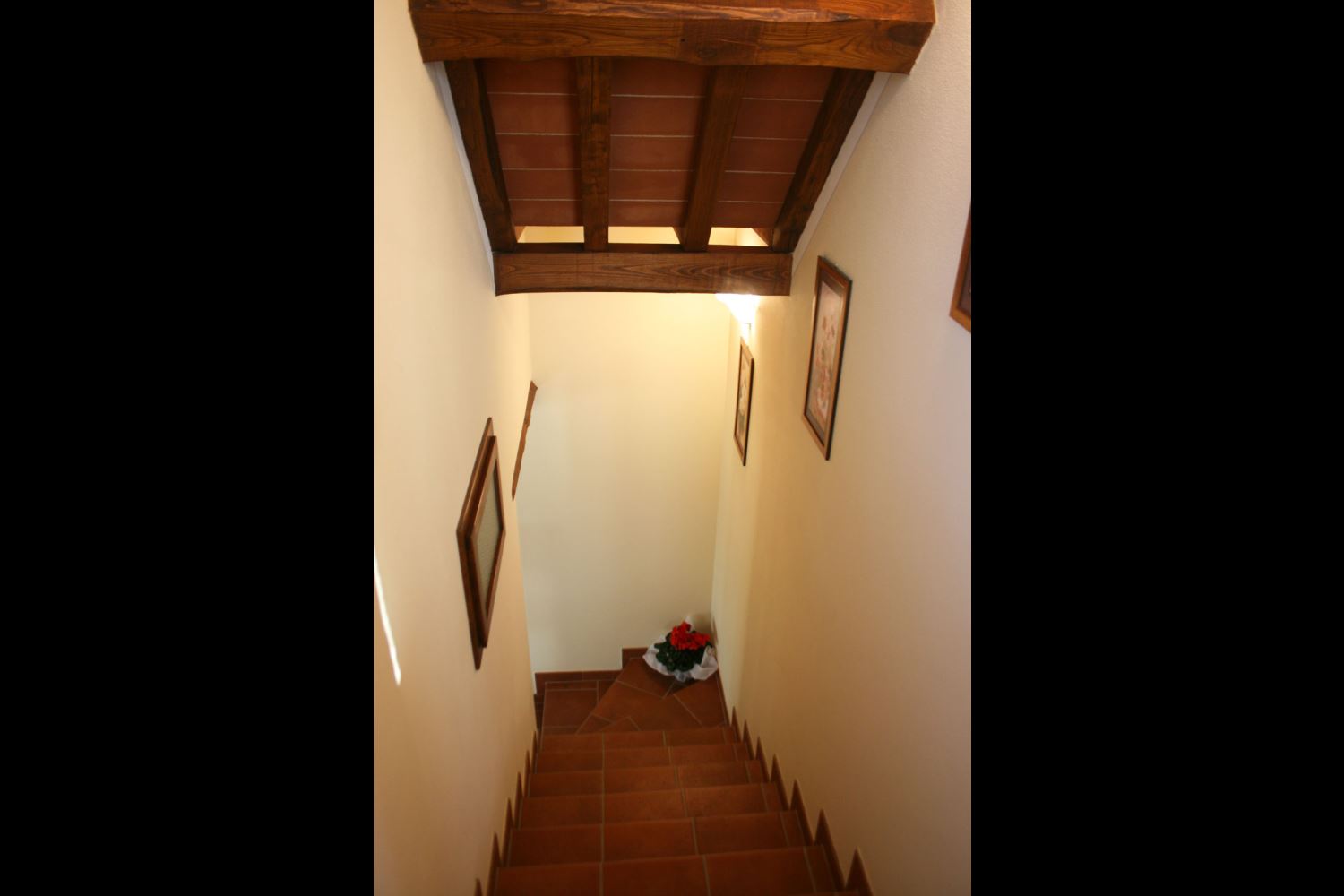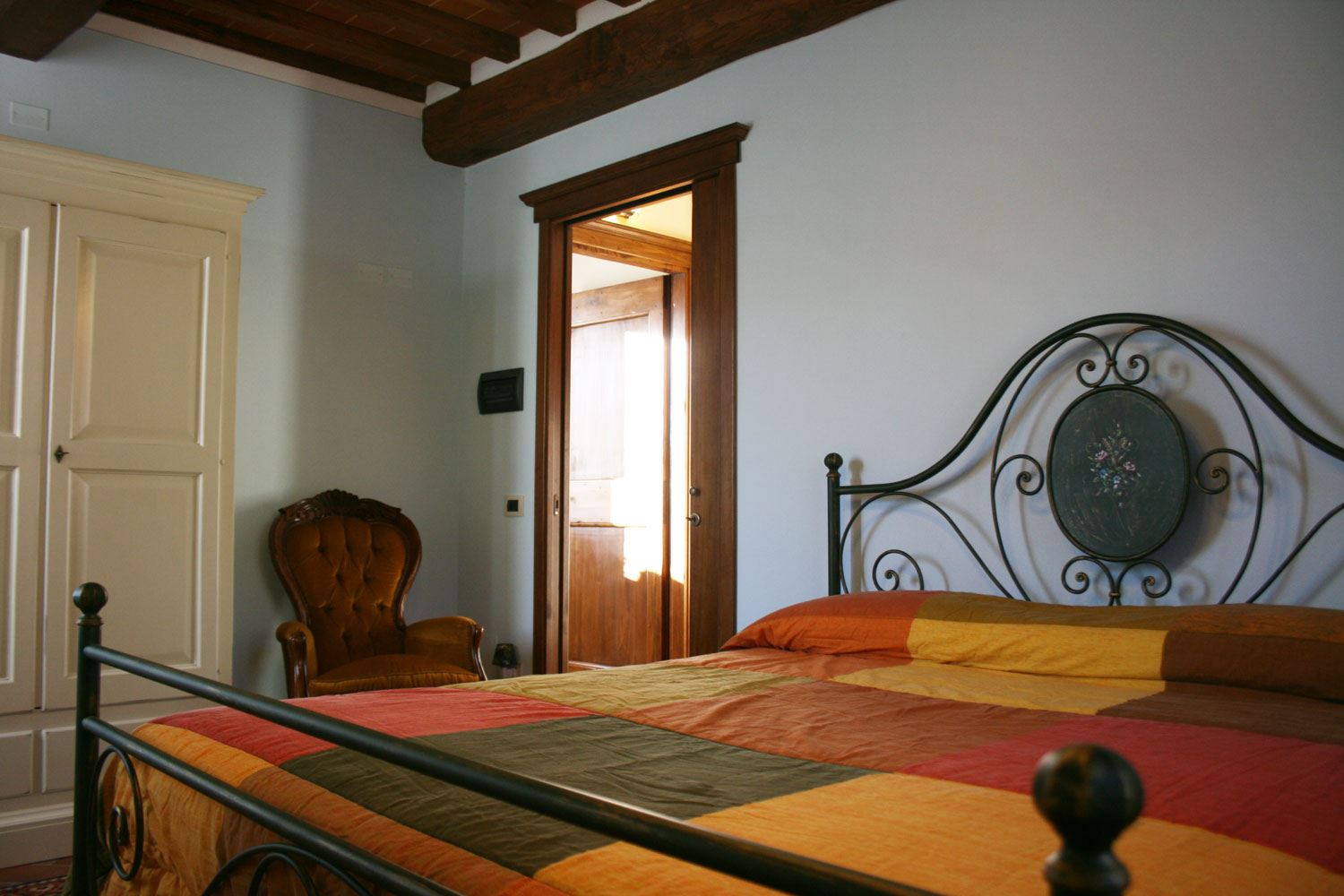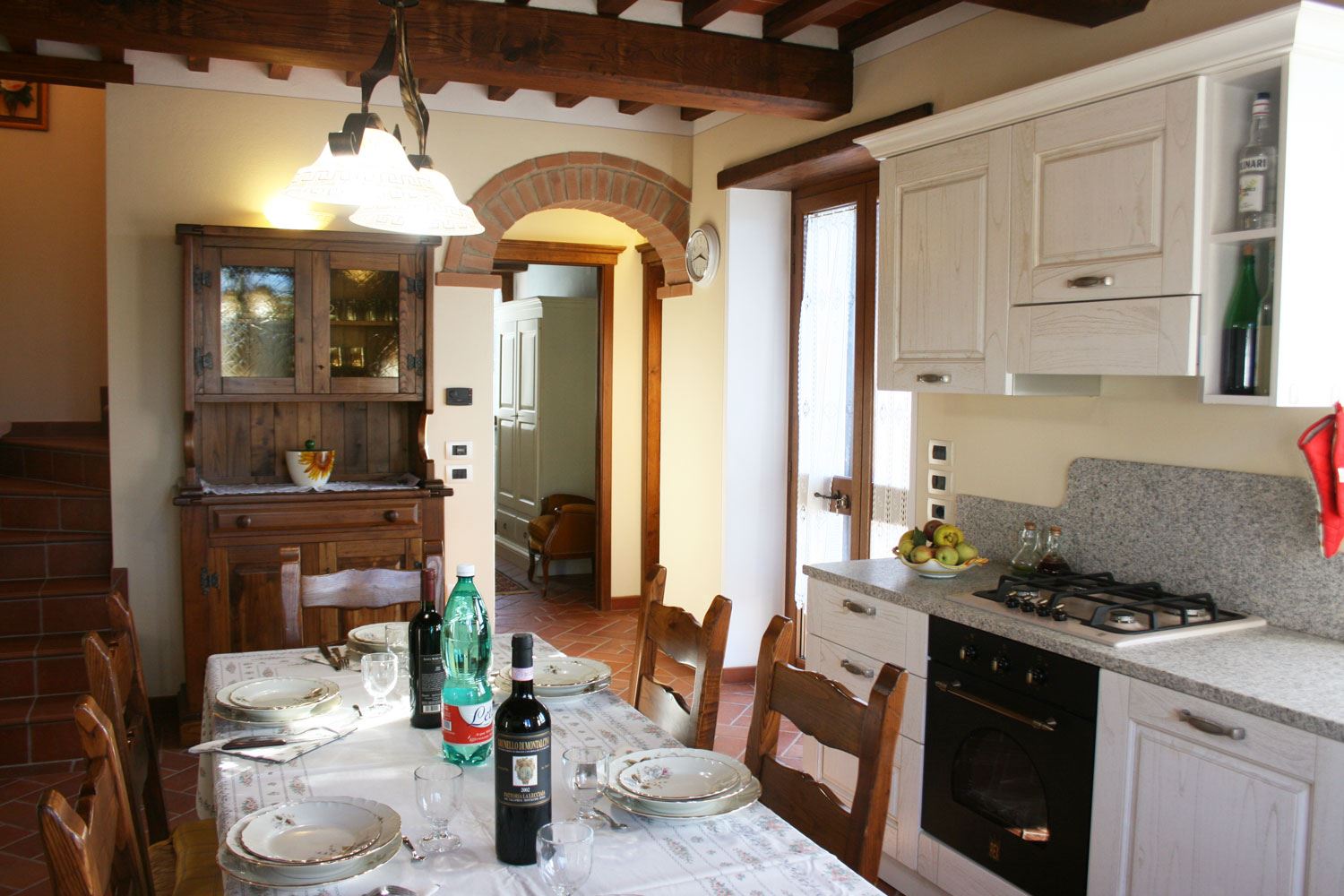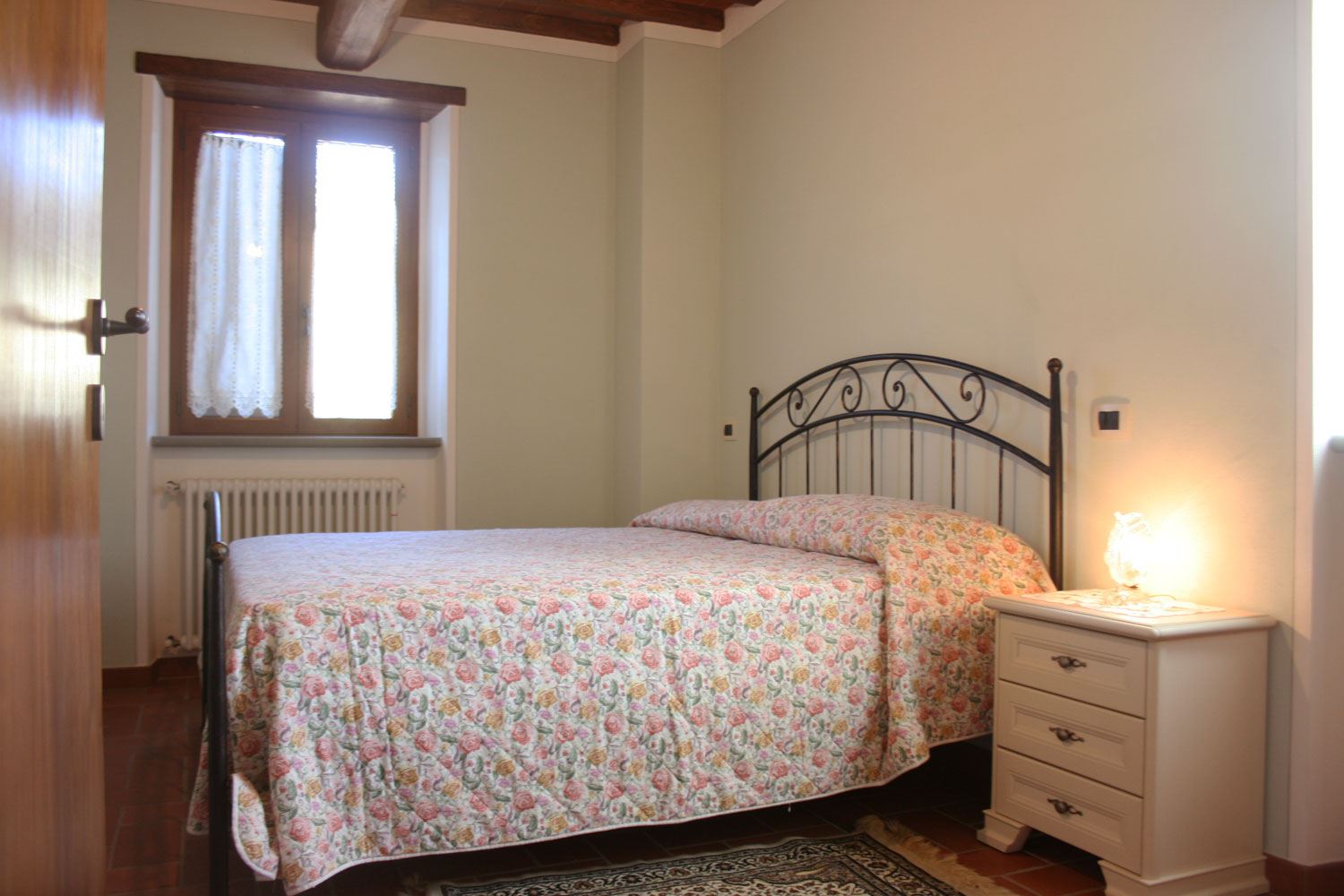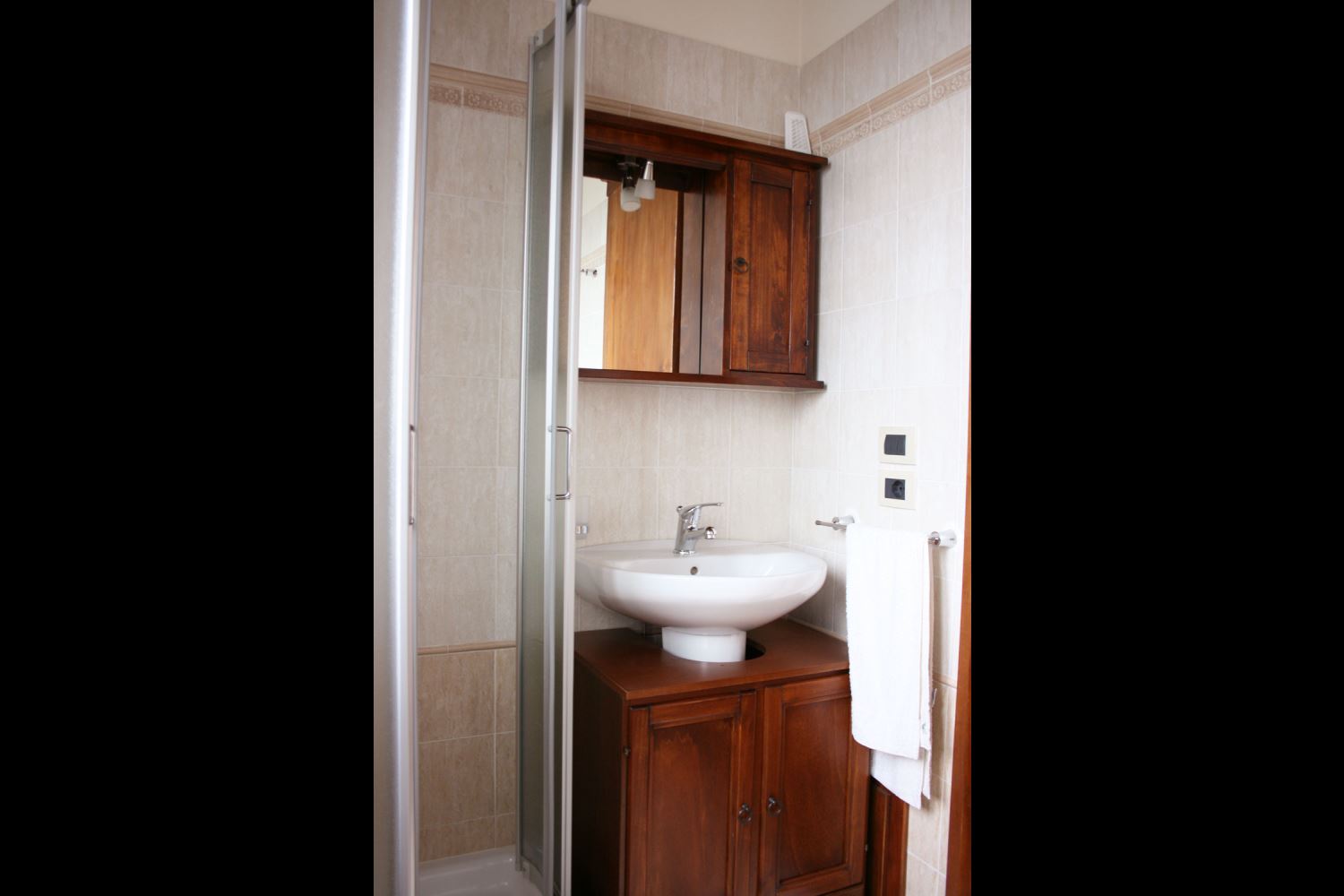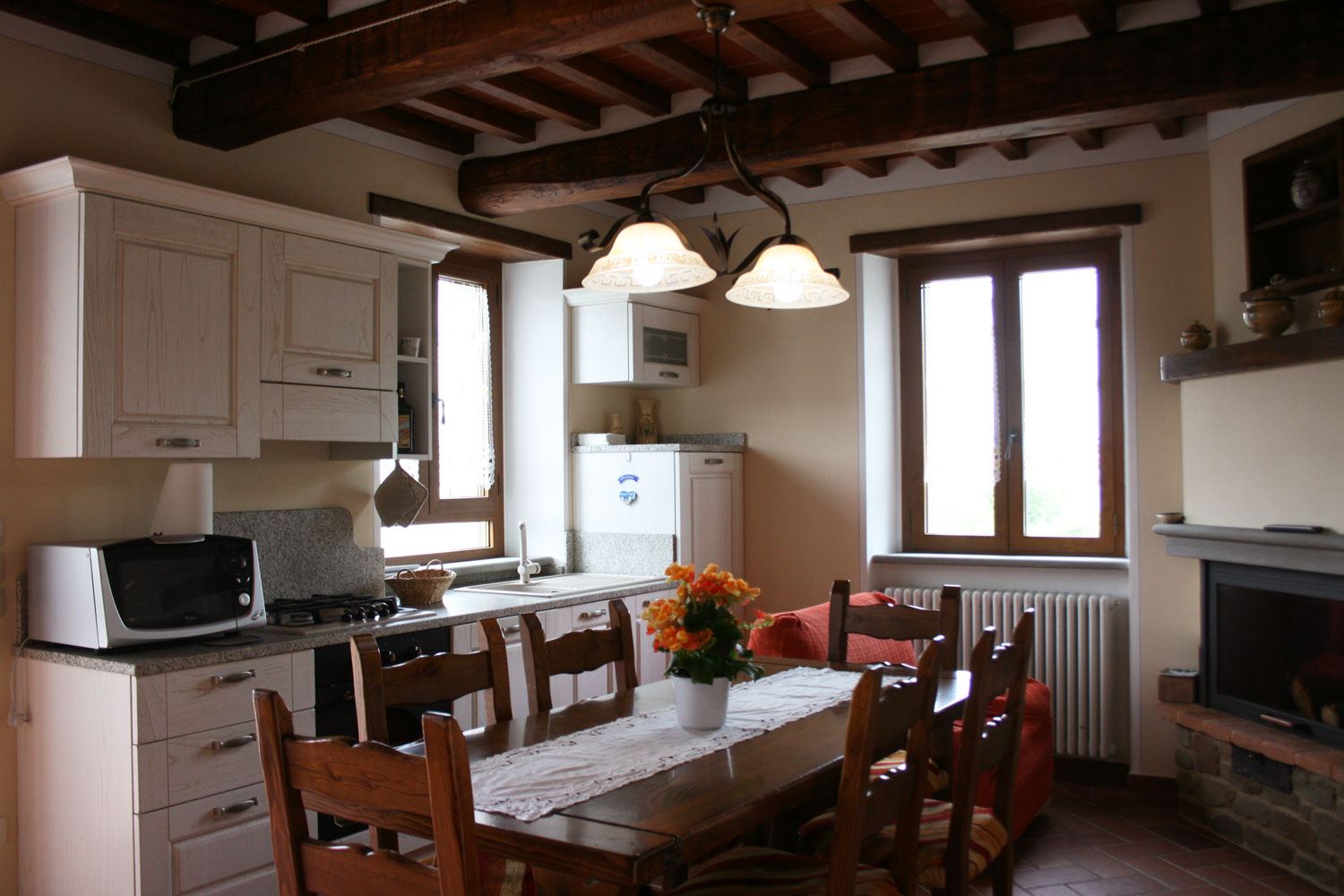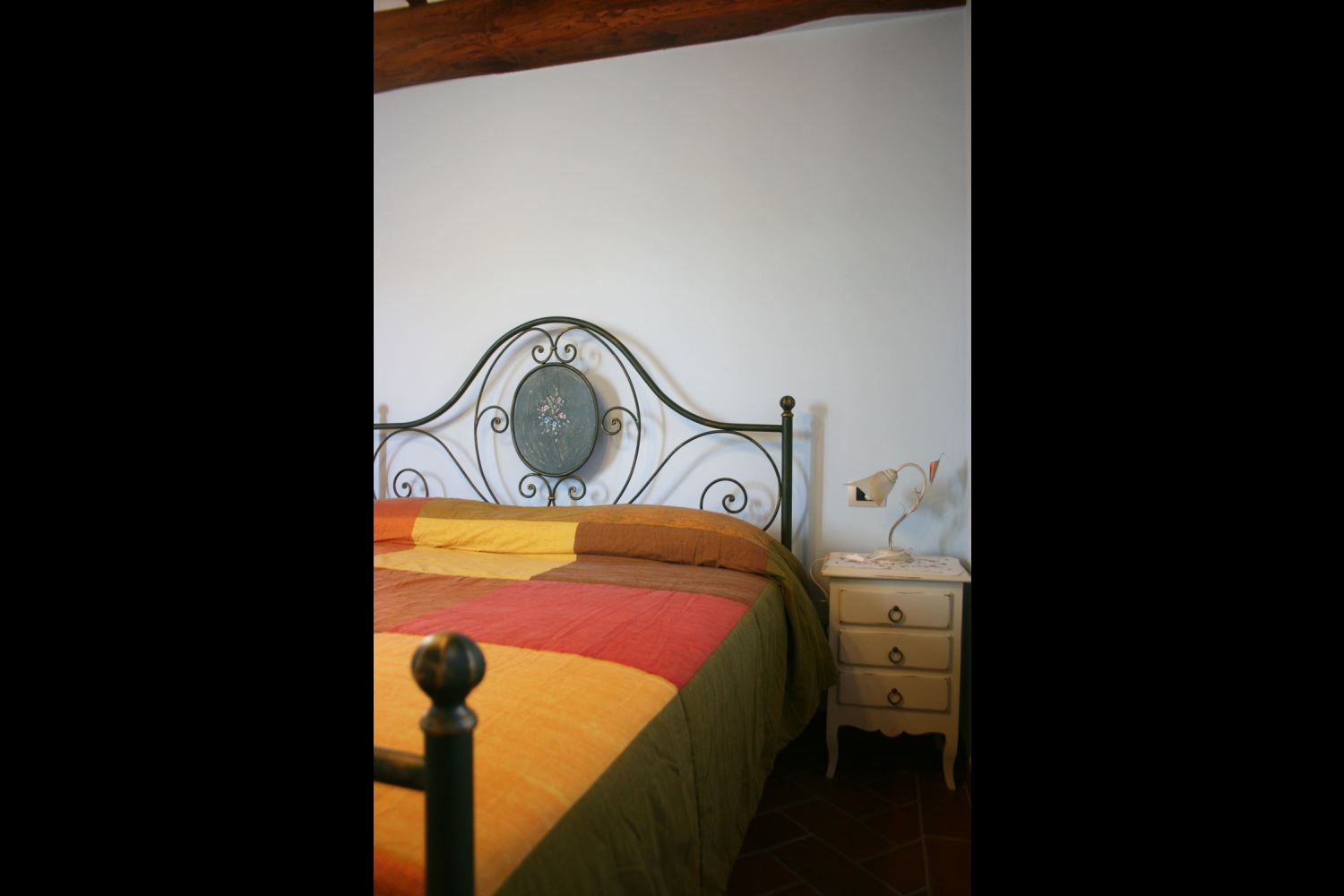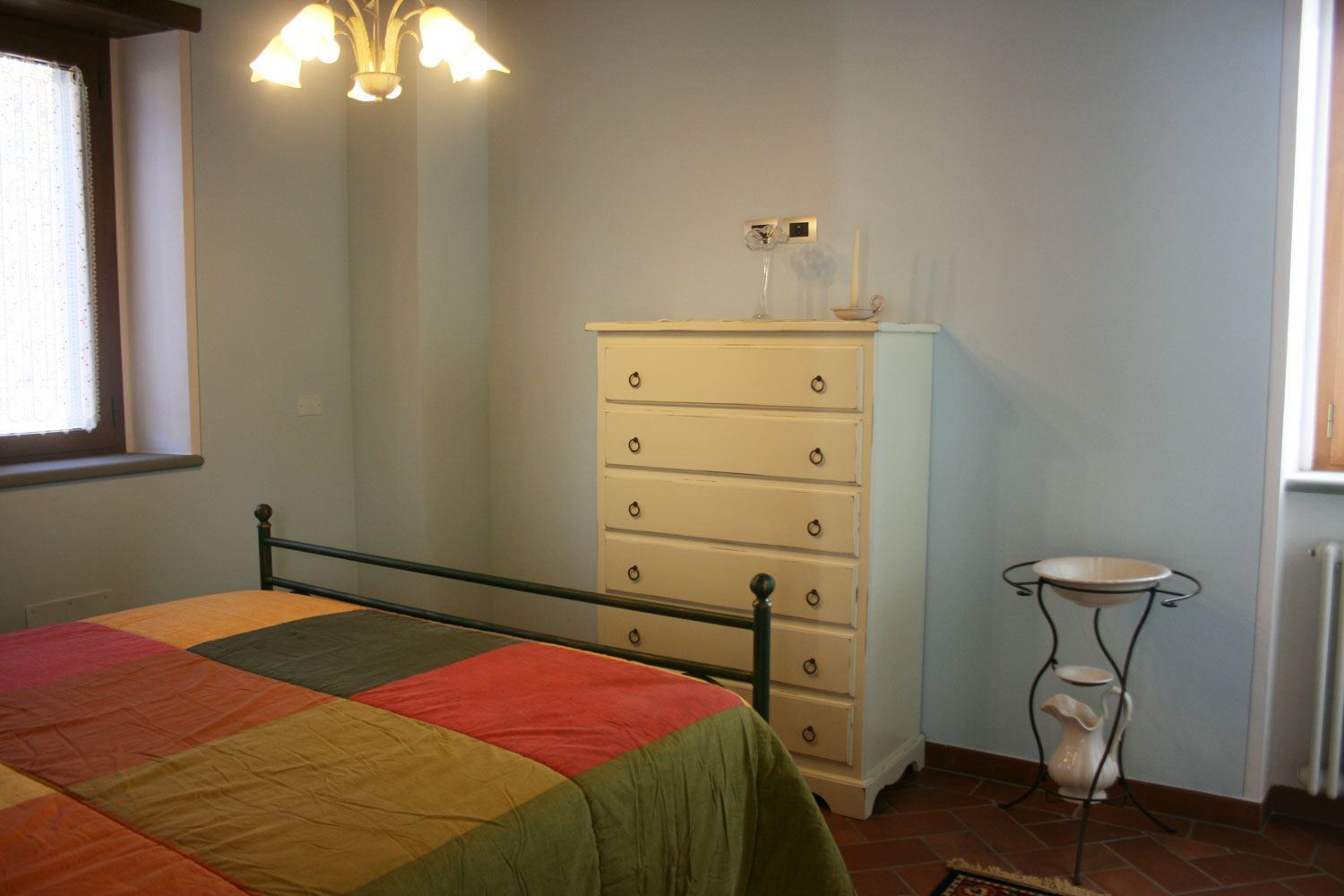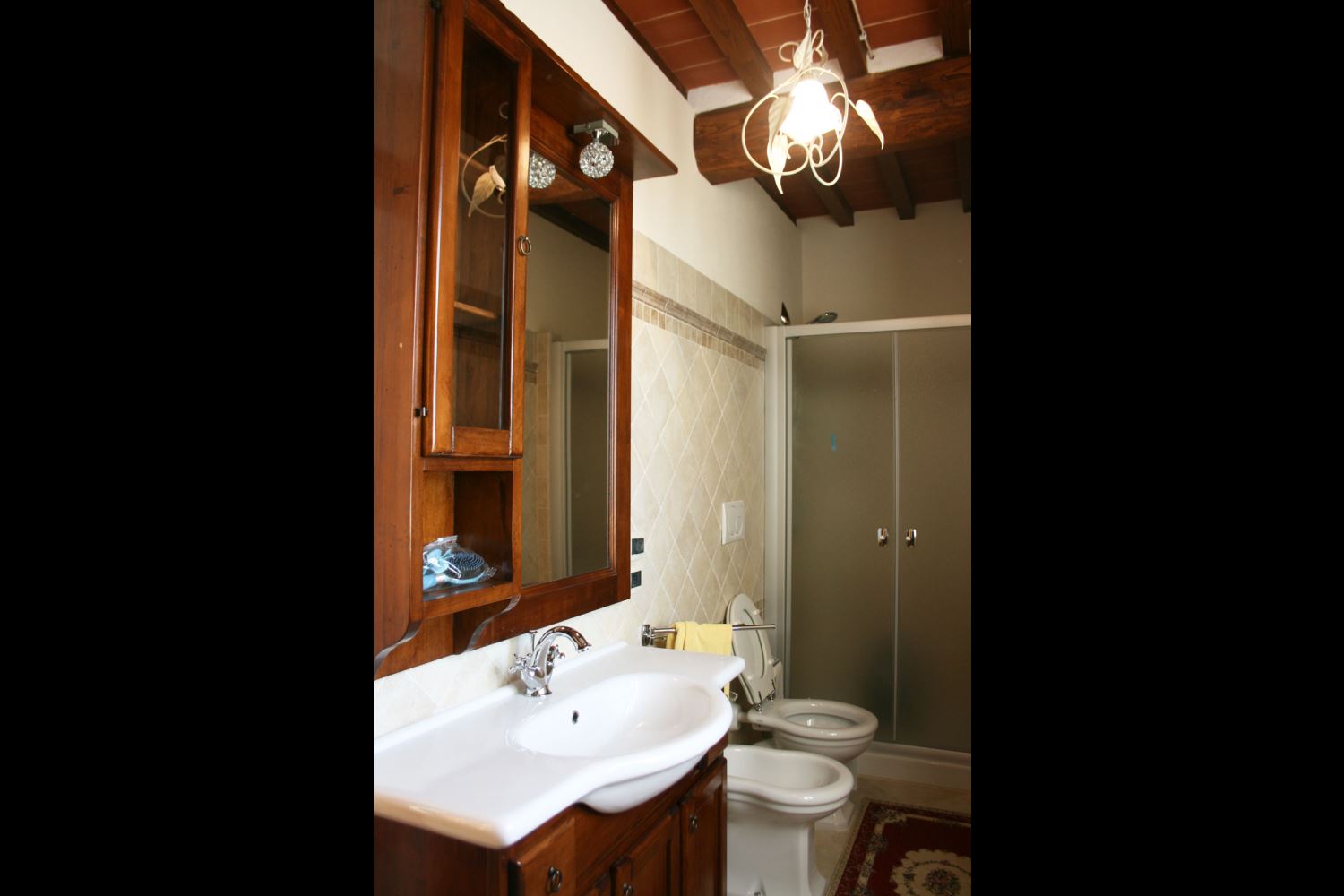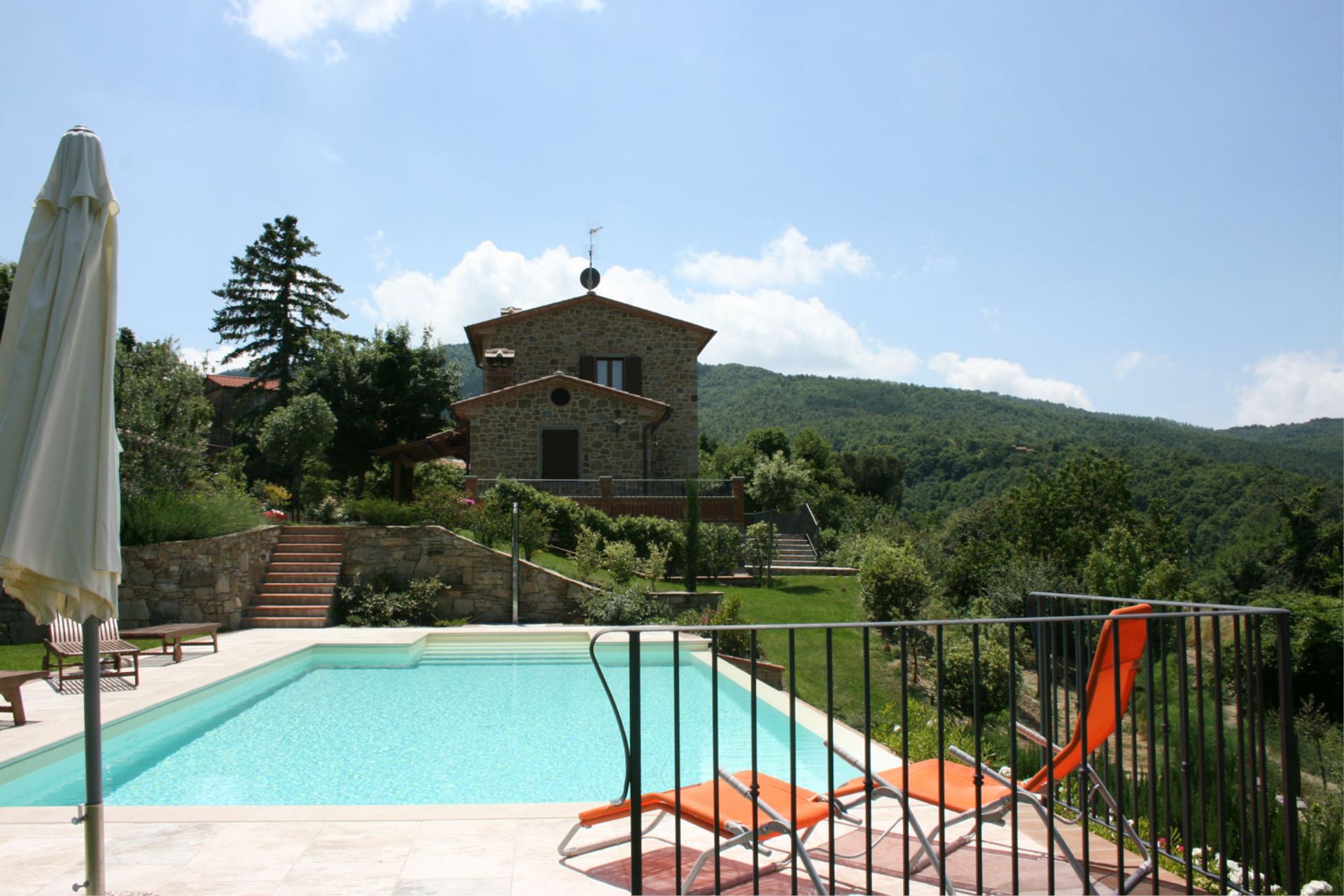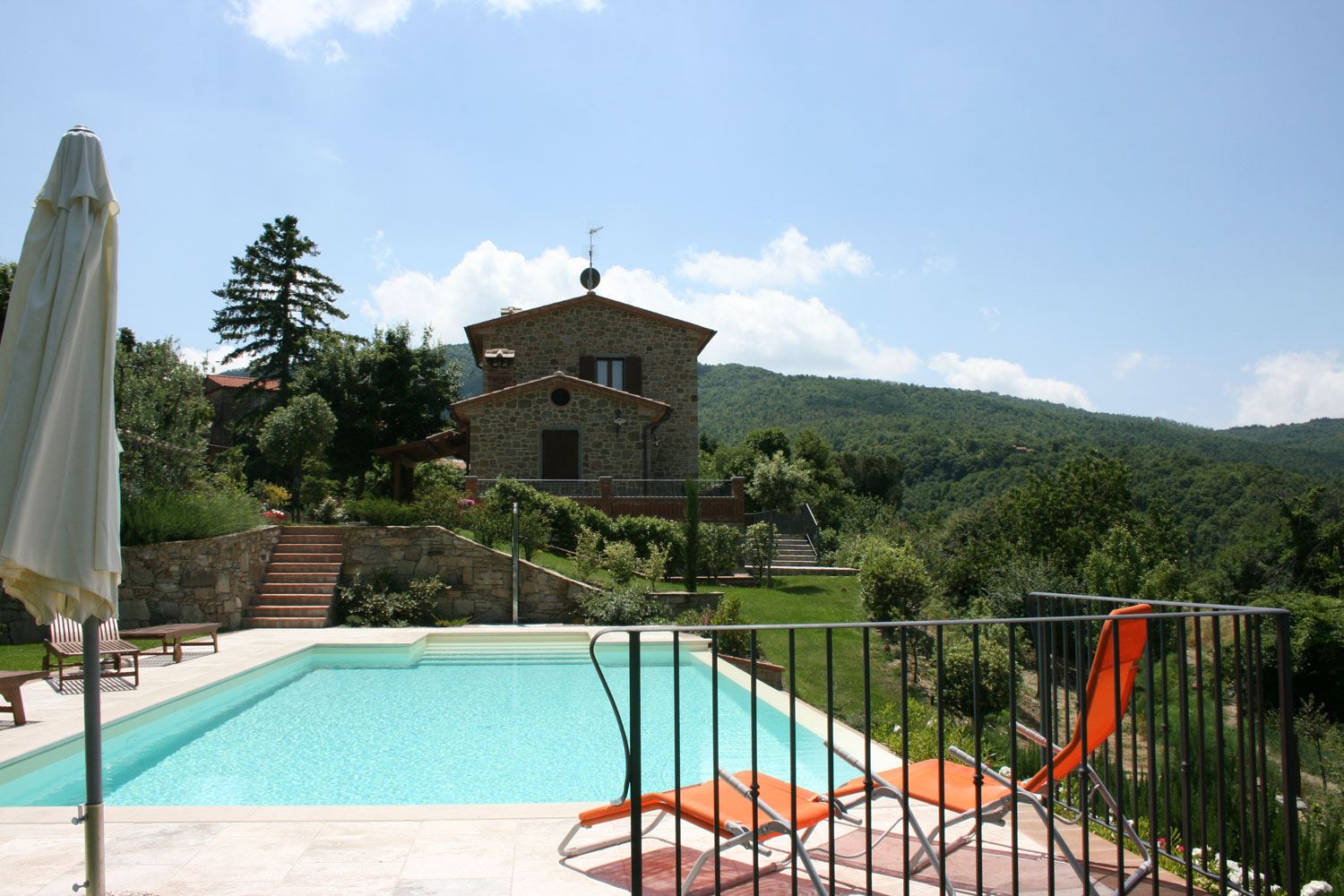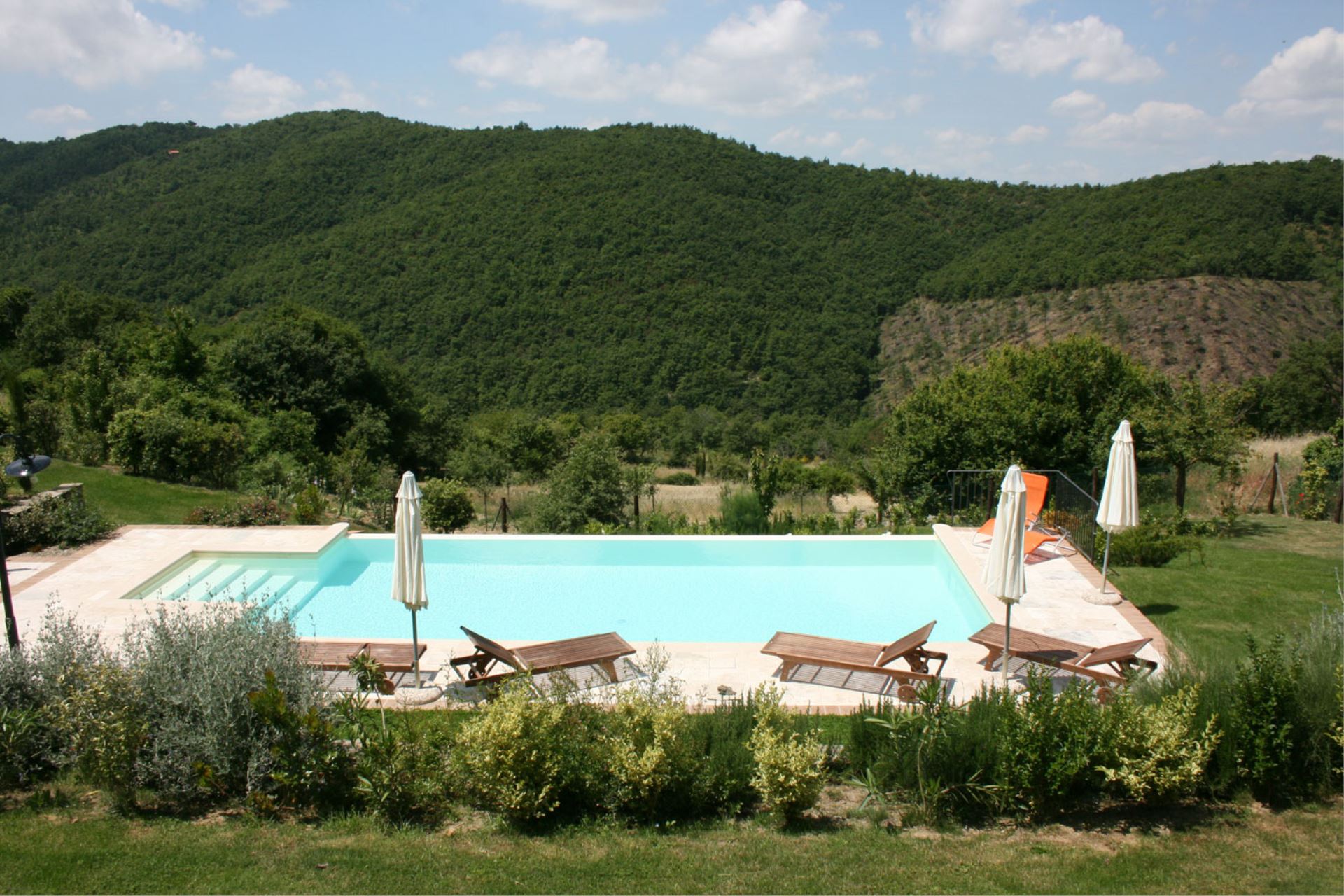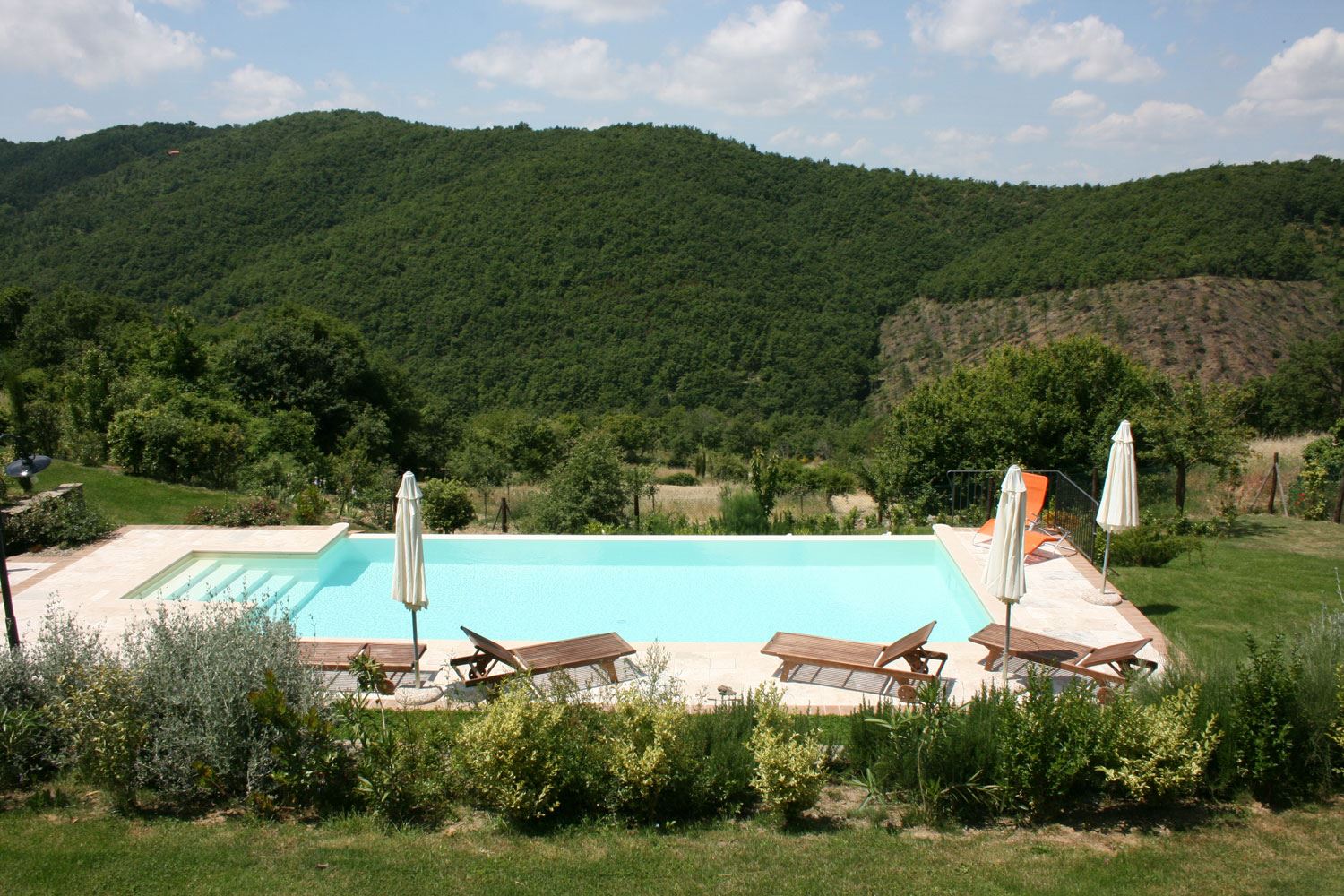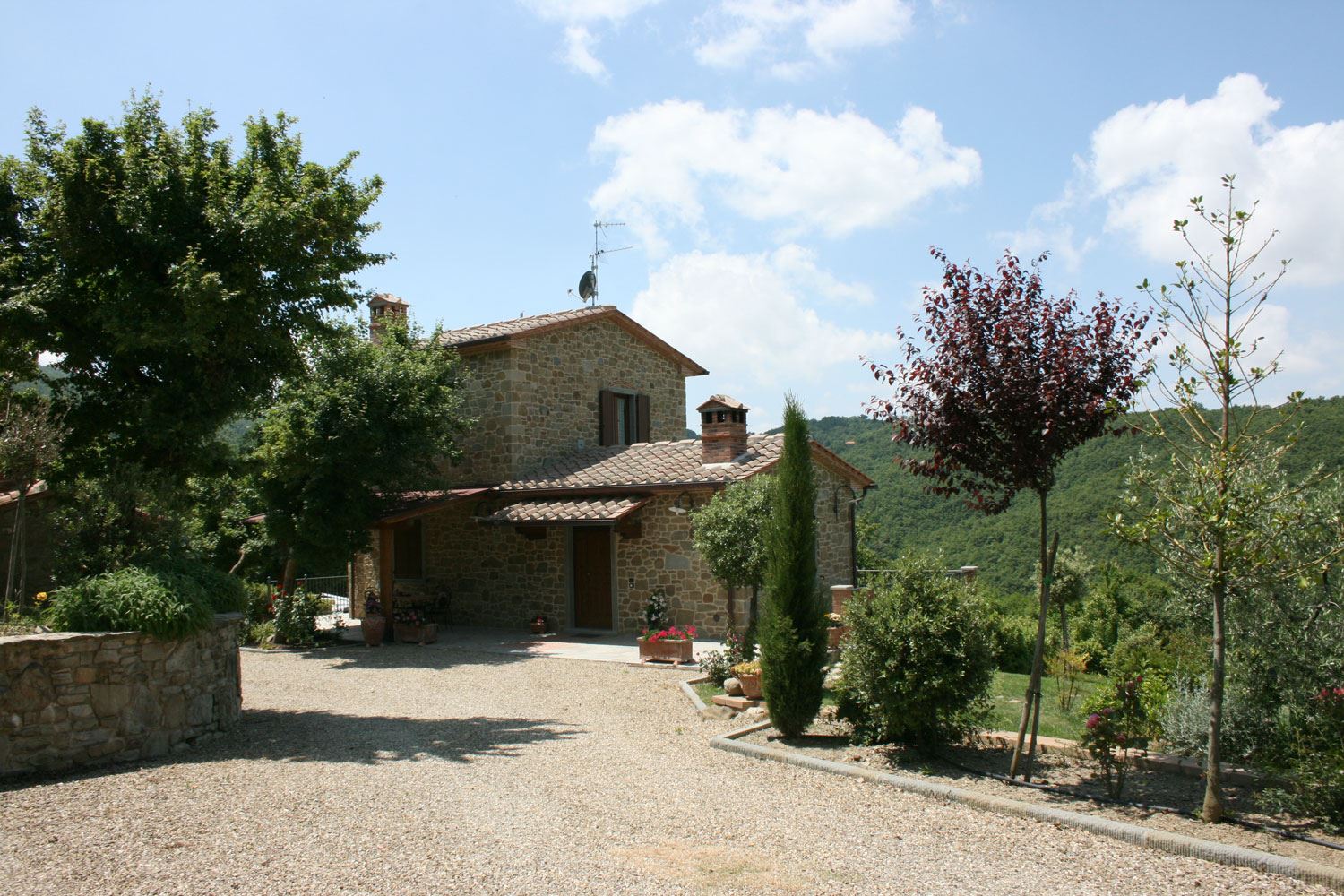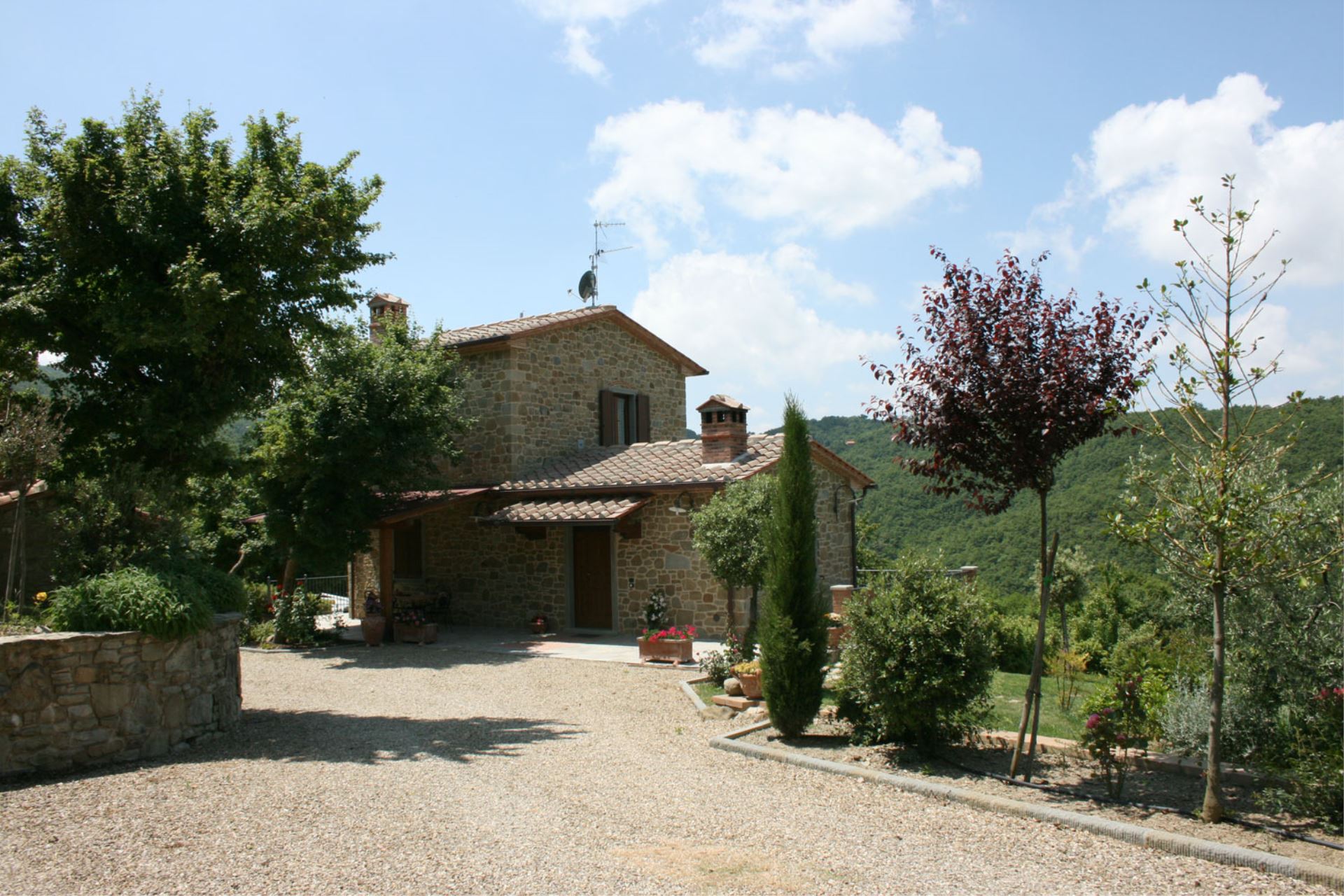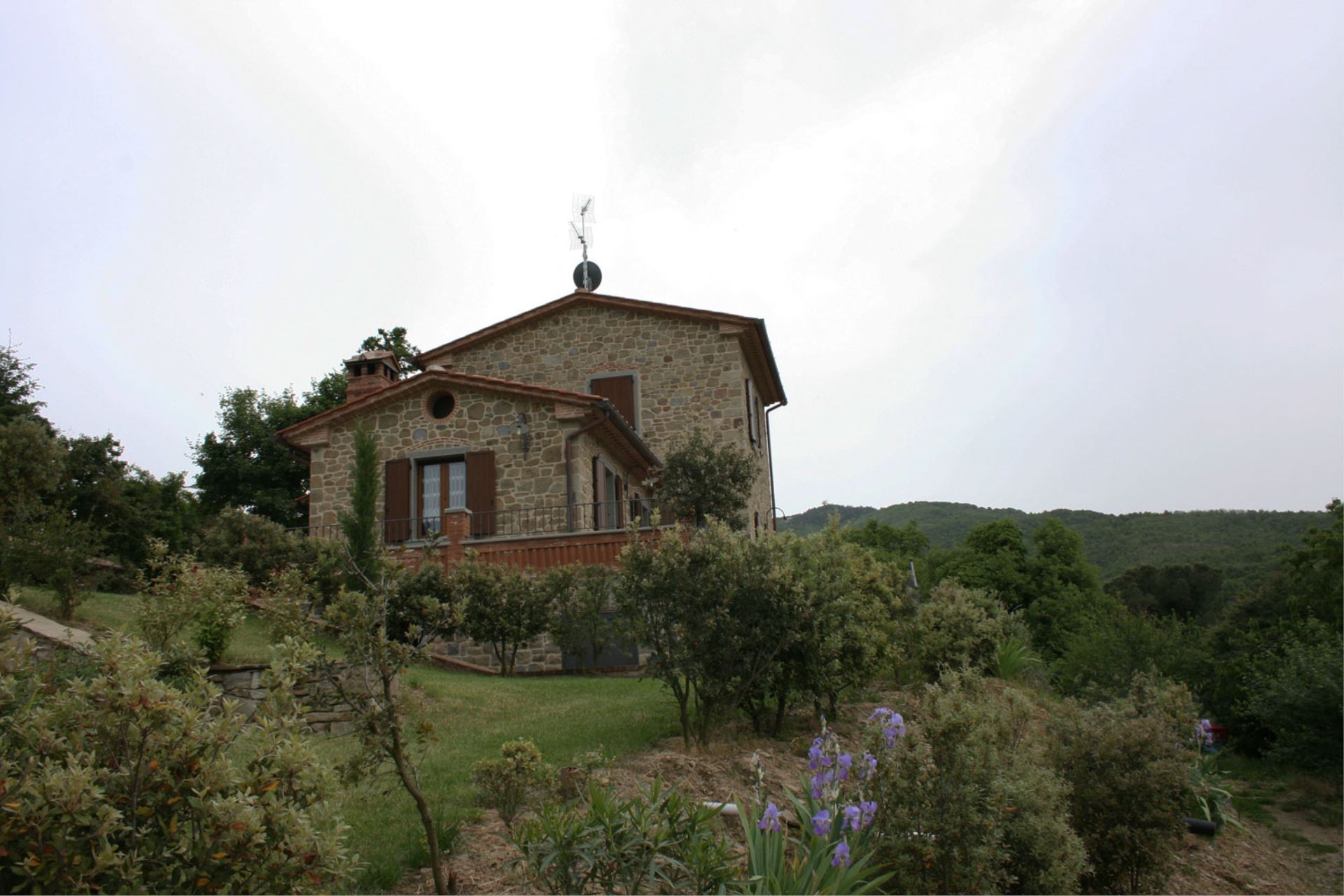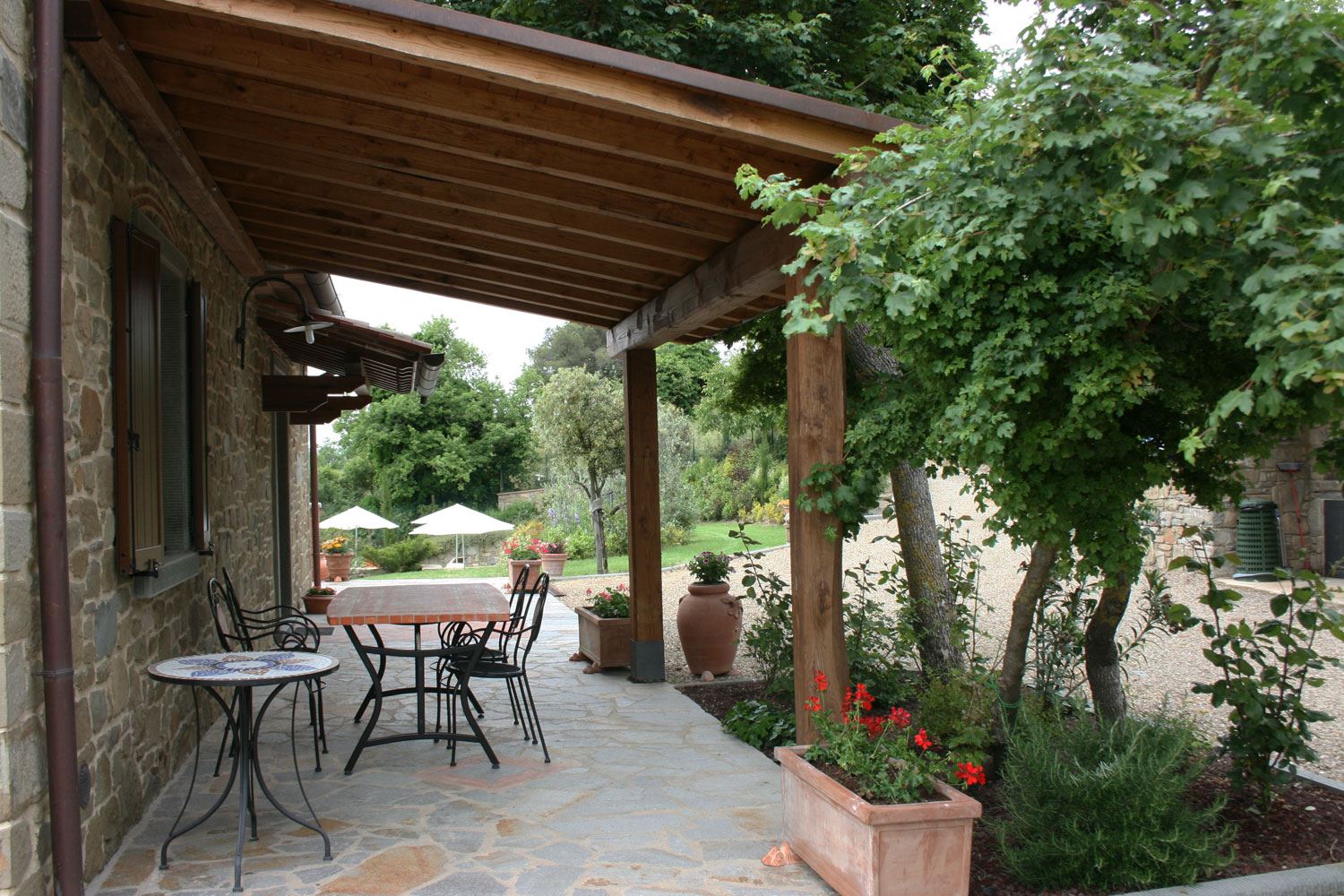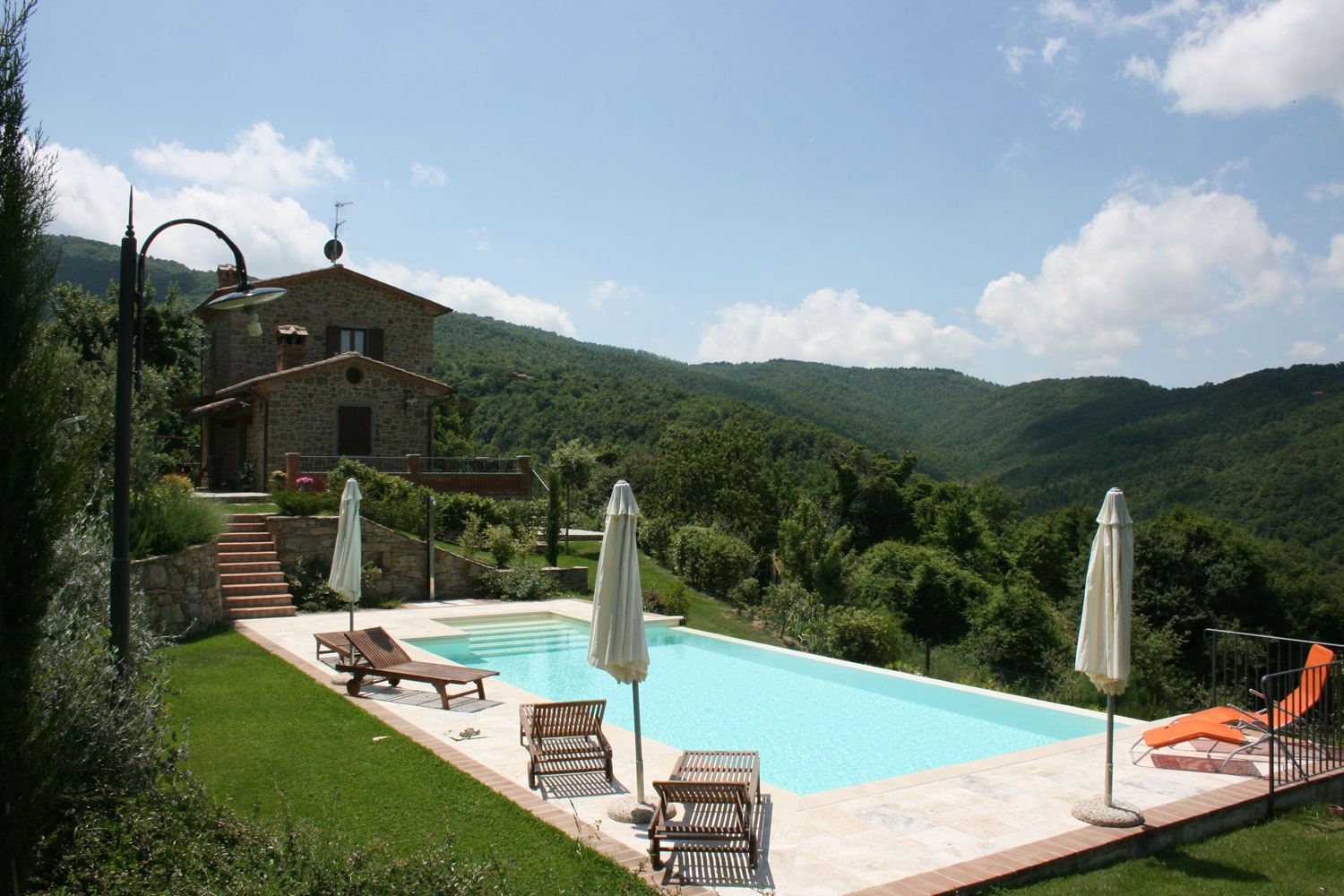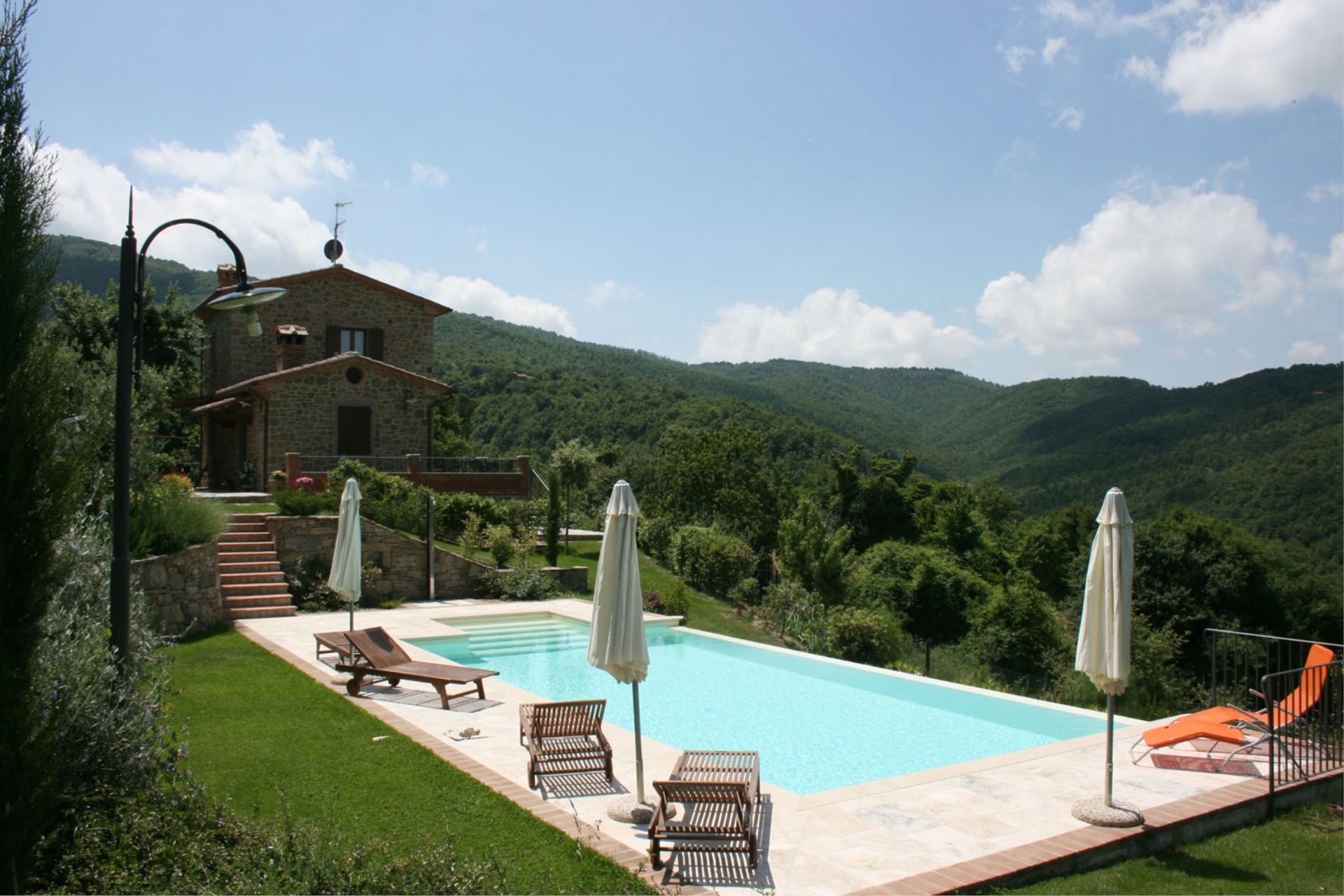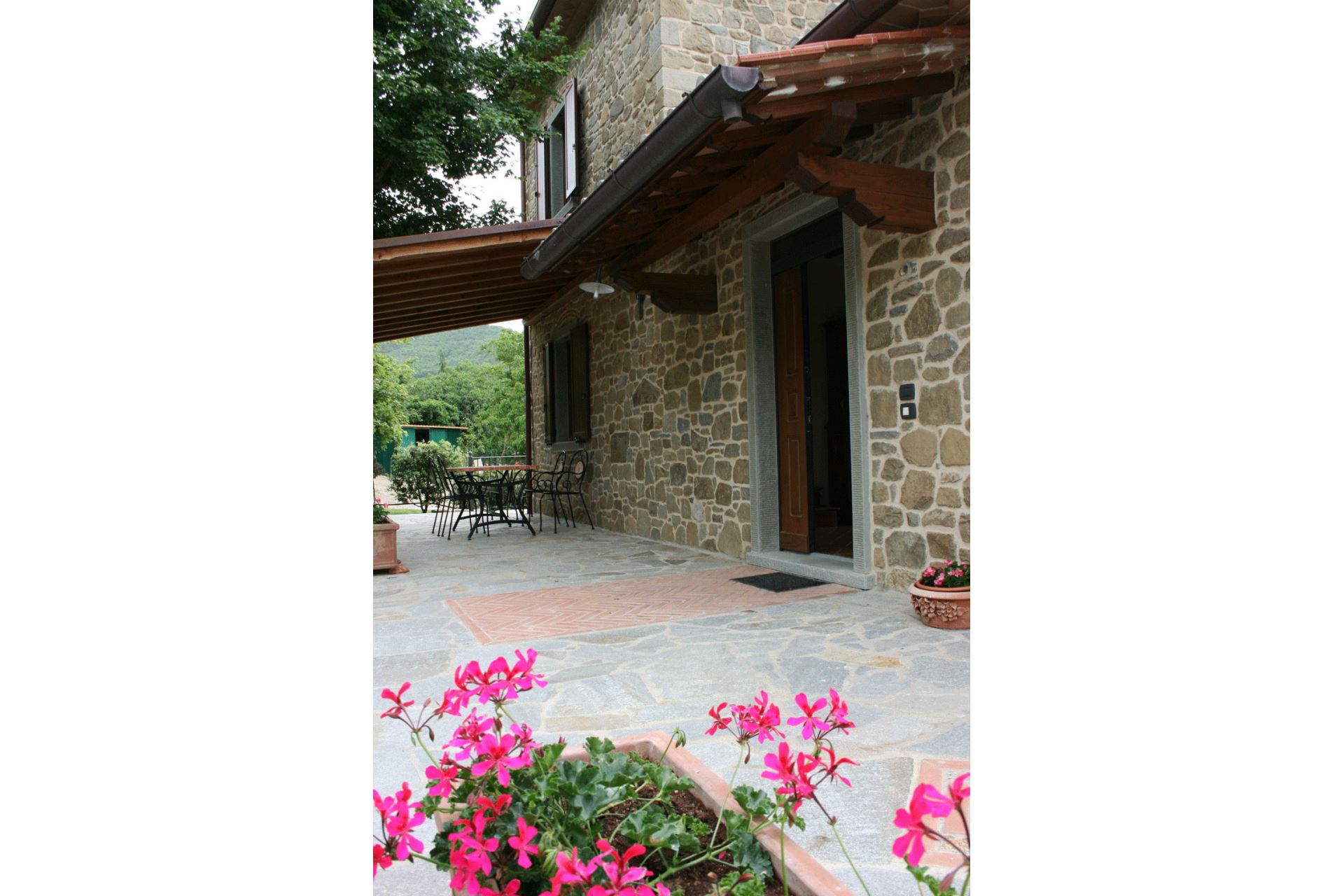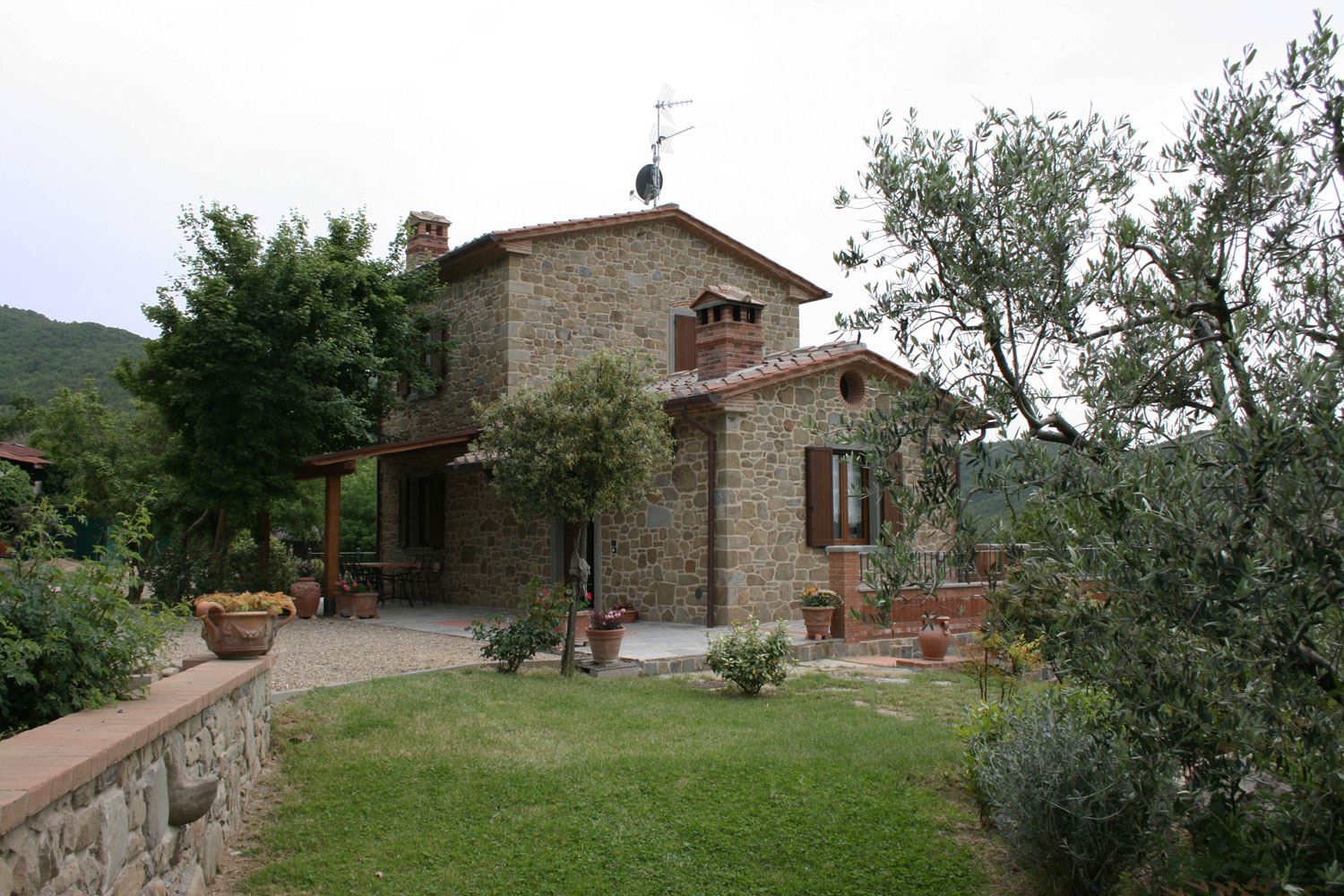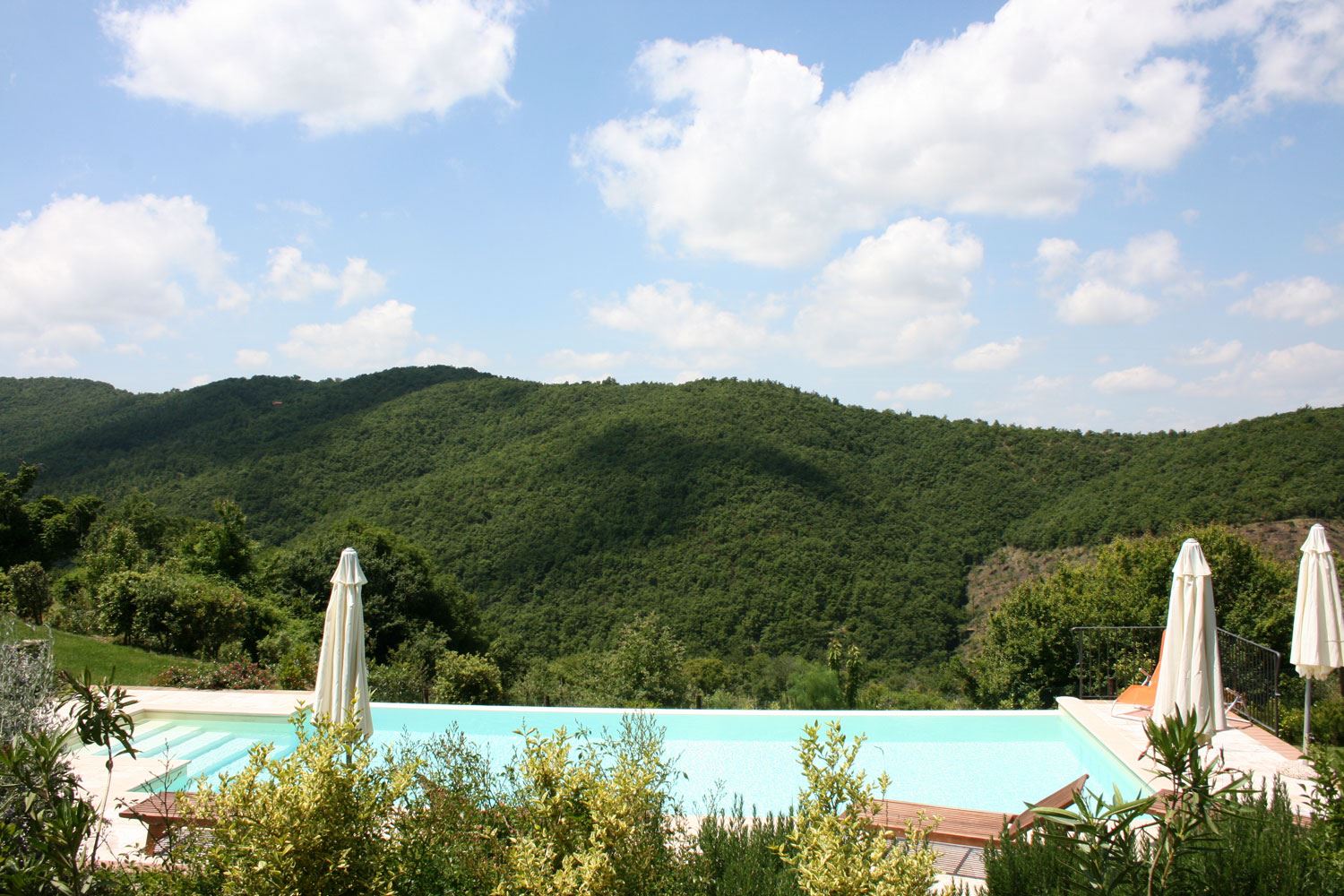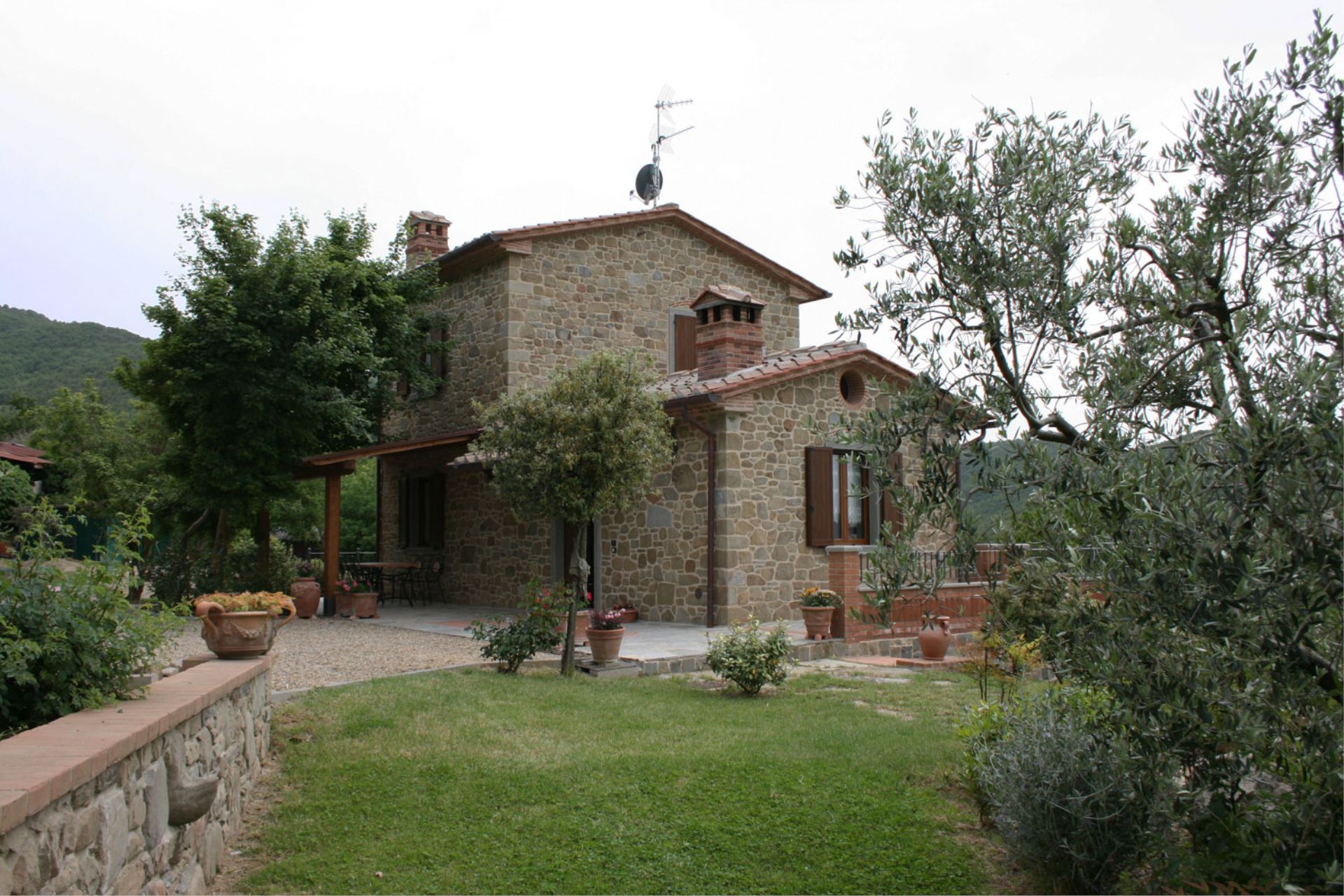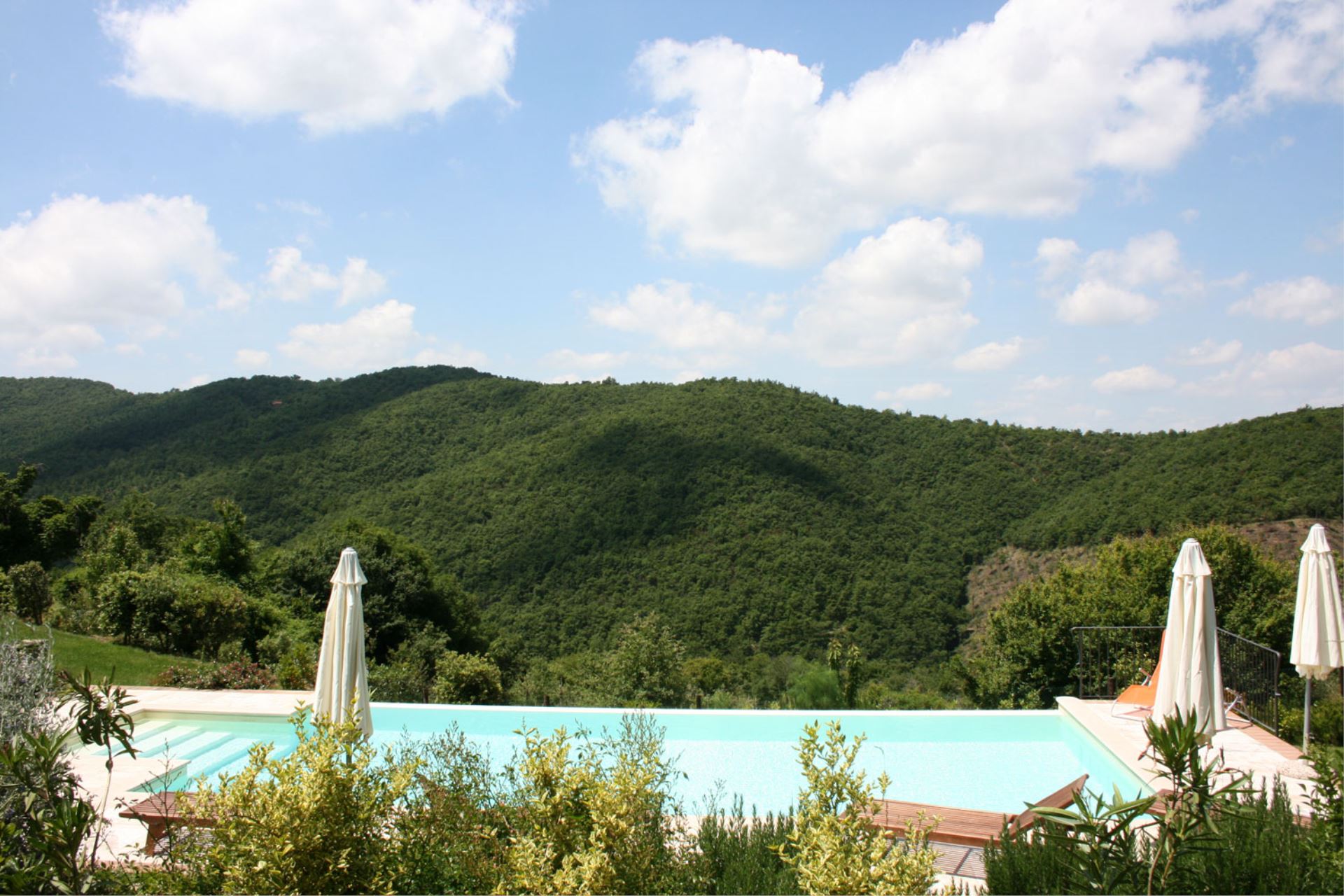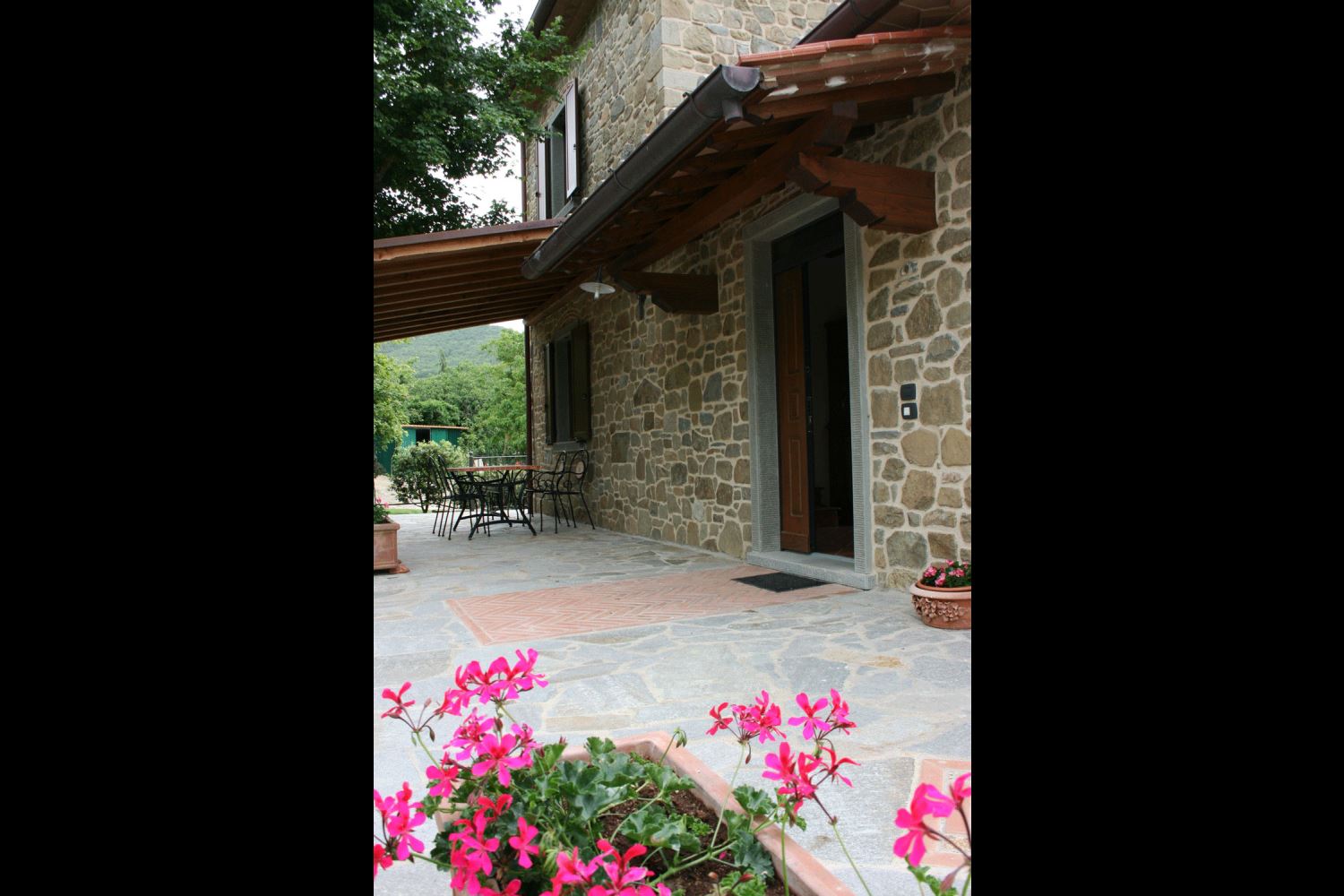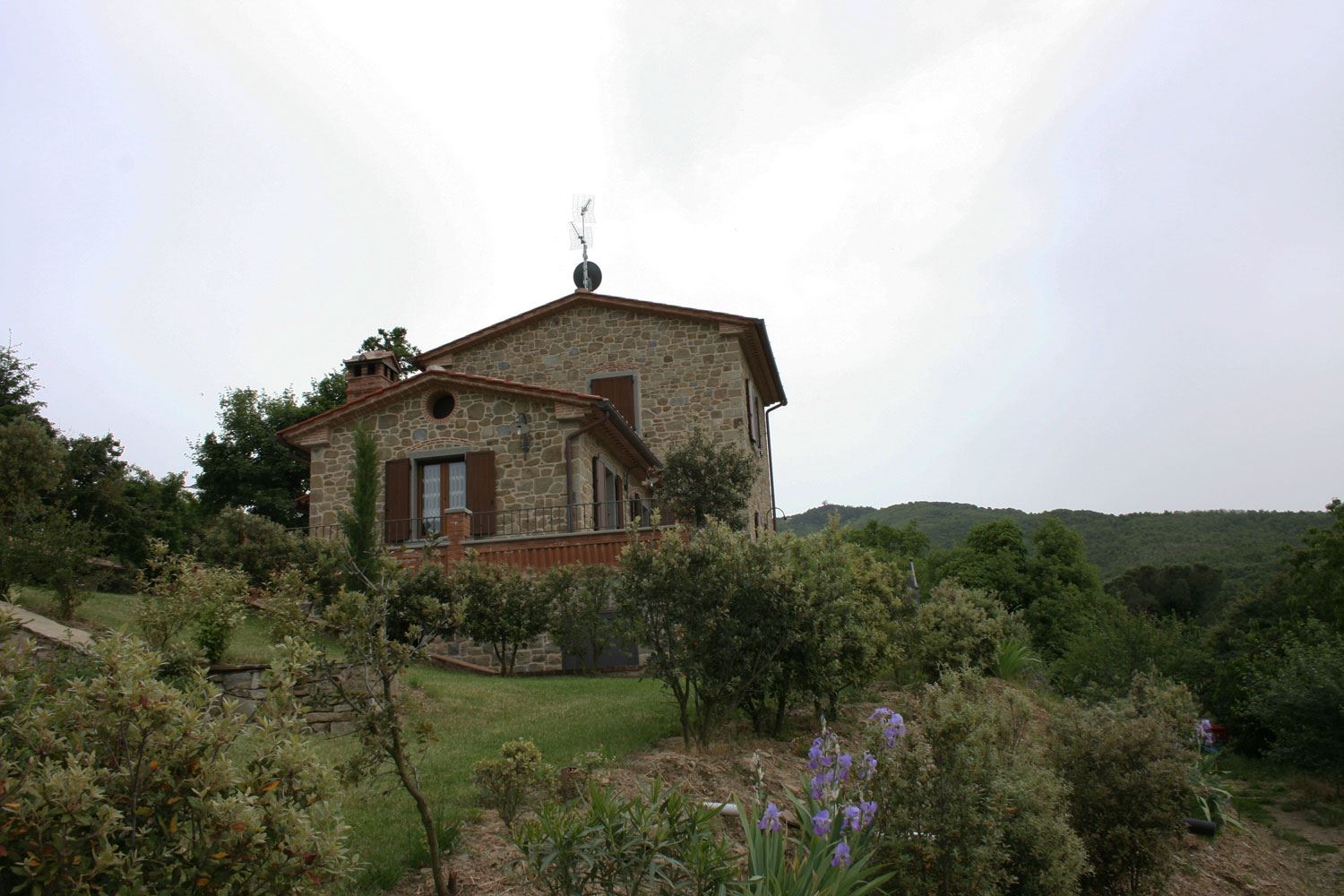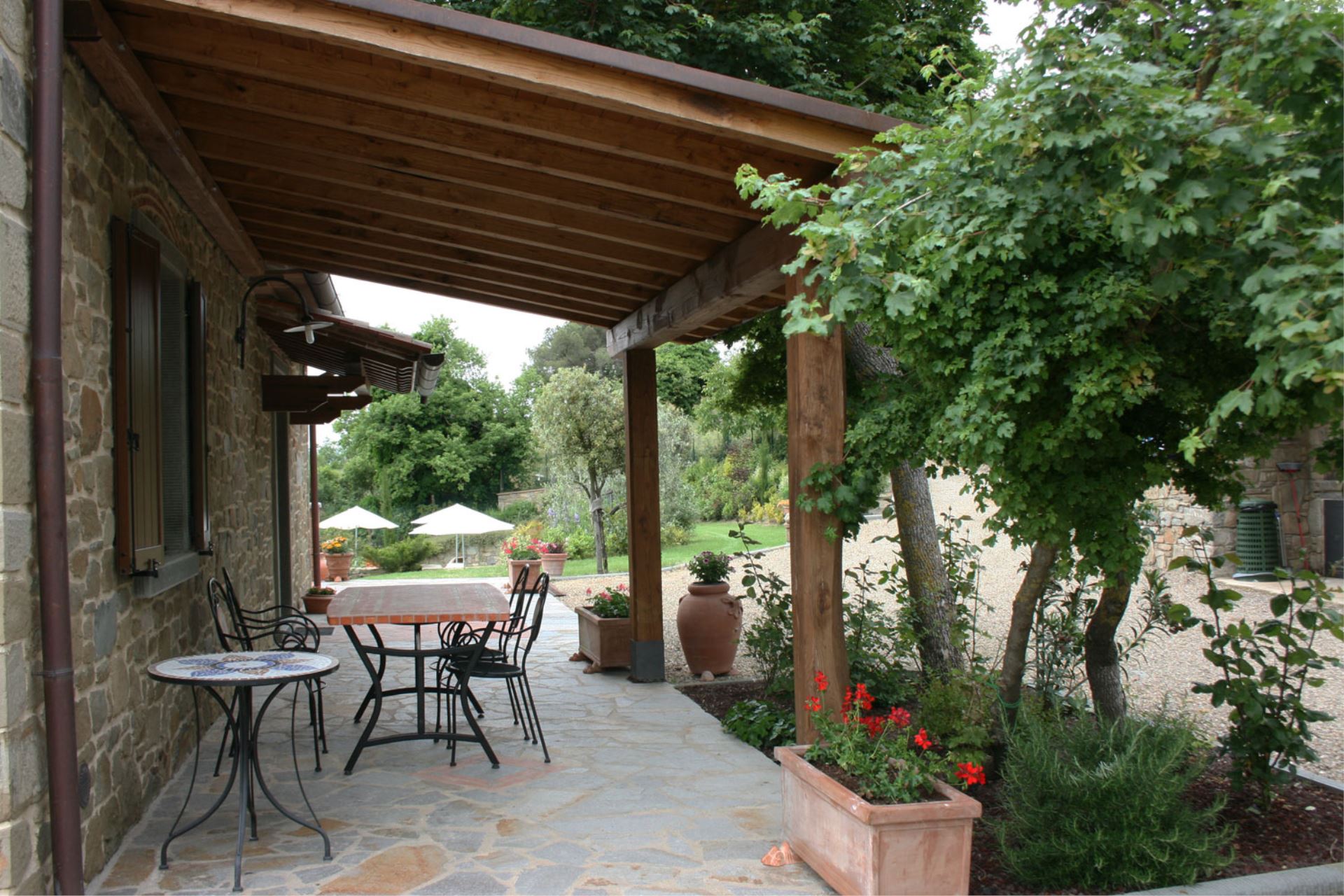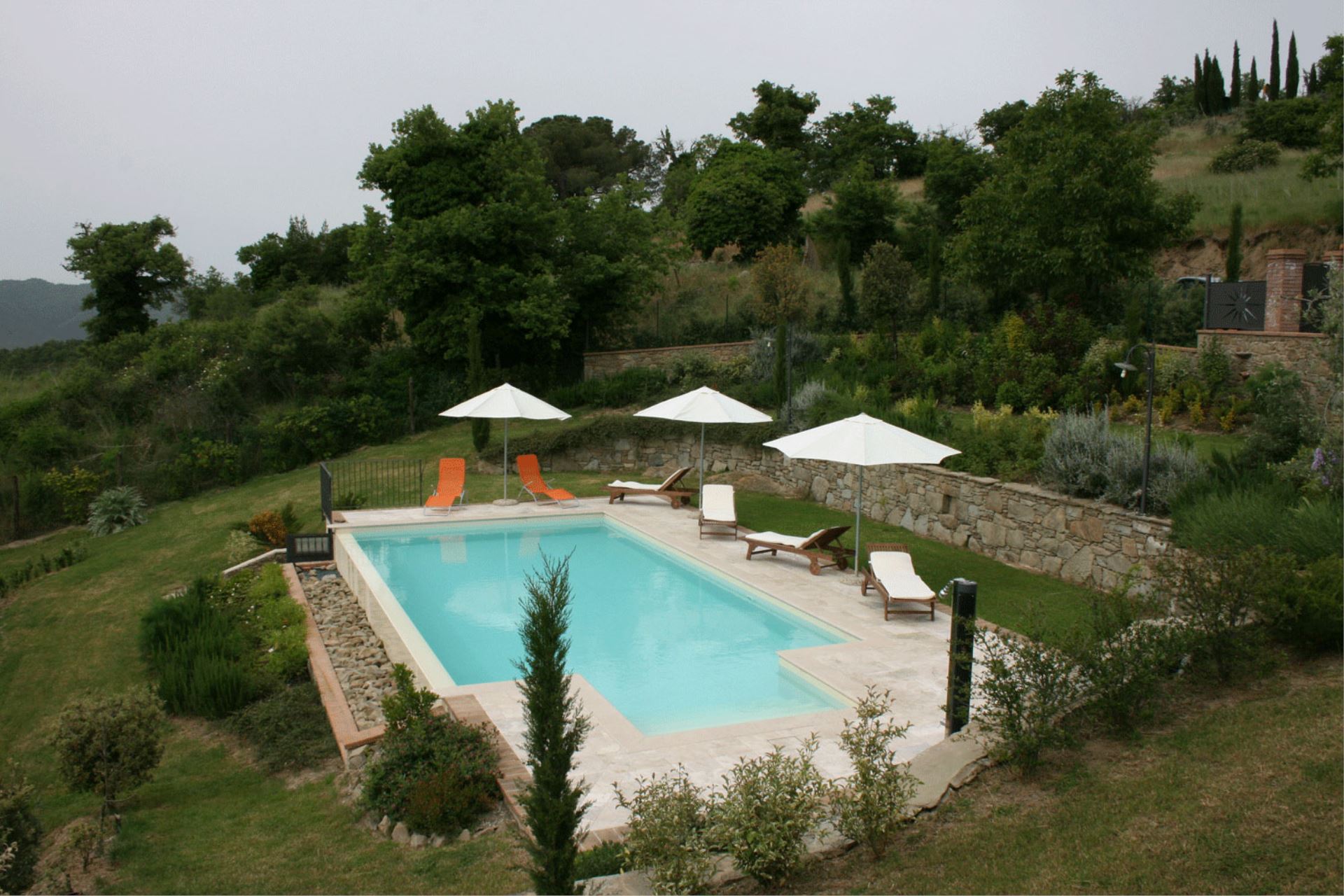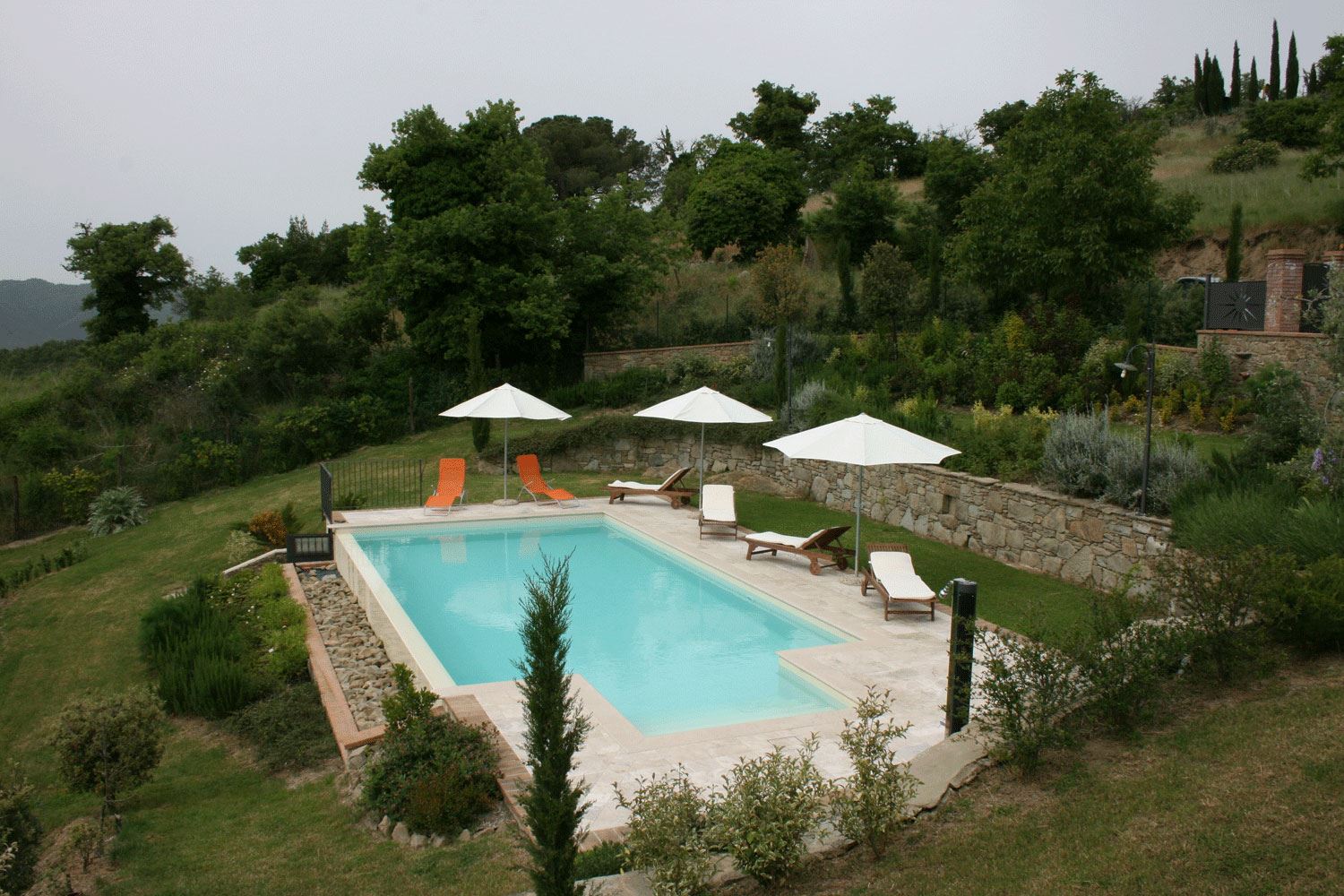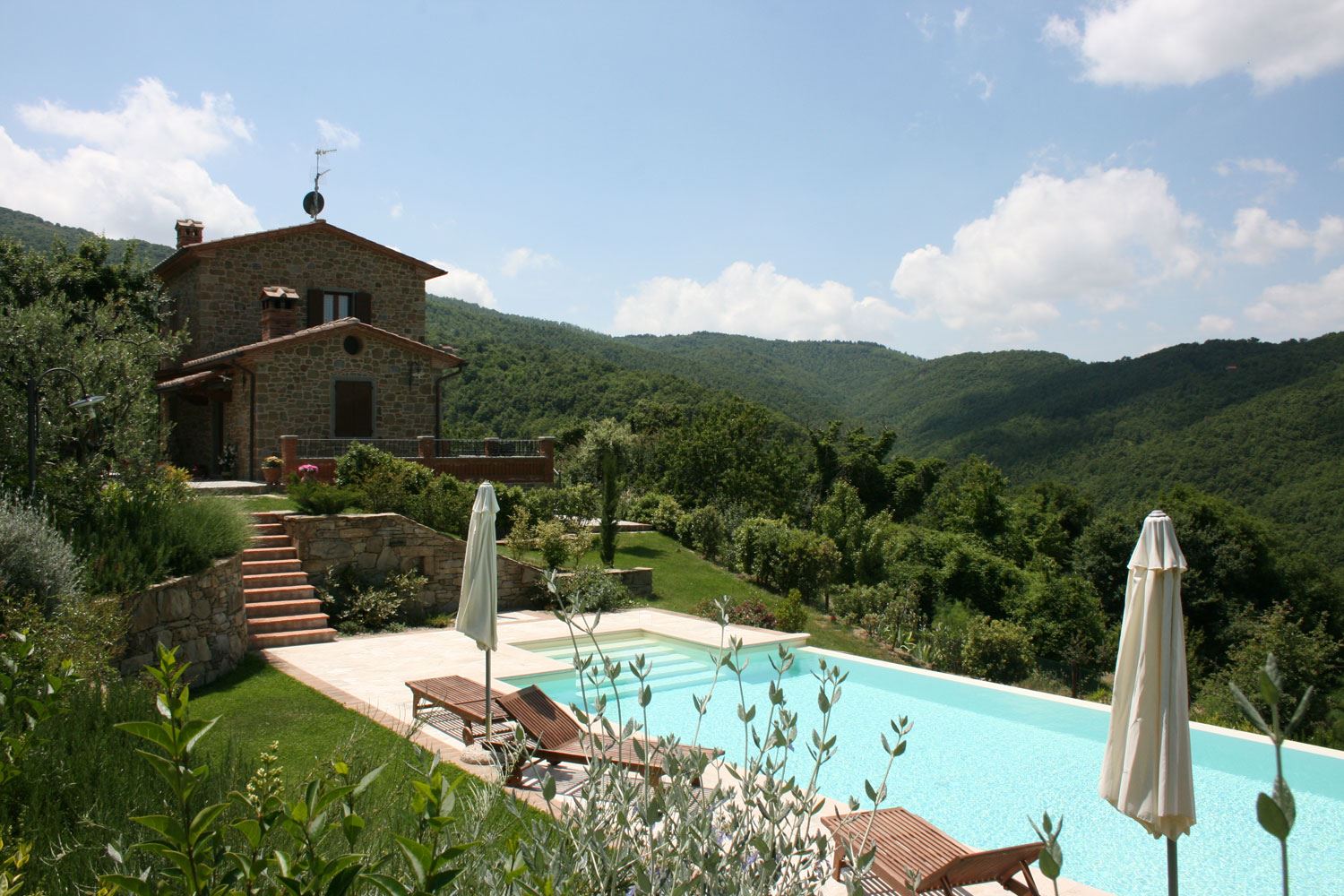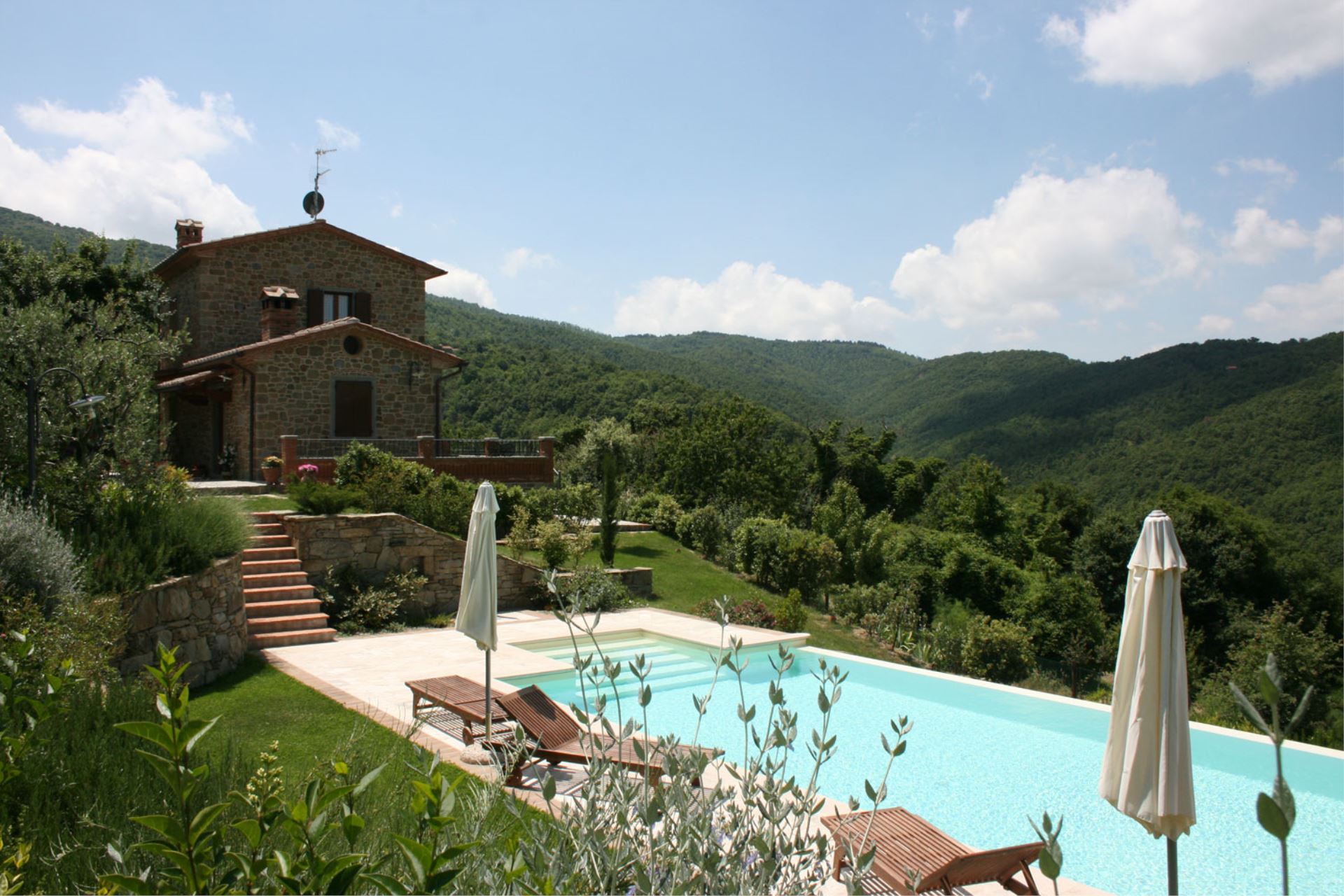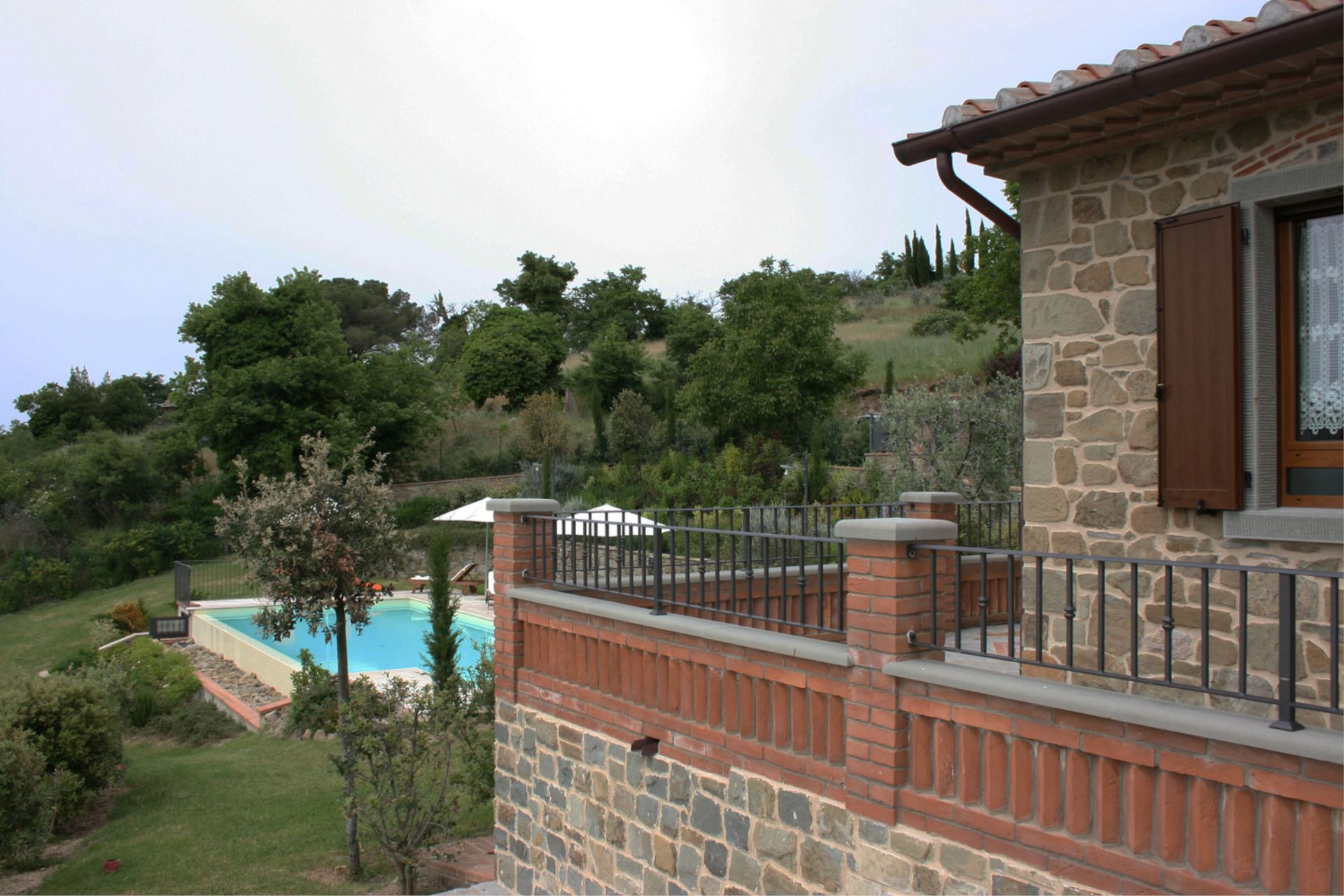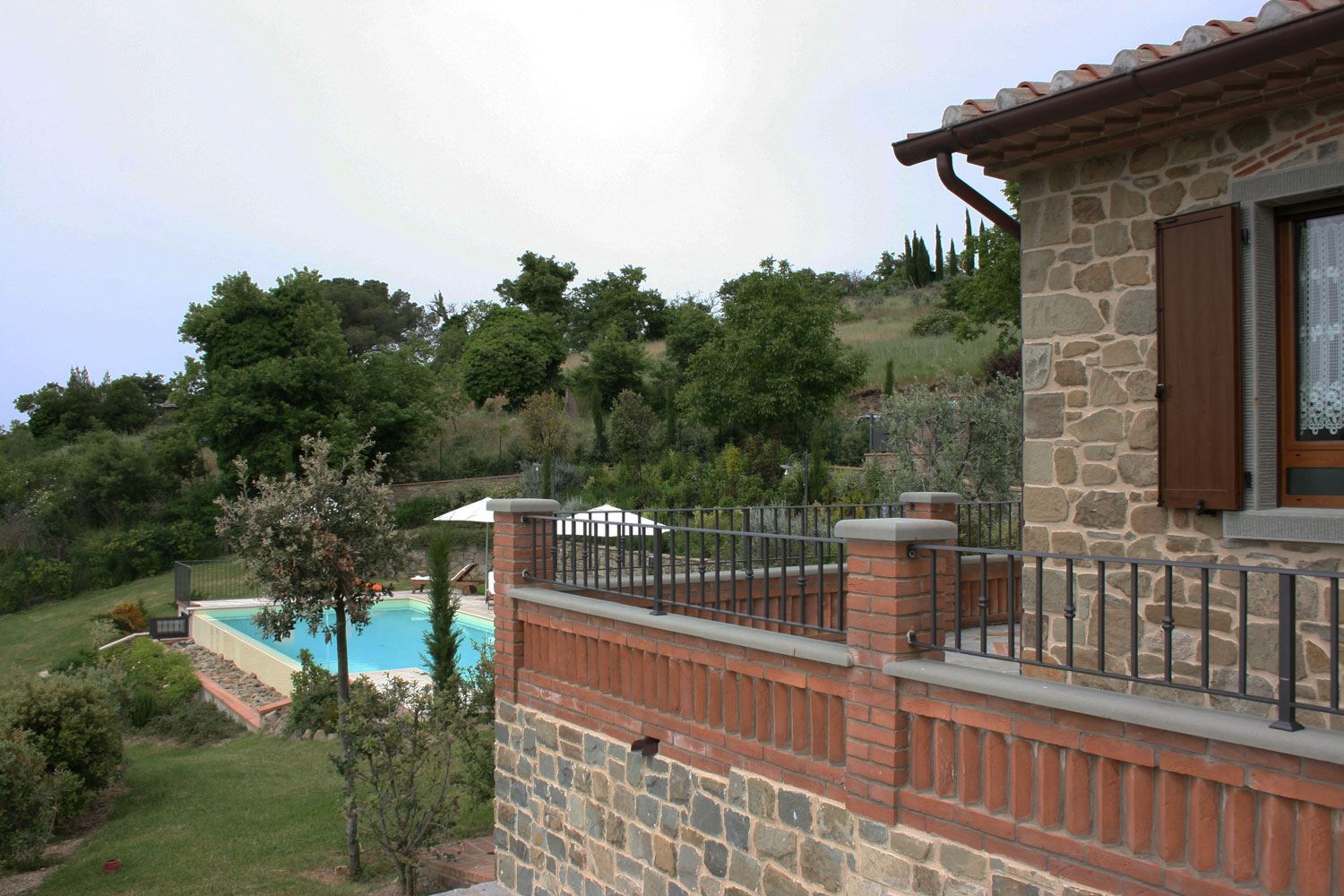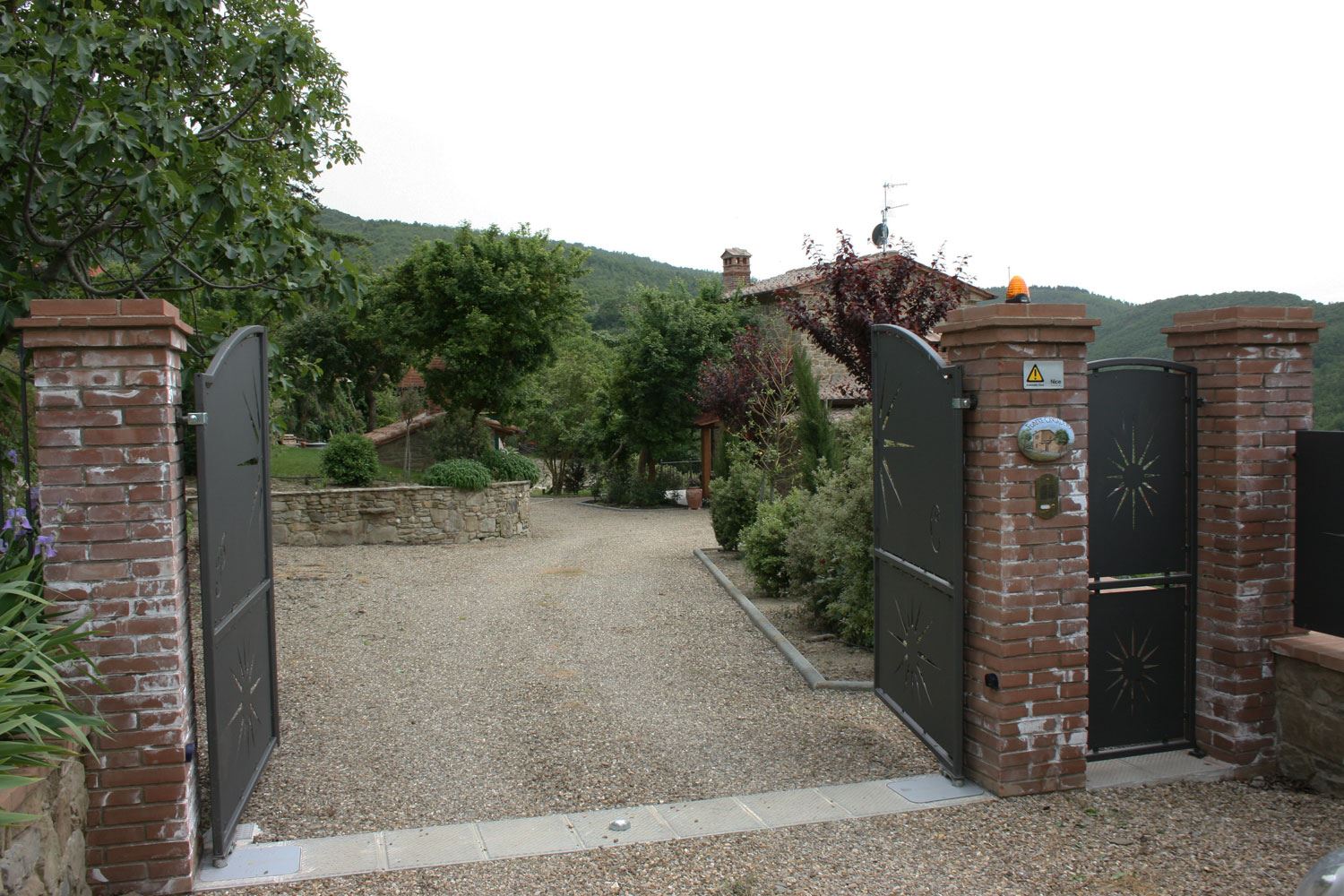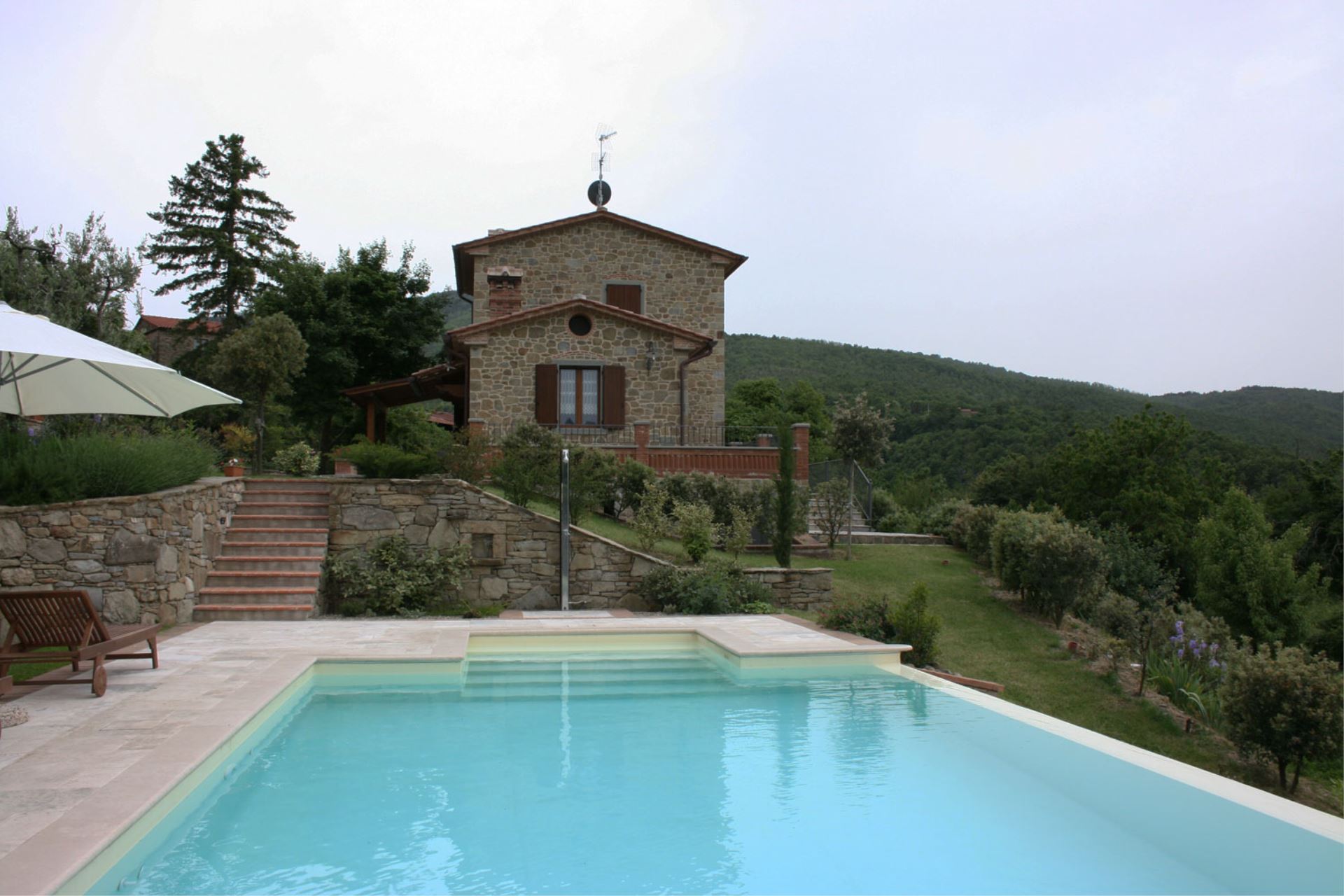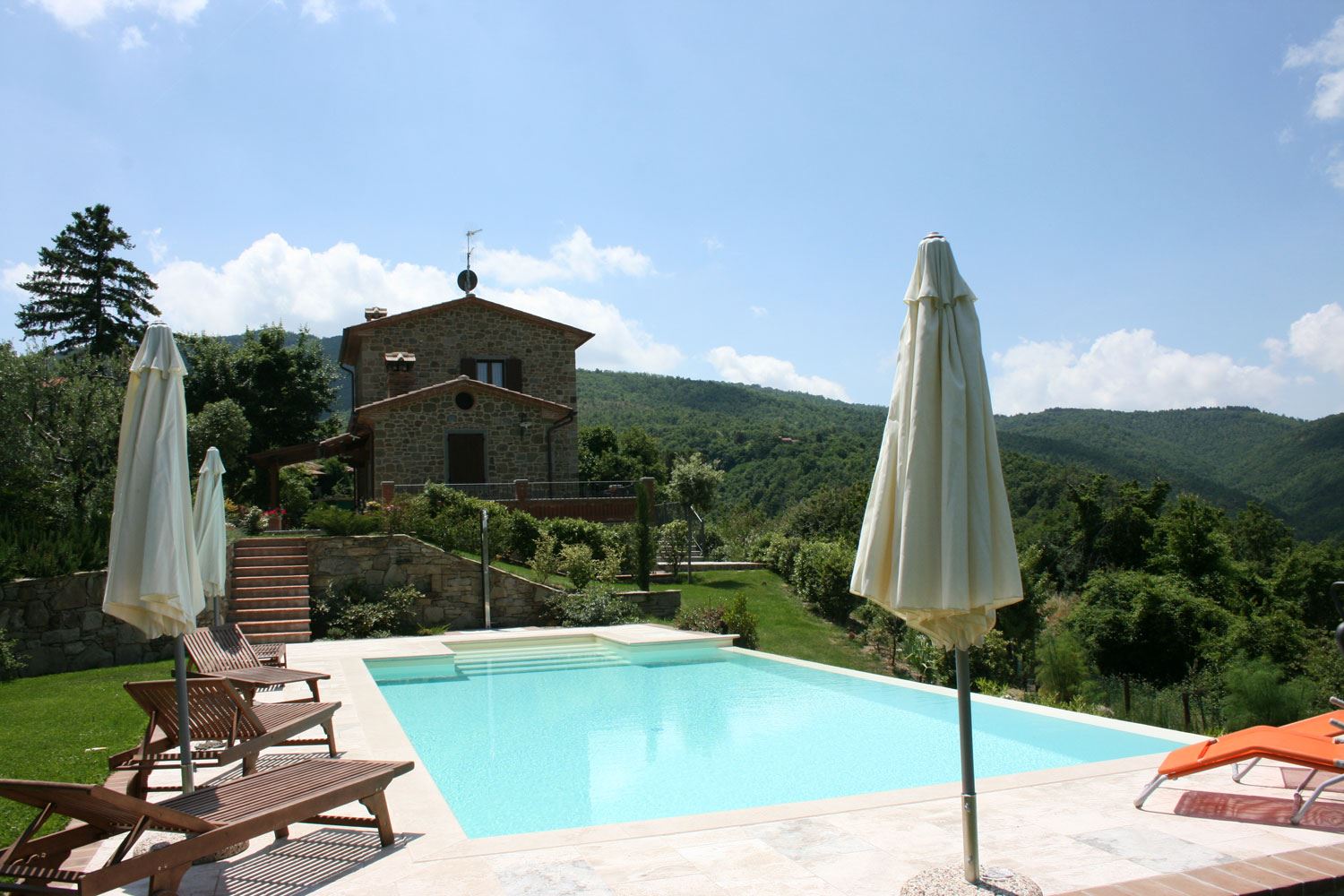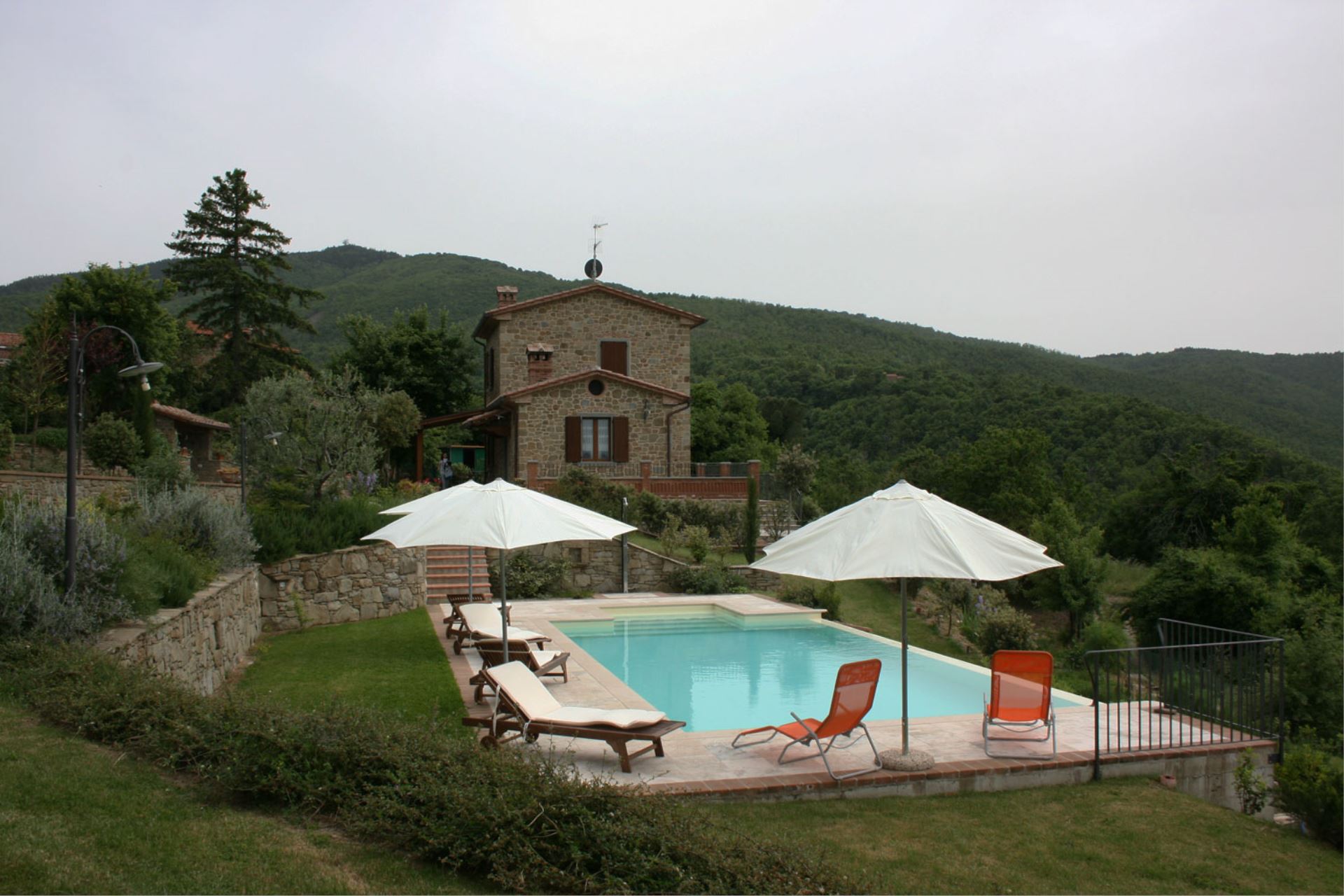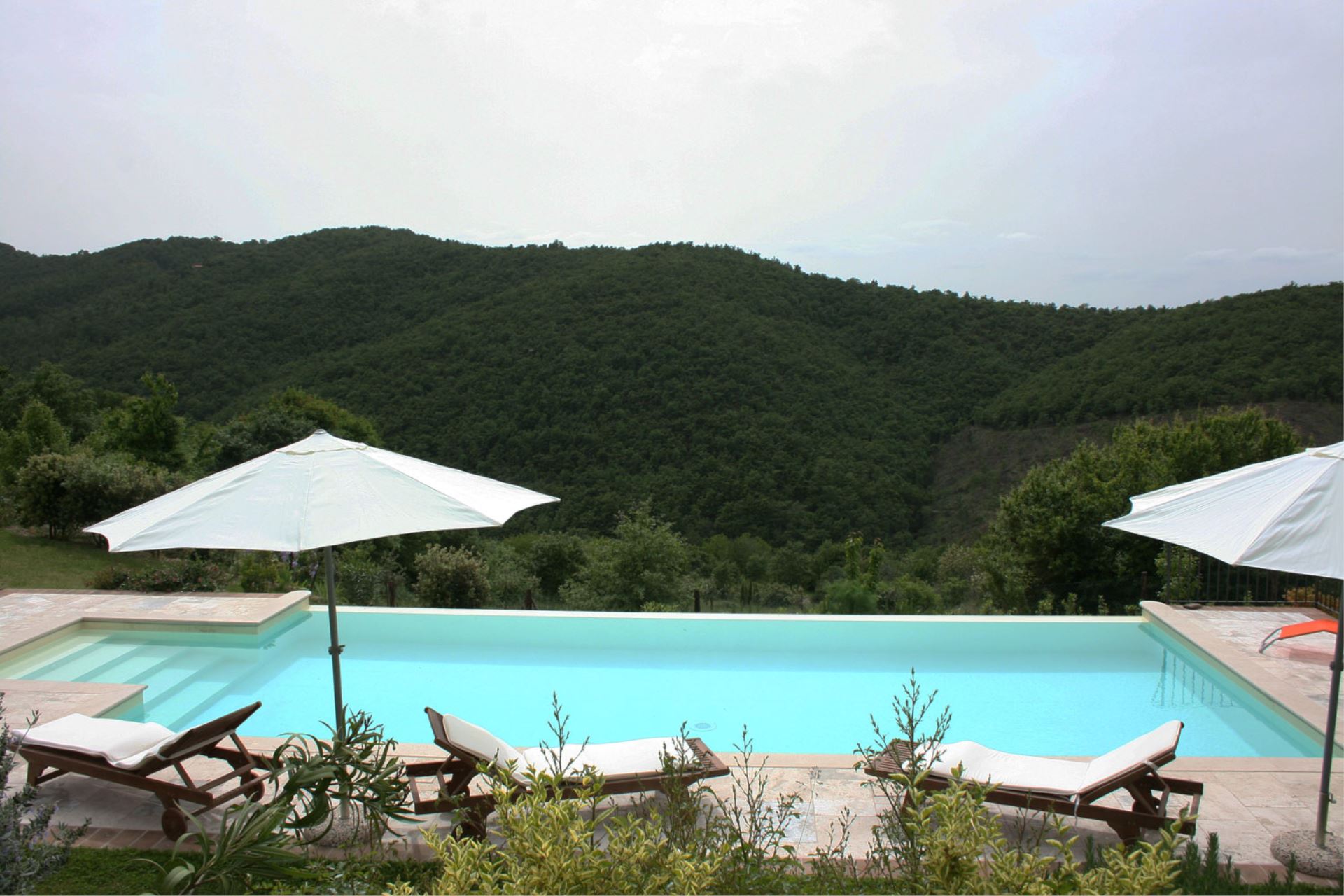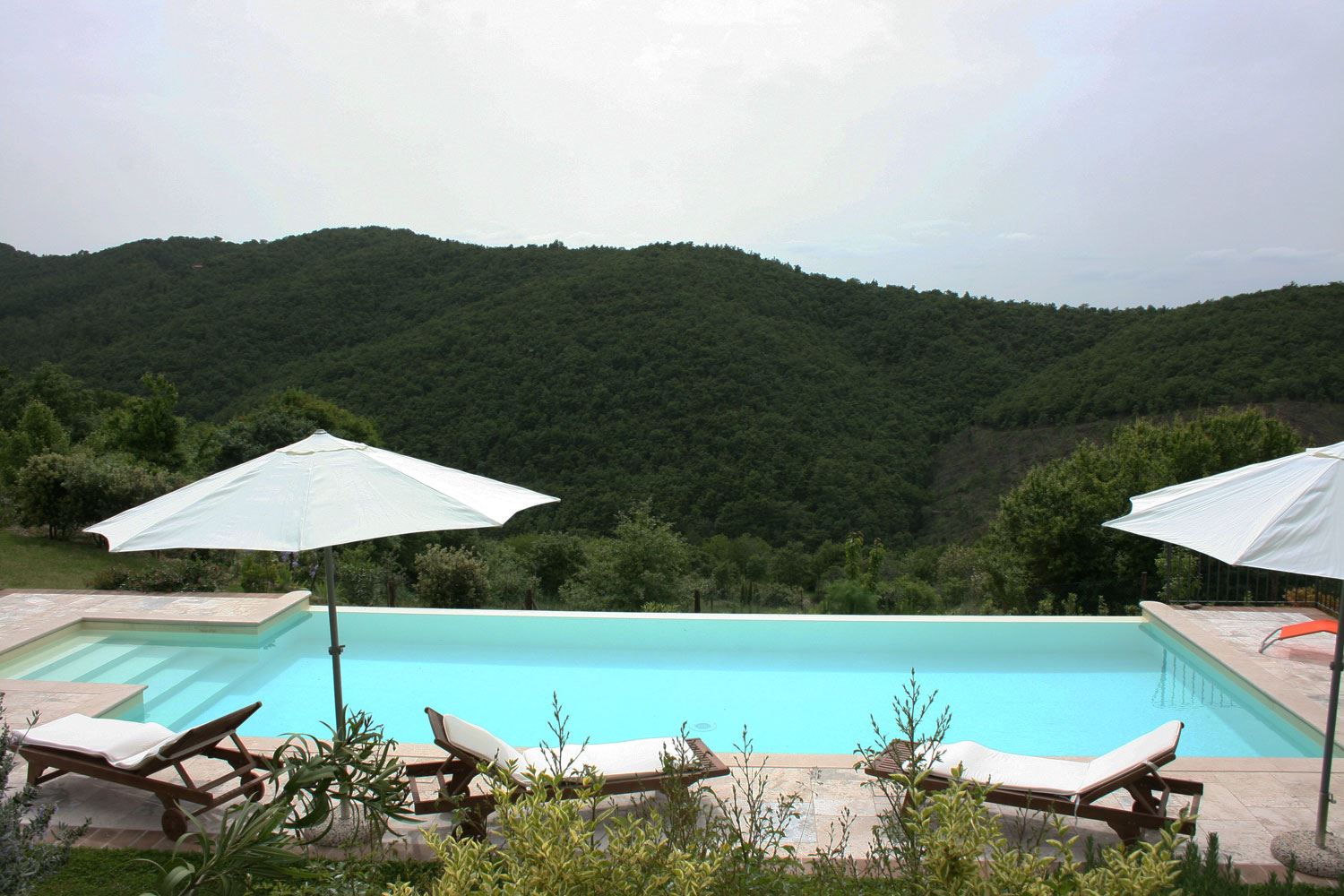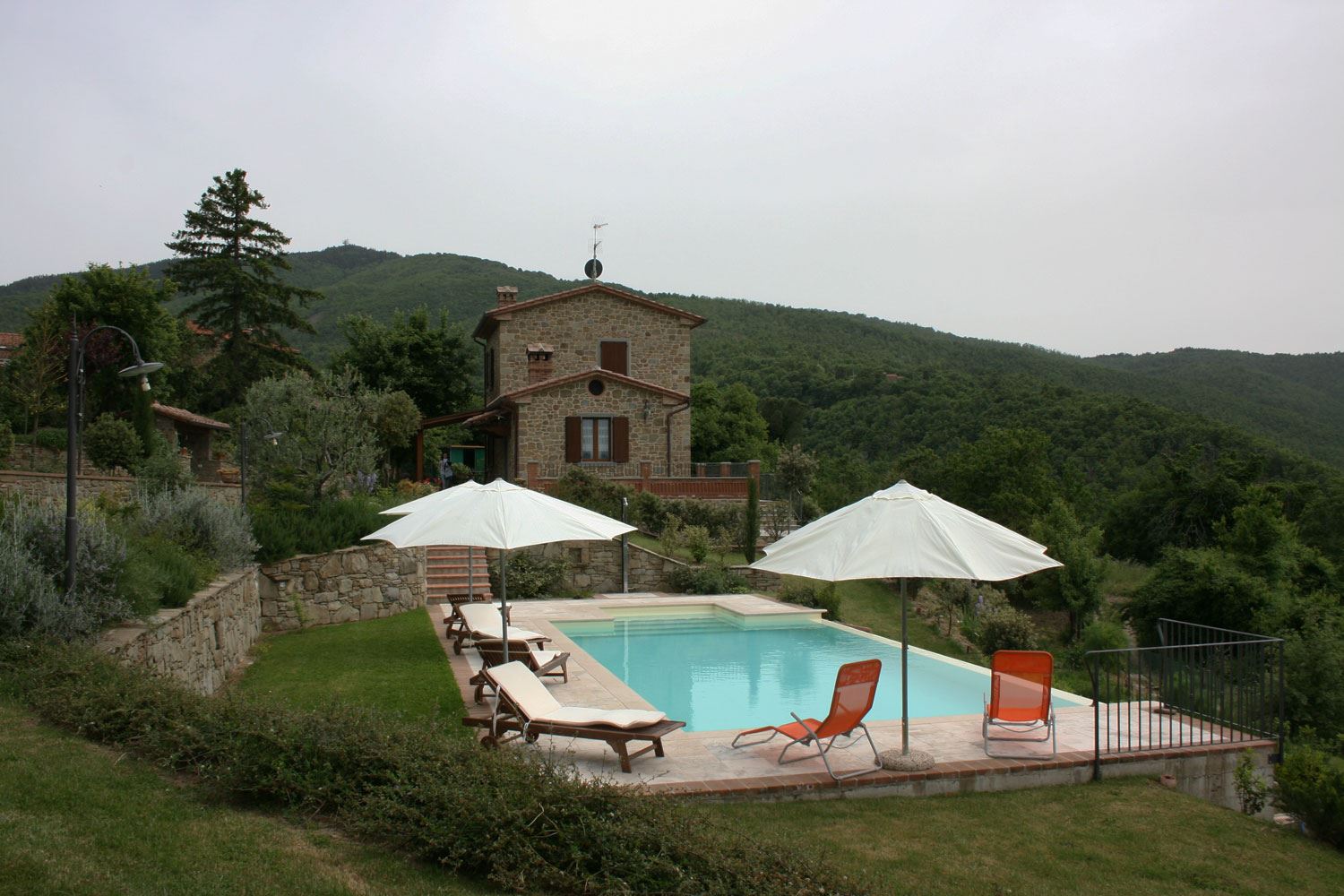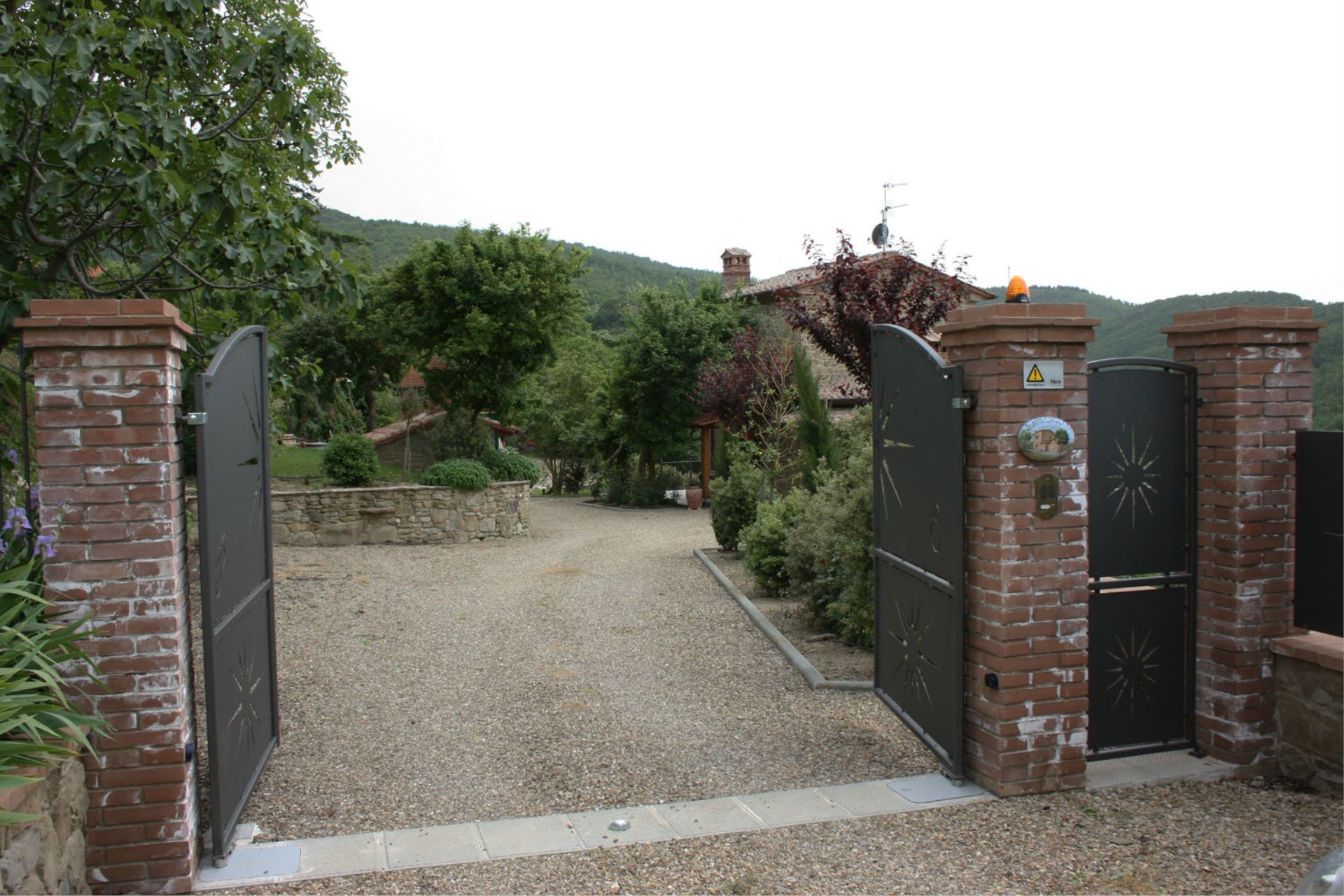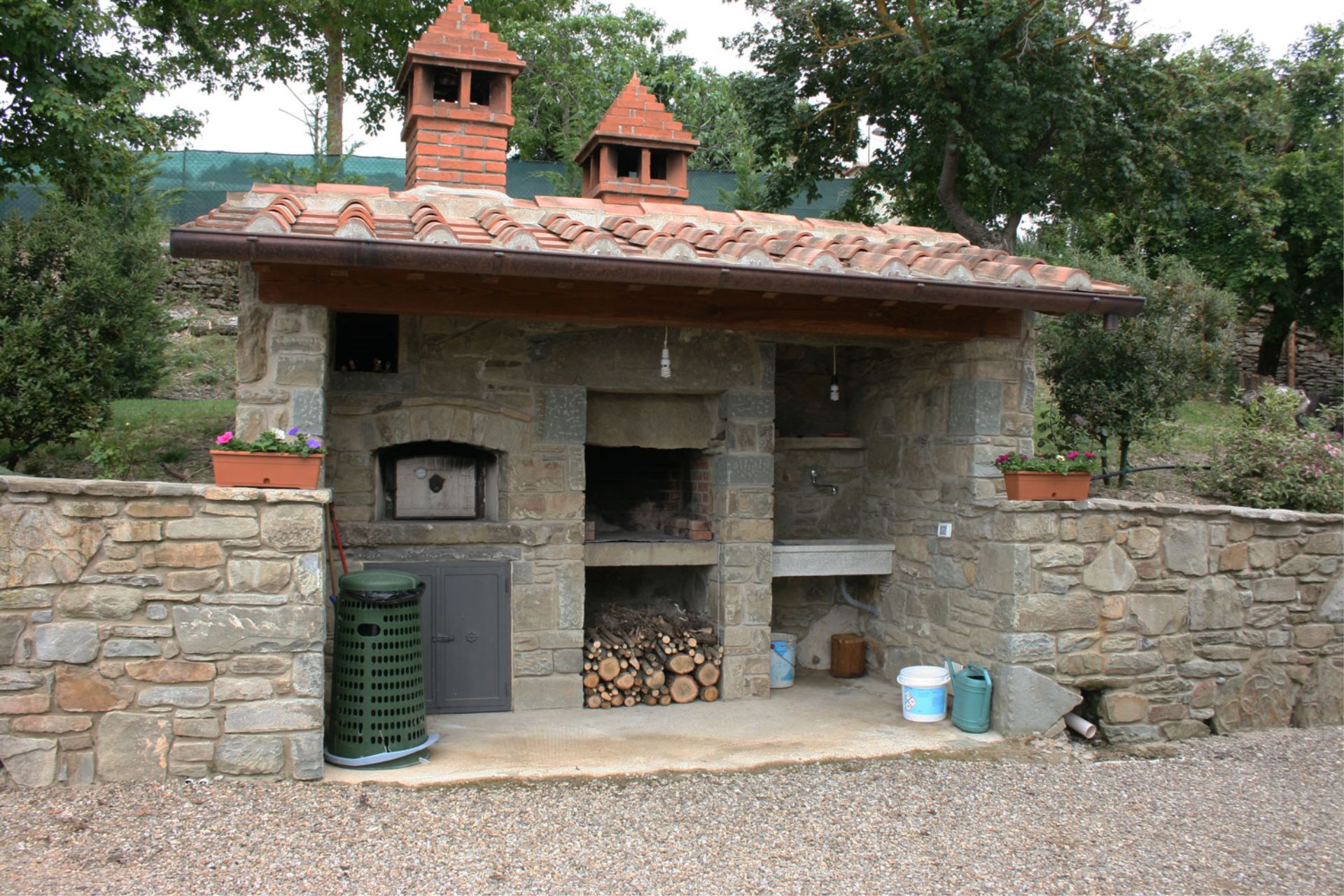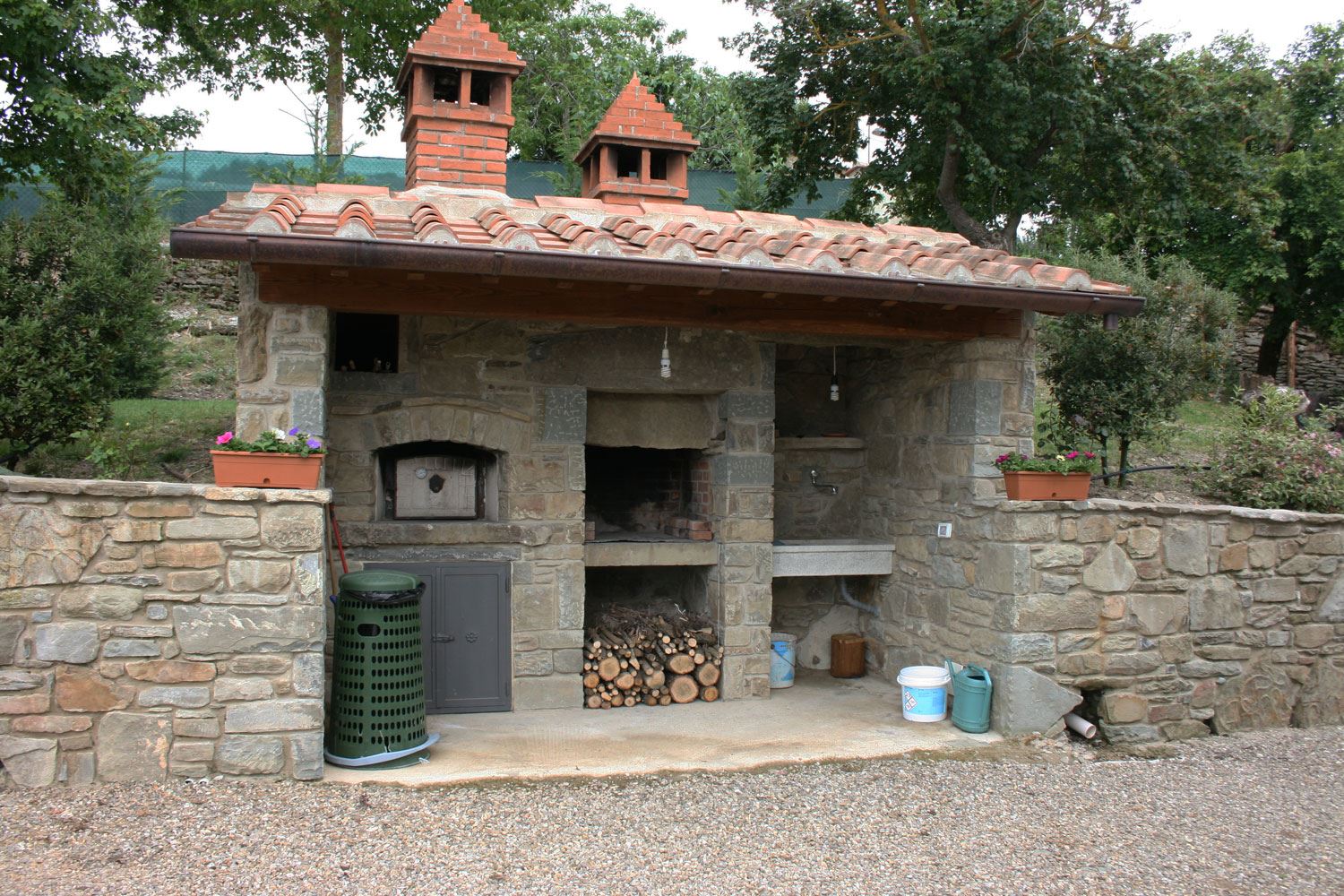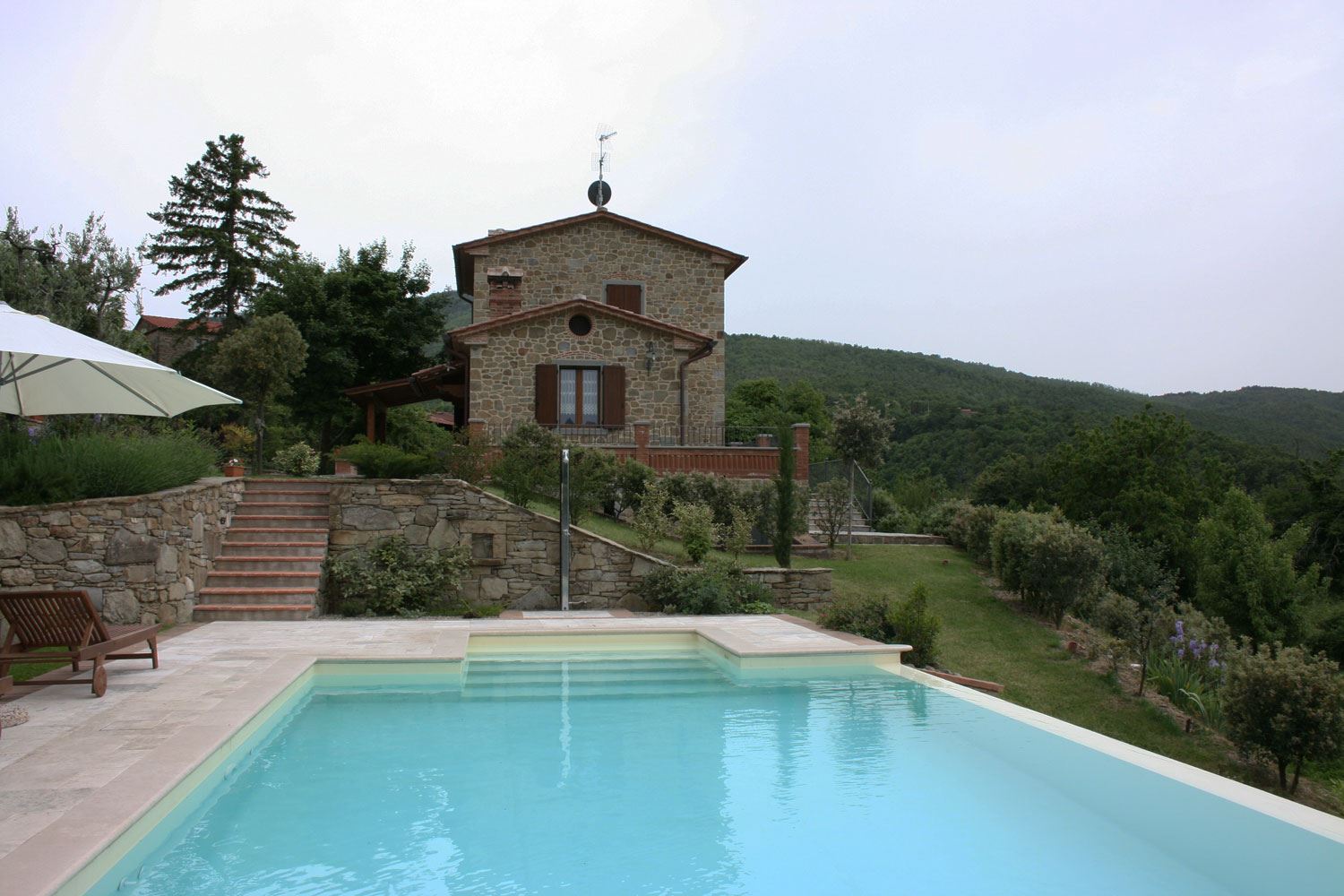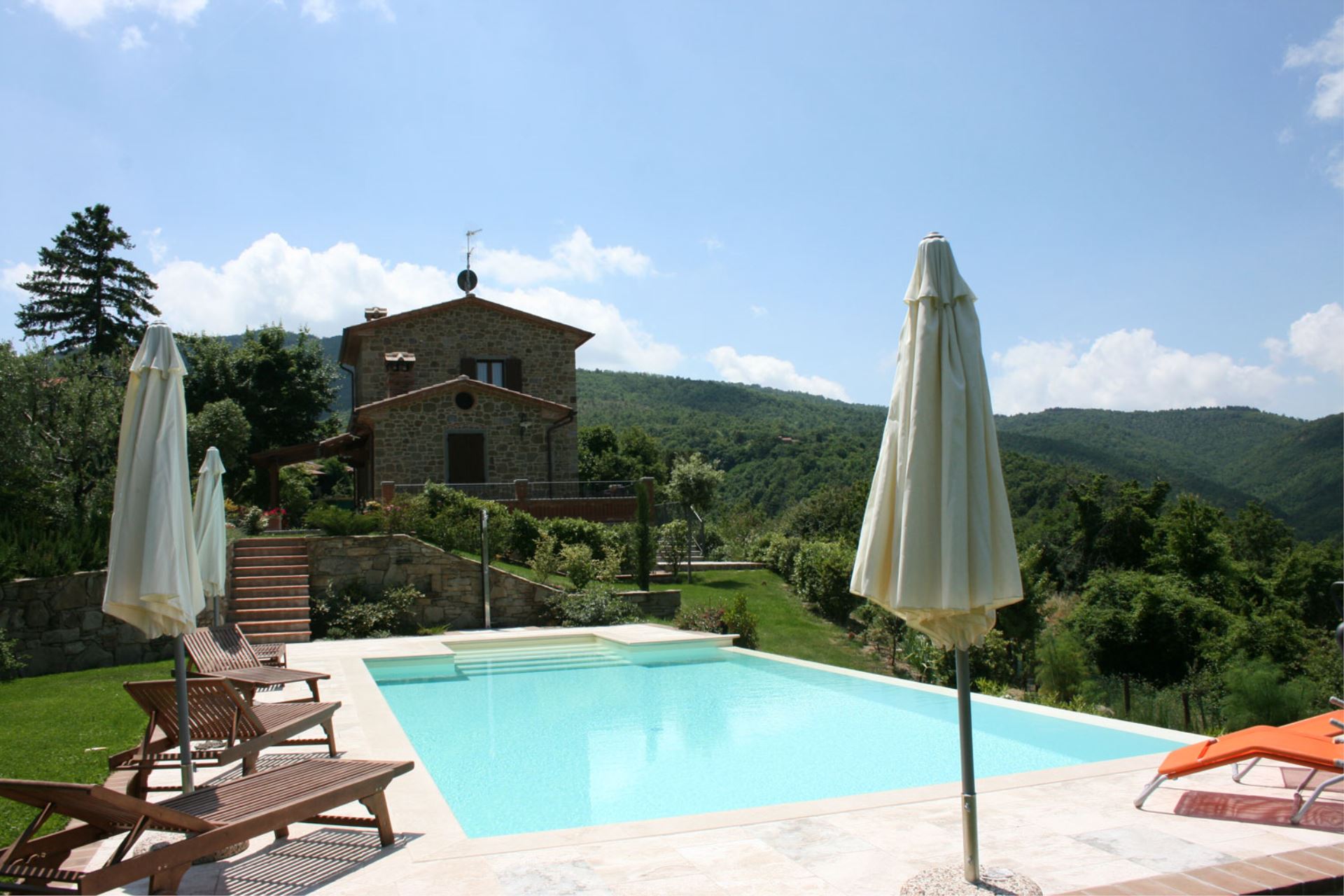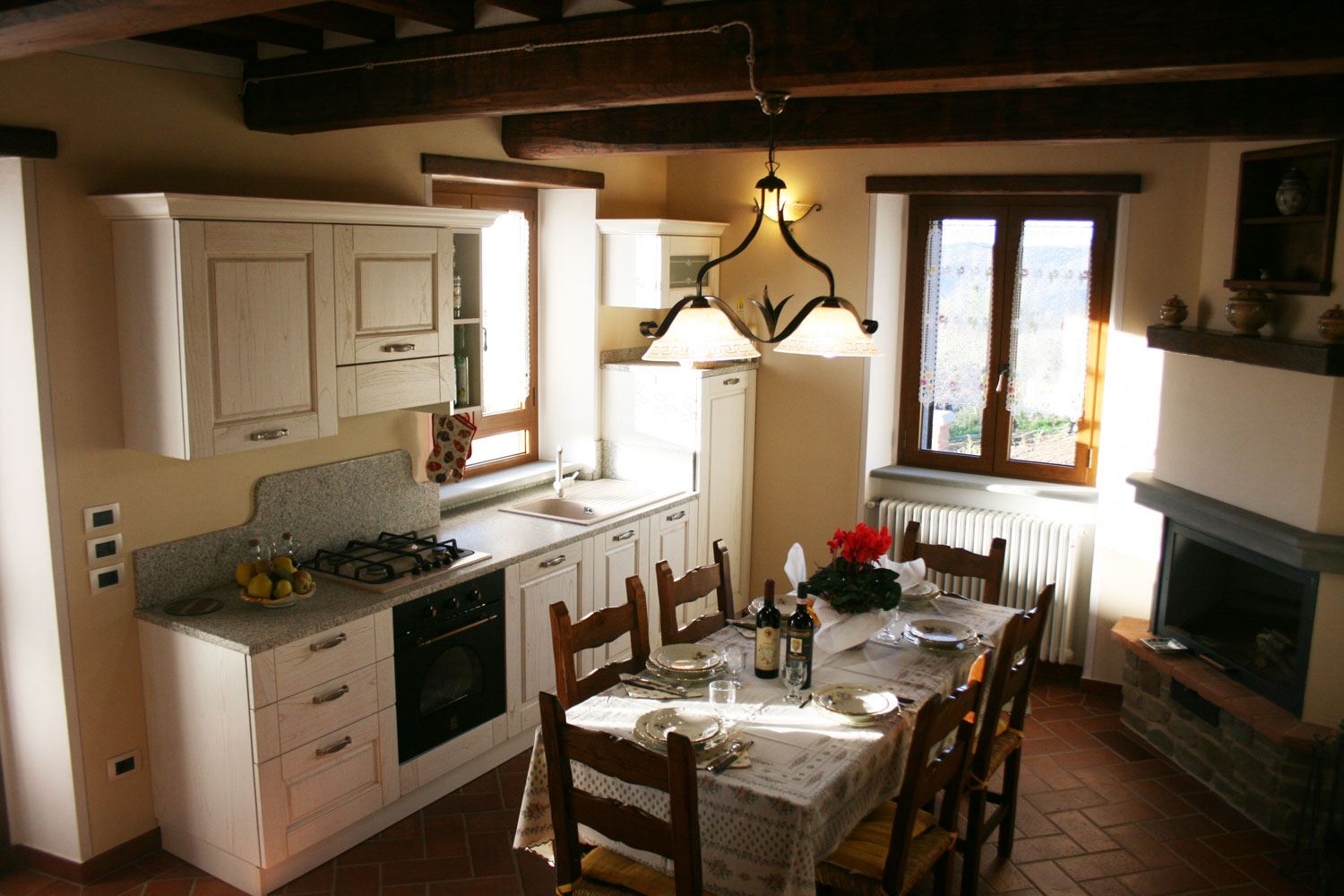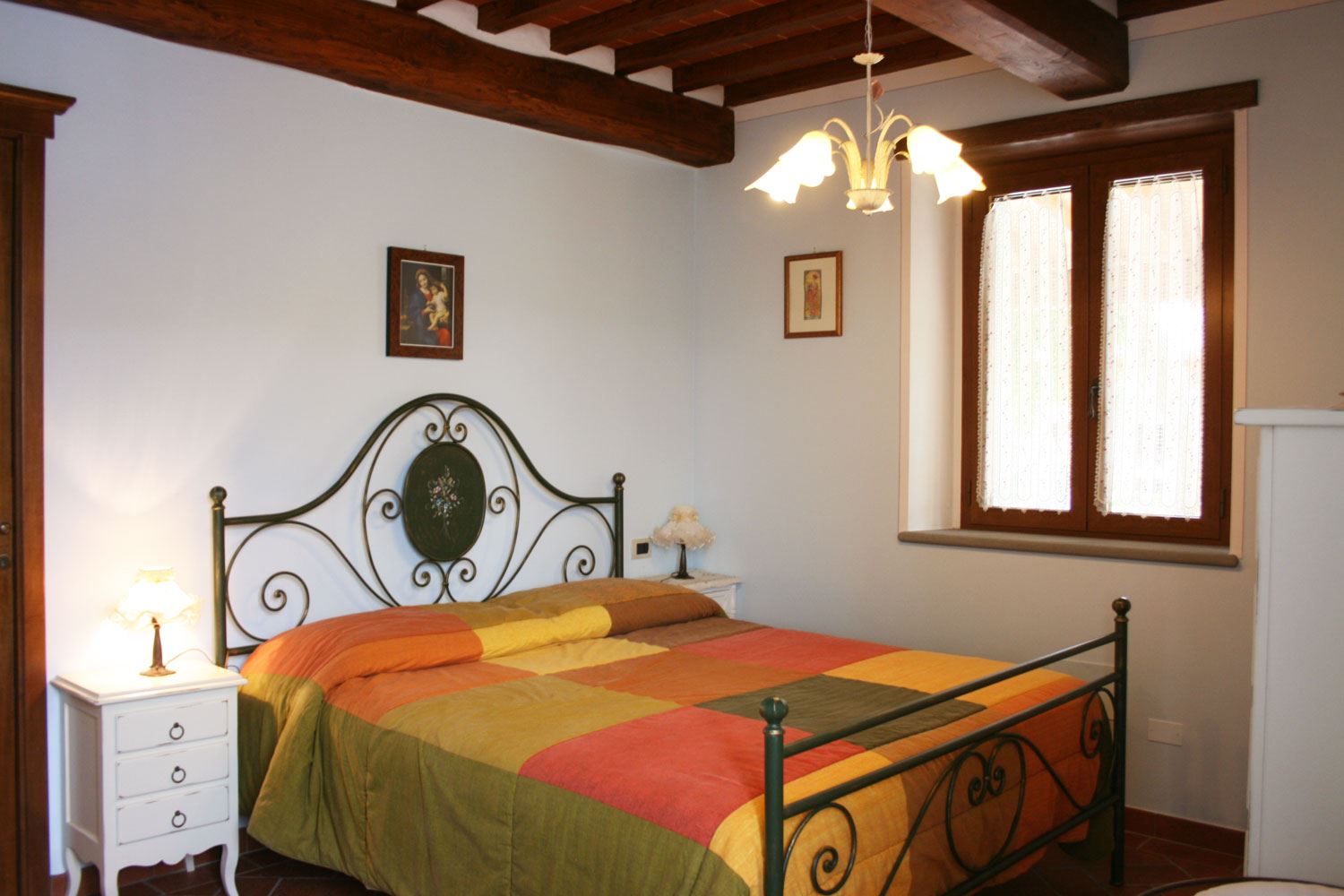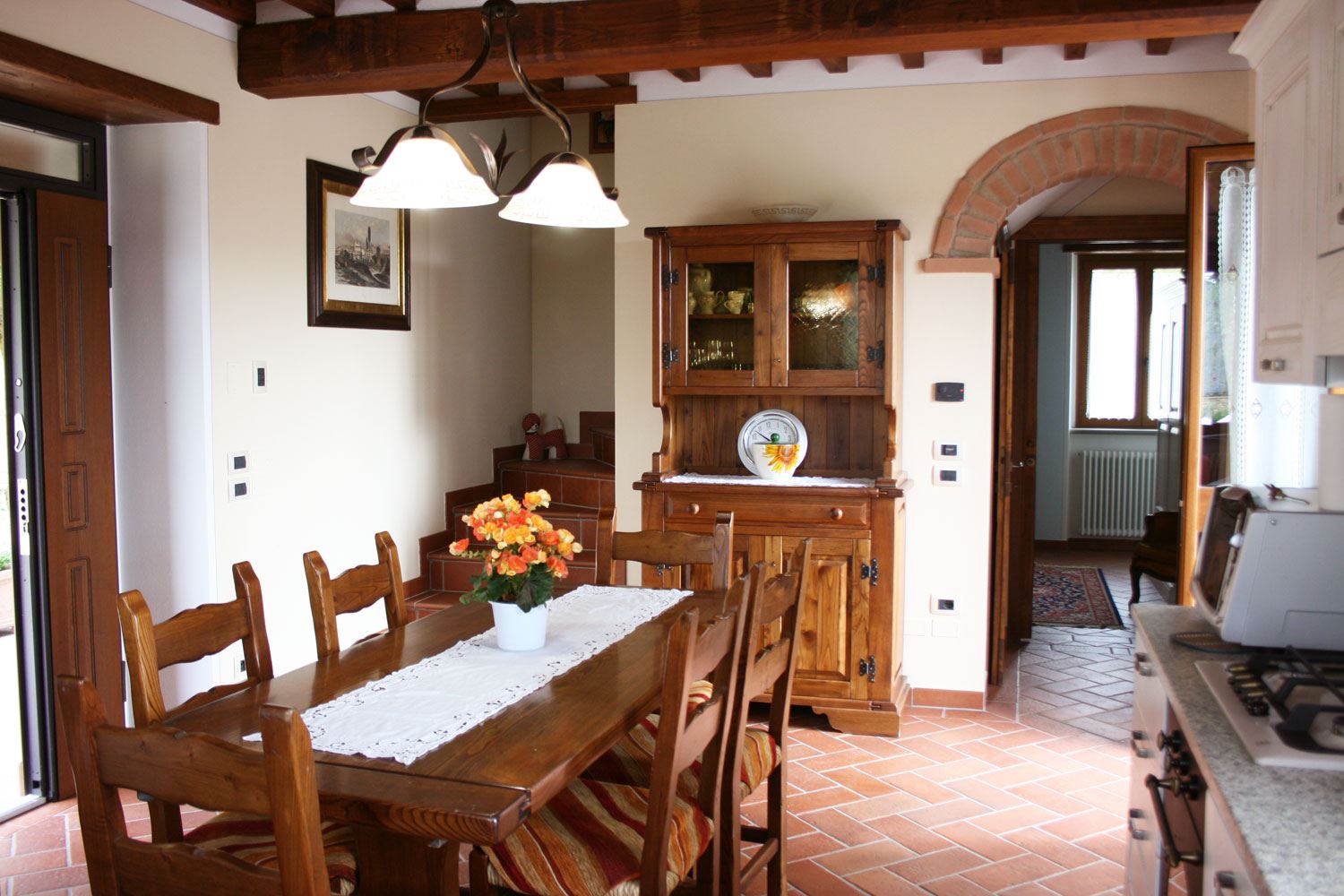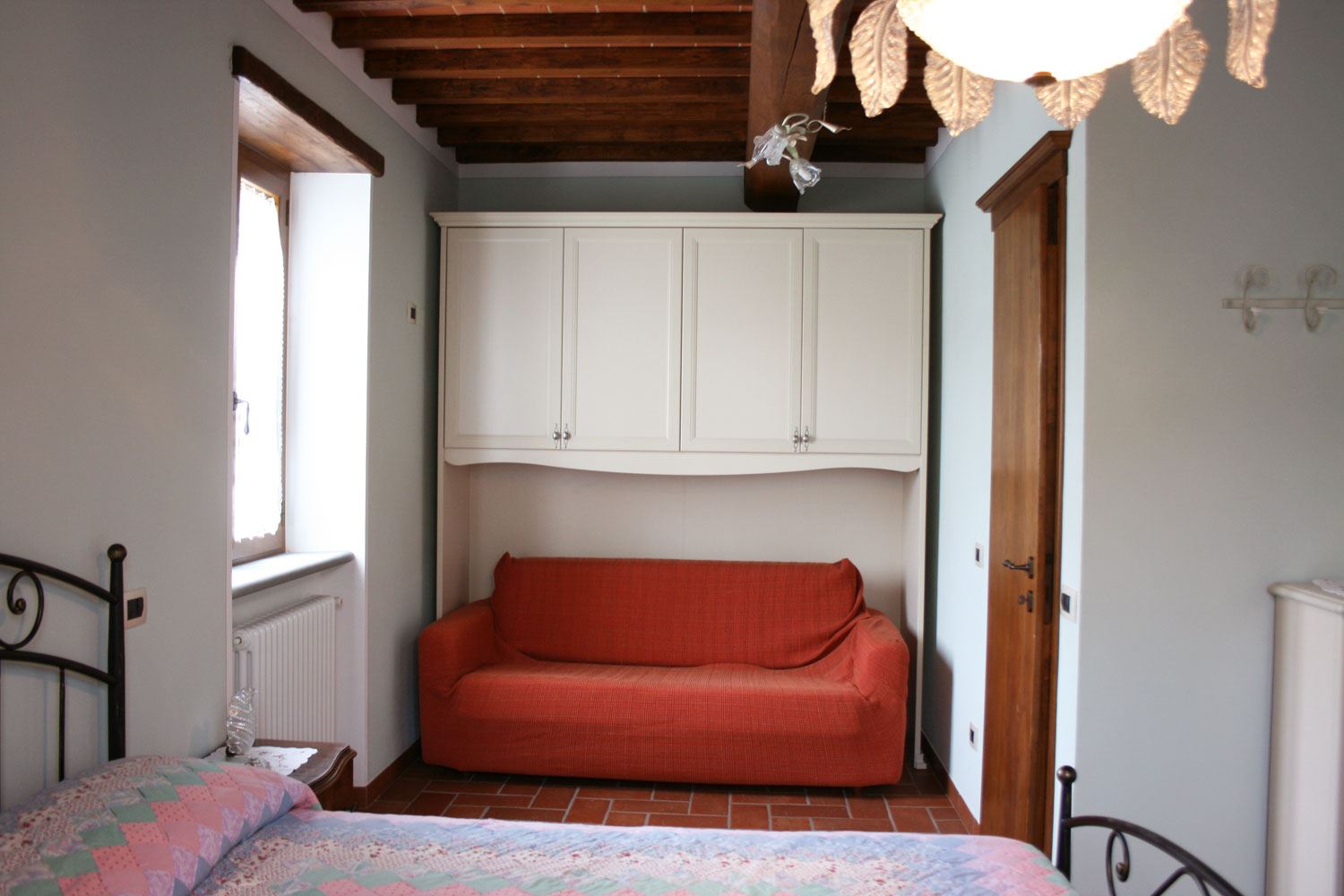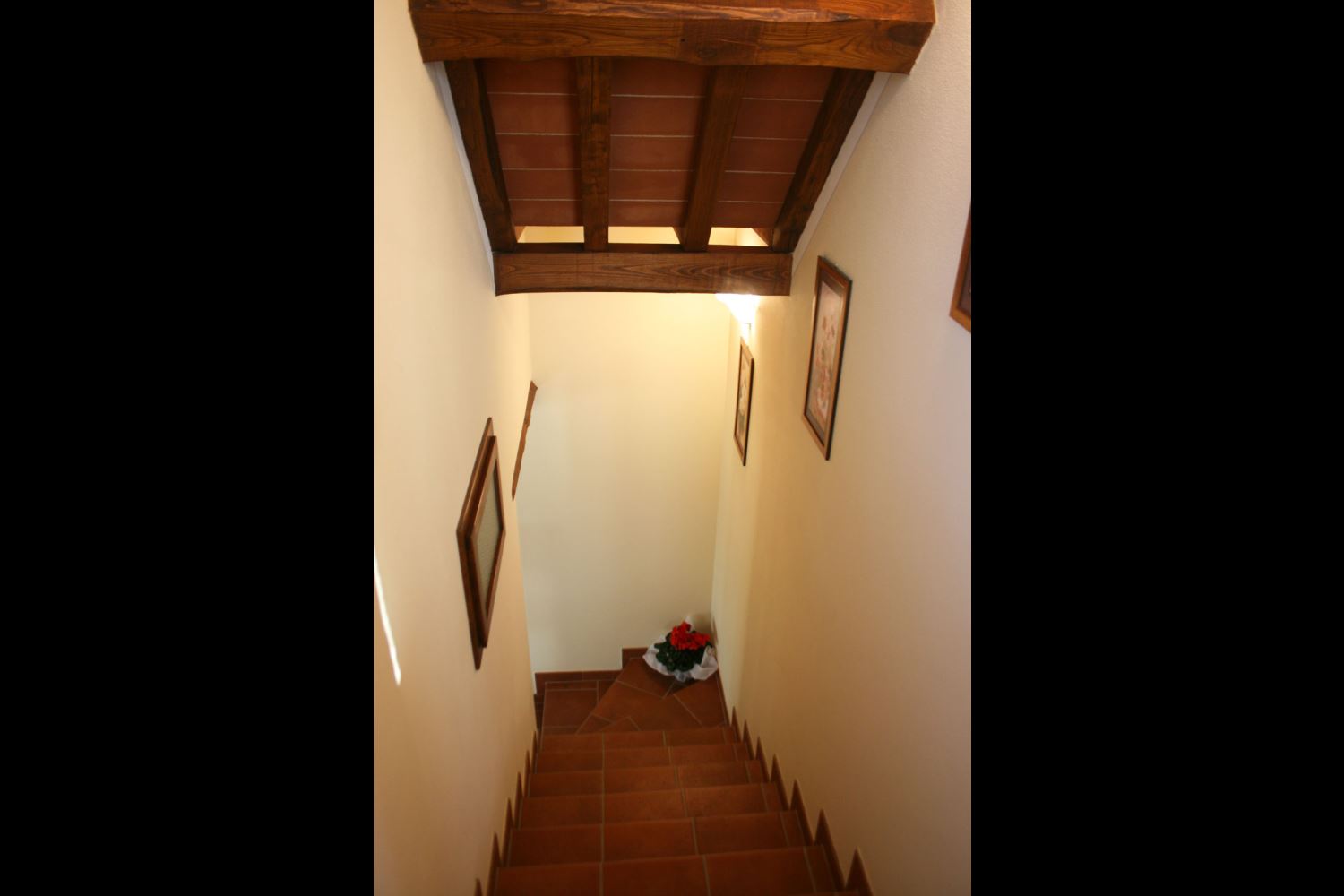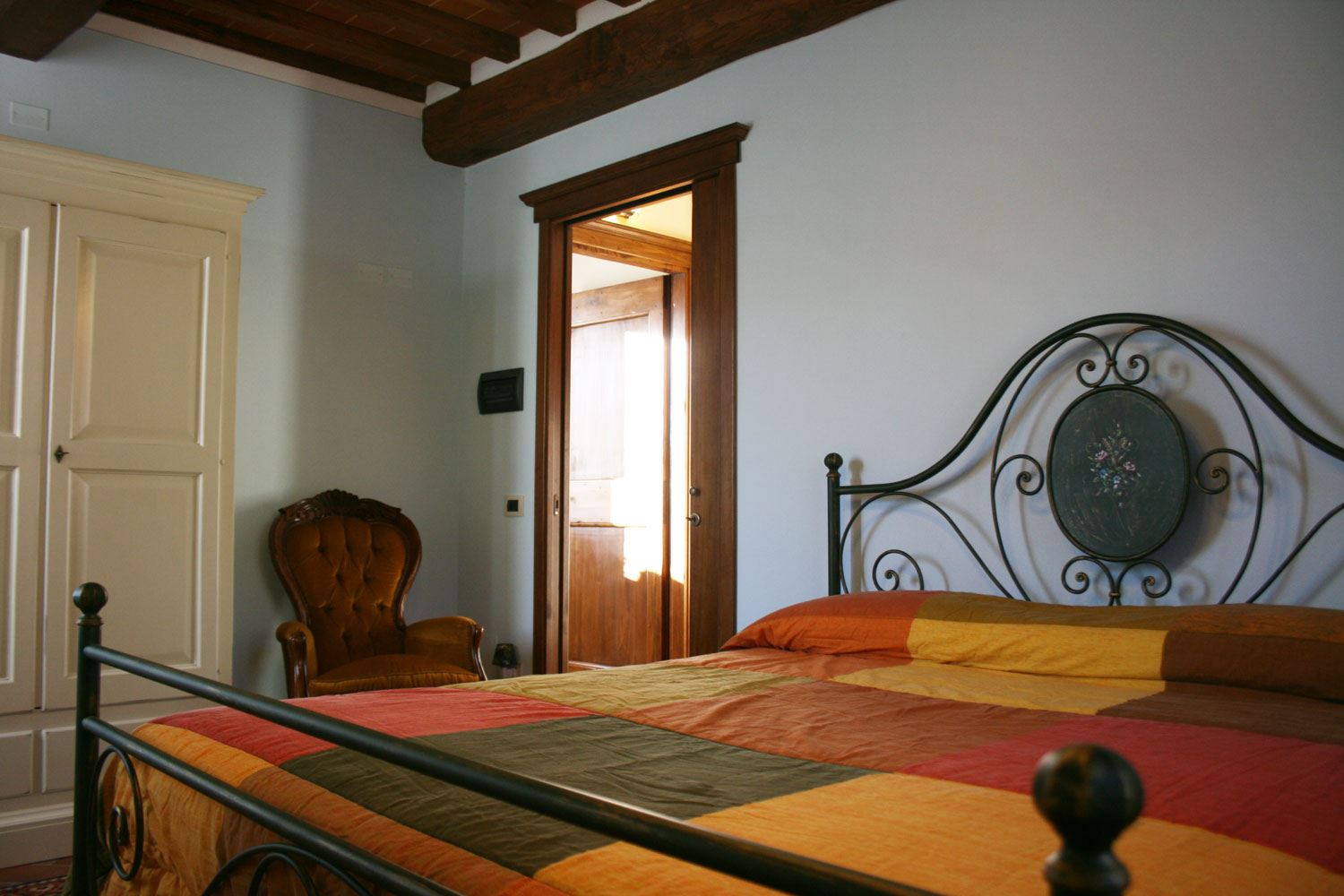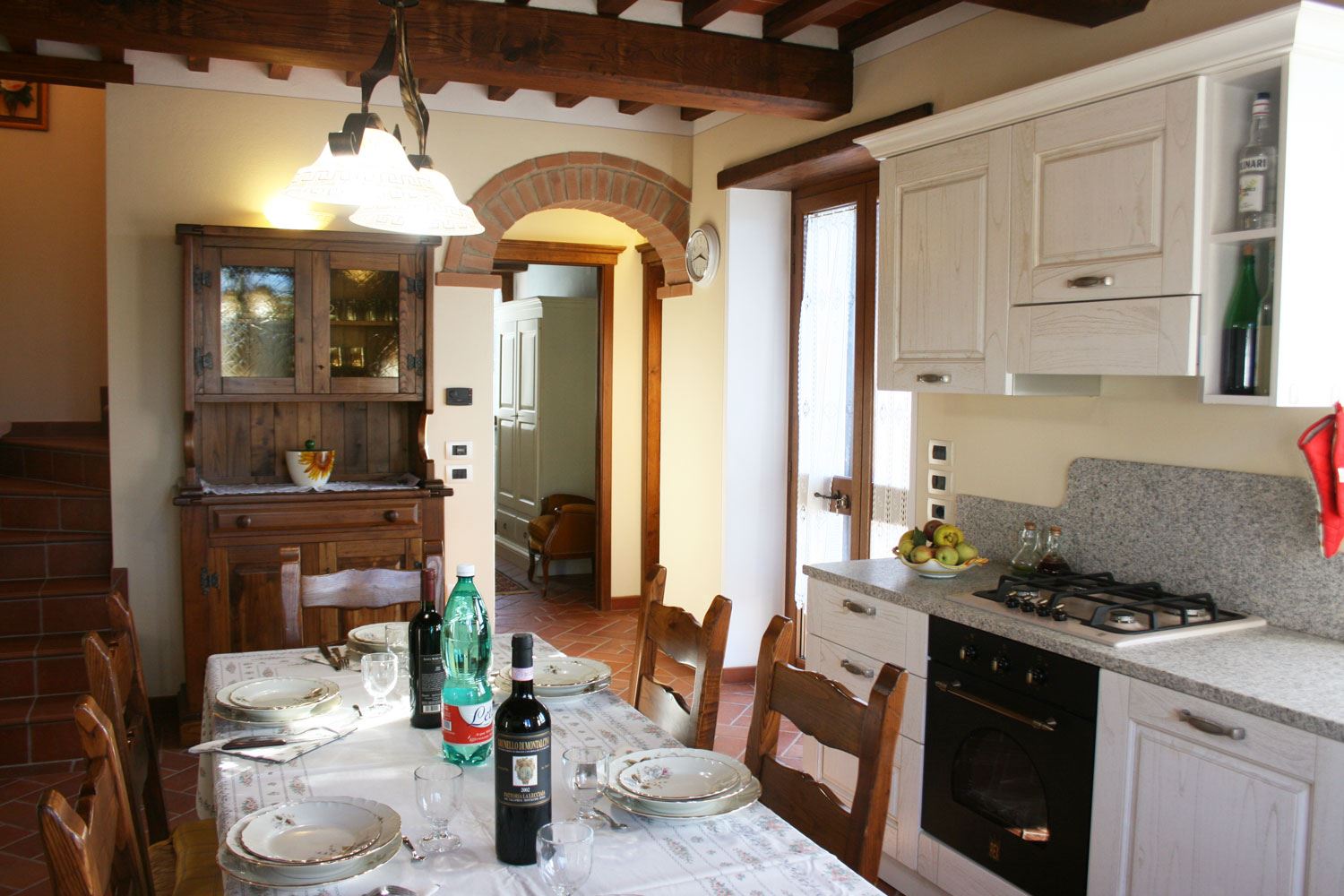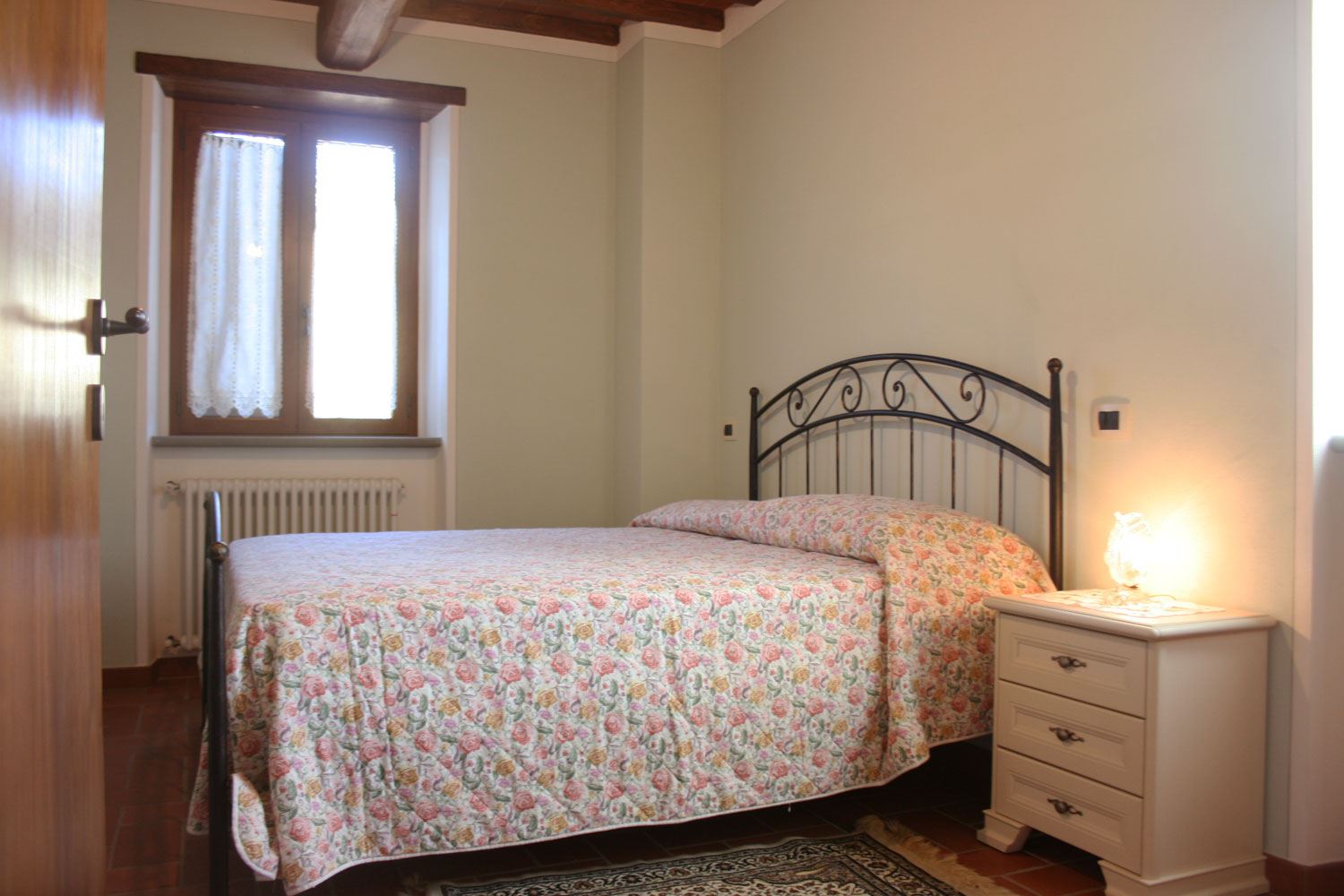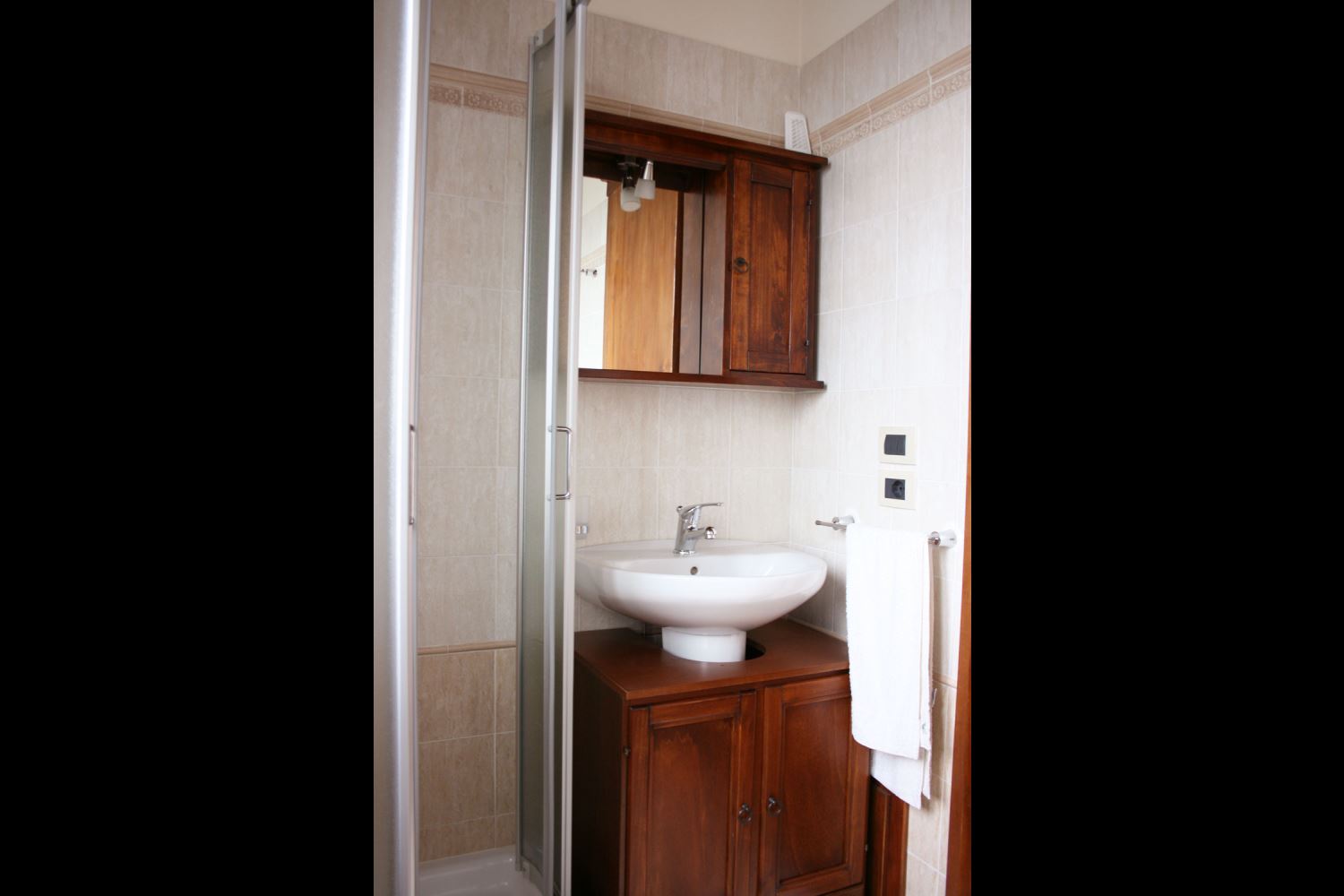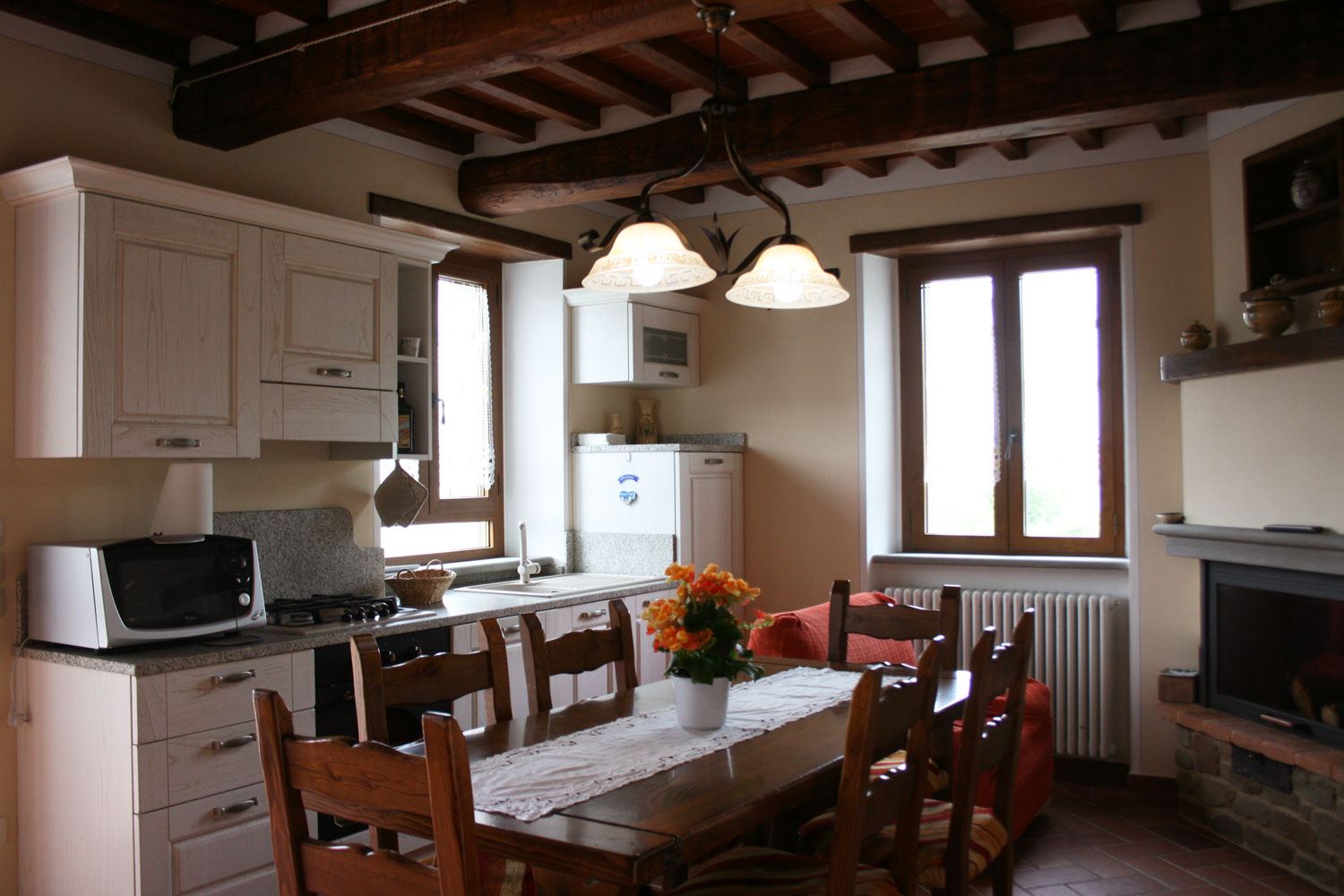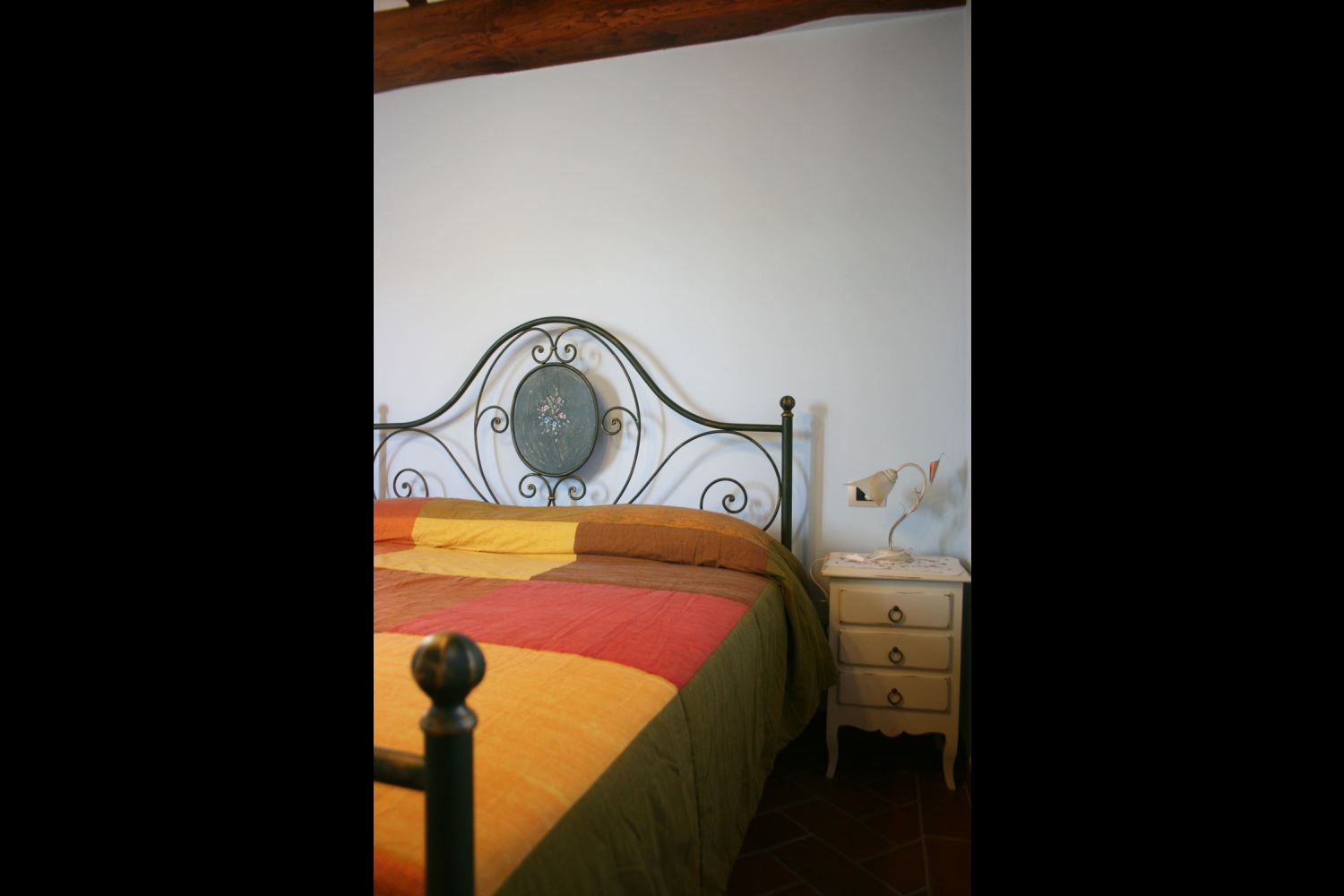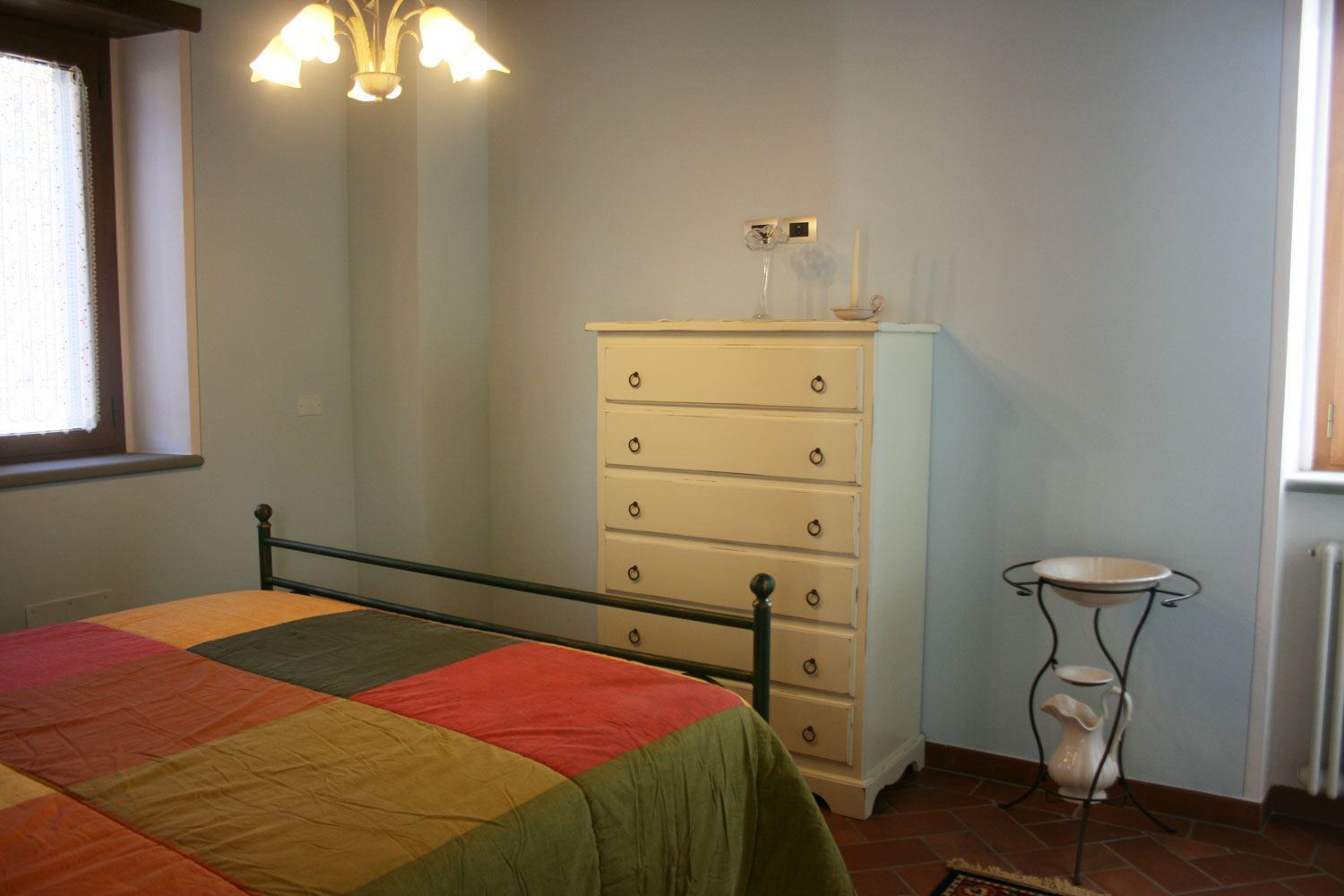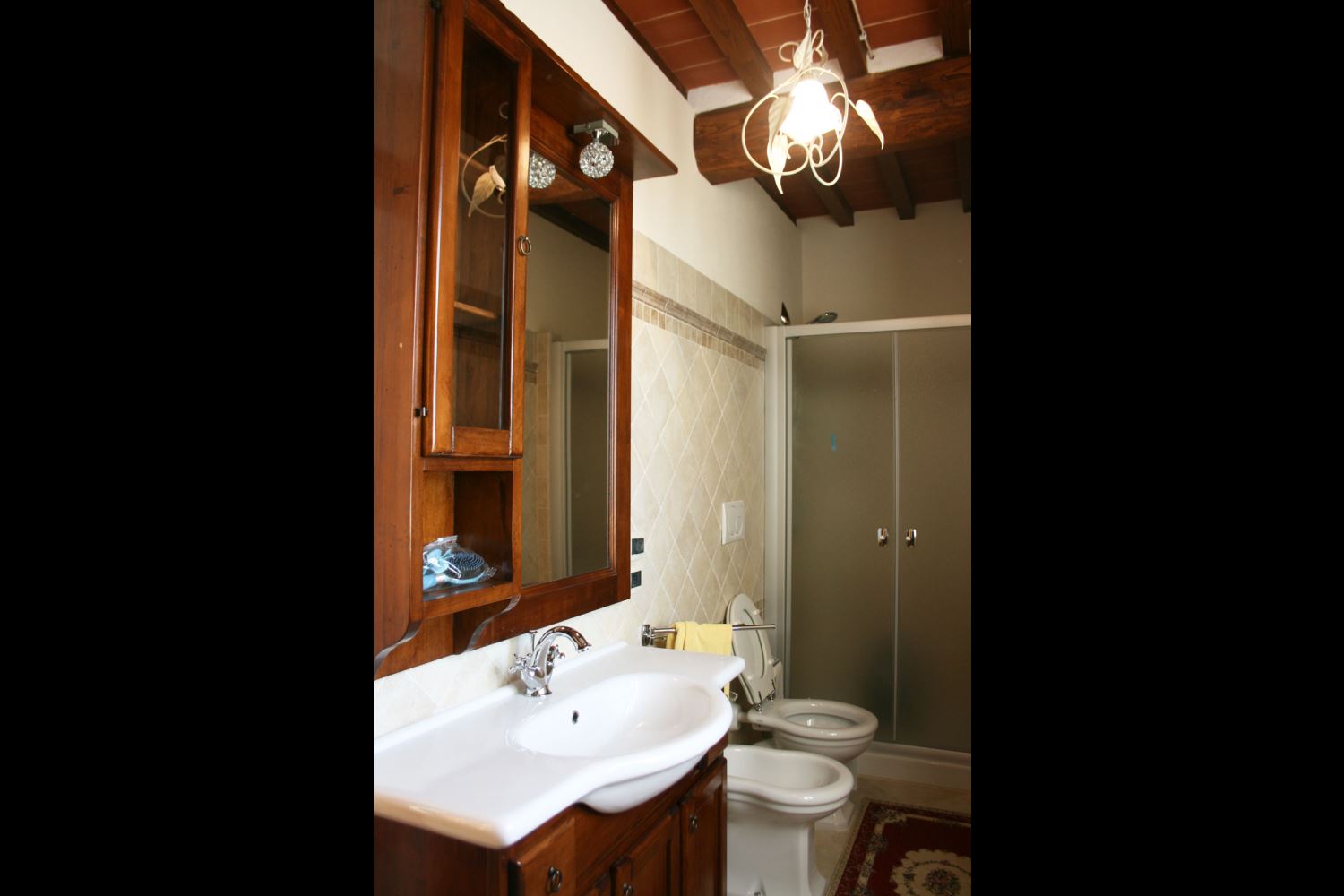 ---
Families with kids
For couples
Televisions
Dishwasher
Washing machine
Private pool
Barbeque
Pets Allowed
Parking area
Microwave
Oven
Fenced
Castiglion Fiorentino at

13 km
Airport of Perugia at

55 km
Highway A1 Monte San Savino at

35 km
Hospital of Fratta at

20 km
Villa selected and checked for you by Alice and Michela of Eurocasa Holiday, if you would like any further information please write to info@eurocasa.com
Old stone farmhouse placed in a secluded, panoramic and quiet location, perfect for nature lovers. Private swimming pool and Wi-Fi connection. The town of Castiglion Fiorentino is about 13 km away.
---
Description
Podere Cantalena is a stone farmhouse of ancient origins that has recently been renovated. You will find it overlooking a lush valley, just outside the tiny village of Cantalena, about 15 km from the towns of Cortona and Castiglion Fiorentino, prosperous towns rich in history in the lower Valdichiana.
You can reach Cantalena, located at 600 metres above sea level, via a scenic, unpaved mountain road about 3 km long, winding through cool woods and green valleys. It is surely not recommended for sports cars, but it is nevertheless well passable with any other type of car, a somewhat challenging stretch that will, however, reward you in the end with absolute peace and quiet.
At Podere Cantalena you can enjoy a splendid infinity pool with Roman steps (size 10x5 metres, depth 1.50 metres - open from 01st May to 30th September); the panorama from the solarium area takes your breath away. Sinuous, high, wooded hills, gentle and undulating, slope towards the plains and cultivated areas of the Val di Chio, the gully that divides Castiglion Fiorentino from Cortona.
The property is completely fenced off and will therefore also be perfect for your four-legged friends. You will also have a barbecue and a wood-burning oven where you can prepare pizza and excellent Chianina meat grills to be enjoyed on the equipped terrace of the house, from which you can still admire the boundless view of the valley below.
In the days of our forefathers, the farmhouse was part of the ancient Podere Cerniera, which included cultivated fields, vineyards and chestnut groves, still cared for today by the owners of the house, who carry on the old family traditions.
Podere Cantalena is a true break from hectic everyday life. The stylish furniture that harks back to rural traditions and the atmosphere rich in history in which the house is immersed will provide the backdrop for your holiday in complete peace and relaxation and will be the perfect place if you want to take some quality time to spend with friends or family.
Interior description
GROUND FLOOR: entrance on living-dining room with kitchen corner and fireplace, French window on panoramic terrace, bathroom with shower, double bedroom.
FIRST FLOOR: with access through internal staircase, bathroom with shower and double bedroom with double sofa bed.
EQUIPMENT:
Refrigerator with freezer, oven, dishwasher, microwave, moka coffee maker, filter coffee maker
Washing machine, iron and ironing board
Satellite TV, Wi-Fi Internet connection
Wood-burning oven, barbecue
Price notes
Arrival:
in the afternoon between 4 p.m. and 7 p.m. -
Departure:
in the morning between 8 a.m. and 10 a.m.
INCLUDED IN THE PRICE:
Private pool open from 01/05 to 30/09.
Swimming towels, to require in advance.
Wi-Fi internet access.
Sheets and bathroom towels (Initial set).
One Baby bed with sheets, (for children up to 3 years) to require in advance.

NOT INCLUDED IN THE PRICE:
Breakage deposit Euro 200 (payable in cash on your arrival and held by the owner for the duration of your stay). During their stay, should travellers cause any damage to the property, they will be liable for the associated costs.
Electric car charging on demand on payment.
Obligatory final cleaning Euro 70.
Pets are welcome on payment of Euro 6 each per day.
Heating Euro 6 per m3 (if used).
Tourist Tax Euro 2,50 per person per day, applied for the first 4 days only. Children up to 12 years do not pay.
---
Reviews
S. (Germany) - settembre 2022
Das Beste was wir bis Dato gemietet haben. Komplett und hochwertig ausgestattet, sehr saubere Unterkunft, top gepflegtes, weitläufiges und eingezäuntes Grundstück.Sehr sehr nette Vermieter mit super Service. Man sollte sich allerdings bewußt sein, dass die Unterkunft ruhig gelegen, auf einem Berg, umgeben von Wald, in einem Seitental liegt. Bis zu einem größeren Ort mit mehreren Restaurants und größerem Supermarkt benötigt man ca. 20min Fahrtzeit. Uns hat das nicht gestört, da man sich entsprechend organisieren kann und auch mit der schönen Outdoor Küche viele Möglichkeiten hat sich selbst zu verpflegen. Wir haben die Ruhe und die phantastische Aussicht über die bewaldeten Täler und Berge genossen. Das Stück unbefestigte Strasse bis zum Haus braucht niemanden abzuschrecken. Der Schotterweg ist in einem guten Zustand und auch breit genug damit 2 Autos aneinander vorbei kommen. Er ist mit jedem normalen PKw befahrbar und besser wie so manche geteerte Straße in Italien. Das vorhandene kostenlose WLAN ist leistungsstark und stabil, auch gibt es ausreichend Netzabdeckung.
Engl
The best we have rented. Fully equipped and of high quality, very clean accommodation, very well maintained, spacious and fenced property. Very nice landlord with great service. However, you should be aware that the accommodation is quietly located on a mountain, surrounded by forest, in a side valley. It takes about 20 minutes to drive to a larger town with several restaurants and a larger supermarket. That didn't bother us, because you can organize yourself accordingly and with the beautiful outdoor kitchen you have many options for self-catering. We enjoyed the peace and the fantastic view over the wooded valleys and mountains. The stretch of unpaved road to the house need not deter anyone. The gravel road is in good condition and wide enough for 2 cars to pass each other. It can be driven on with any normal car and is better than some tarred roads in Italy. The free WiFi is powerful and stable, and there is sufficient network coverage.
Barbara (IT) - luglio 2022
La proprietà e' bellissima, veramente immersa in una natura I contaminata. Un plauso ai proprietari che sono persone veramente speciali e generose. Oltre alla bellezza del posto l'accoglienza ha trasformato il tutto in un bel sogno...fuori dal tempo...assolutamente consiiato e grazie ancora Siminetta ed Alvaro per la vostra disponibilità! Speriamo tanto di poter tornare perché difficilmente siamo stati in un posto così completo di tutto. Una nota speciale per l eccellente livello di pulizia e la casa molto accessoriata.
Thomas (Deutschland) - giugno 2022
Seit vielen Jahren besuchen wir das Land, wo die Zitronen blühen, immer im Juni. Noch keine Saison und die Tage sind sehr lang. Dabei ist uns wichtig, ein abgelegenes Haus möglichst auf einem Berg inmitten von Ruhe und Wärme zu finden. Das hat auch überwiegend gut funktioniert. Mal weniger, mal mehr. Dass wir dieses Jahr aber einen Volltreffer landen konnten, haben wir sofort beim Eintreffen bemerkt. Ein immer sauberer Pool mit Aussicht wie ein römischer Kaiser, ein gepflegtes Interieur in allen Räumen, ein Bett, wo man wie Zuhause schlafen kann ohne Quietschen und Rumpeln, außerordentlich gastfreundliche Vermieter, die wie die Heinzelmännchen den Pool und das Gelände pflegten sowie immer einen Korb mit Überraschungen hinterließen, Sonnenuntergänge besser als in Capri und ein gut gepflegtes Areal haben uns einen wunderbaren Aufenthalt beschert. Zum ersten Mal haben wir gemeint, hier kommen wir noch einmal her. Das gab es noch nie!!
Die Anfahrt ist etwas staubig, dafür sind die umliegenden Orte sehenswert. Wir möchten uns auch hier nochmal für die außerordentliche Gastfreundschaft bedanken. Sicher wird Madame Simonetta diese Zeilen lesen und sich darüber freuen. Und: Man sieht sich immer Zweimal….!!!!
*******************
For many years we have visited the land where the lemons bloom, always in June. It is not yet the season and the days are very long. It is important for us to find a secluded house, preferably on a mountain, surrounded by peace and warmth. For the most part, that has worked out well. Sometimes less, sometimes more. But this year we noticed immediately when we arrived that we had hit the bull's eye. An always clean pool with a view like a Roman emperor, a well-kept interior in all rooms, a bed where you can sleep like at home without squeaking and rumbling, extraordinarily hospitable landlords who looked after the pool and the grounds like brownies and always left a basket with surprises, sunsets better than in Capri and a well-maintained area gave us a wonderful stay. For the first time we thought, here we come again. This has never happened before!!!
The journey is a bit dusty, but the surrounding villages are worth seeing. We would like to thank you again for the extraordinary hospitality. I'm sure Madame Simonetta will read these lines and be delighted. And: We always see each other twice....!!!!
Stefano (Italia) - agosto 2021
Villa molto bella proprietari molto disponibili.
Elizabeth (Italia) - agosto 2021
Proprietà molto bella e ben curata. I proprietari sono stati sempre disponibili per tutte le nostre esigenze.
Frank (Österreich) - luglio 2021
Sehr gepflegt, sauber und komplett abgelegen. Die Eigentümer sind sehr nett und zuvorkommend. Super Trails zum biken. Anfahrt nicht geeignet für "Sonntagsfahrer" :-)
Ralf (Deutschland) - luglio 2021
Wir haben uns rundum wohlgefühlt. Die Herzlichkeit der Gastgeber ist etwas ganz besonderes. Das Haus und der tolle Garten haben unsere Erwartungen mehr als erfüllt. Für einen Urlaub in absoluter Ruhe perfekt geeignet. Wir kommen gerne wieder.

* English Translation
We felt completely at home. The warmth of the hosts is something very special. The house and the great garden more than met our expectations. Perfect for a holiday in absolute tranquillity. We will be happy to come back.
Patricia (DE) - settembre 2020
Dieser Ort ist ein kleines Paradies für diejenigen, die es ruhig und abgelegen lieben. Für Urlauber, die jeden Tag etwas anderes besuchen möchten ist es allerdings zu weit weg der Hauptadern. Der Kontakt zu Simonetta und Alvaro war sehr herzlich. Sie sind beide sehr gastfreundlich und hilfsbereit, bleiben aber diskret. Wir kommen wieder!
Alessia (ITA) - luglio 2020
Location splendida, molto curata e pulitissima. La piscina molto grande all altezza delle aspettative e la casa comoda confortevole e attrezzata come poche volte capita. La gentilezza e l ospitalità dei proprietari sono stati il valore aggiunto per rendere questa vacanza fantastica. Spero di tornare presto, consigliatissima da prenotare senza riserve.
Rita e Mario (ITA) - luglio 2020
Dimora incantevole immersa in un meraviglioso panorama con tramonti suggestivi. Proprietari deliziosi, accoglienti e molto attenti alla pulizia e all ordine del loro podere. Abbiamo trascorso 15 giorni in pieno relax godendo della strepitosa piscina tutta per noi. Torneremo sicuramente Per godere di nuovo della meraviglia del luogo e dell ospitalità dei proprietari. Rita e Mario da Roma
S. Daniela (Germany) - ottobre 2019
Das gesamte Haus und das Gelände sind herausragend gepflegt und liebevoll hergerichtet. Im Haus ist alles vorhanden. Der Pool ist außergewöhnlich groß und toll begehbar, wie man es selten findet. Die Eigentümer sind sehr sehr nette Leute und sehr hilfsbereit. Das Anwesen ist einmalig schön und entschädigt den langen Weg zum Haus.
Mervi (Finland) - agosto 2017
Lovely Podere Cantalena
Amazing place,owners are so nice peoples!We have been that place twice and we will come back again..if you want silence and nature thats the right place?!
Marcela (Slovakia) - luglio 2017 We had a wonderfull time ,very nice haus ,garden and swimming pool, round about only fields ,woods and one ancient farm to be not so alone. The ownesr are beautifull people ,very helpfull ,willing and attentive.
Siglinde (Germany) - maggio 2017 Wir haben die ruhige Umgebung sehr genossen und kommen sicher wieder :-)
Jakob Patricia (Schweiz) - luglio 2016
Erholsamer Urlaub in einem sehr schönen Ferienhaus mit Pool
Wir verbrachten zwei sehr erholsame Ferienwochen im Haus Podere Cantalena, welches des Ausschreibung absolut entspricht. Die Gastgeber waren sehr freundlich und zuvorkommend, das Haus sehr sauber und der Garten wunderbar gepflegt. Wir haben es sehr genossen. Die Zufahrt hat uns nicht gestört, hatten in der Vergangenheit schon schwierigere Anfahrtswege zu bestreiten. Wir haben aber auch einen 4x4, mit einem normalen PW ist es sicher beschwerlicher. Dafür hat man eine wunderbare Sicht über die bewaldeten Hügel und viel Privatspähre. Das Haus ist für 4 Personen ideal, für 6 eher knapp bemessen. Das einzige was uns gestört hat war der relativ kleine Kühlschrank mit Mini-Kühlfach. Ansonsten sehr gutes Preis-/Leistungsverhältnis und absolut empfehlenswert! An dieser Stelle ein herzliches Dankeschön an Simonetta und an die ganze Gastfamilie.

Besold Lisa (DEUTSCHLAND) - settembre 2015 Podere Cantalena ist eine unglaubliches Feriendomizil. Die Eigentümer sind wahre Gastgeber und sind herzlich und sehr hilfsbereit. Schlüsselübergabe war problemlos und sehr flexibel. Das Haus ist ein wahrer Traum. Absolut sauber und sehr authentisch luxuriös eingereichtet. Es fehlt an nichts; alles ist vorhanden, vom Brotmesser bis zu lecker Esprossopulver inkl. Maschine und Poolliegen. Die Lage und demnach der Blick ins Tal und auf die Berge ist atemberaubend. Das Haus ist uneinsichtbar; man hat viel Privatsphäre. Zu 100% können wir einen Erholungsurlaub im Podere Cantalena empfehlen. Achtung: Die letzten 5 KM erfolgen über eine Schotterstrasse, welche mit normalem PKW wirklich schwierig zu fahren ist. Der nächste Einkaufsmarkt ist 20 Minuten Autofahrt entfernt.

R. Lesley (UK) - agosto 2014 Hello, I wanted to email you to let you know that we had such a lovely week at Podere Cantalena, it was a really gorgeous house and pool, everything was so comfortable, the owners were so very kind, they bought us pastries for breakfast and left them outside for us to find and also rescued us with great kindness when we managed to lock ourselves out of the house. The pool was gorgeous and so were the views, we have stayed in a quite a few houses in Tuscany but this is probably the best we have ever had, it was so new and beautifully clean, every detail was taken into account, we loved staying here and were all very sad to leave, we don't have anything bad to say at all!

H. Peter (GERMANY) - luglio 2013 Podere Cantalena ist ein sehr tolles Haus (das schönste, in dem wir jemals waren...es ist natürlich auch 2013 erst das 2.Jahr in Gebrauch). Die Villa ist sehr schön; für 4 Leute ideal; für 6 Leute auch ok, wobei das Zimmer mit Doppelbett und Ausziehcouch schon eng wäre, aber auch für 2 Wochen Urlaub absolut machbar. 2 Bäder auch toll, und alles war auch super sauber, als wir ankamen! Die Lage an sich, "oben auf dem Berg", ist toll, leider ist der letzte Teil des Anfahrtsweges nicht so toll (3 km Schotterpiste, ca 6 Minuten Dauer), die man sich sparen könnte, weswegen wir auch Einkäufe und Ausflüge nur in Maßen unternommen haben. Und schnell morgens mal zum Bäcker war leider auch nicht, Minimum 20 Minuten Weg. Dies war wirklich der einzige negative Punkt dieses Urlaubes. Nur Kleinigkeiten wurden vergessen, die aber anderen Mietern vielleicht wichtig sind: z.B. gibt es am Pool eine Außendusche, was sehr schön ist. Die Küche war sehr gut ausgestattete, ausreichend Teller/Tassen/Gläser/Besteck, Swimming pool war sehr schön und sehr gepflegt und die Schalfzimmer und Bader alles super. Der Weg dorthin, wie schon geschrieben, nicht so toll, immer wieder landwirtschaftliche Geräusche, die uns aber nicht gestört haben Die Eigentümer waren sehr hilfsbereit während der Ferienzeit und die Leute sind SEHR!!! sehr freundlich und höflich. Endlich Preis-/Leistungsverhältnis ist auch sehr gut….
---
Other structures
that may interest you
Other structures destination Cortona And Valdichiana
VILLA MALVASIA


Civitella in Val di Chiana
LA MONTANINA


Castiglion Fiorentino
CASA ANGELA


Castiglion Fiorentino