La Casa di Pino
Castiglion Fiorentino, Toscana
---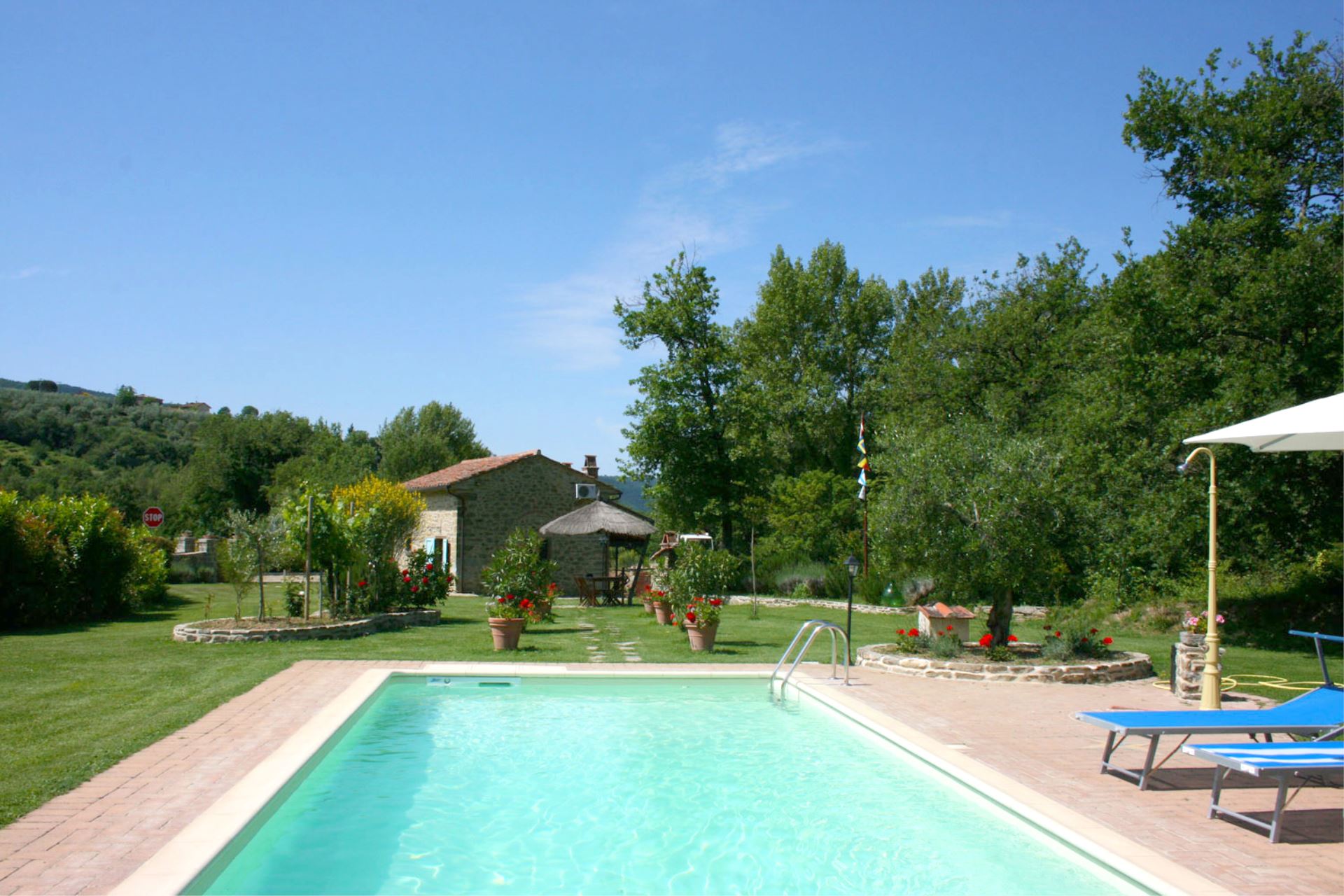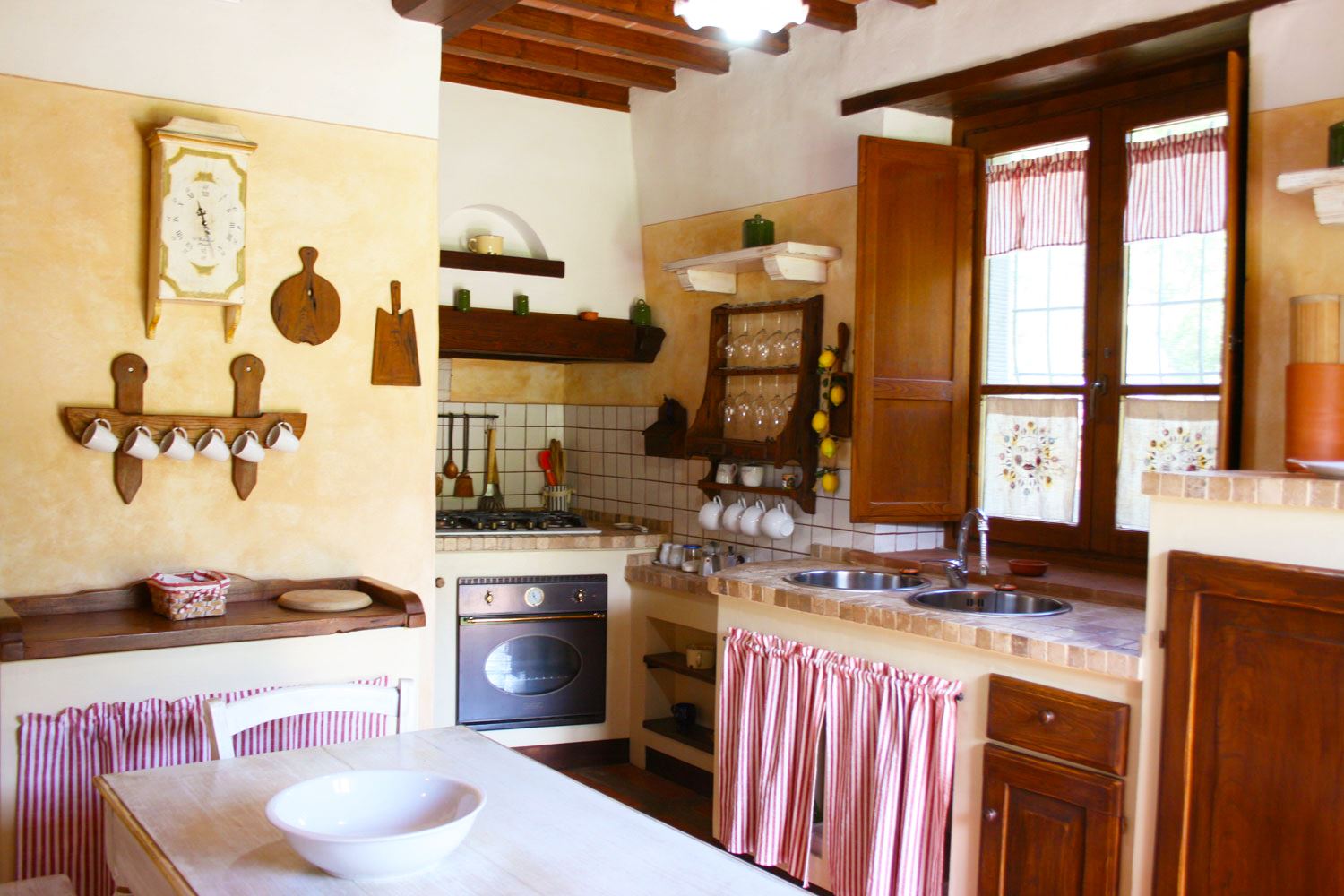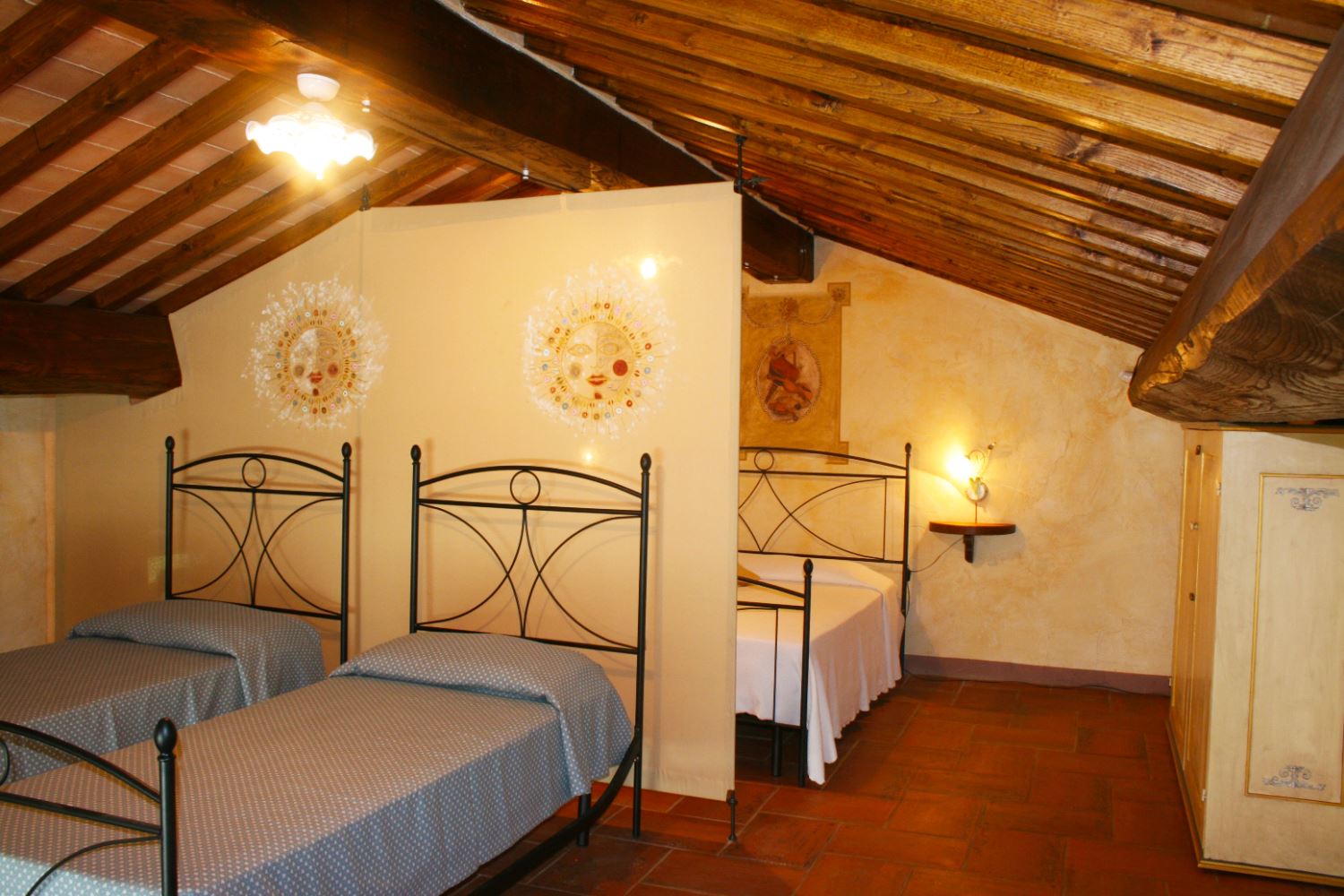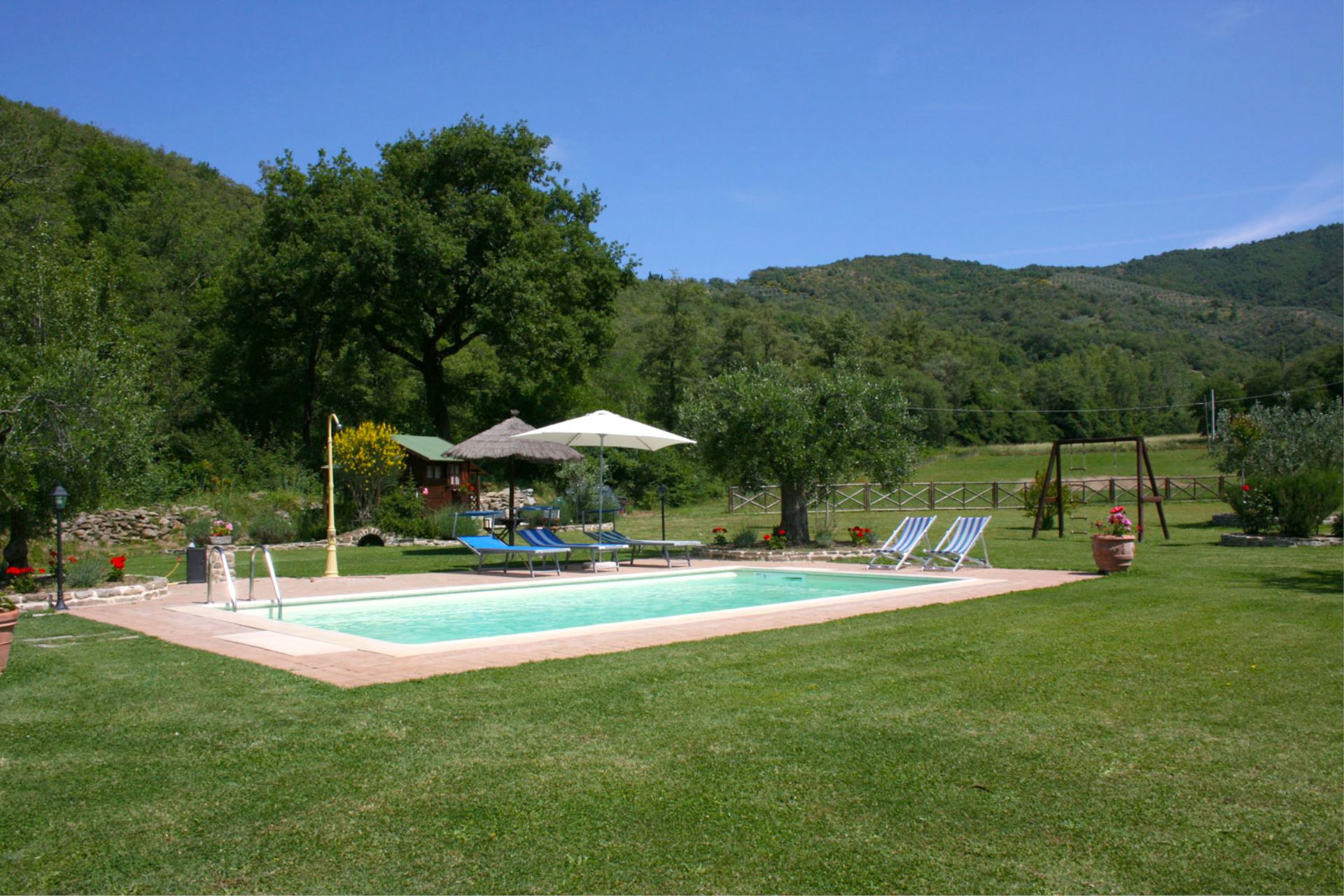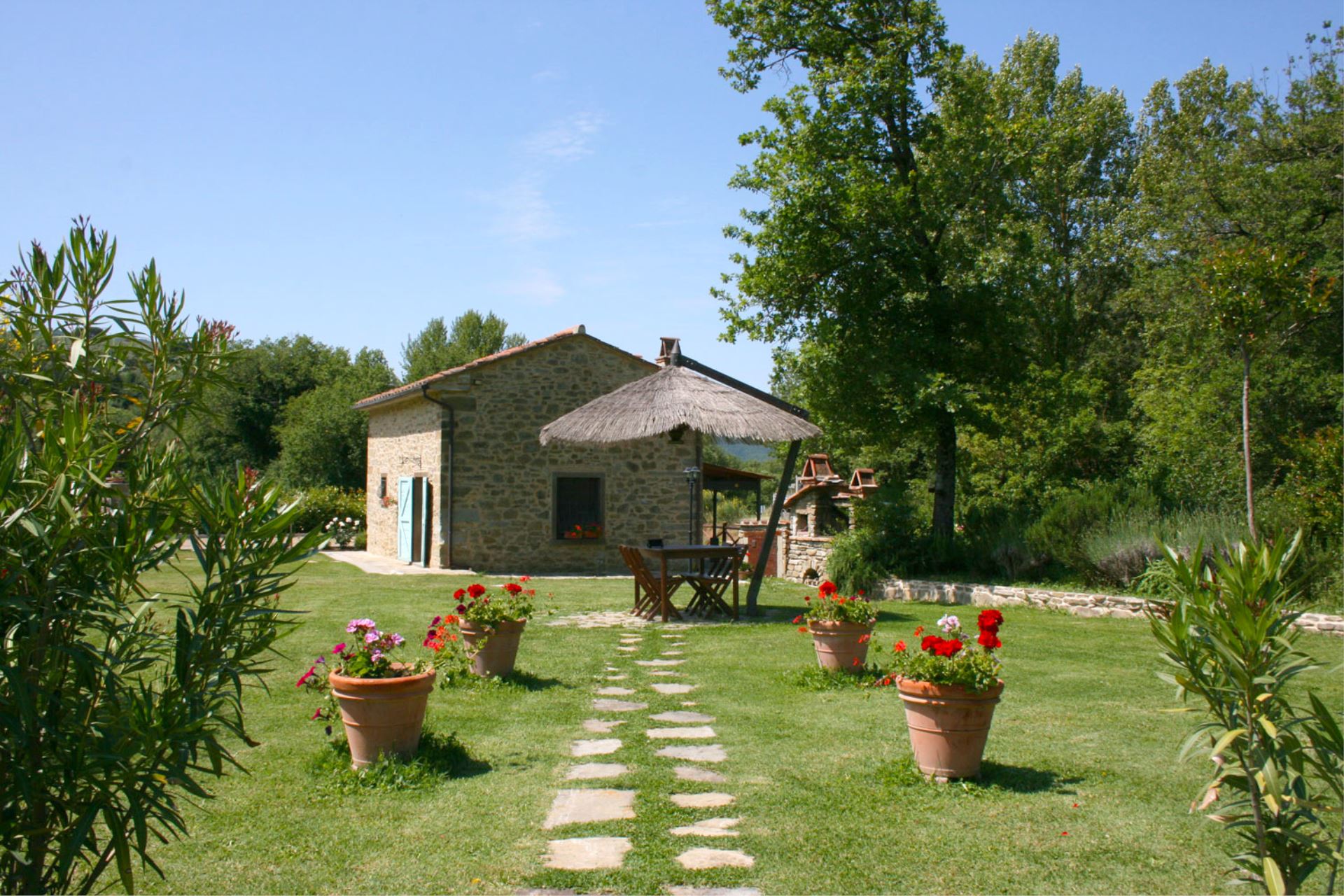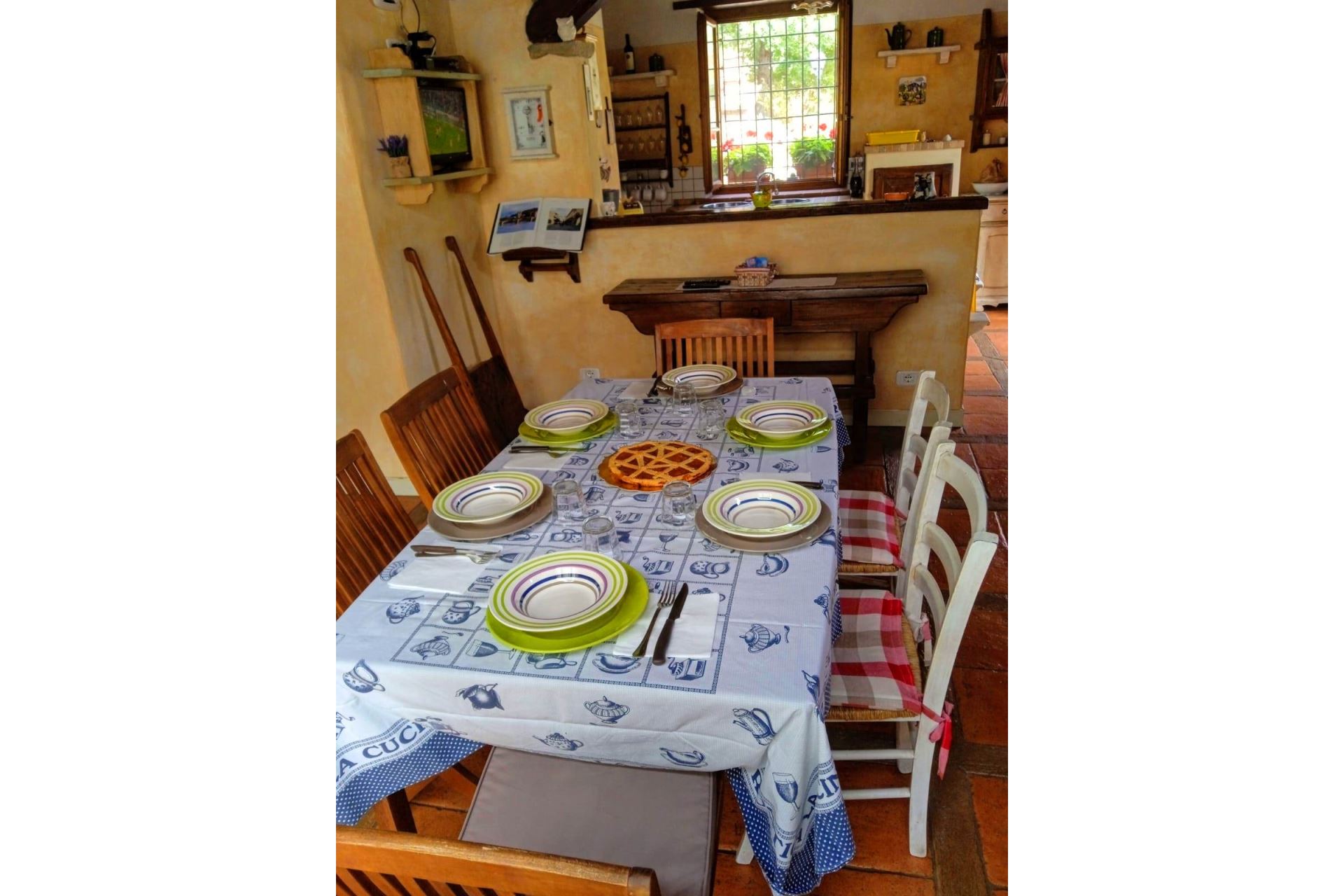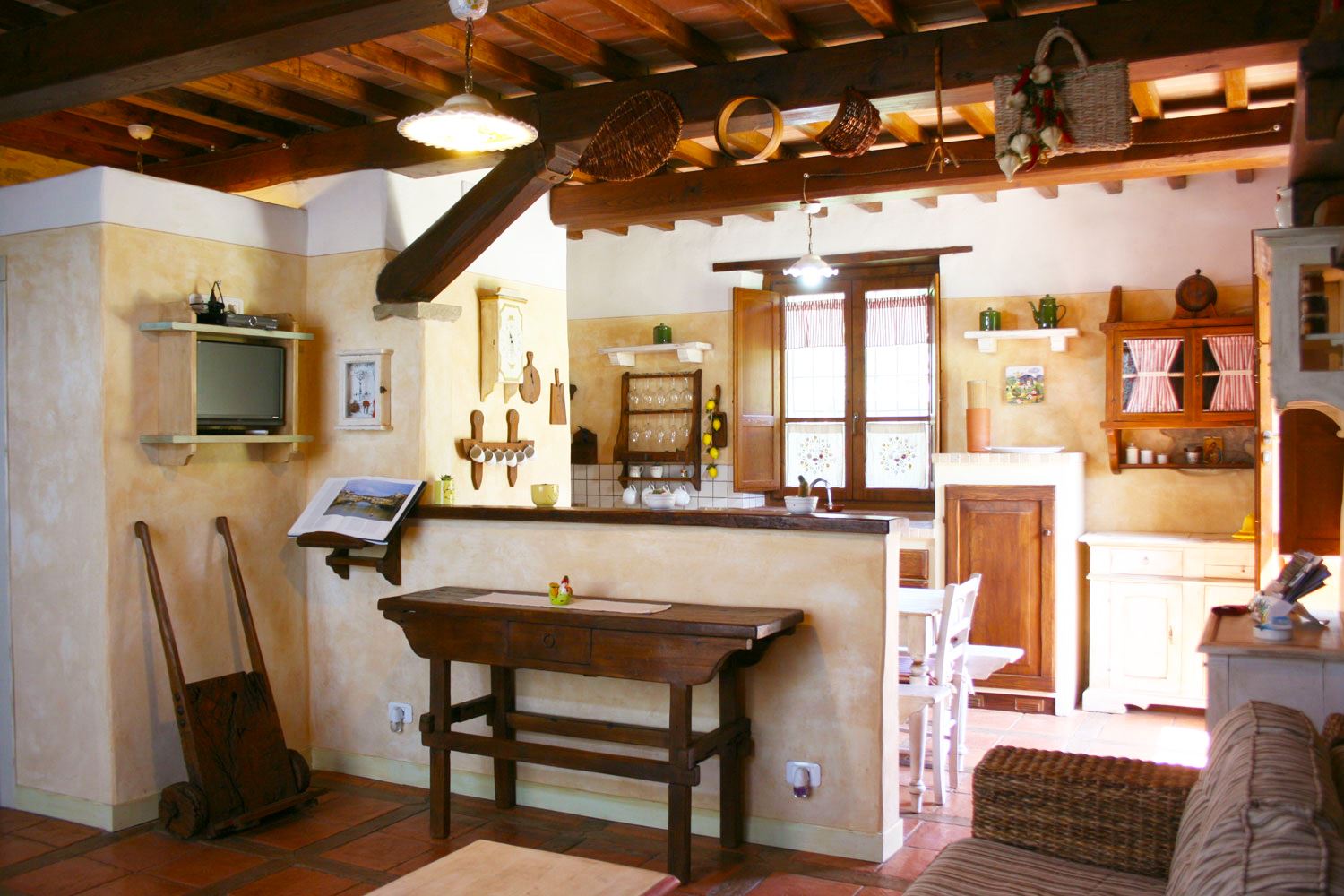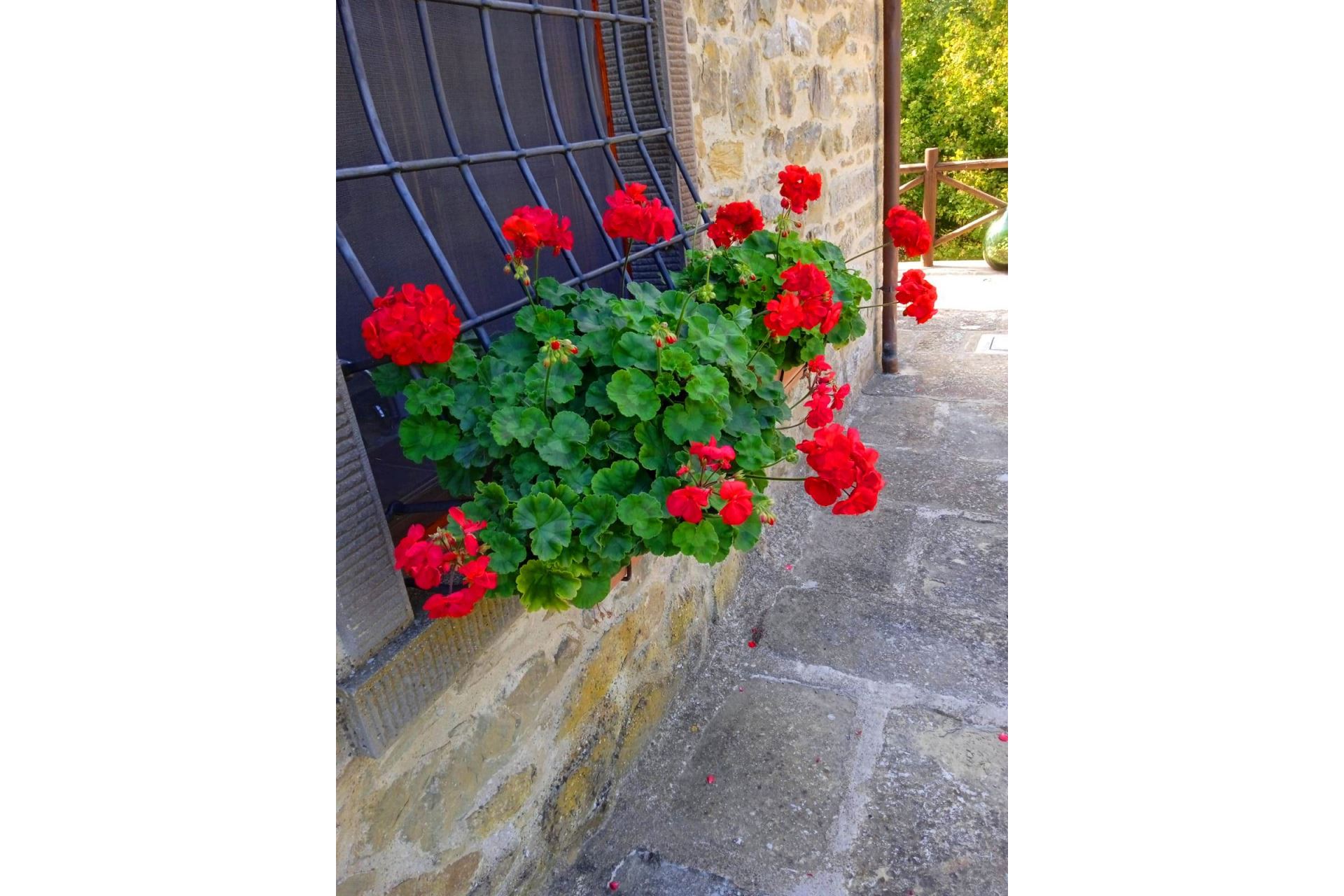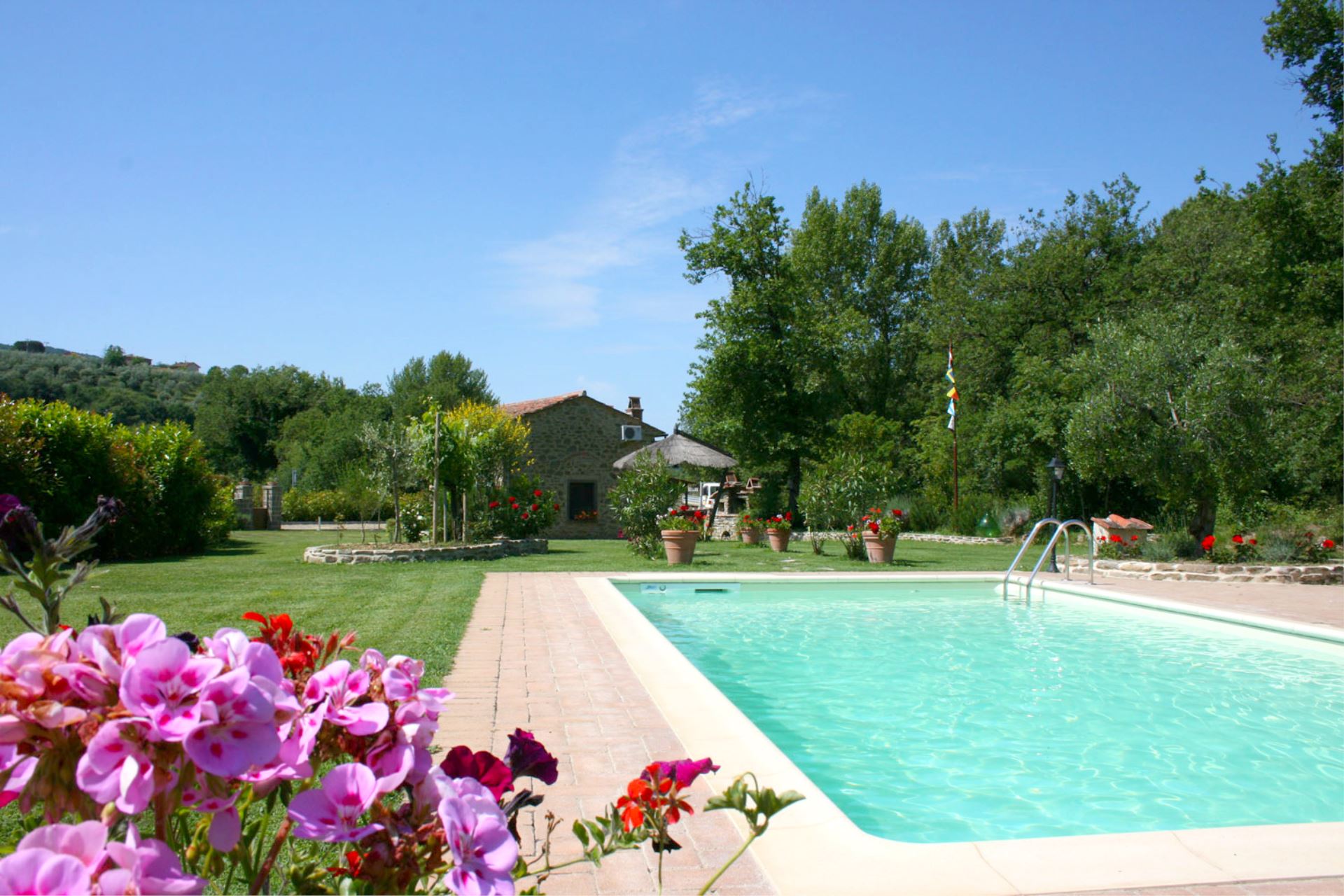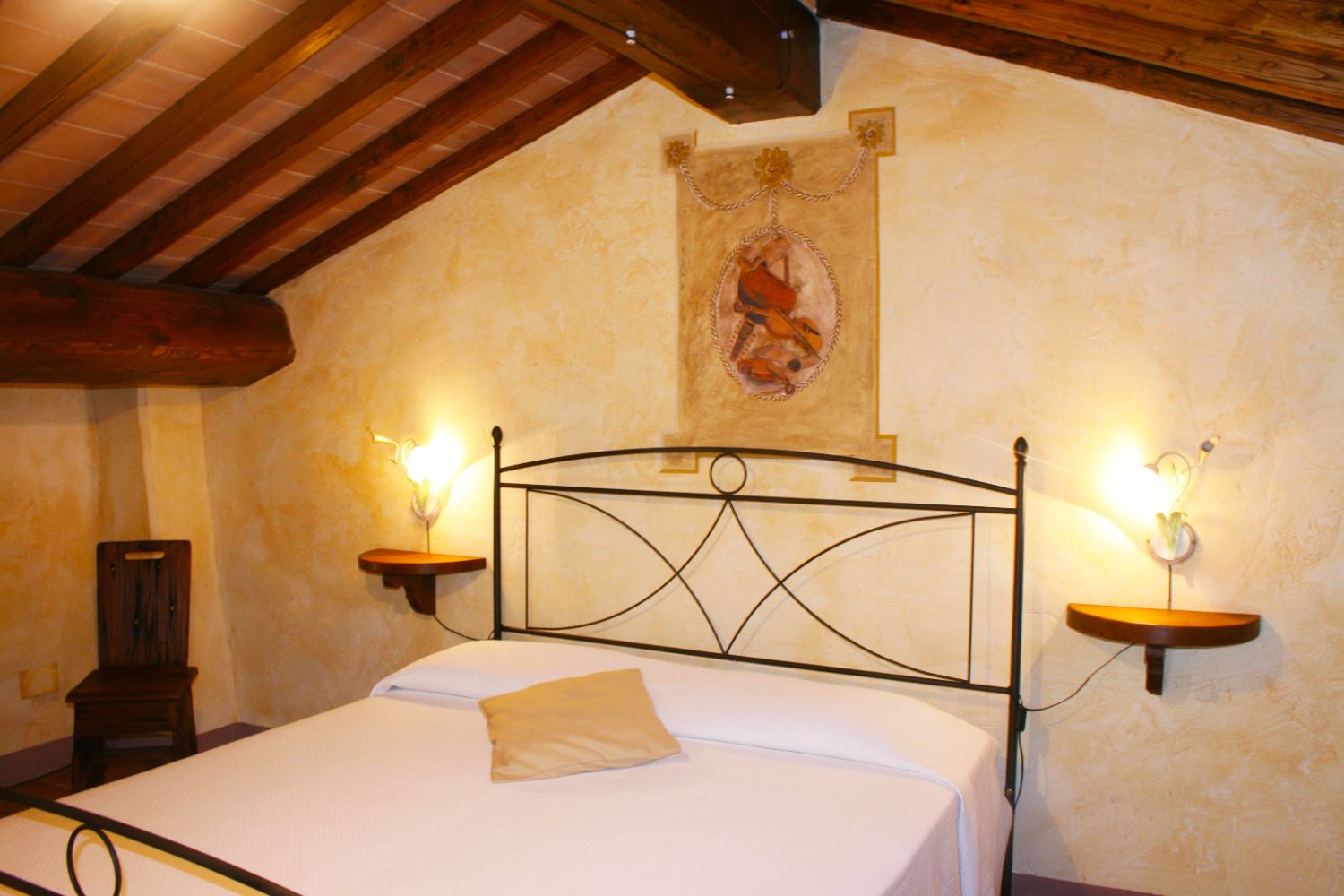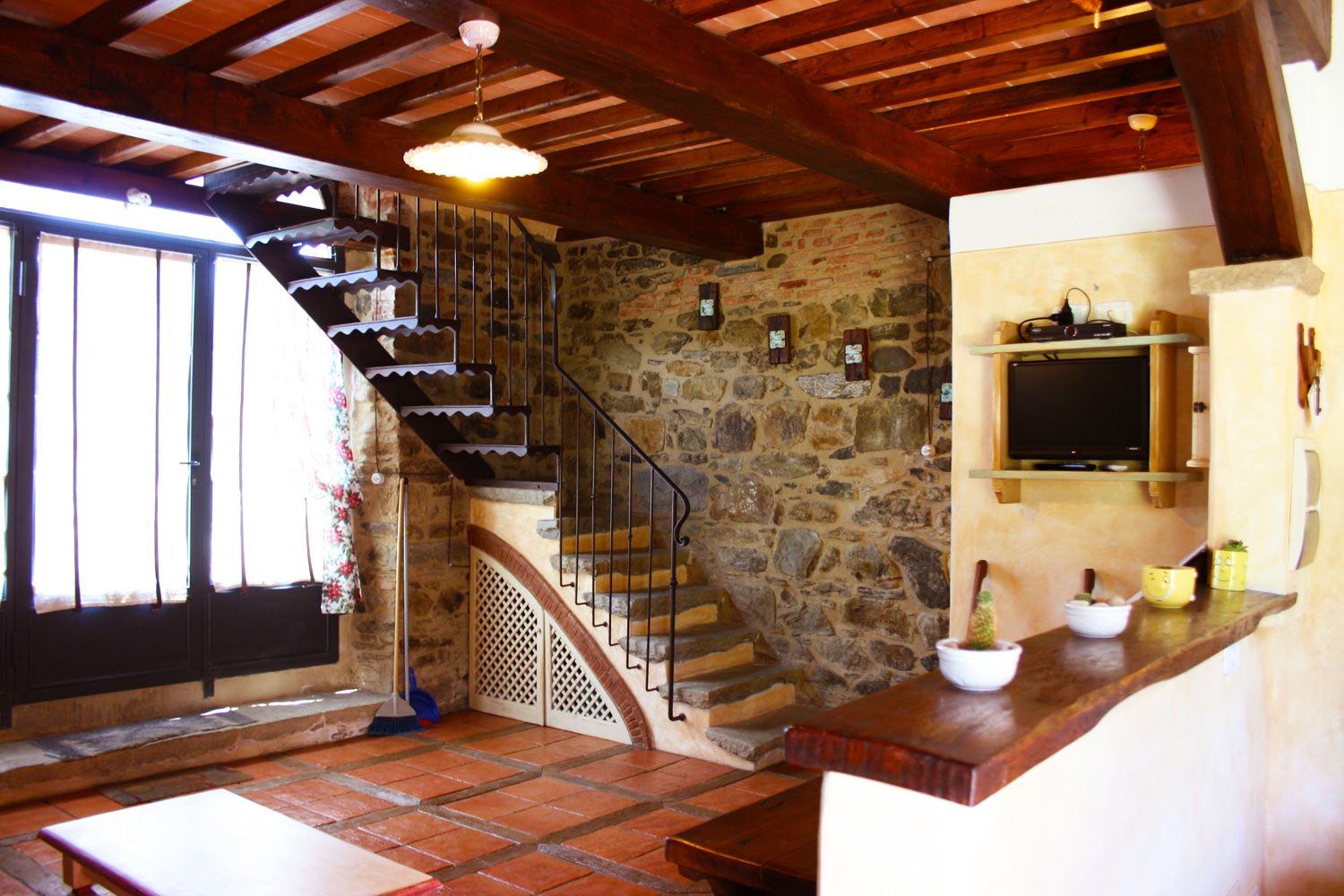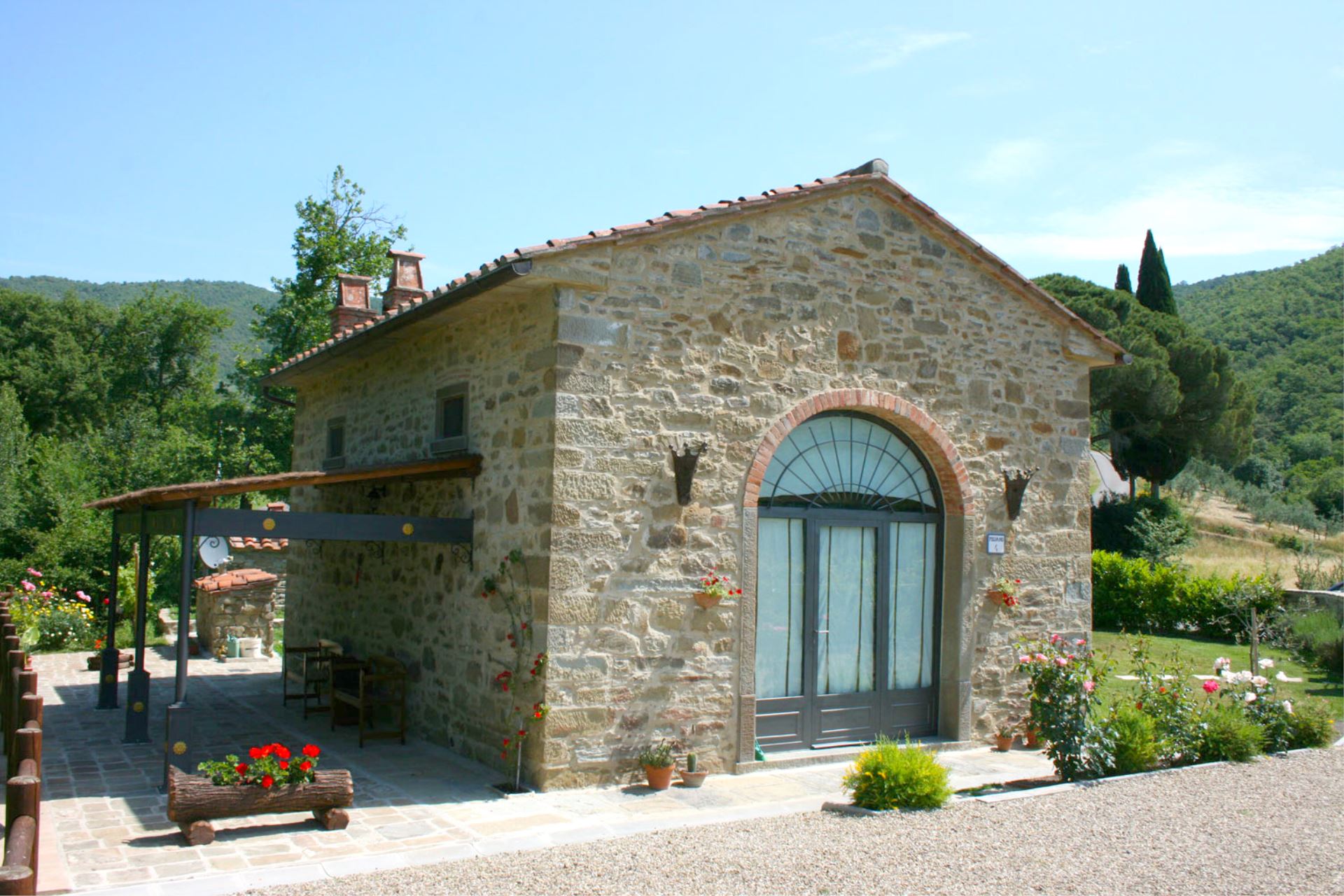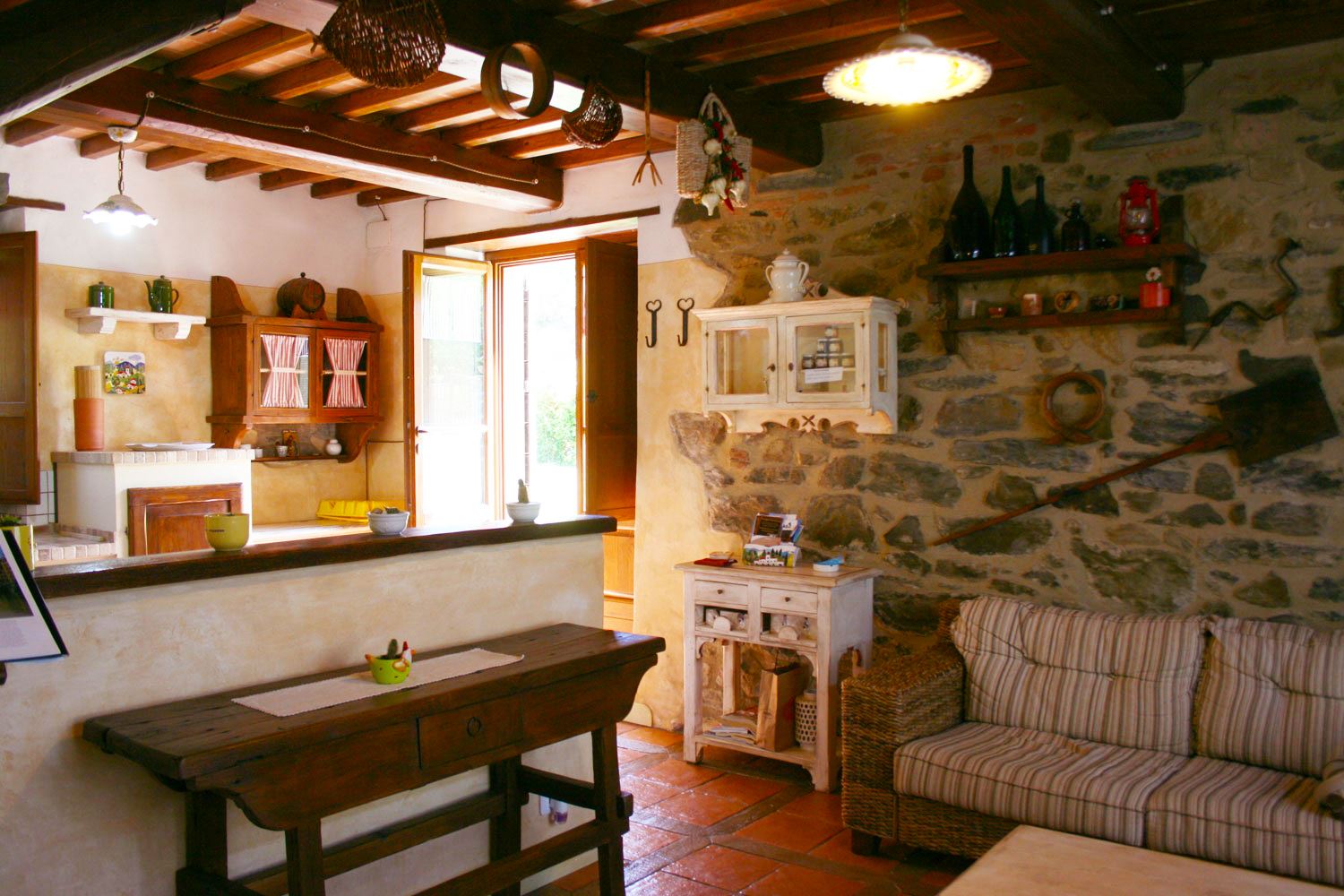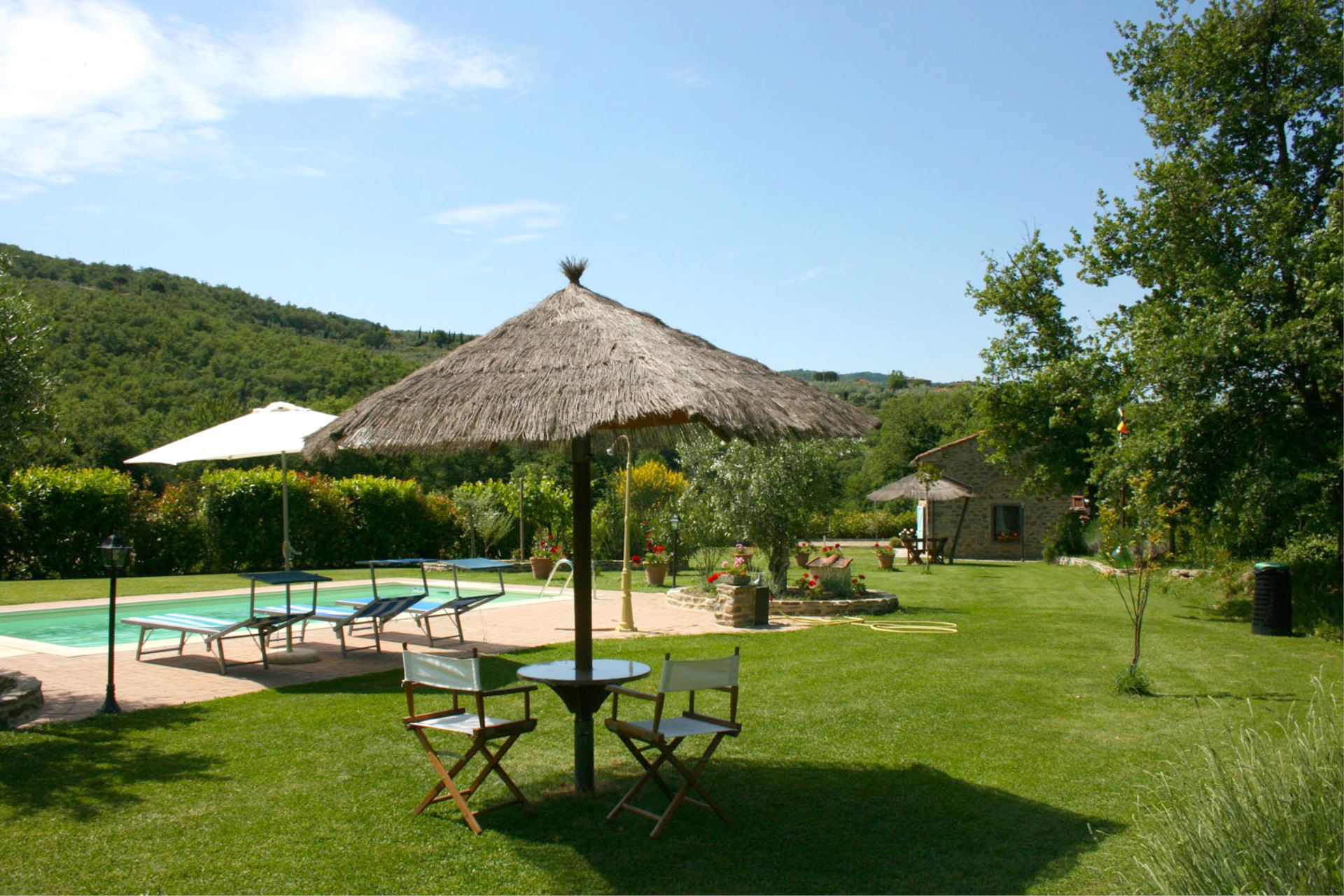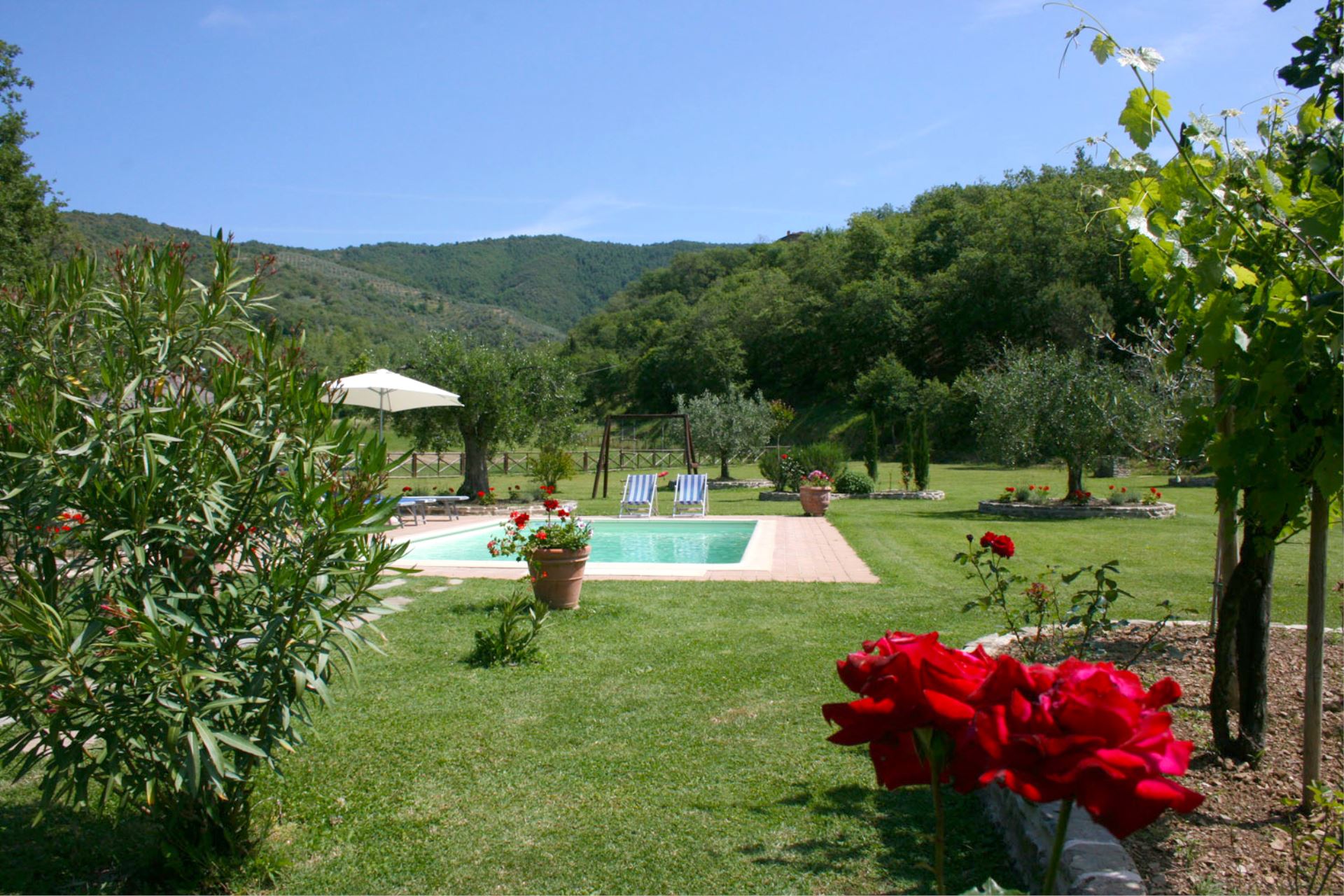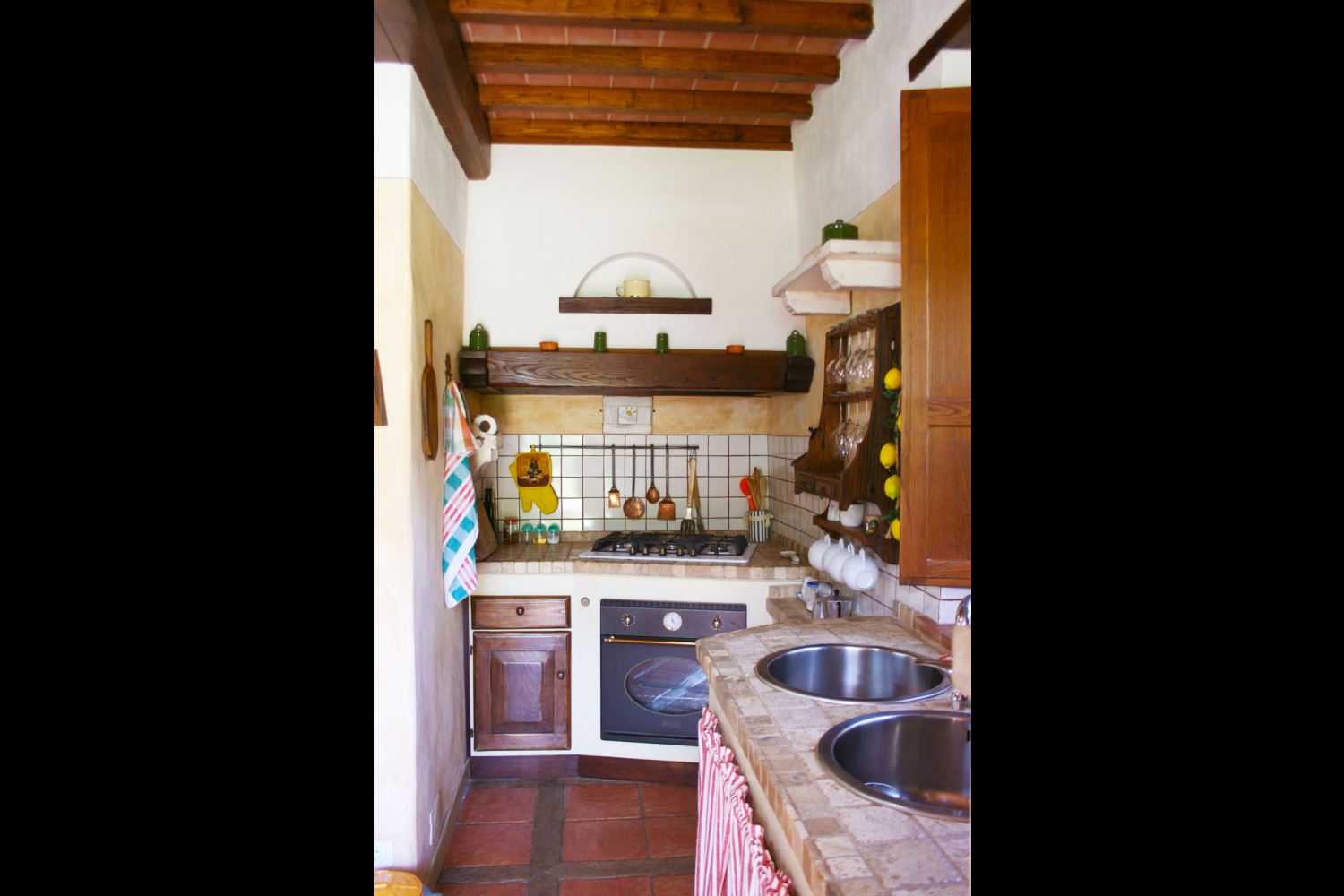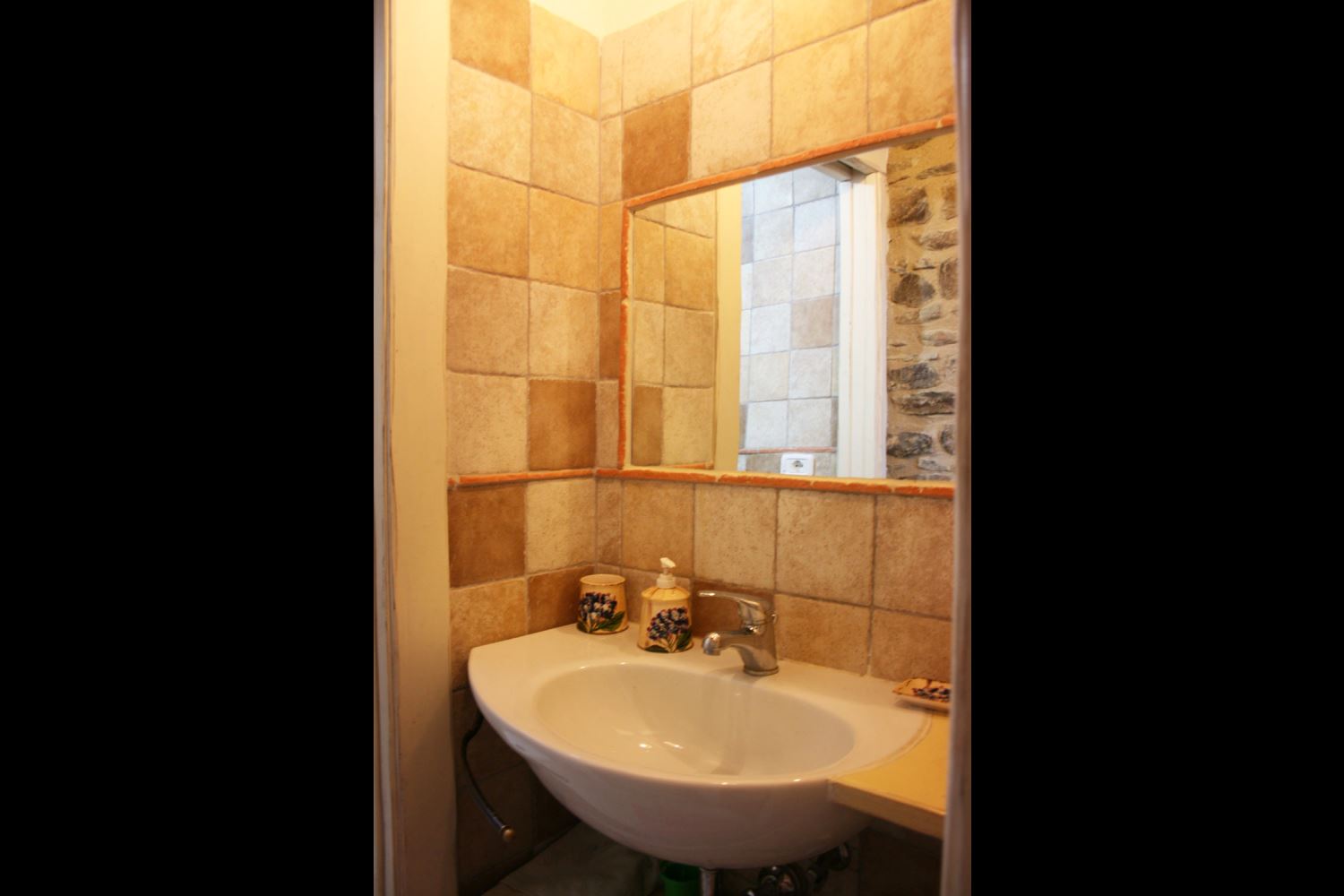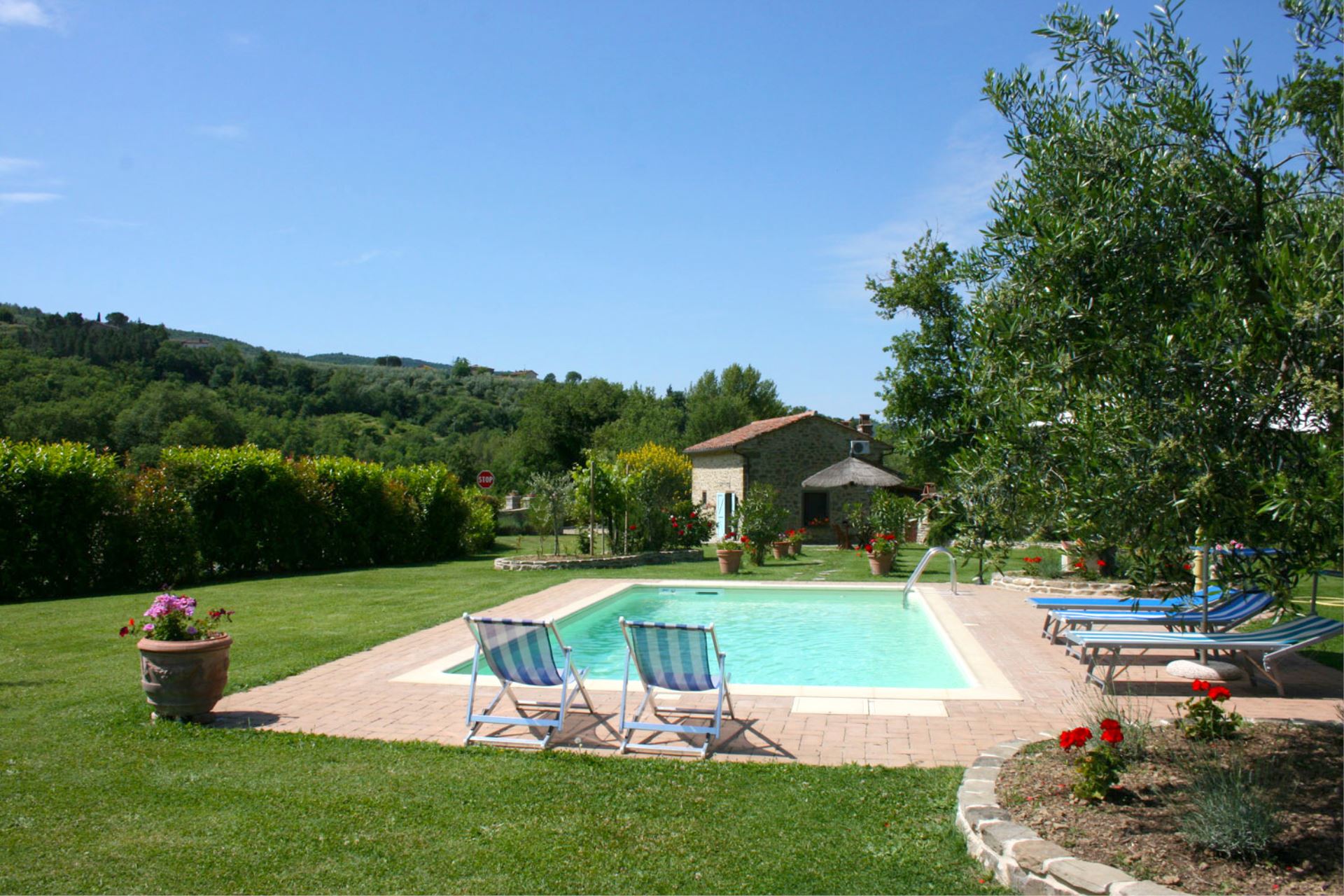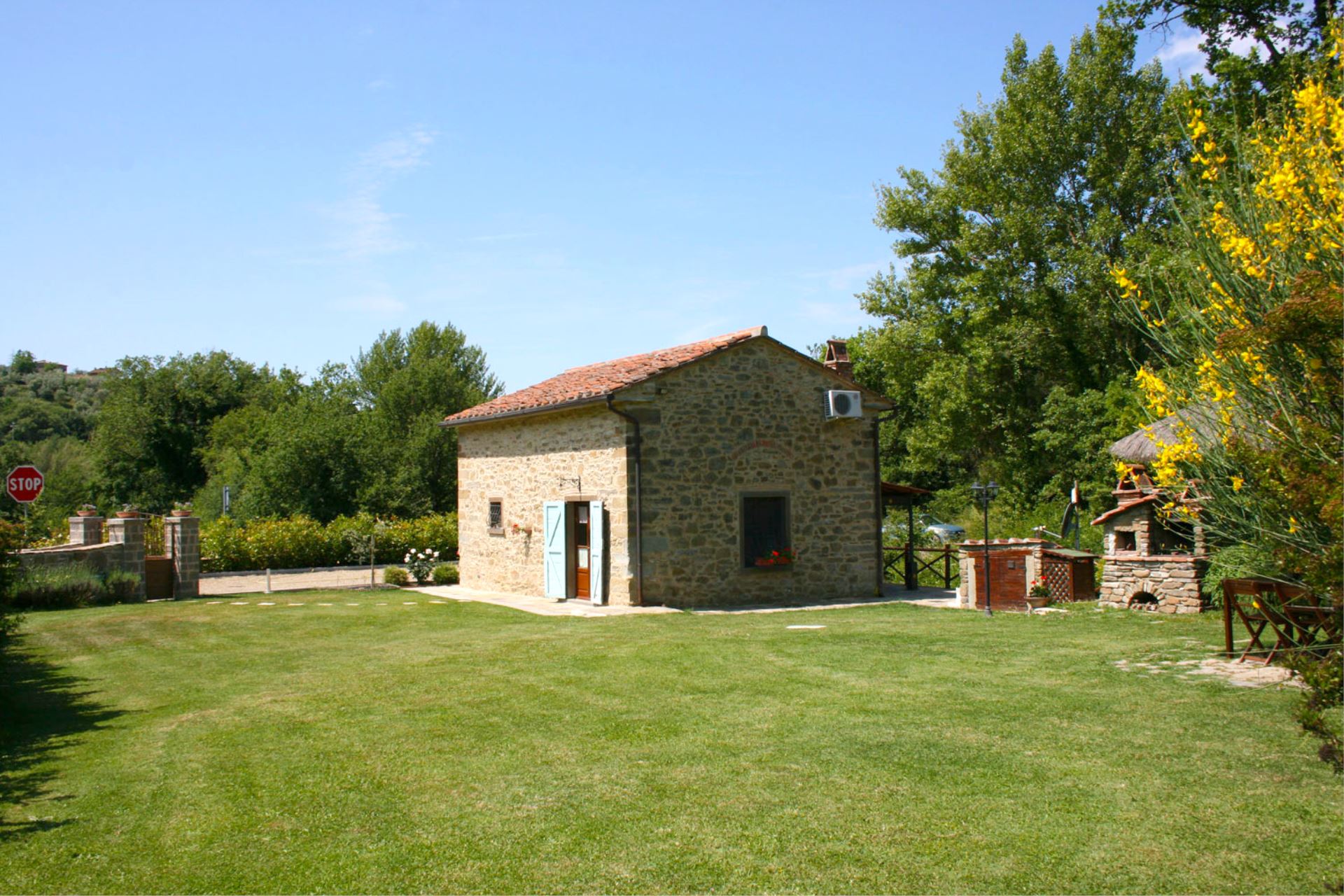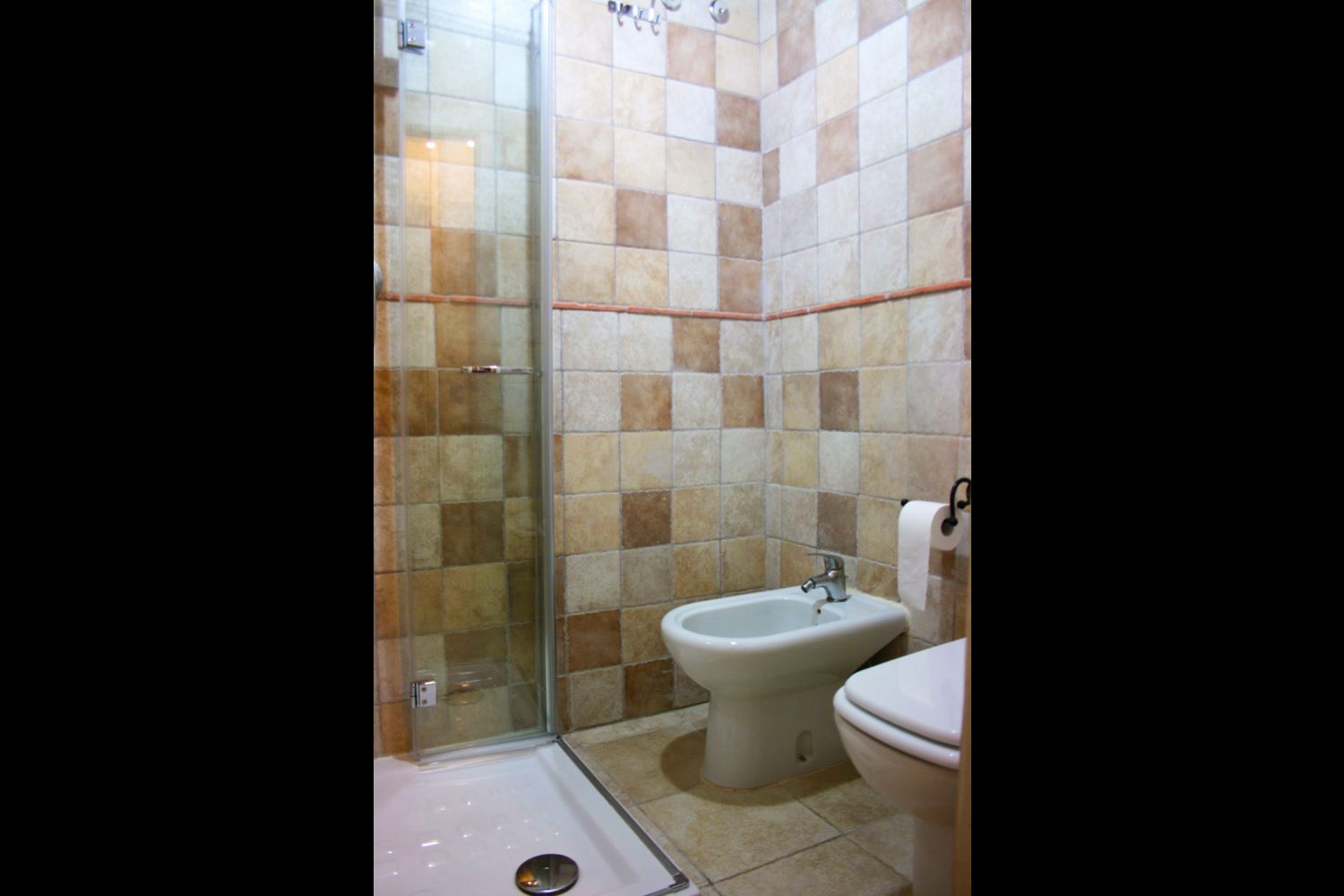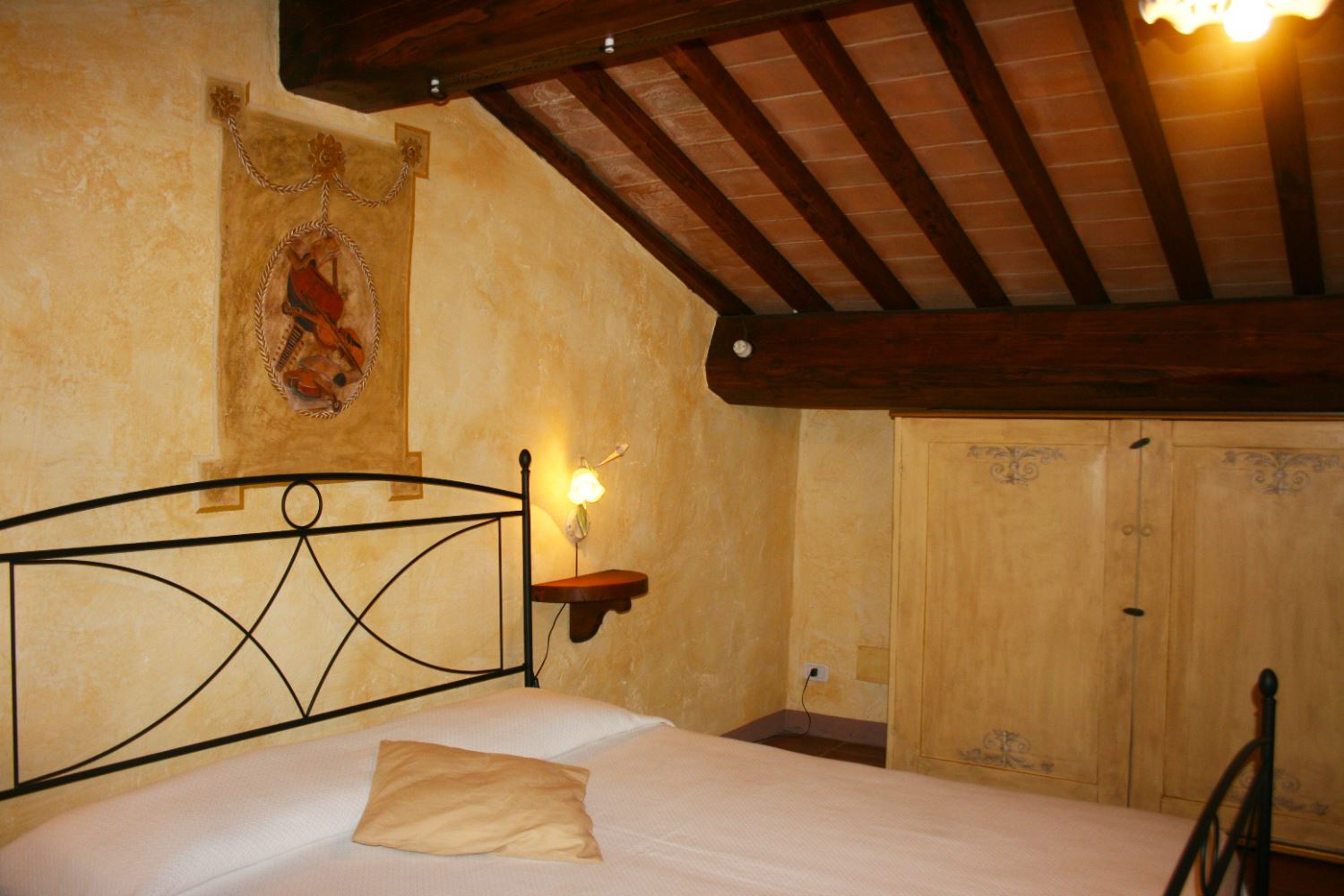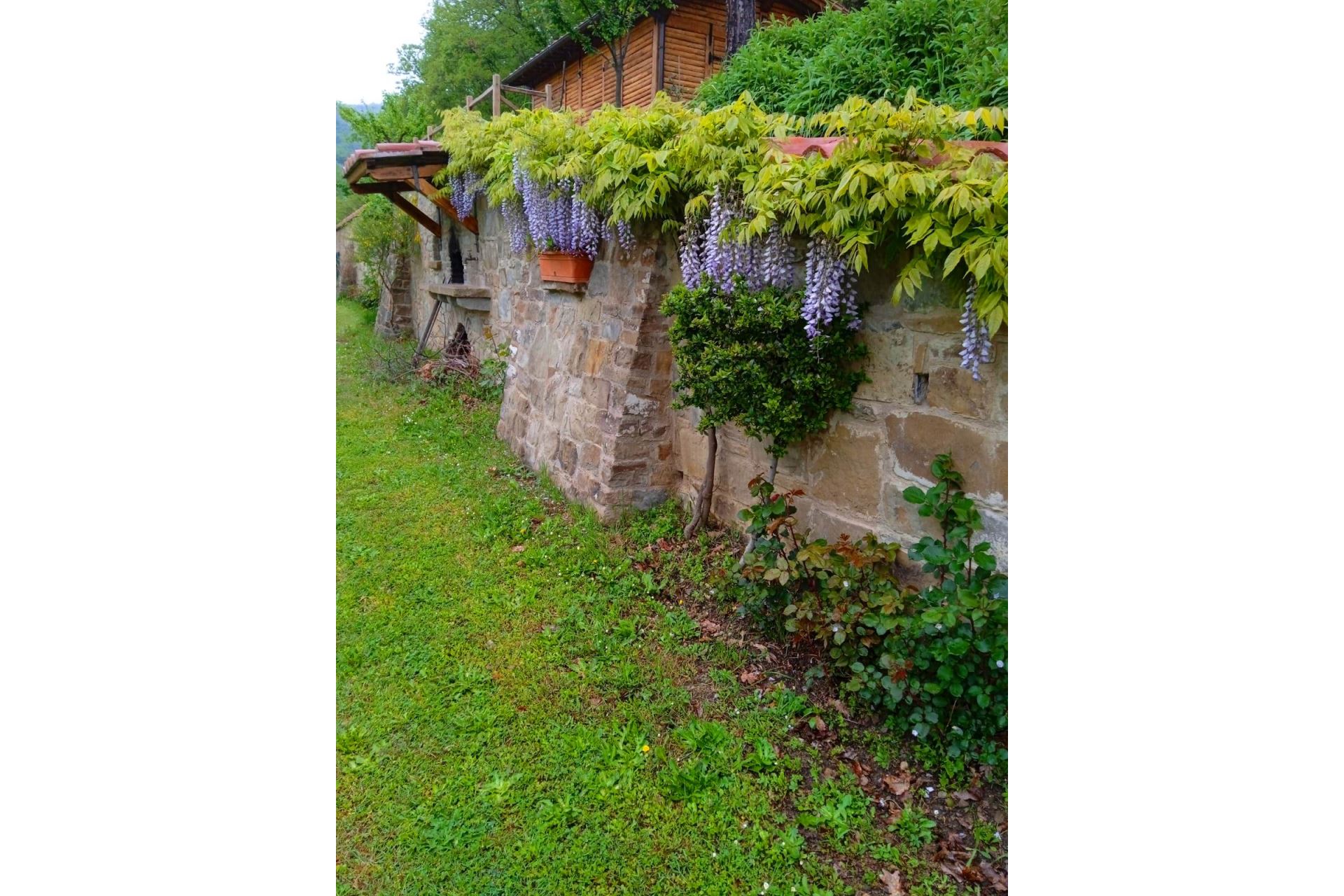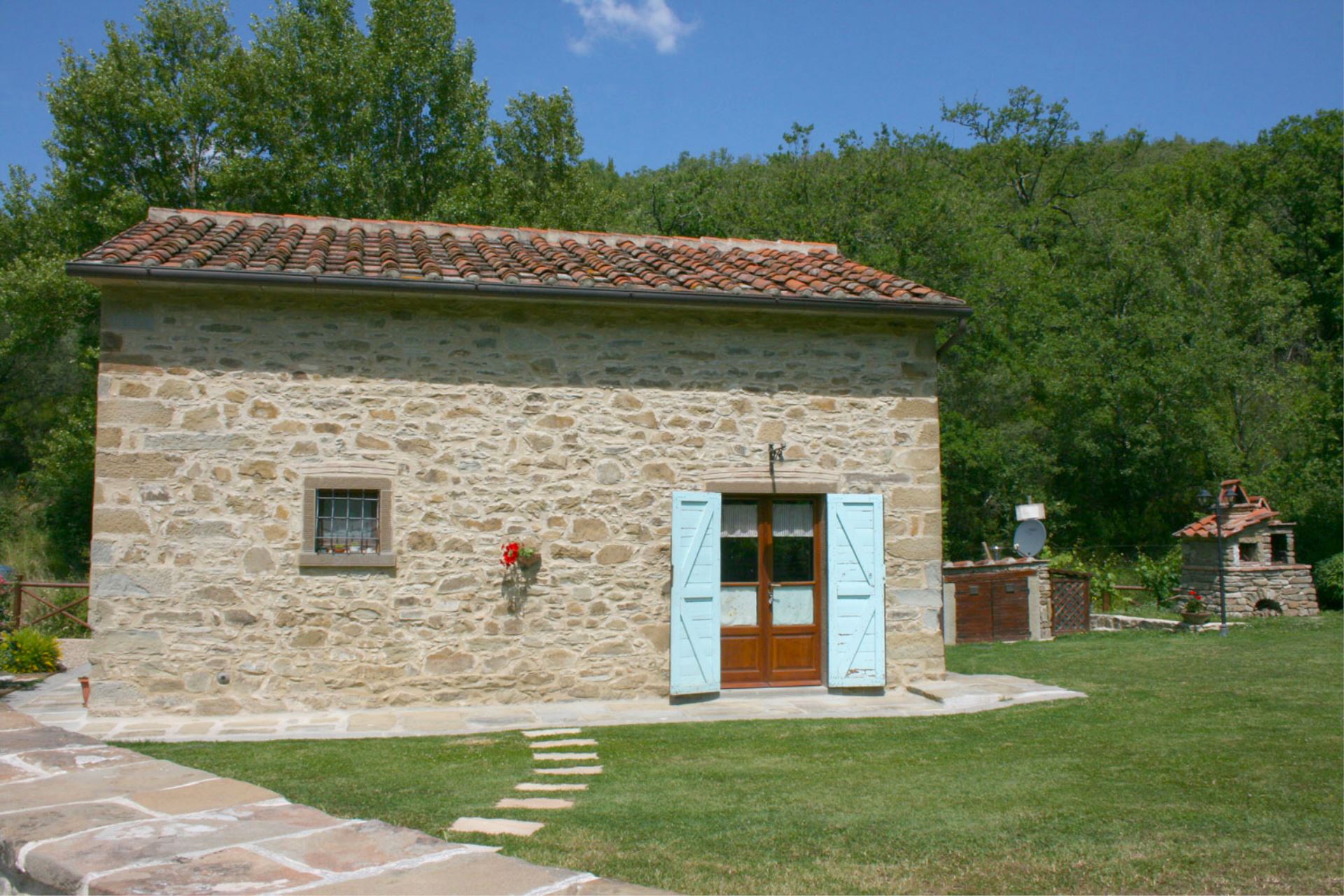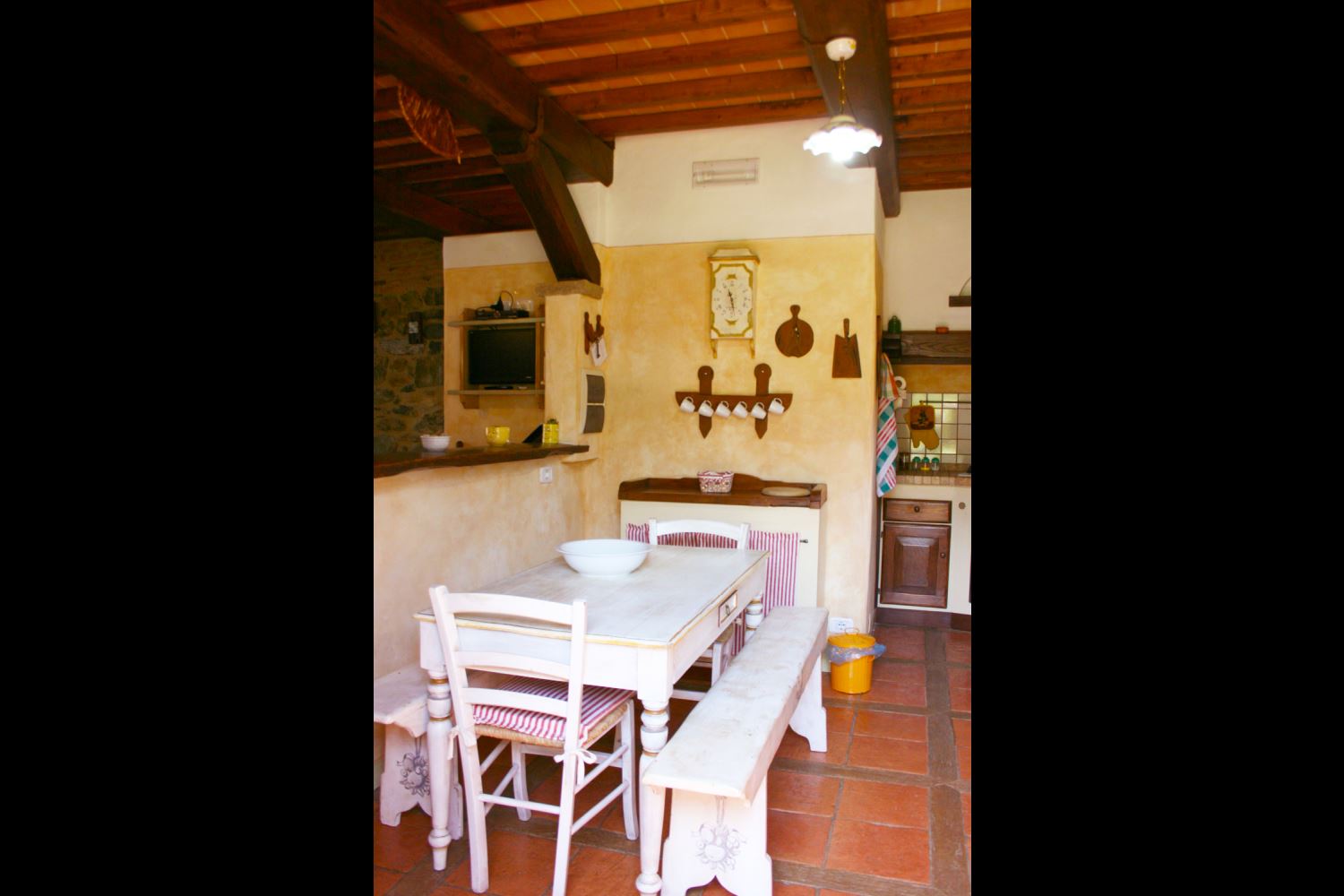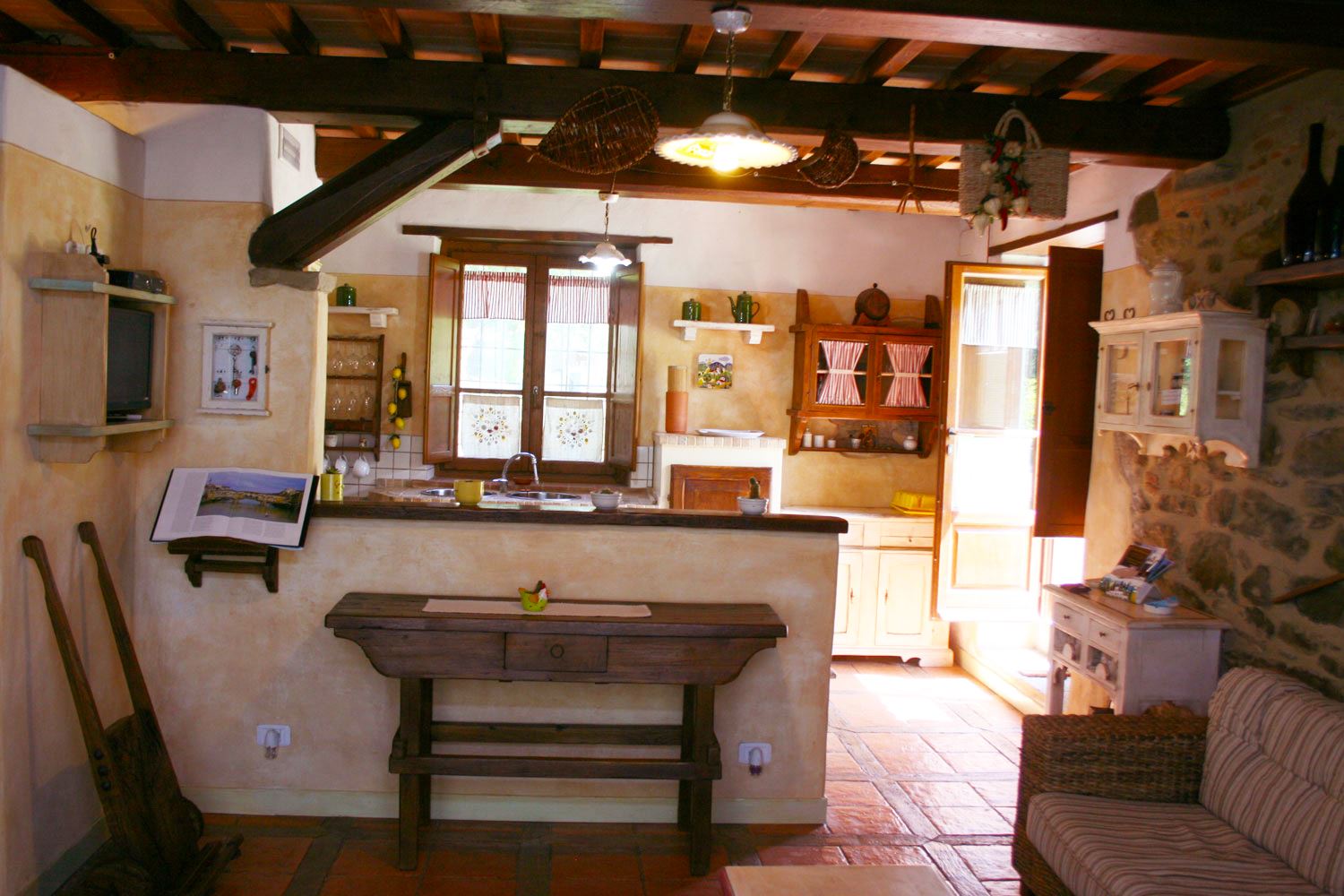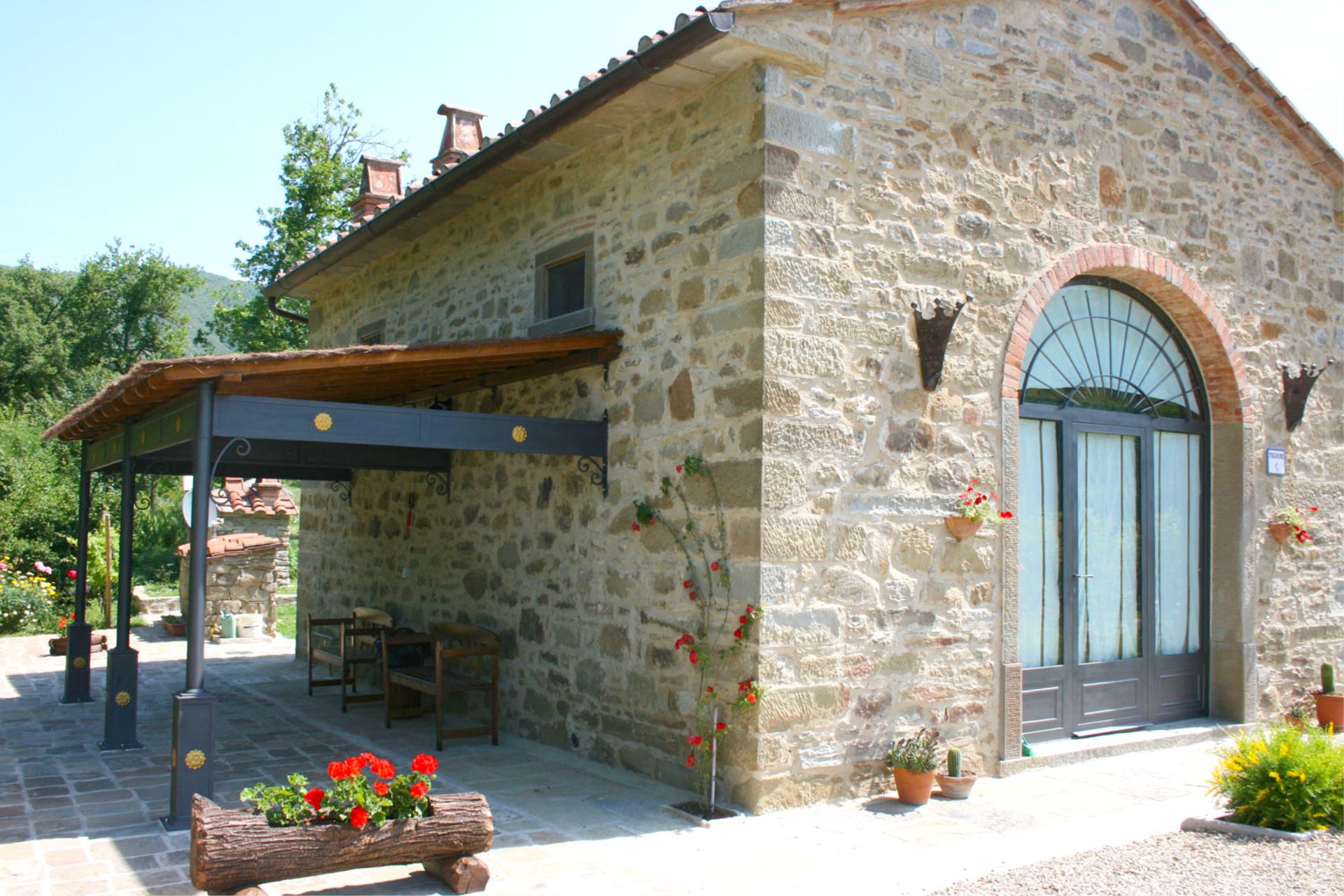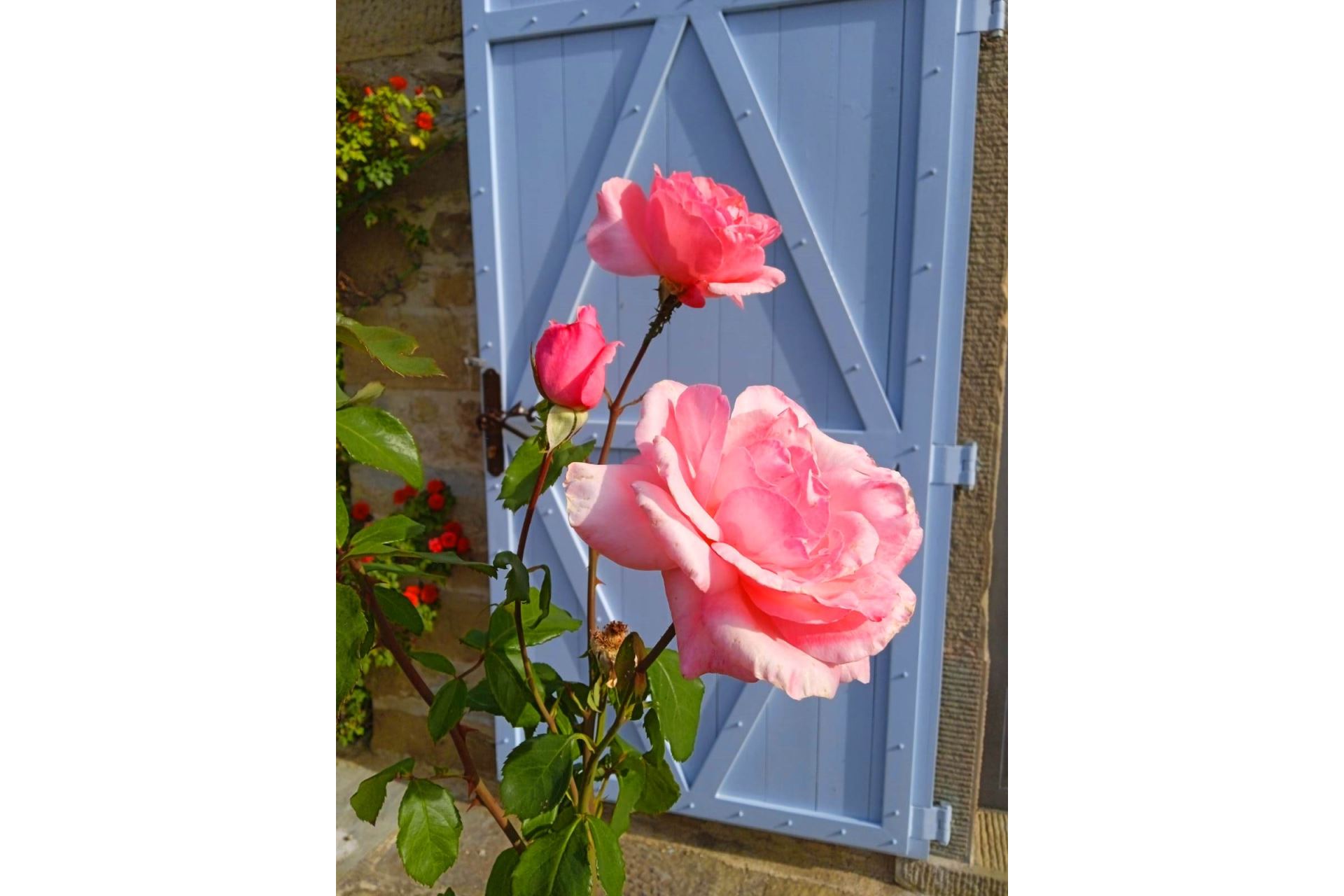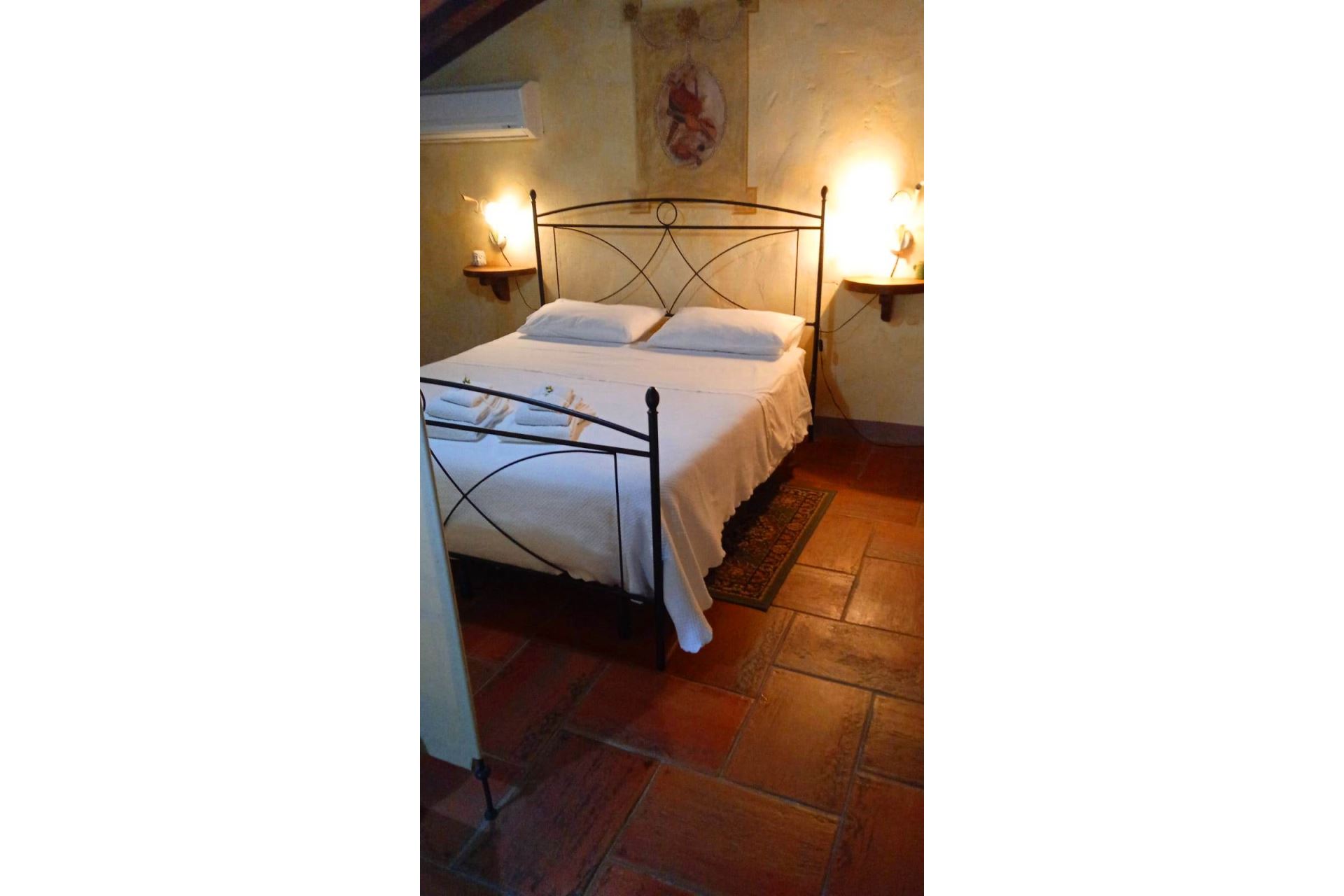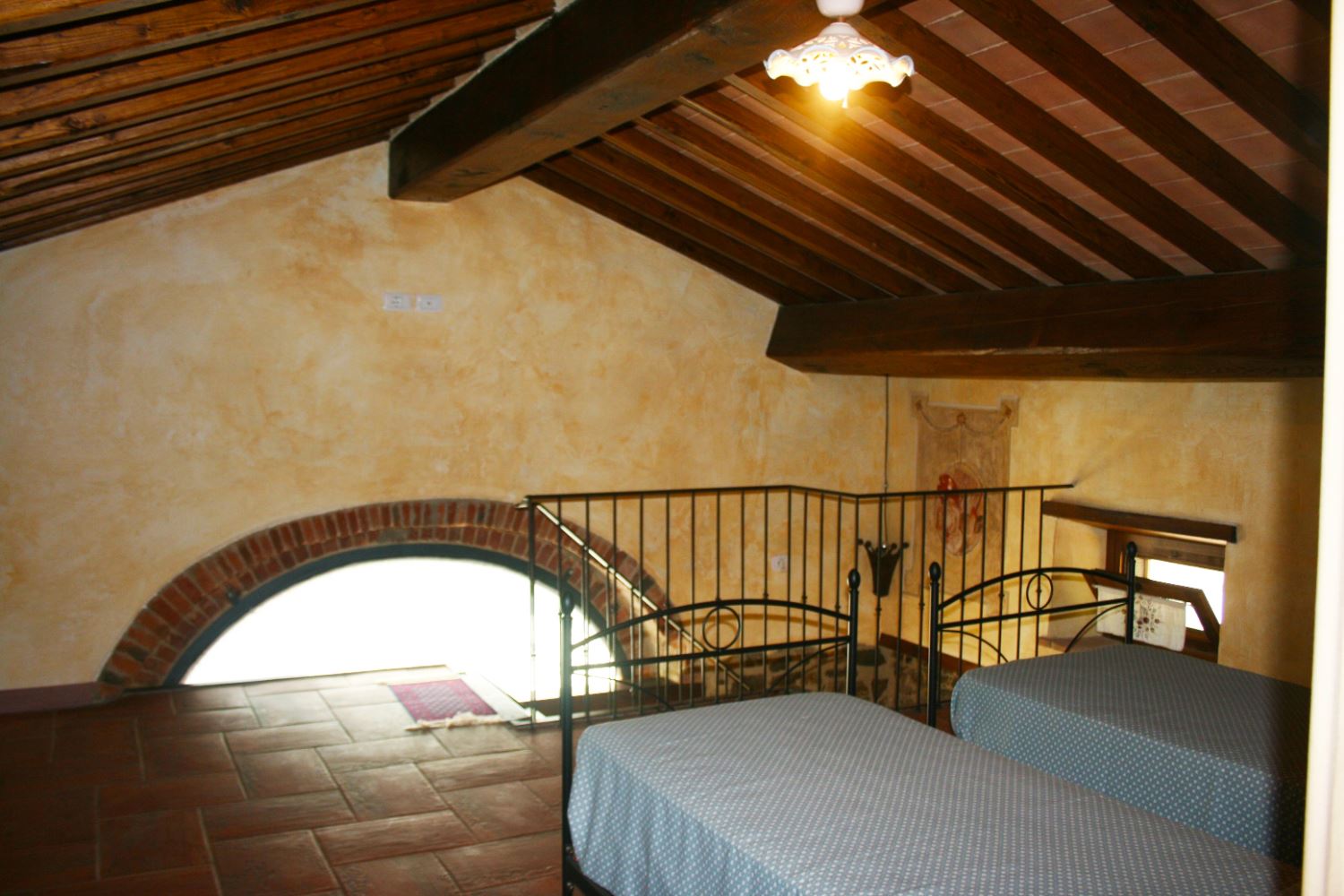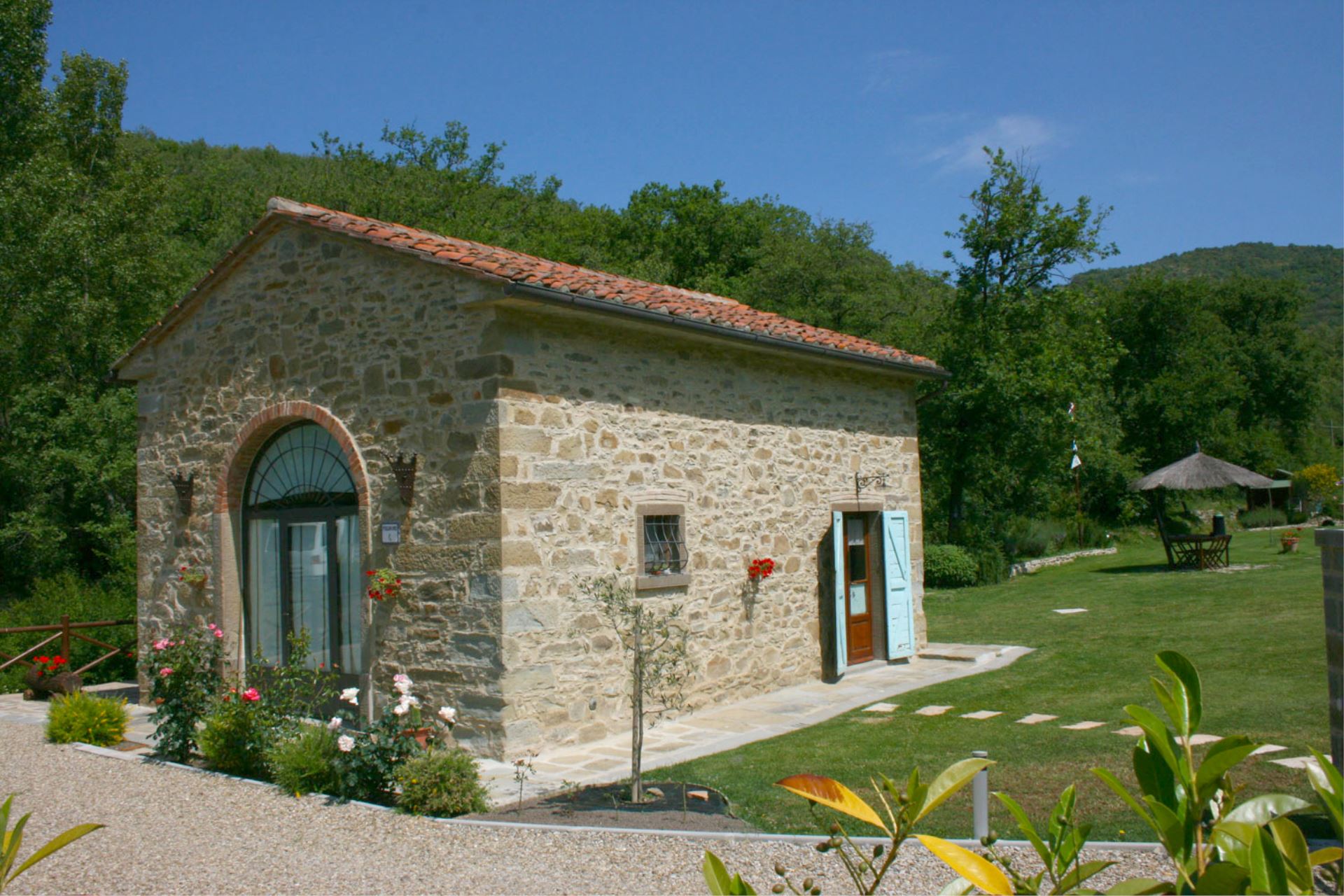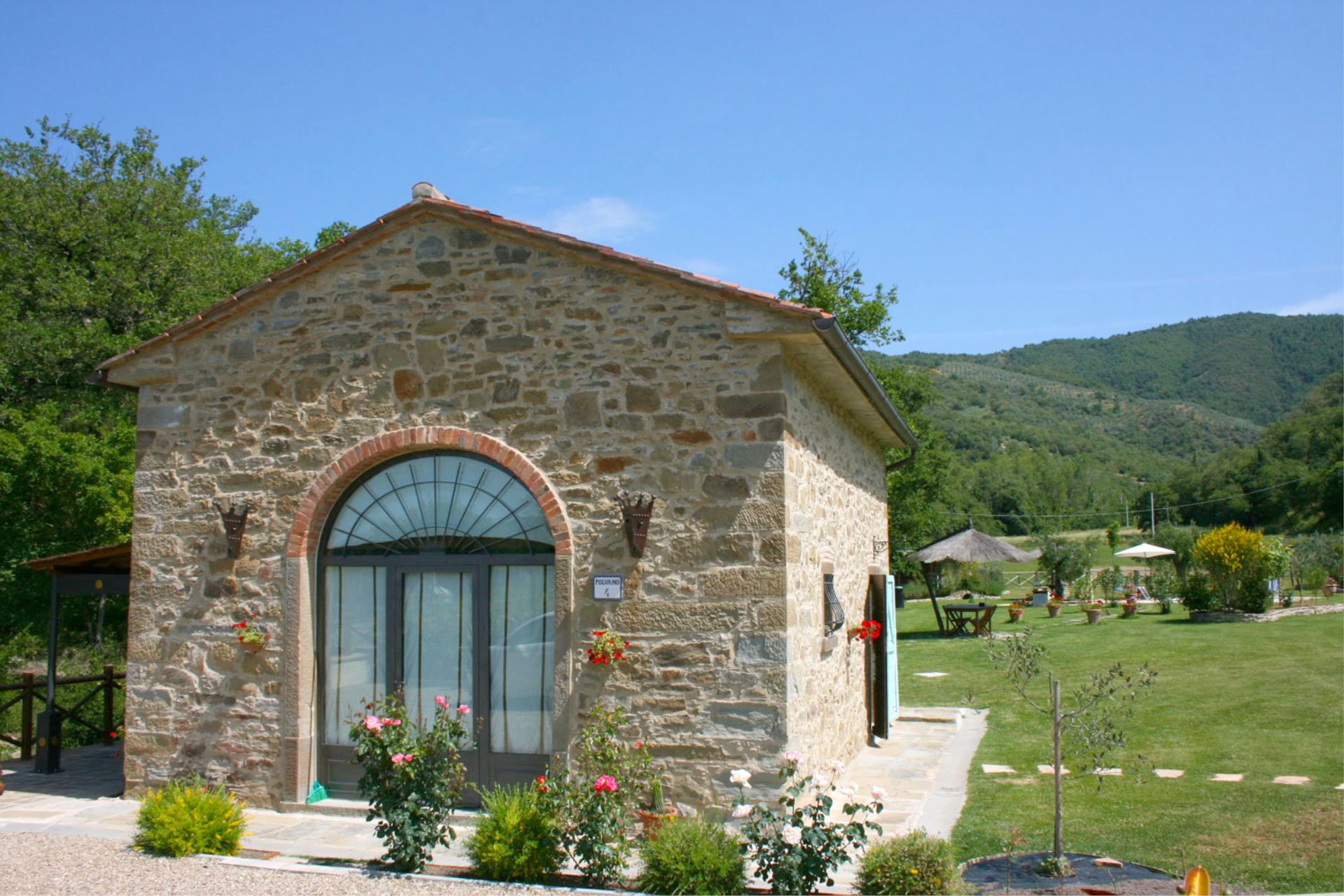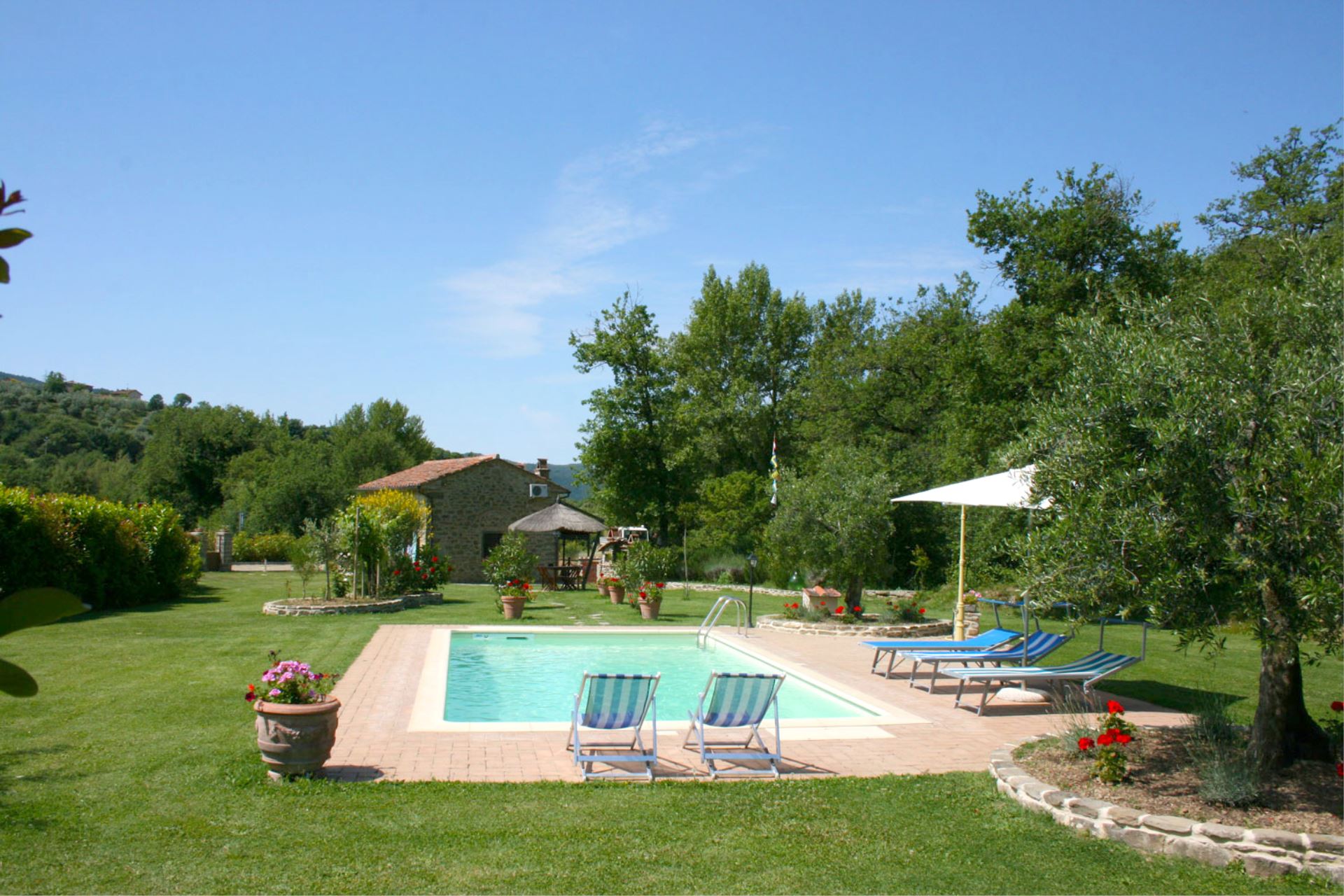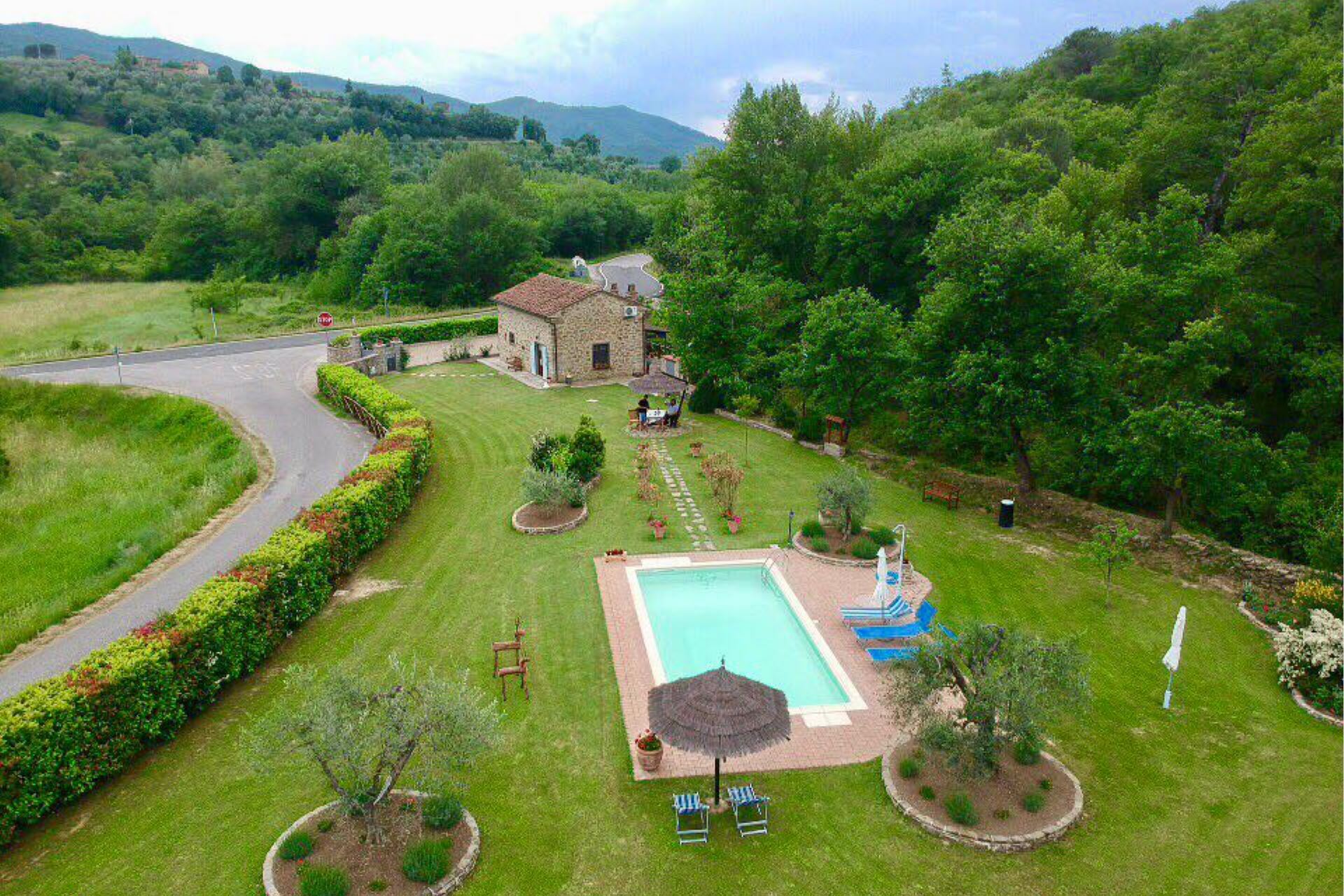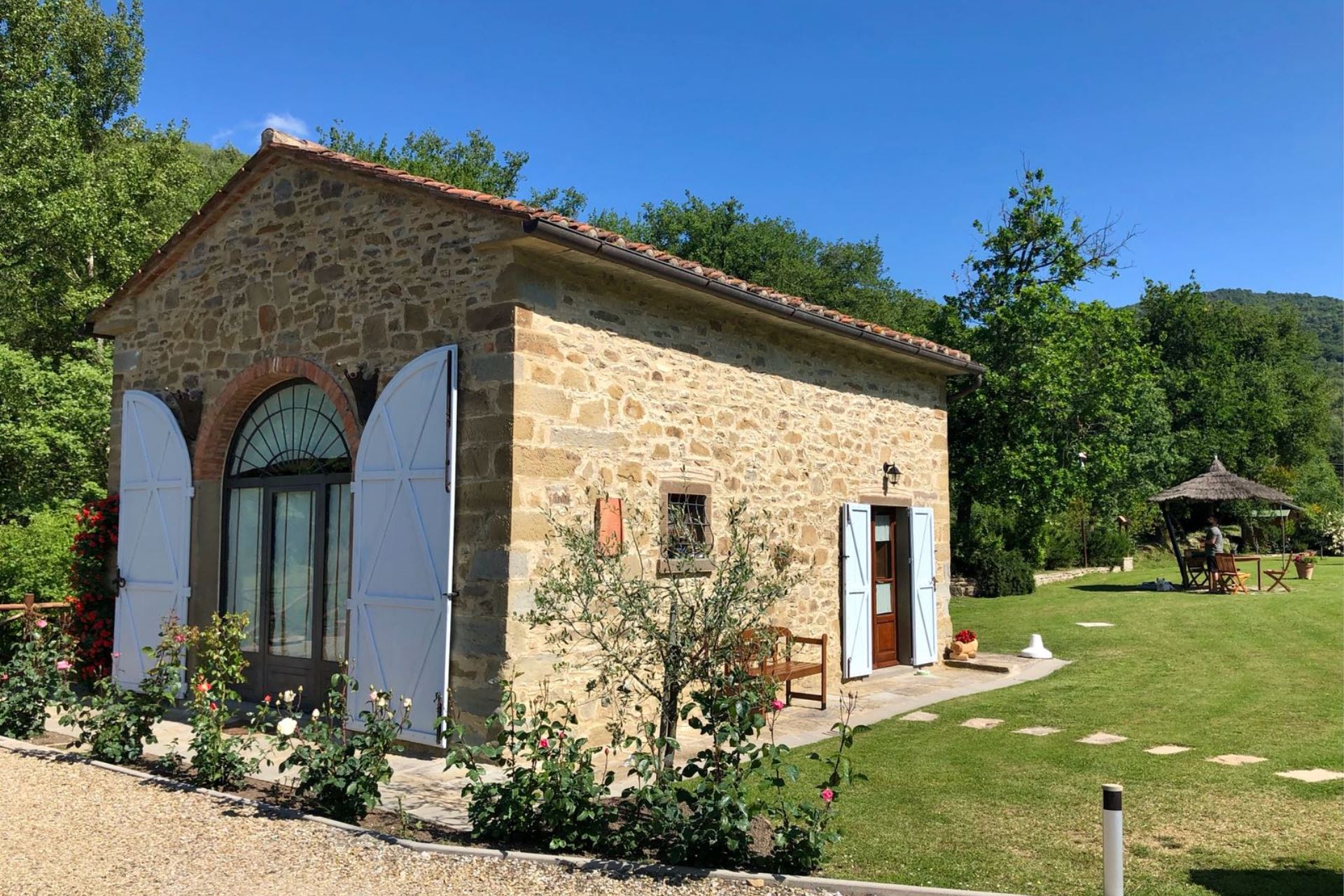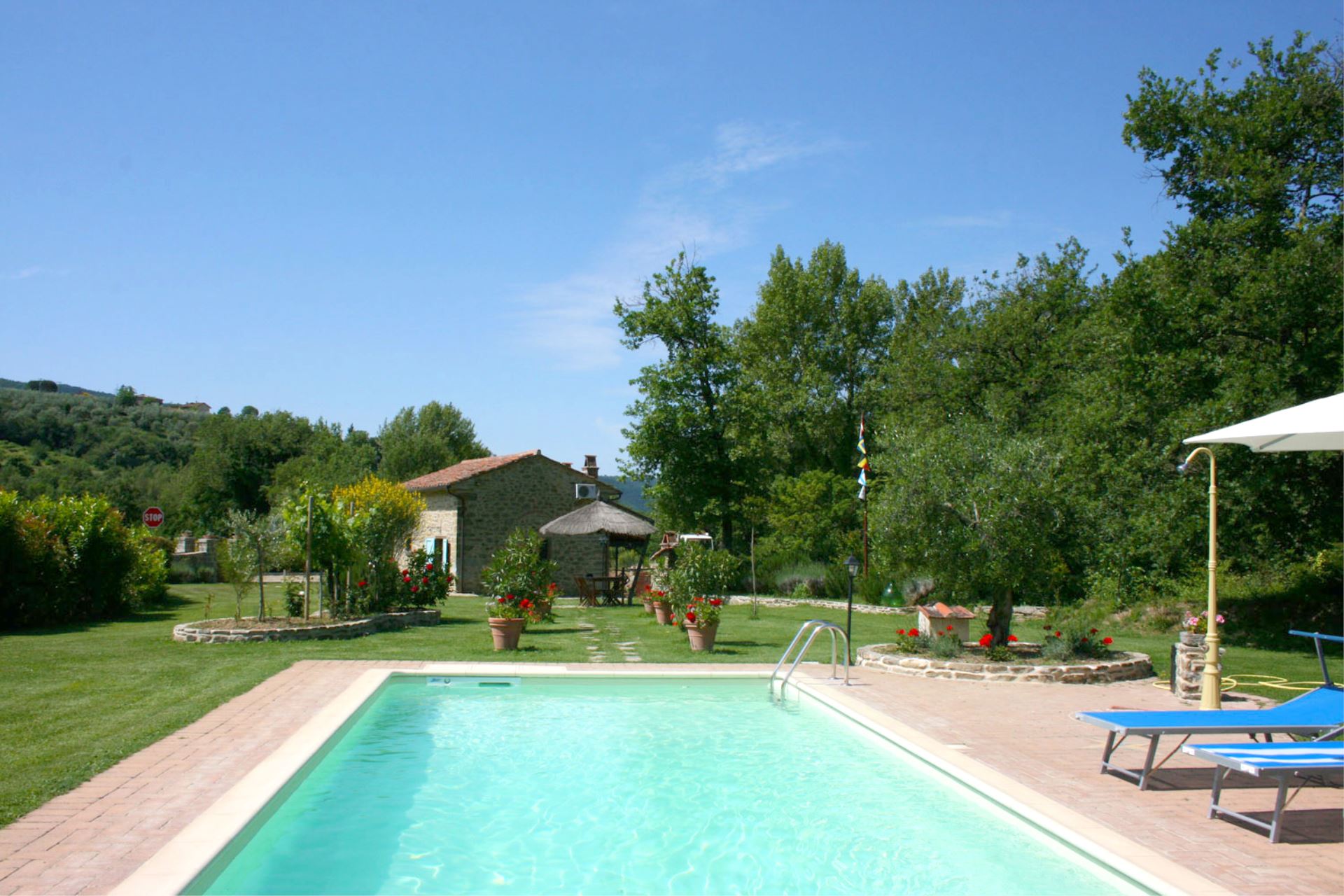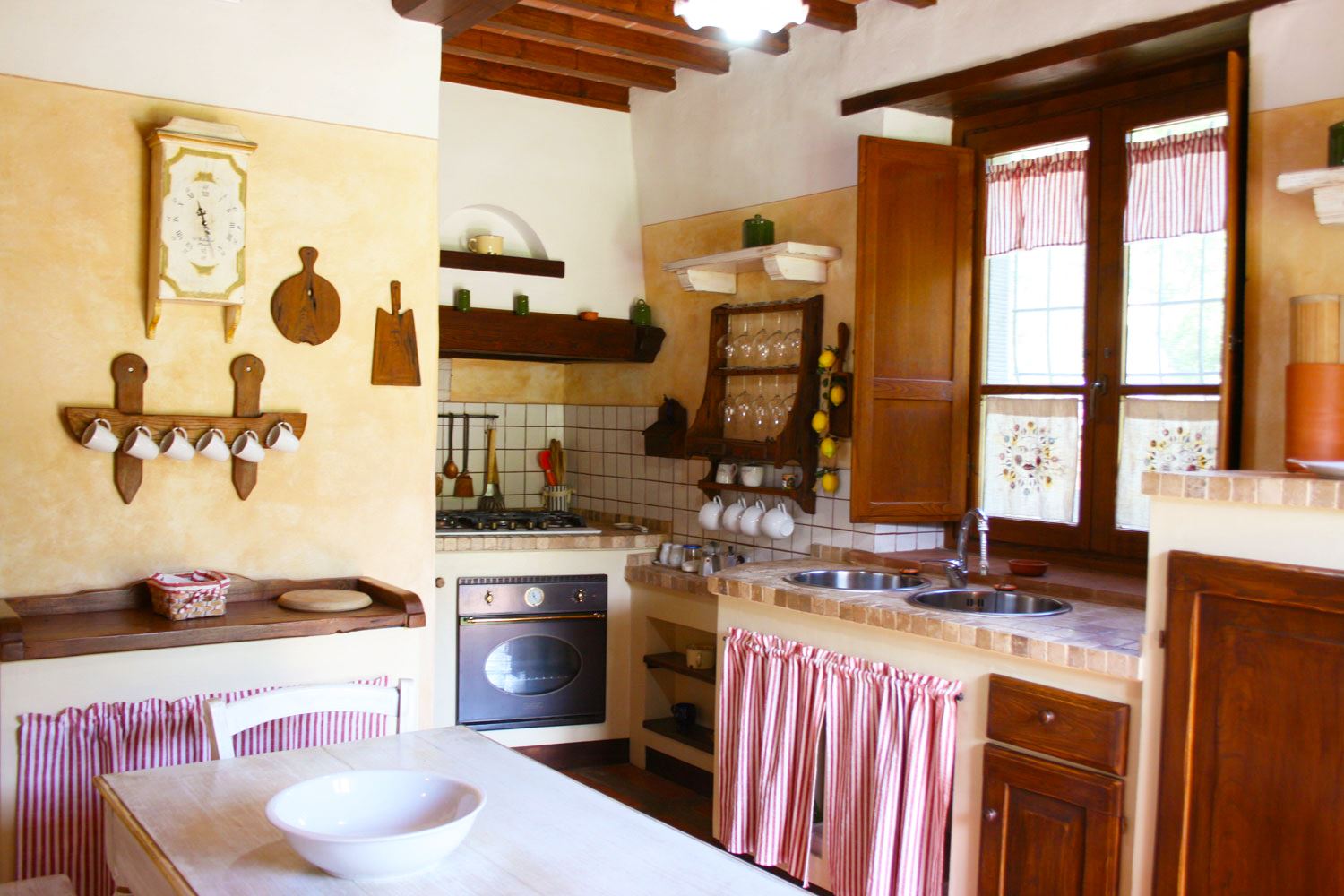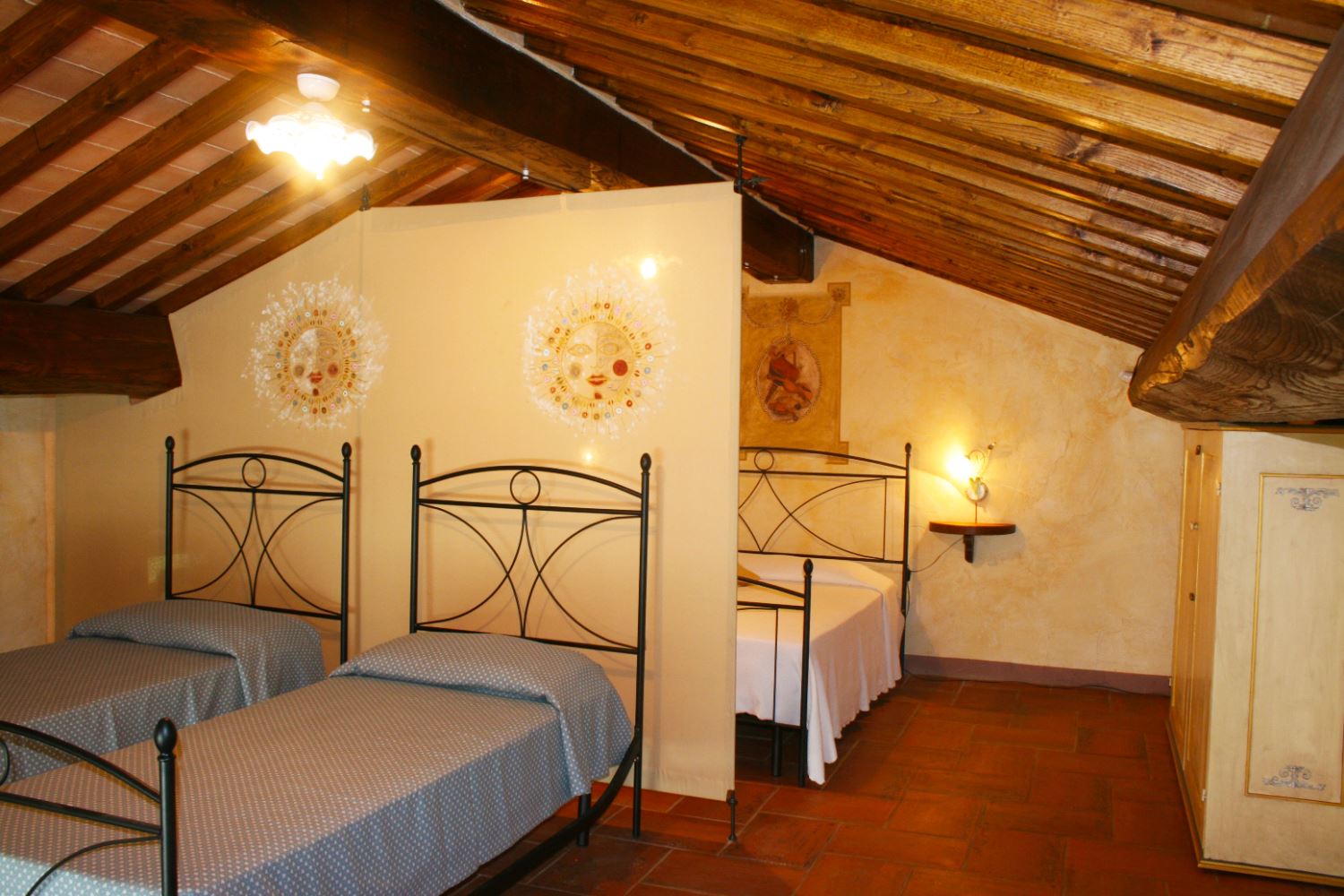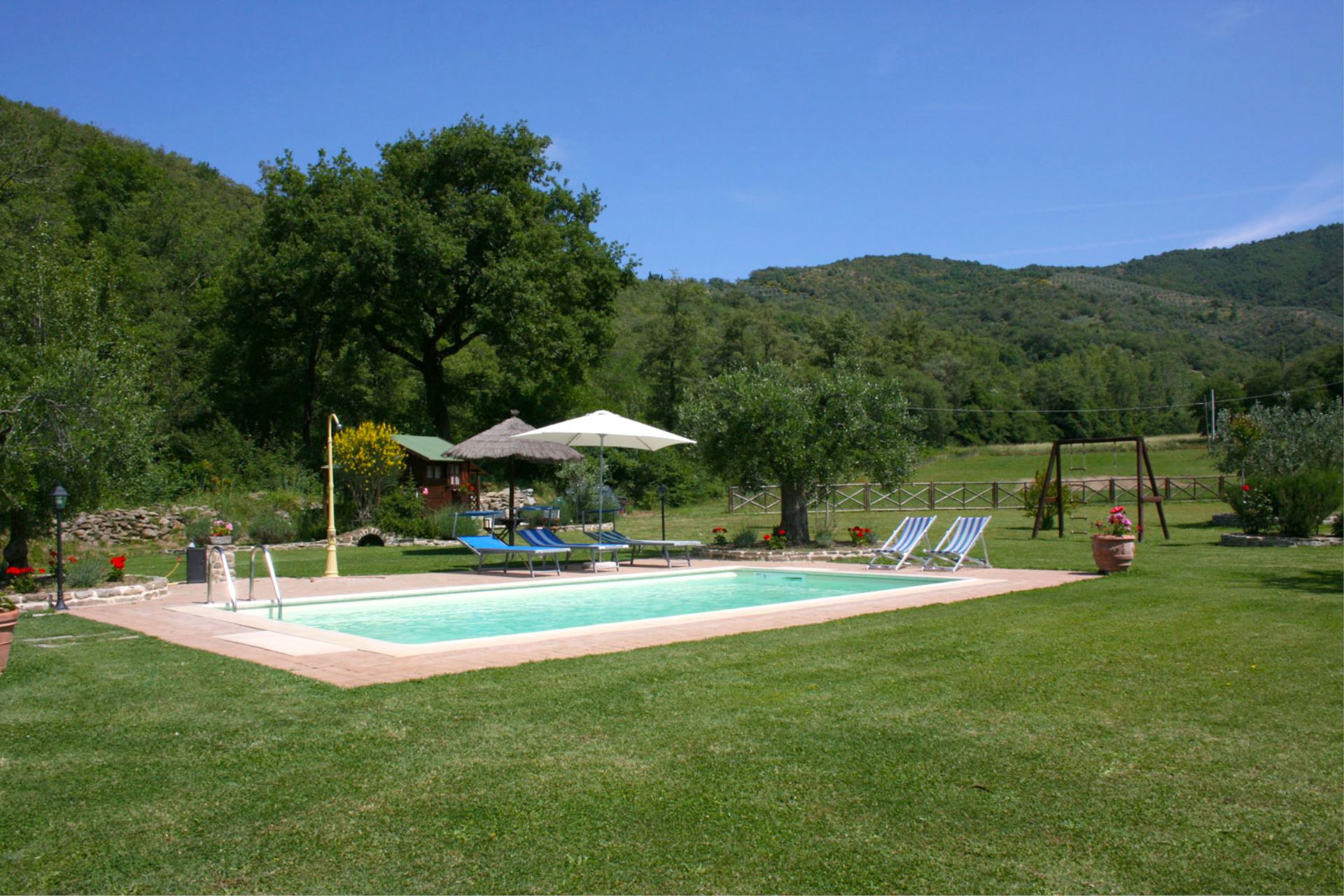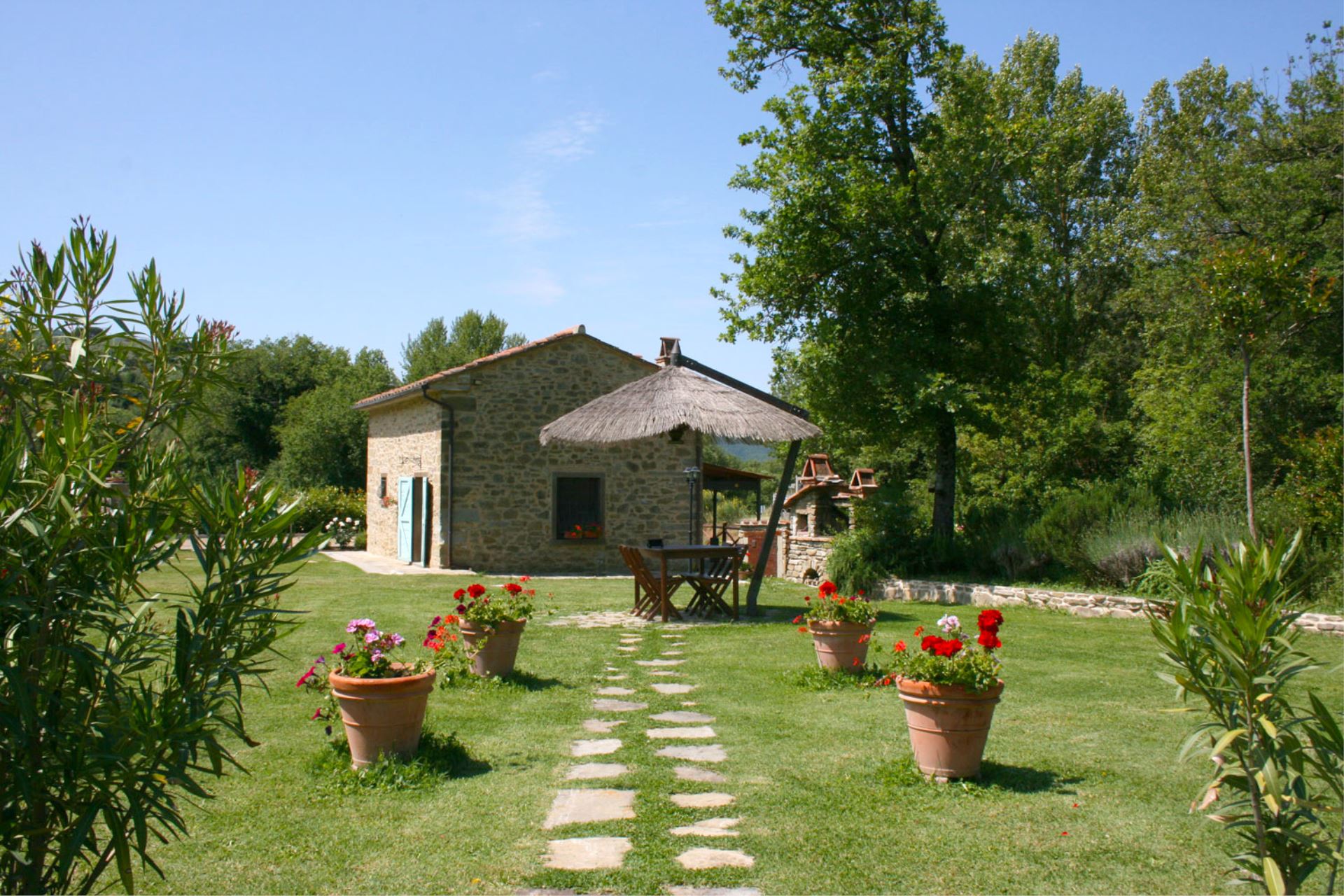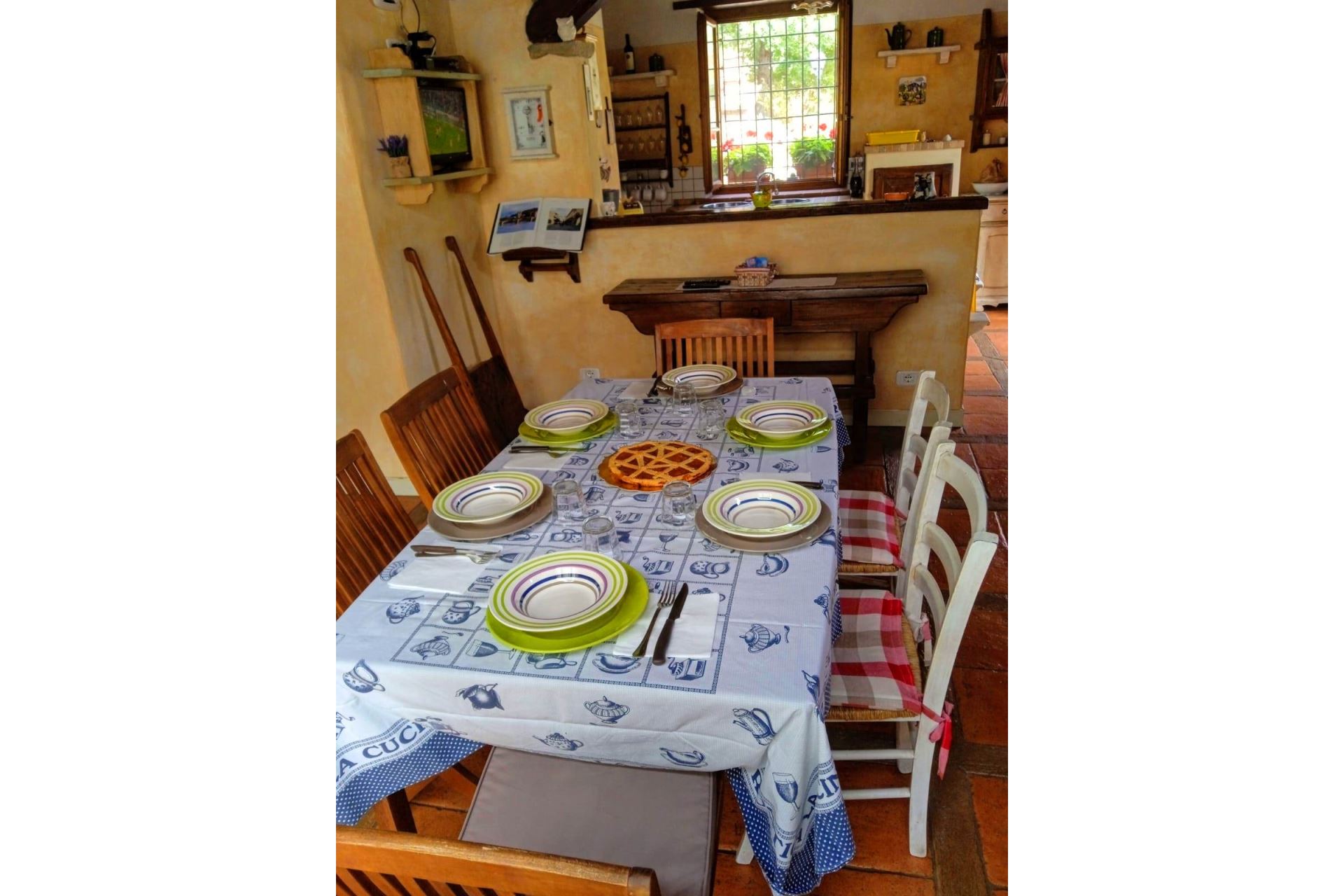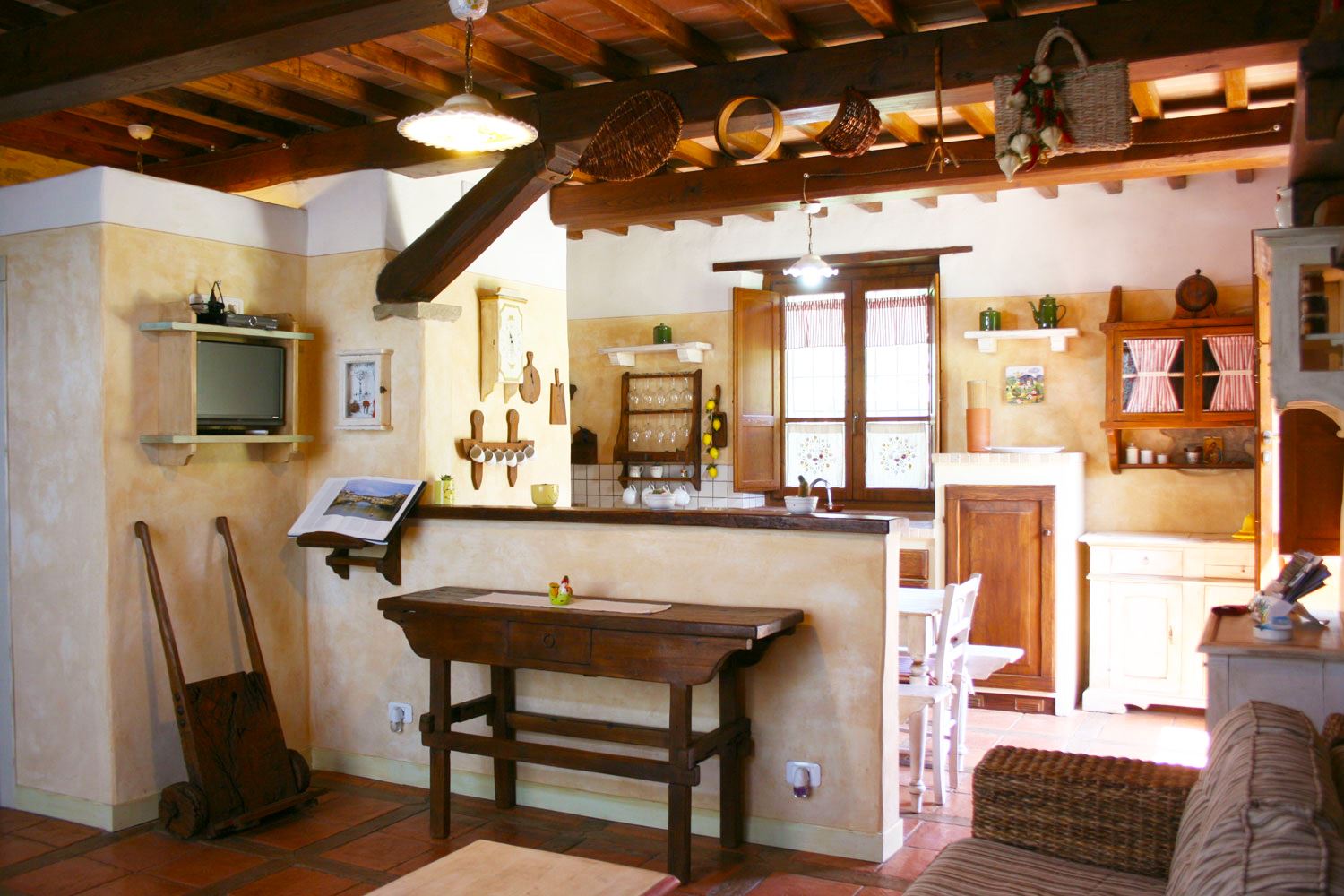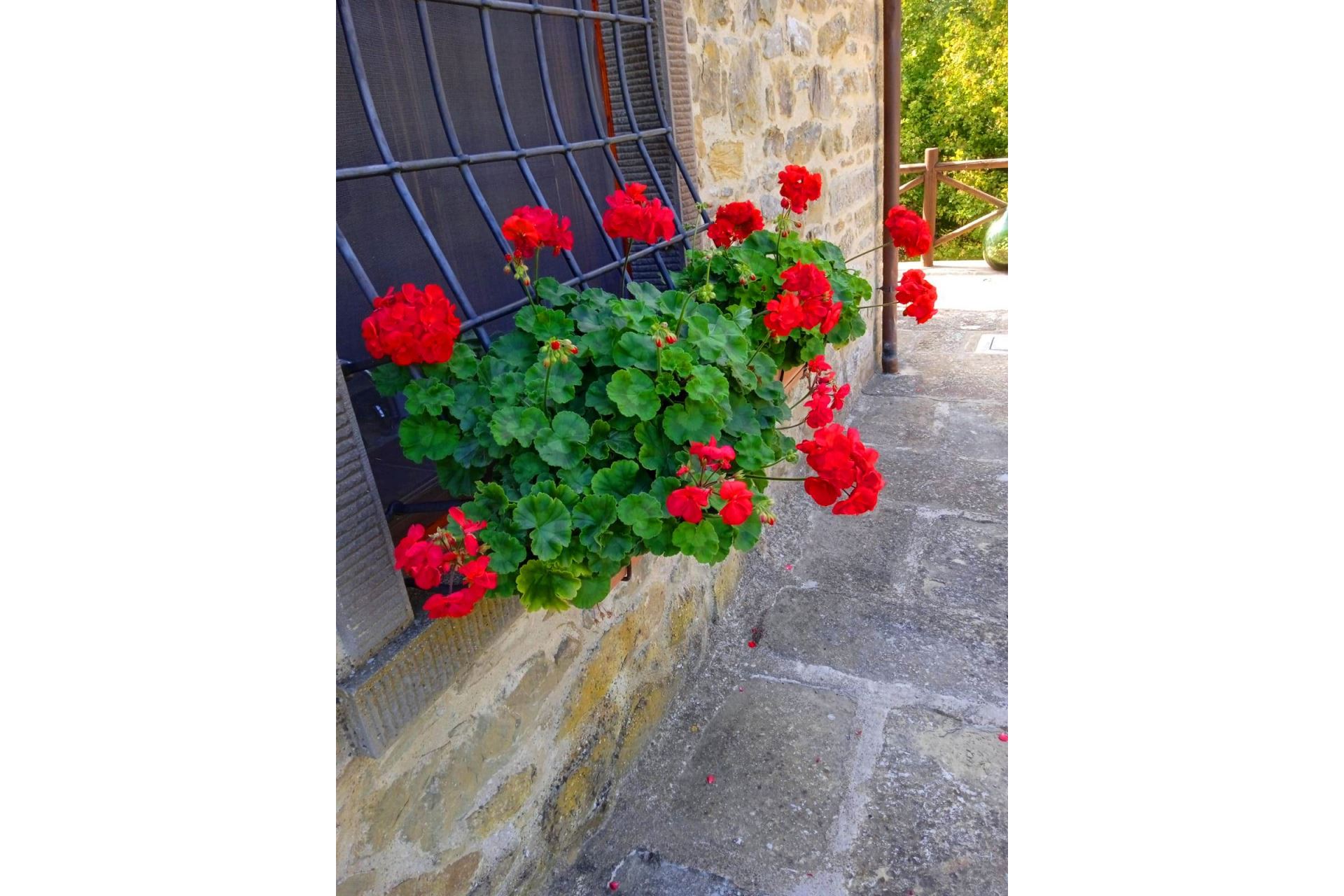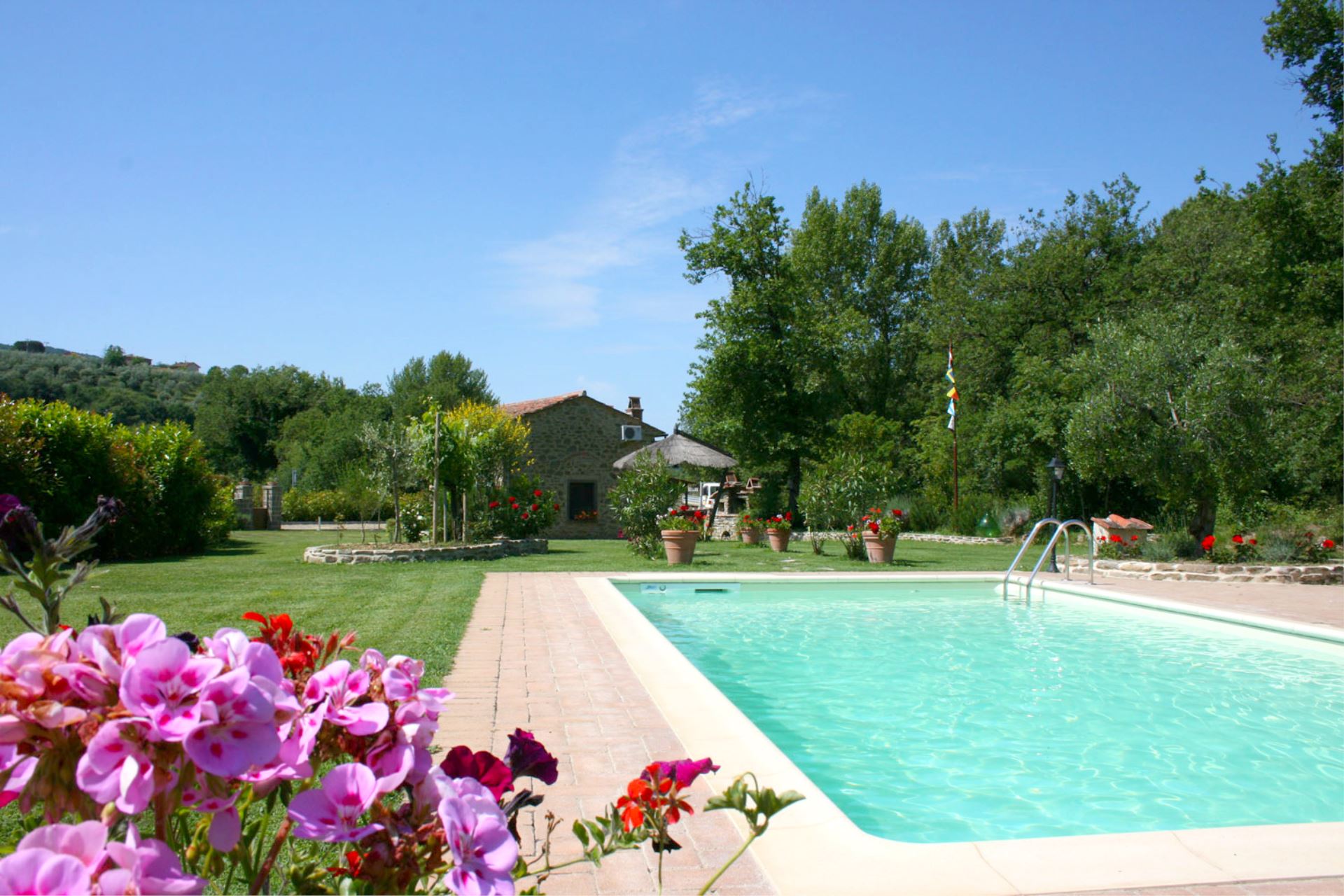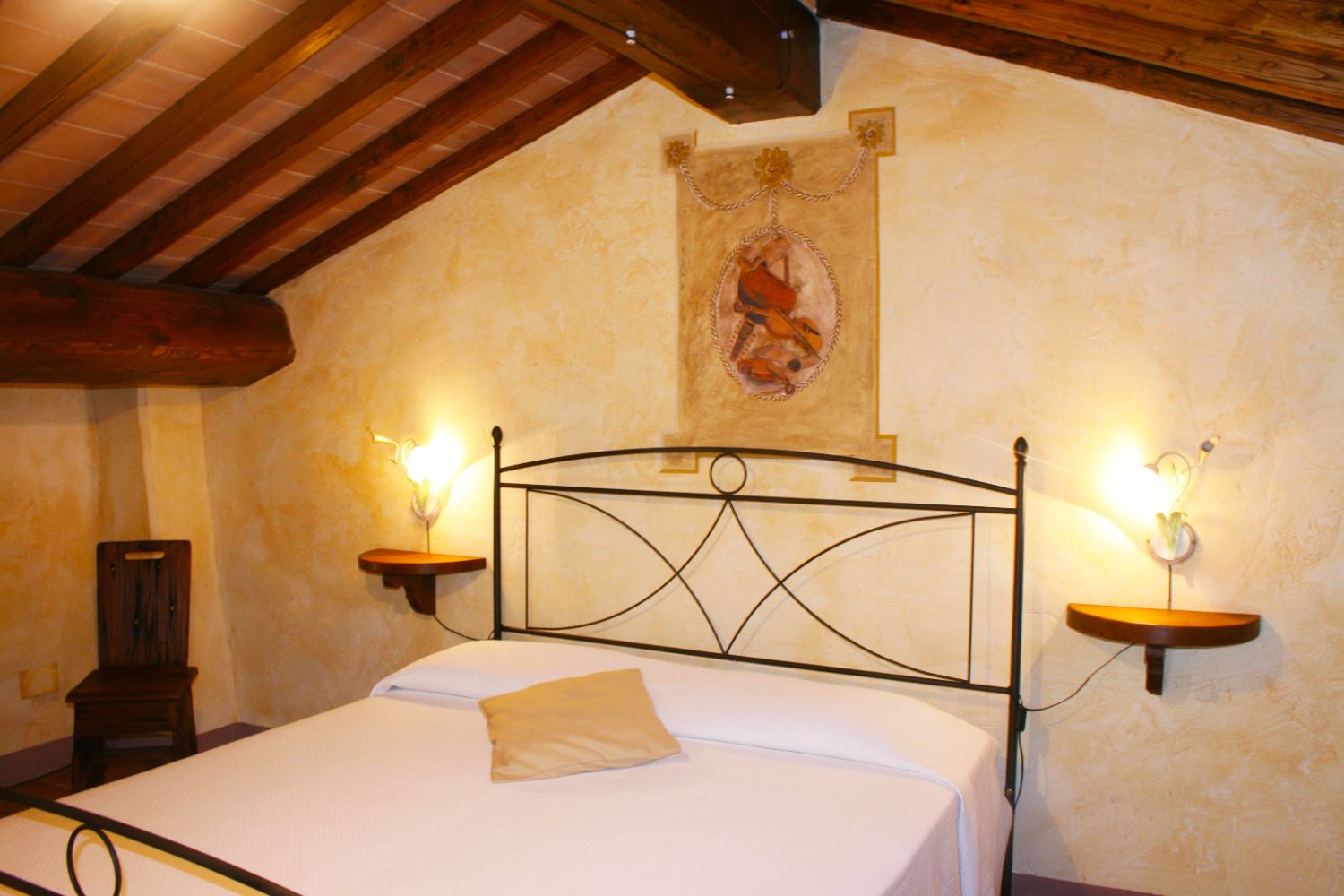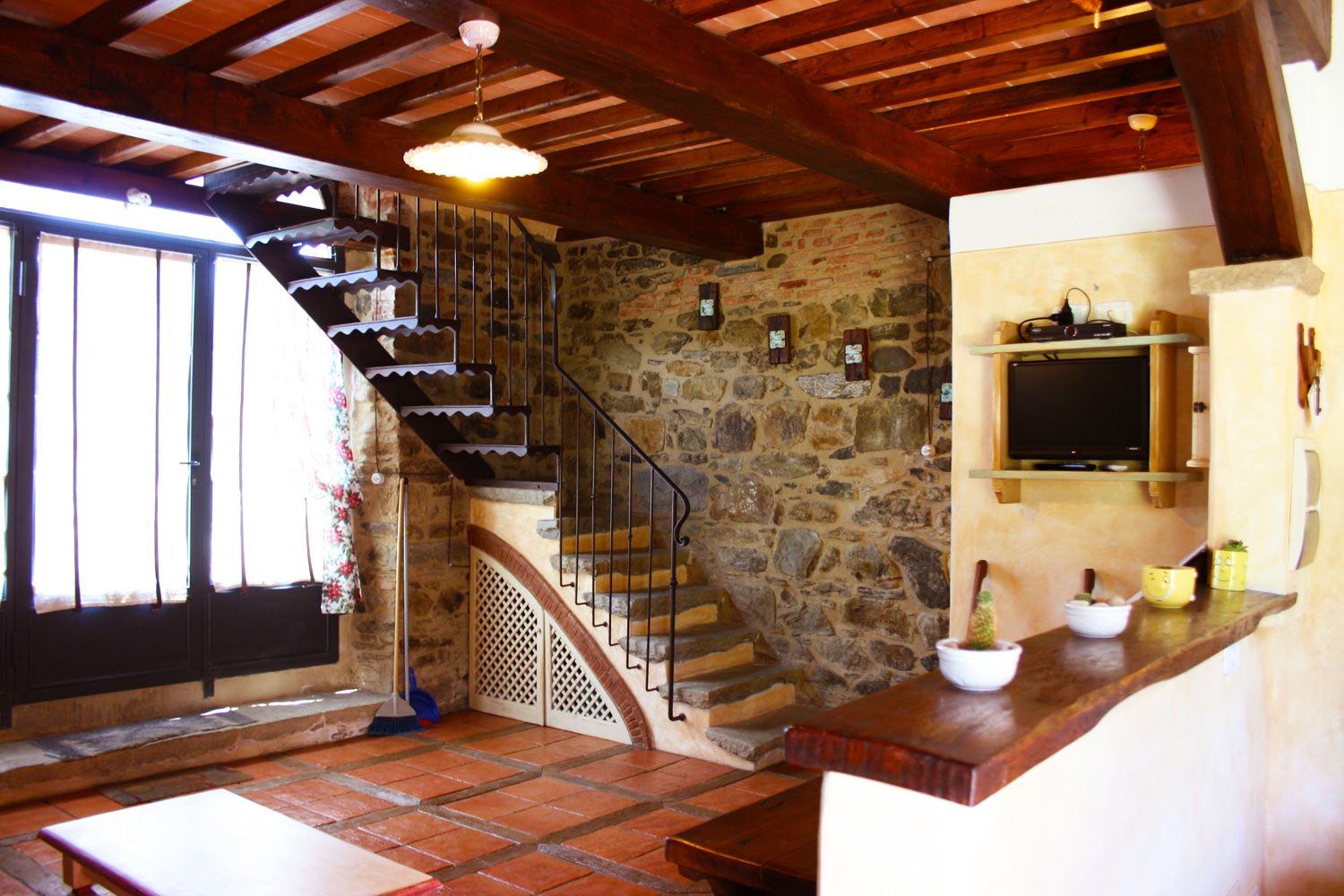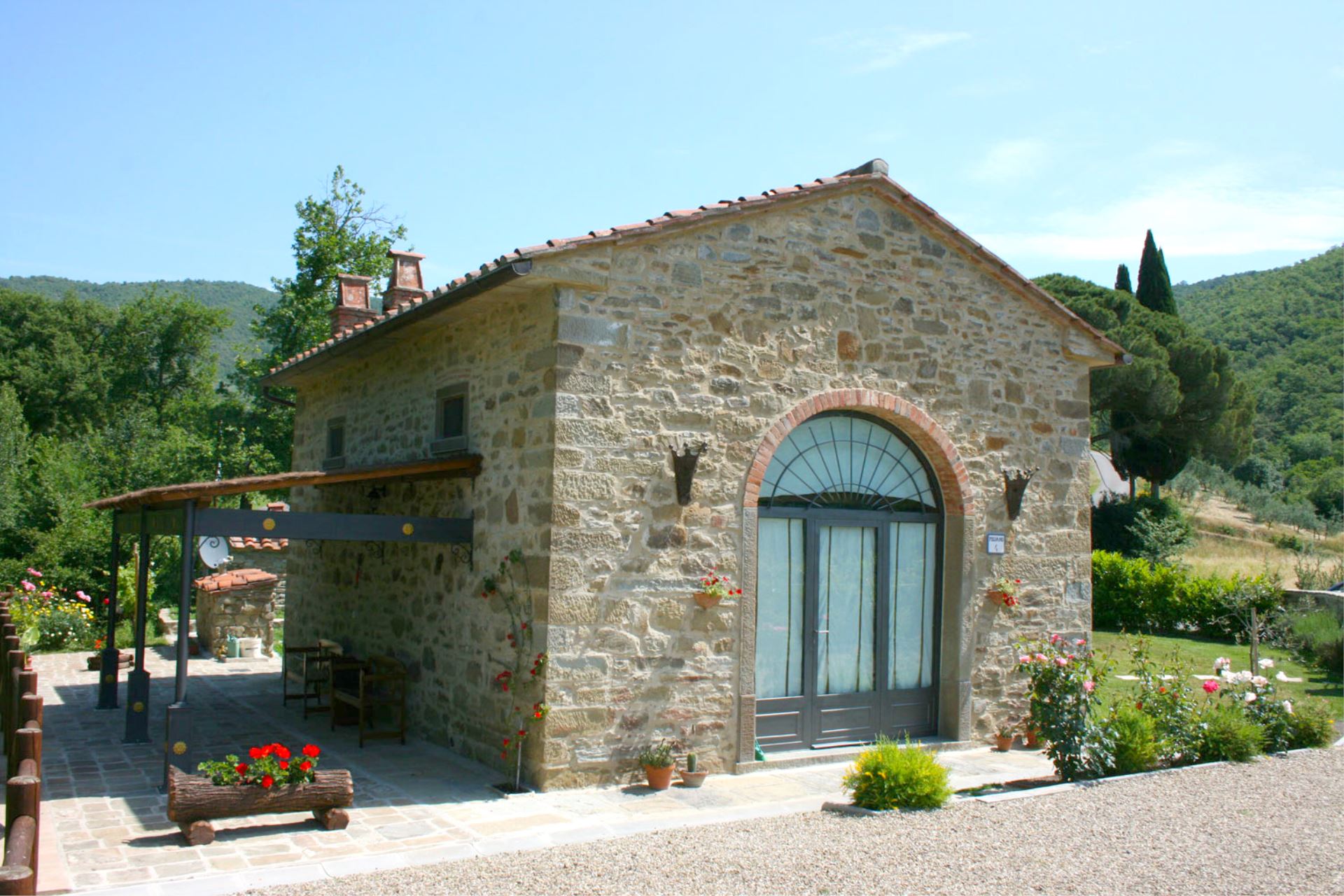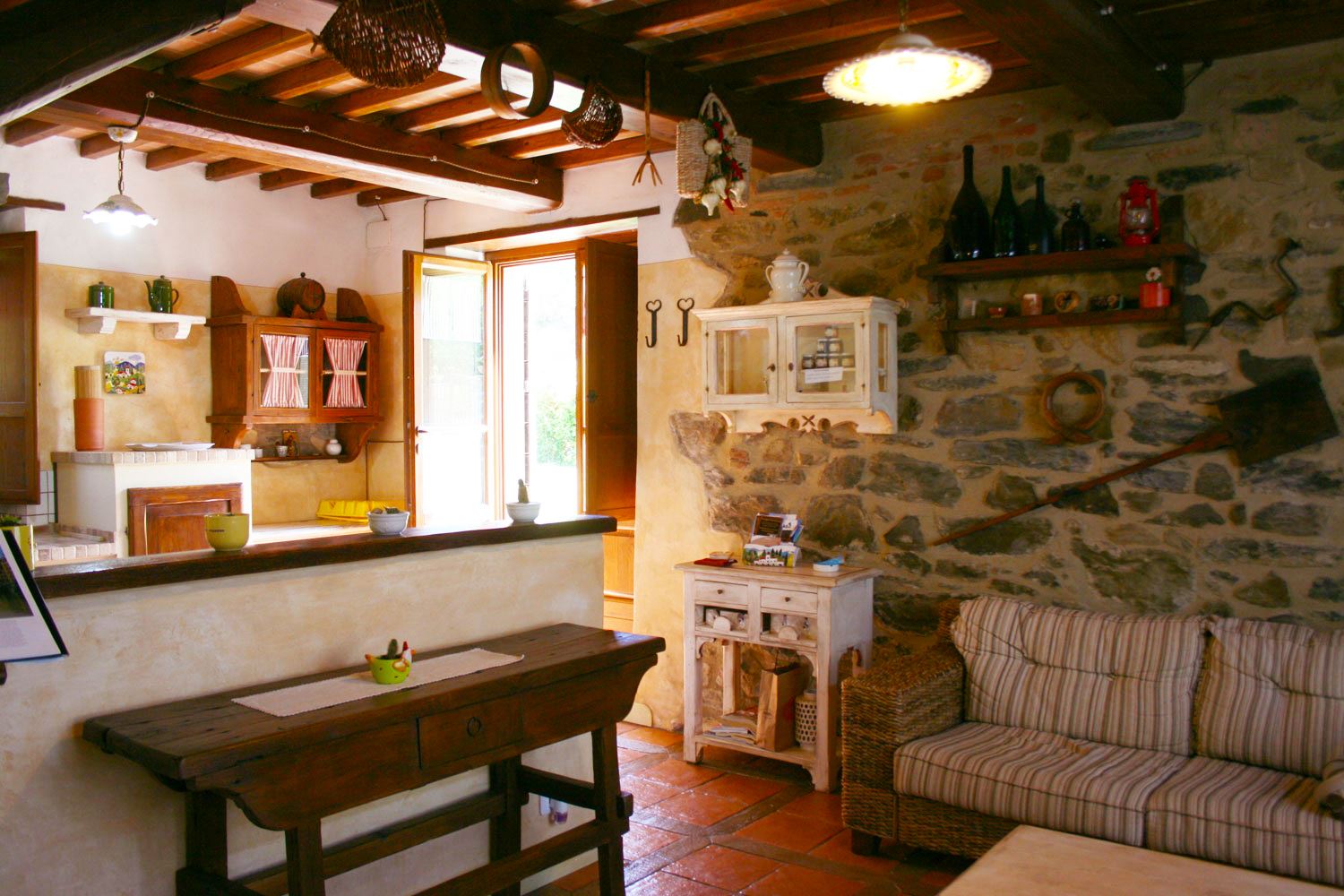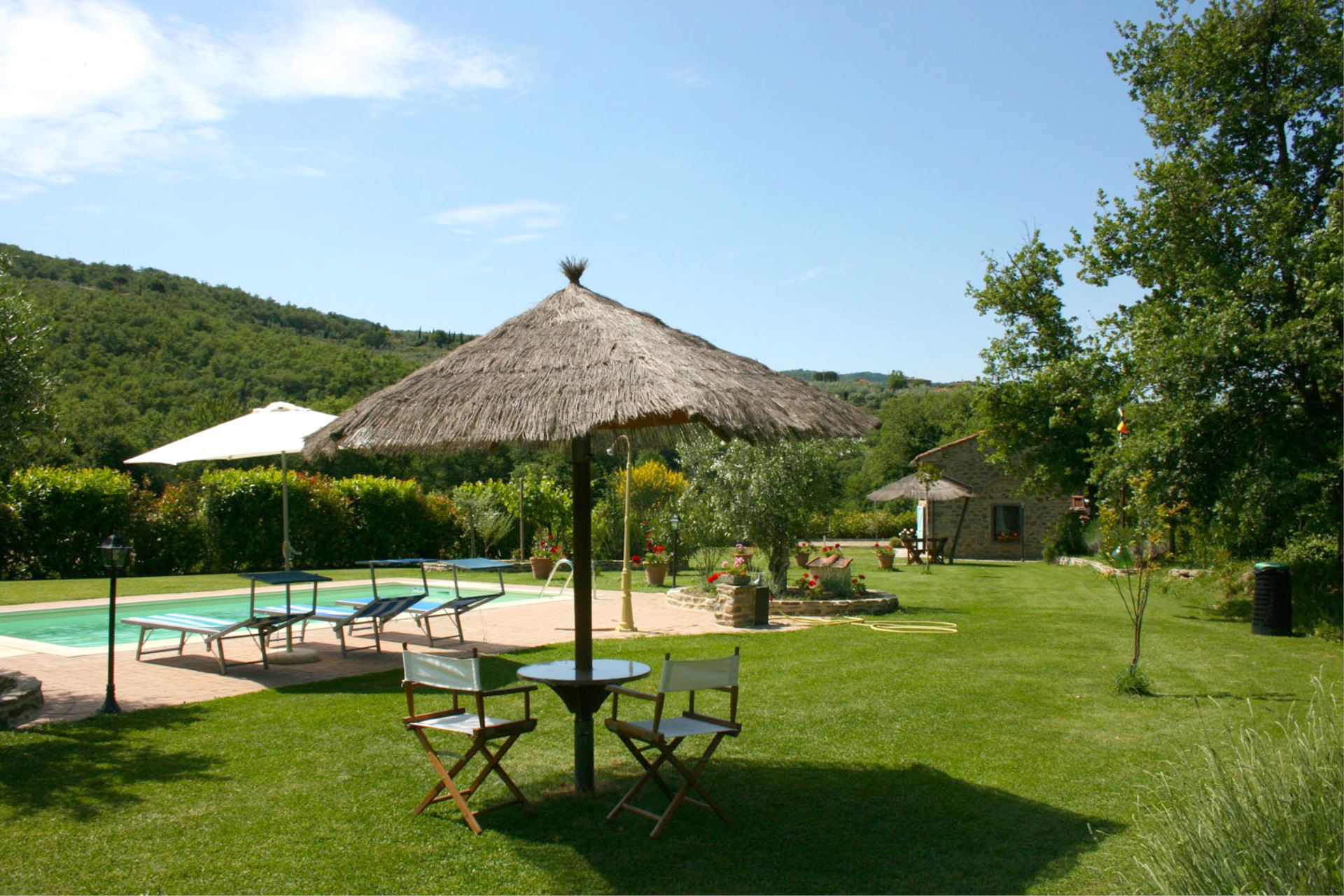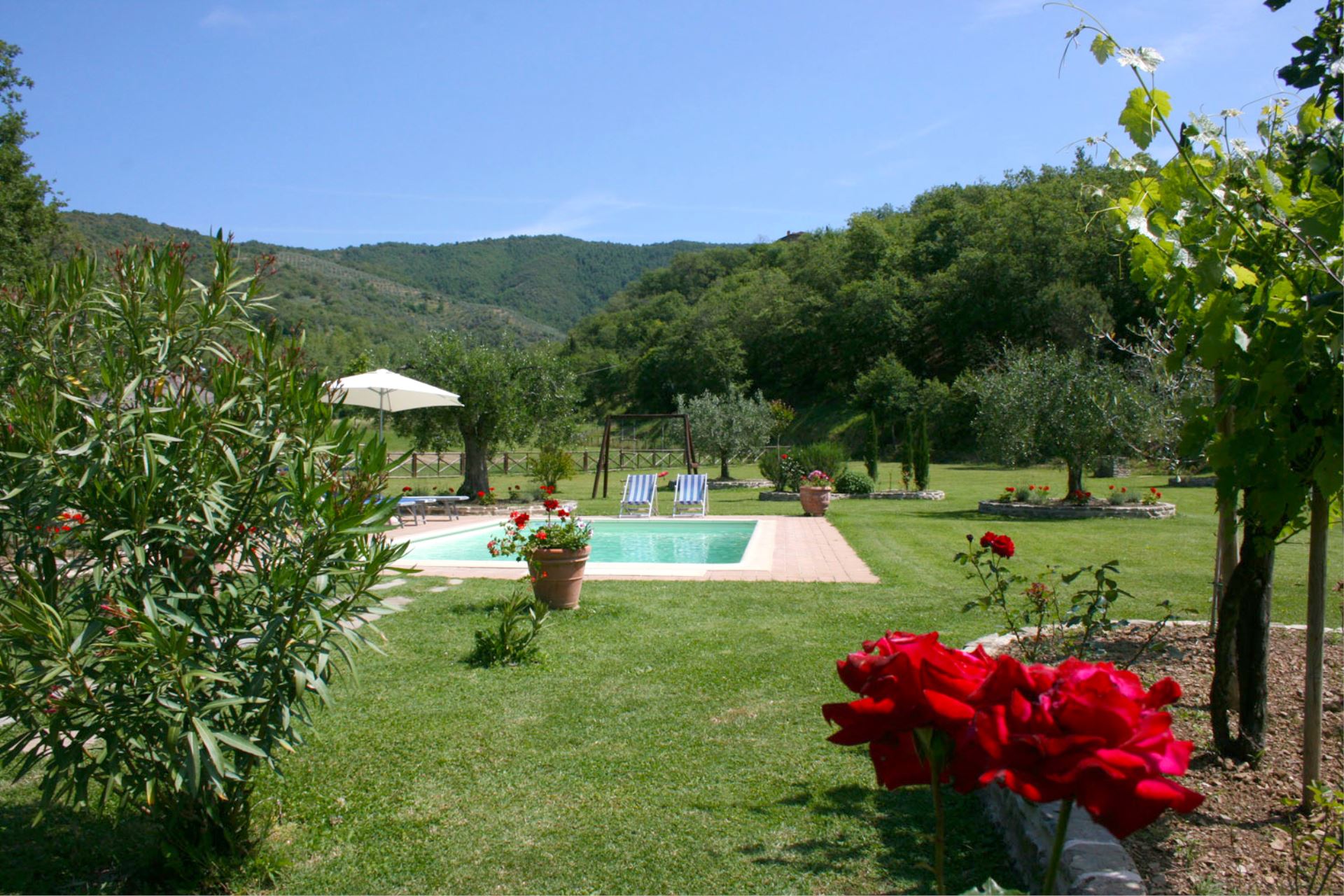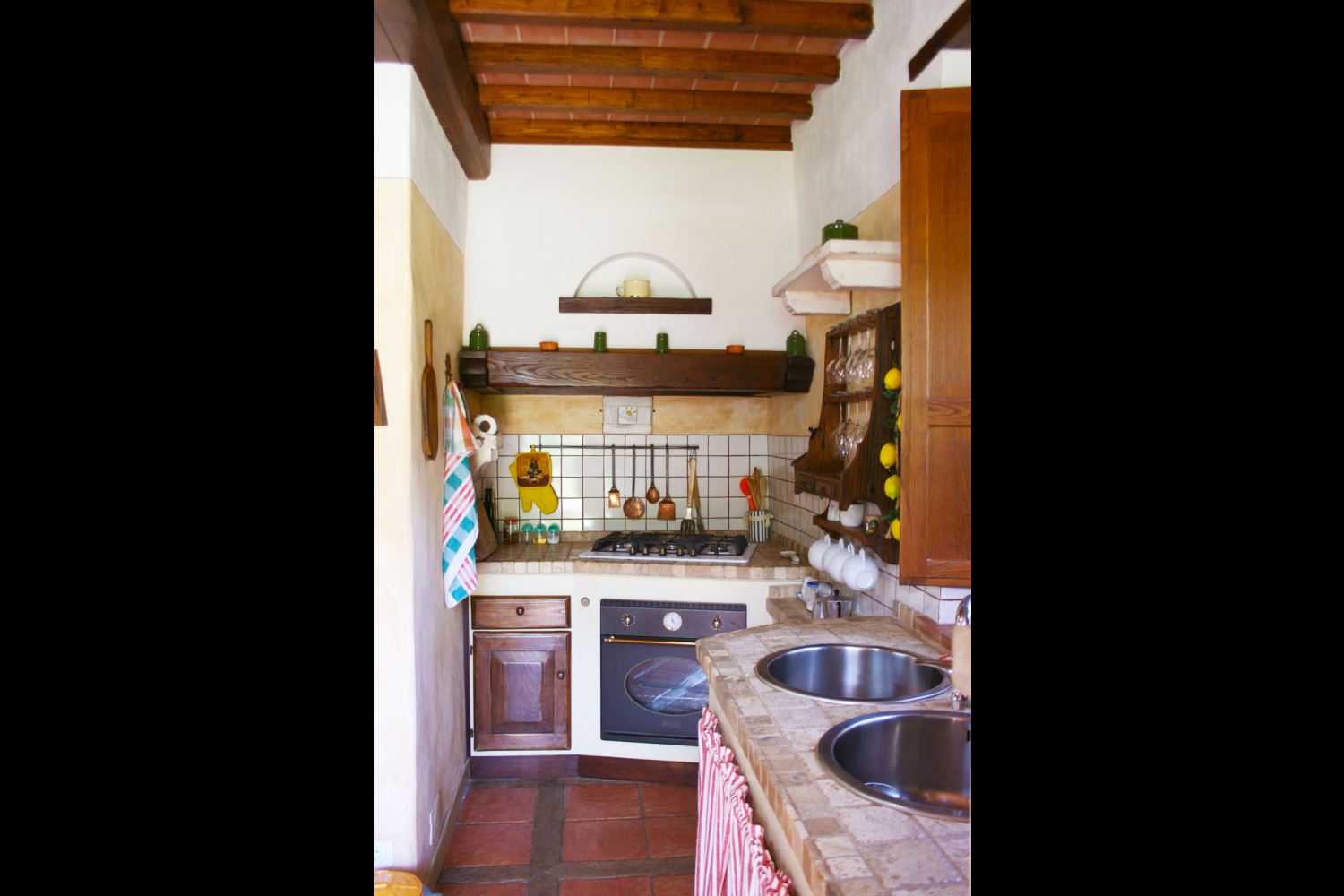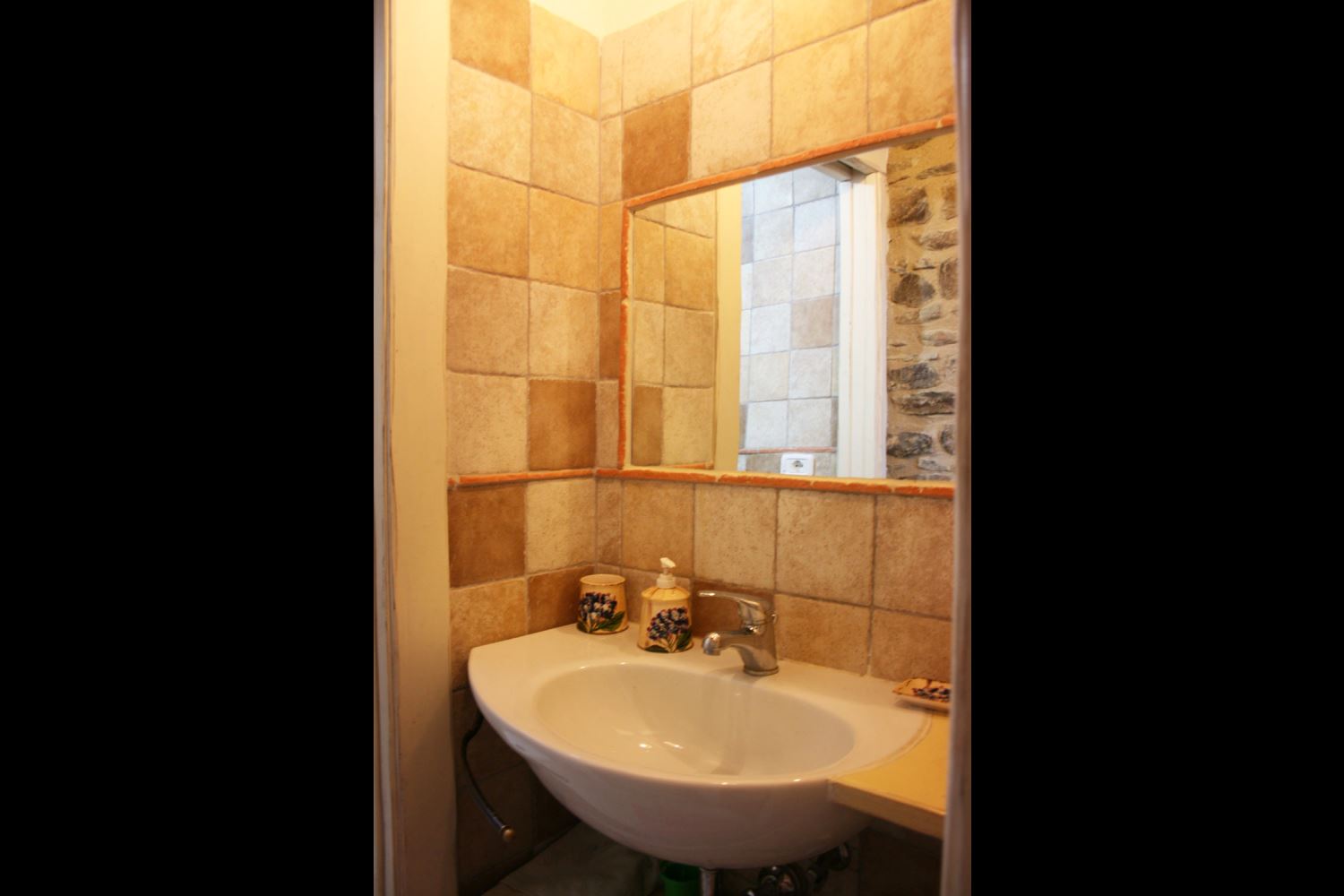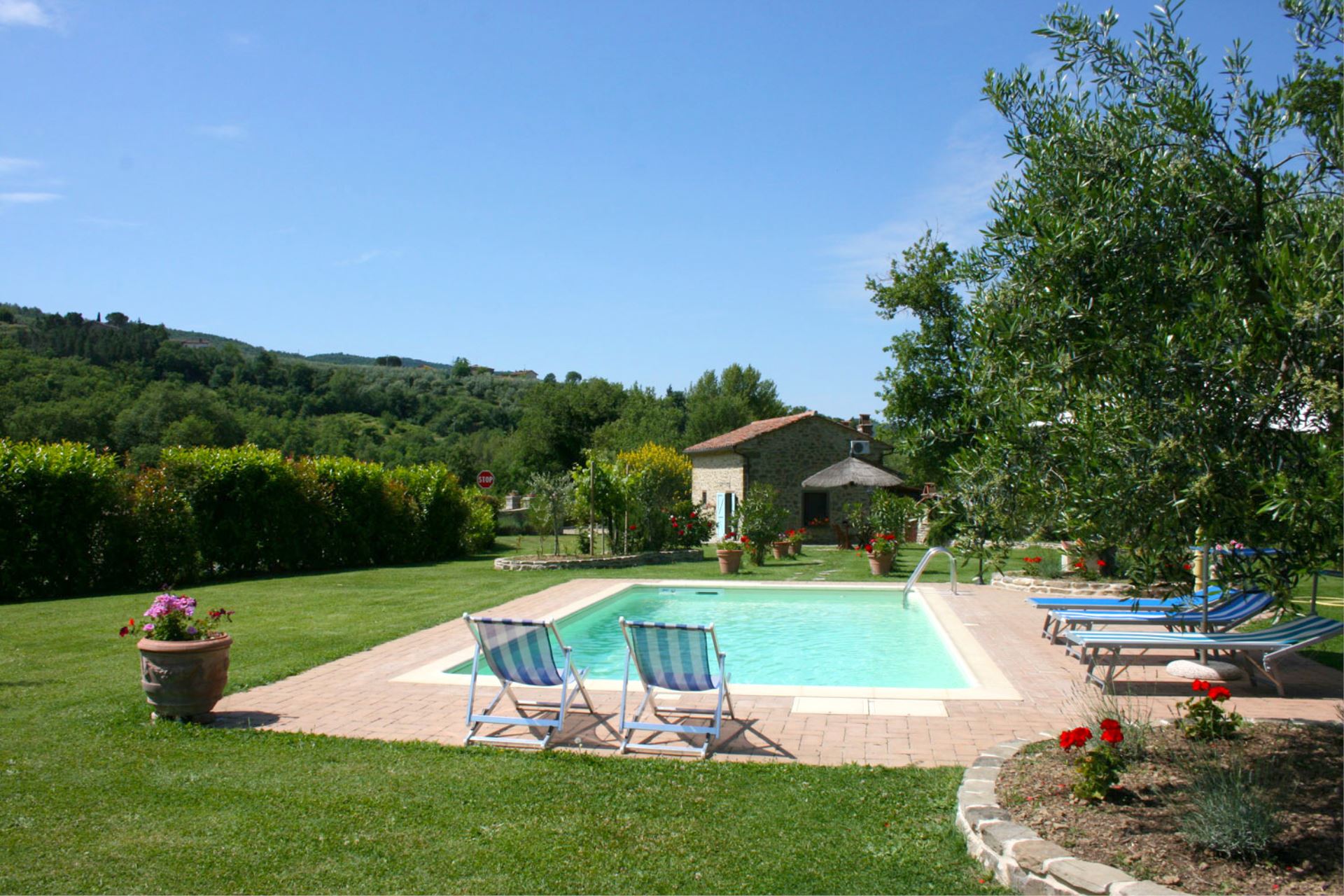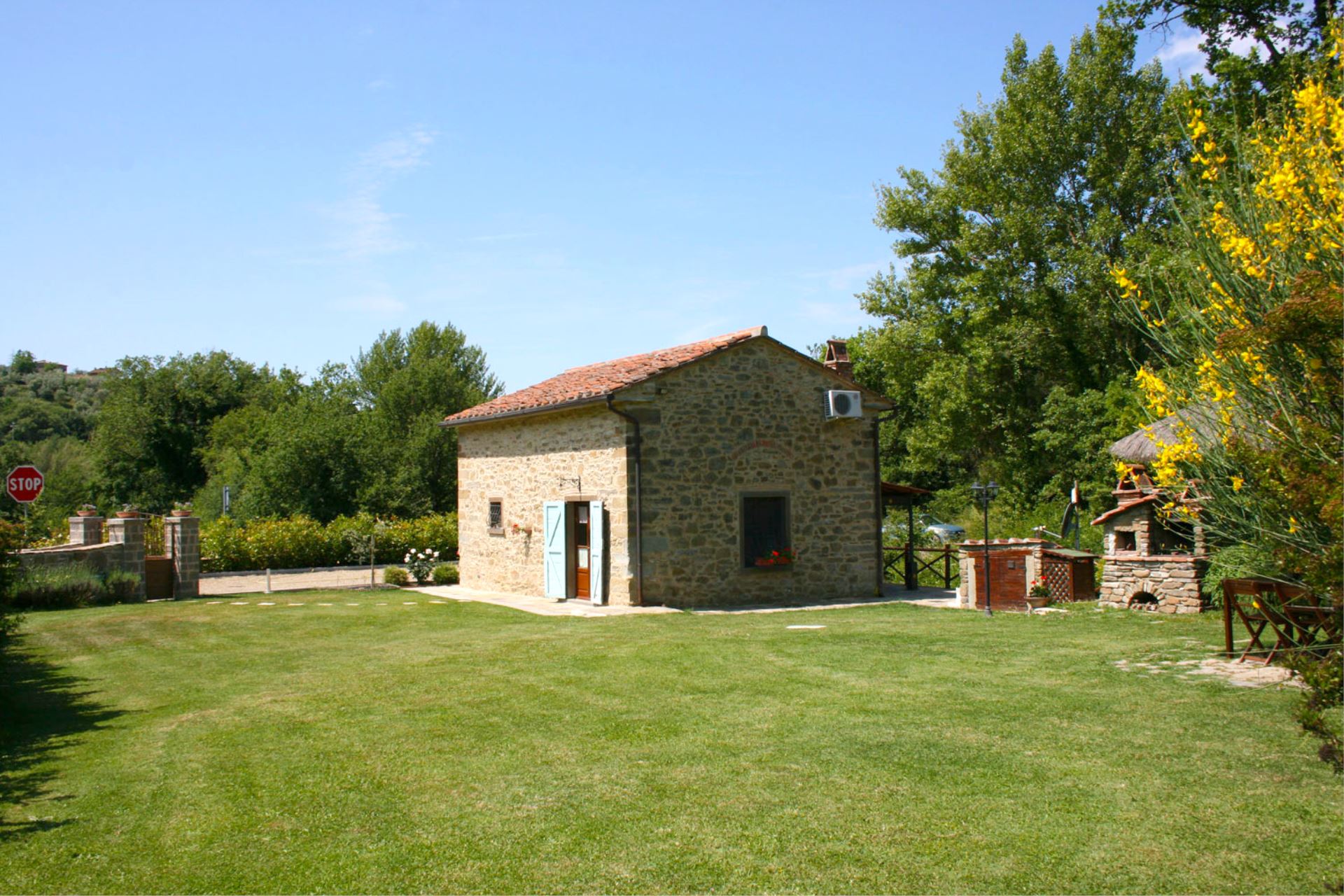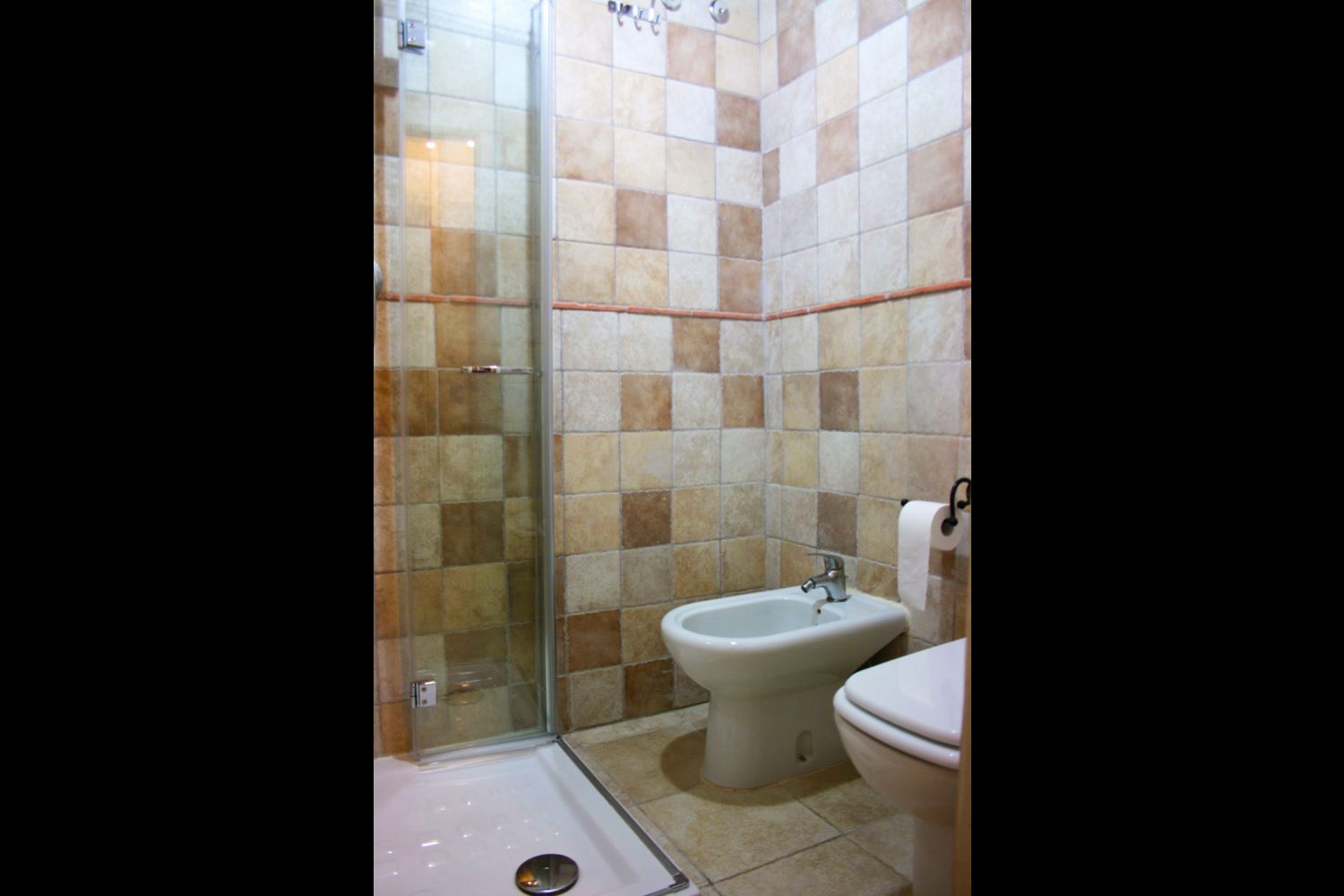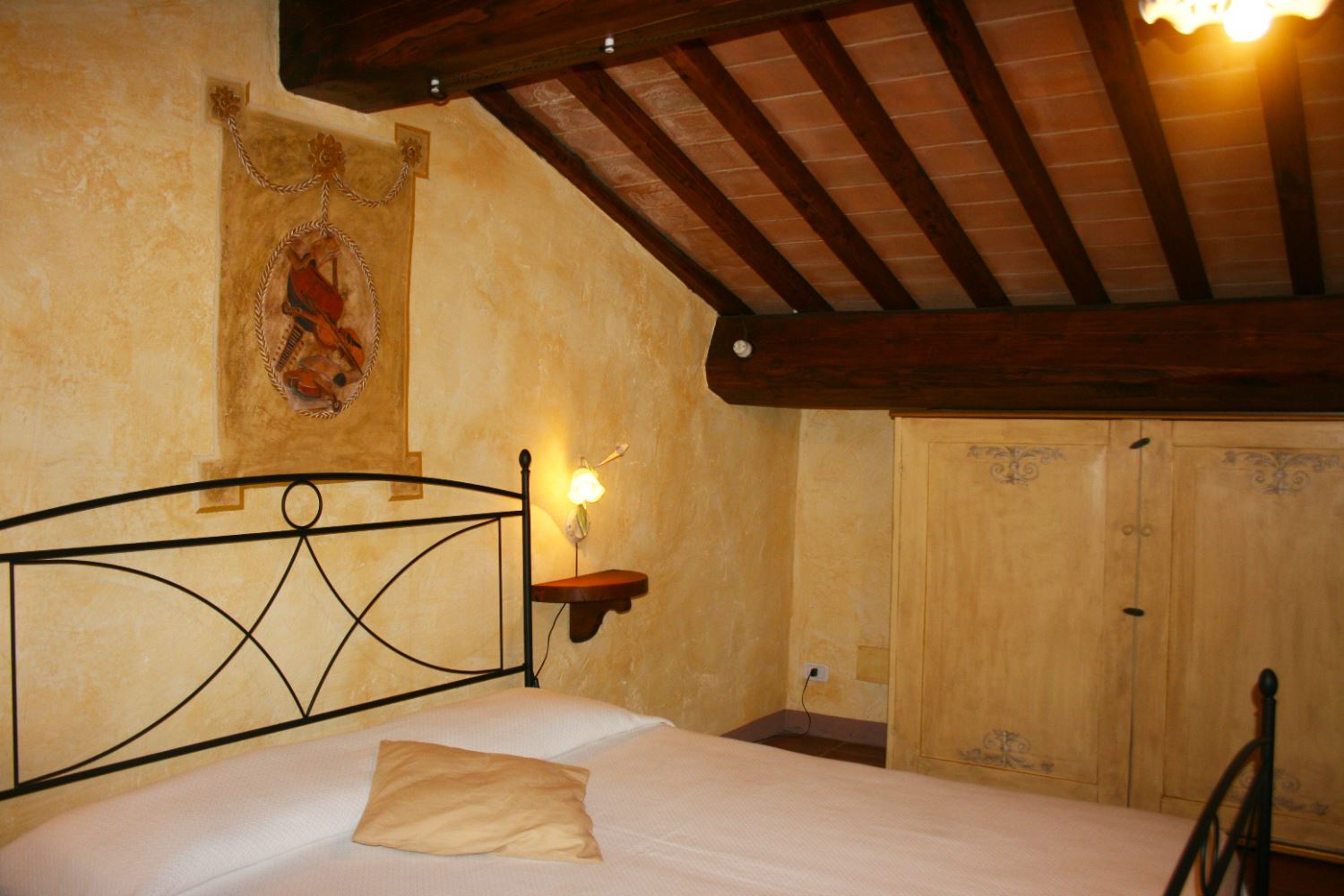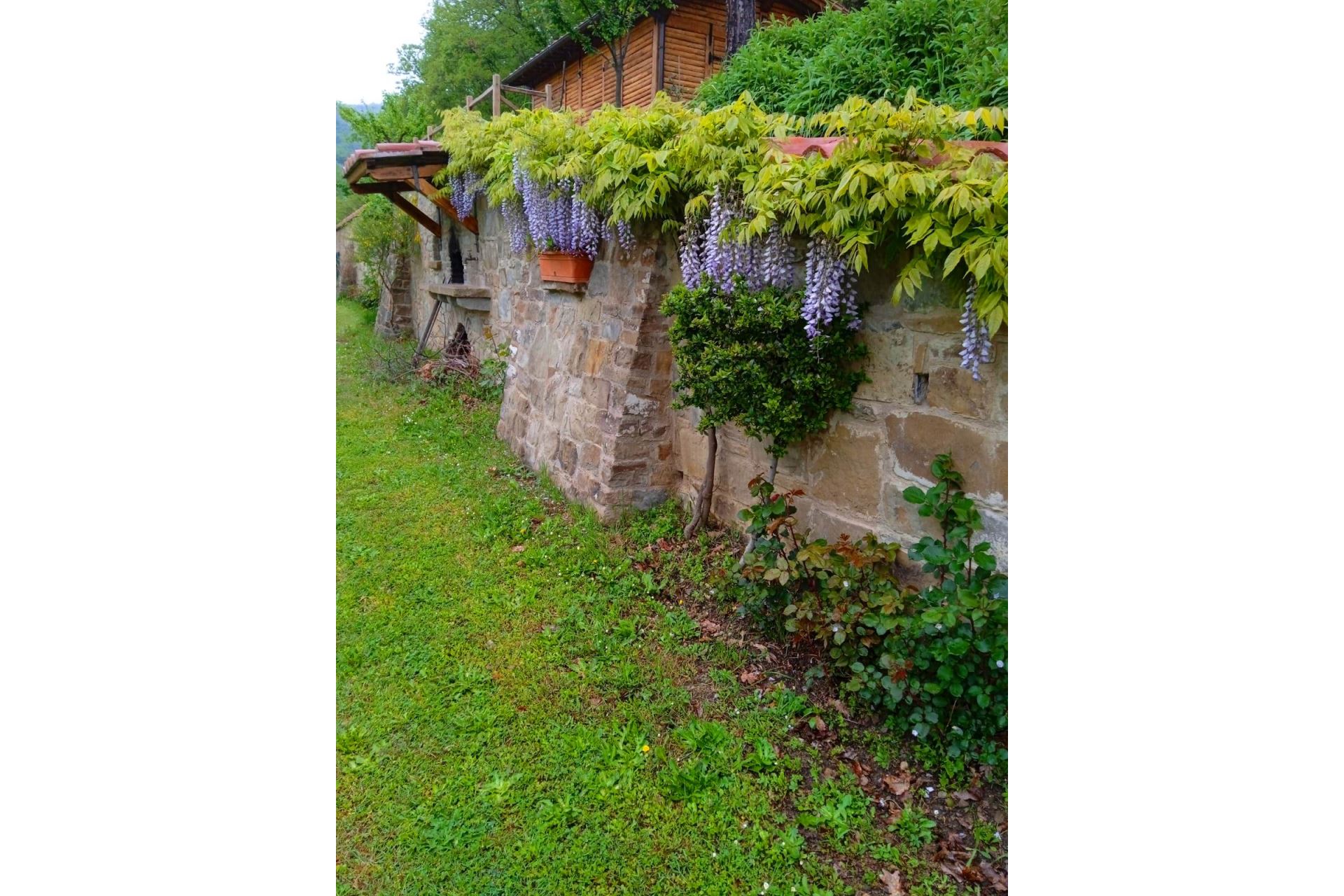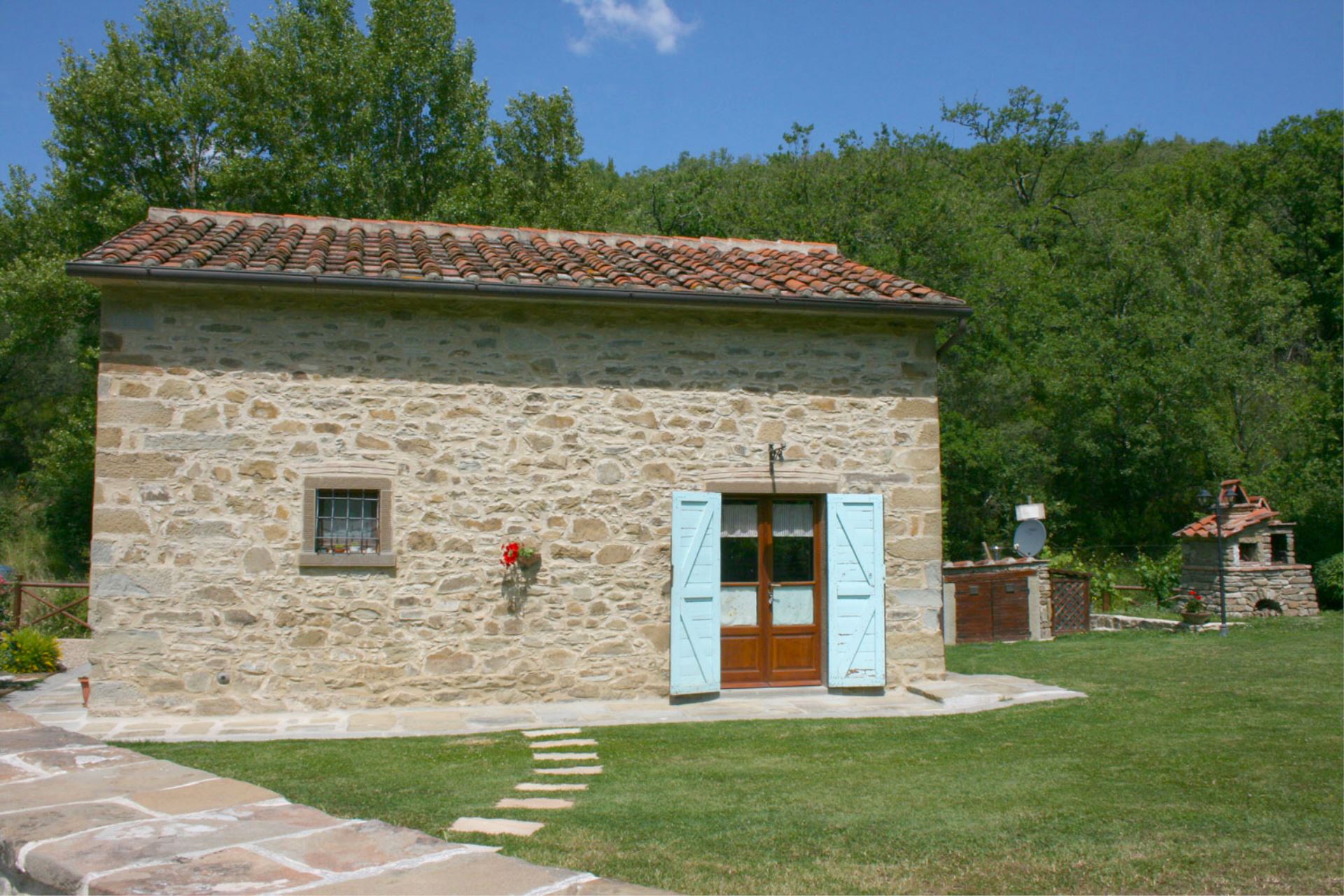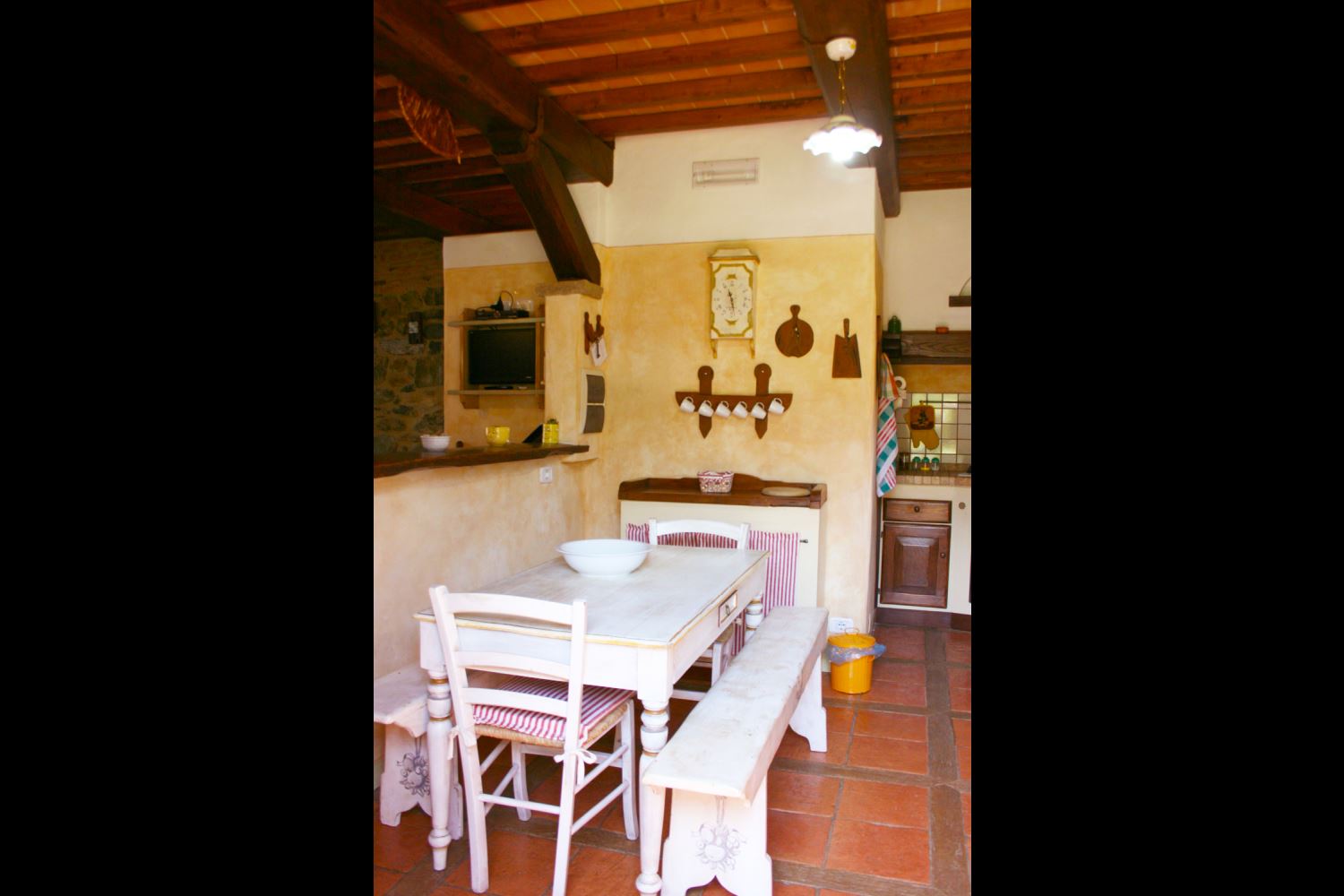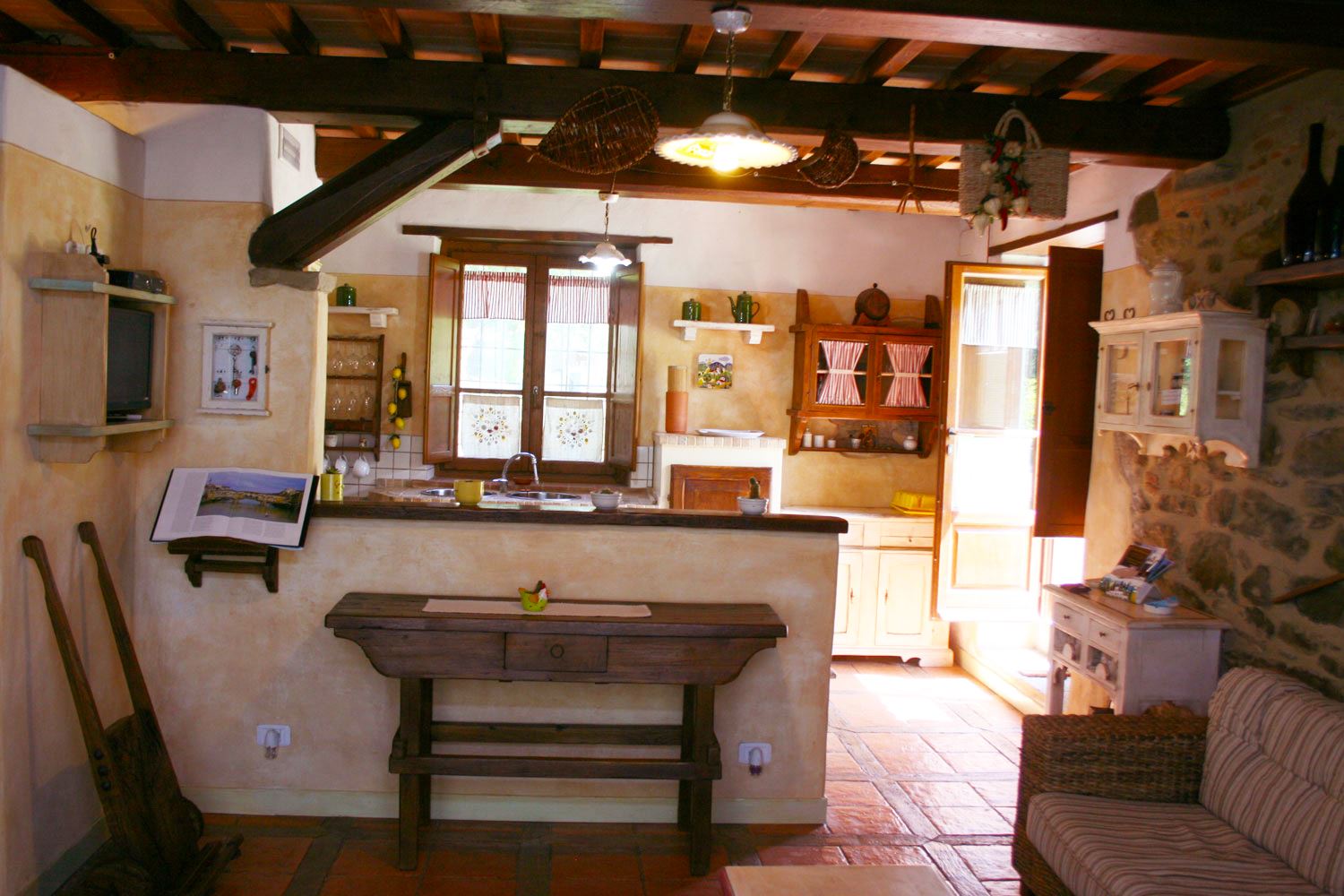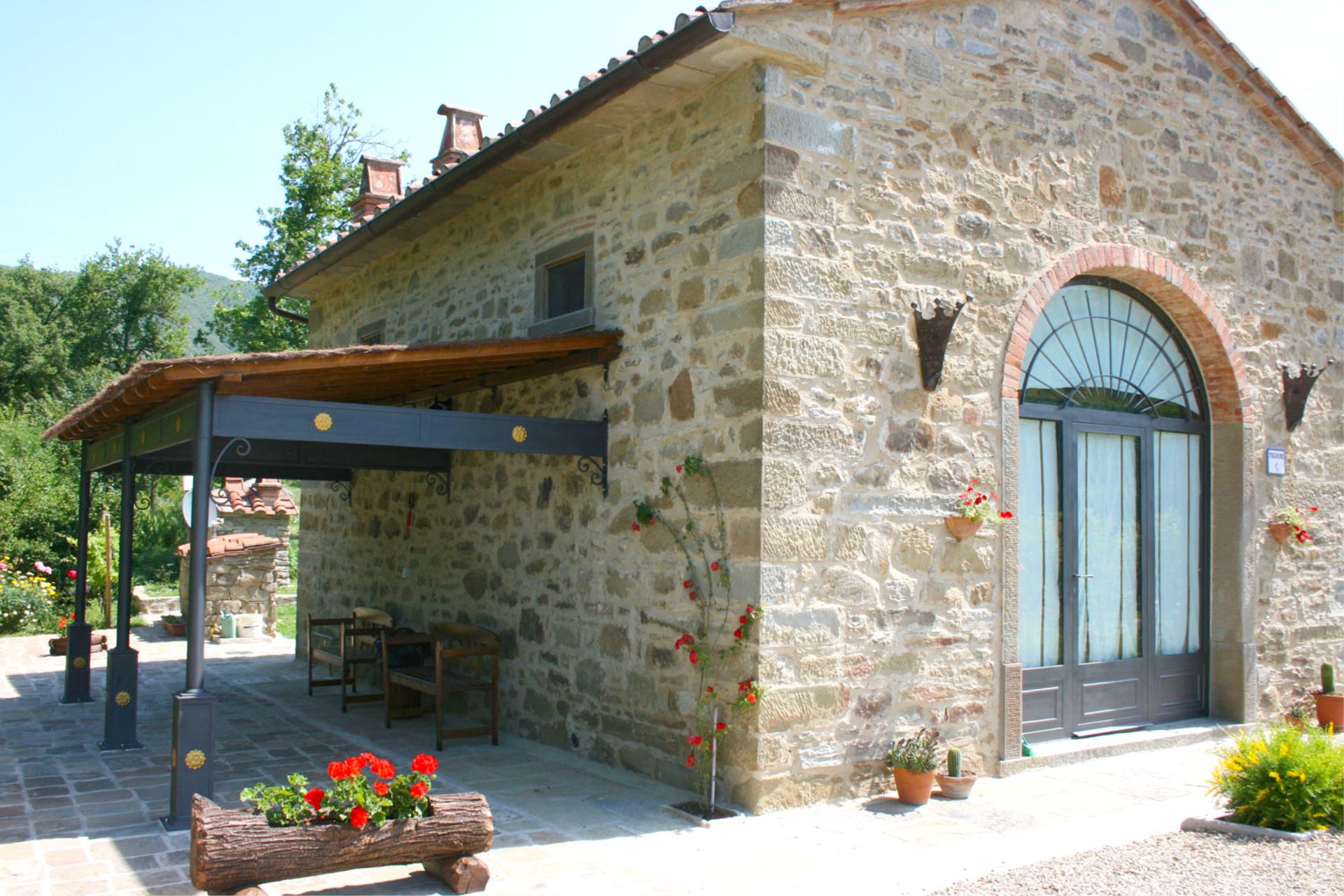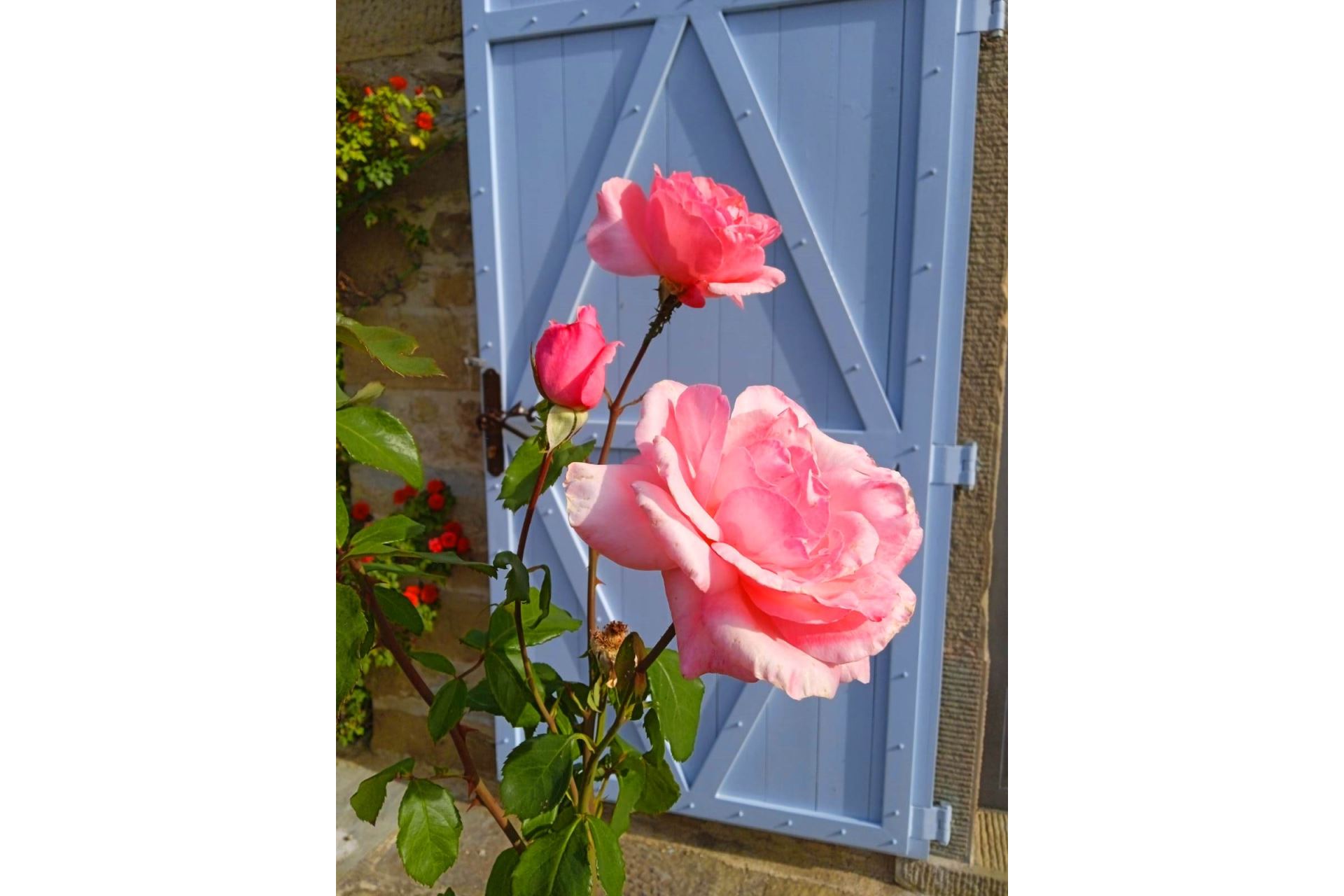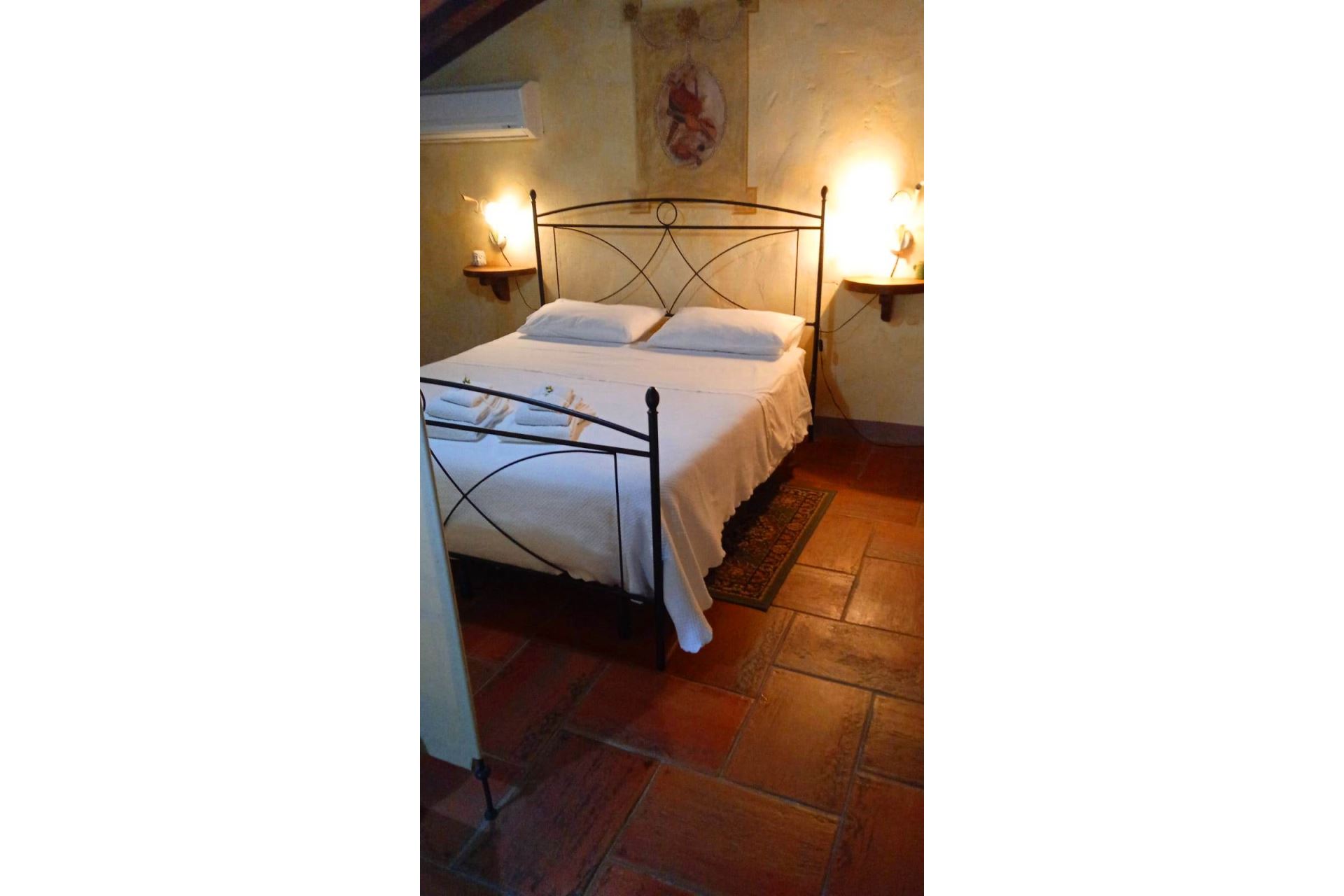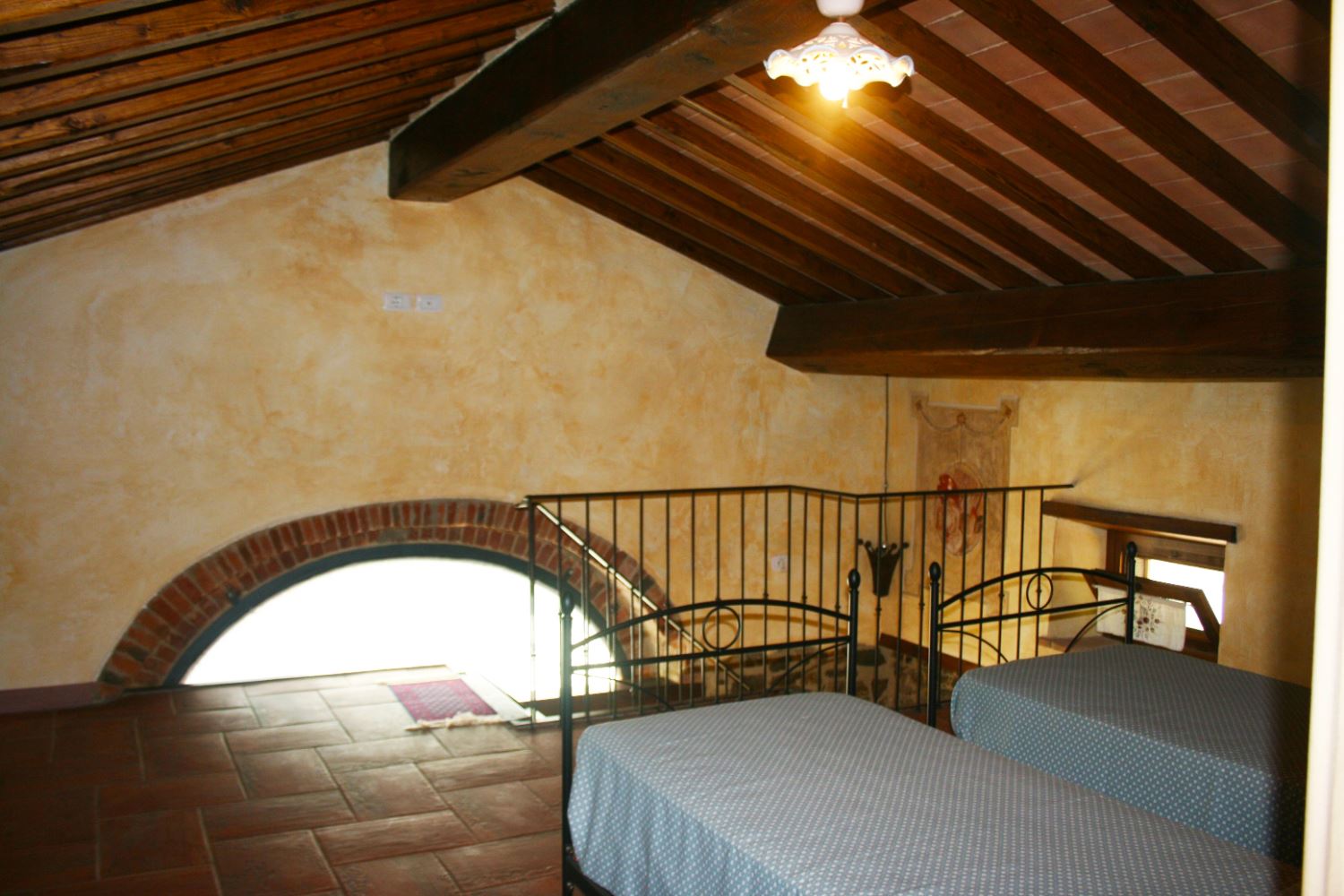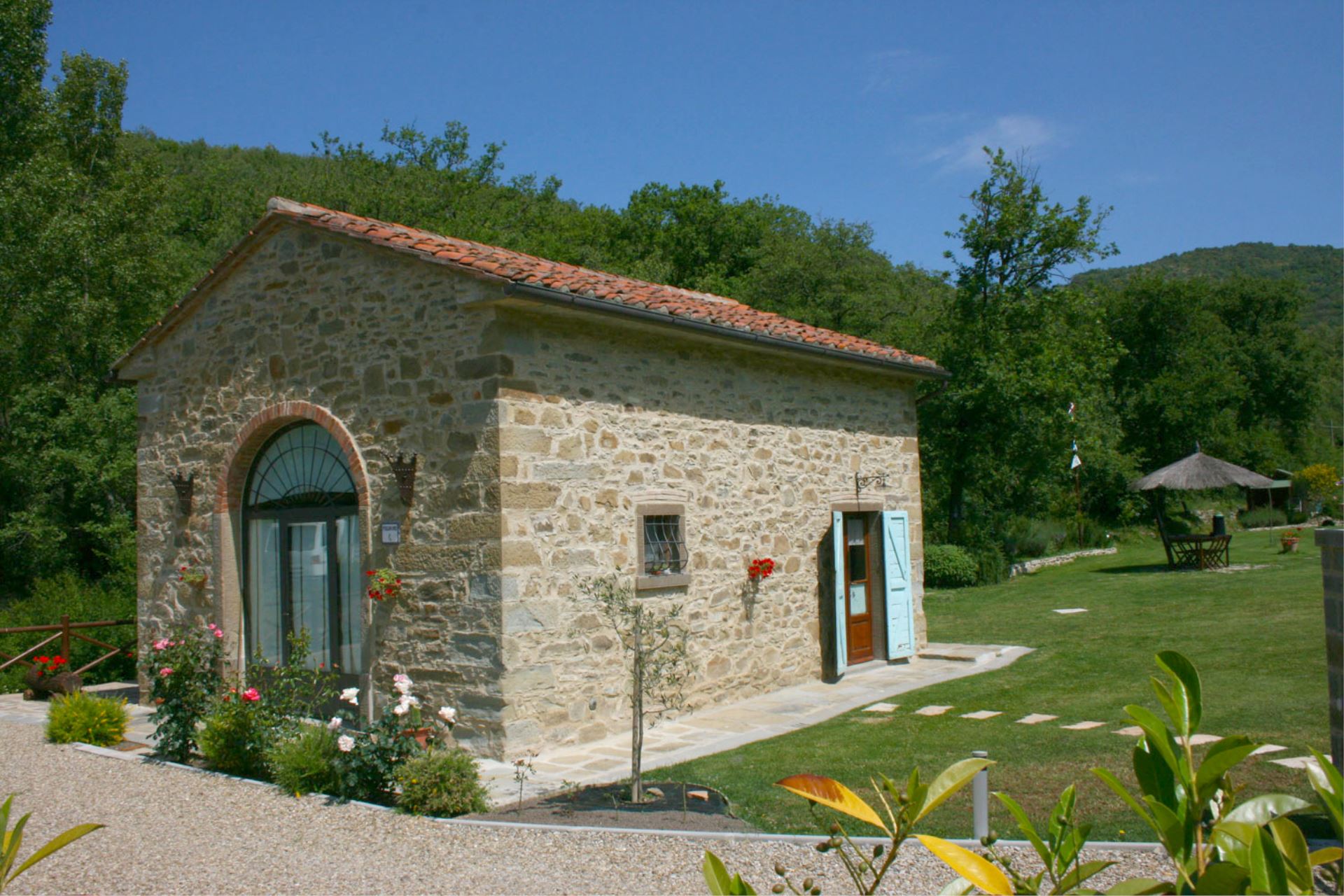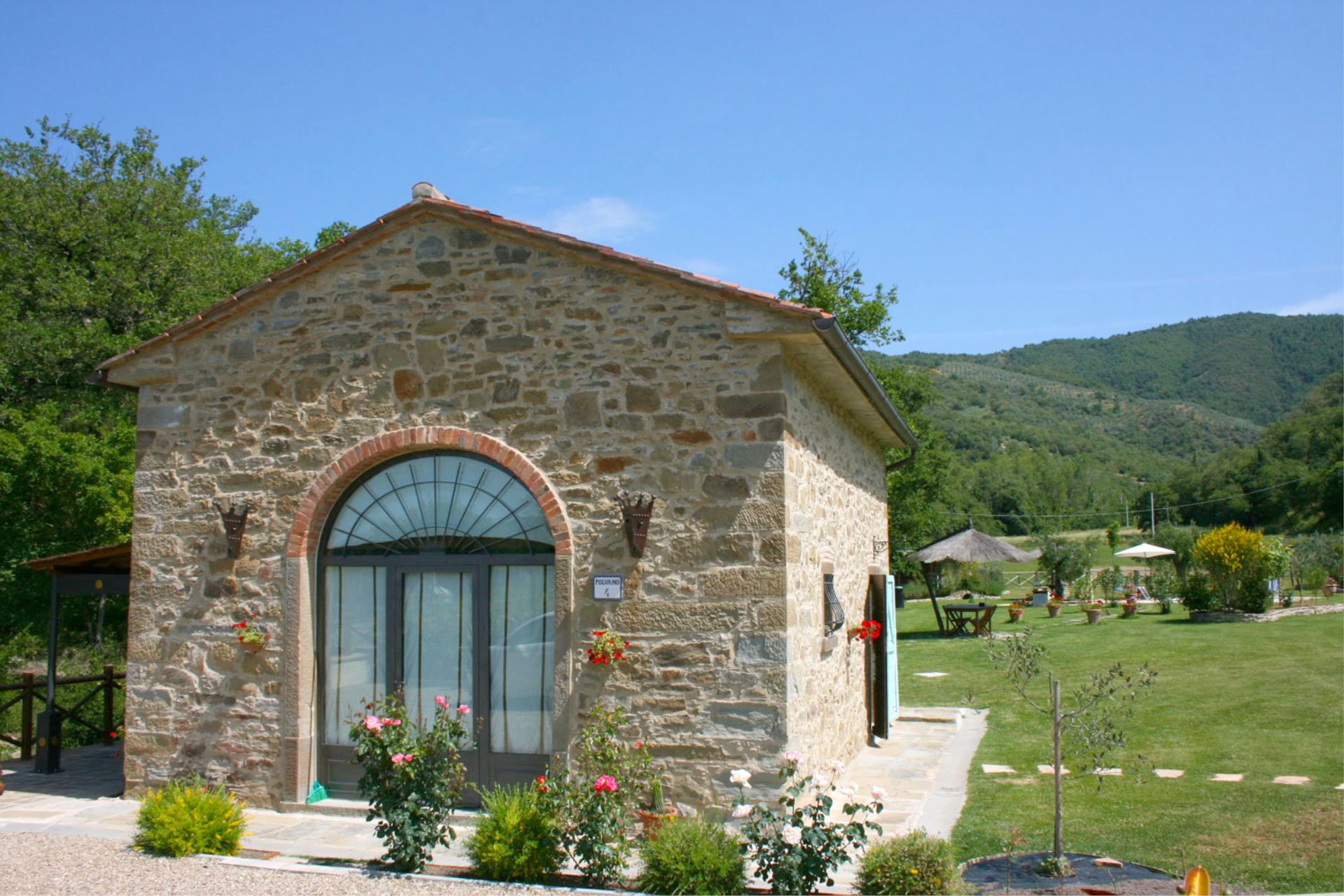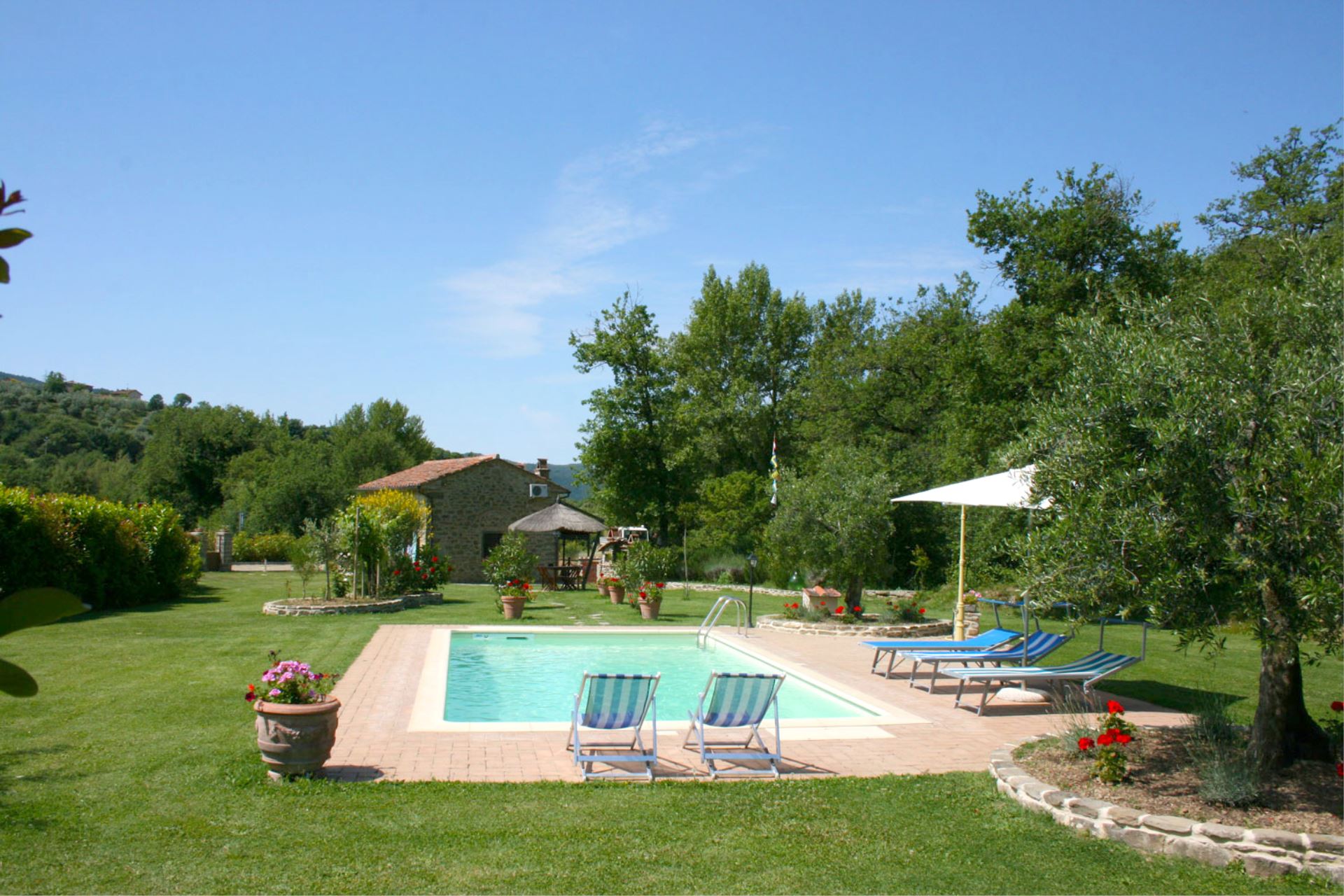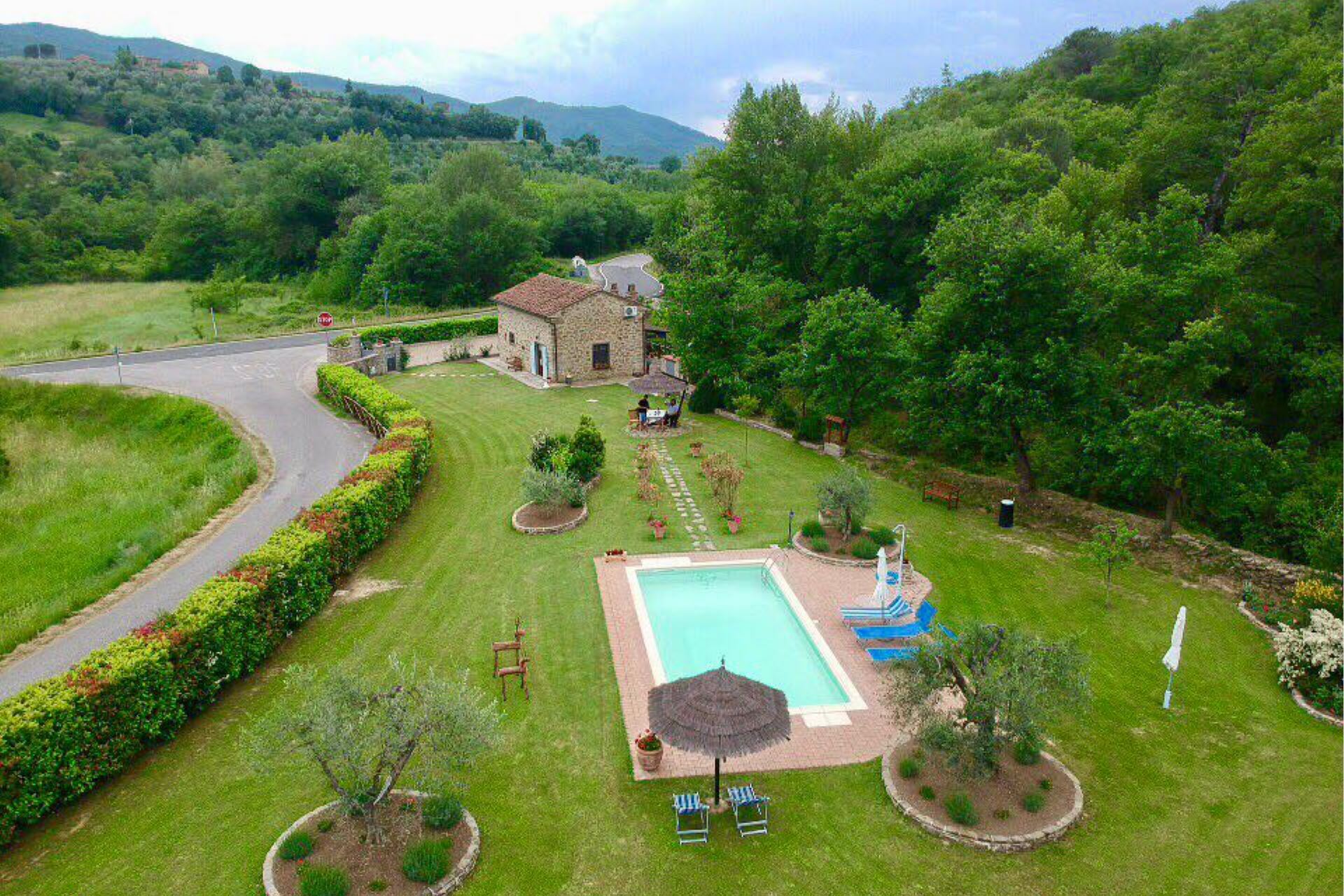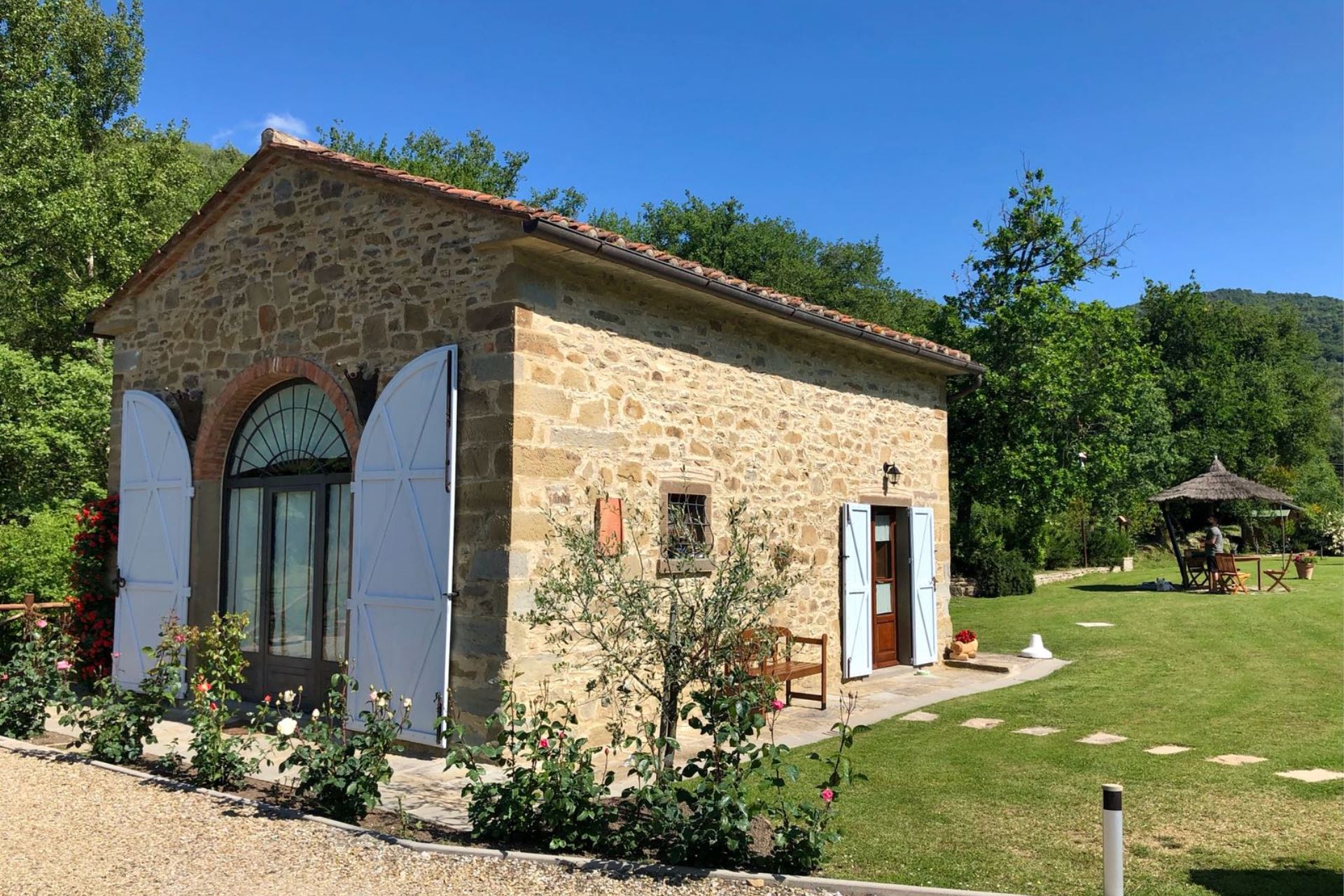 ---
Families with kids
For couples
Televisions
Washing machine
Air Conditioning
Private pool
Barbeque
Pets Allowed
Parking area
Toaster
Microwave
Oven
Hairdryer
Castiglion Fiorentino at

7 km
Airport of Firenze at

100 km
Highway A1 Monte San Savino at

30 km
Hospital of Arezzo at

25 km
Villa selected and checked for you by Alice and Michela of Eurocasa Holiday, if you would like any further information please write to info@eurocasa.com
Small house with private pool and Jacuzzi corner, ideal atmosphere for romantic couples and honeymooners. Large garden with equipped areas designed to enjoy moments in the open air. Located in the Val di Chio, 7 km from Castiglion Fiorentino.
---
Description
La Casa di Pino, a small jewel of rural architecture dating back to the year 1200, is located in the heart of the Val di Chio, on the border between Tuscany and Umbria and a few kilometers from the town of Castiglion Fiorentino. All around green woods that are part of the farm, where you can also admire the beautiful 'Majesty' in the grove, a few hundred meters from the house.

In our opinion the main feature of Casa di Pino, which makes it perfect for couples and romantic holidays, is the atmosphere that the owners have managed to create in this small space. In addition to the fact that it resembles a nest, the warm colors chosen for the rooms and the furniture itself, give the feeling of being at home, in an intimate and welcoming place.

In the wide garden the beautiful swimming pool (size 4x8 m., depth 1,20-1,50 m. - open from 01st May to 30th September) with Jacuzzi corner, barbecue and wood burning oven next to the gazebo and an equipped porch. A few meters from the house passes a panoramic side road that crosses the hills and connects Castiglion Fiorentino to the town of Cortona and the nearby region of Umbria. The property accepts small size pets


Interior description
Ground Floor: going down one step access to living-dining room with kitchen corner, bathroom with shower. Pergola with table and chairs for outdoor dining.
First Floor: with access through internal stone and wrought iron staircase, wide room with terra-cotta floors and characteristic ceiling with wood beams where there are a double bed and two single beds divided by a room divider.
EQUIPMENT:
oven, freezer, toaster, filter coffee maker, moka, mixer, juicer
satellite TV, Wi-Fi Internet access, hair dryer, mosquito nets, air conditioning
washing machine, iron and ironing board, hairdryer, high chair, volleyball net
Price notes
Arrival:
in the afternoon between 4 p.m. and 7 p.m. -
Departure:
in the morning between 8 a.m. and 10 a.m.
INCLUDED IN THE PRICE:
Private pool open from 01/05 to 30/09.
Wi-Fi Internet access.
Bed linen and bathroom towels.
One baby bed (for children up to 3 years) on request at time of booking.

NOT INCLUDED IN THE PRICE:
Breakage deposit Euro 200 (payable in cash on your arrival and held by the owner for the duration of your stay). During their stay, should travellers cause any damage to the property, they will be liable for the associated costs.
Electric car charging on demand on payment.
Obligatory final cleaning Euro 80.
Small size pets allowed on payment of Euro 10 each per day.
Swimming towels available on request Euro 3 each.
Heating Euro 25 per week (if used).
Air conditioning Euro 1 per kwh (if used).
Tourist Tax Euro 1 per person per day, applied for the first 7 days only, children up to 14 years do not pay.
---
Reviews
Robin (BE) - luglio 2023
The welcome feeling of the owners (Paola and Rossano) was exquisite and radiated love and warmth. We were there much earlier than expected and the owner immediately arranged to receive us earlier (we had to wait less than 10min). The garden and swimming pool were cleaned up daily. They were very discreet, we certainly weren't bothered by them. They were the first to give tips where to go and where the good food was etc..... The business on arrival and departure was also in order Thank you Paola and Rossano for a super holiday and a super location 10/10
Francois (Fr) - maggio 2023
Parfait pour s'immerger dans la Toscane authentique et organiser des excursions sur les sites à ne pas manquer. Des hôtes aux petits soins, toujours présents mais jamais envahissants. Le respect de leur propriété et de ceux qu'elle accueille. Un grand merci
Damiano (Italia) - settembre 2022
Grazie mille per la vostra stupenda ospitalità ed accoglienza, con la vostra casa ci avete regalato una settimana bellissima di puro divertimento e relax.
Un angolo di paradiso immerso in una natura meravigliosa. Grazie di tutto!
La nostra bimba Ludovica e la nostra cagnolina Lily si sono divertite un mondo. Grazie!
 
Elena e Luca (NL) - settembre 2022
Sono state 3 settimane belle! Ci dispiace che dobbiamo tornare in Olanda, è stata una vacanza stupenda.
Grazie per l'accoglienza, non vi dimenticheremo mai.
Forse ci vediamo una volta, speriamo! Grazie per tutto!
Massimiliano (Italia) - agosto 2022
La casa di pino posto fantastico abbiamo passato una settimana meravigliosa i proprietari sono stati veramente gentili e ospitali.Un abbraccio speciale a Paola e Rossano. Un ringraziamento anche a Eurocasa holiday veramente dei professionisti.
En
A fantastic place, we spent a wonderful week the owners were really kind and hospitable. A special hug to Paola and Rossano. Thanks also to Eurocasa holiday really professional people.
Friedrich (Deutschland) - luglio 2022
Wir waren von dem kleinen Haus auf dem großen Grundstück ganz begeistert. Der Hund hat es geliebt (glauben wir), frei herumlaufen. Lage ist ein wenig abgelegen aber man kann von dort aus super Ausflüge machen. Einen Pool zu haben war bei der großen Hitze ein echter Genuss und die Gastgeber waren unbeschreiblich nett. Sehe diskret, immer erreichbar und hilfsbereit!
****************
We were quite thrilled with the little house on the big plot. The dog loved it (we think), running around freely. Location is a bit remote but you can make great trips from there. Having a pool was a real treat in the great heat and the hosts were indescribably nice. Very discreet, always available and helpful!
Olaf (Germany) - luglio 2022
It's a beautiful house and a nice garden. Perfect for two people and two dogs. Thanks for your warm welcome. We had a great time.
L & M (Germany) - giugno 2022
Bellissima
Paola and Rossano are very great hosts. We were welcomed very lovingly, with freshly pressed olive oil and a bottle of local red wine. The house is even more beautiful than in the photos and despite the hot summer keeps the heat out. The garden is huge and very thoughtfully maintained. Also the area around the house and the small village is gorgeous and if you are looking for a relaxing and calm stay, you are in the right place. Paola and Rossano, you have made our stay one of the best vacations we have ever had. We will be very happy to come back! Best wishes from Hamburg, Lucy & Marco
Pirkko (FL) - giugno 2022
Thank you so much for a wonderfull three weeks at La Casa di PIno.
We had a wonderfull time in your garden and swimming pool.
We rented mountan bikes and saw the wonderfull Tuscan scenery.
Thank you so much for everything.
M. Enzo - agosto 2021
Ci siamo trovati molto bene nella Casa di Pino.
Abitazione confortevole e pulita. Piscina valore aggiunto. Zona straordinariamente tranquilla e silenziosa, l'ideale per rilassarsi, ma al tempo stesso in posizione strategica per visitare i borghi e le città d'arte nelle vicinanze. Proprietari molto disponibili e gentili.
Engl
We had a great time in the Casa di Pino.
Comfortable and clean house. Pool added value. Extraordinarily quiet and peaceful area, ideal for relaxing, but at the same time in a strategic position for visiting the nearby villages and cities of art. Very helpful and kind owners.
Stephanie (ITA) - agosto 2020
Questo cottage tipicamente rustico immersa in una natura incontaminata e nella totale, è tenuto bene e con tanto amore. Bel giardino spazioso, molto curato a ridosso di un bosco. Piscina pulita ogni giorno dai proprietari la cui gentilezza è innata. Ci hanno persino regalato dei pomodori di loro produzione e fatto assaggiare il loro olio che d'altronde è acquistabile. Non esitate! Ottima zona per gite nei dintorni facilmente raggiungibili (Arezzo, Cortona…).
Kathrin M. (DE) - luglio 2020
Es ist ein wunderschönes Haus , perfekt für zwei Personen die absolute Ruhe suchen. Das Haus ist mit sehr viel Liebe zum Detail eingerichtet , alles ist sehr gepflegt und sauber. Der Garten mit dem Pool ist ein absolutes Highlight. Von den Besitzern wird man sehr herzlich empfangen .
Bernhard (DE) - giugno 2019
Wunderbar gepflegter Garten, sehr sauber, liebevoll eingerichtet, sehr angenehme Vermieter.
Henk, Angelique and Anna (Netherlands) - agosto 2018 Dear Rossano and Paola thank you for your hospitality and for the warm welcome. With the wine, olive oil and pie. We have had a wonderful week in "Casa di Pino". With the beautiful garden, swimming pool and fresh vegetables. Kind regards, grazie mille!
Sabina & Rolando (Deutschland) - giugno 2018 Wir hatten ein paar traumhafte Tage in der Casa di Pino. Die Toskana ist eine Reise wert. Der Pool und der herrliche Garten laden zum Verweilen ein. Es fehlte an Nichts. Ganz lieber Vermieter, die immer da sind, wenn mann sie braucht. Die Anlage spricht für sich, einfach ein Traum. Vielen Dank für alles!
Sheila, Marcus & Yuki and Christy (dogs) (Brazil/Netherlands) - maggio 2018 Dear Paola and Rossano, we had a wonderful week here at Casa di Pino! We are in love with the place and the peaceful area. Our dogs also enjoyed very much!! Thank you for the warm welcome and the fresh vegetables!! It made our stay even better!! Marcus had a great birthday!! We hope to come back one day!! Have a lovely summer!!
STEFAN (Deutschland) - agosto 2017
Grazie mille!
Era molto bello qui con te. Così rilassata non era ancora una vacanza. Ci siamo sentiti molto bene. Ora abbiamo la forza per la vita quotidiana :-) Grazie per i molti piccoli doni. Rimane come sei - sei fantastico!!! Non parlo italiano - Grazie Google!!! Tanti cari saluti!!! Stefan

Ludwig Binder (Bayern) - agosto 2017
Verträumtes Haus mit viel Freiraum
Ein liebevoll eingerichtetes Haus, sehr sauber und in einer ruhigen Lage abseits vom Massentourismus. Mit viel Platz rundherum und einem schönen Pool. Alles Nötige findet man vor. In der Nähe gibt es viele gute bis sehr gute Lokale, auch Slow Food. Wir hatten Wasser aus eigener Quelle. Das ist nicht jedermanns Geschmack, aber zum Waschen/Duschen gut genug. Dieses Jahr ist ja extreme Wassernot in Italien und wir waren darauf bedacht, Wasser zu sparen. Die Eigentümer waren jeden Morgen zur Reinigung des Pools und Pflege des Gartens vor Ort. Sie waren sehr nett und haben uns zur Begrüßung einen Kuchen gebacken. Leider waren wir nur eine Woche in diesen Quartier.

Ida (DK) - luglio 2017 Dear Paola & Rossano, we really love this place La Casa di Pino. Fantastic garden, pool and house. Thank you for the delicious tomatoes, oliveoil, and wine. We will be back :-) Ida, Thor, Tommy & Heidi from Denmark

Anja (Deutschland) - giugno 2017 Wir hatten einen wundervollen Aufenthalt und wären schon nach der ersten von zwei Wochen vollständig erholt. Vielen Danke für das tolle Öl, den Wein und den Kuchen! Wir kommen gerne wieder! Anja, Tino, Elsa & Carl

Tarek (Kuwait) - settembre 2016
Bellisimo
We loved staying at Casa Di Pino. It's an utterly charming mini villa next to a wonderful little town. There's a huge coop about 10 minutes driving for all your needs, and the house itself is fully equipped with everything you'd need for a short holiday. The owners were very friendly and helpful and I would definitely come back. I visited in September, which was beautiful for the weather, but sadly it was during mosquito season so we couldn't enjoy the pool like we would if we came earlier in the summer. This is a great base for your Tuscan visit as it's far enough to feel private and relaxing, but also quite close to drive to the charming tuscan towns (Arezzo, Pienza, Montepulciano, Cortona are all reachable in under 30 minutes drive, Siena is 45 minutes away and Florence is about an hour drive). Love everything about our trip :-)

Besati Claudia (ITALIA) - agosto 2015 La Casa di Pino è stata una piacevole e straordinaria sorpresa. Abbiamo passato delle bellissime vacanze!!! La quiete che circonda la casa ci ha ricaricato per affrontare un nuovo anno di lavoro. Grazie di tutto!!! Claudia, Marco e Giovanna PS Il gatto, rinominato Cecina, è stato ben nutrito!!!

Maura (Germany) - luglio 2015
Complimenti
Una casina che rimane nel cuore per l'accuratezza dei particolari, per il buon gusto, l'accoglienza, i colori caldi, il giusto bilanciamento tra antico e moderno. Grazie mille per la vostra cura e gentilezza.

R. Juga & Jacek (Germania) - giugno 2015
Wonderful Honeymoon
We had a wonderful honeymoon at Casa di Pino. Thanks to Paola and Rossano for everything, especially the fantastic apple cake and the great lunch! We will miss the beatiful garden the pool and the cat! Grazie mille.

Aleksander (Deutschland) - giugno 2015 Wir haben den Urlaub sehr genossen und uns rundum wohl gefühlt. Das Ferienhaus ist liebevoll eingerichtet und mit allem ausgestattet, was man im Urlaub braucht. Besonders toll ist der Garten, der von den Besitzern gehegt und gepflegt wird. Das Gelände inklusive Pool, das einem zur Alleinnutzung zur Verfügung steht ist mehr als großzügig. Die Begrüßung und Betreuung durch die Eigentümer war sehr angenehm und warmherzig. Das Ferienhaus liegt außerhalb der Stadt und bis auf die wenig bis mäßig befahrene Landstraße, die vor dem Haus verläuft, hört man nur Vögel und die Bienen im Lavendel. Nachbarn gibt es in unmittelbarer Nähe nicht. Daher sollte man unbedingt über ein Auto verfügen, wenn man nicht reinen Poolurlaub machen oder ausschließlich in den nahegelegenen Wäldern wandern möchte. Für Reisende wie uns, die gerne die Ruhe und die Natur genießen möchten und hin und wieder Tagestouren ins Umland machen, war Casa di Pino wirklich ideal.

Henni-Sofia & Viljami (Finland) - maggio 2015
Great relaxing days
We had great five relaxing days at the Casa di Pino. Lots of swimming, sun bathing, travellin around the city, reading and great food. The house, garden and pool have truly been Amazing and time has really flown by. Thanks for the pie and the wine.

Bardot & Heidi (Belgium) - settembre 2014 We had a really nice Holiday in la CASA DI PINO. The landlord are wonderfull people. they provided all we needed... wine, olive oil, cake and deliciuos tomatoes. thank you! We wanted to leave at 4 AM and that even wasn't a problem! This place has somenthing magical, if you listen well you will hear the wild boars during evening time in the near bushes... Tuscany at it's best!!! We fell in love...
---
Other structures
that may interest you
Other structures destination Cortona And Valdichiana
VILLA LA COLOMBAIA


Cortona
AGRITURISMO I GRANDI DI TOSCANA - DANTE ALIGHIERI


Civitella in Val di Chiana