Casavecchia
Castiglion Fibocchi, Toscana
---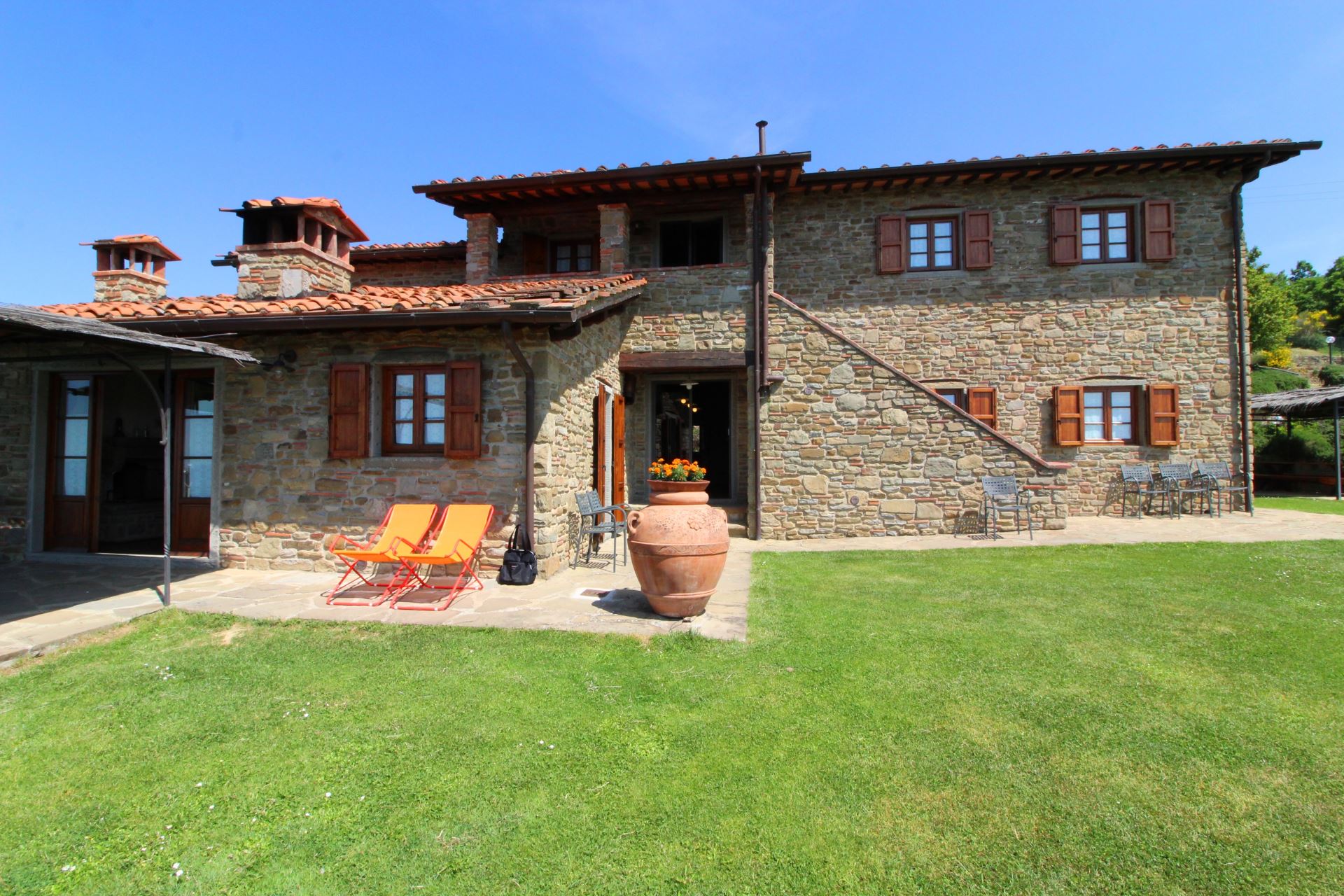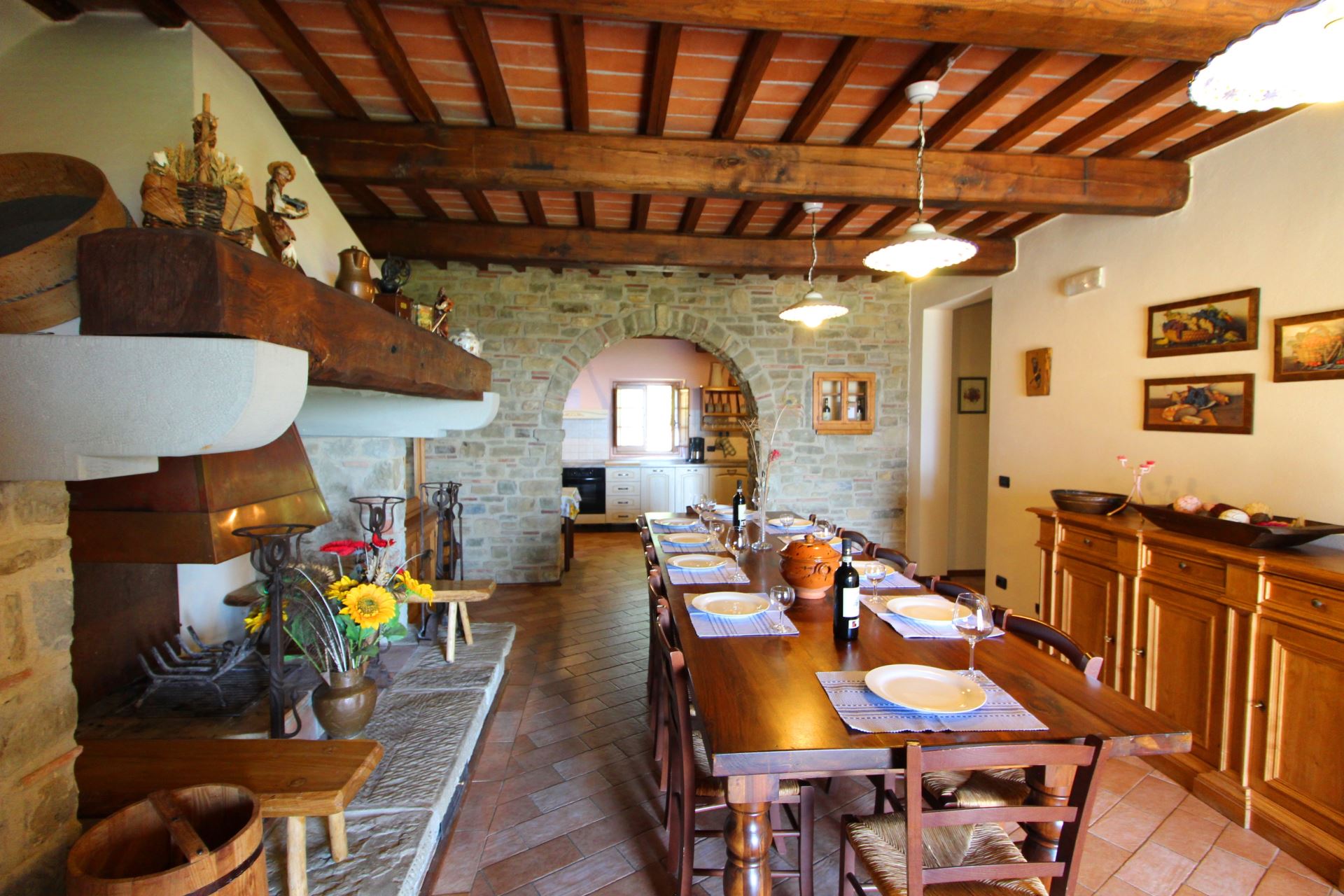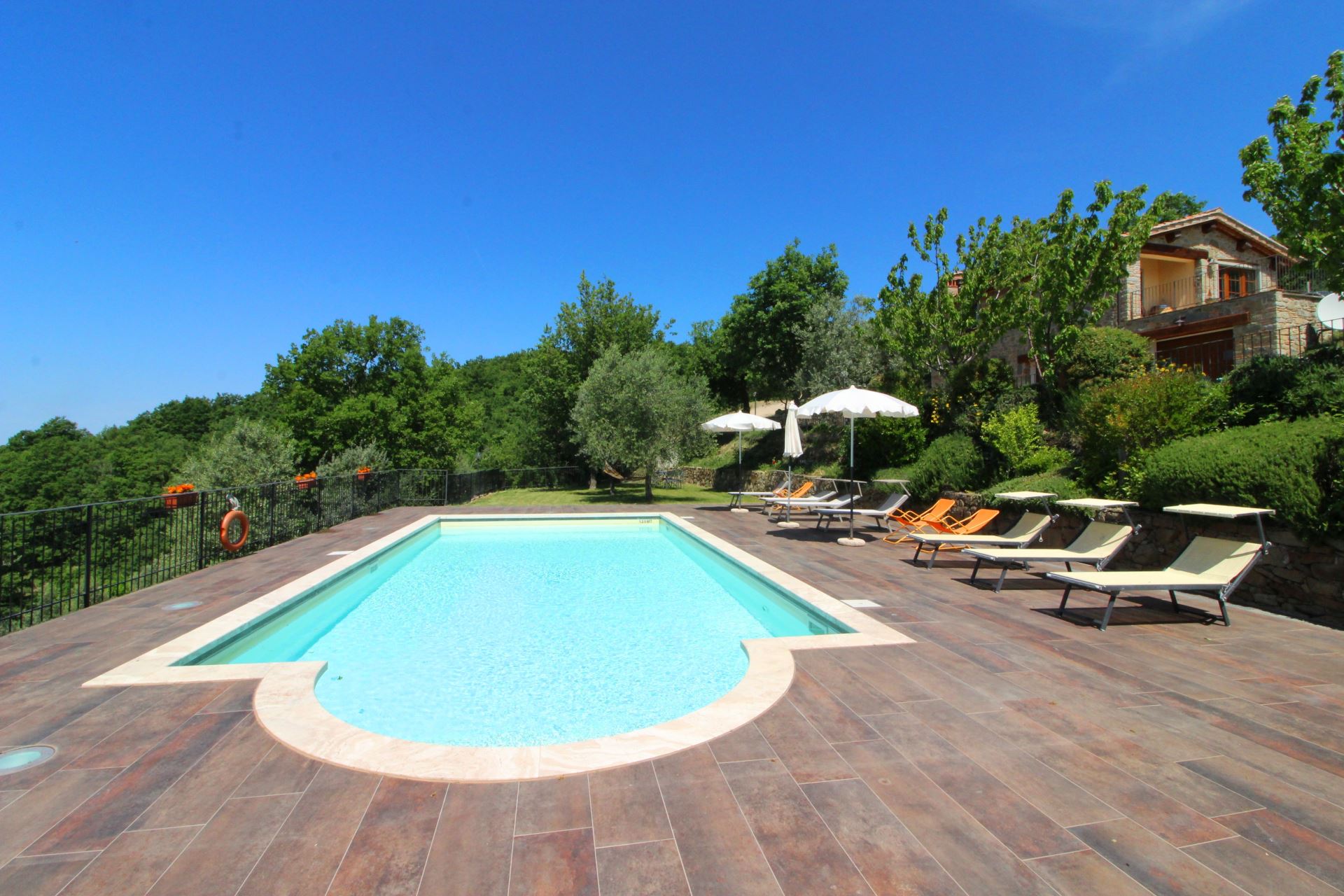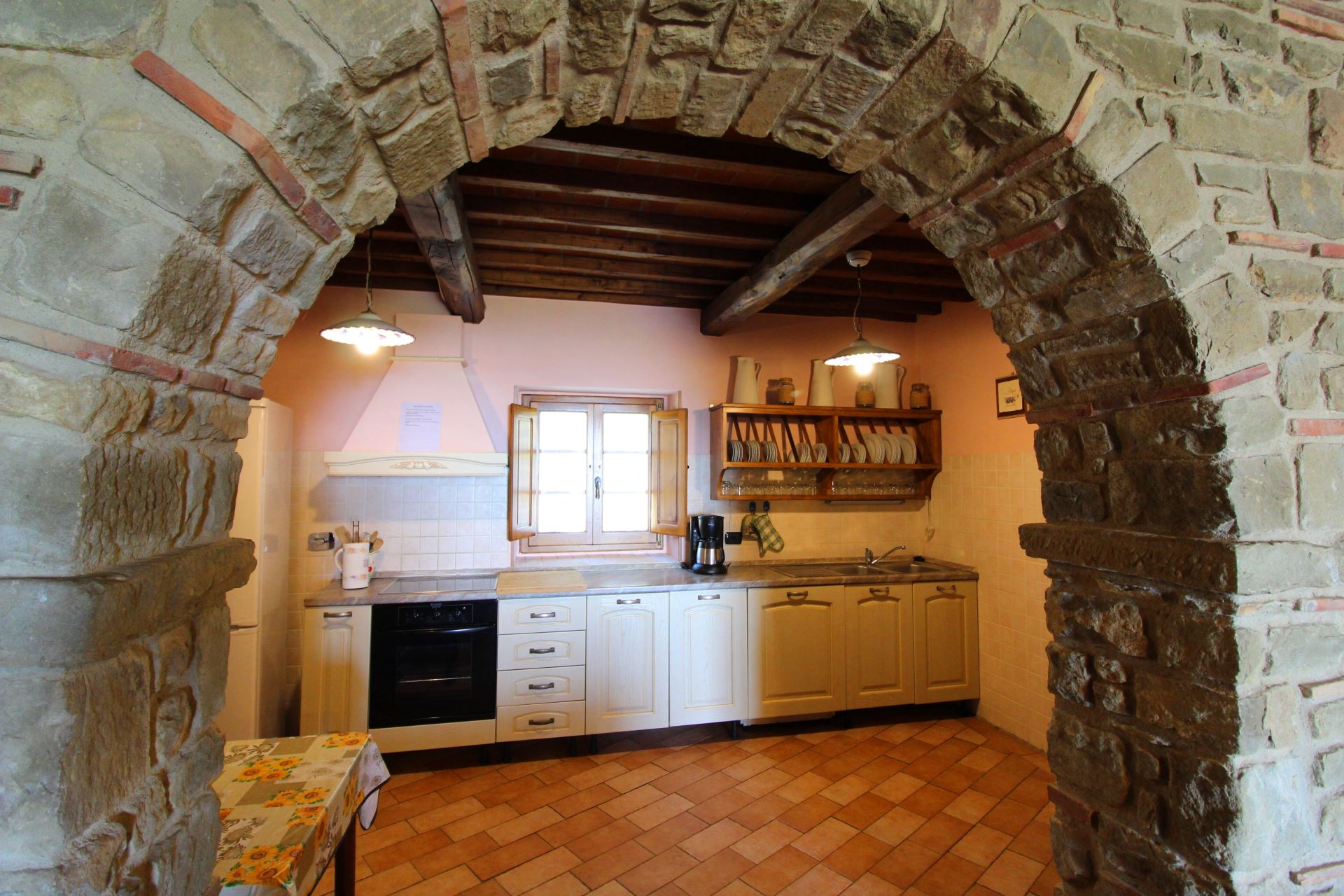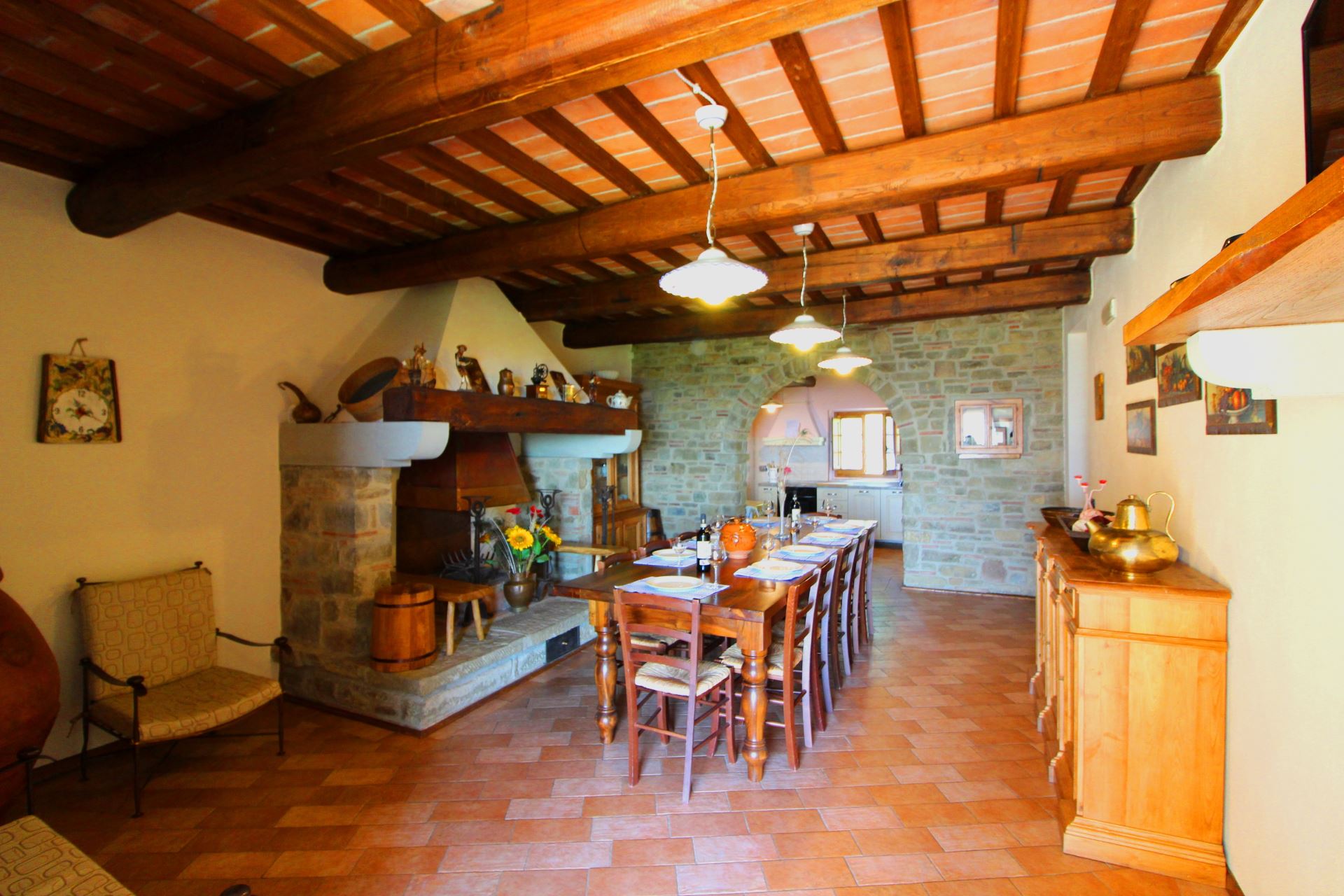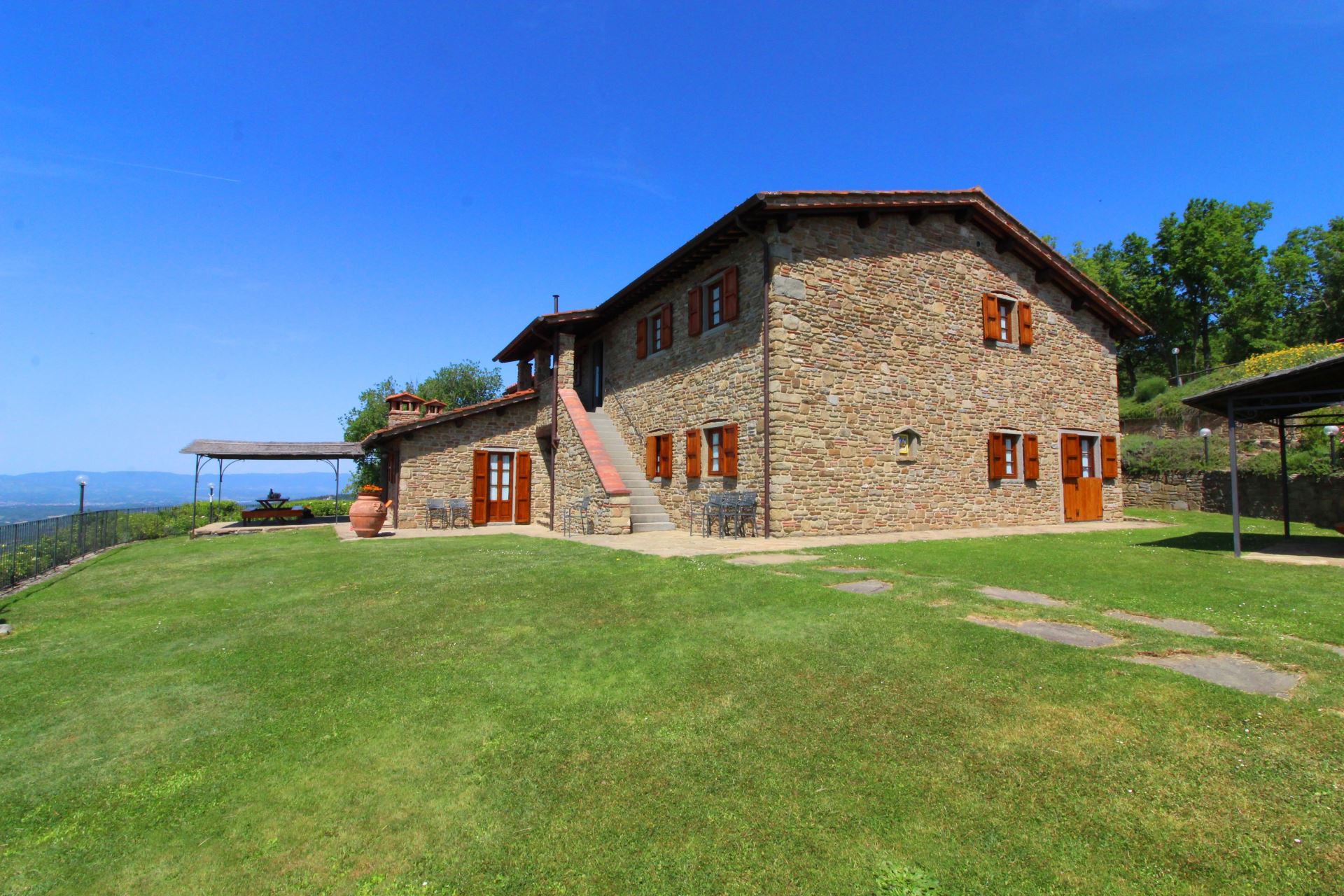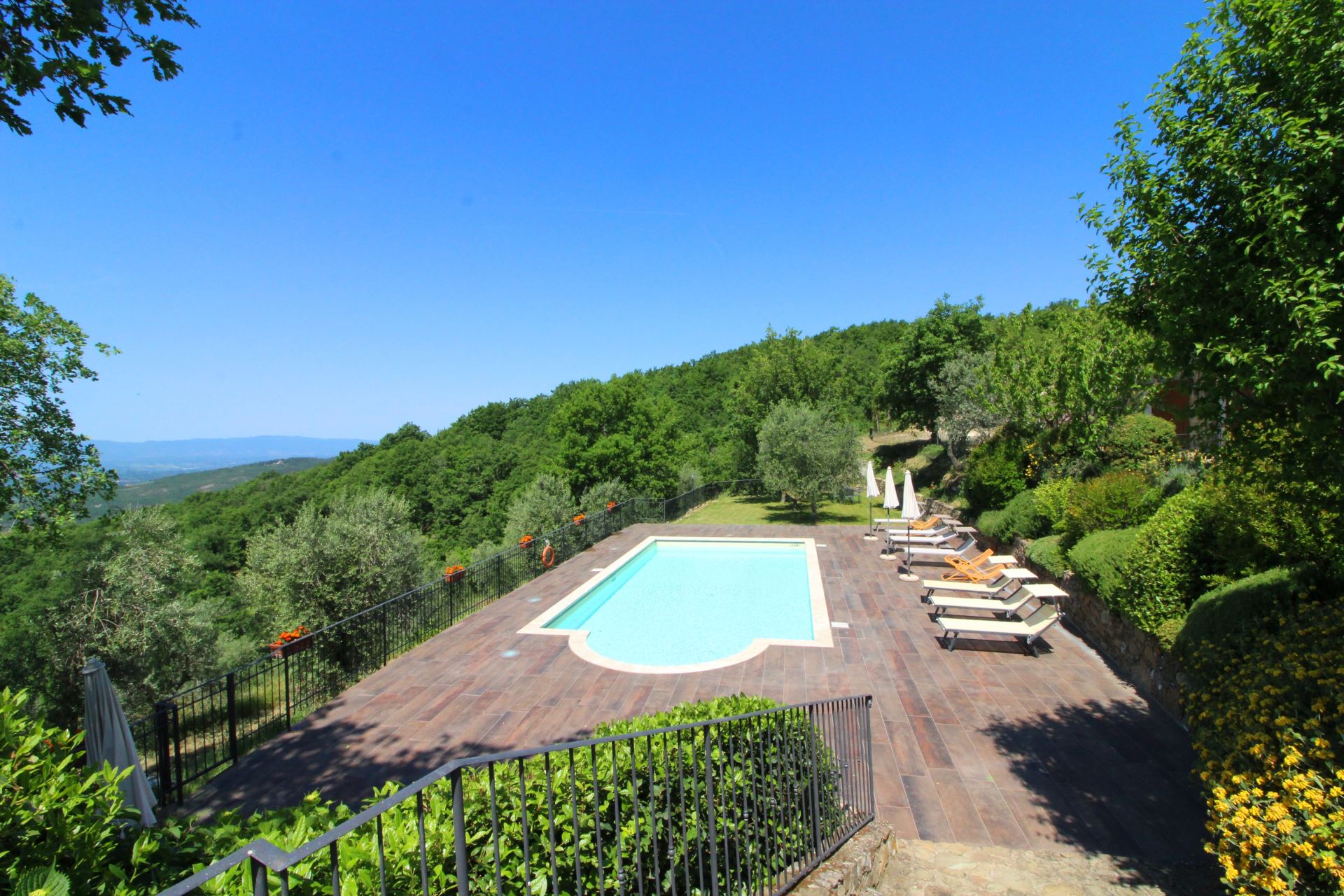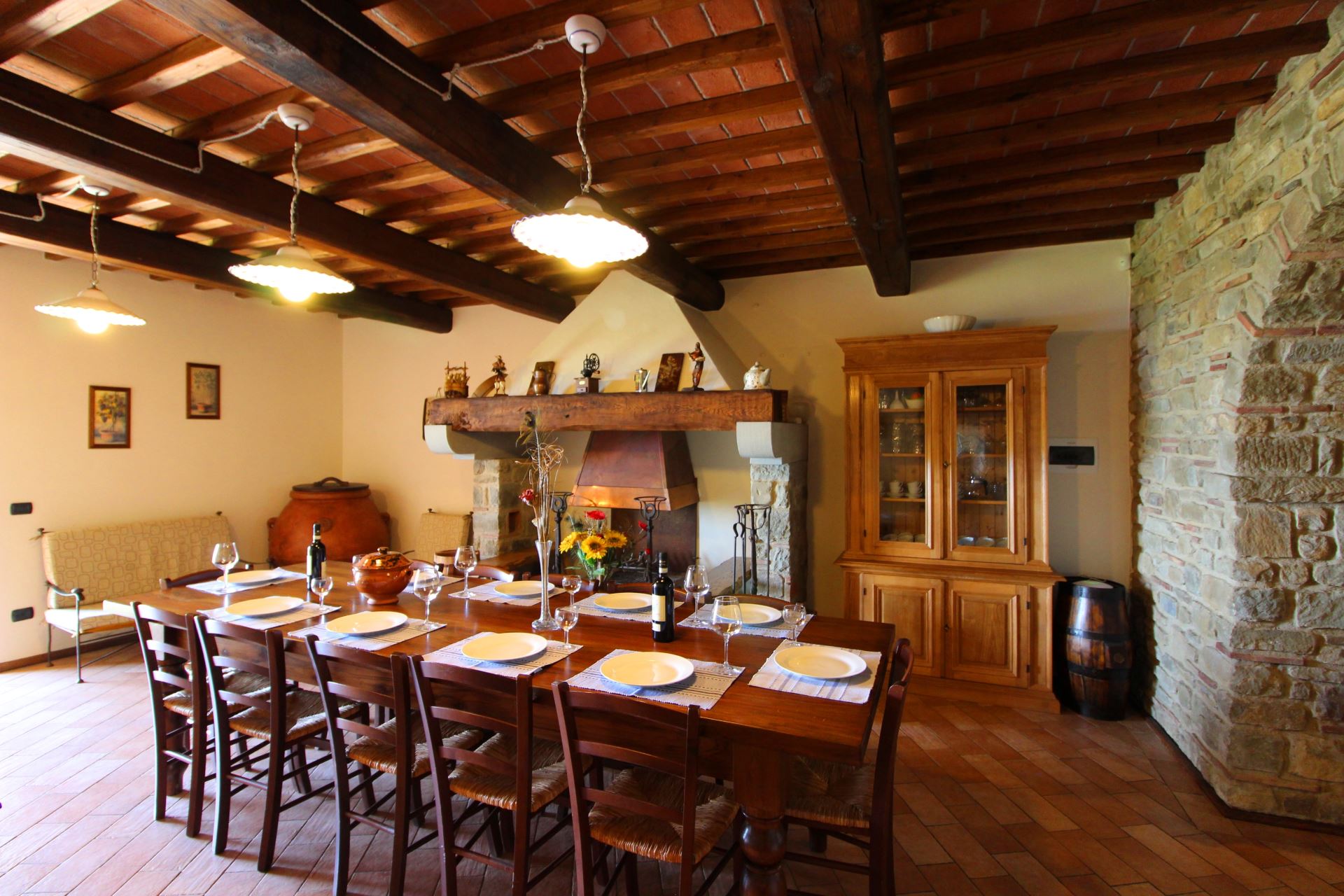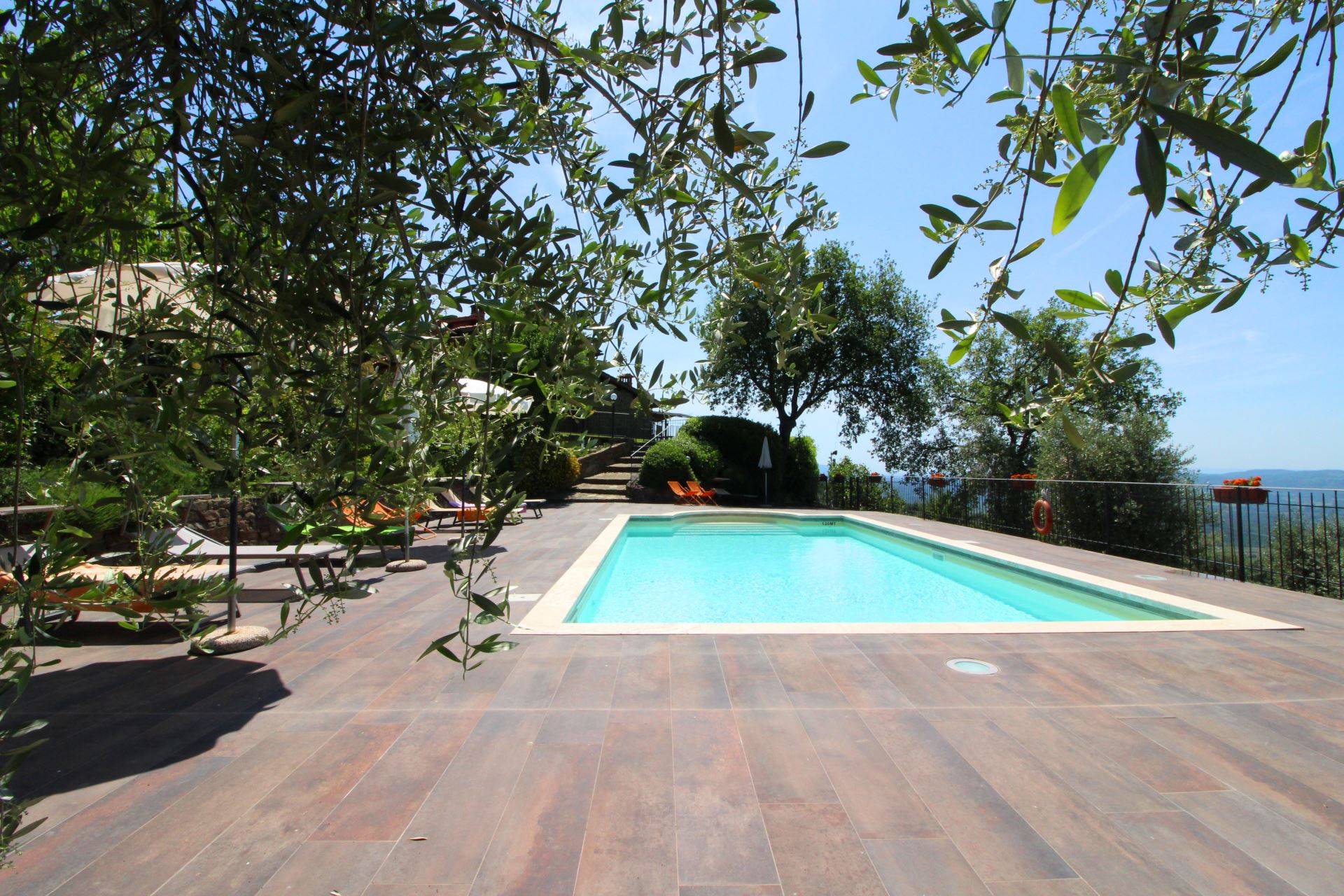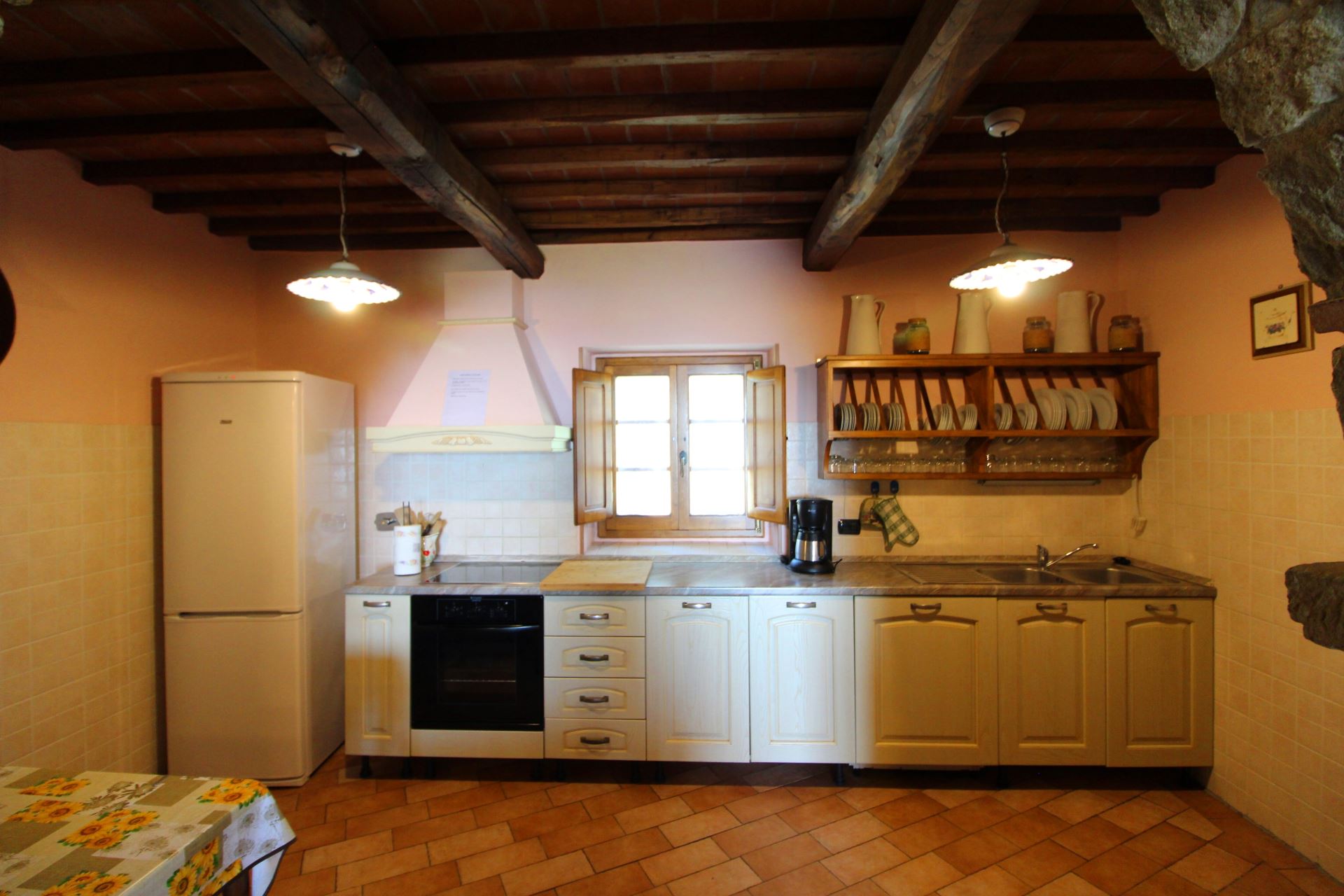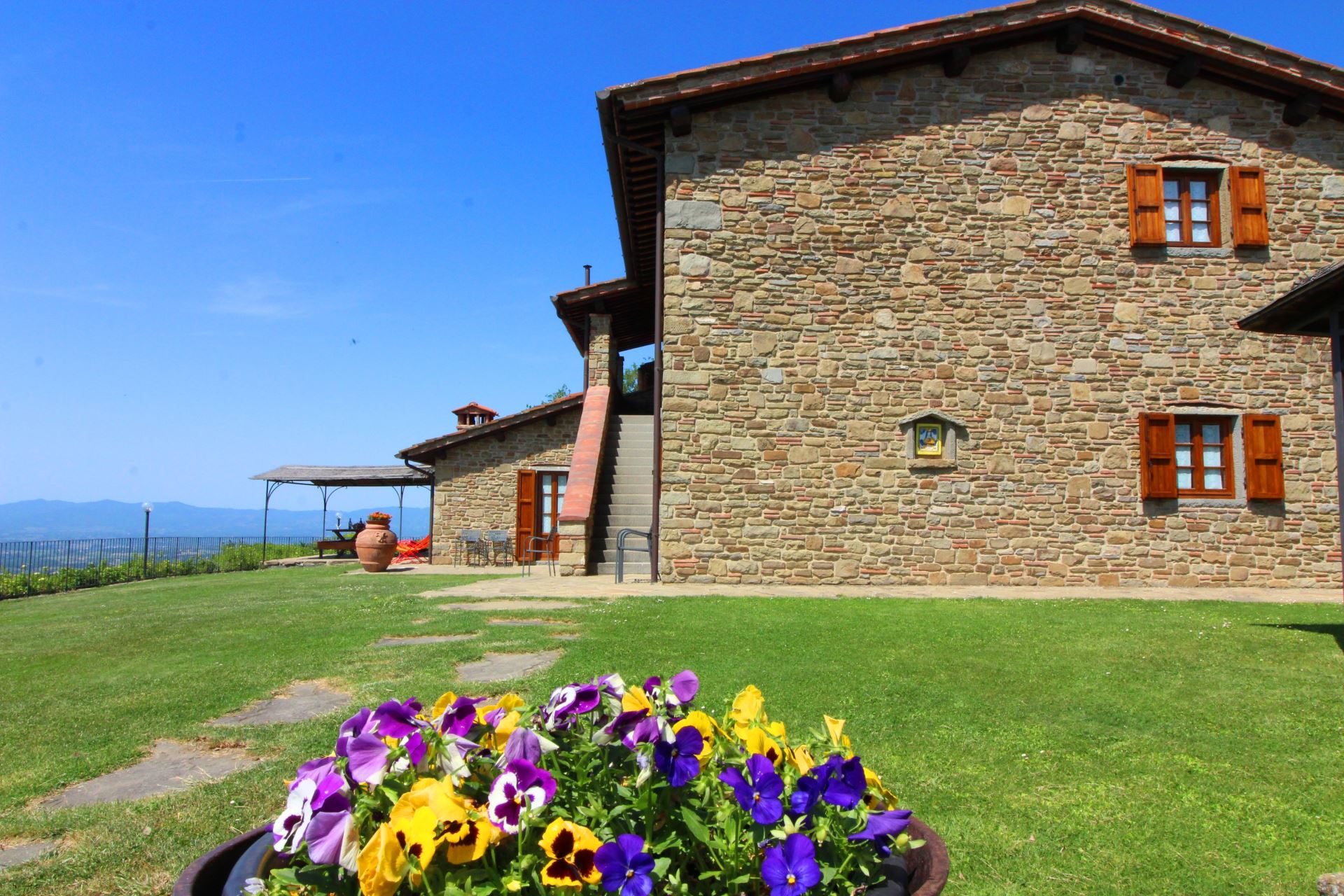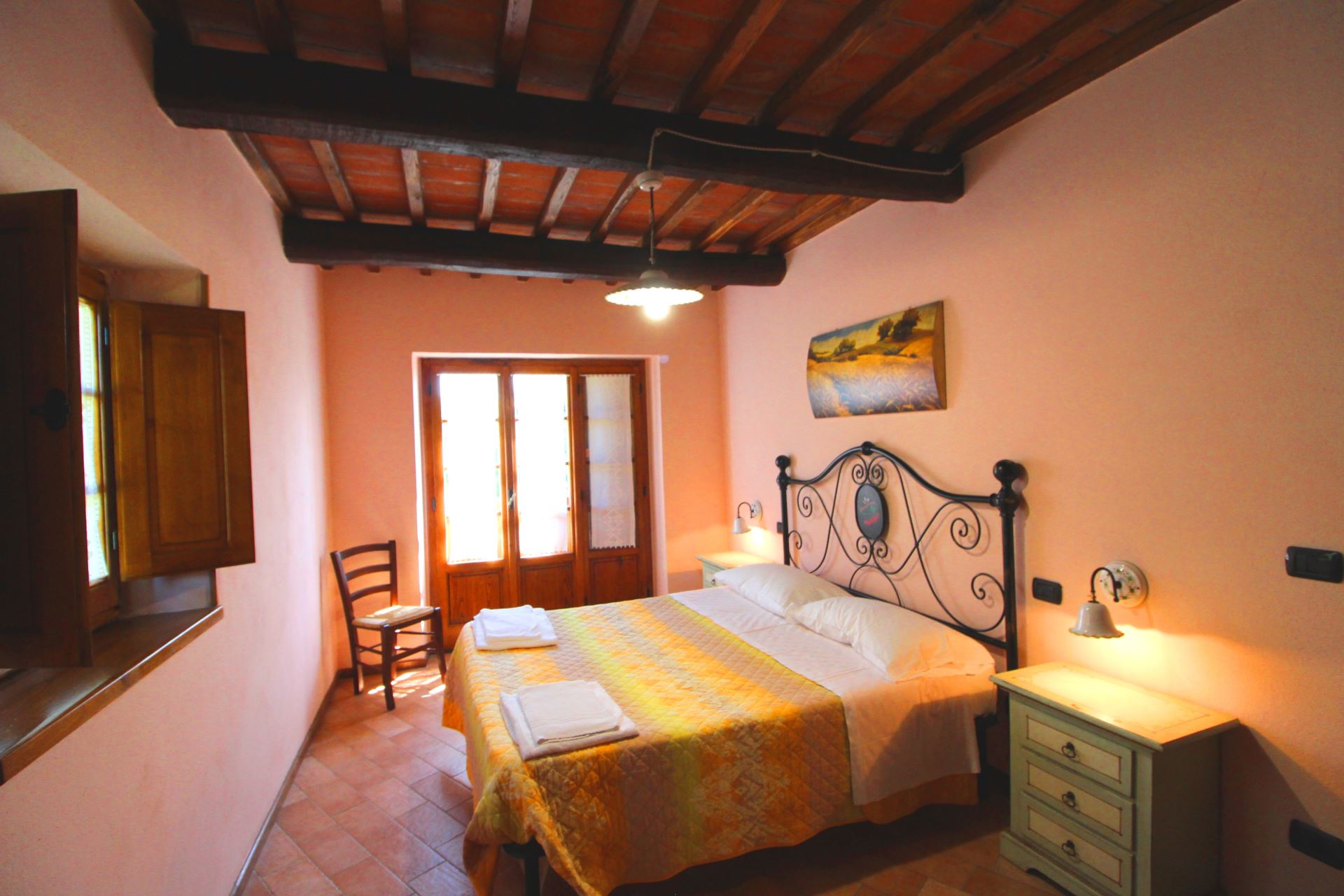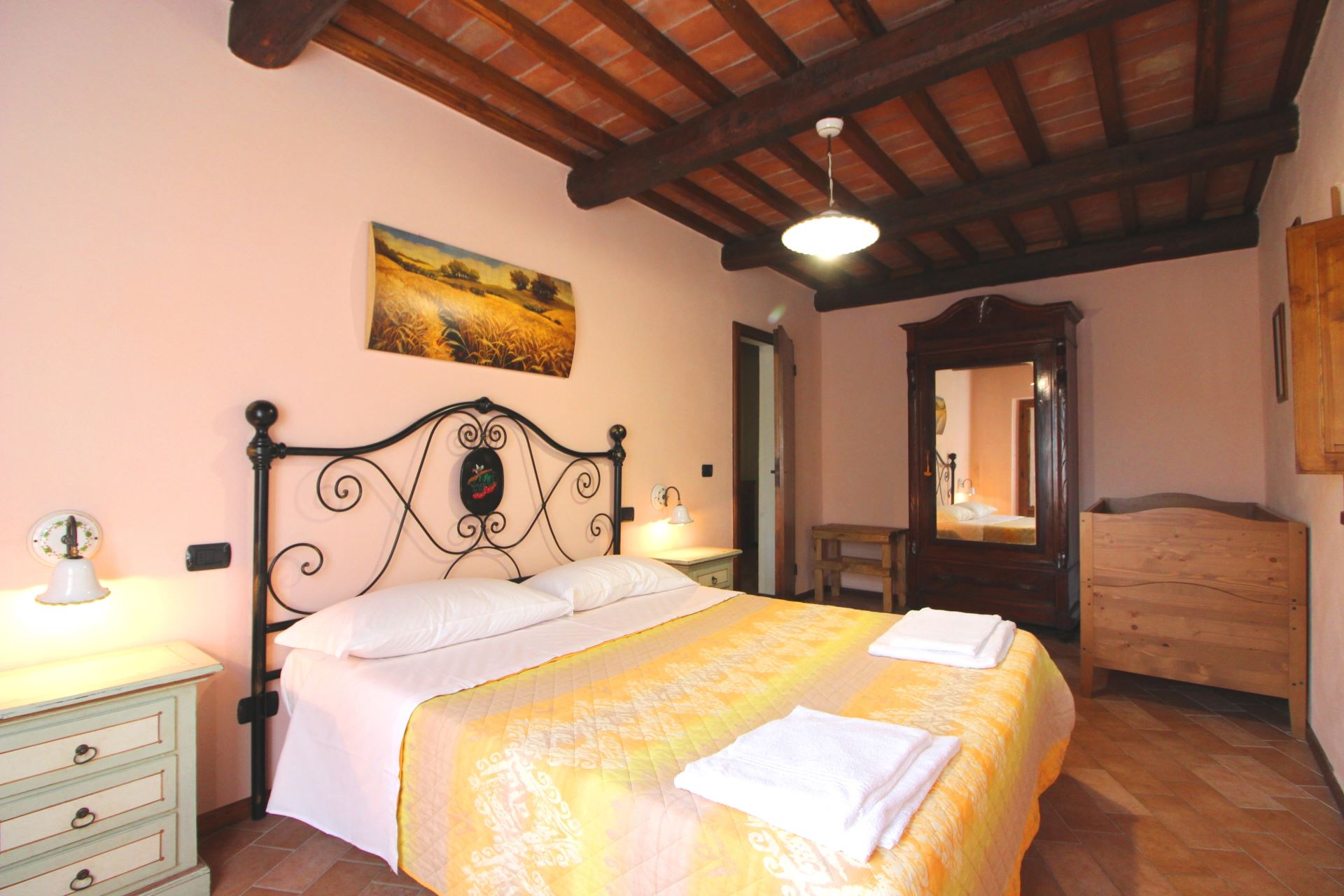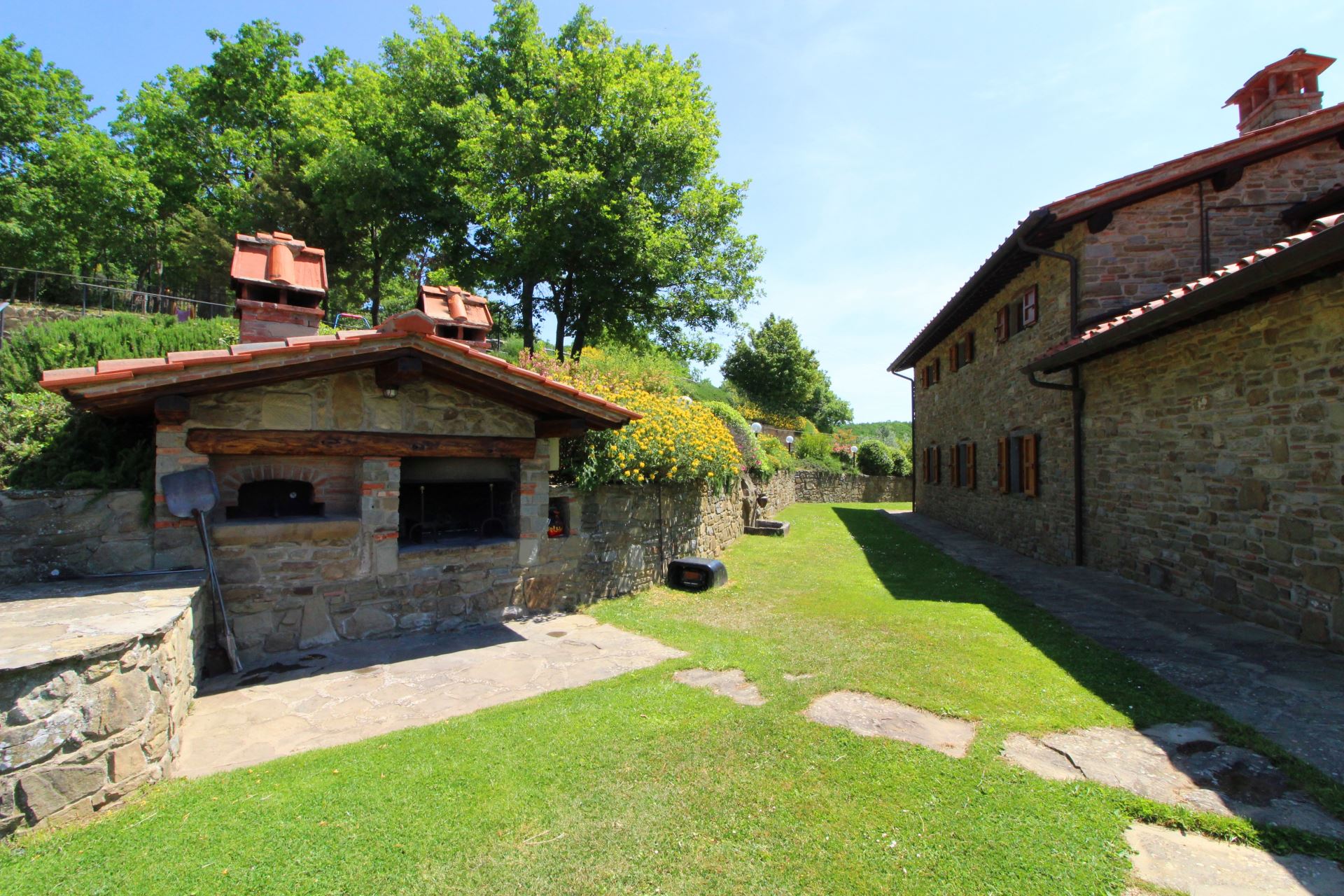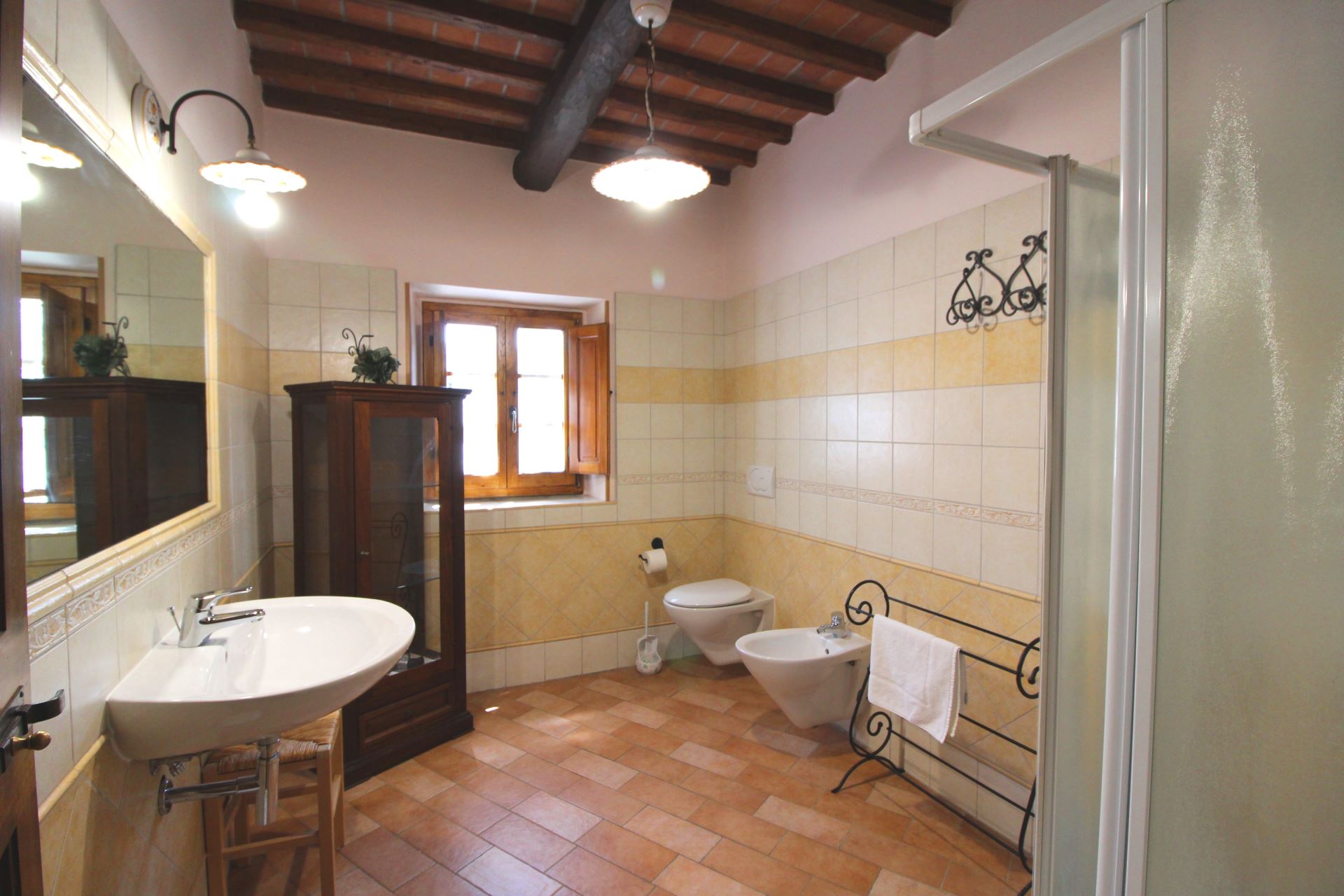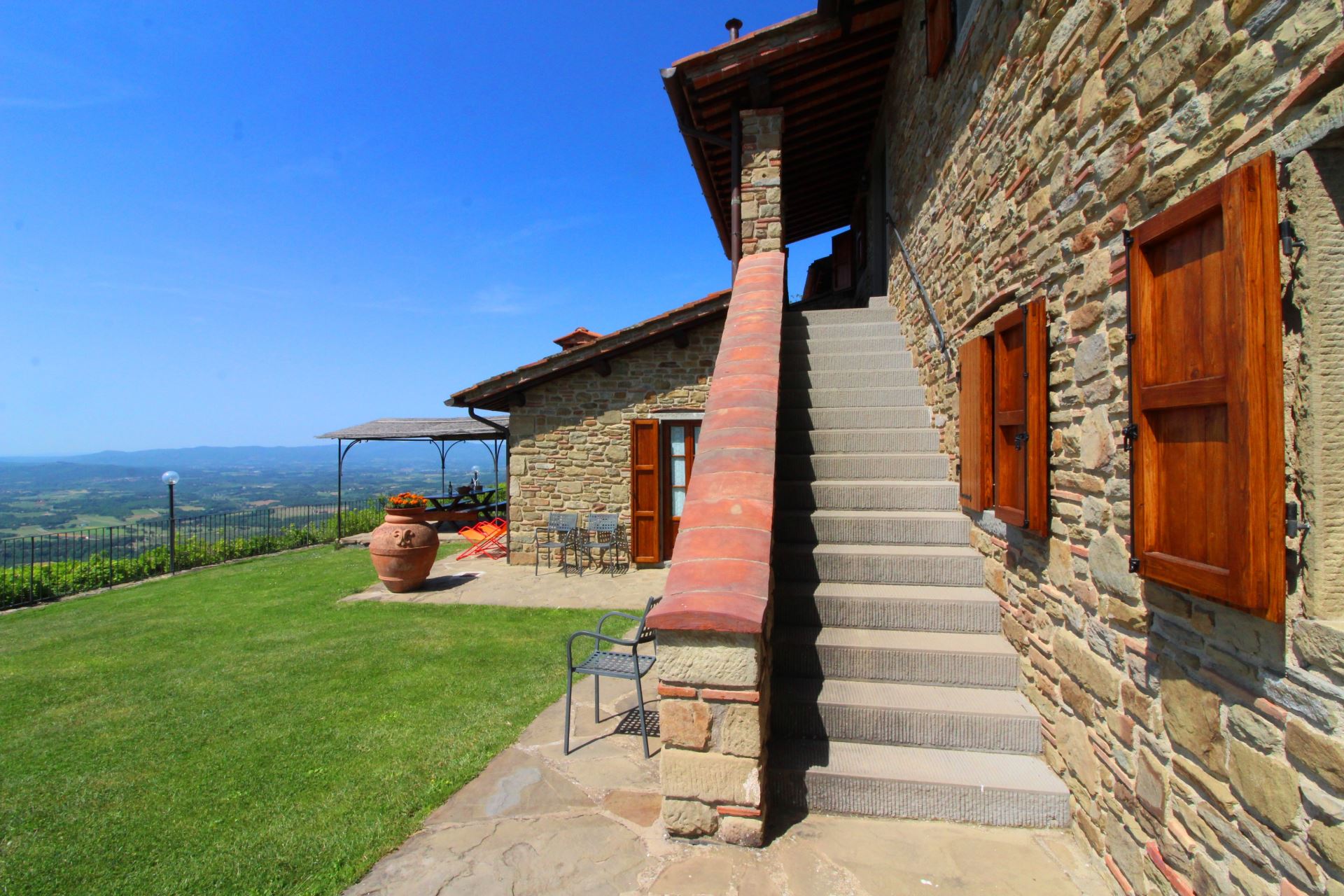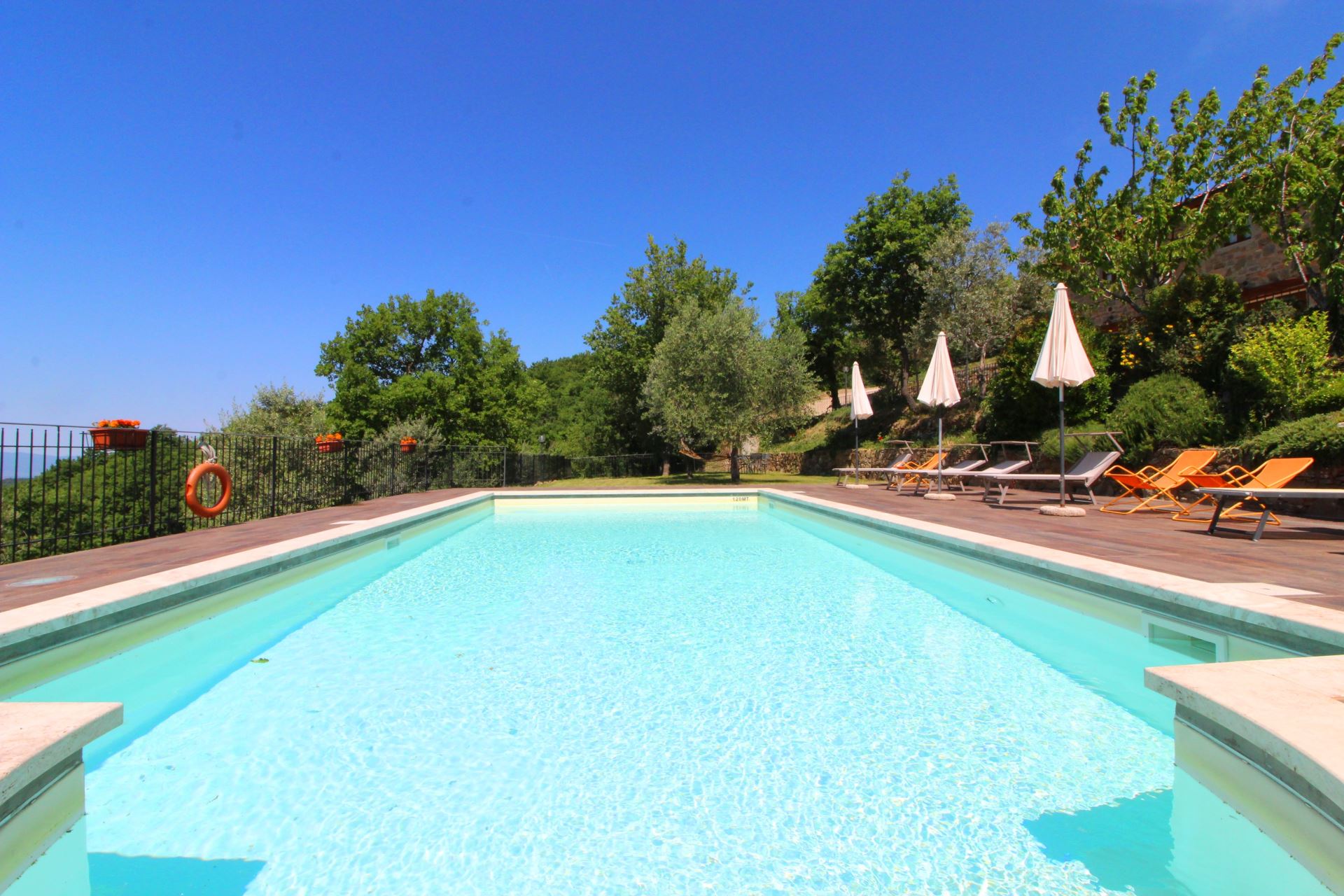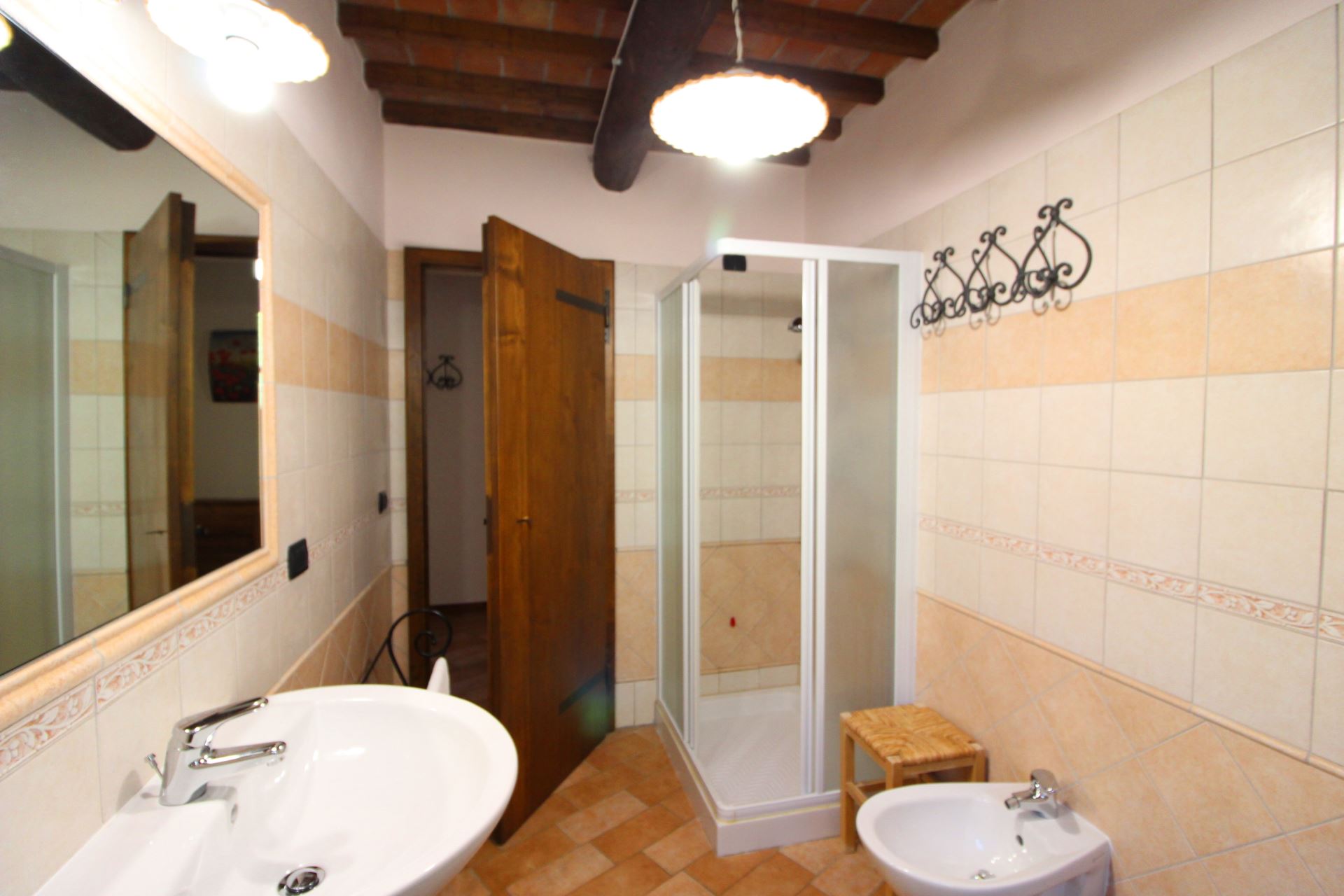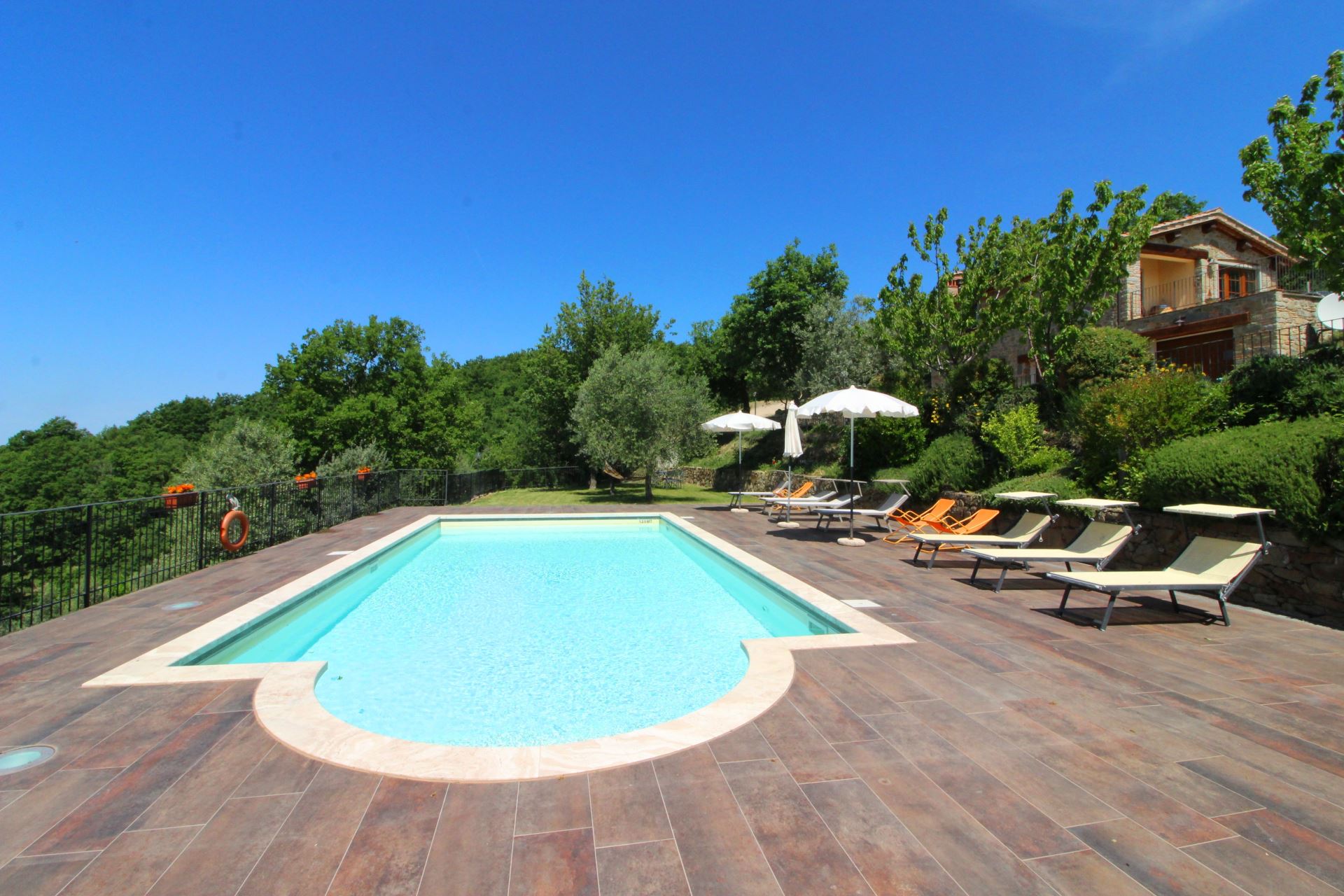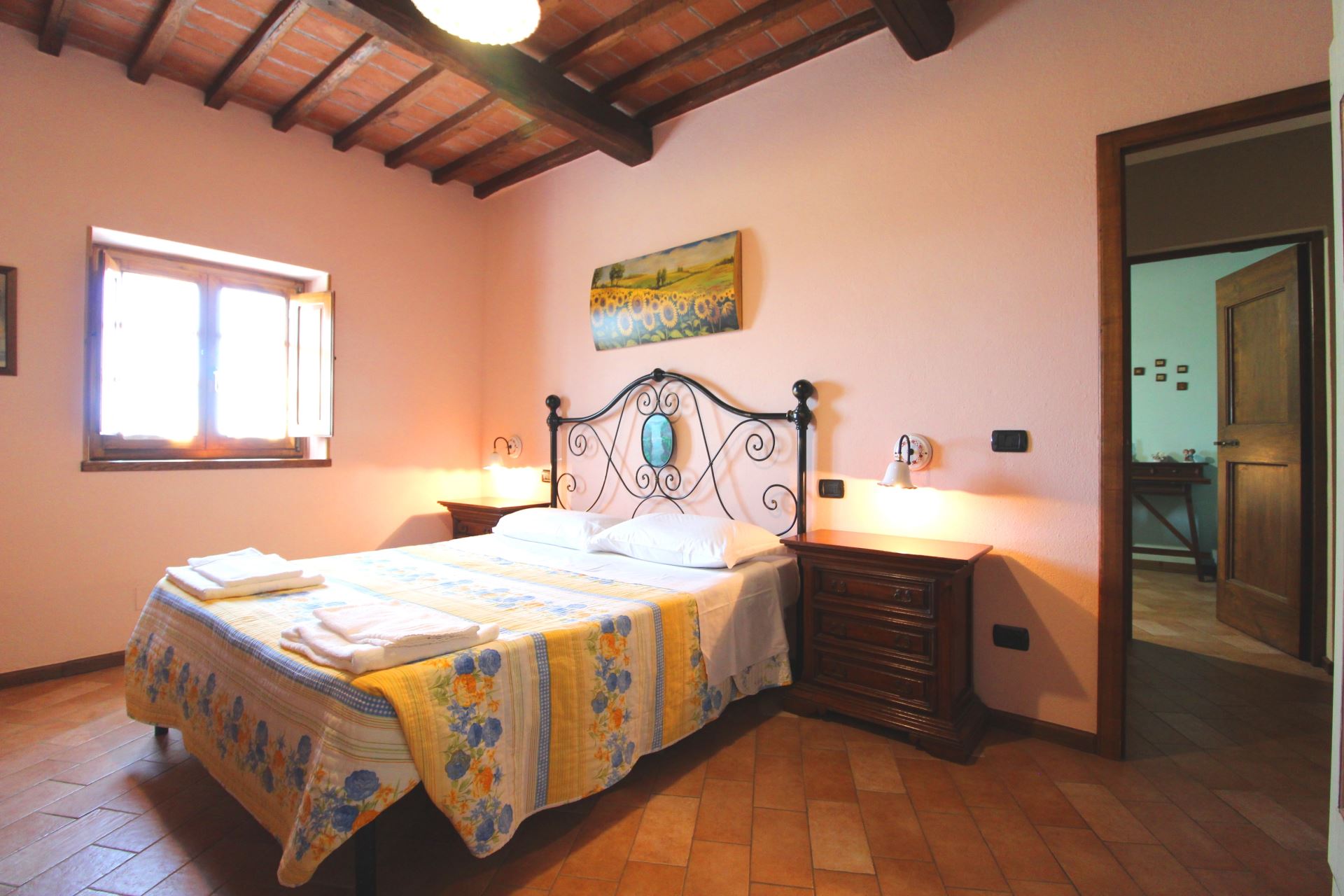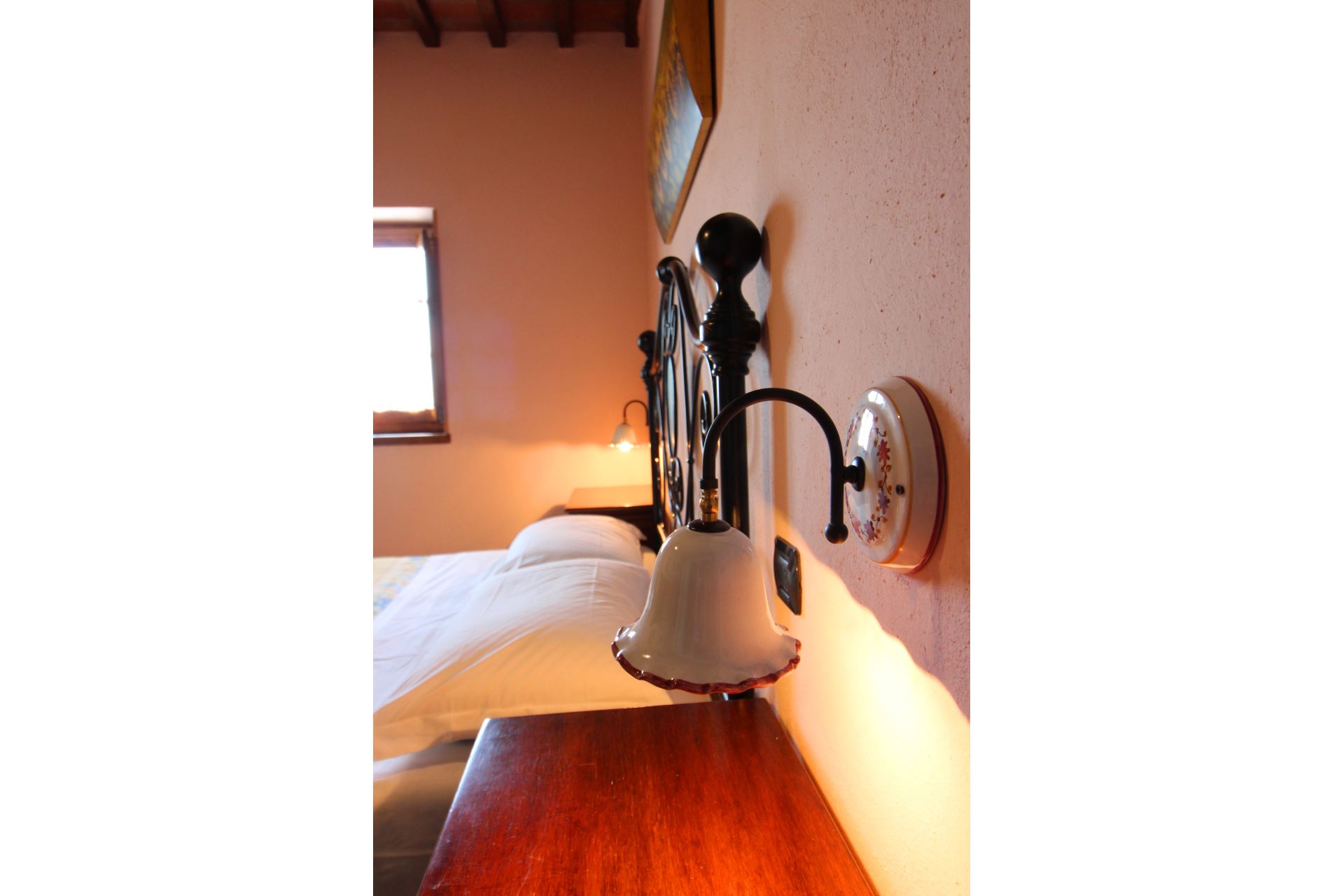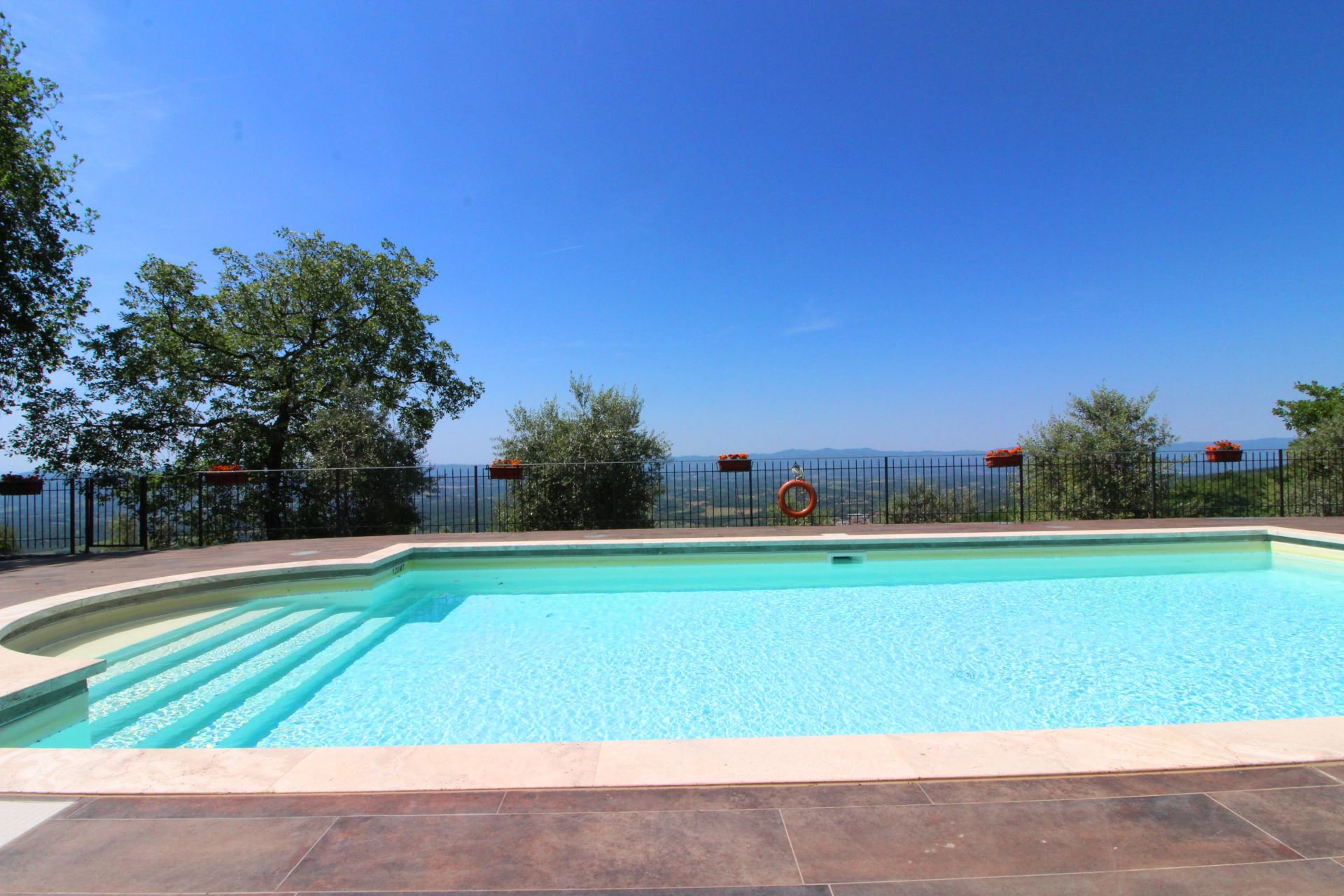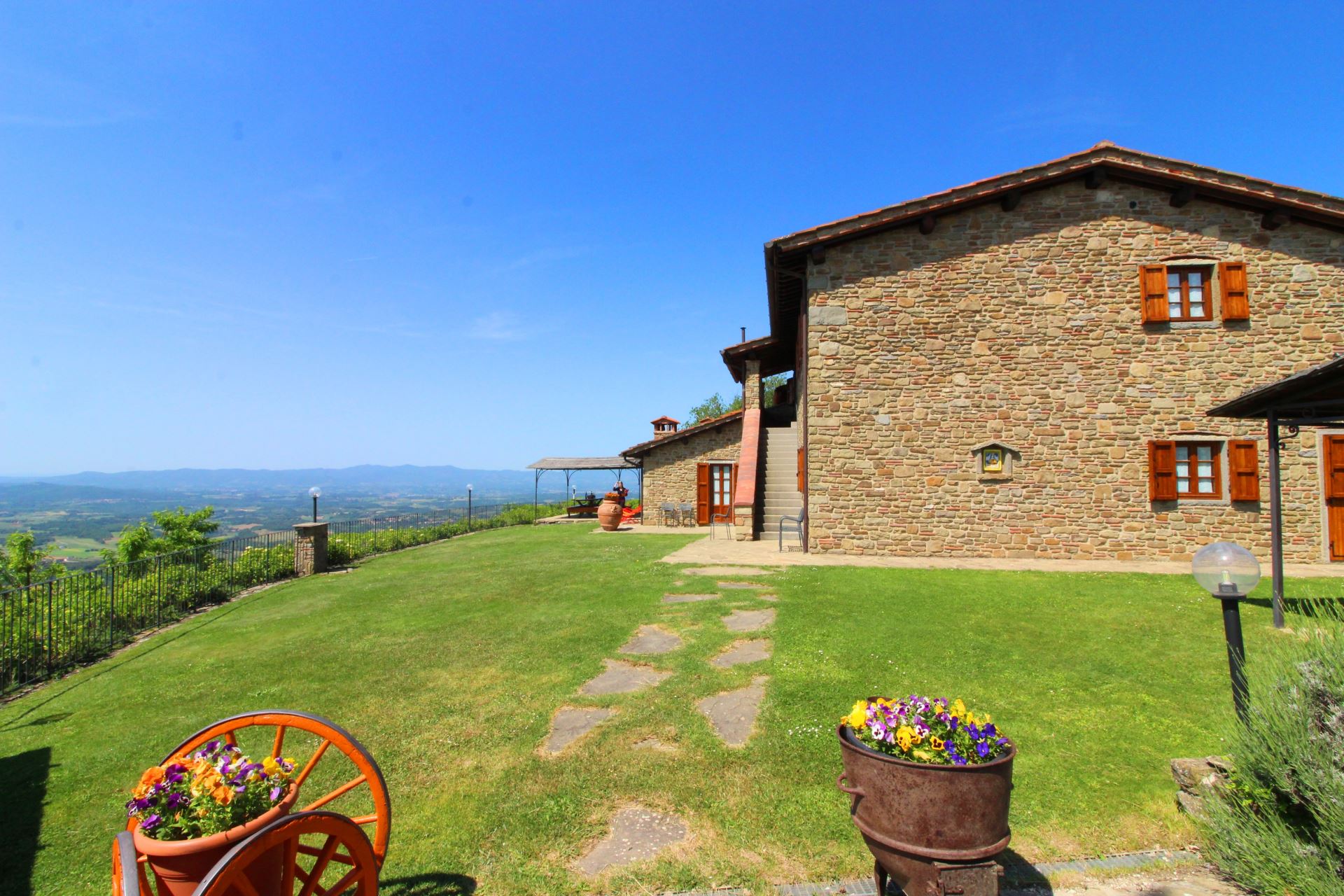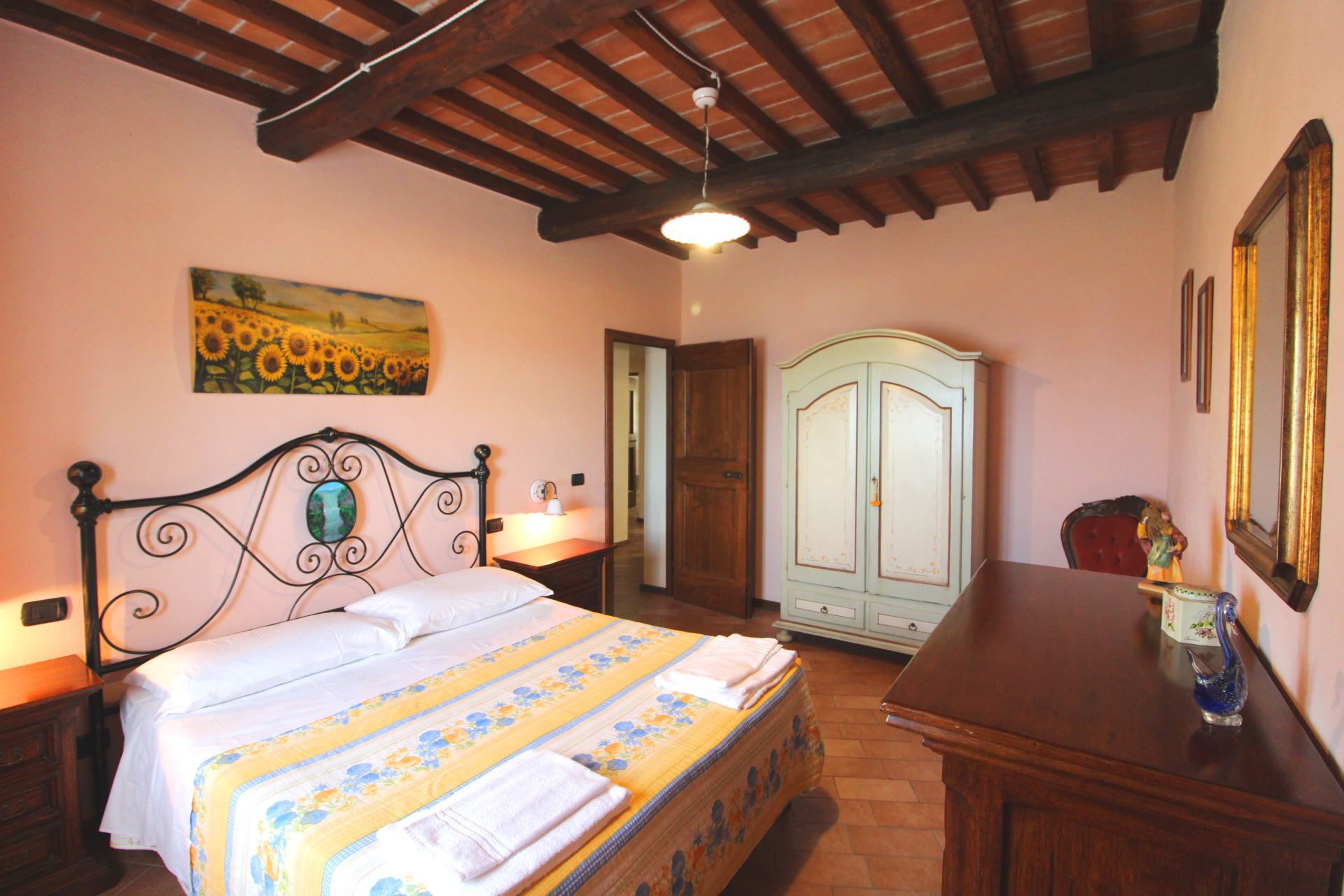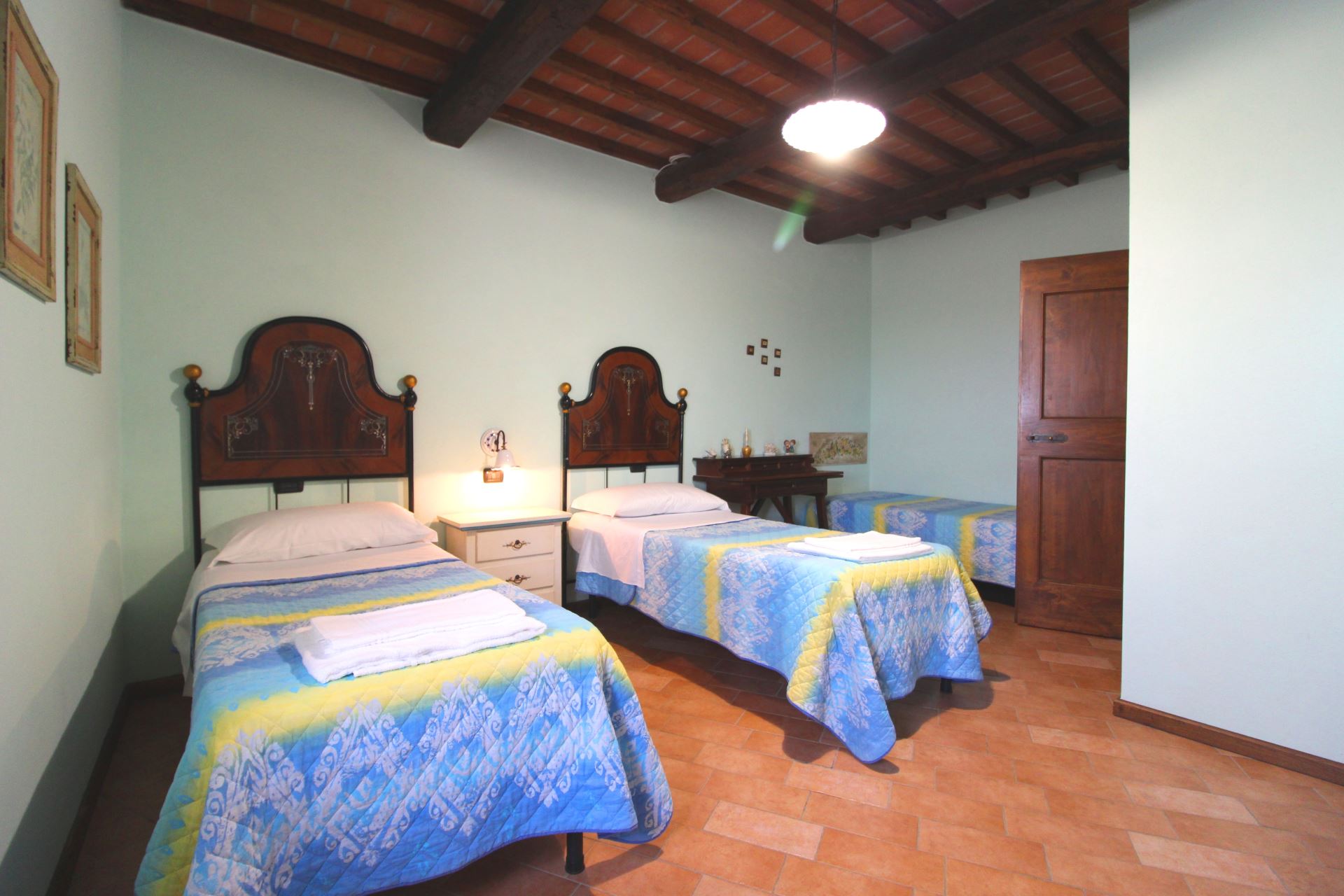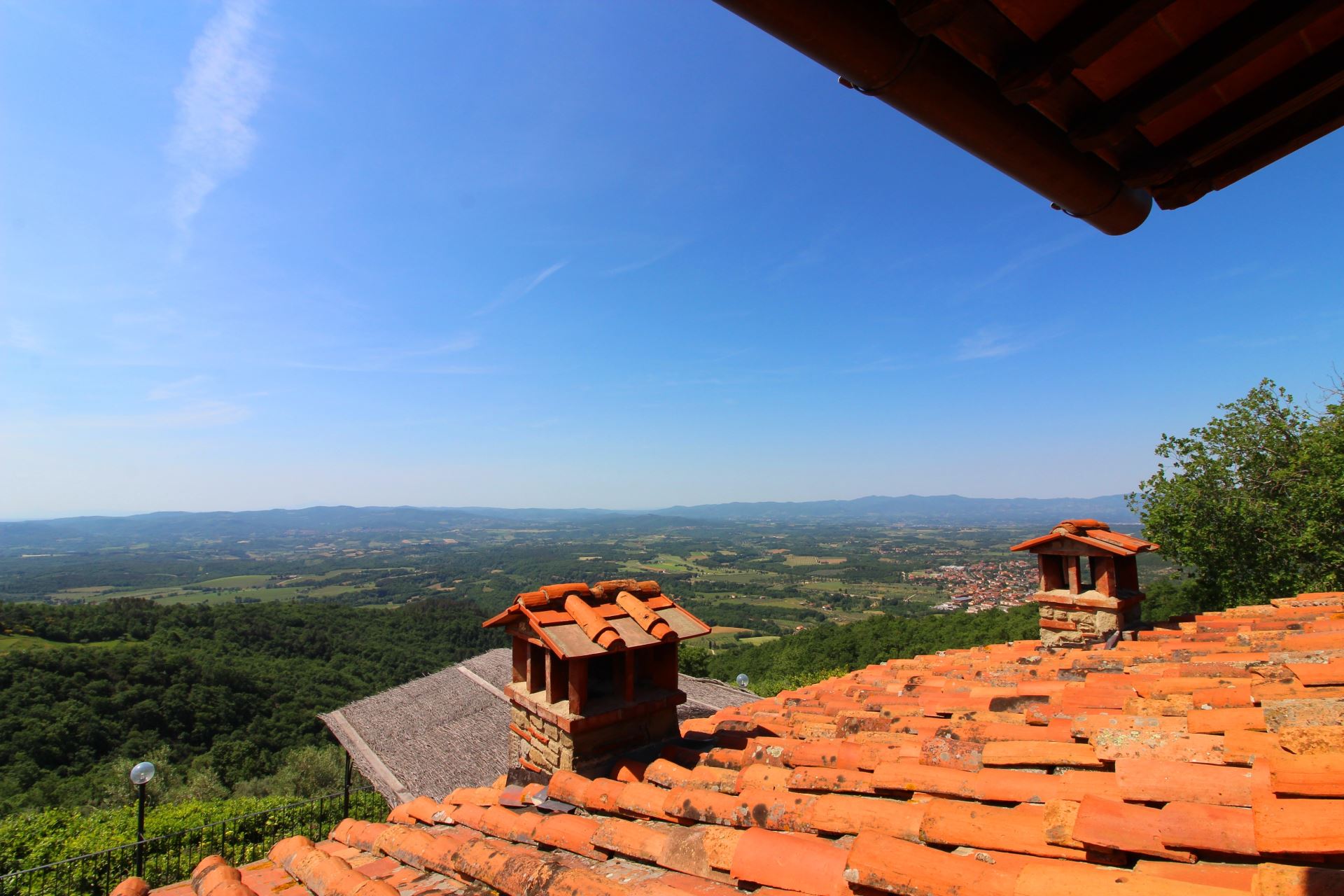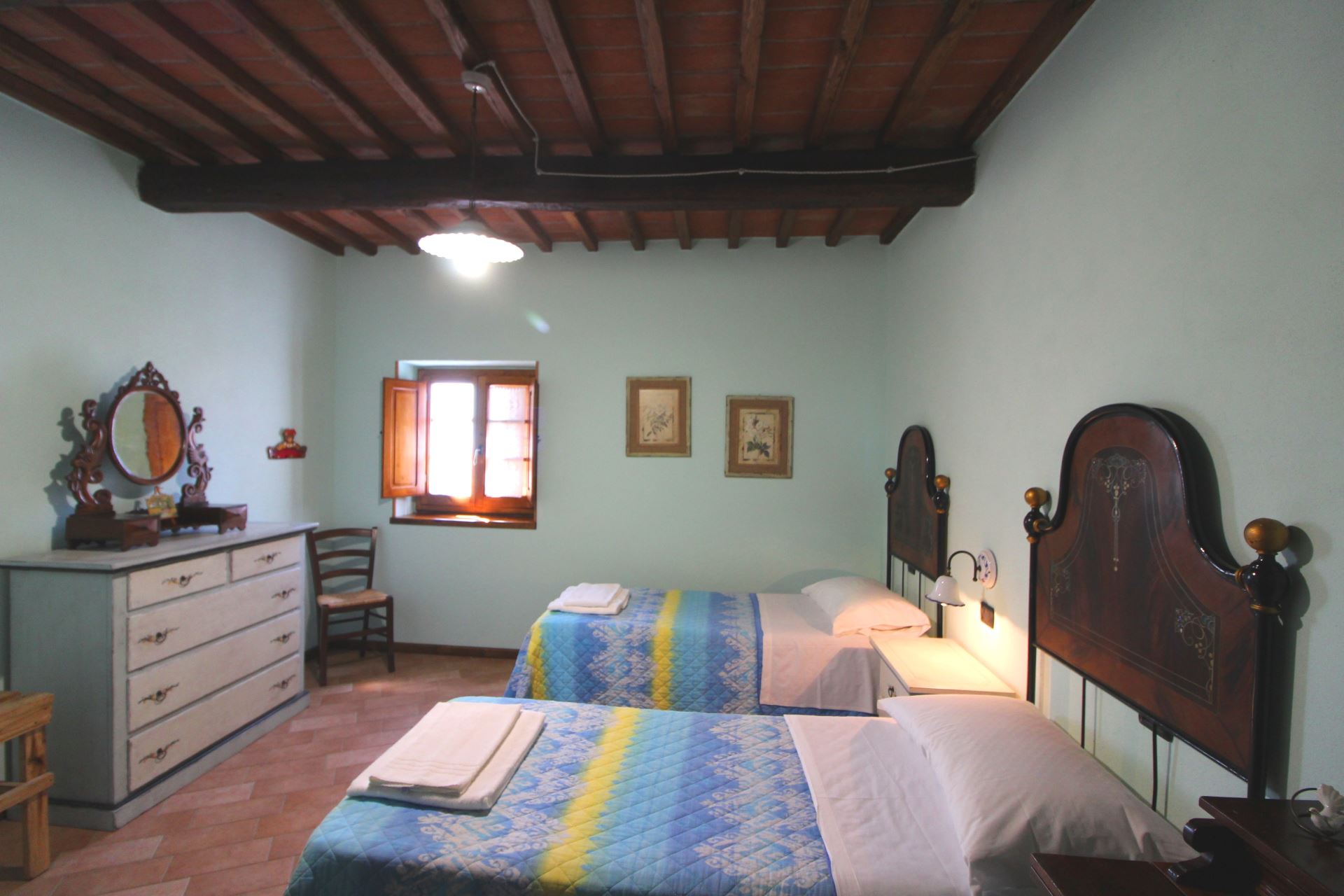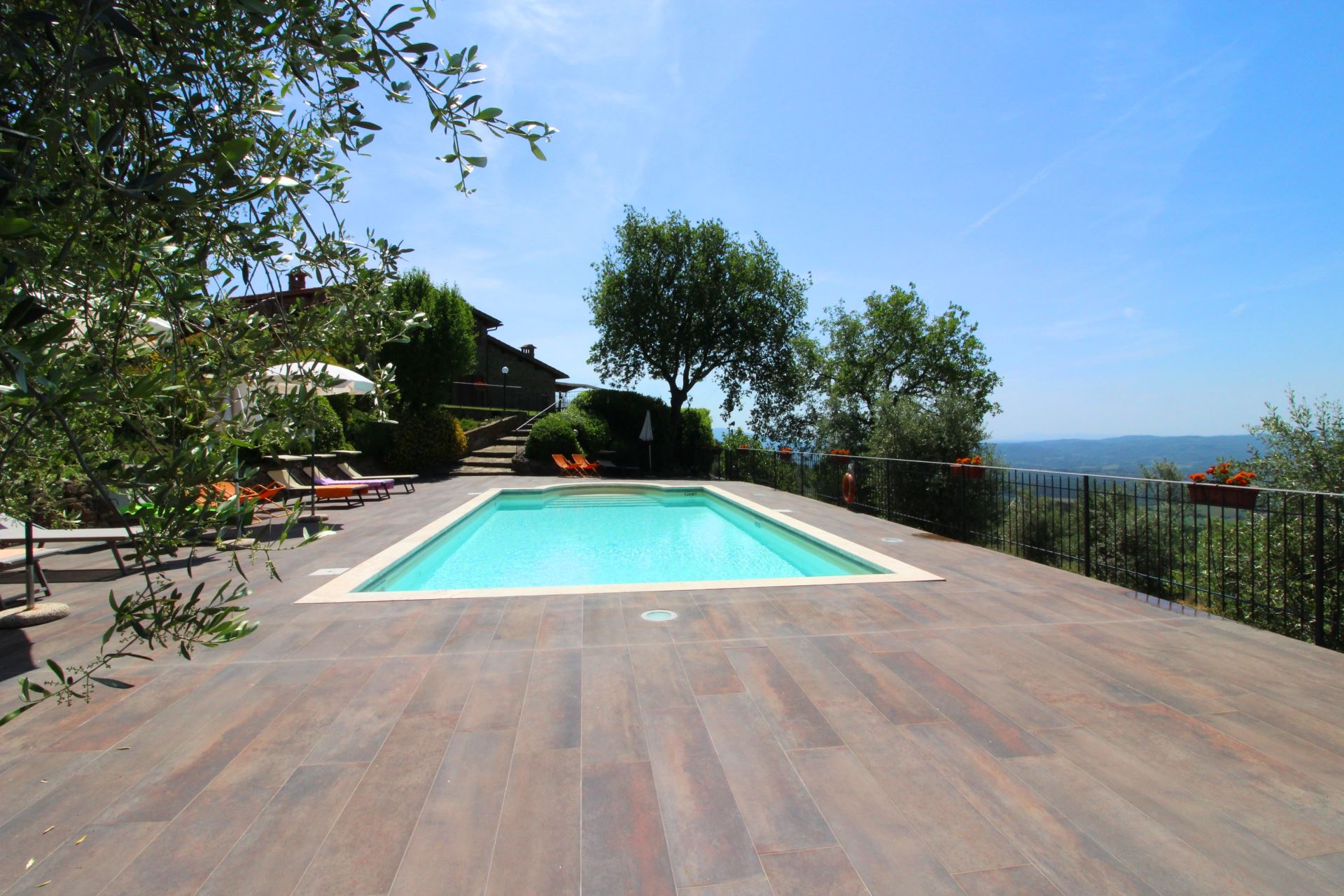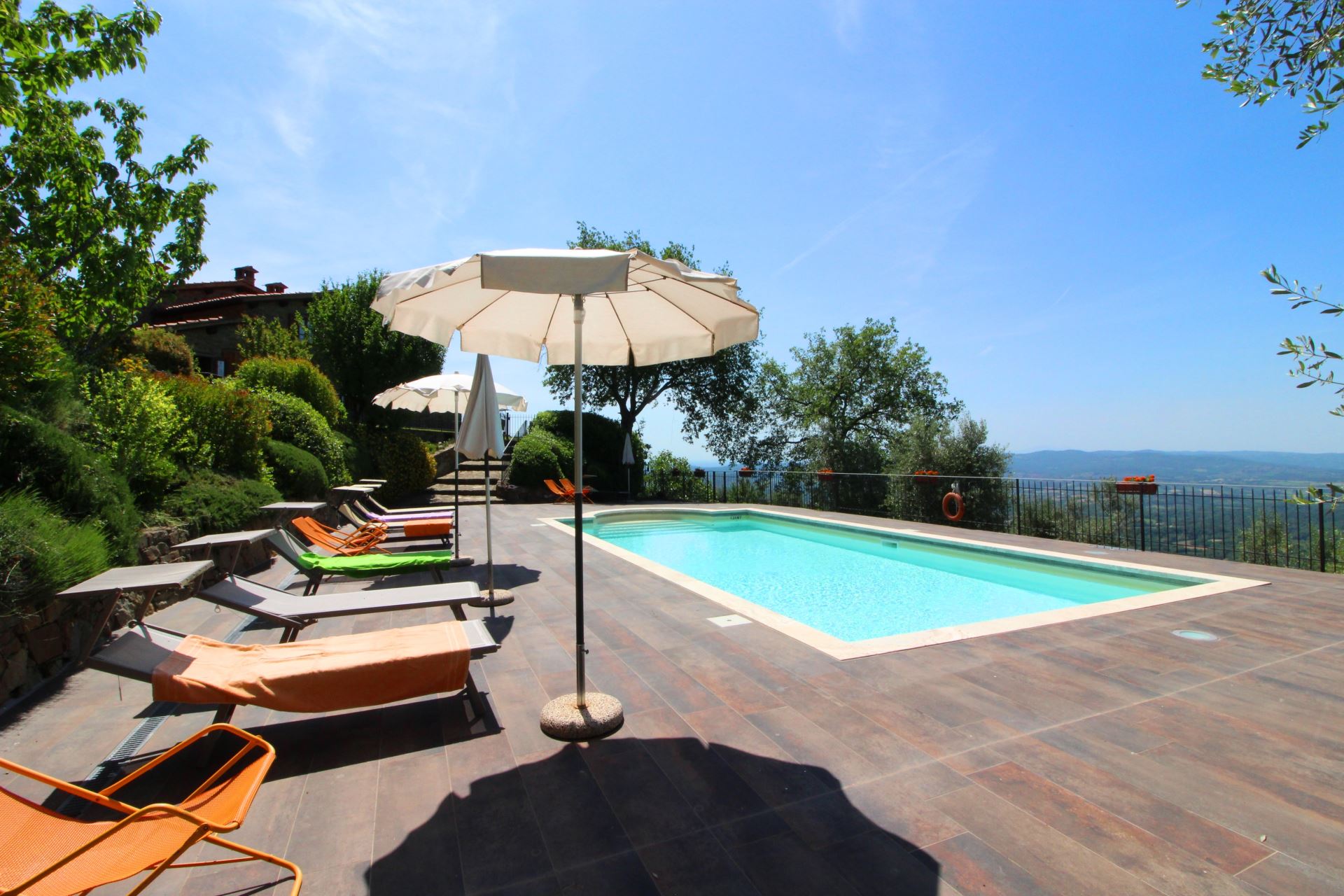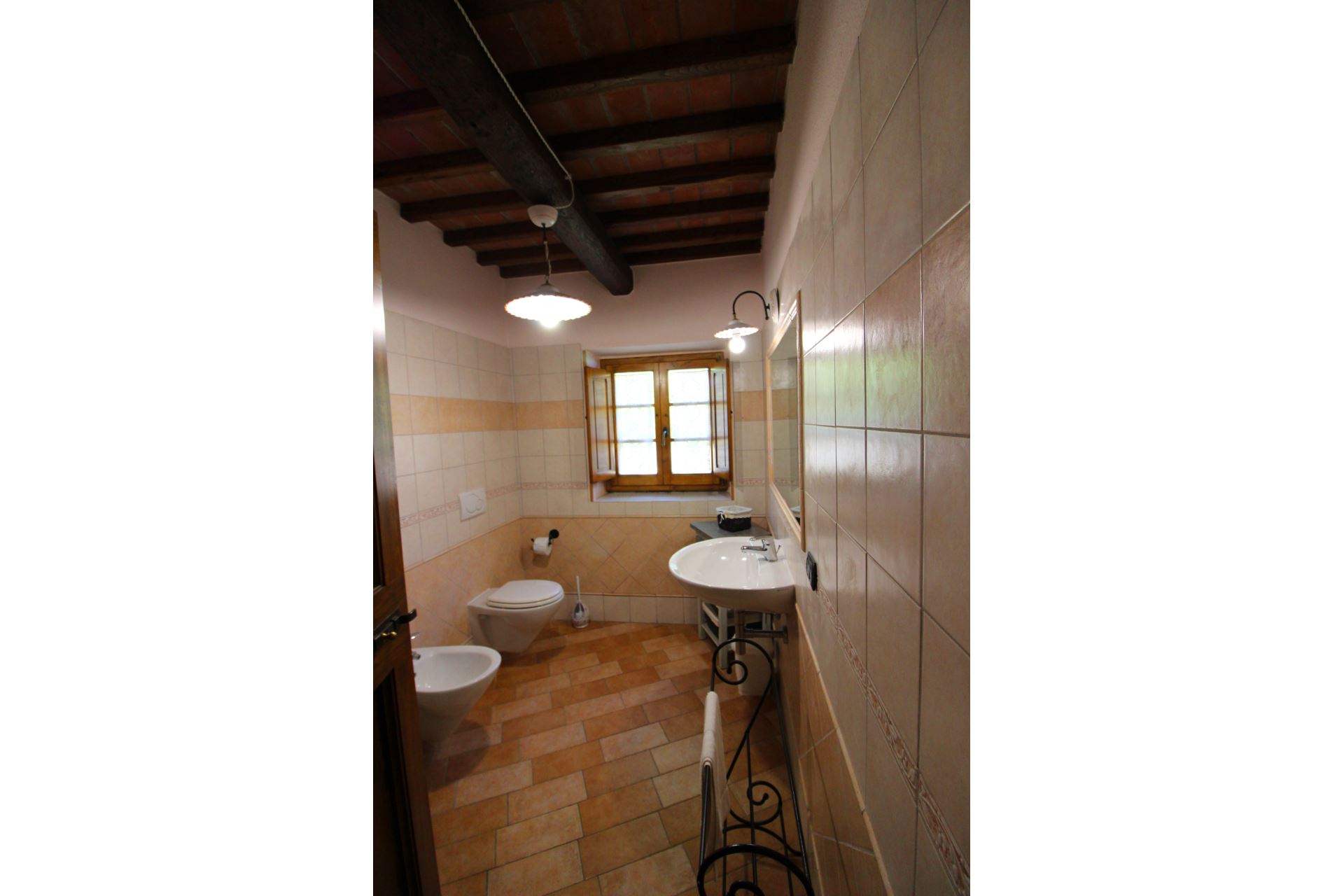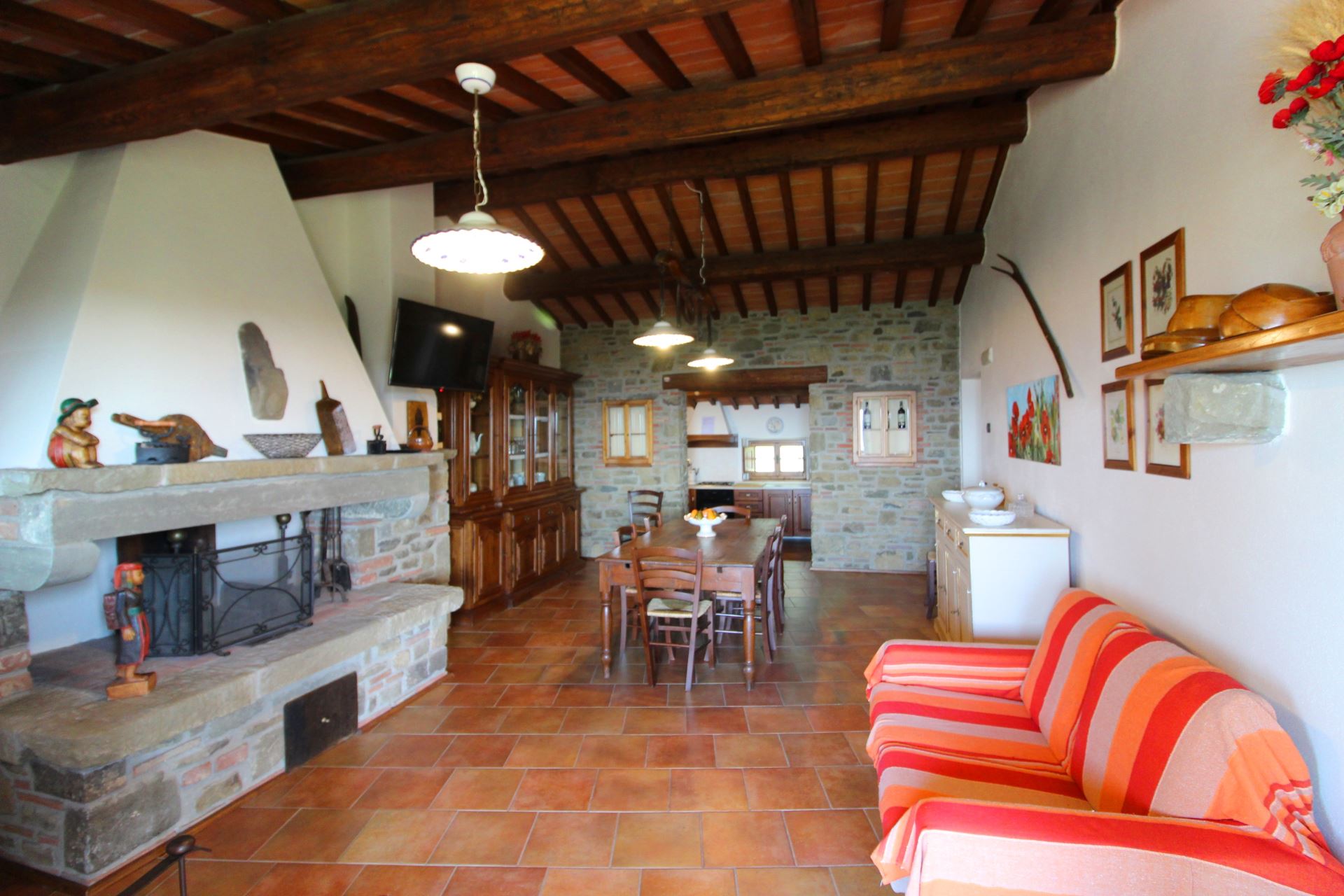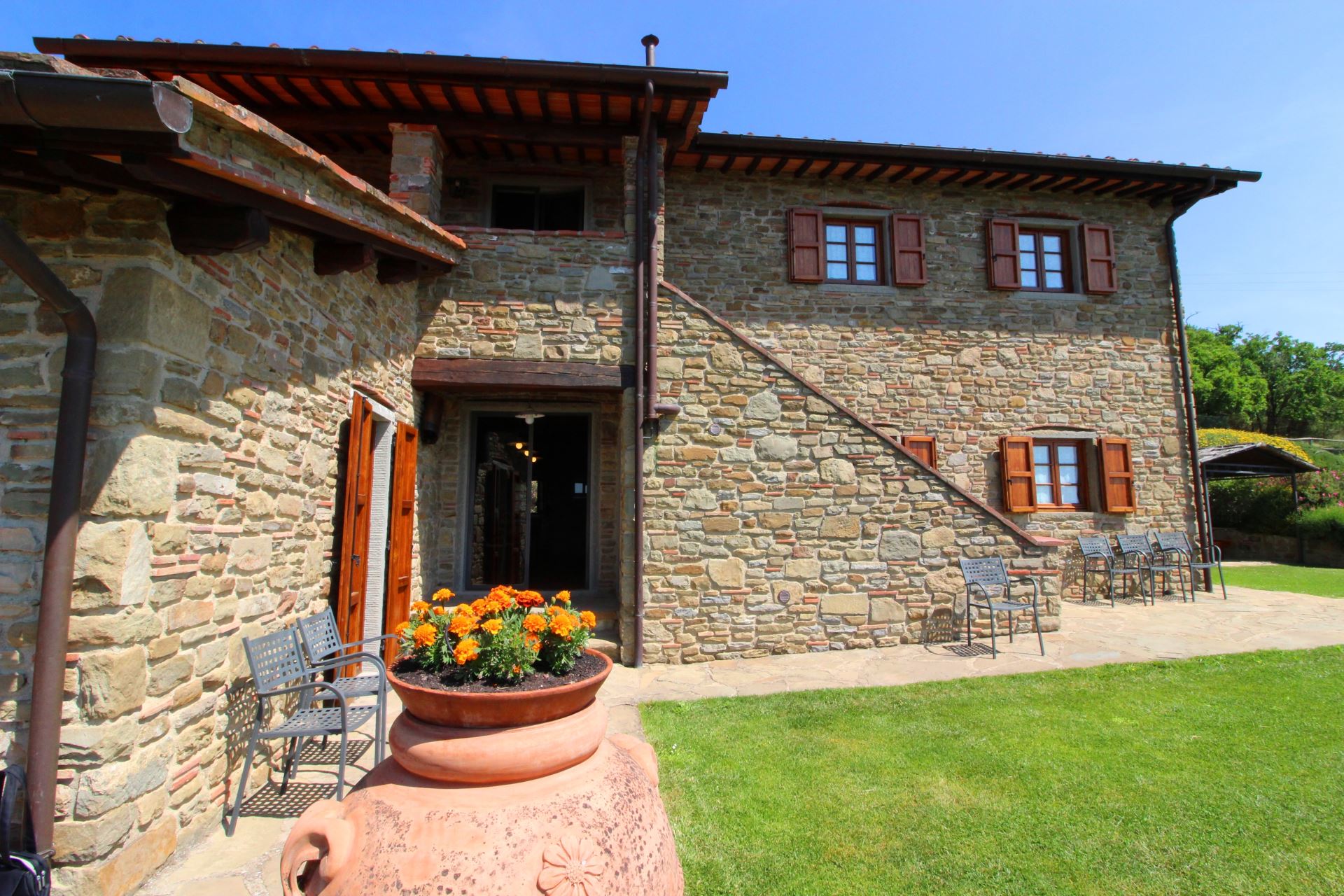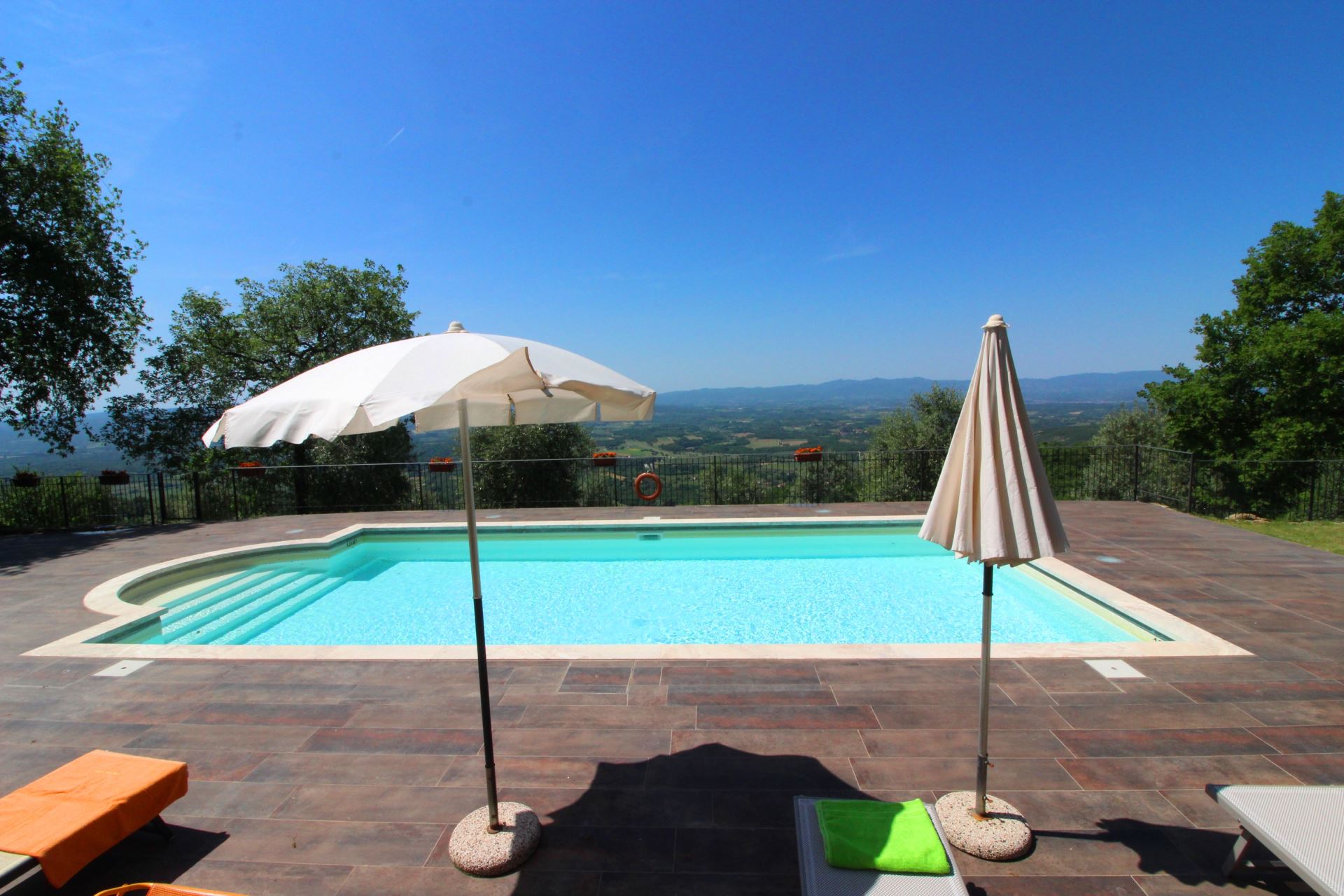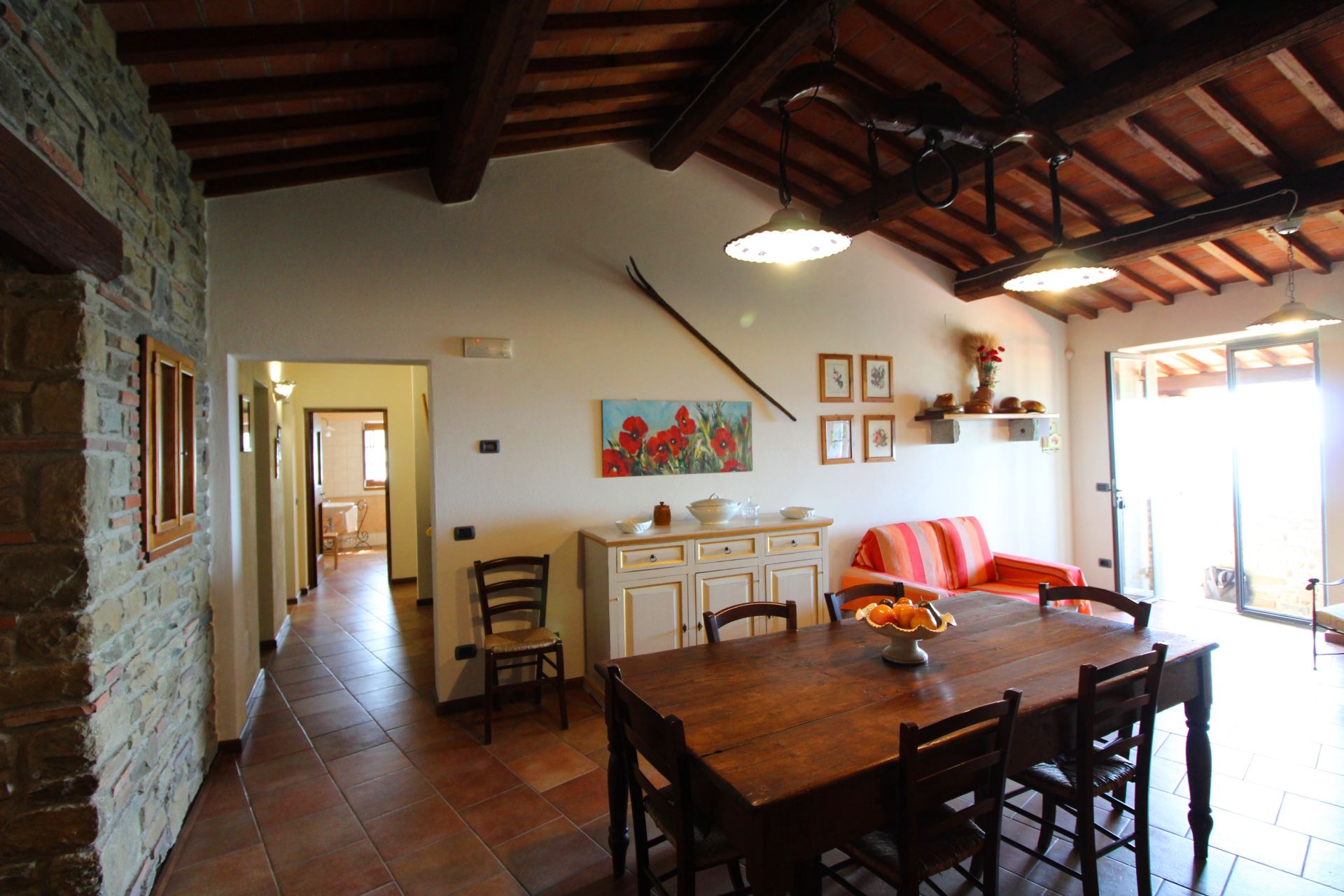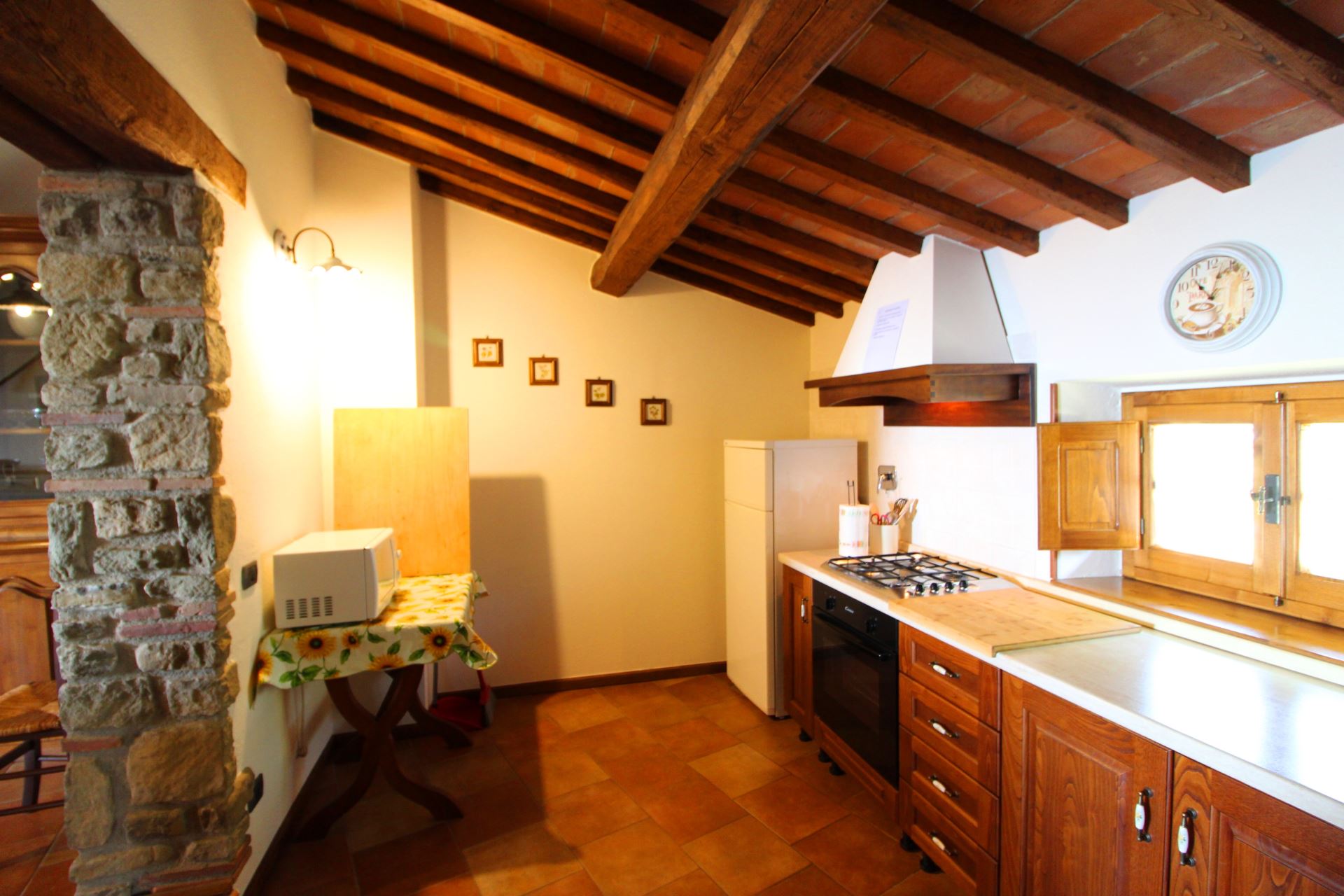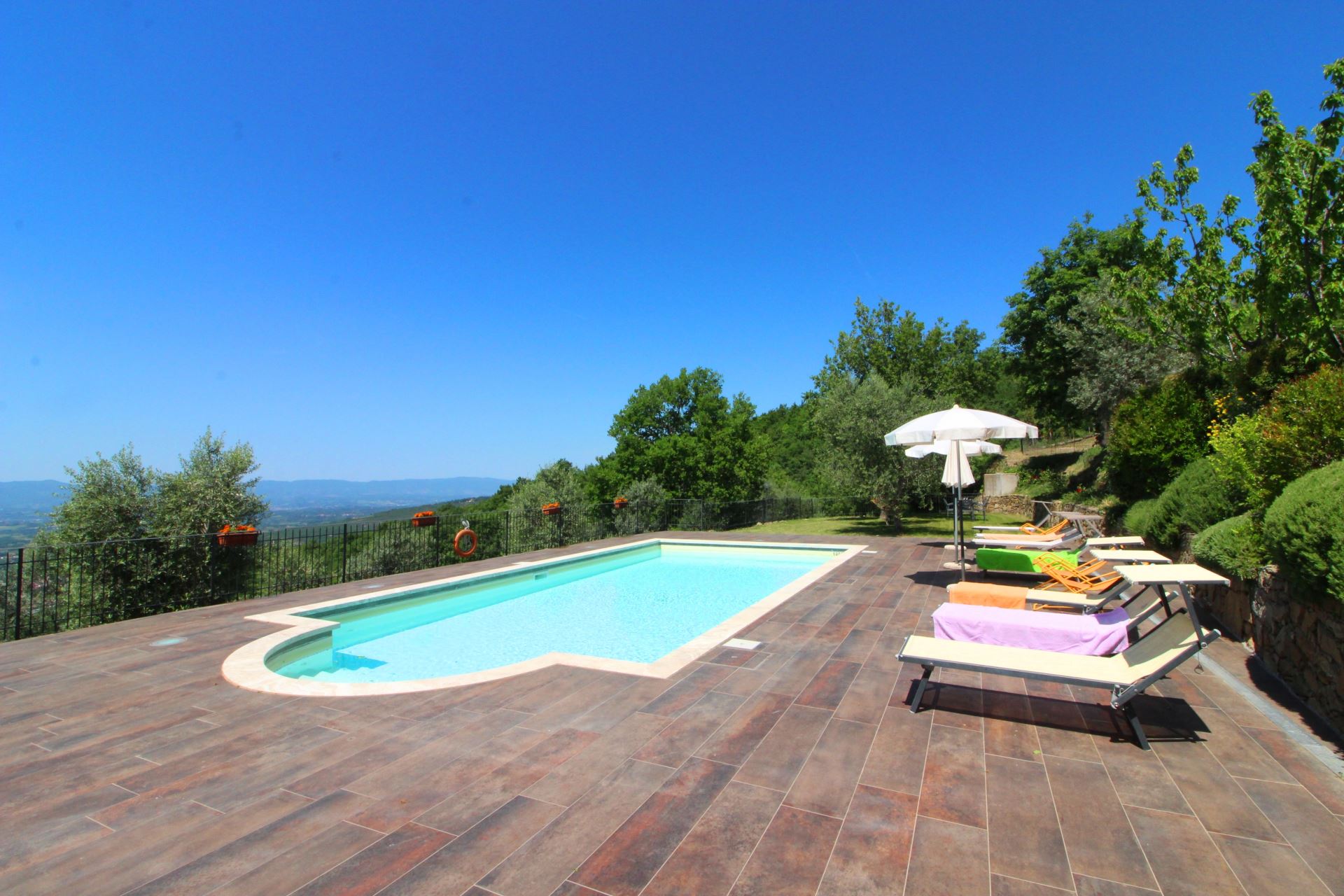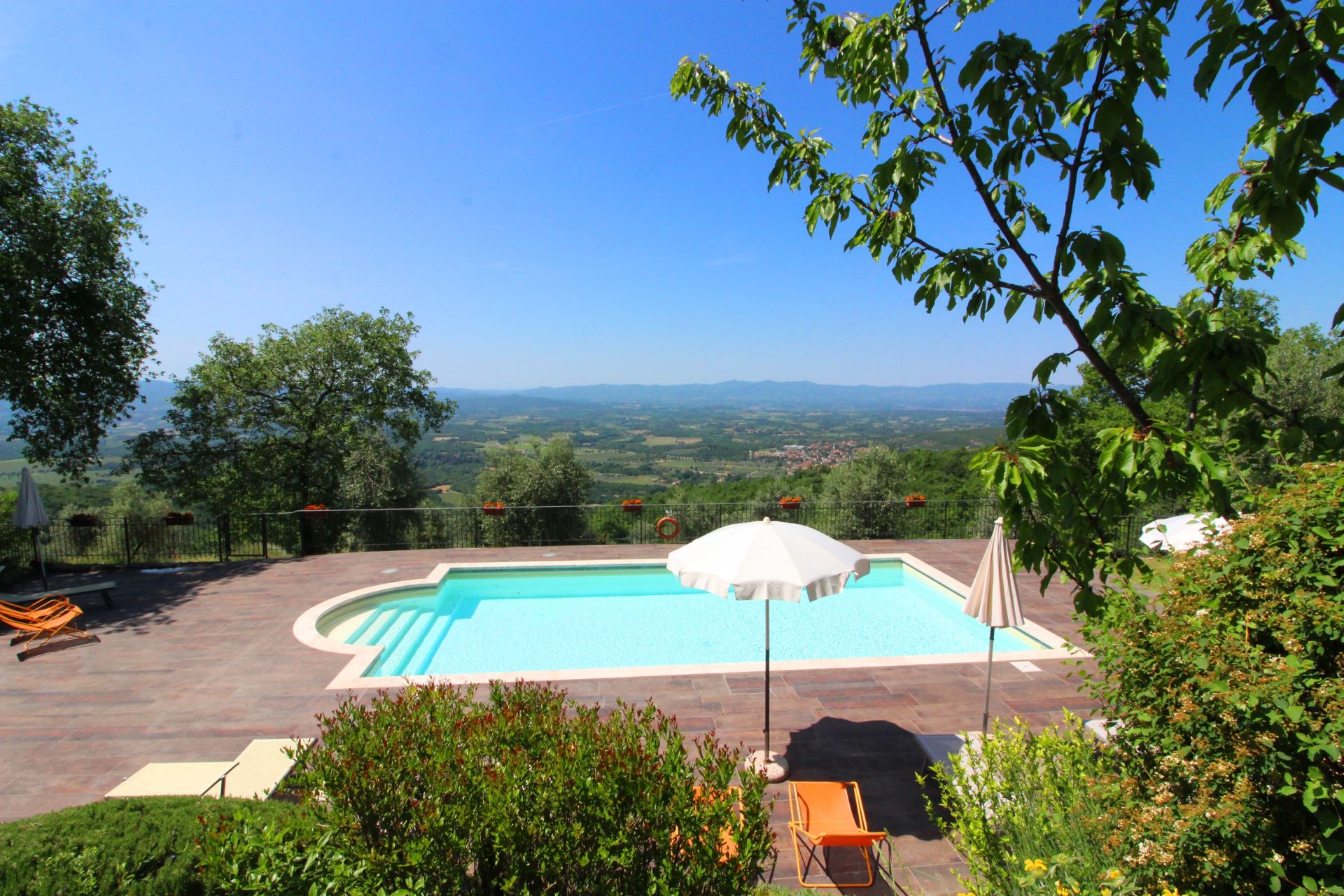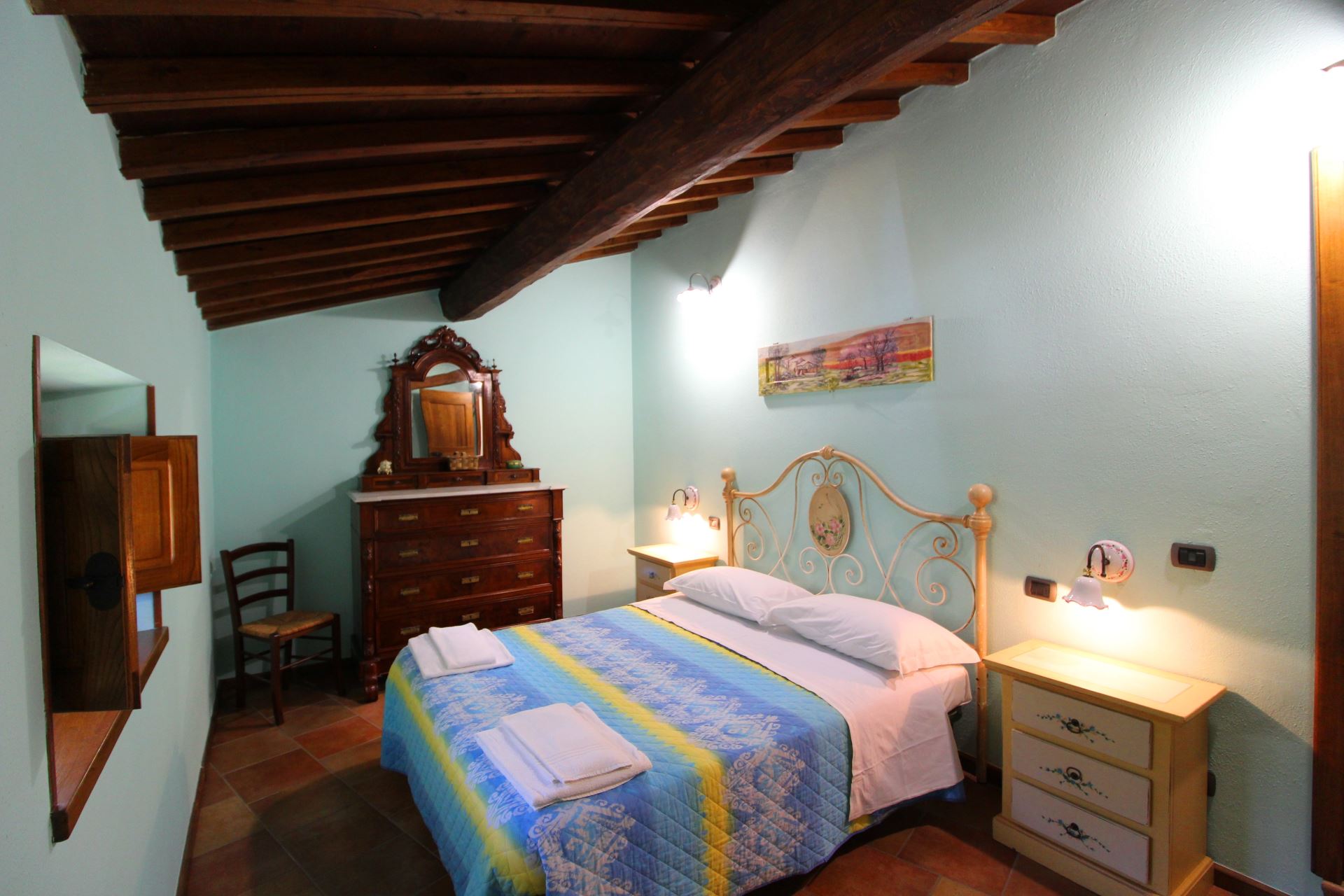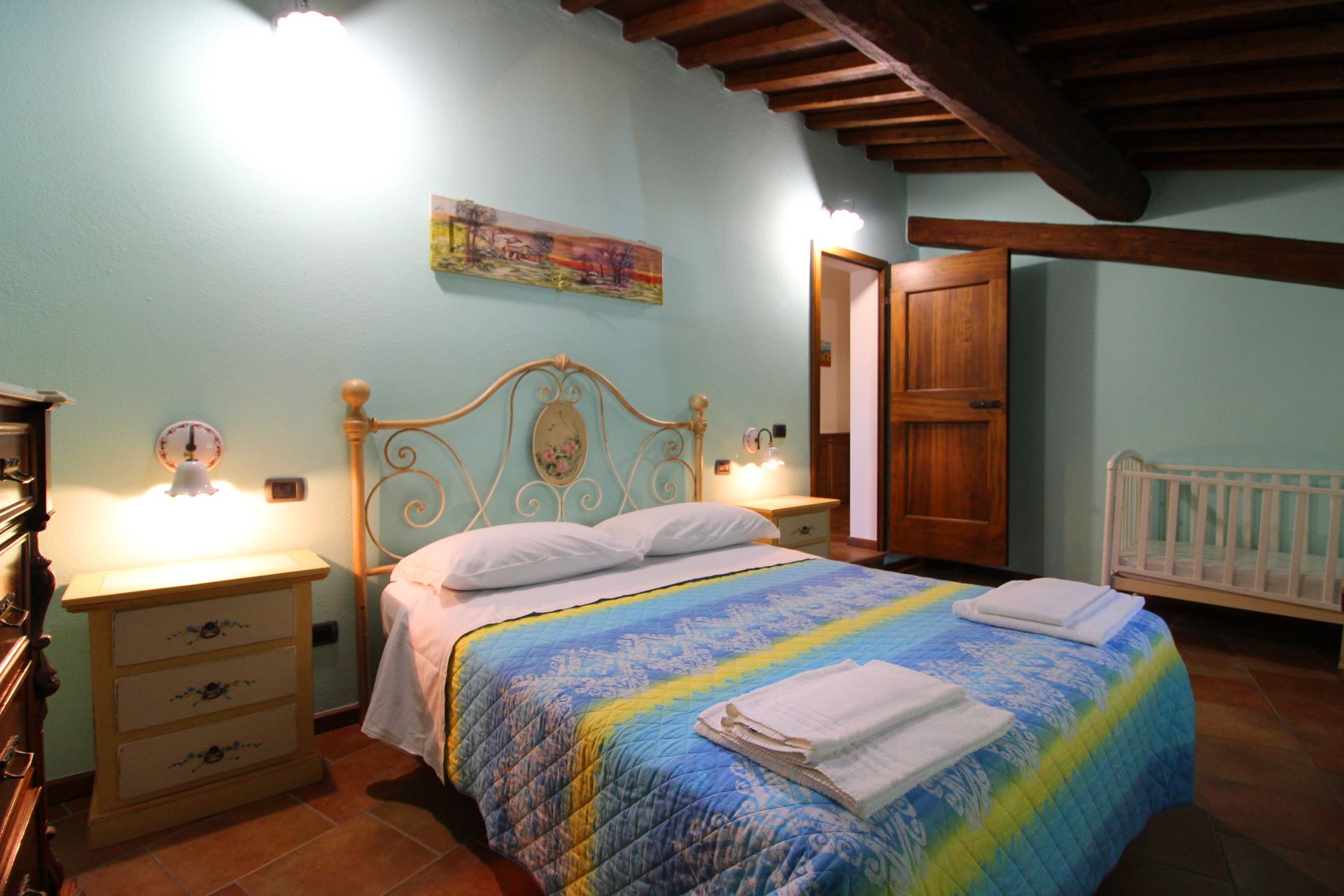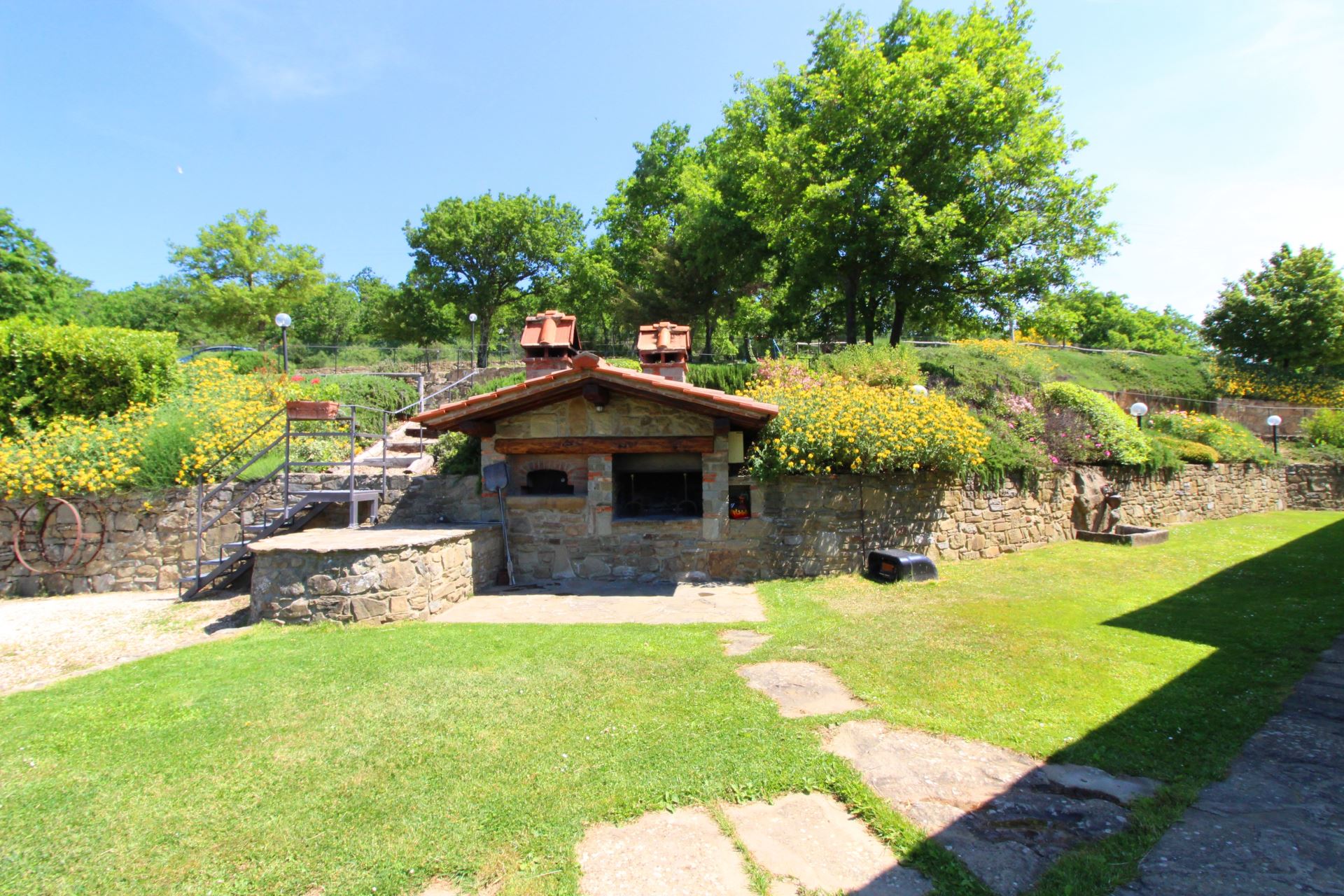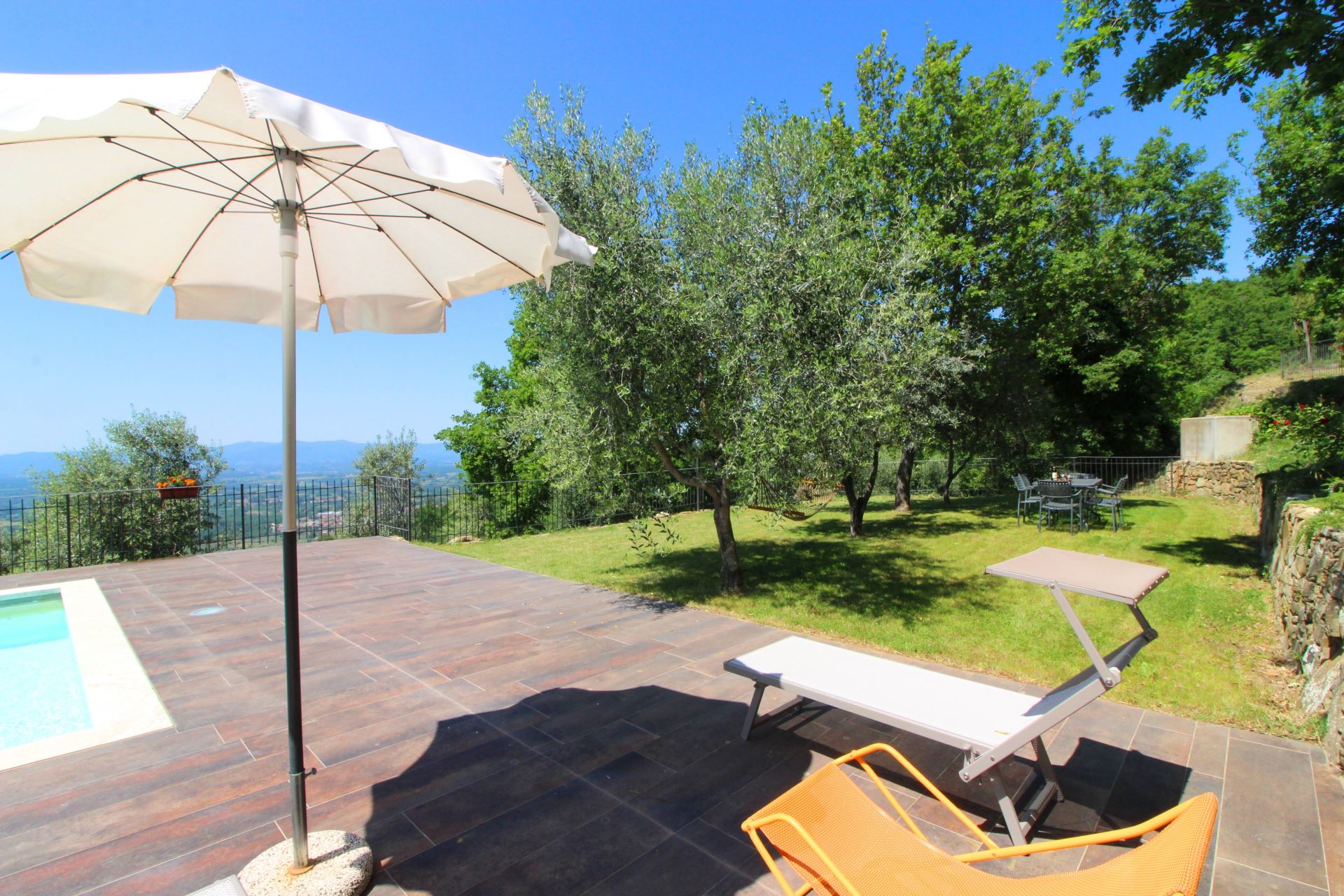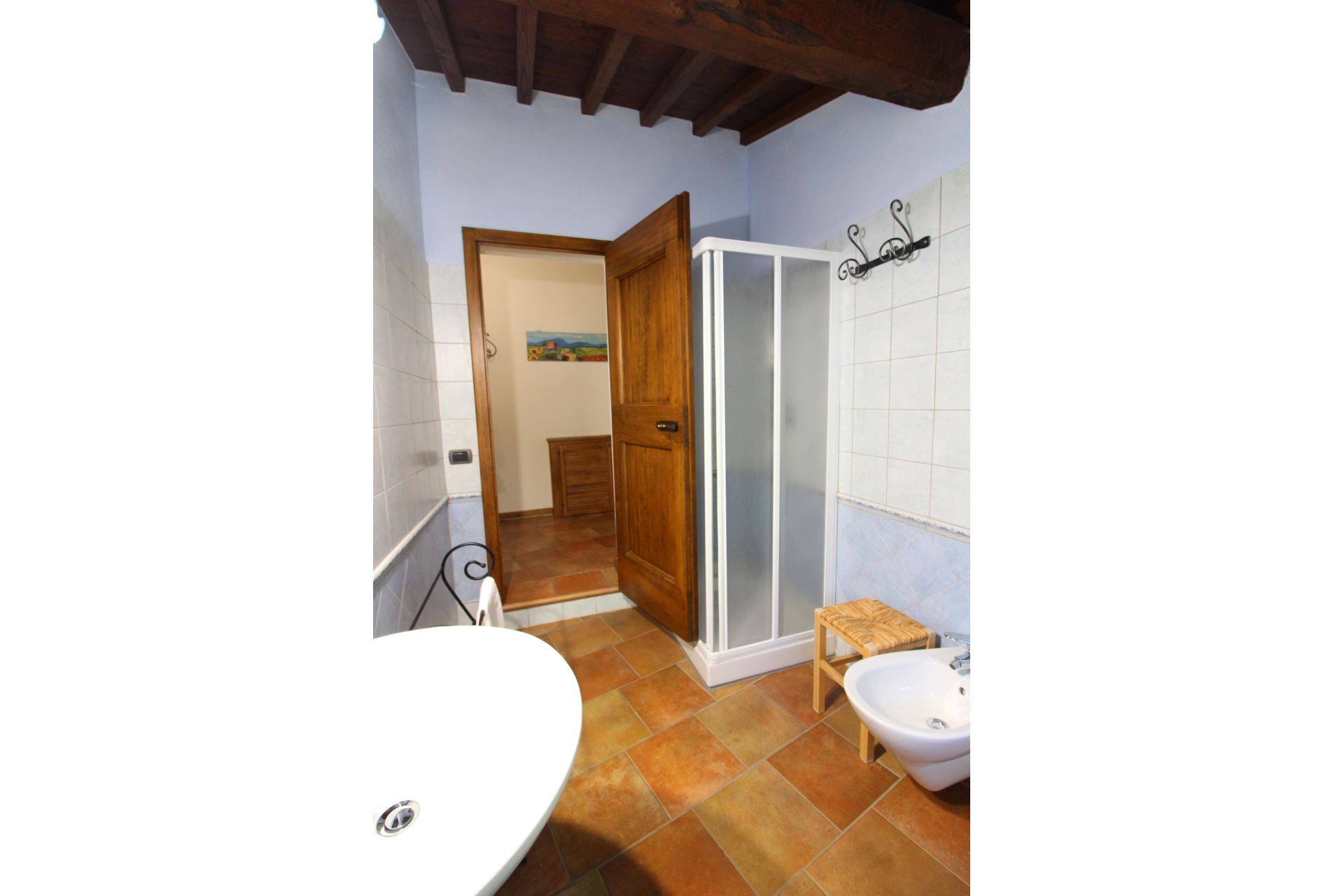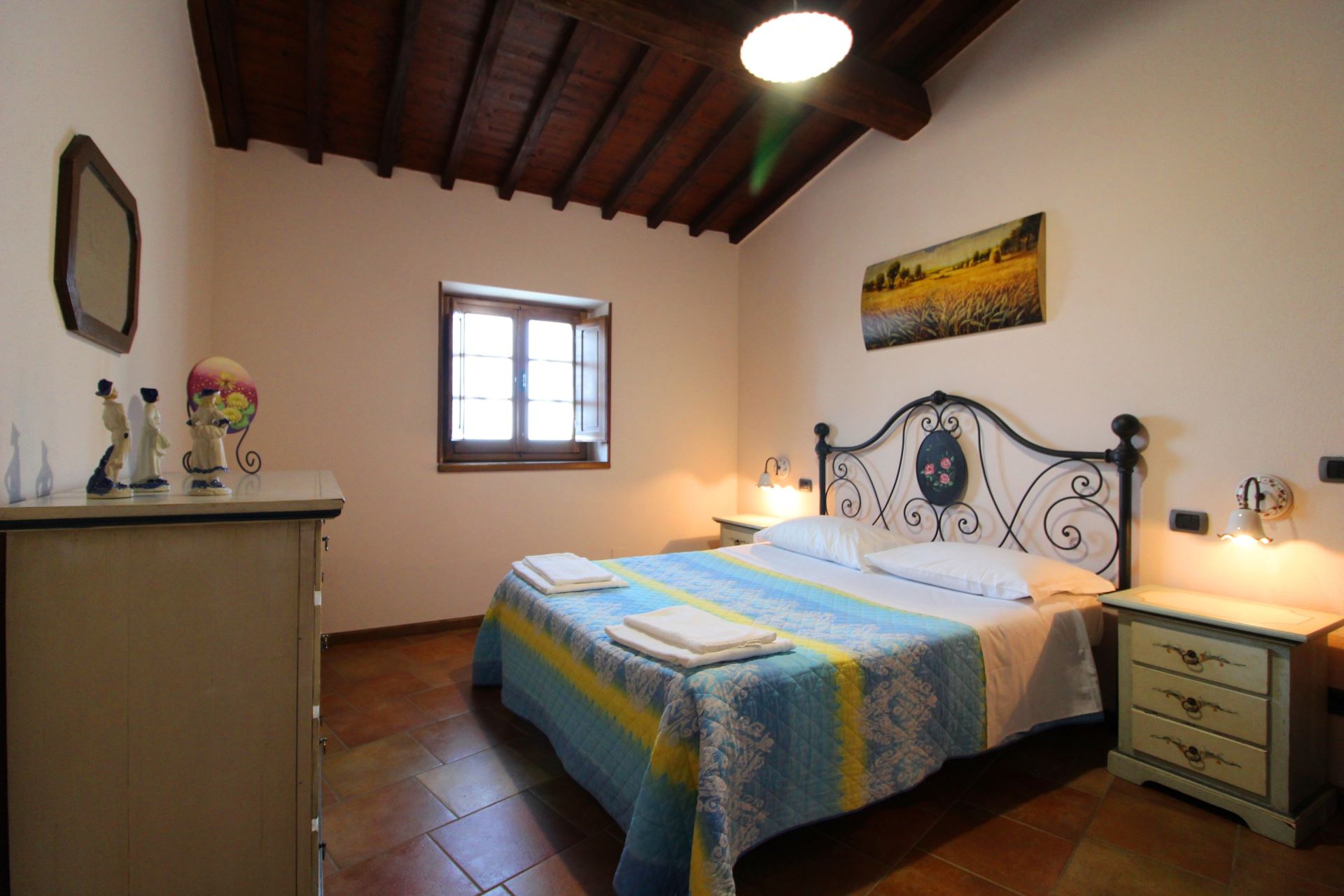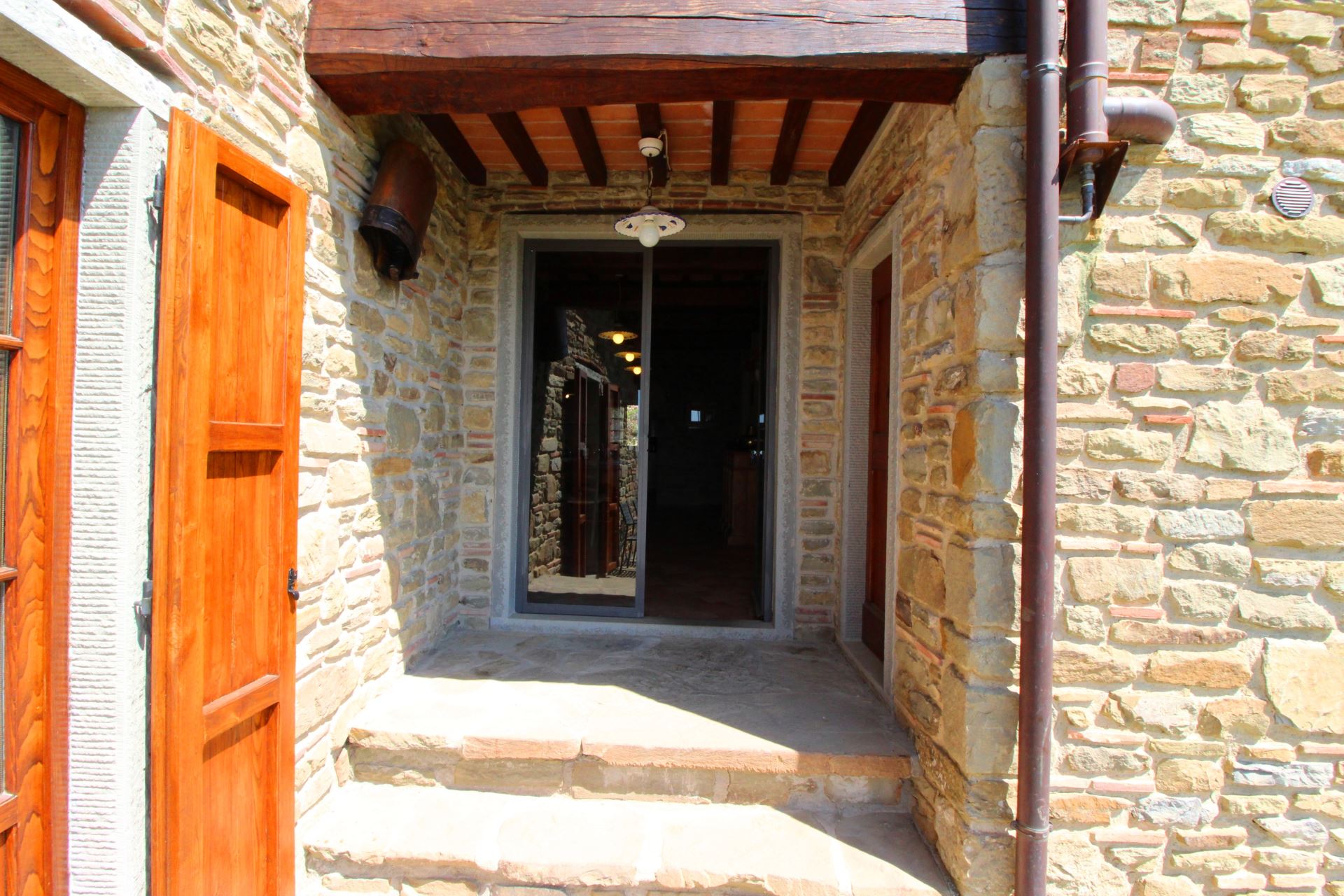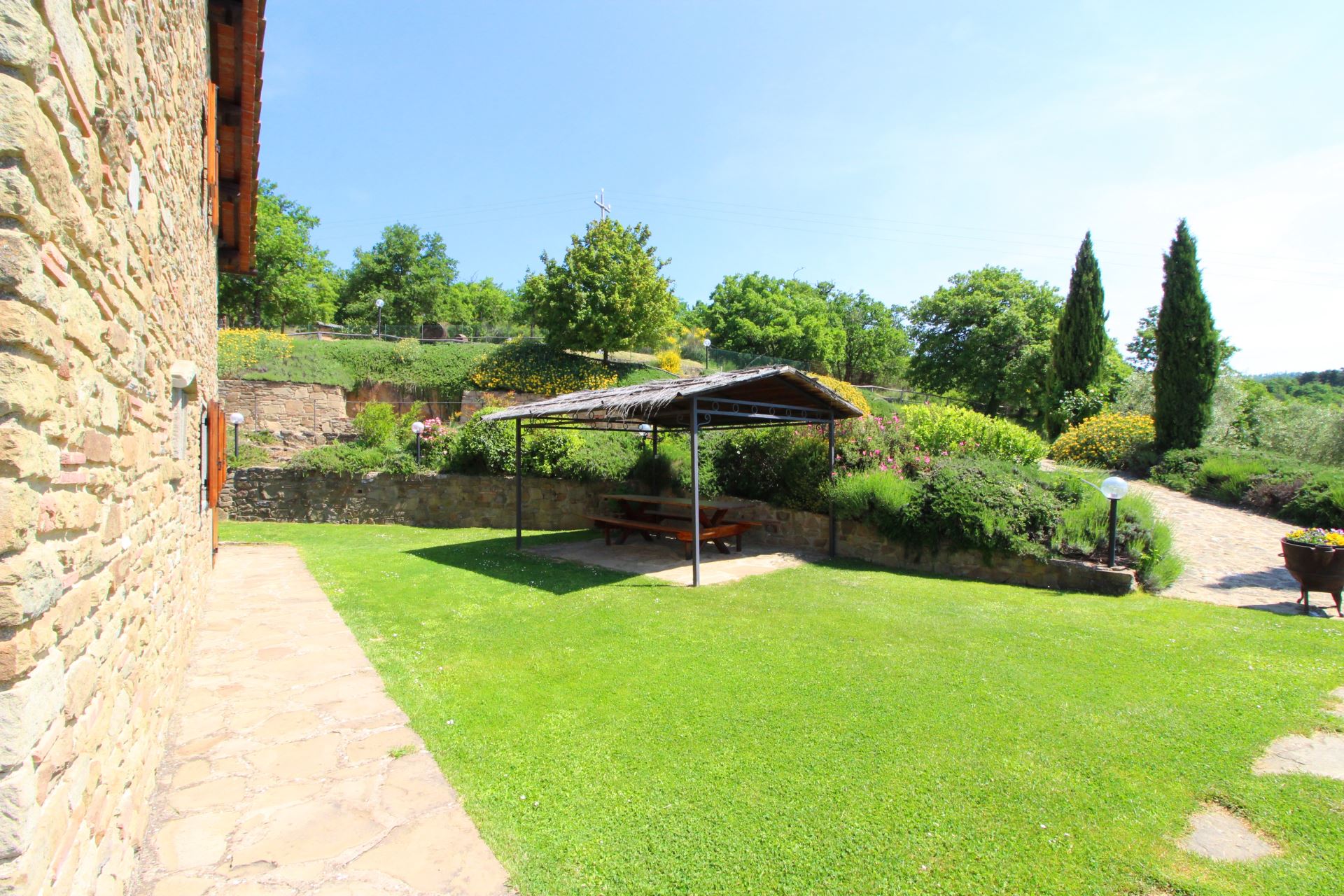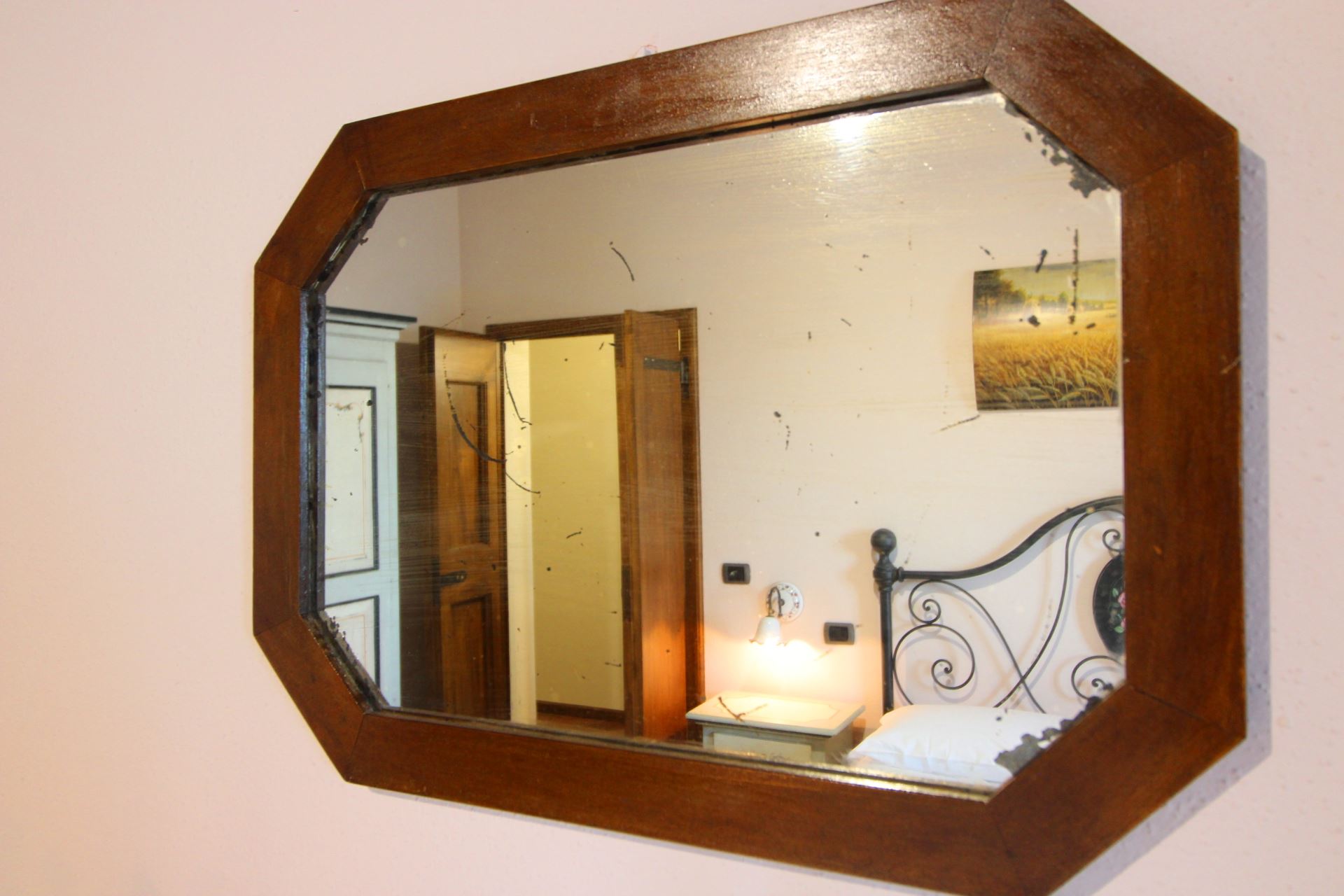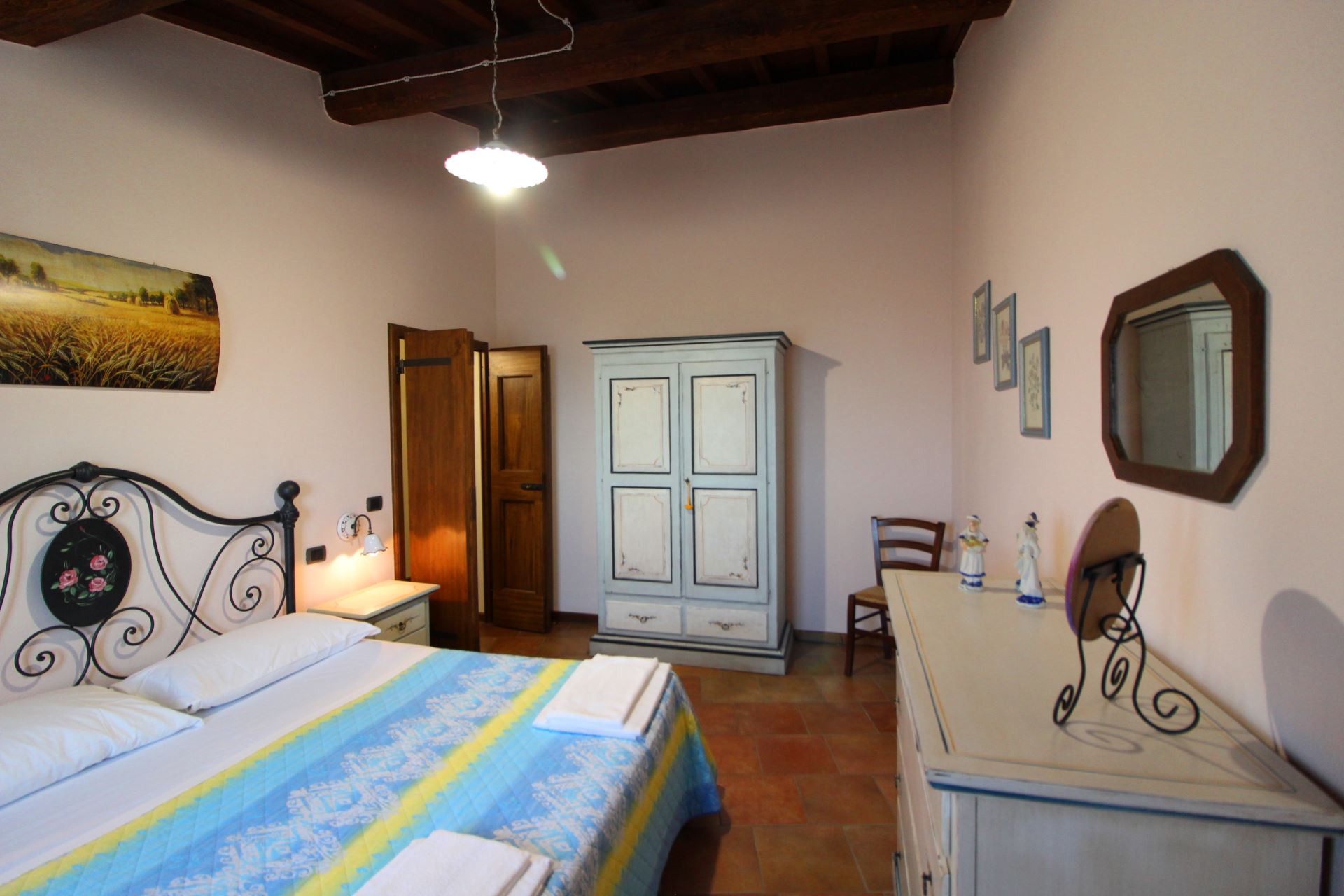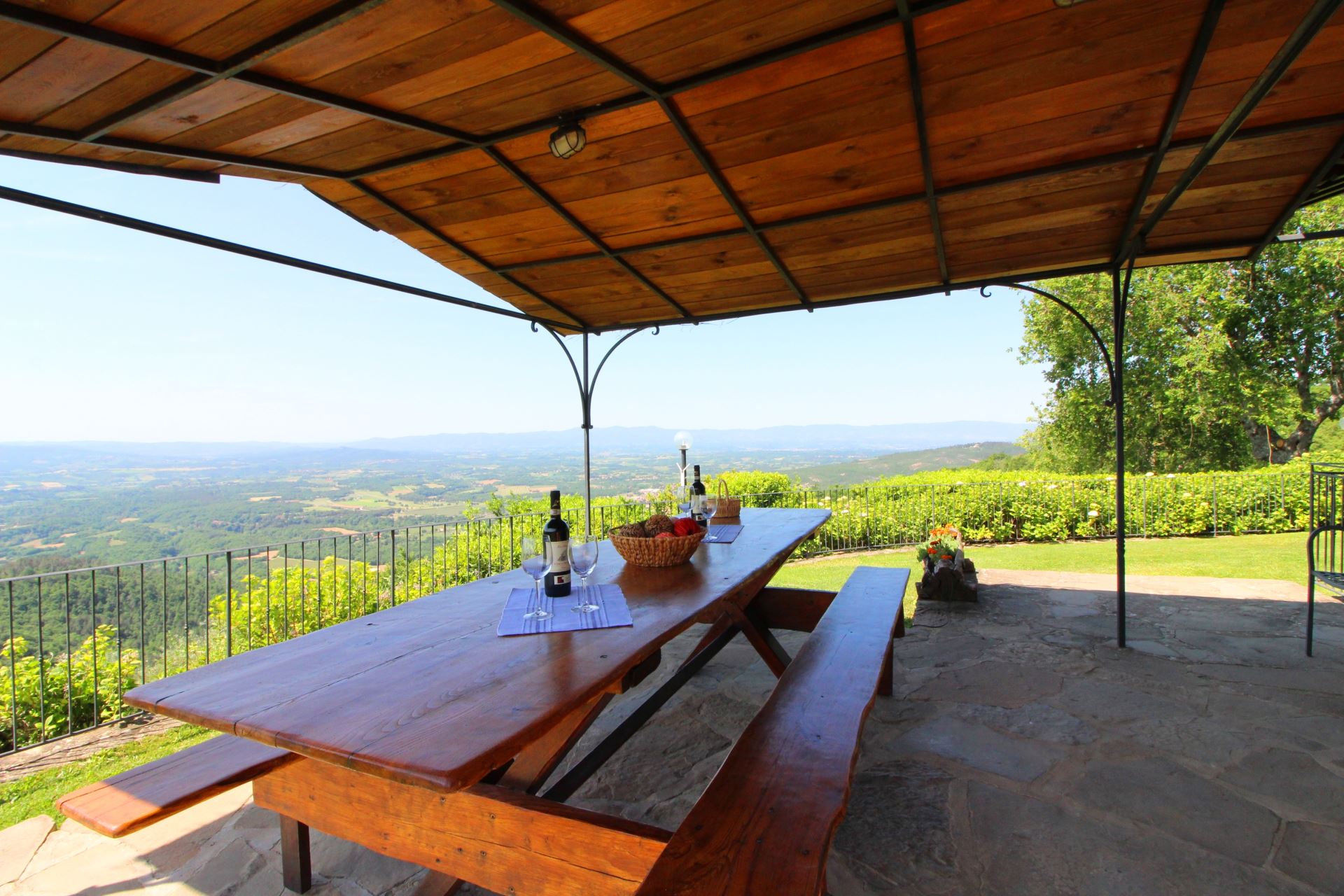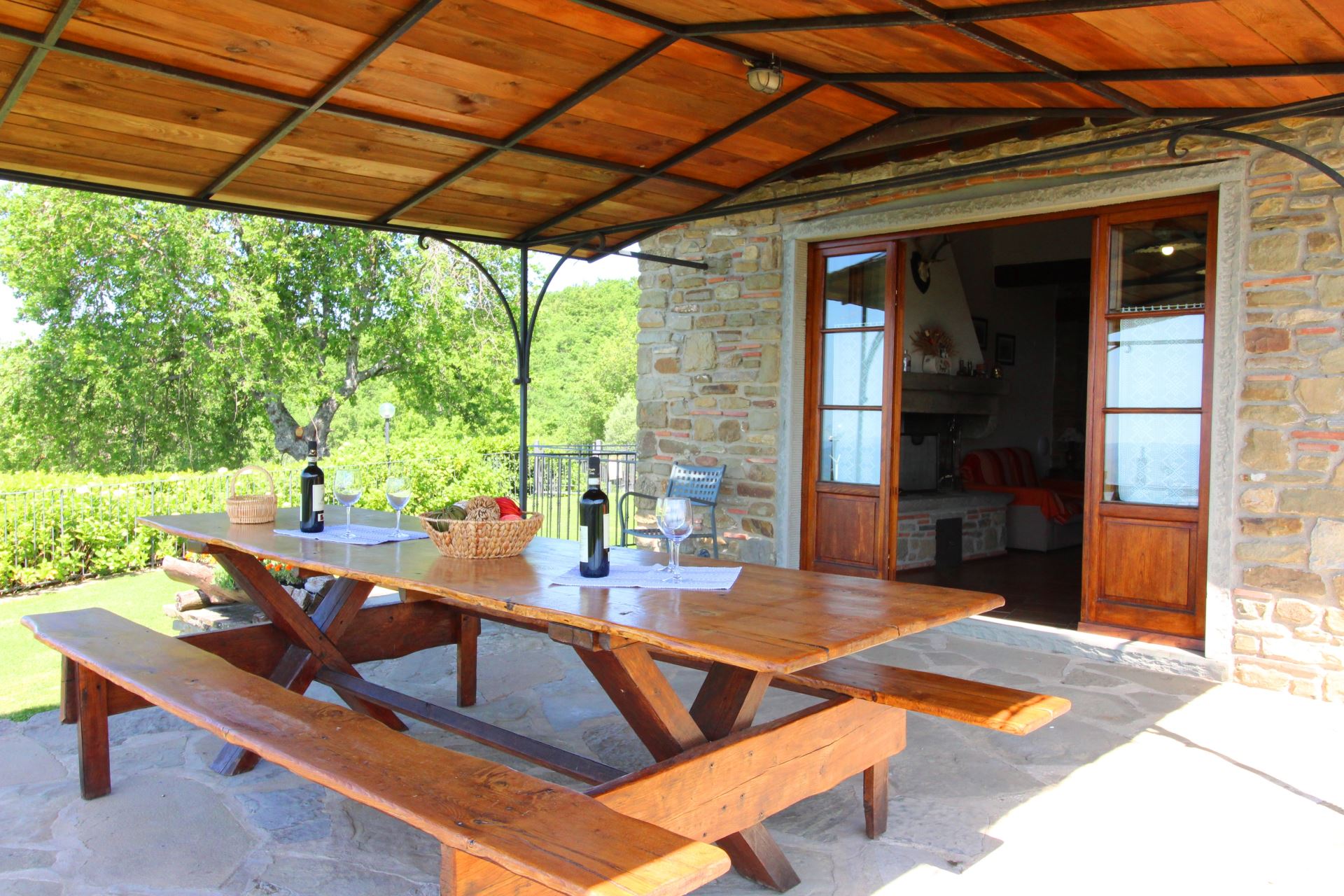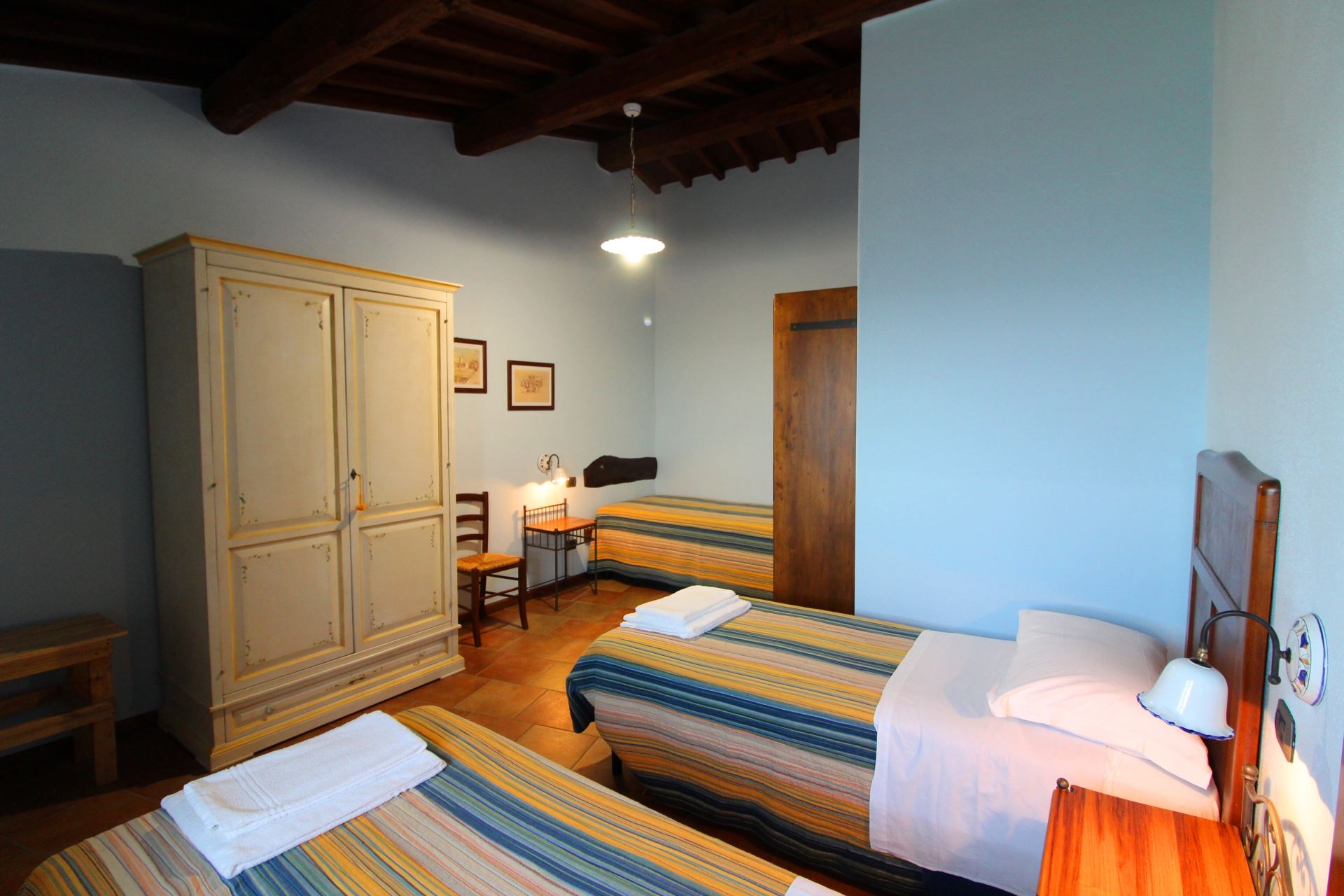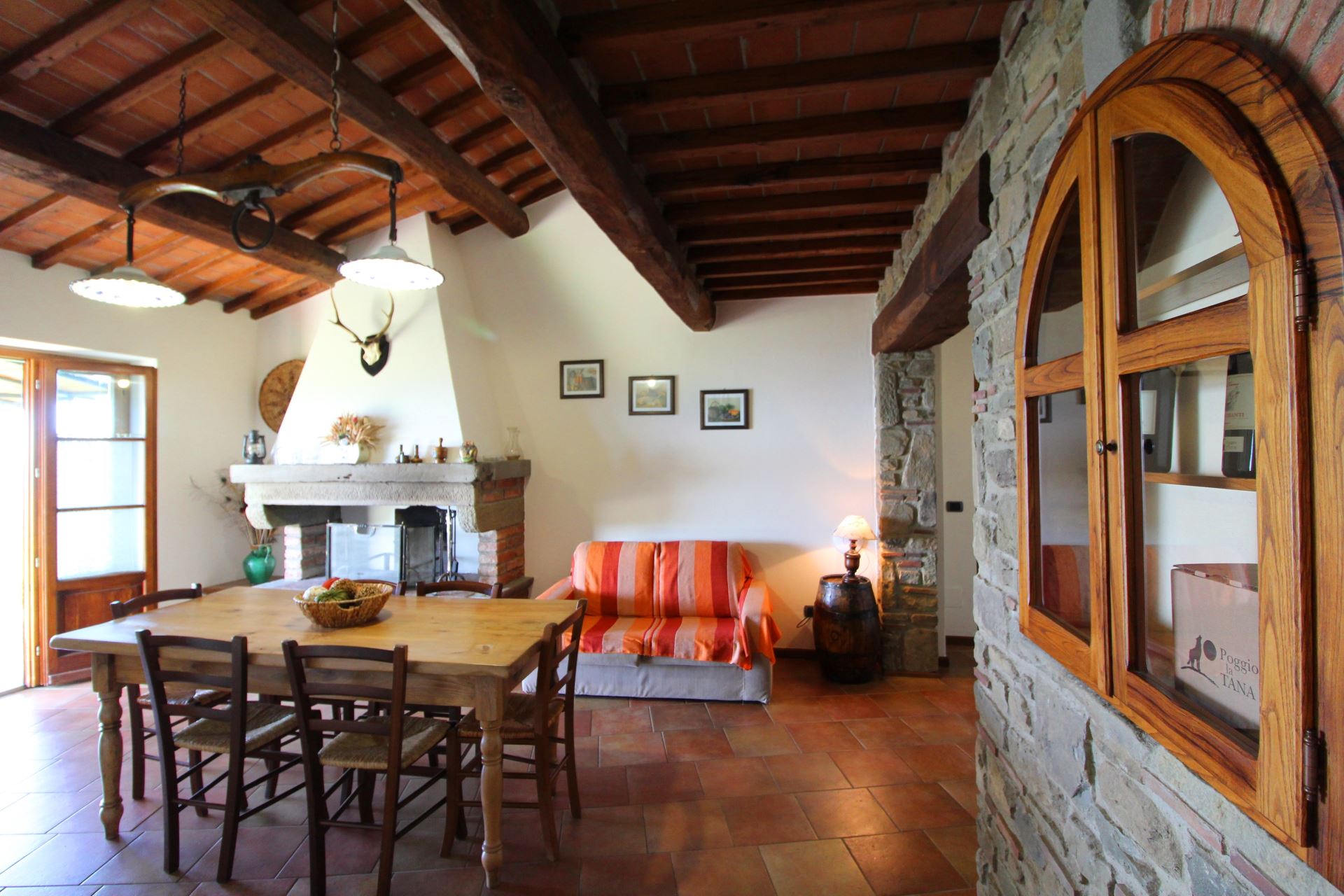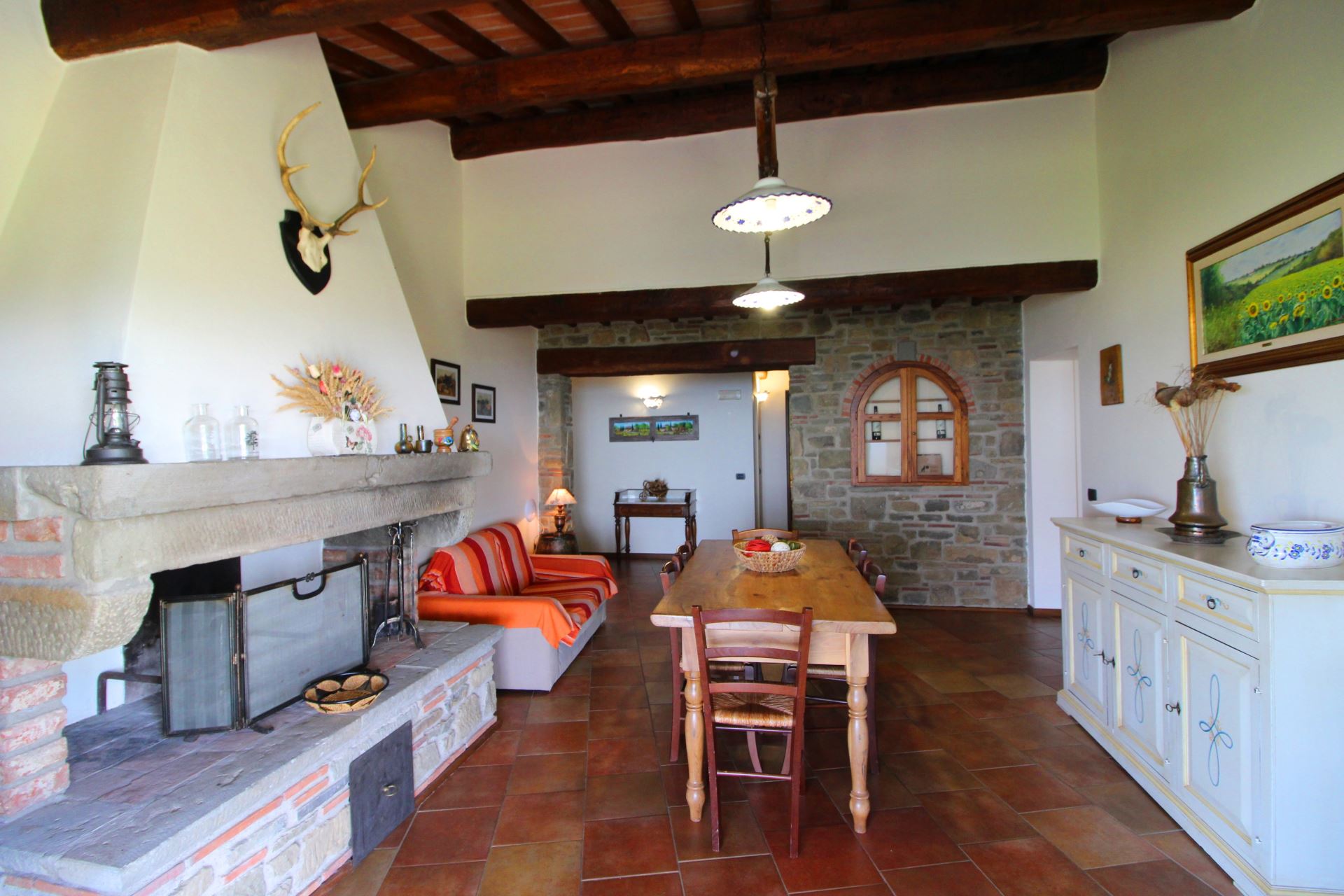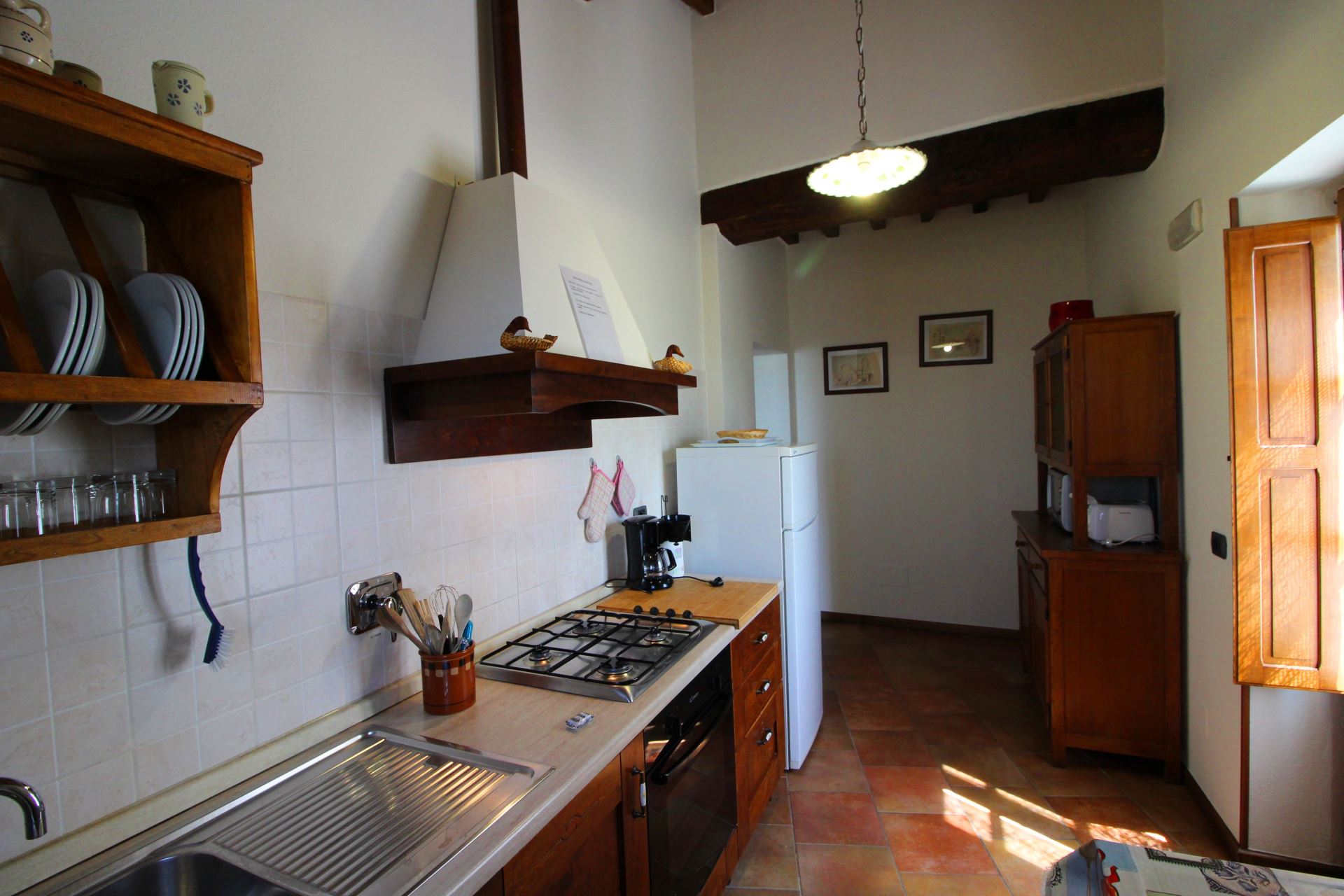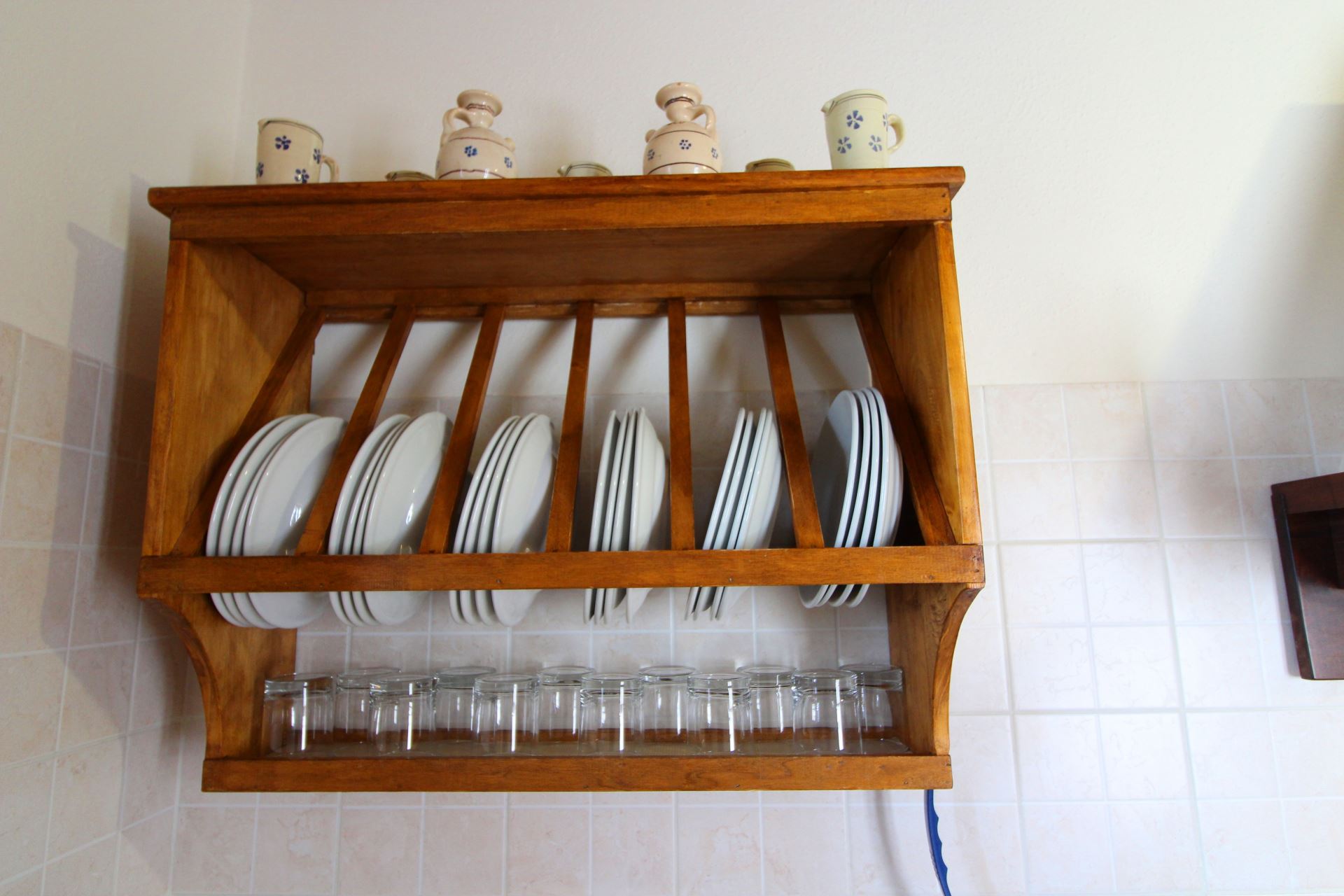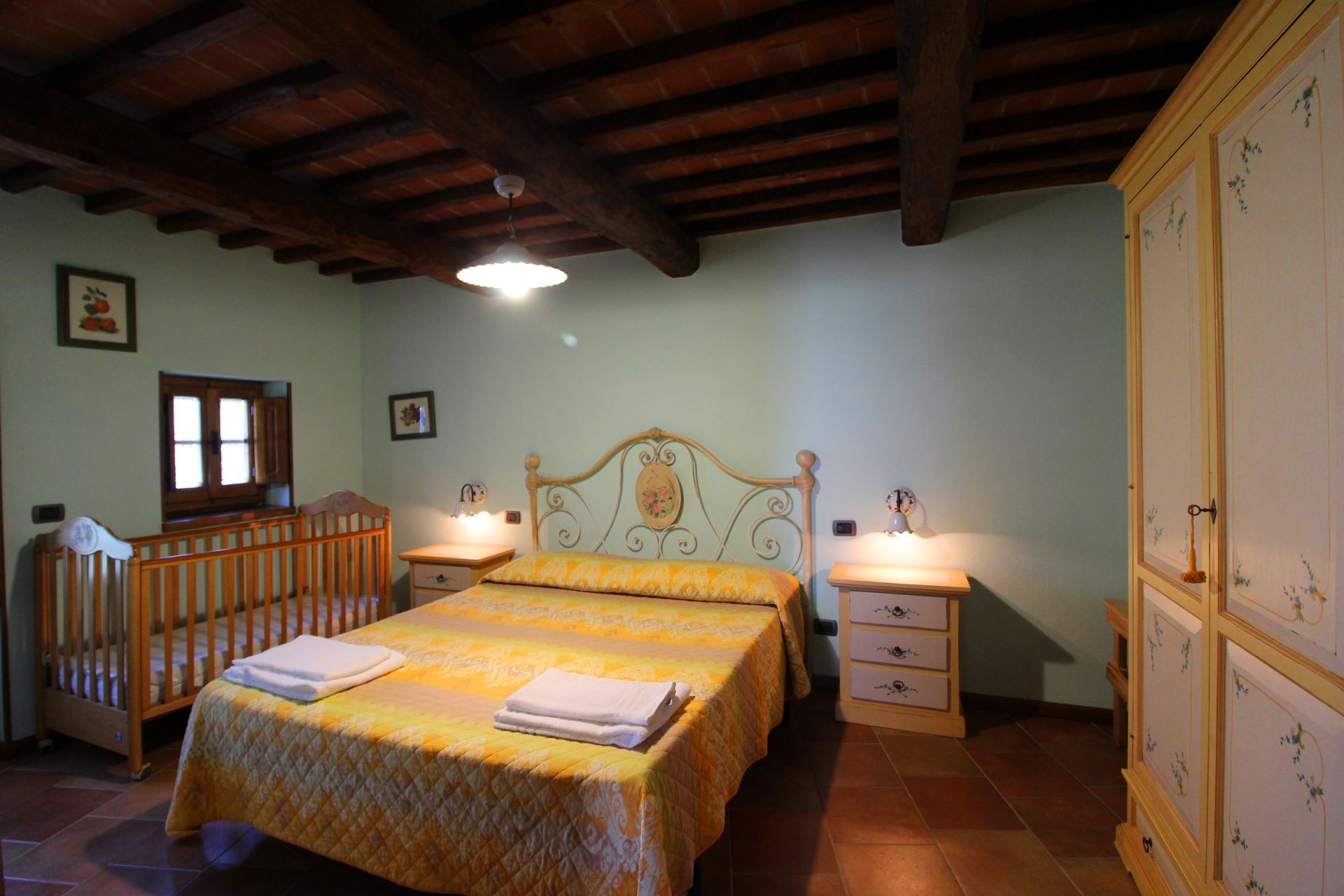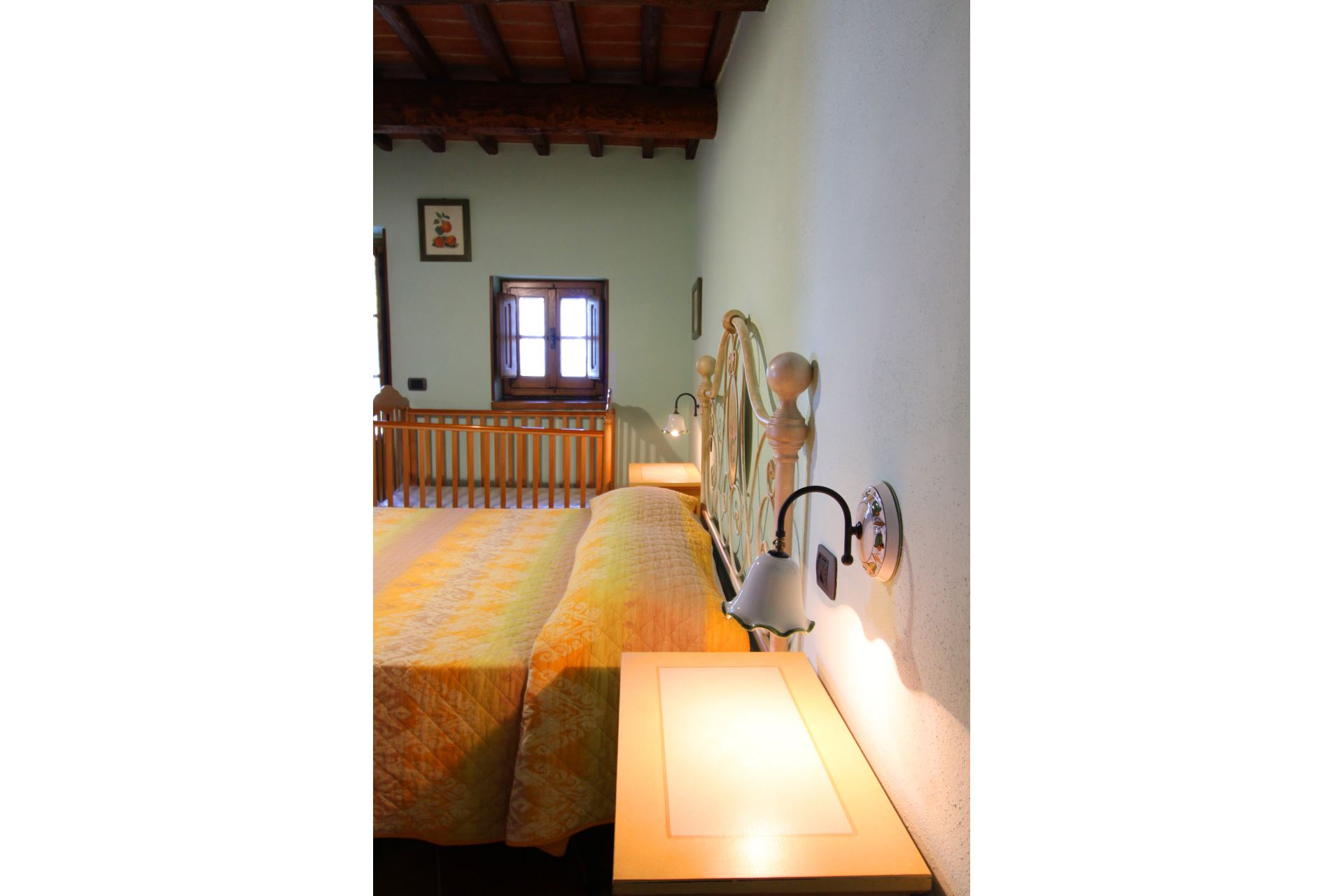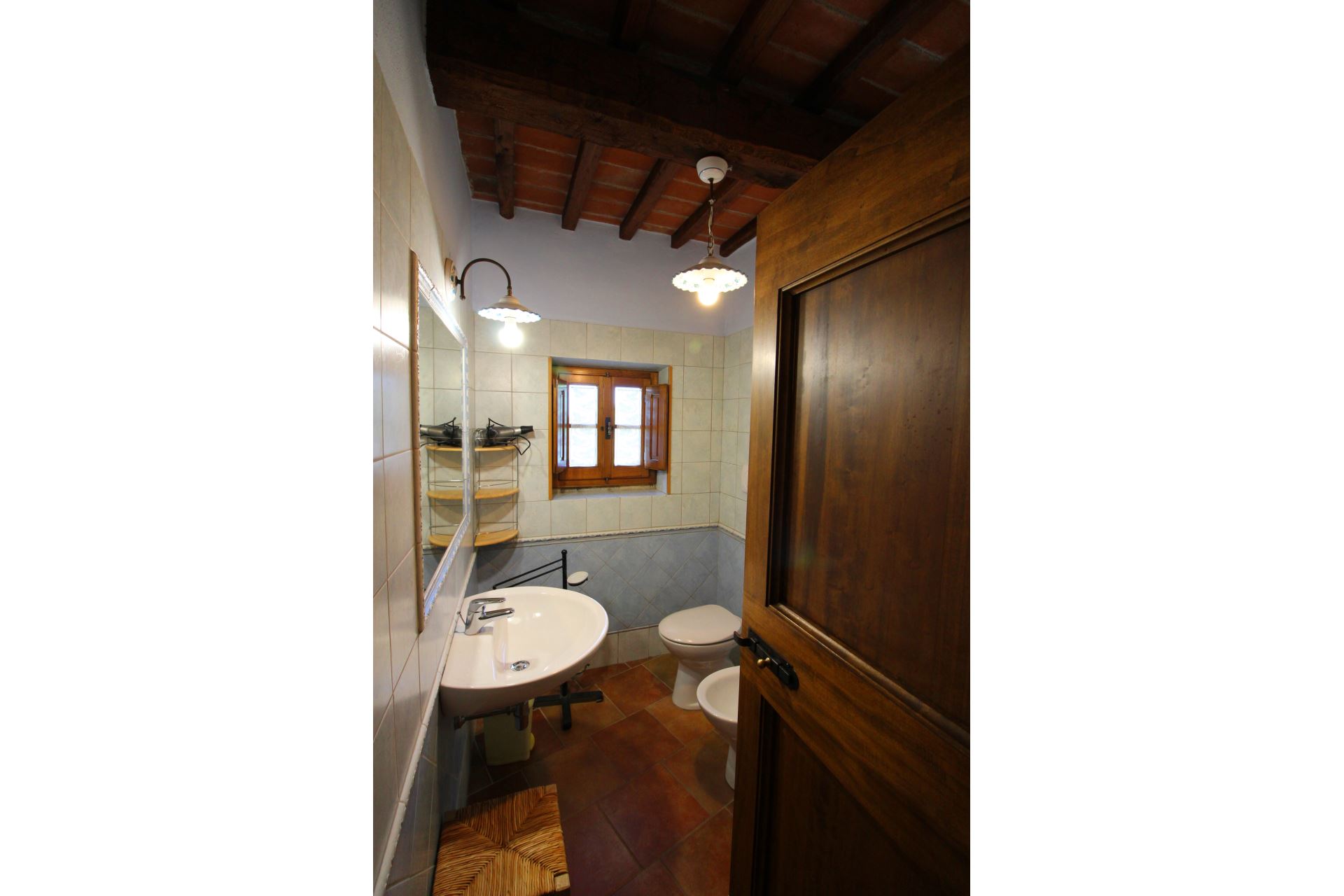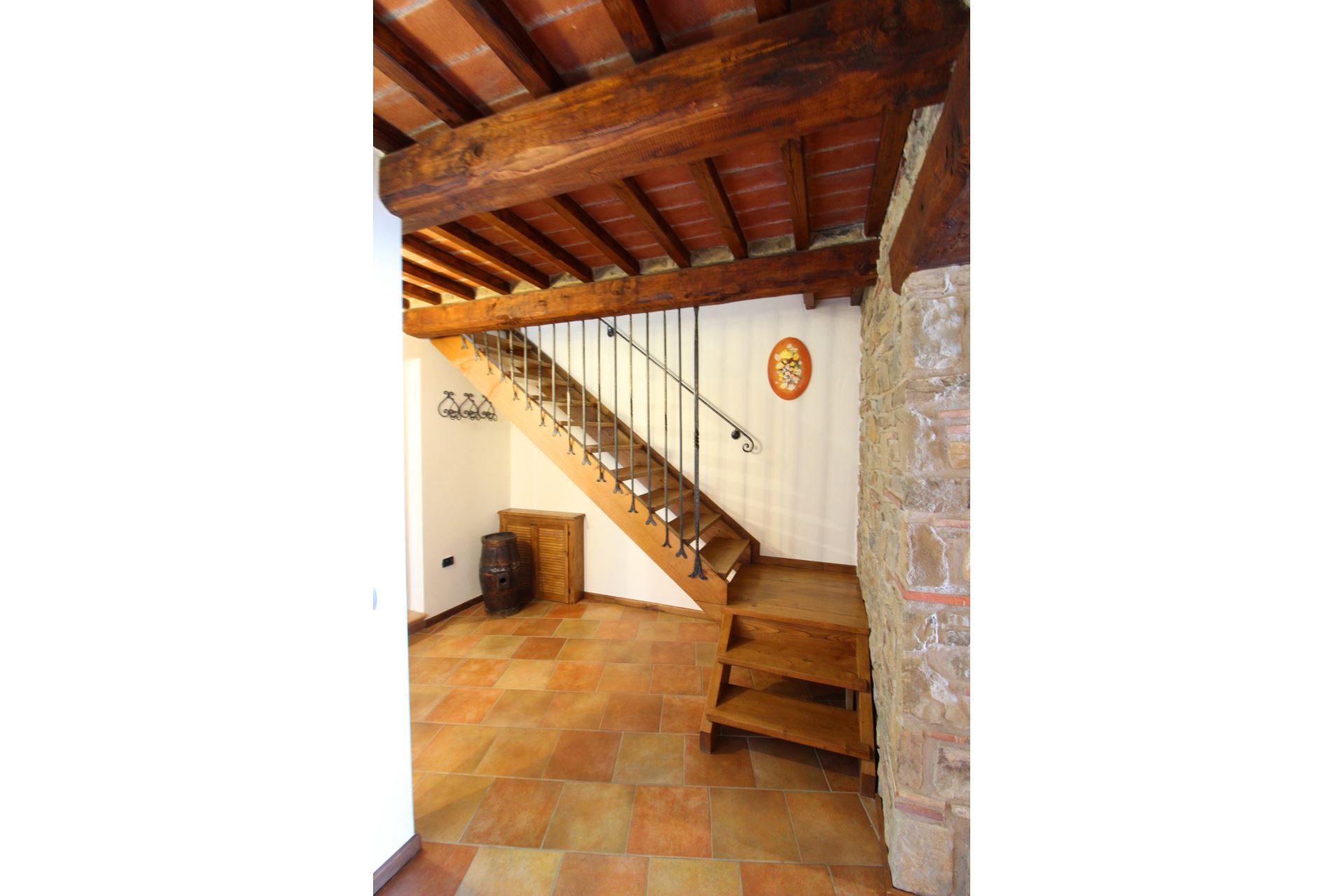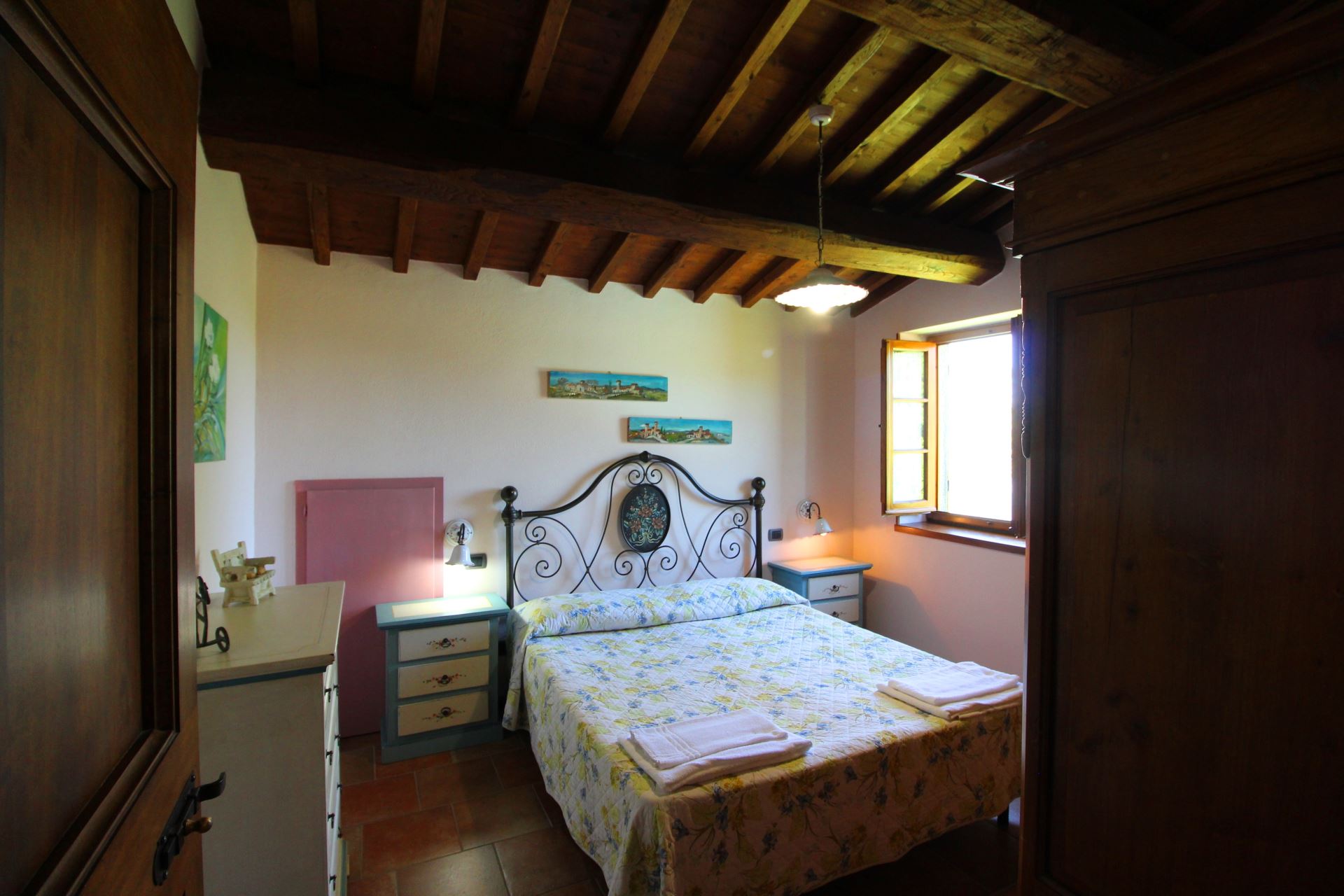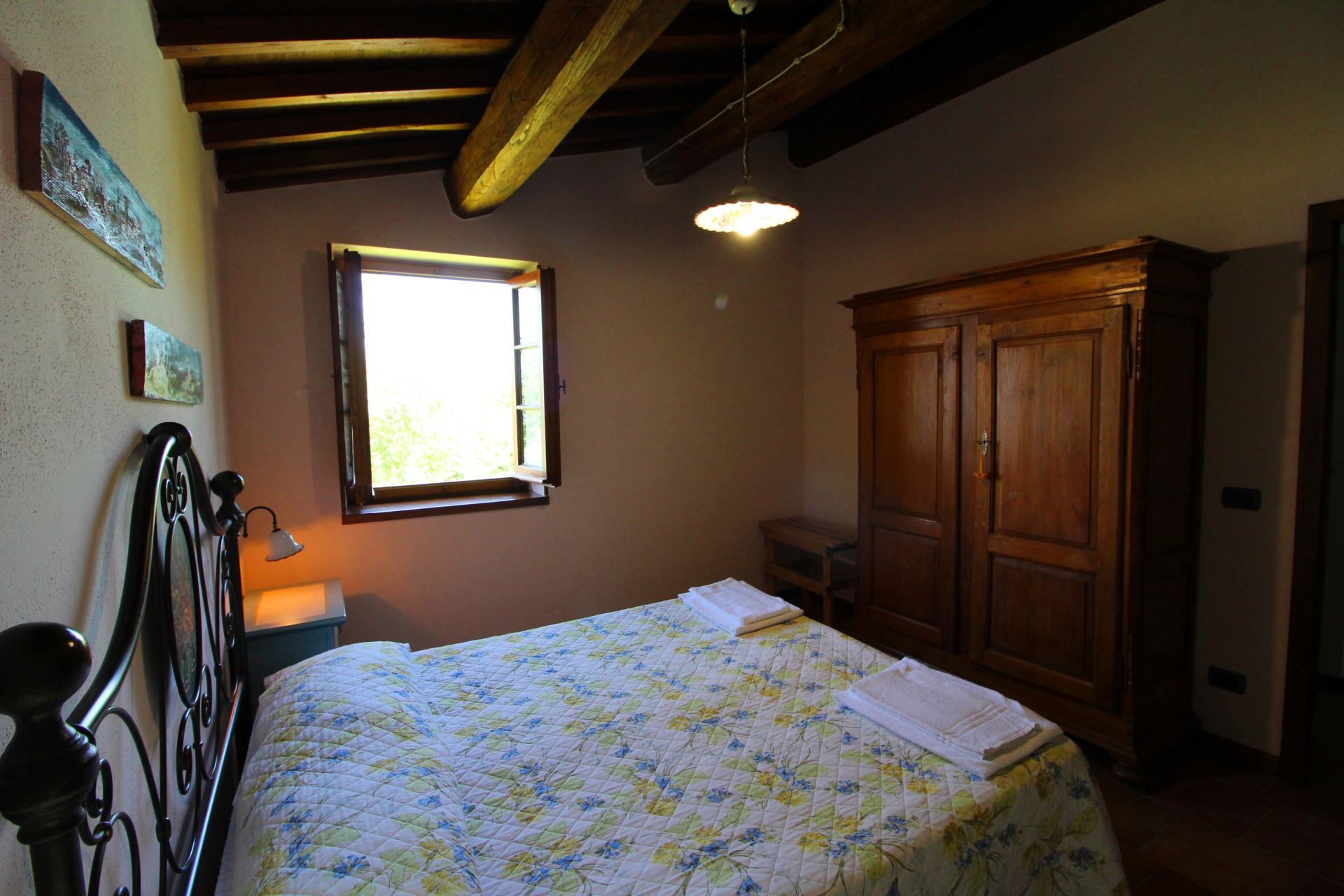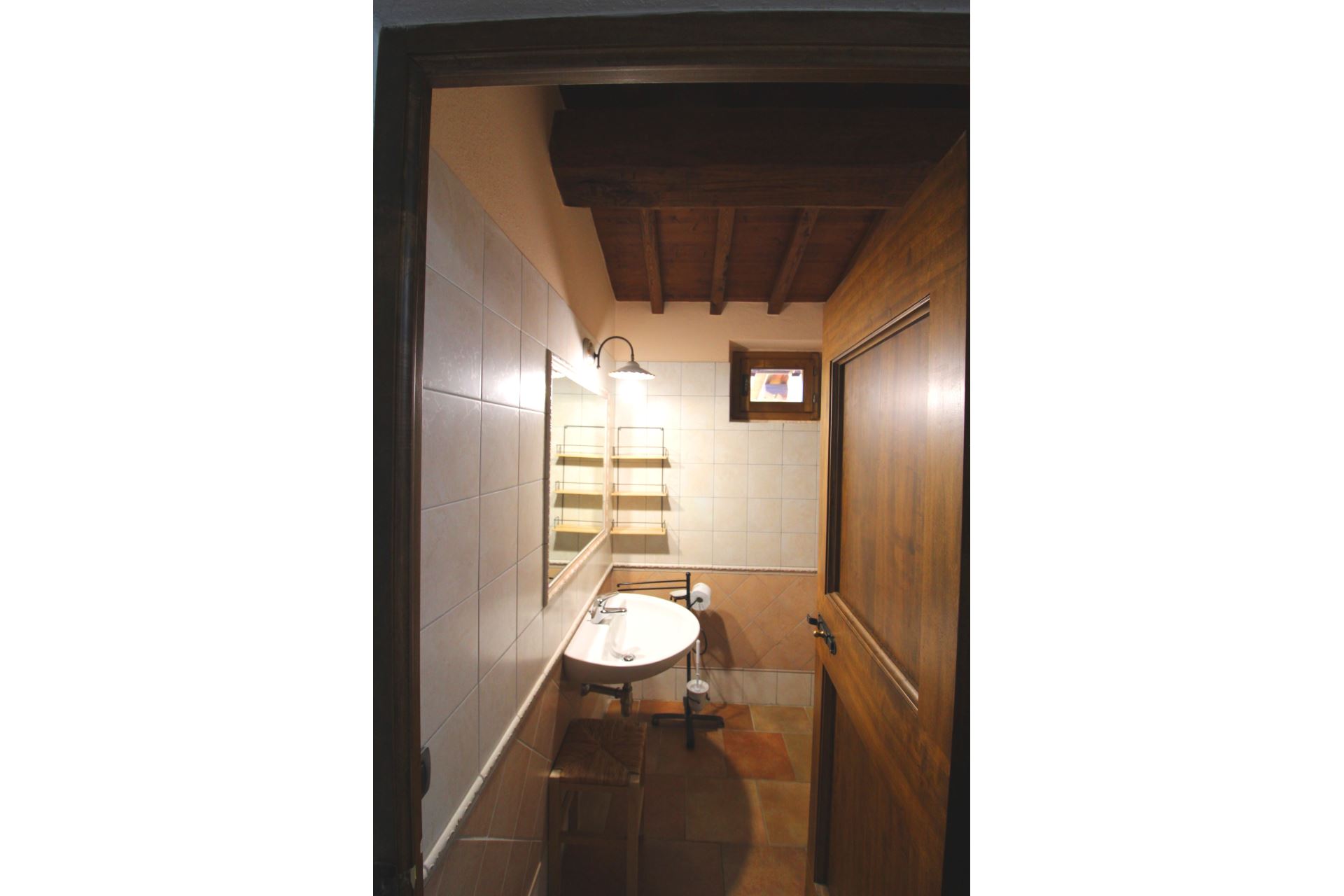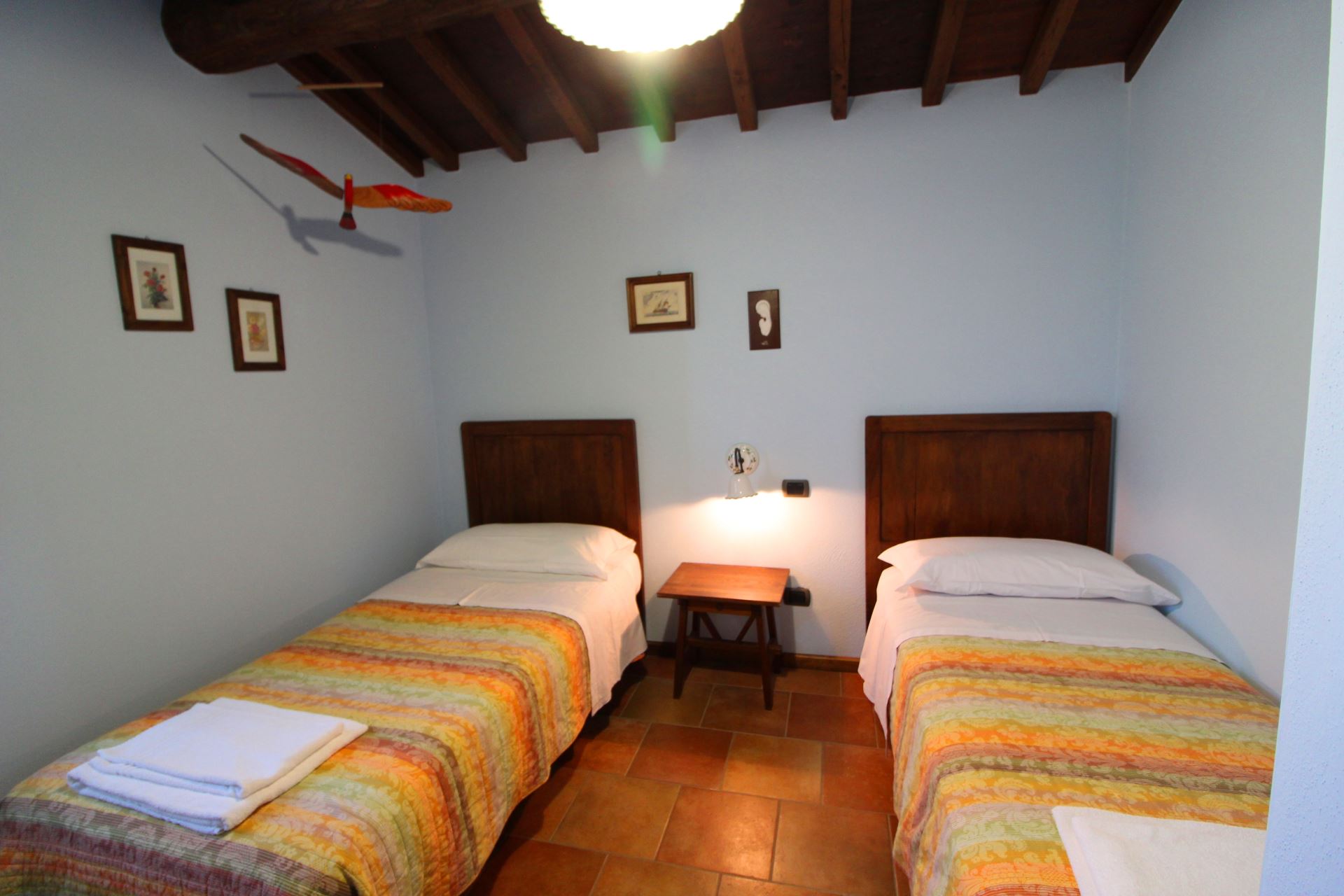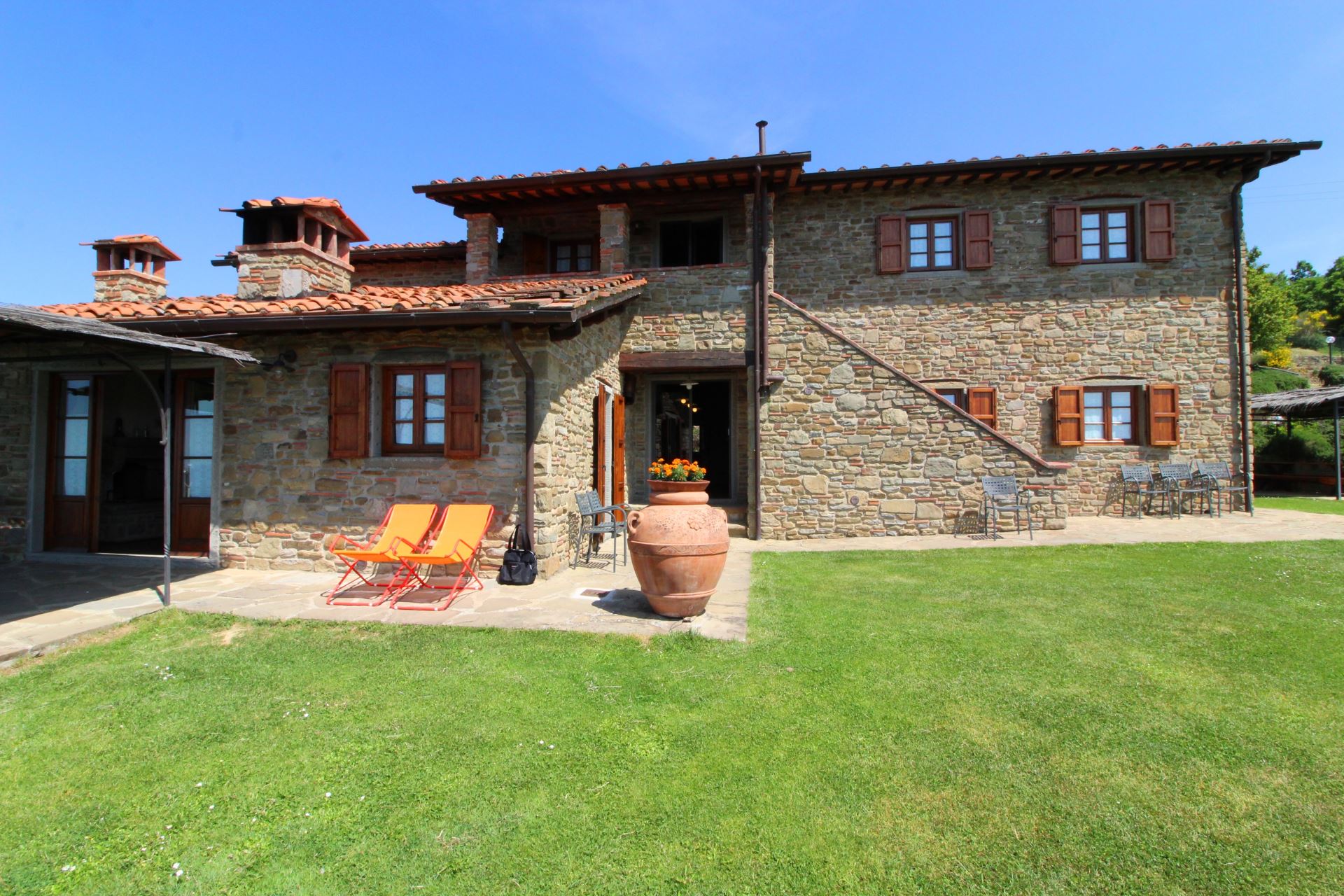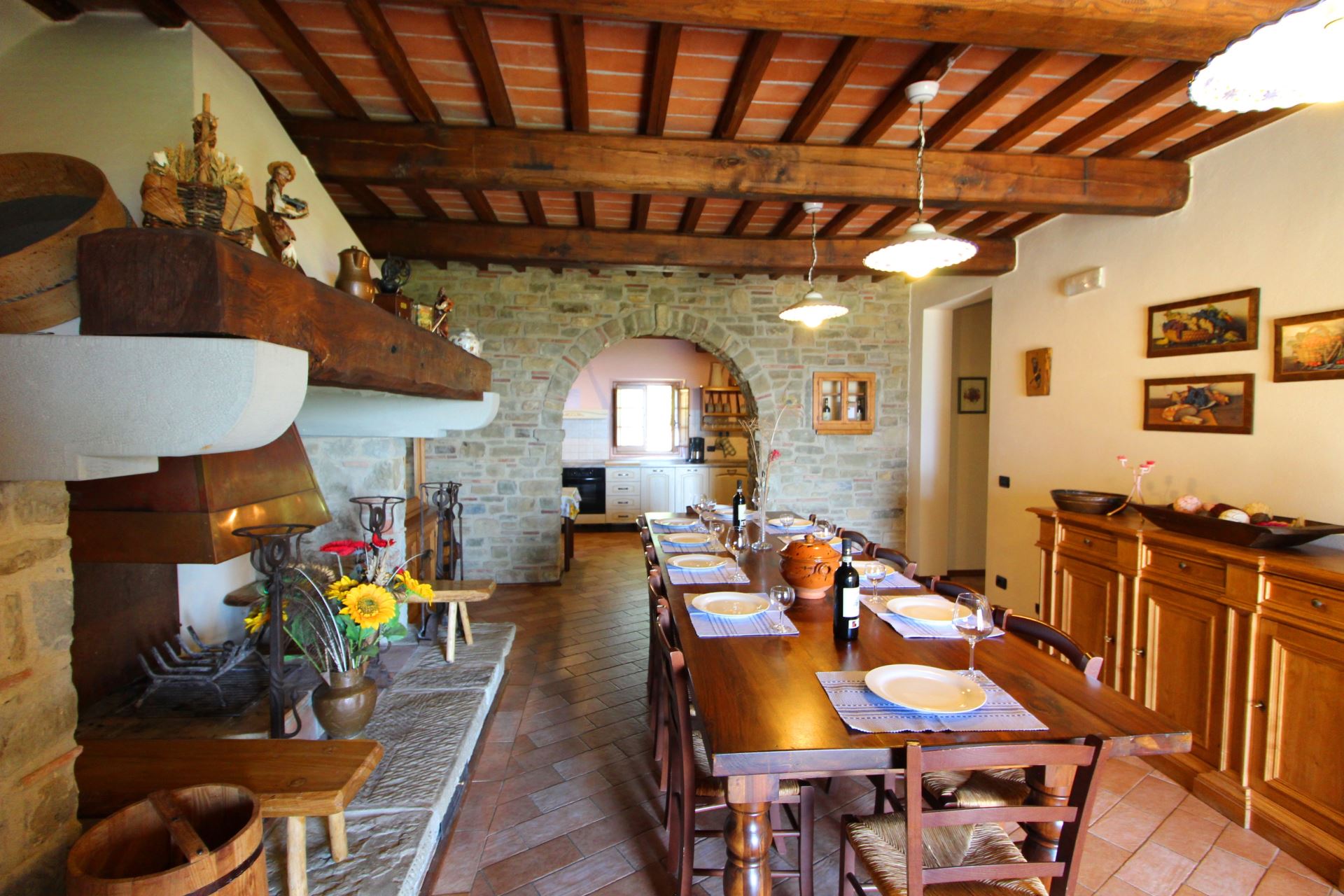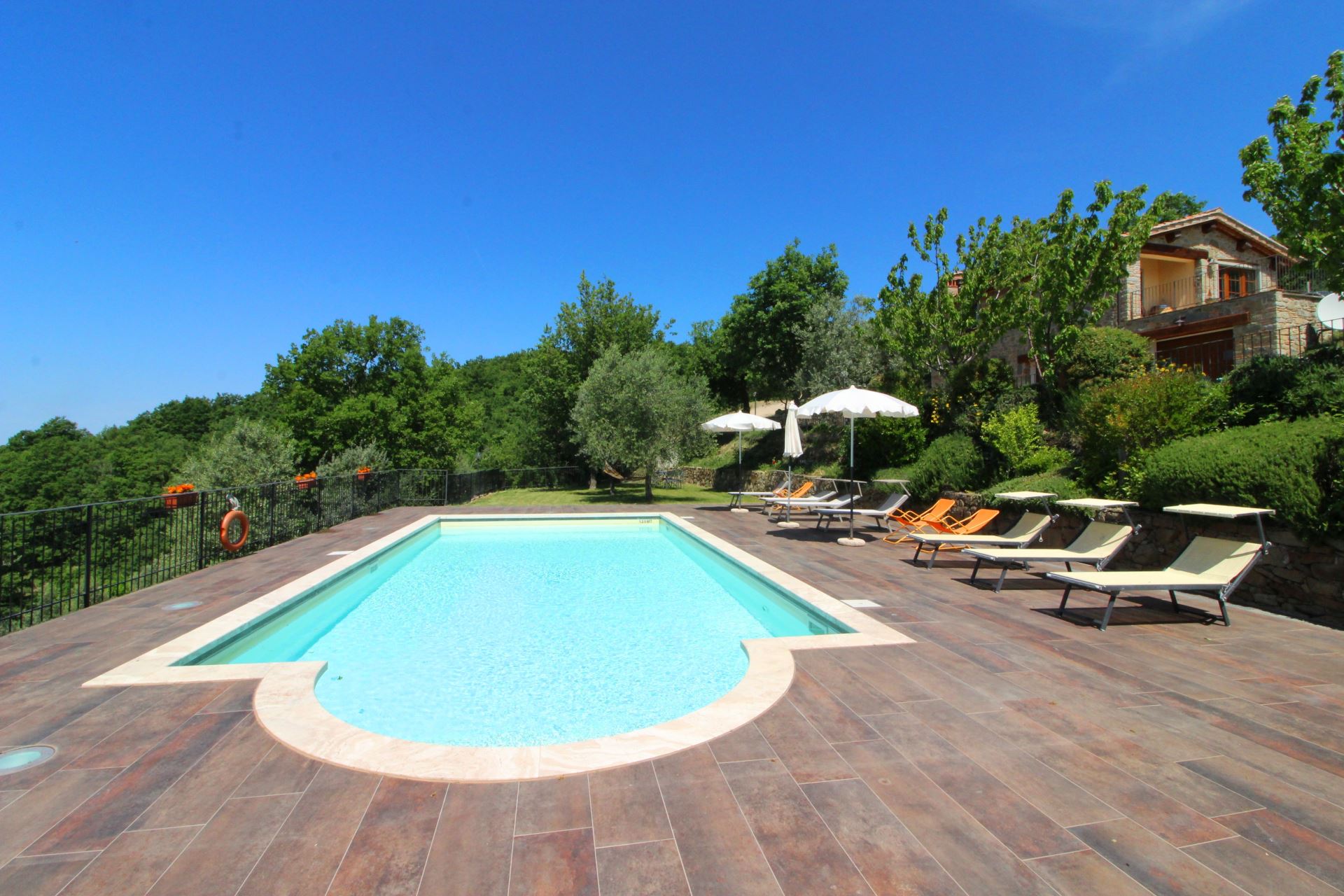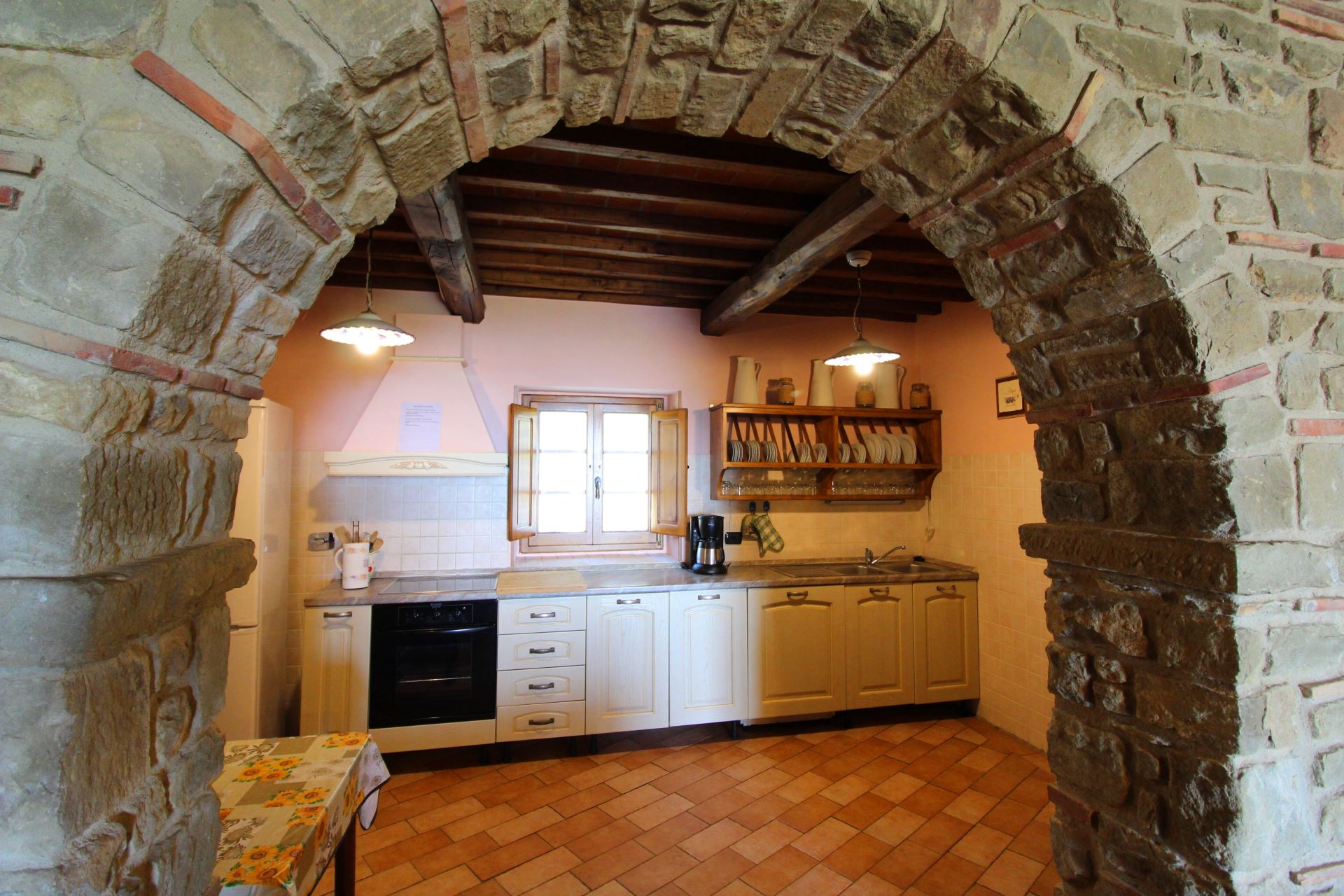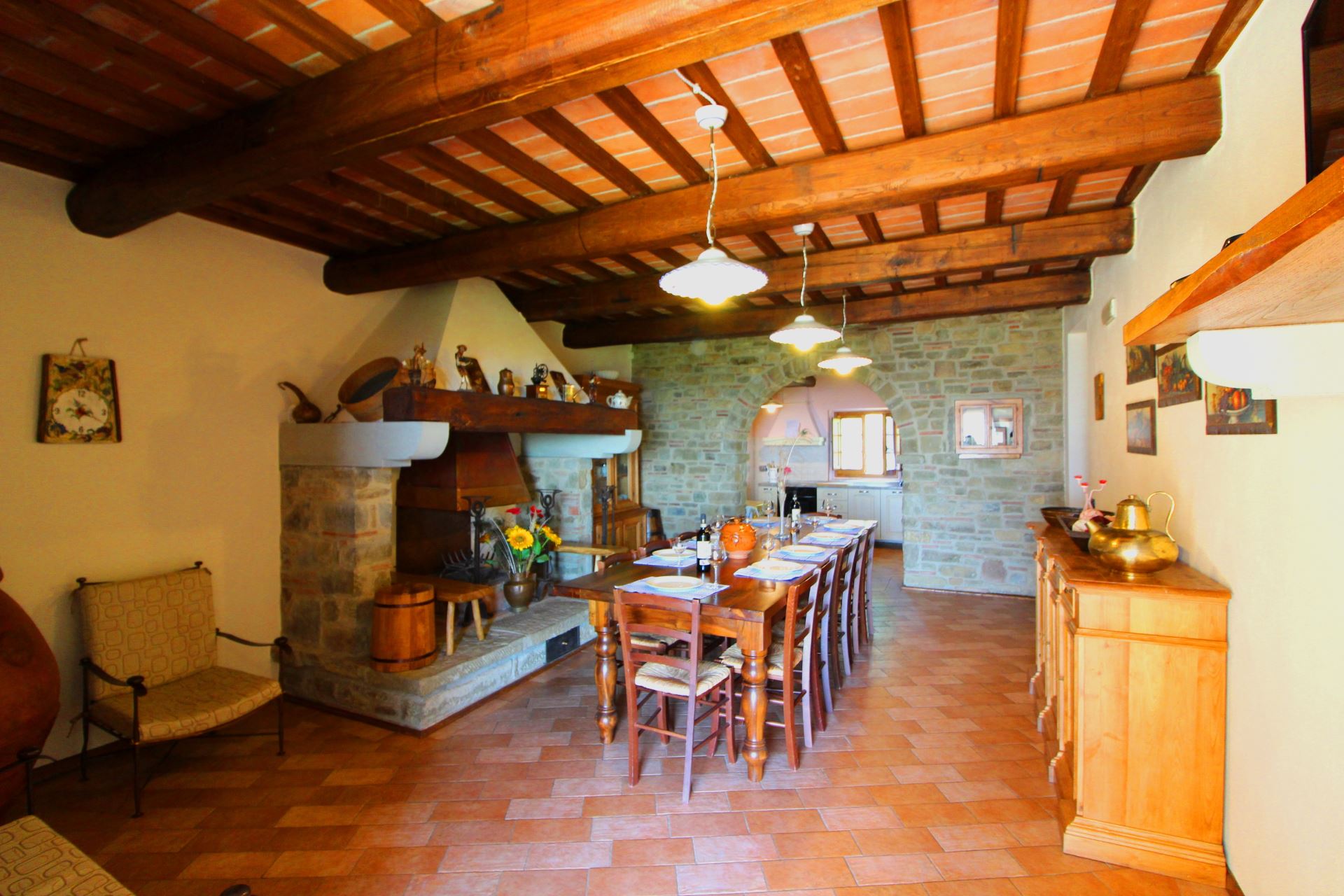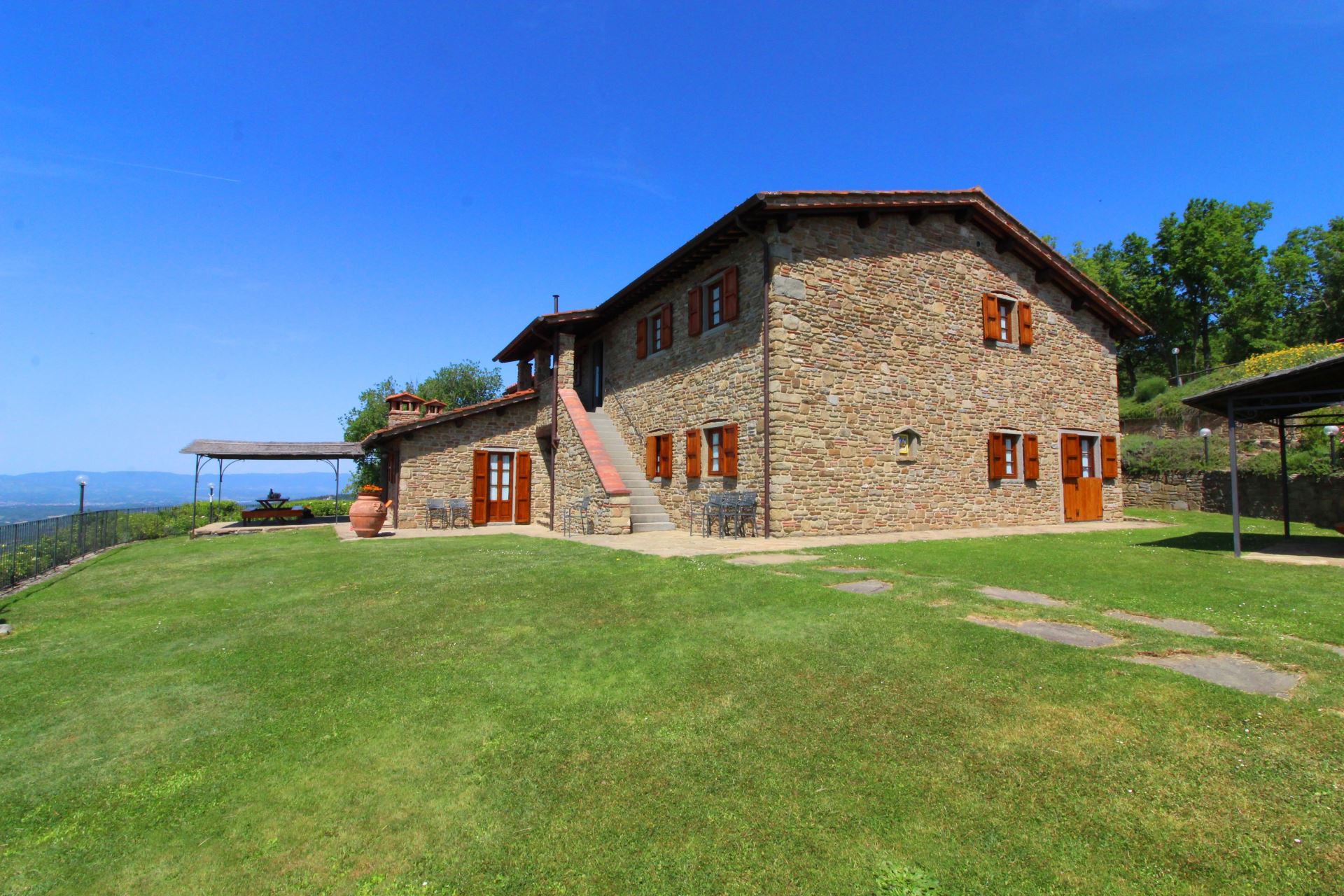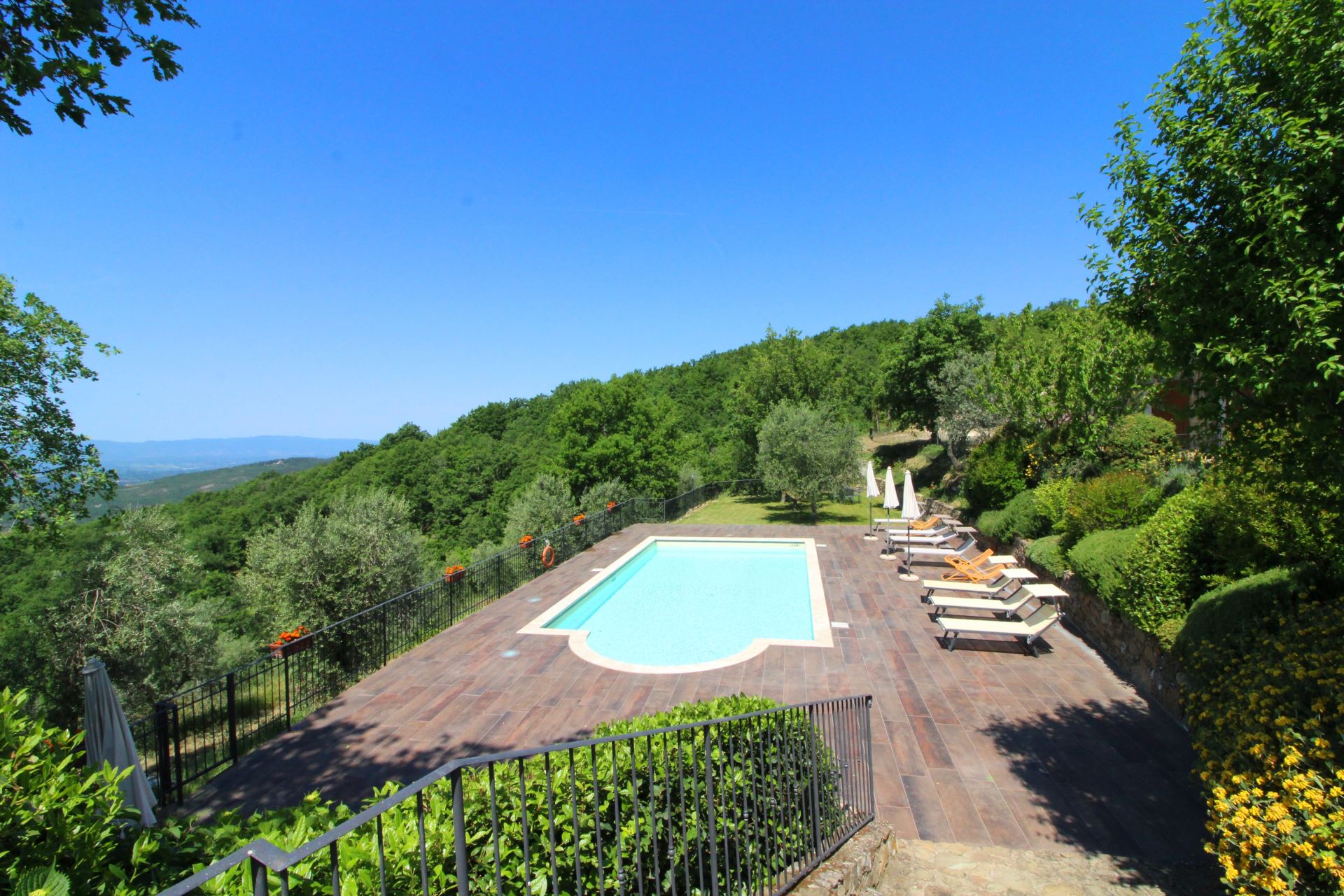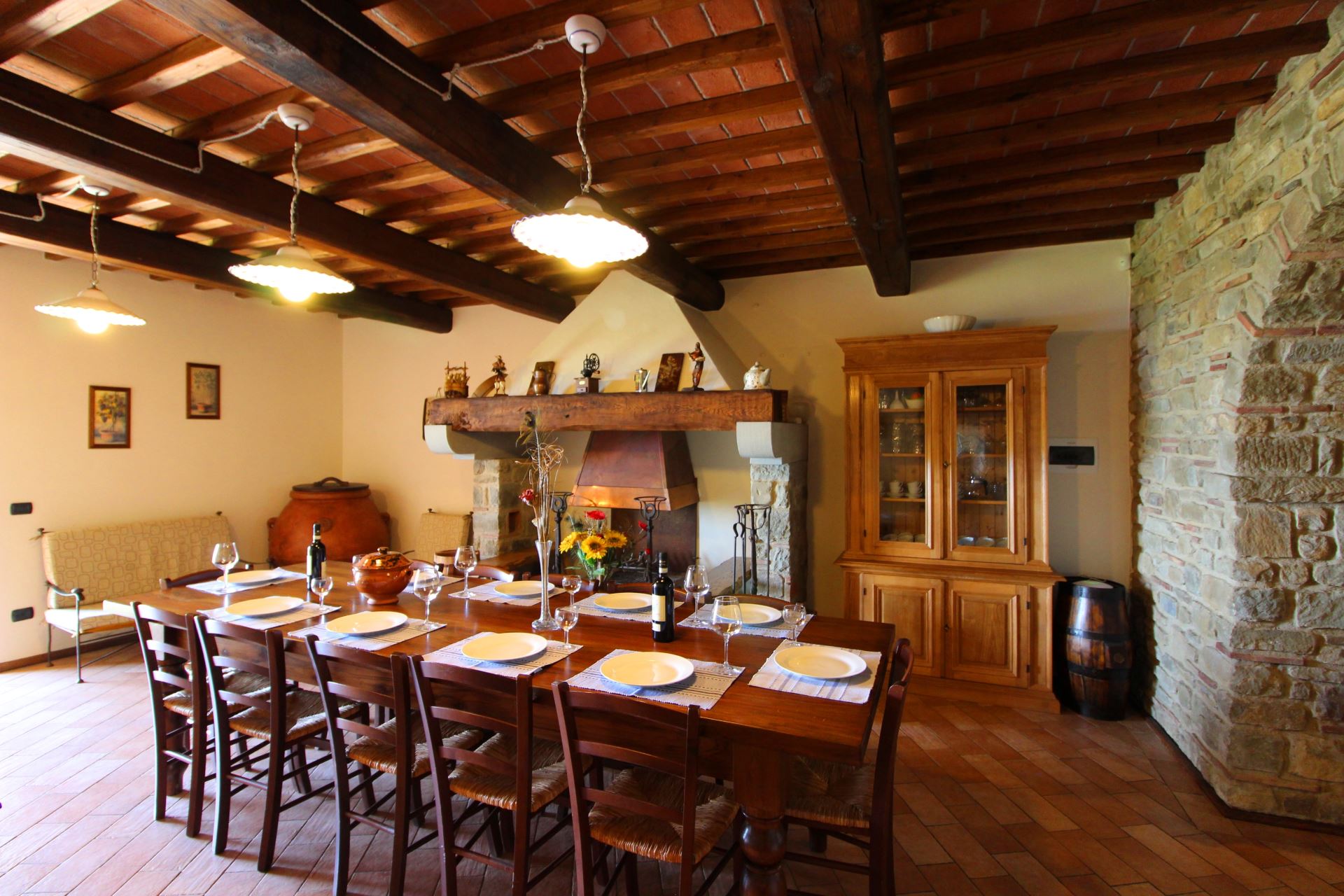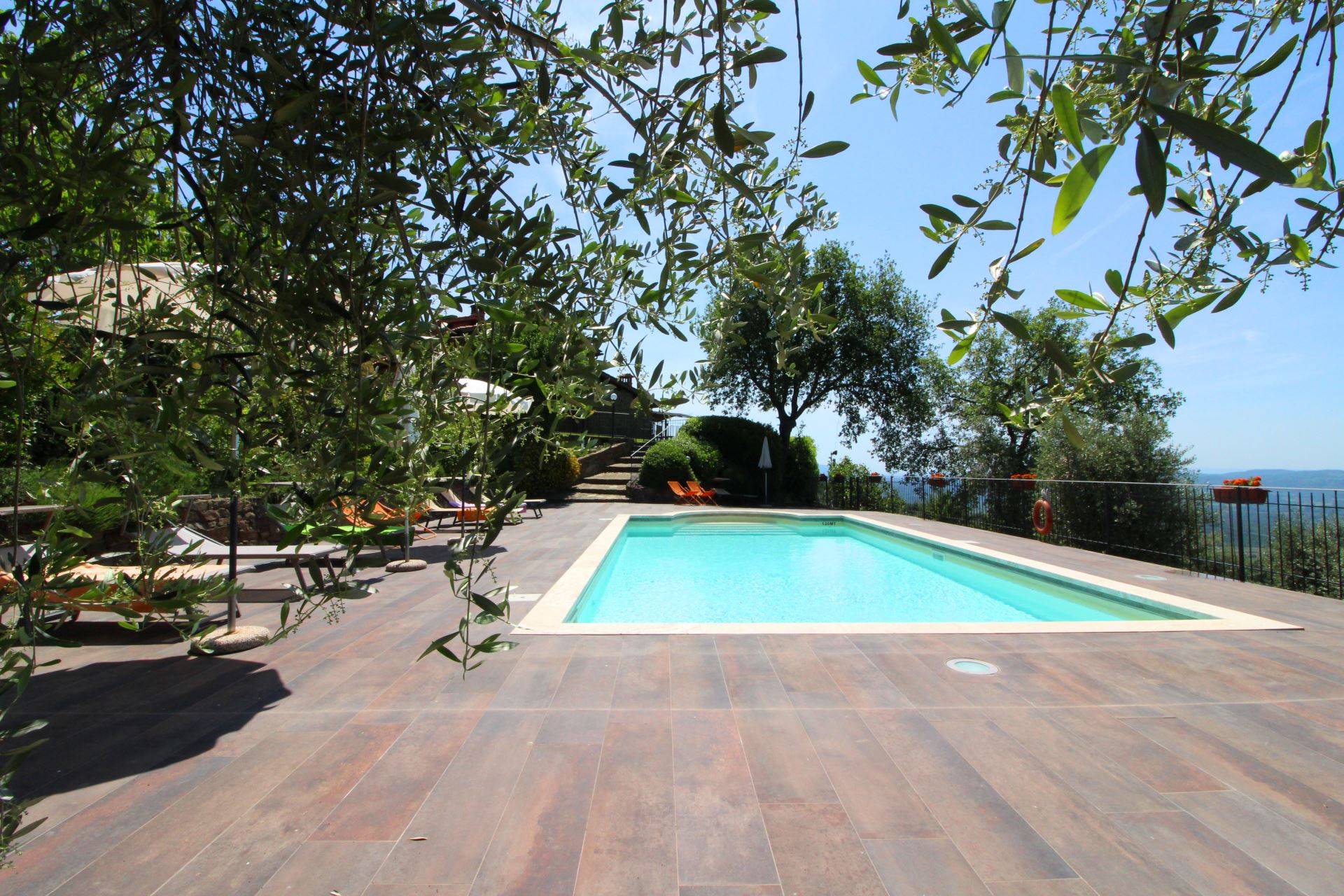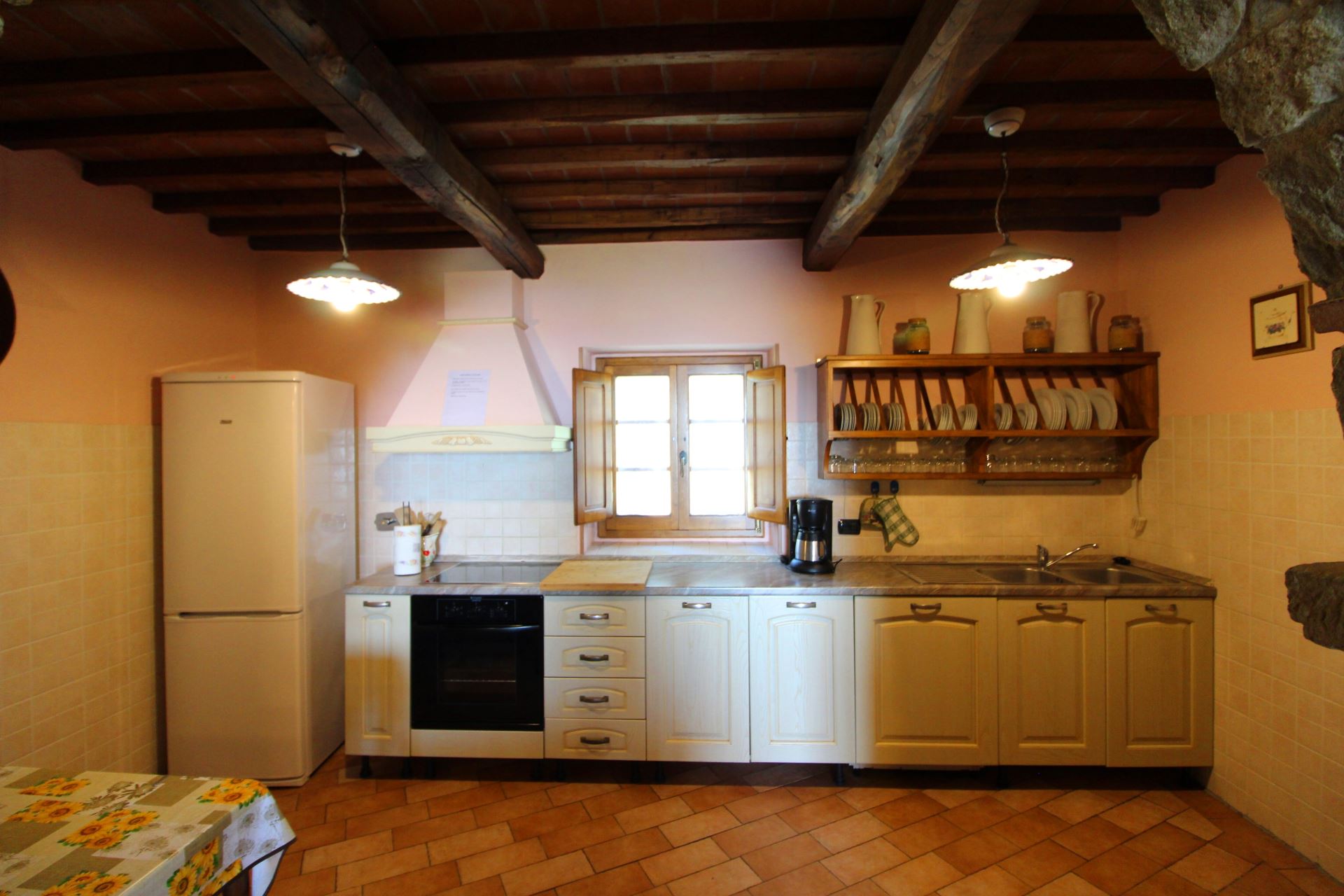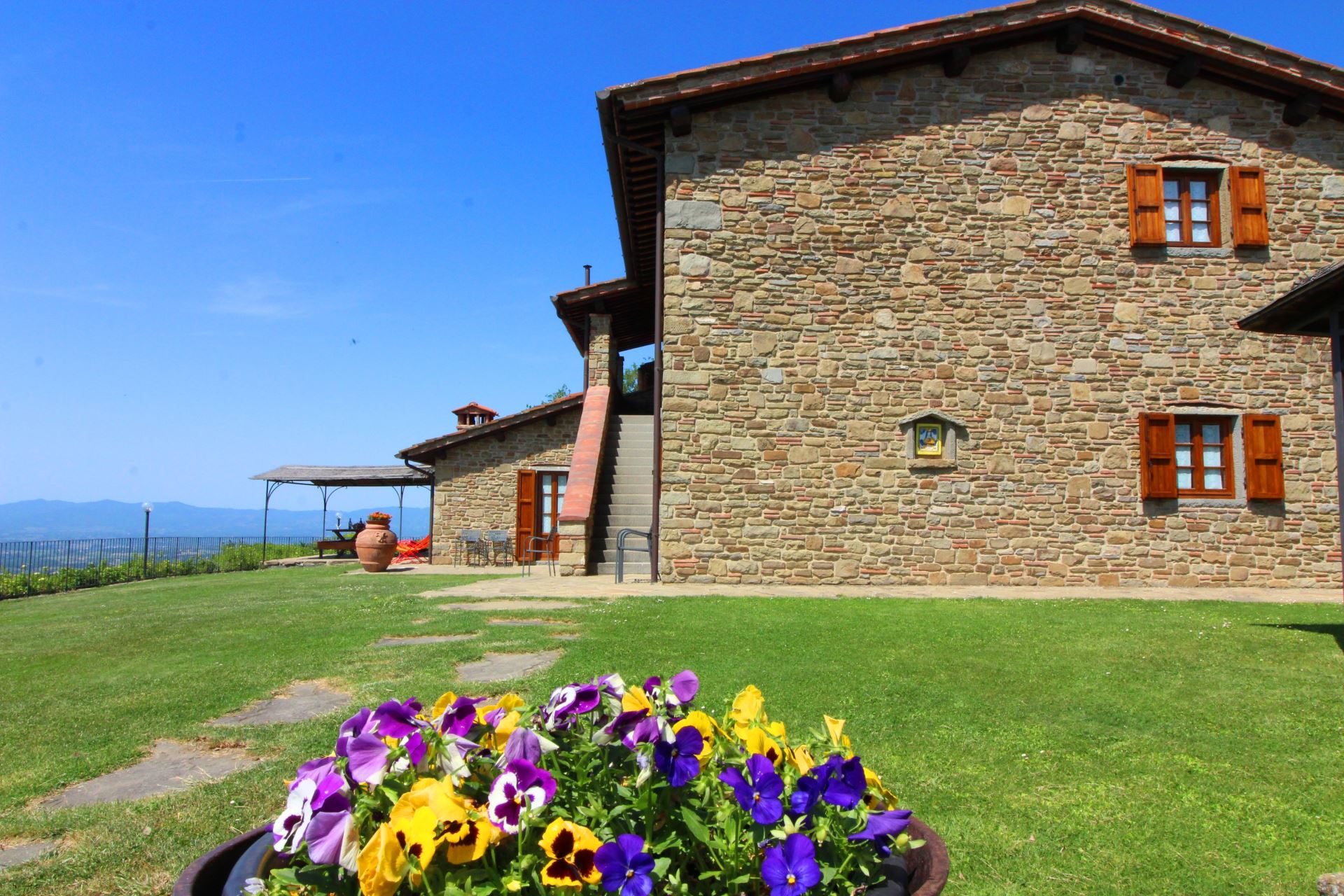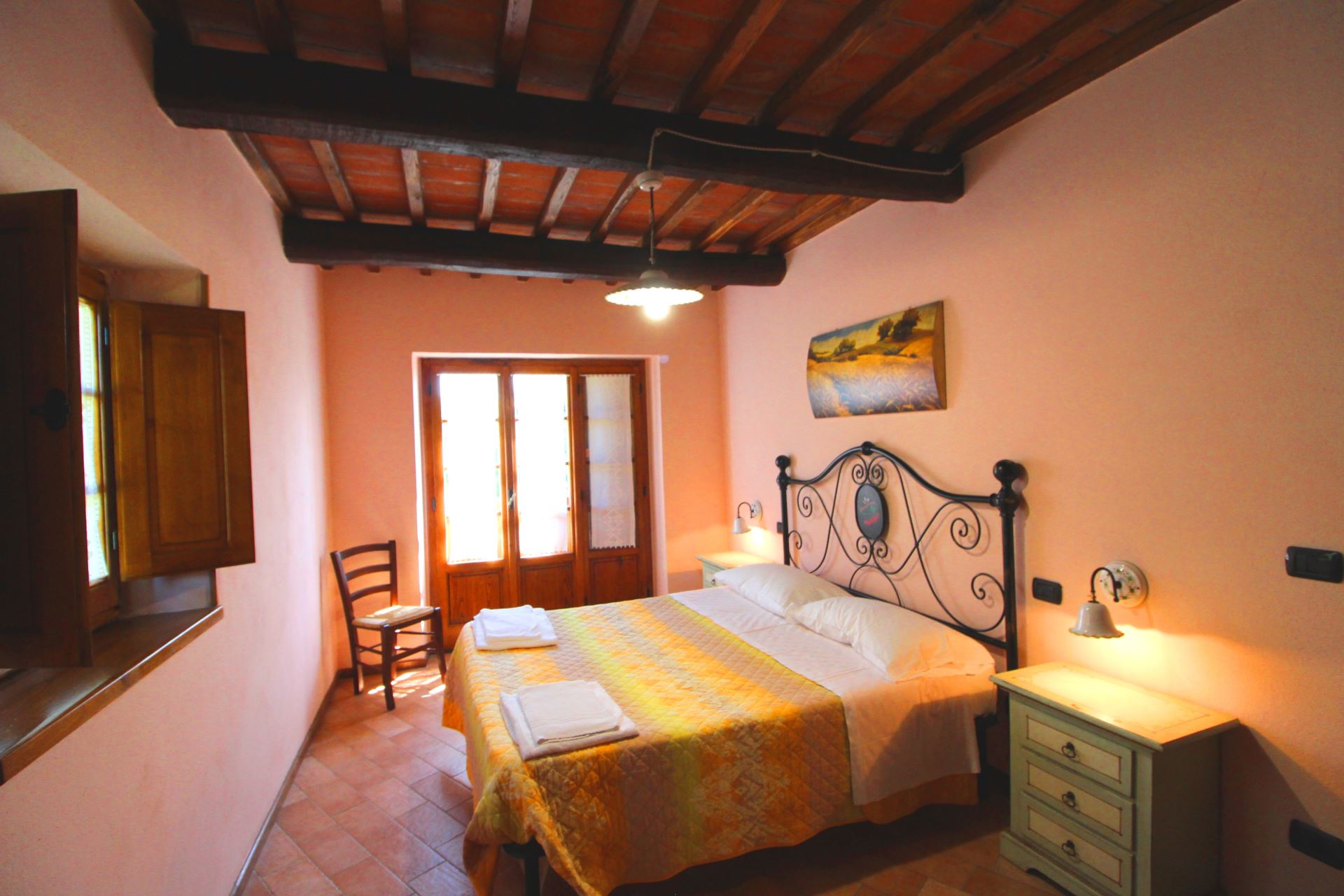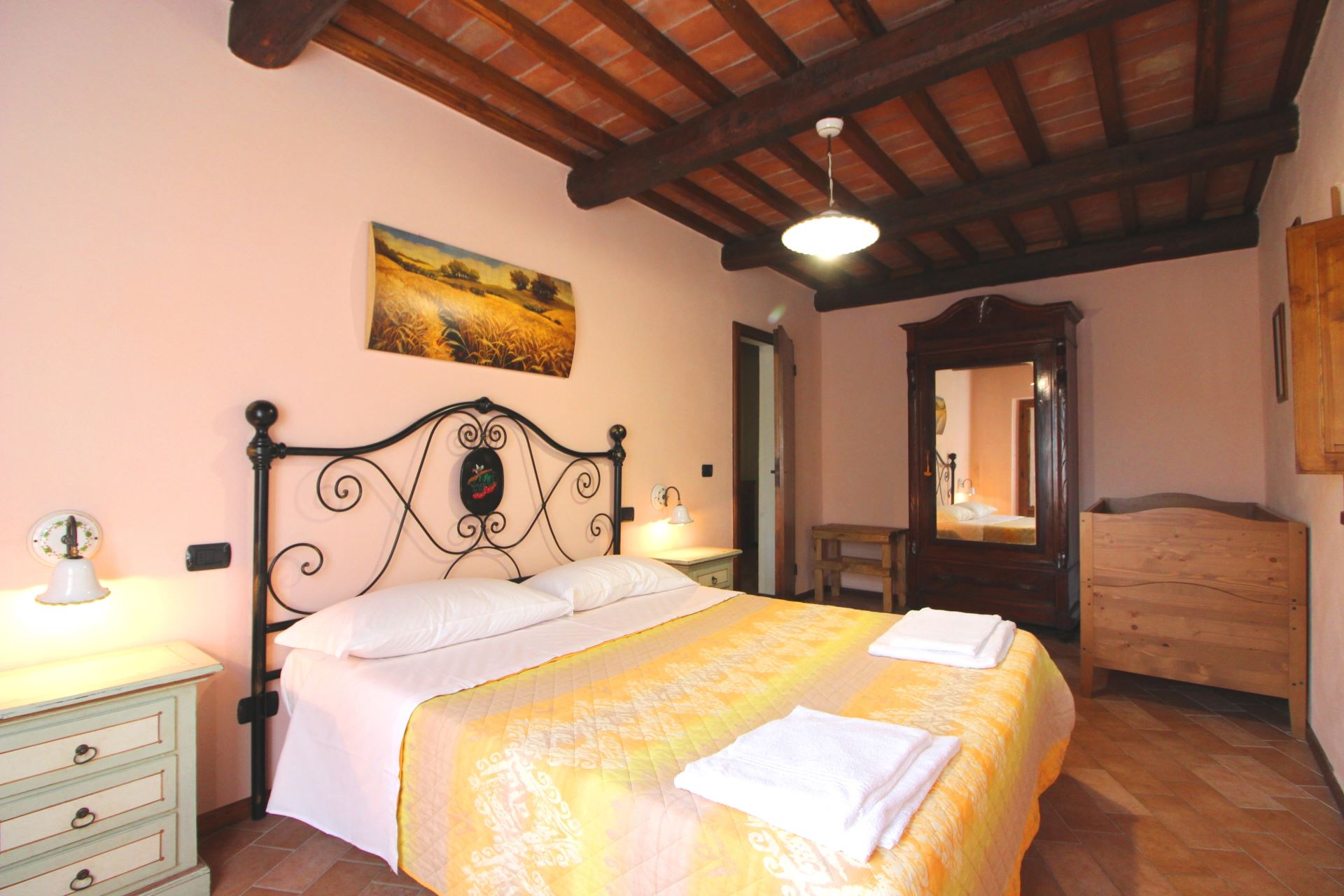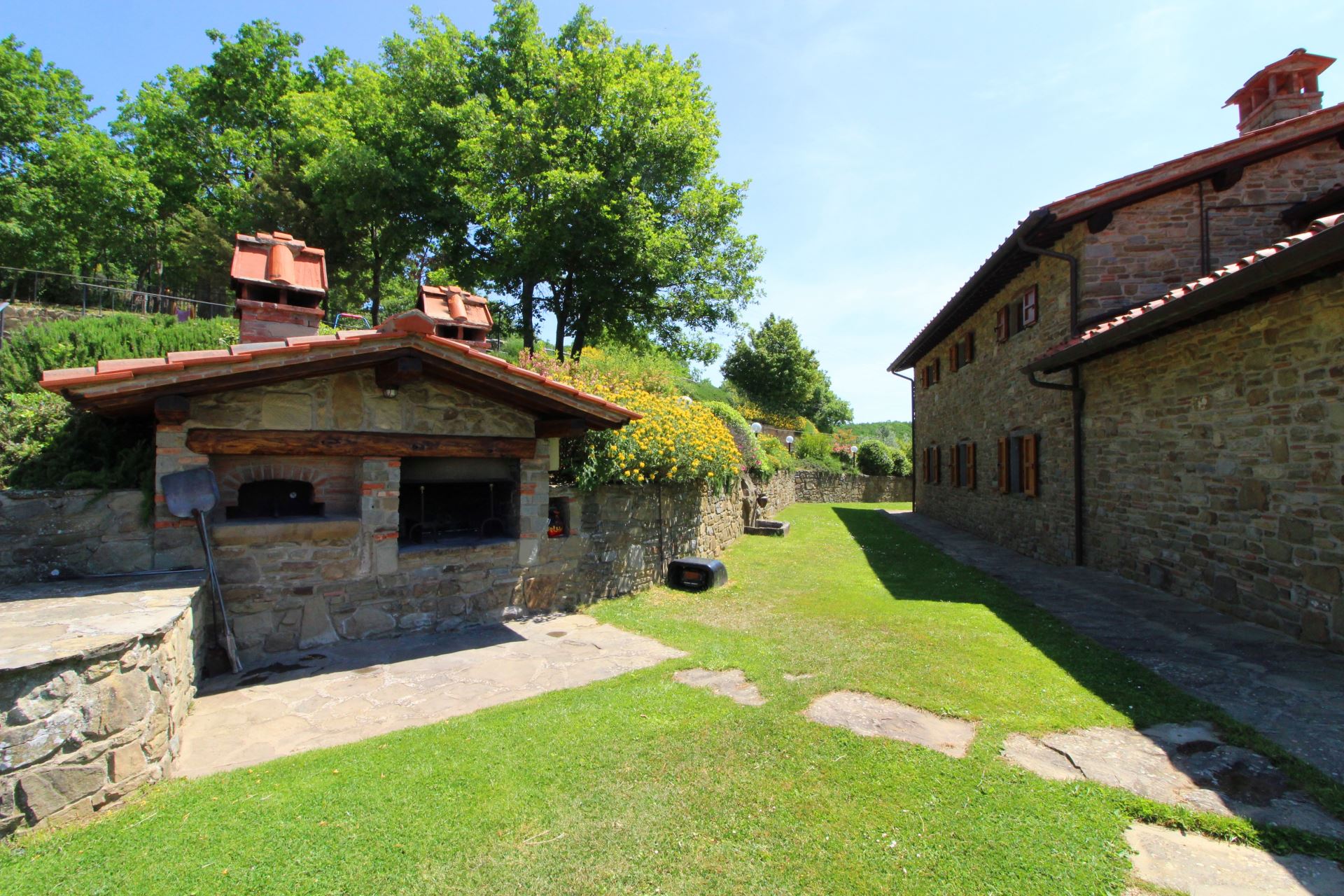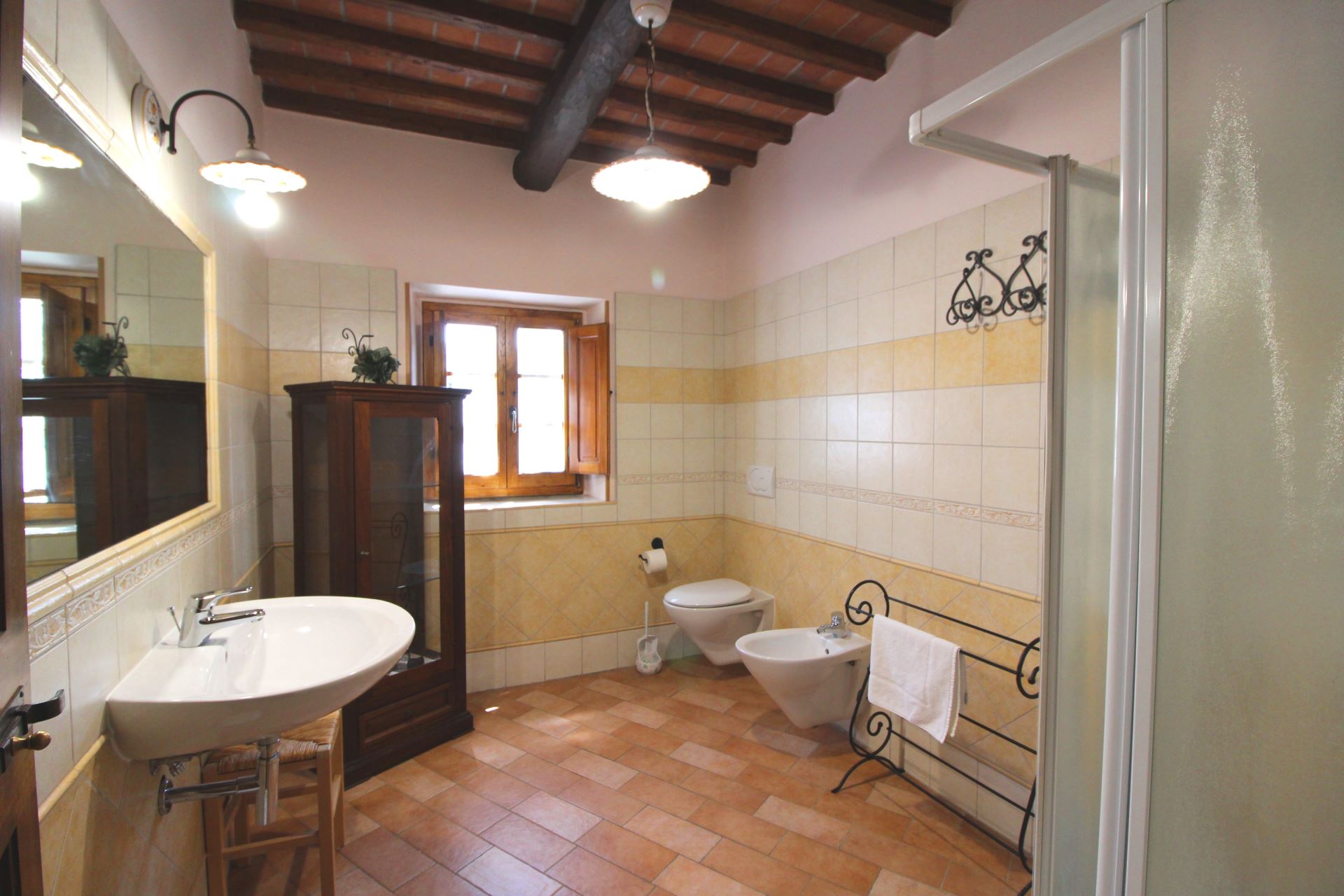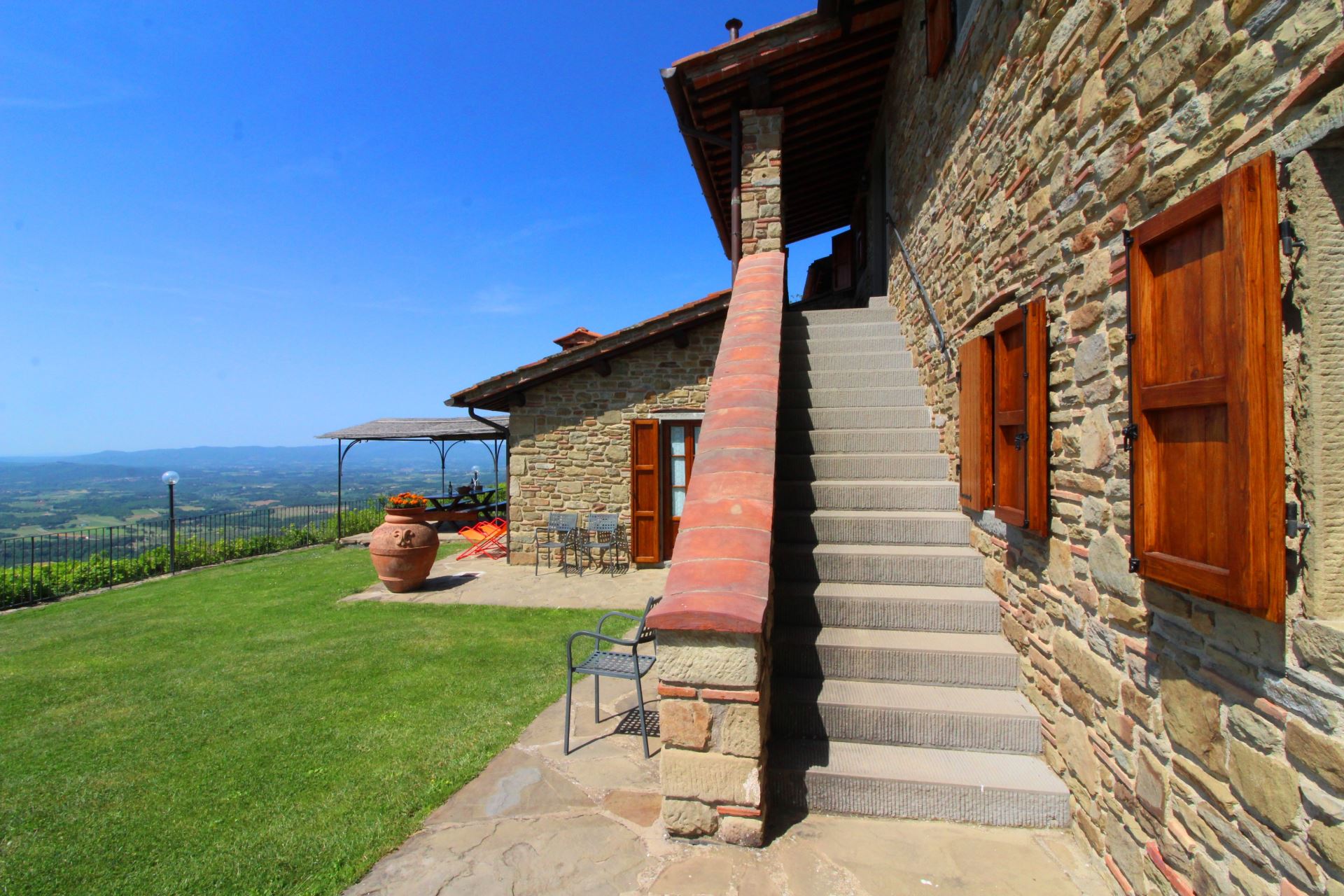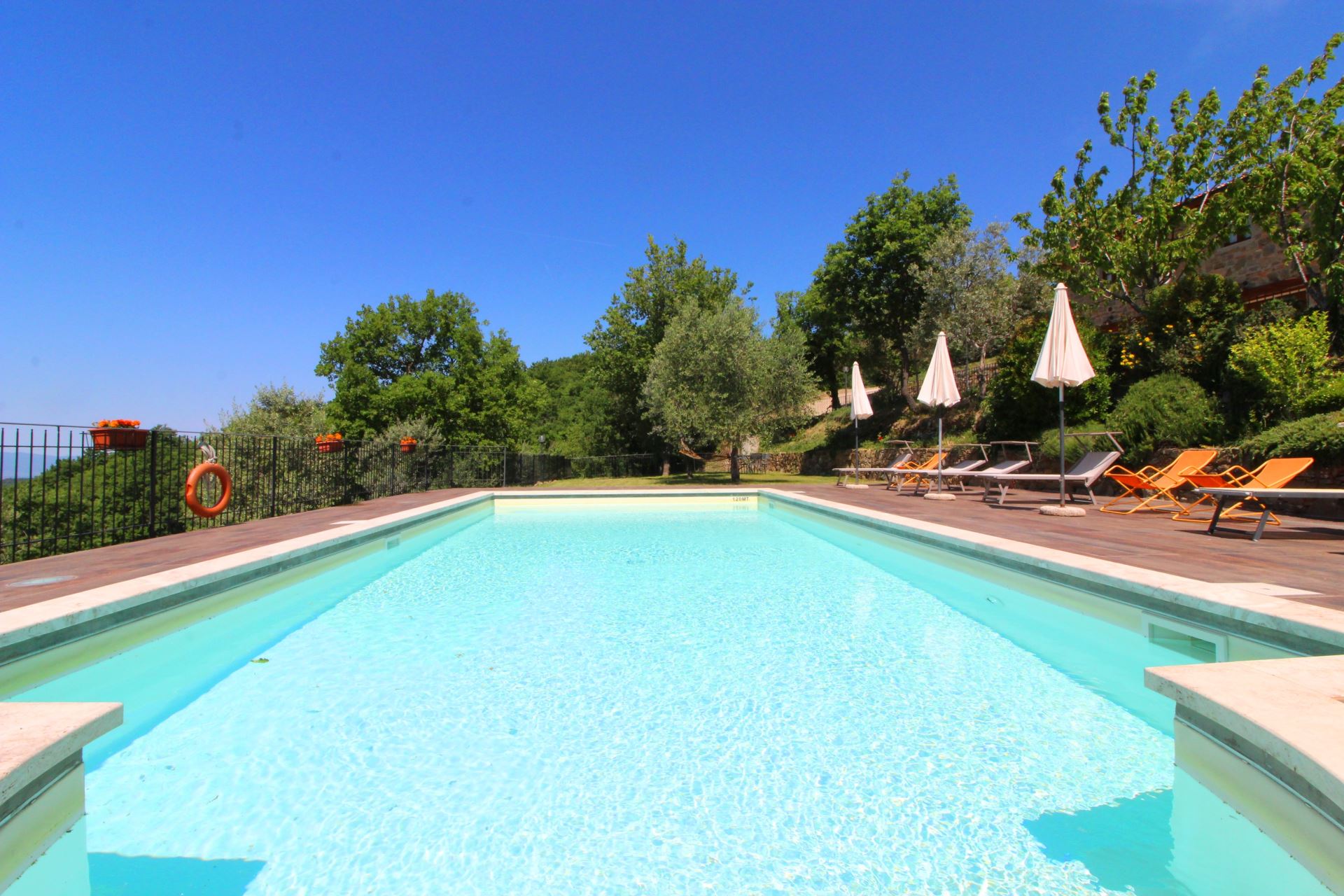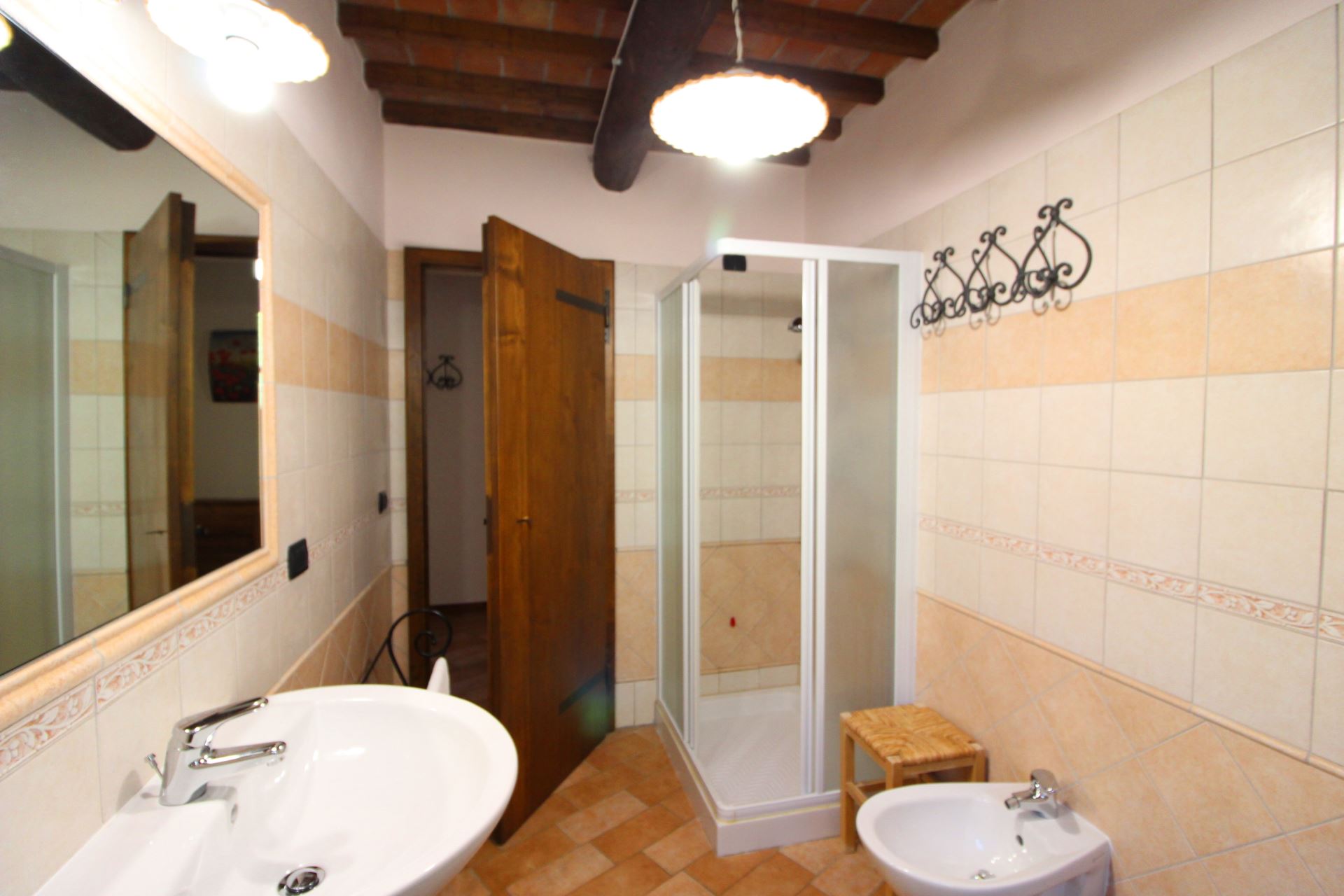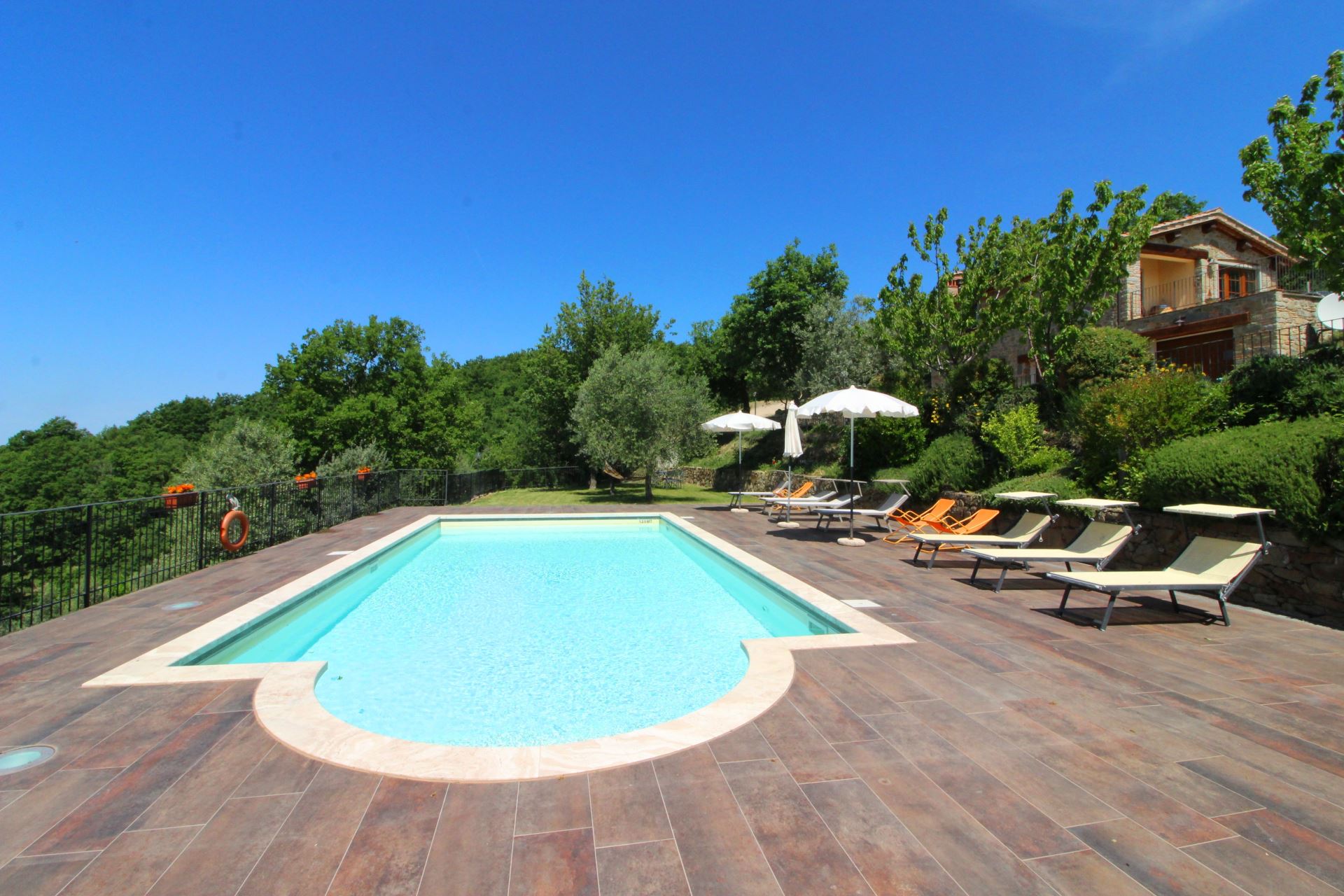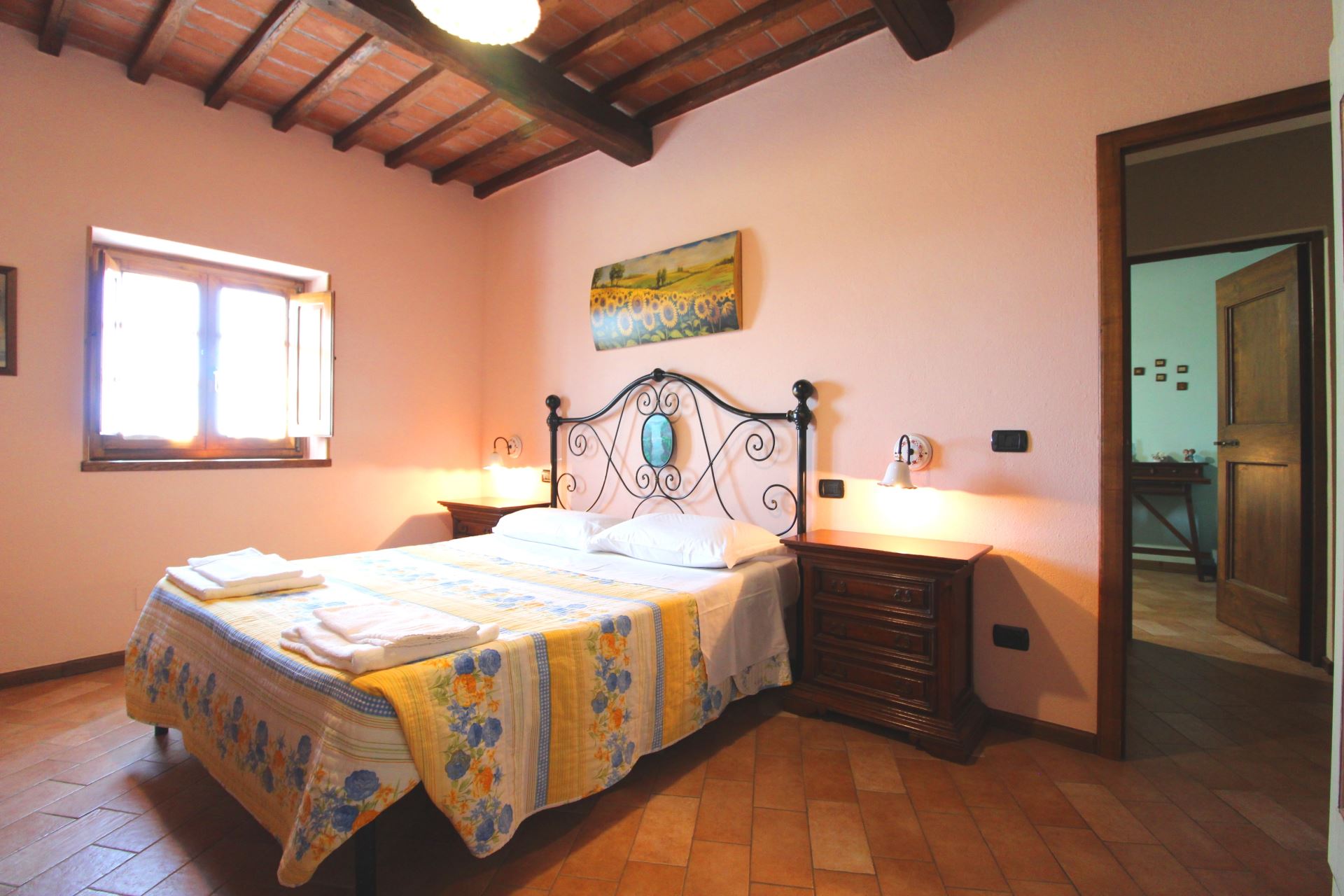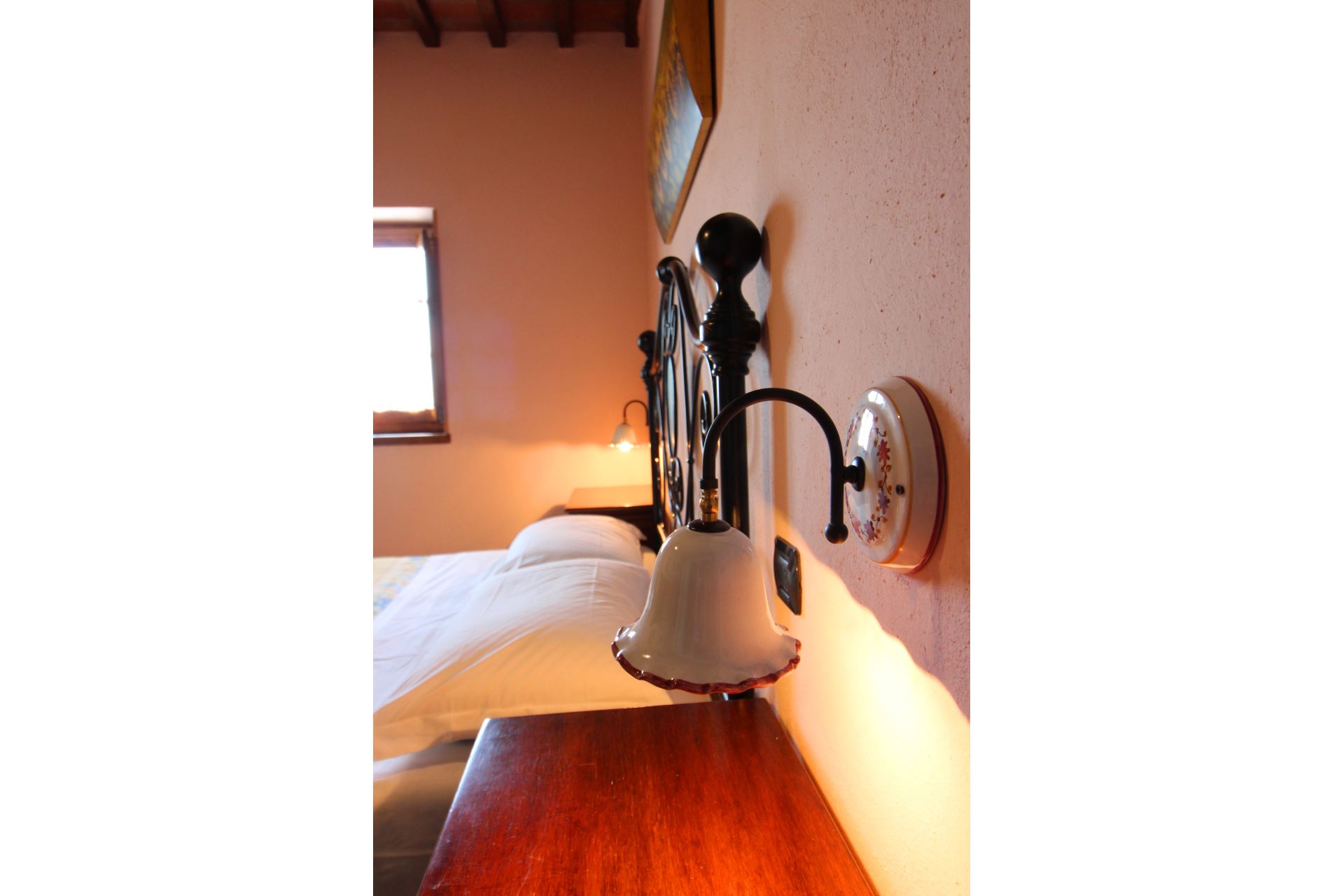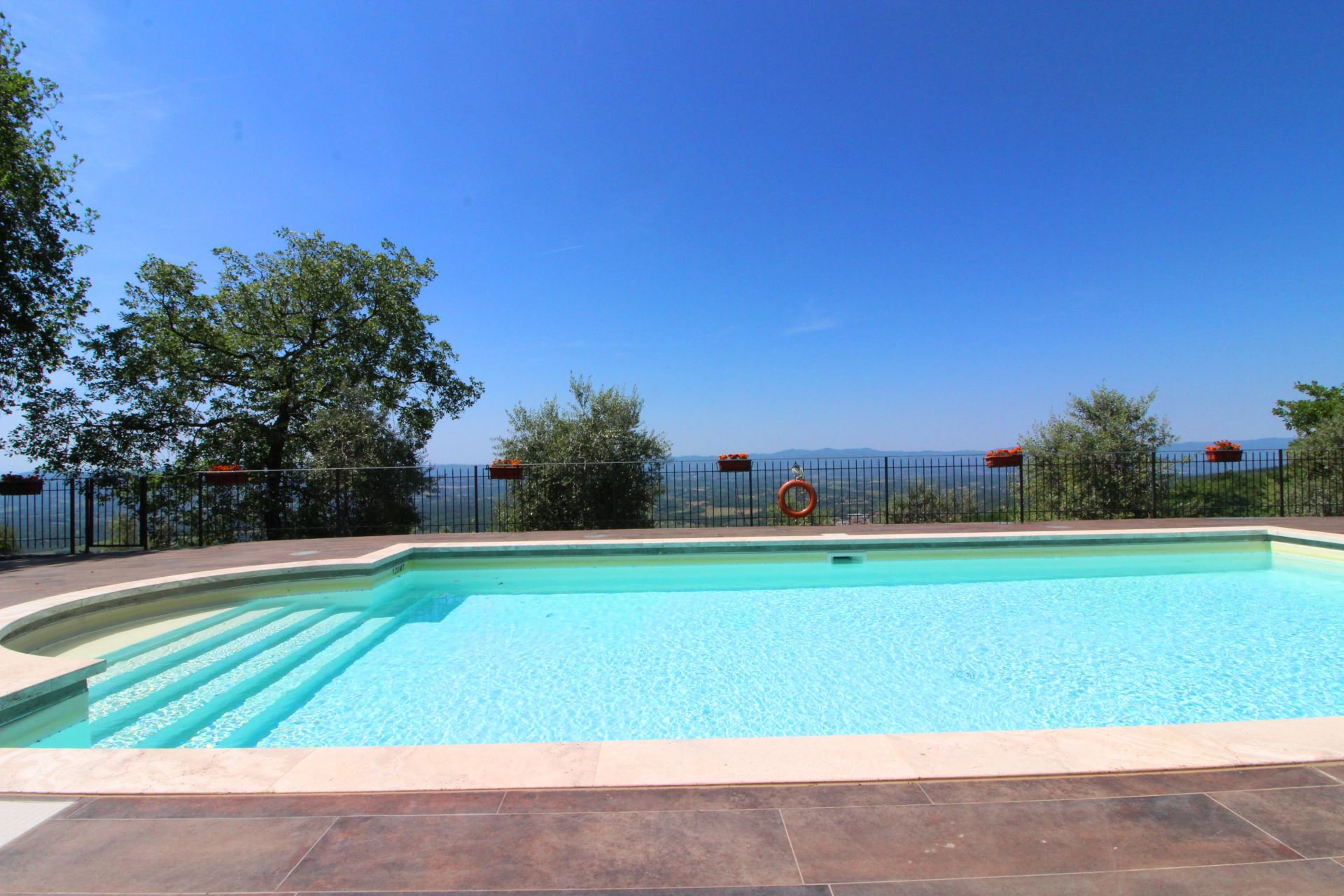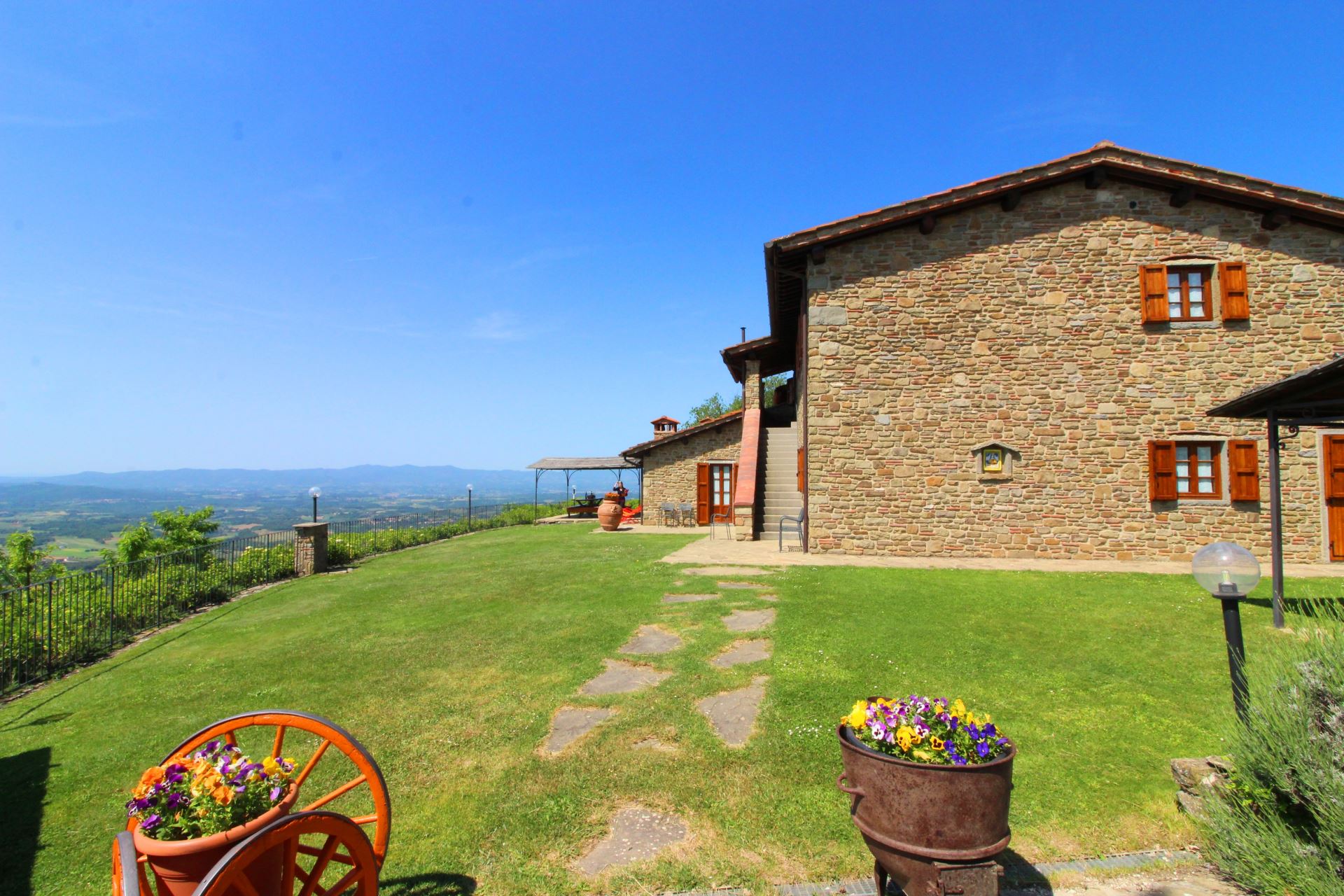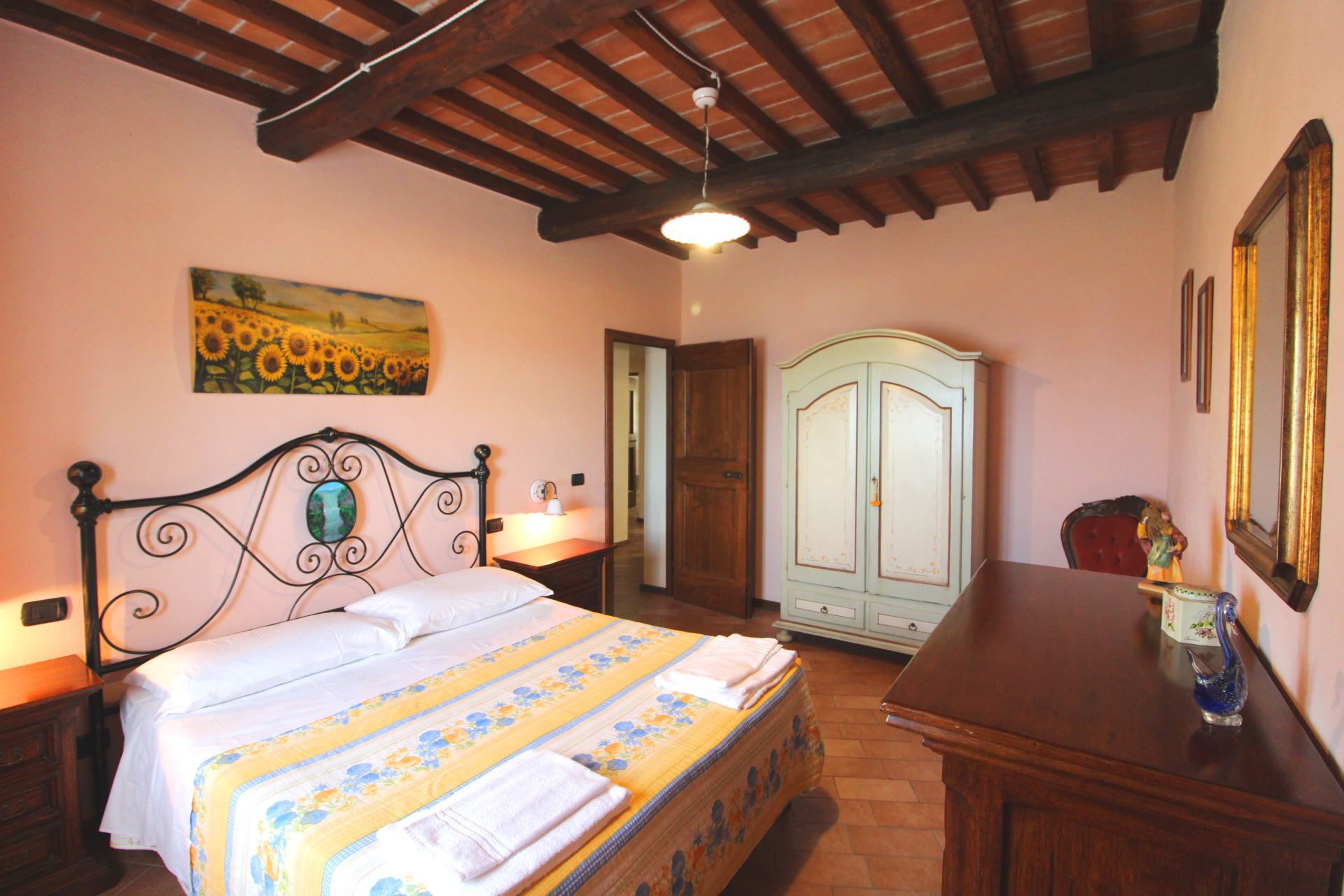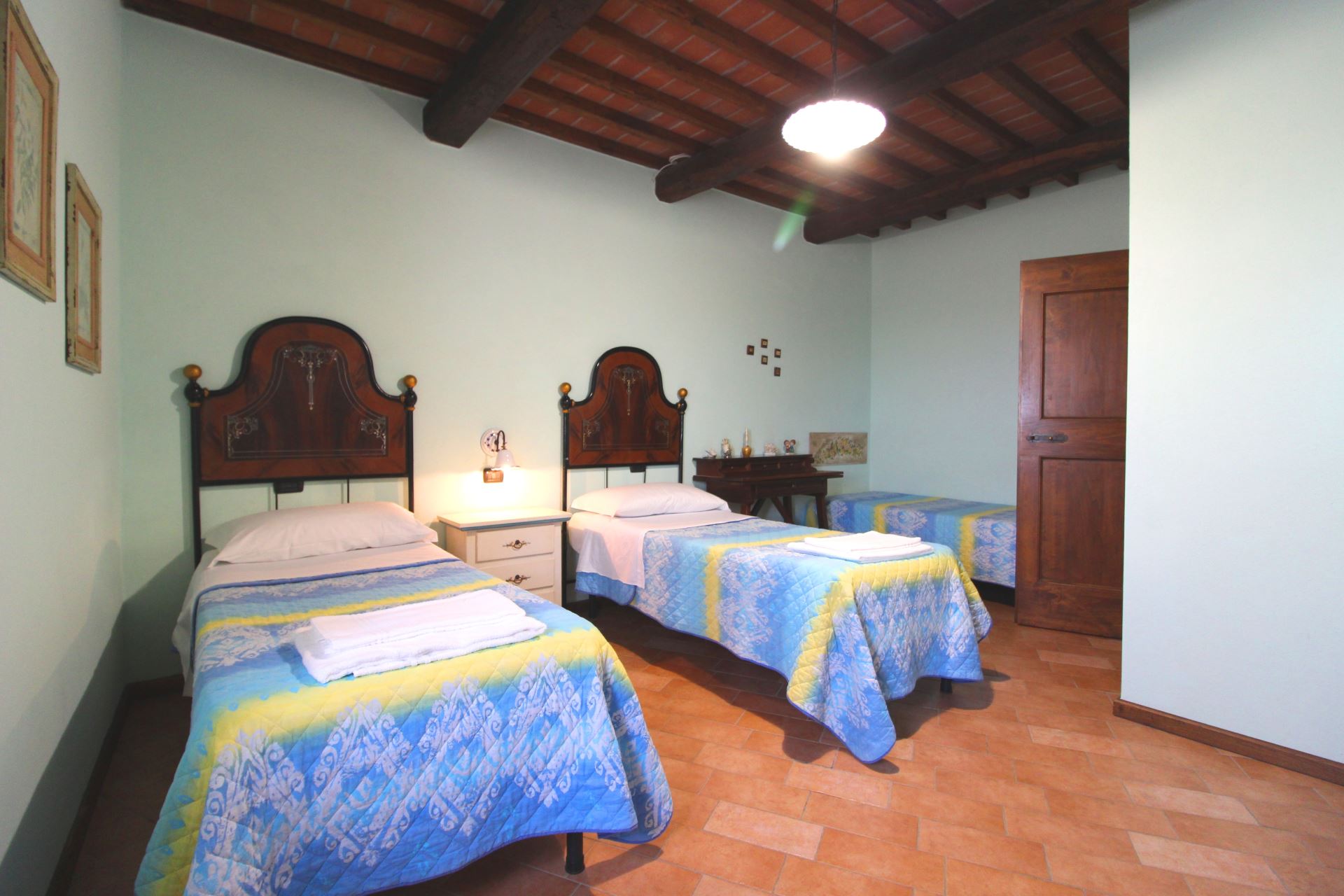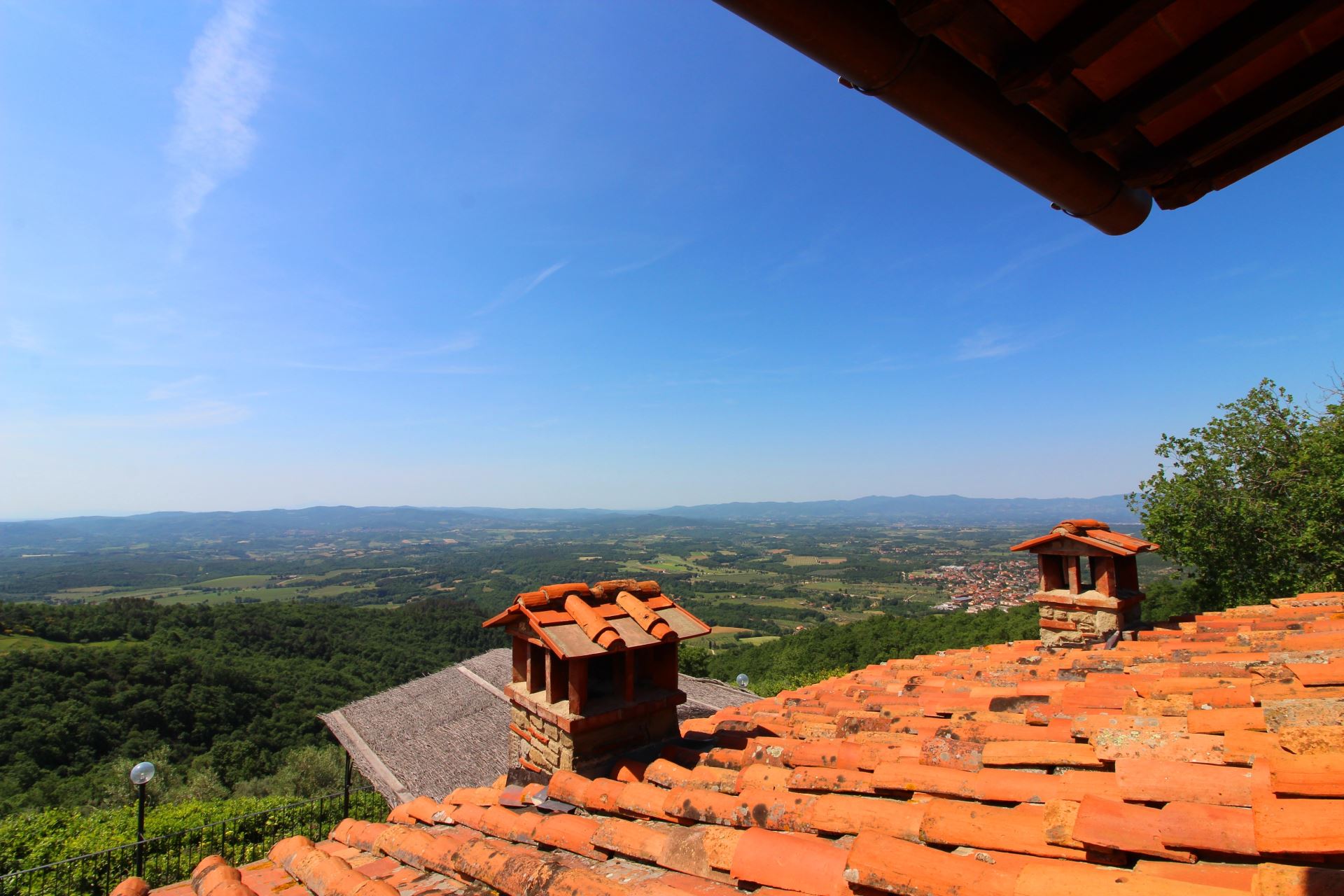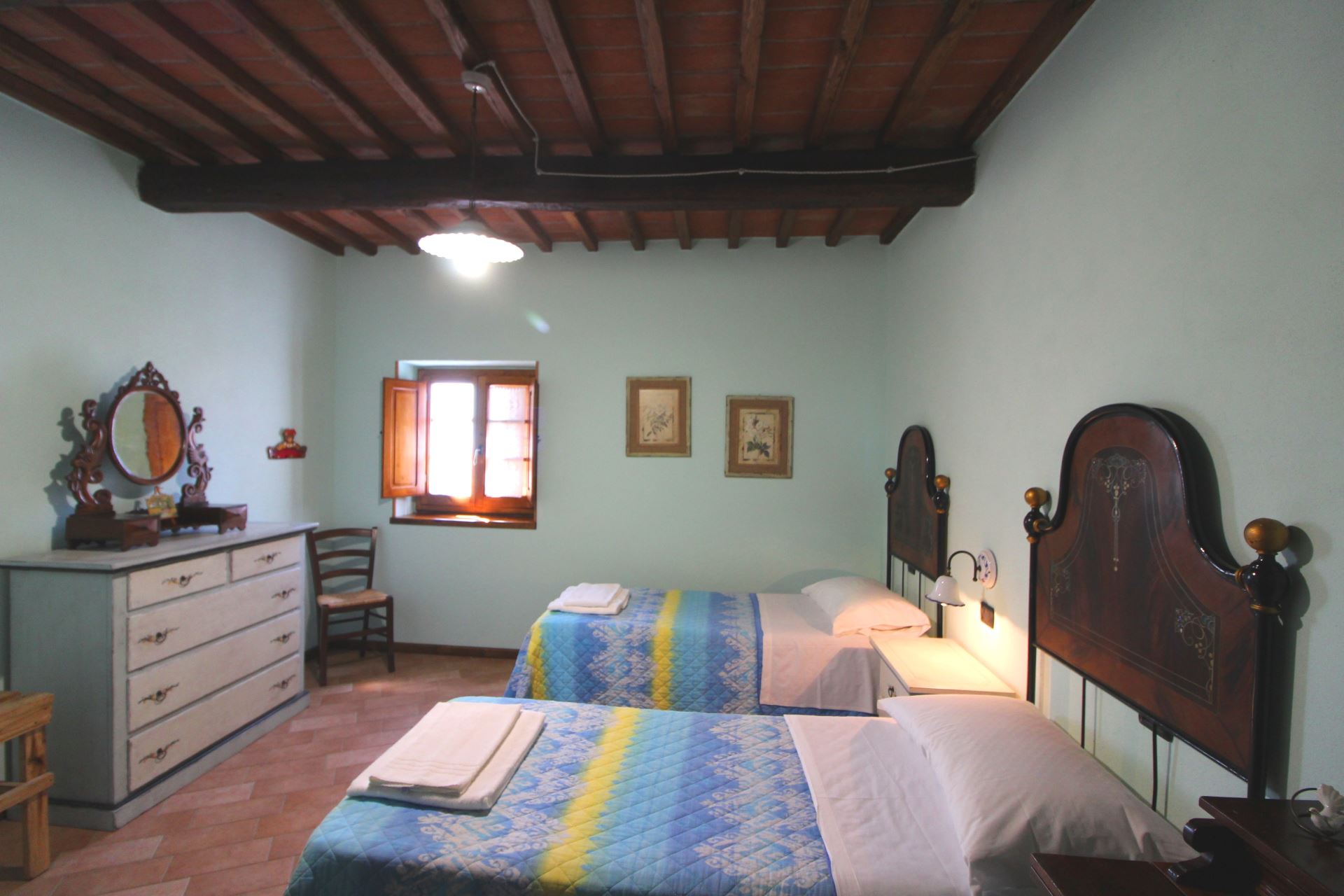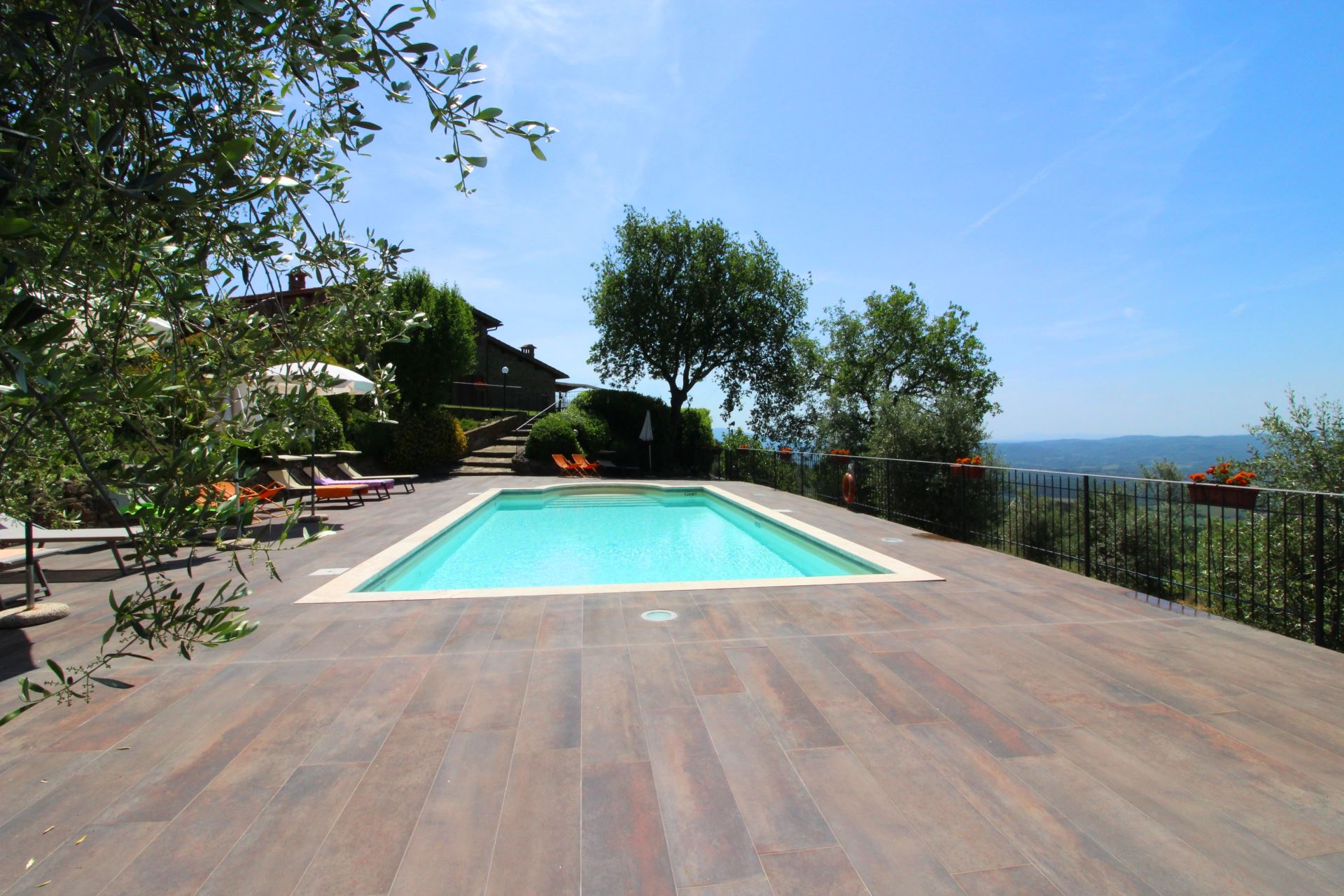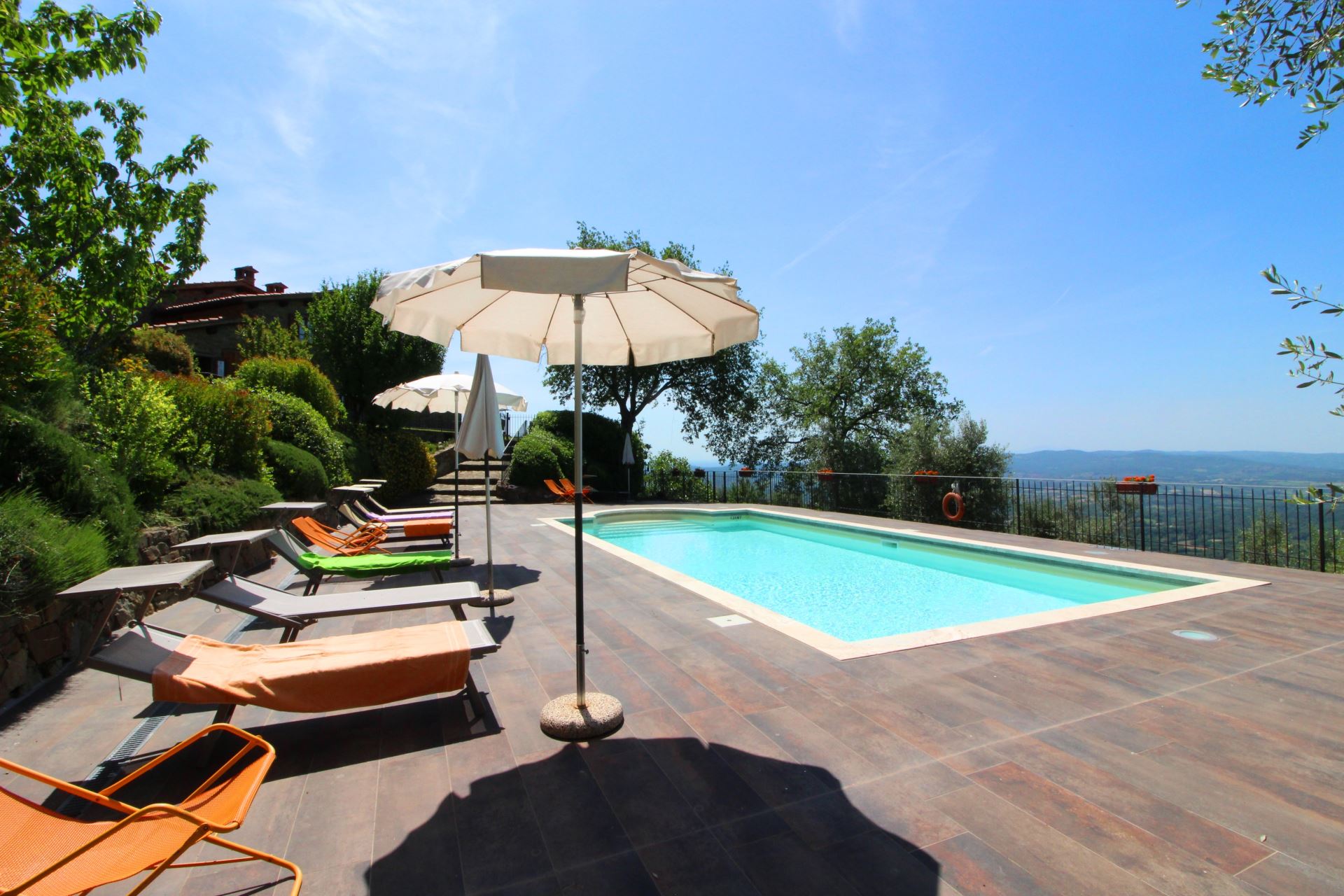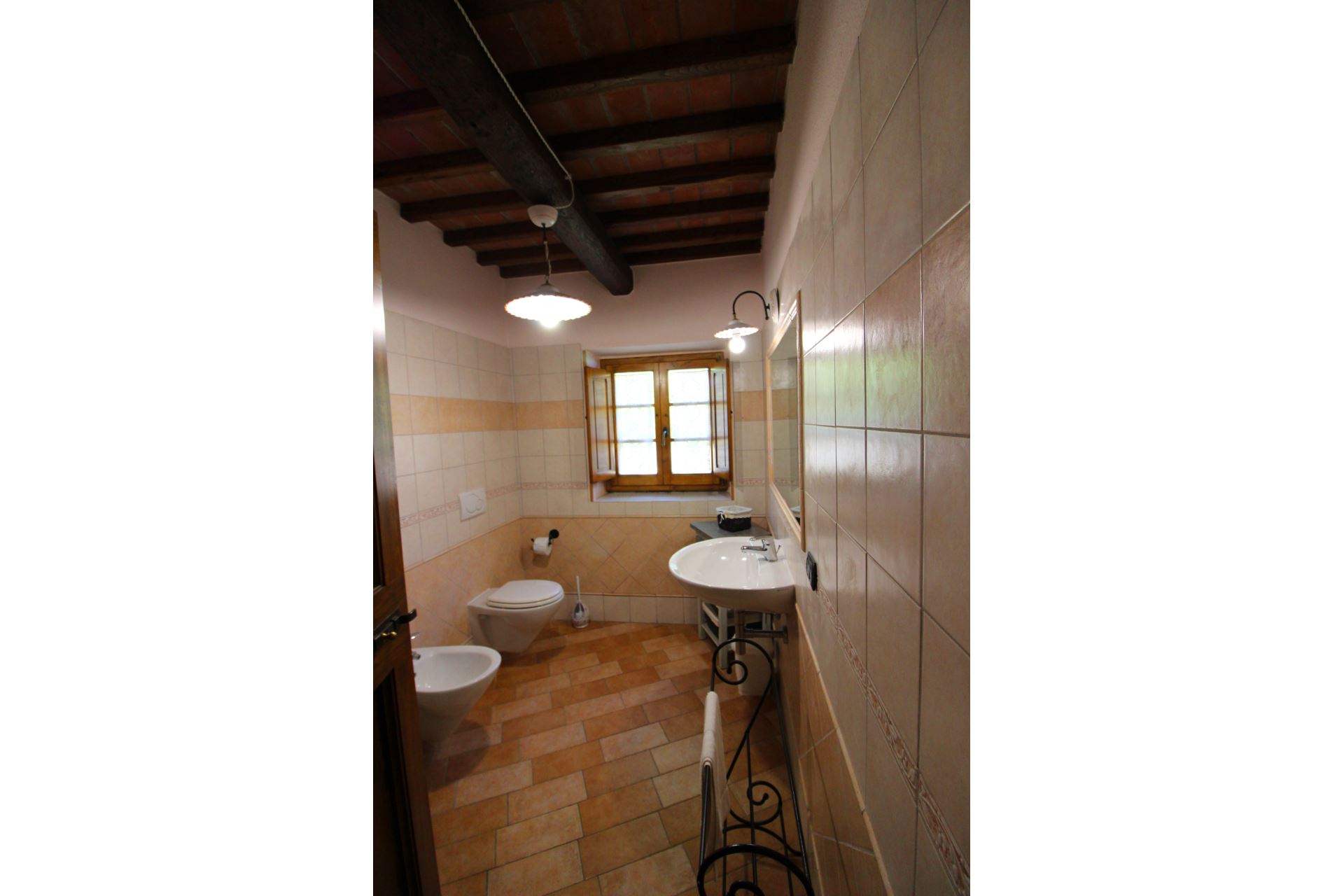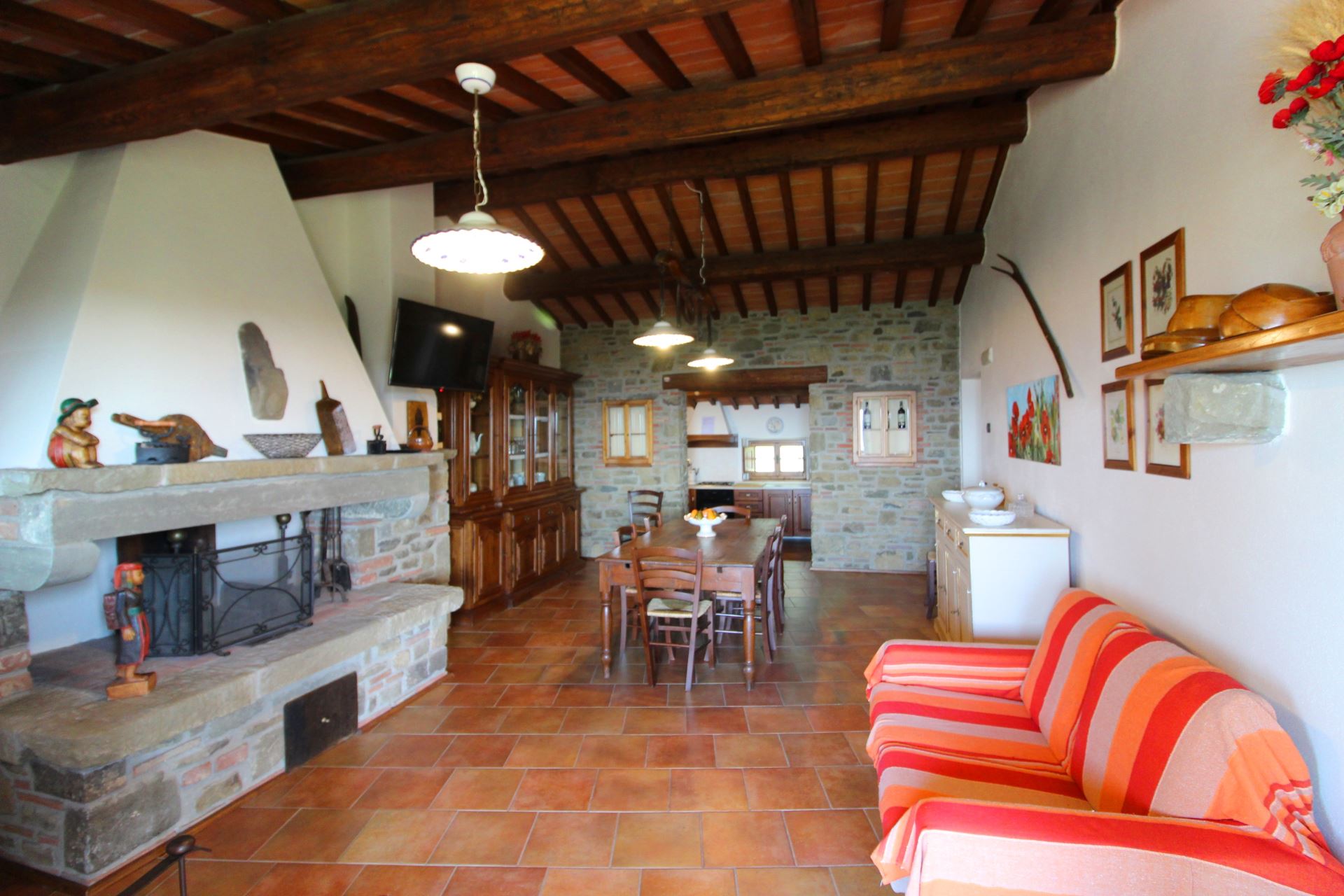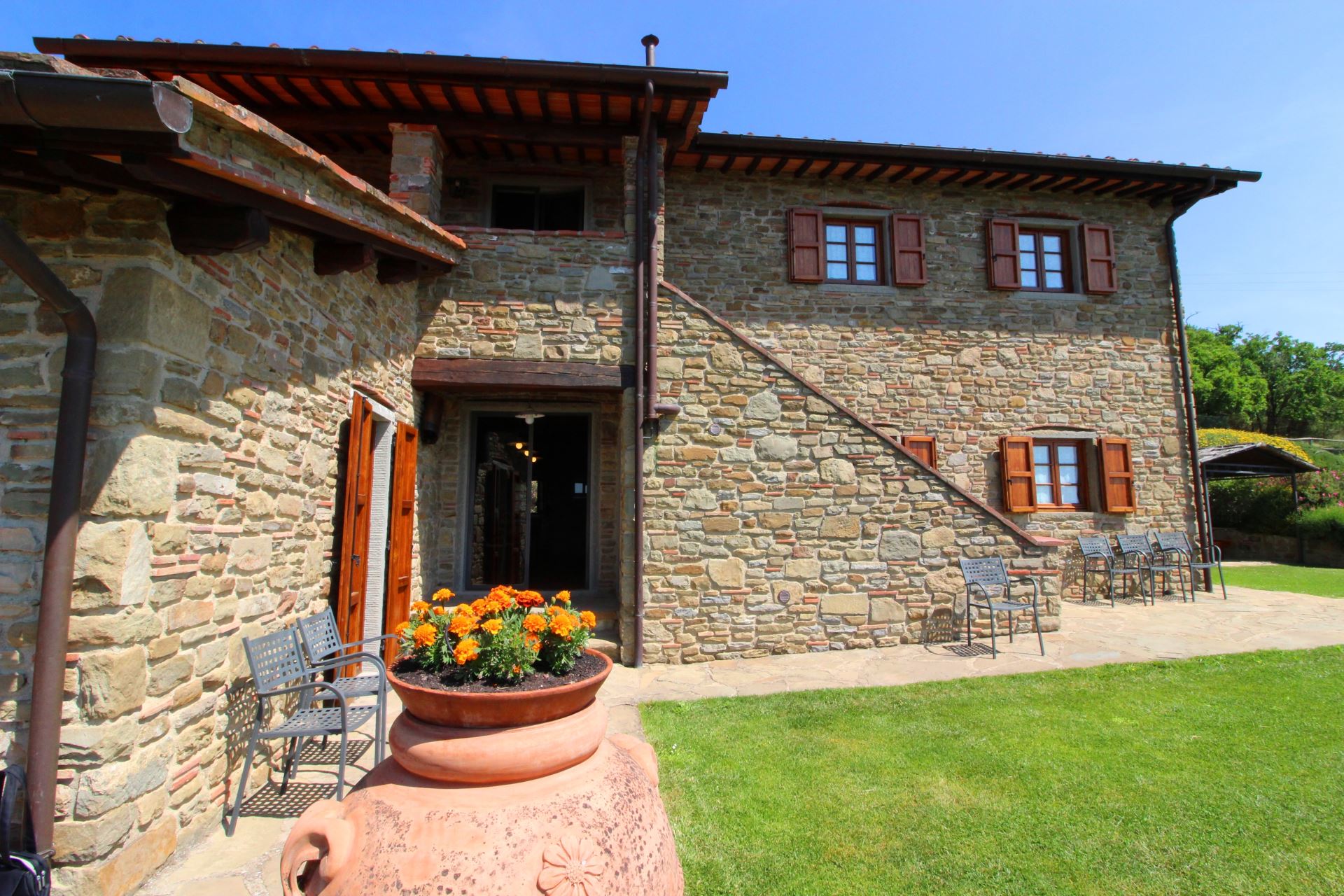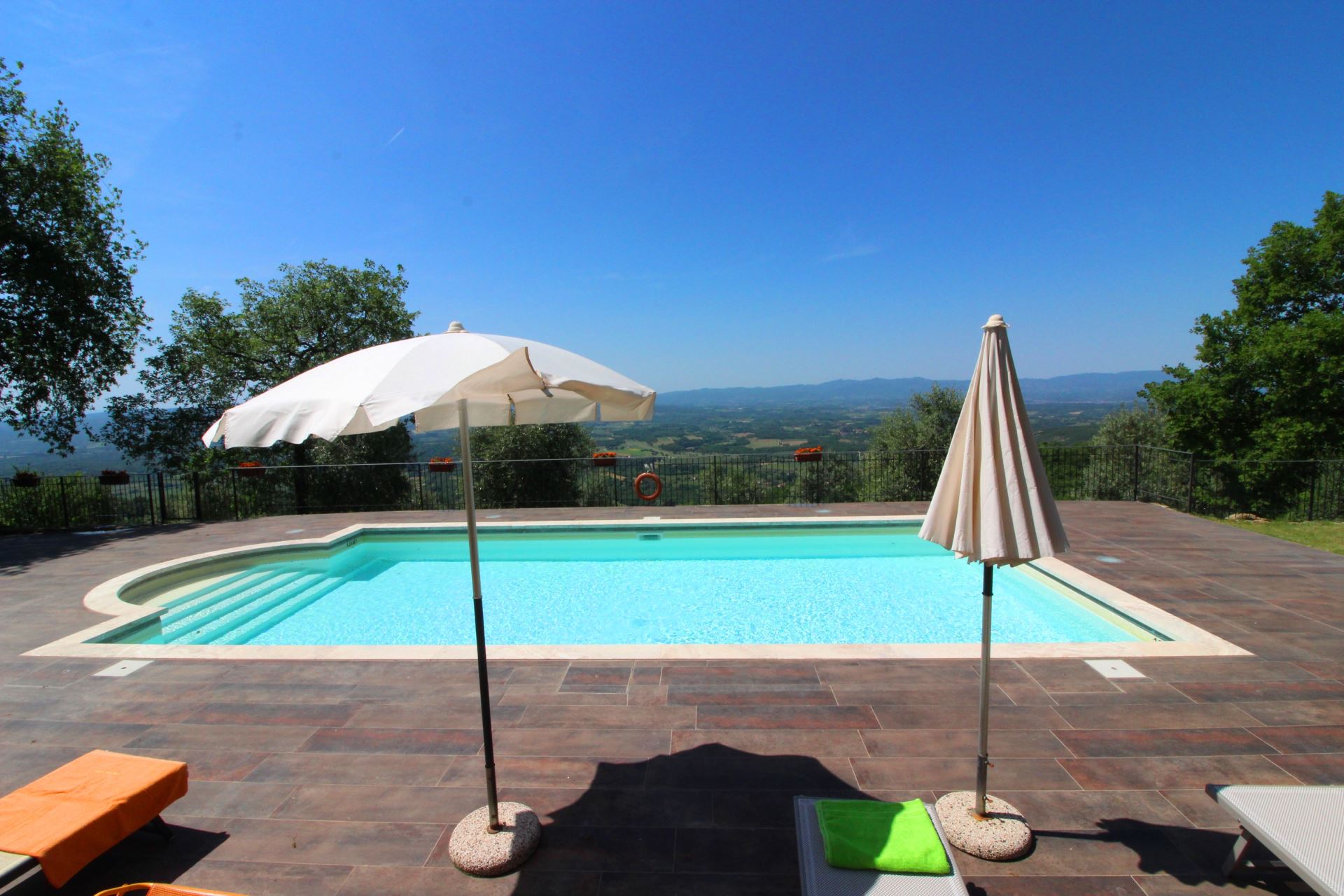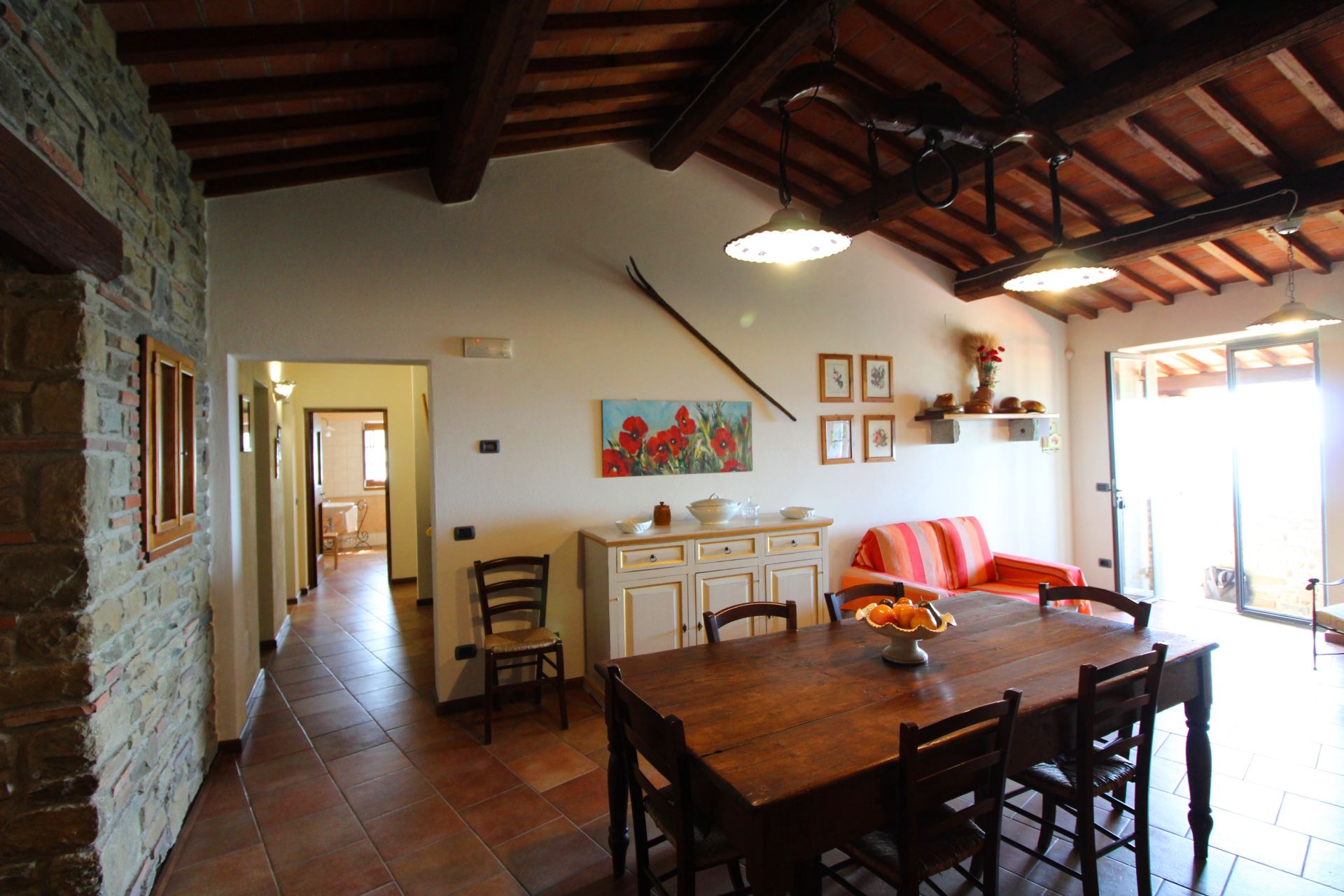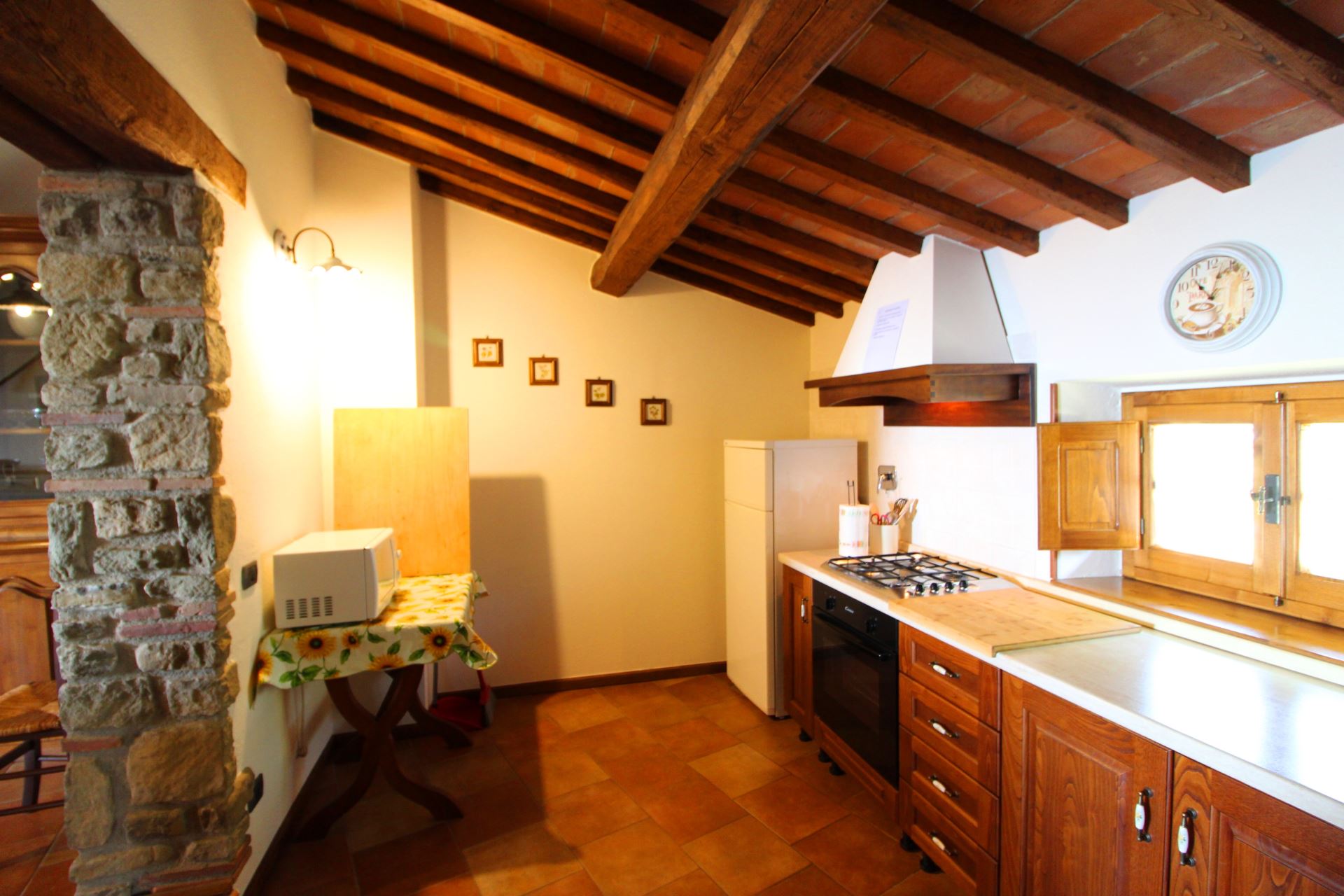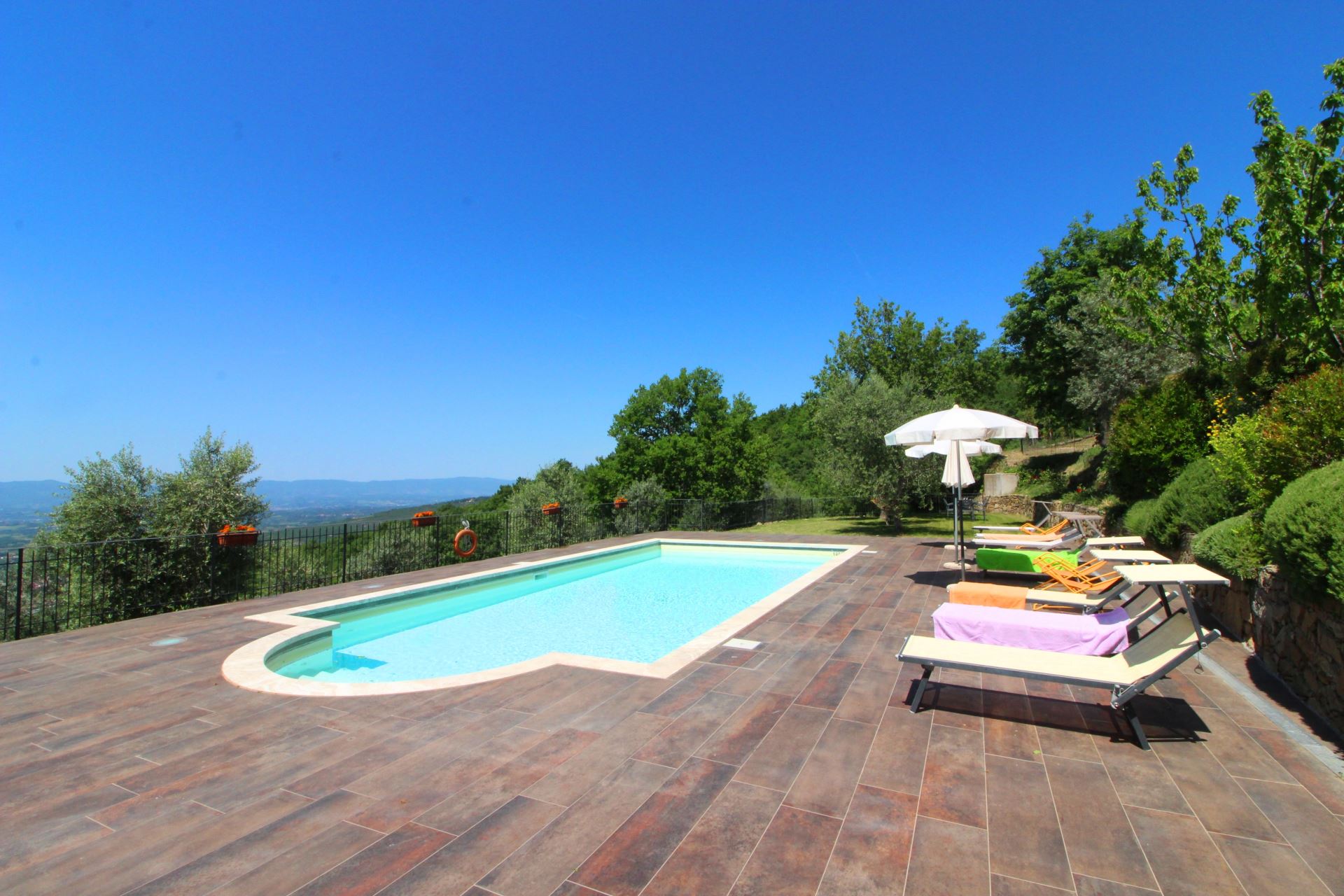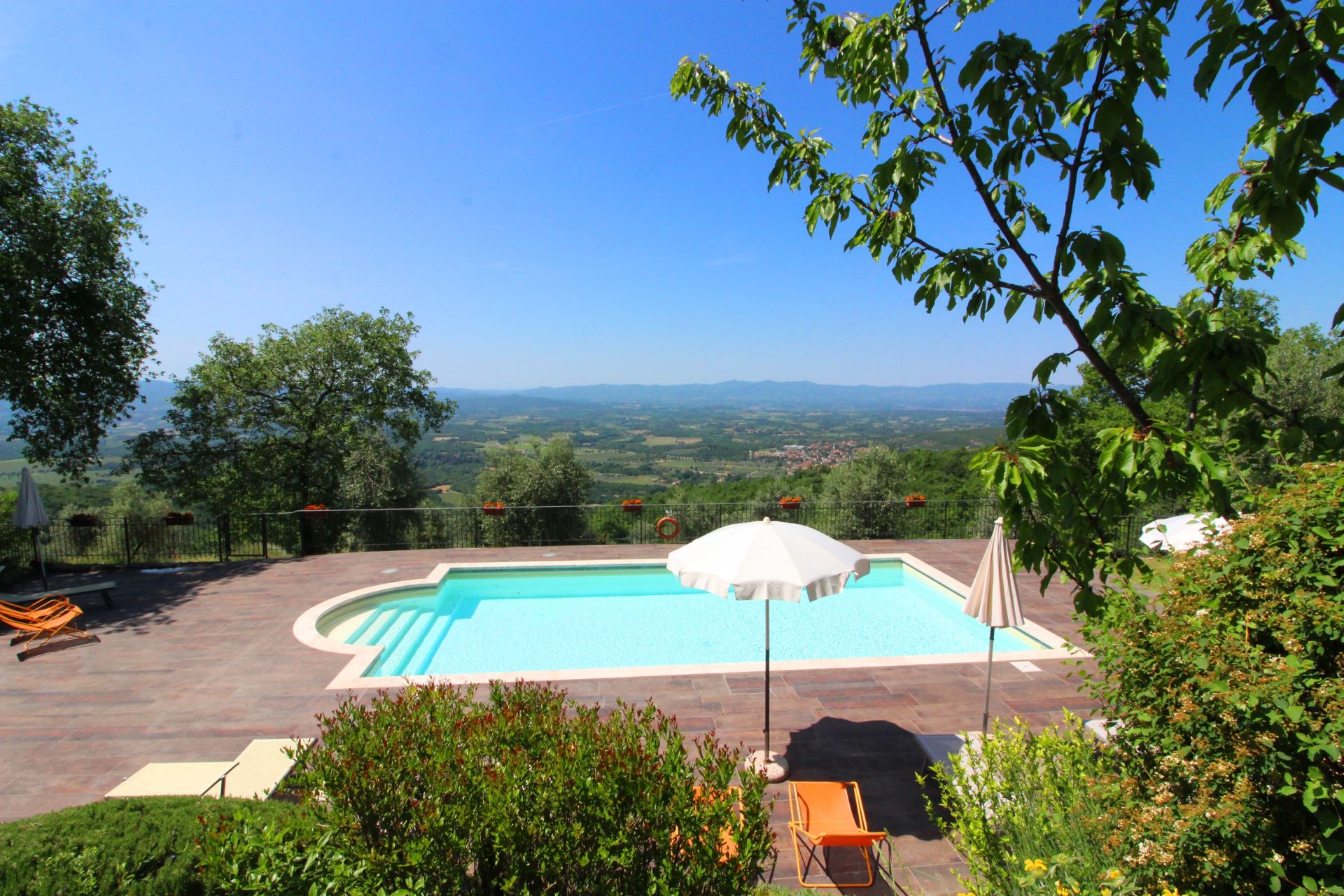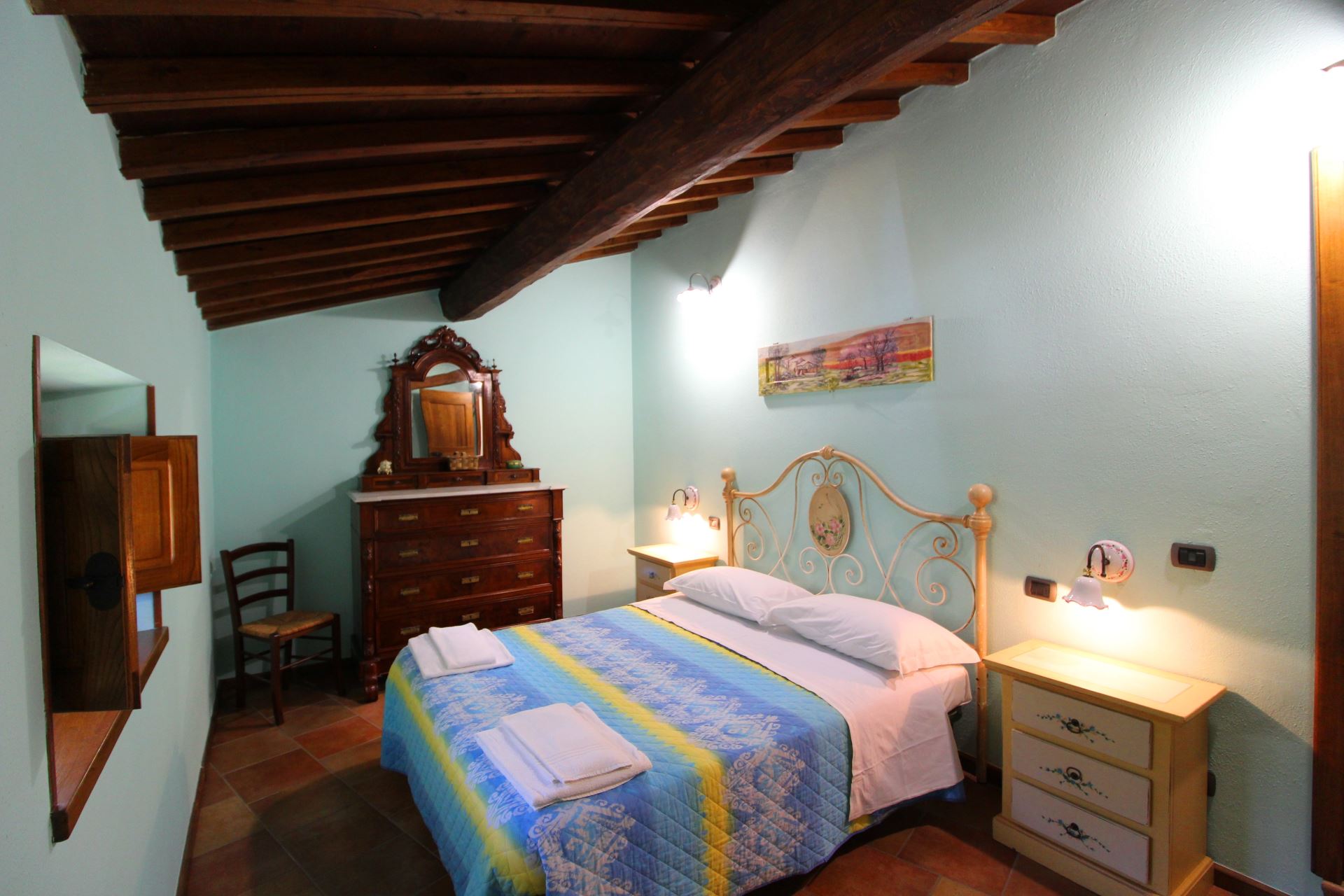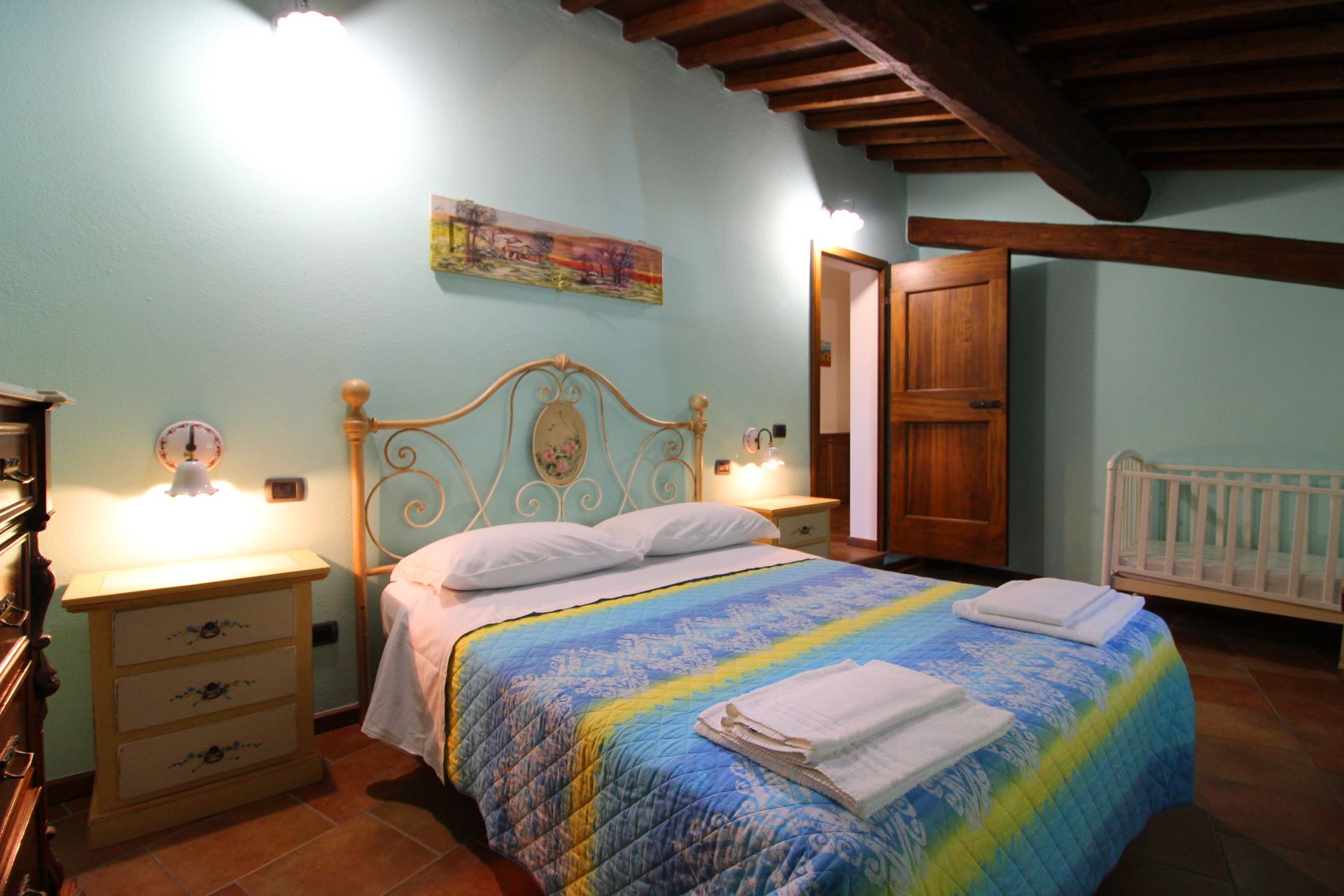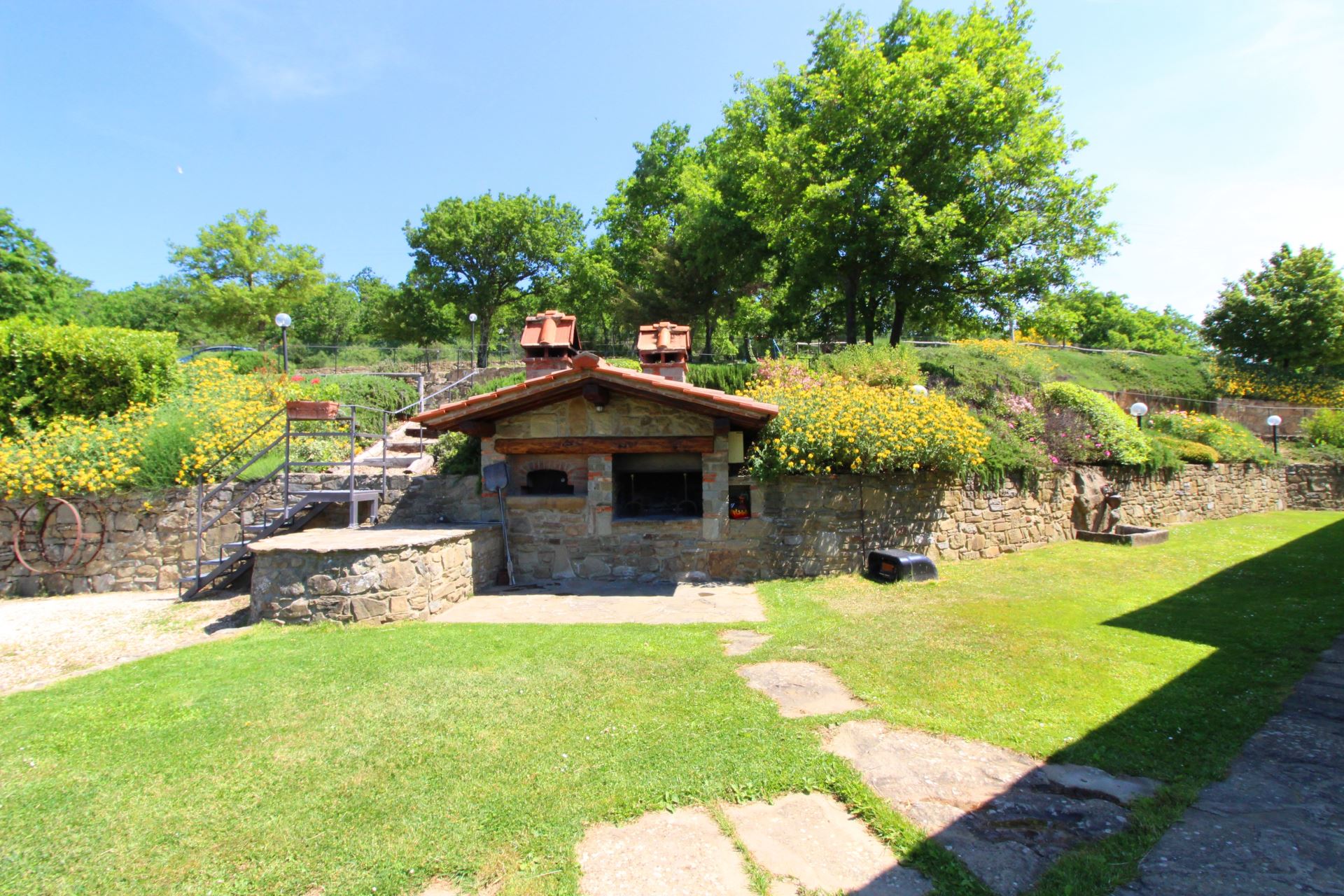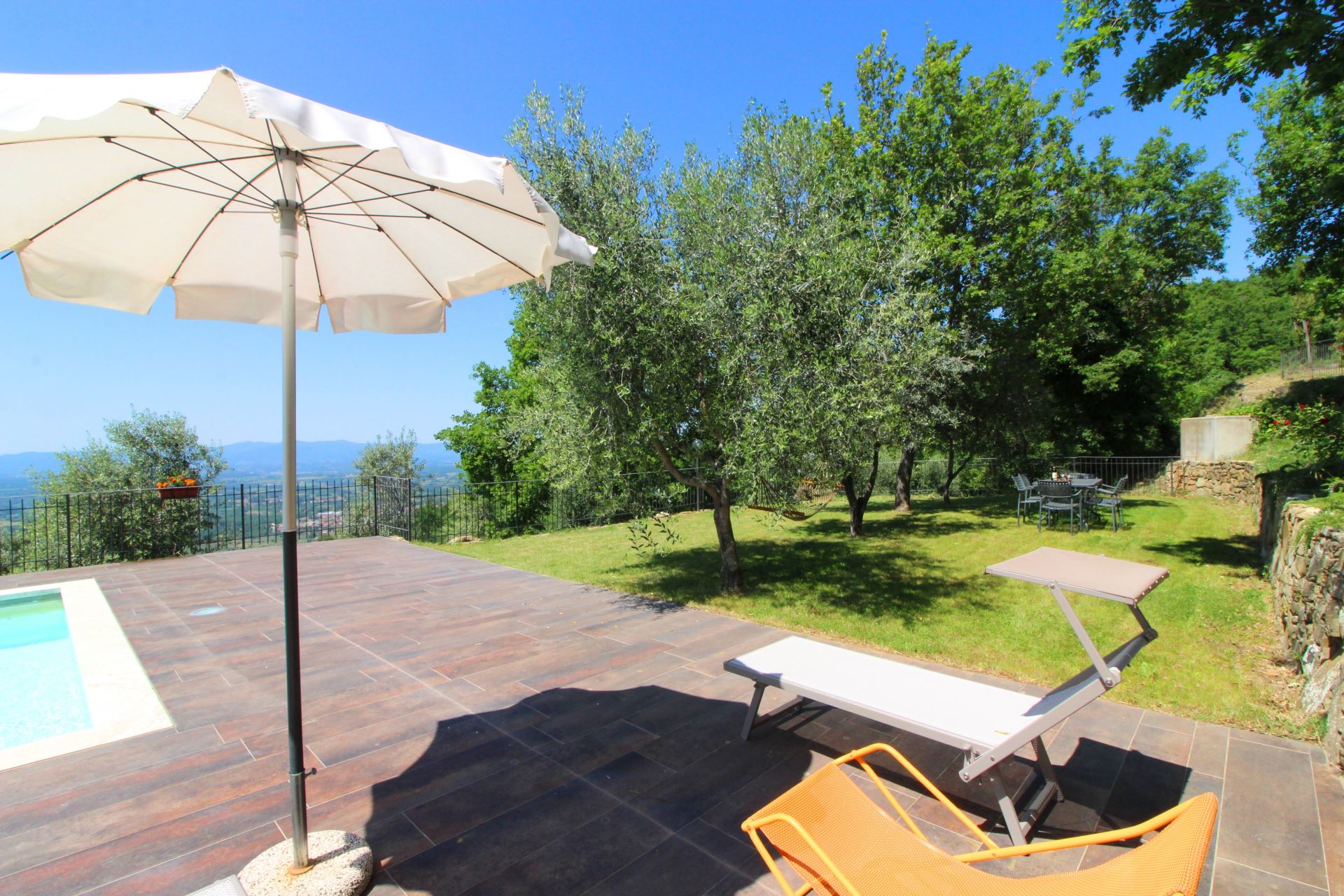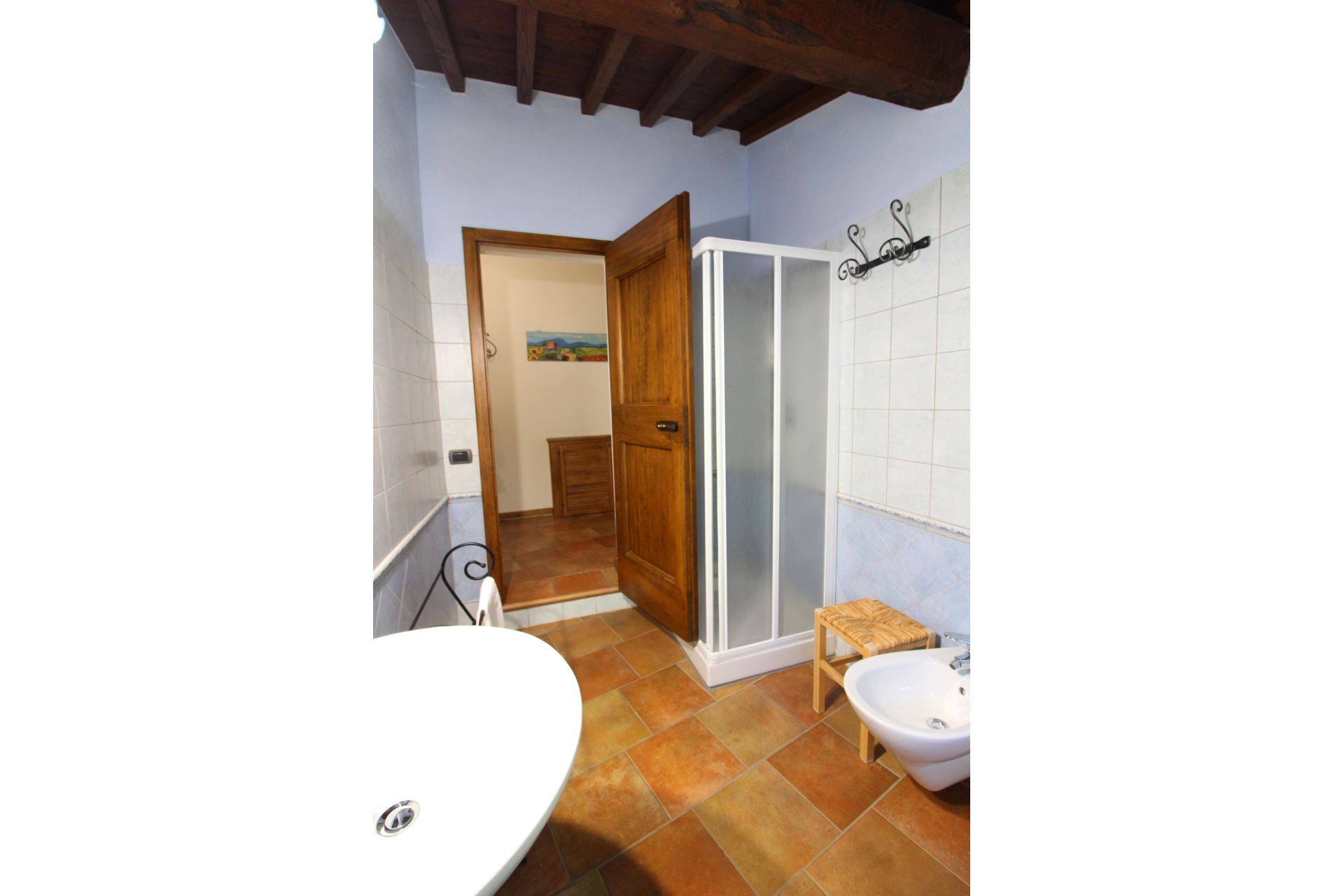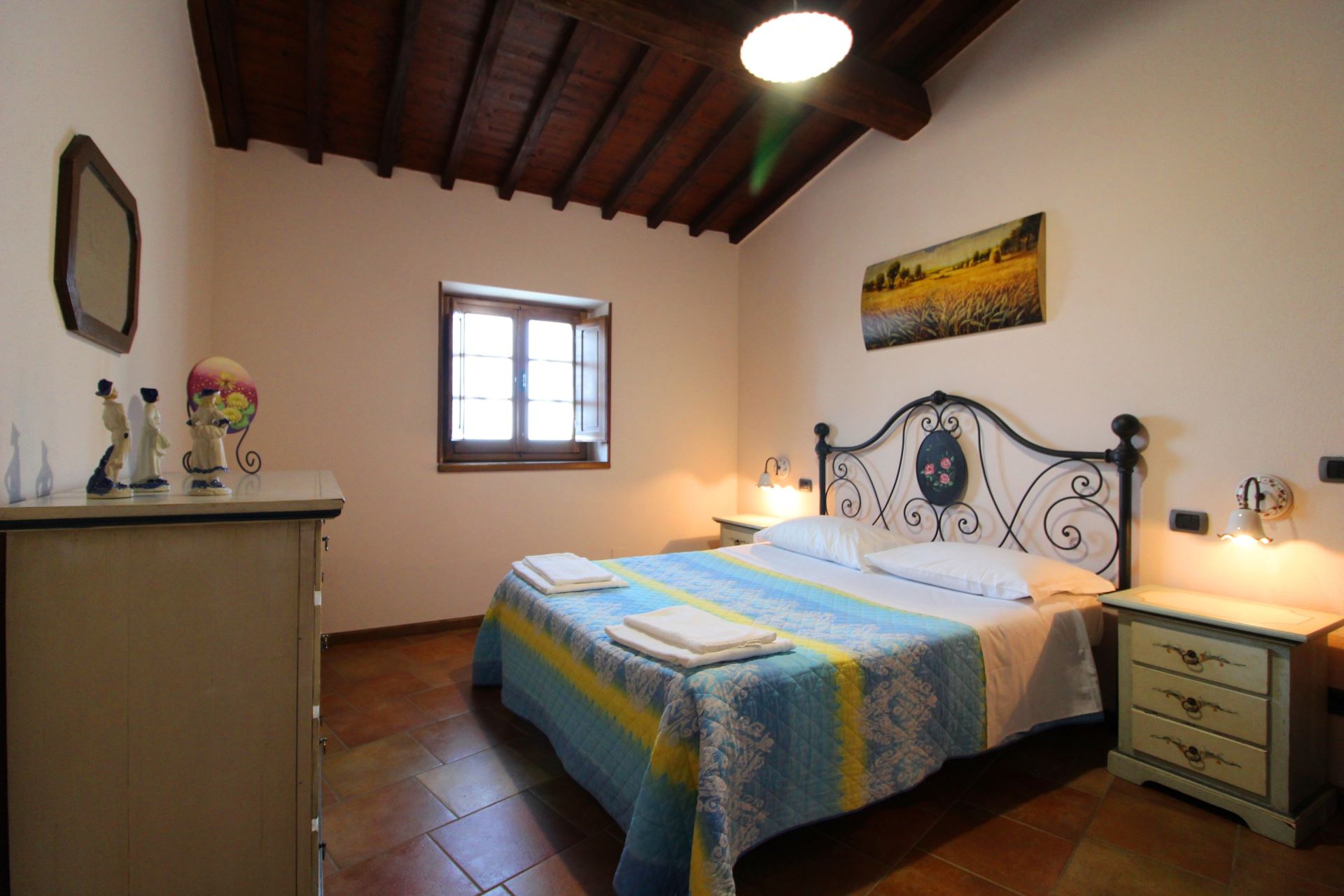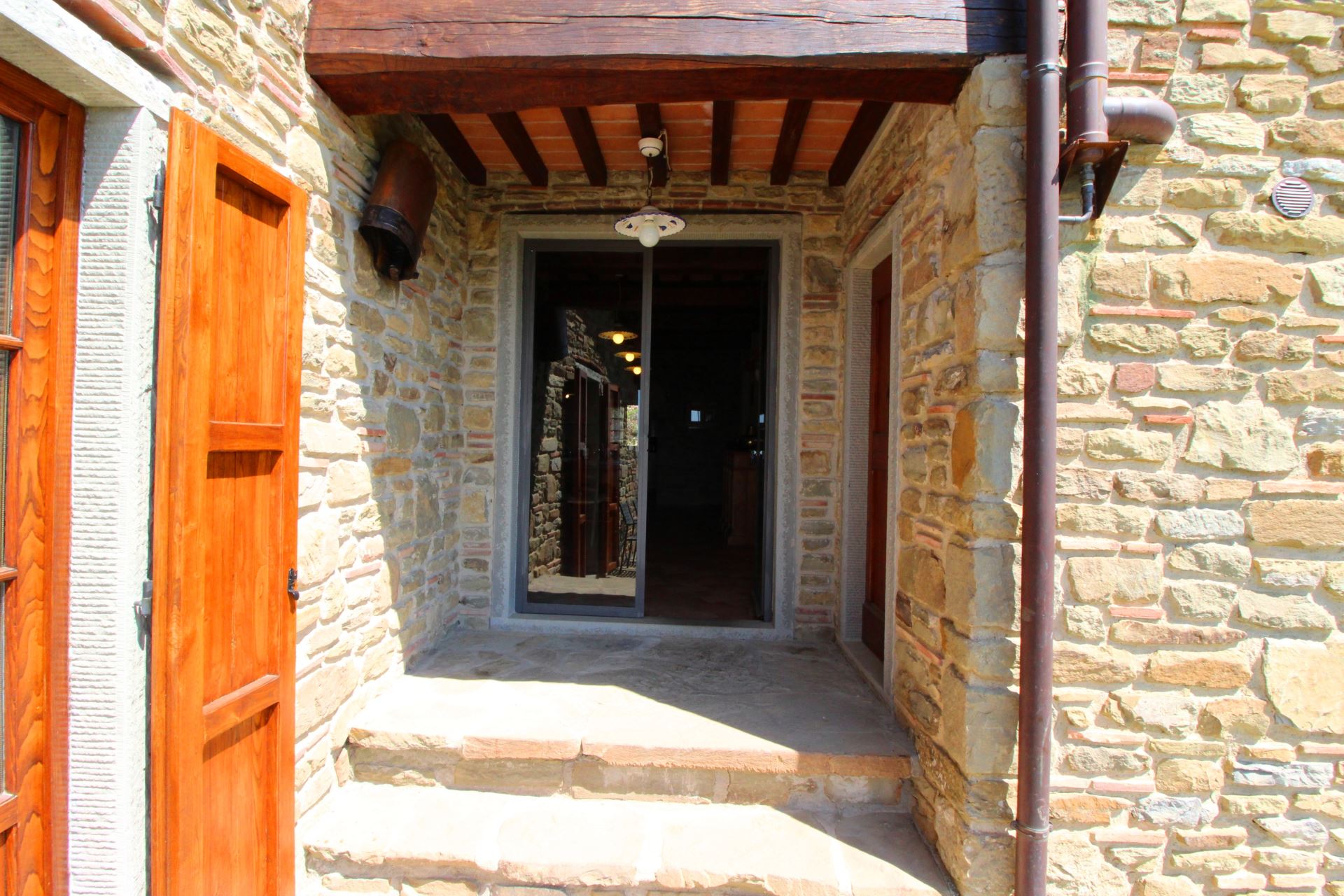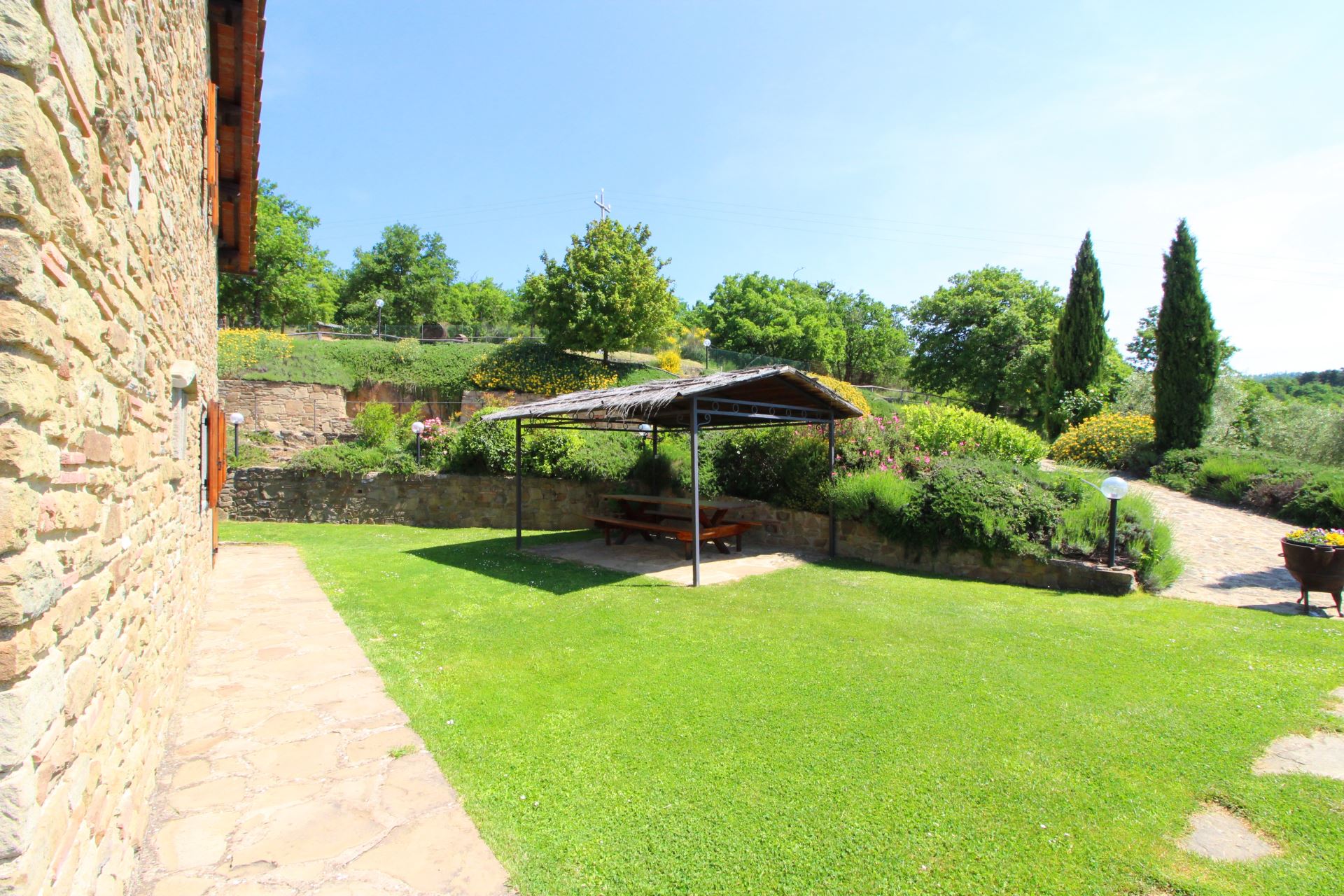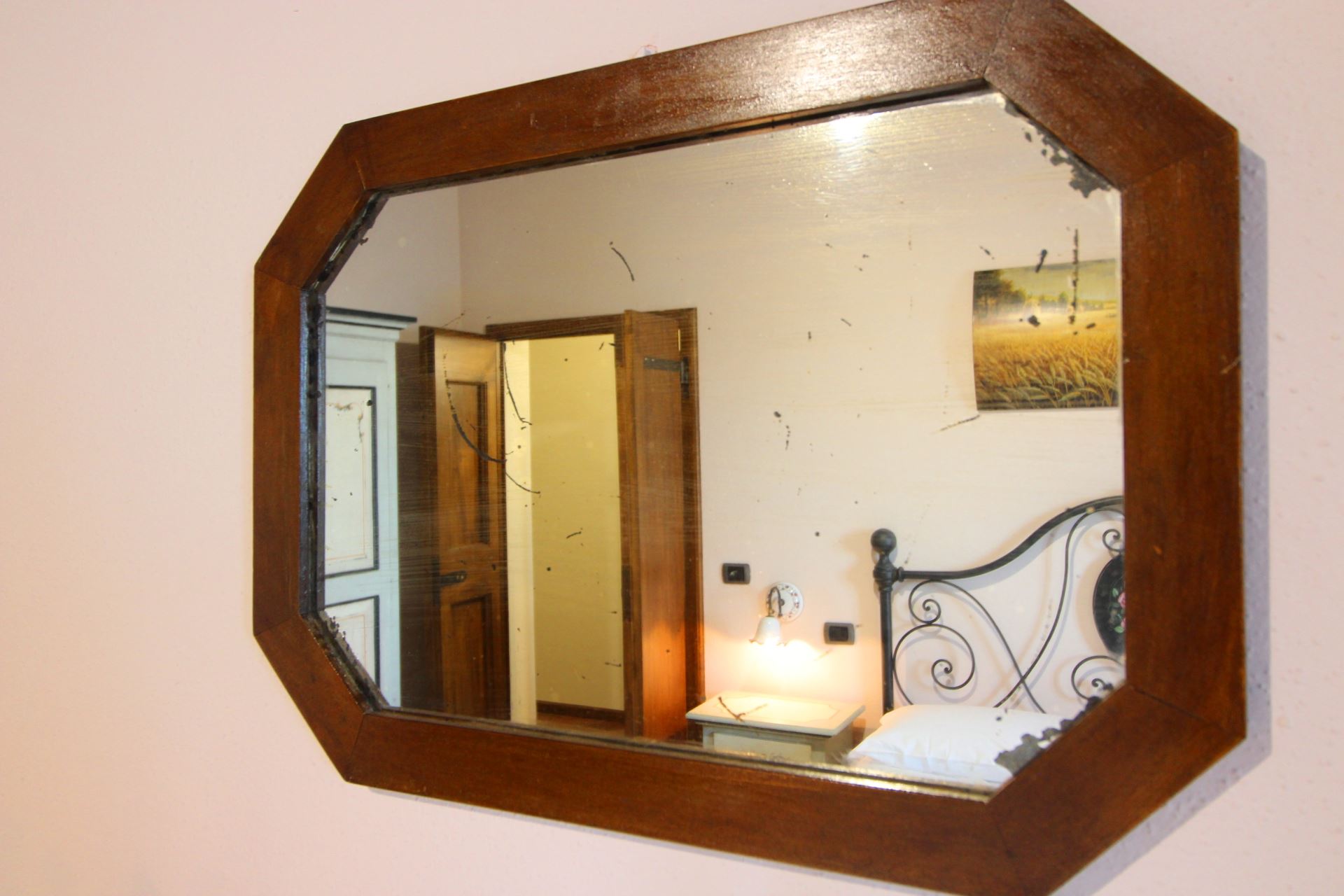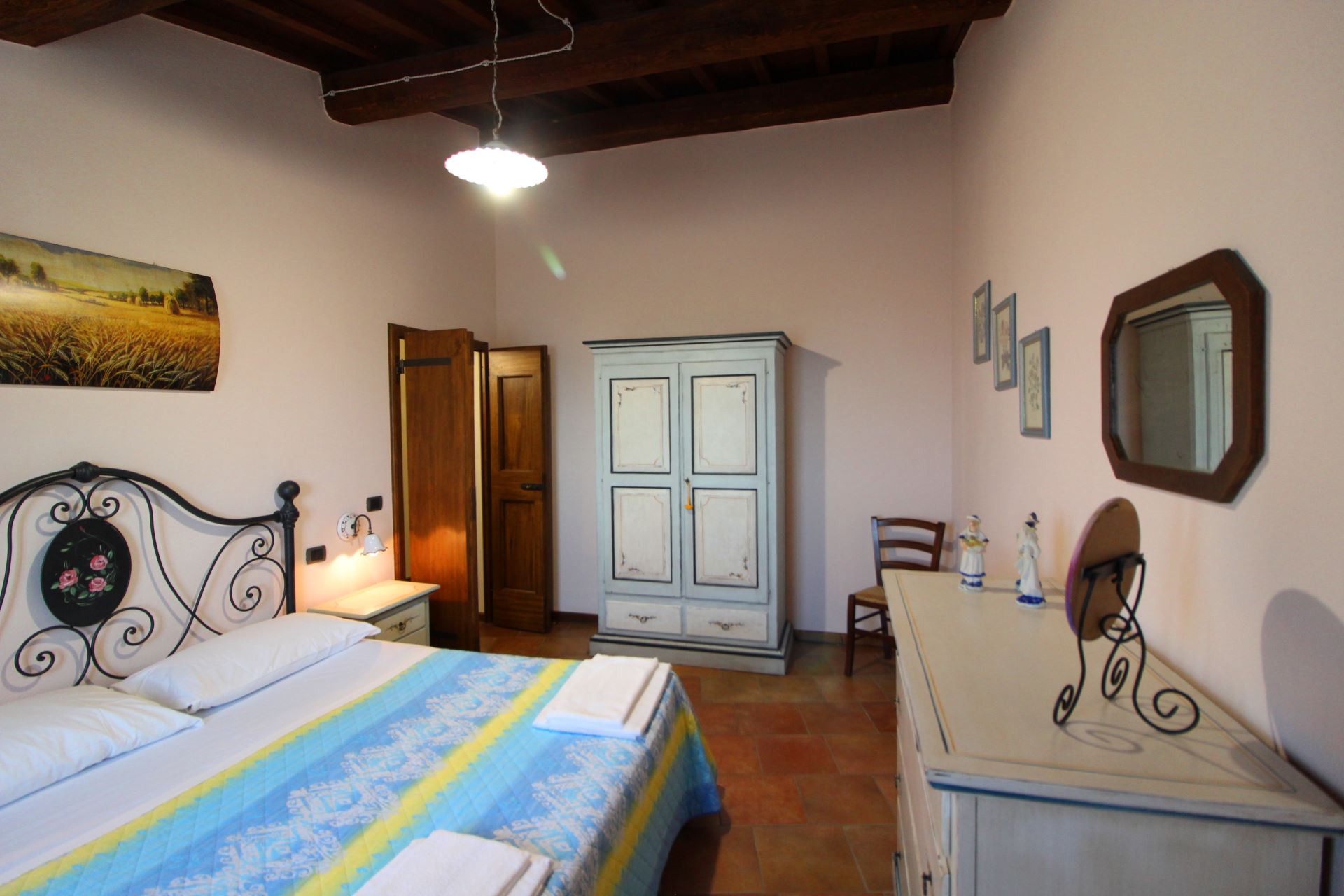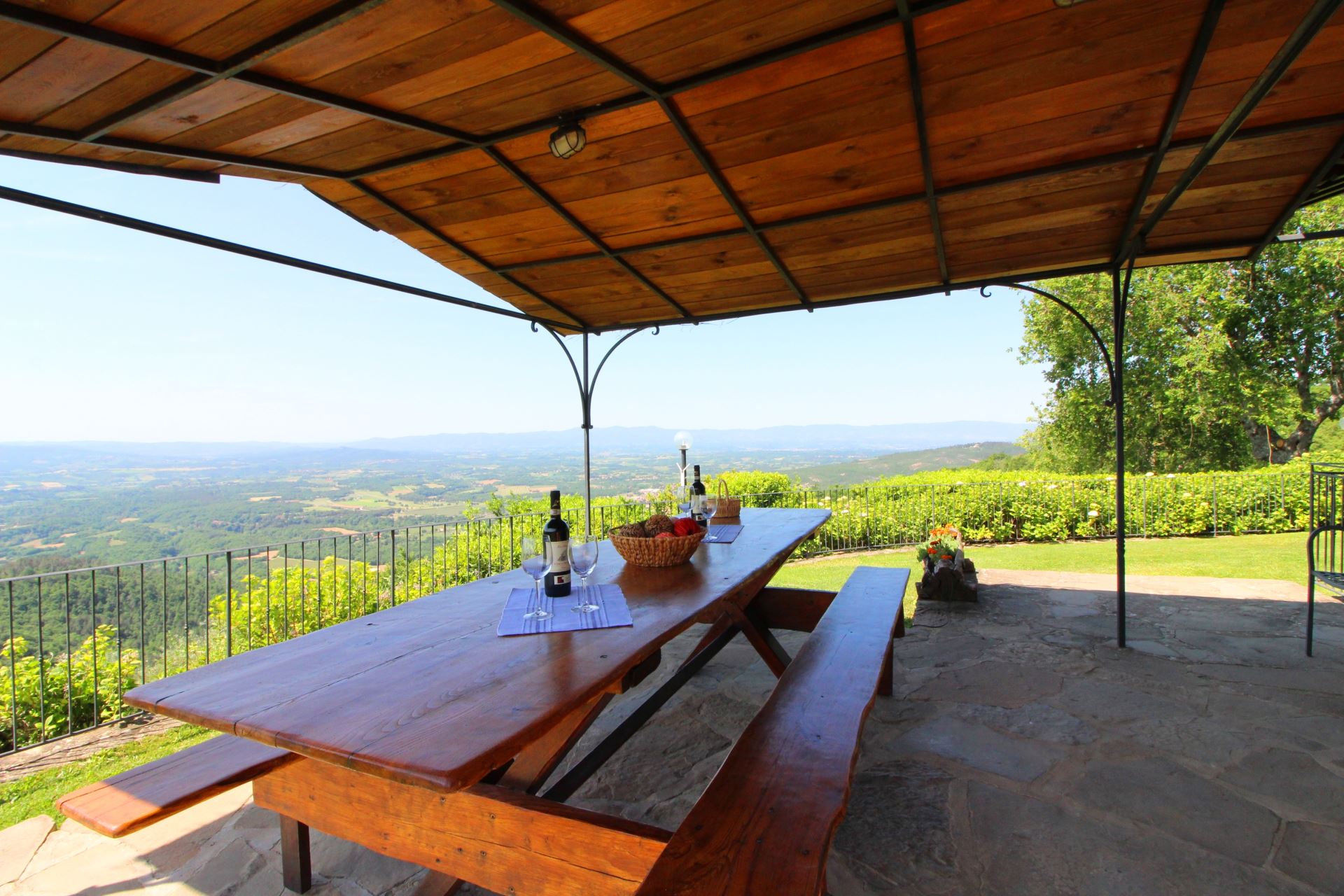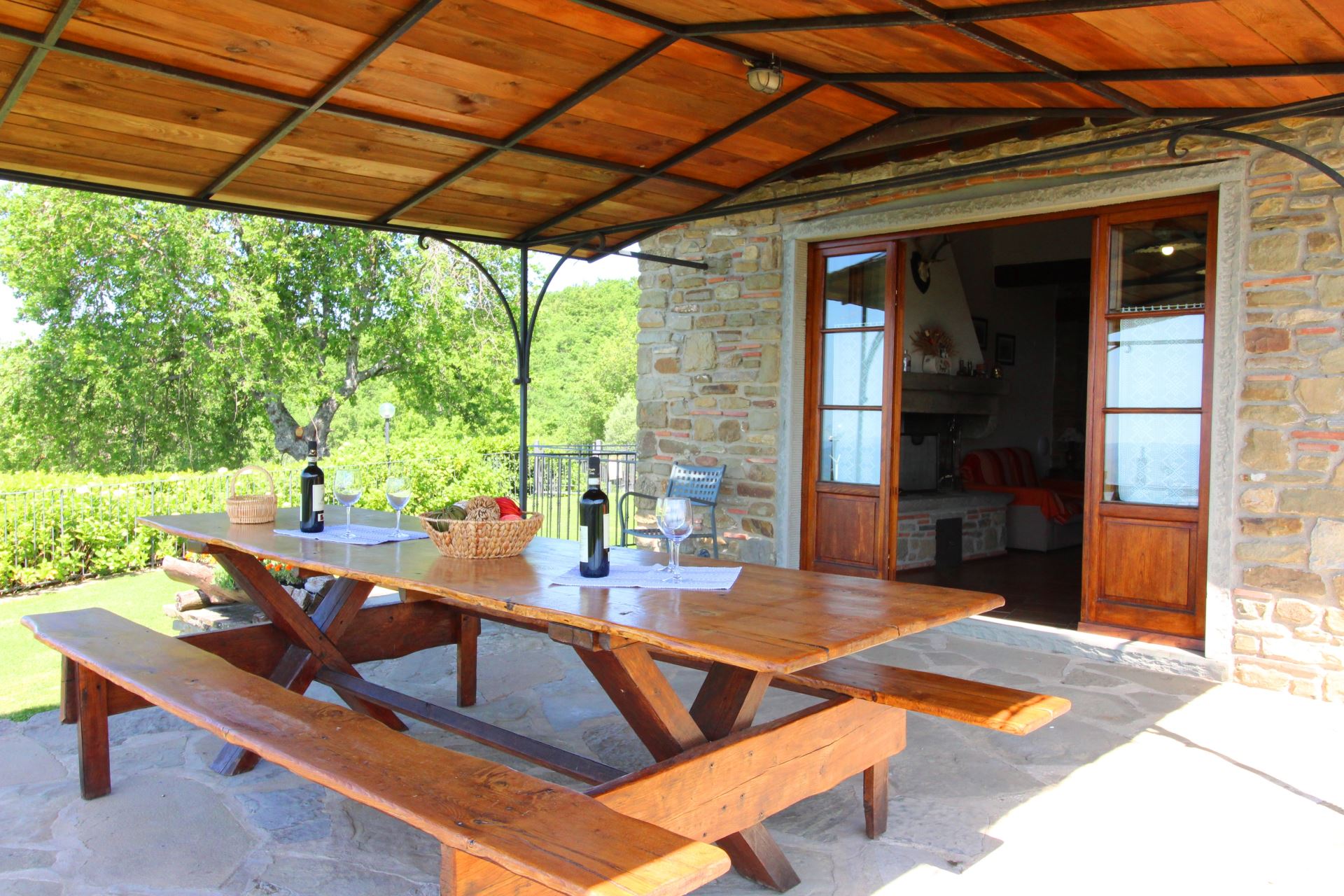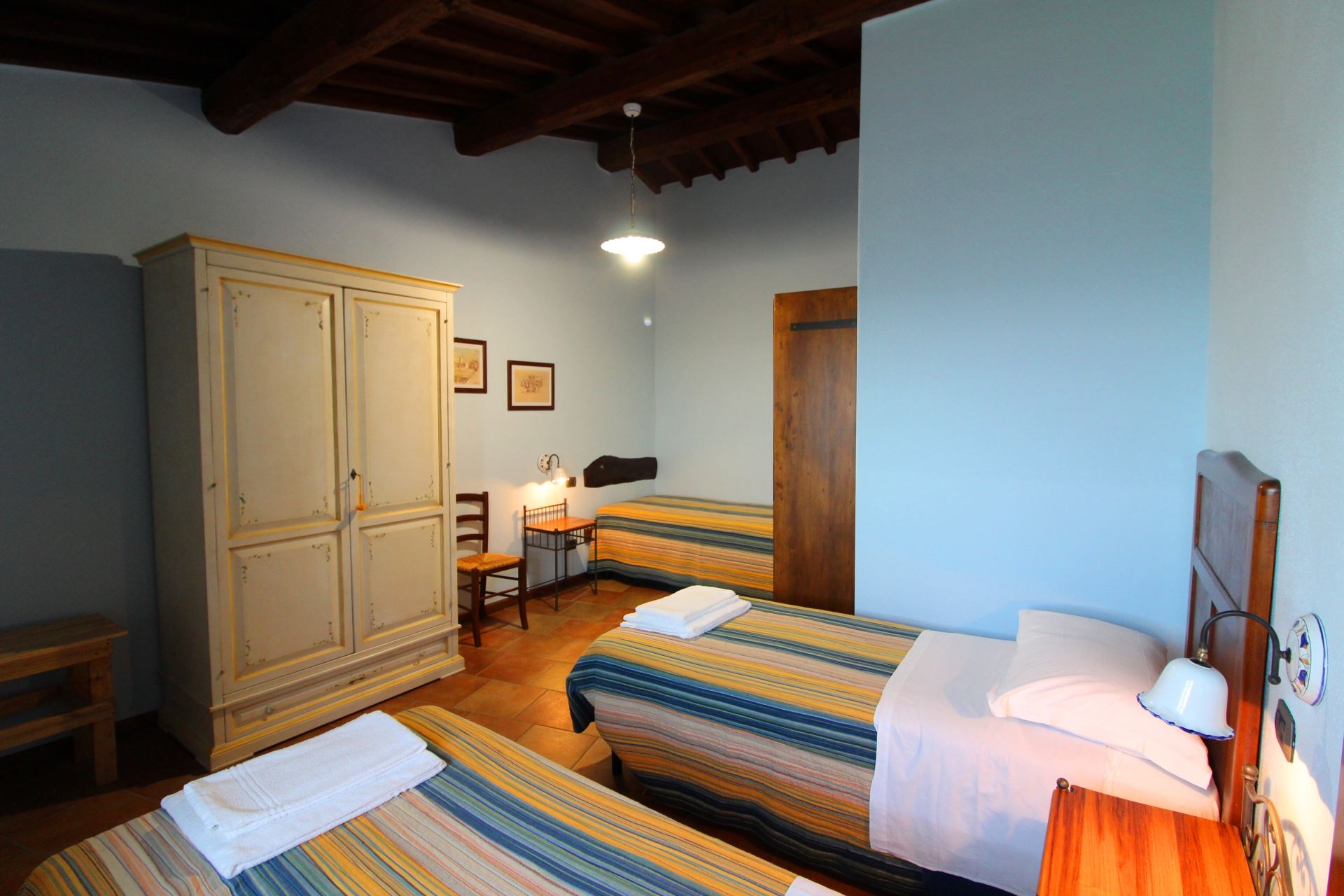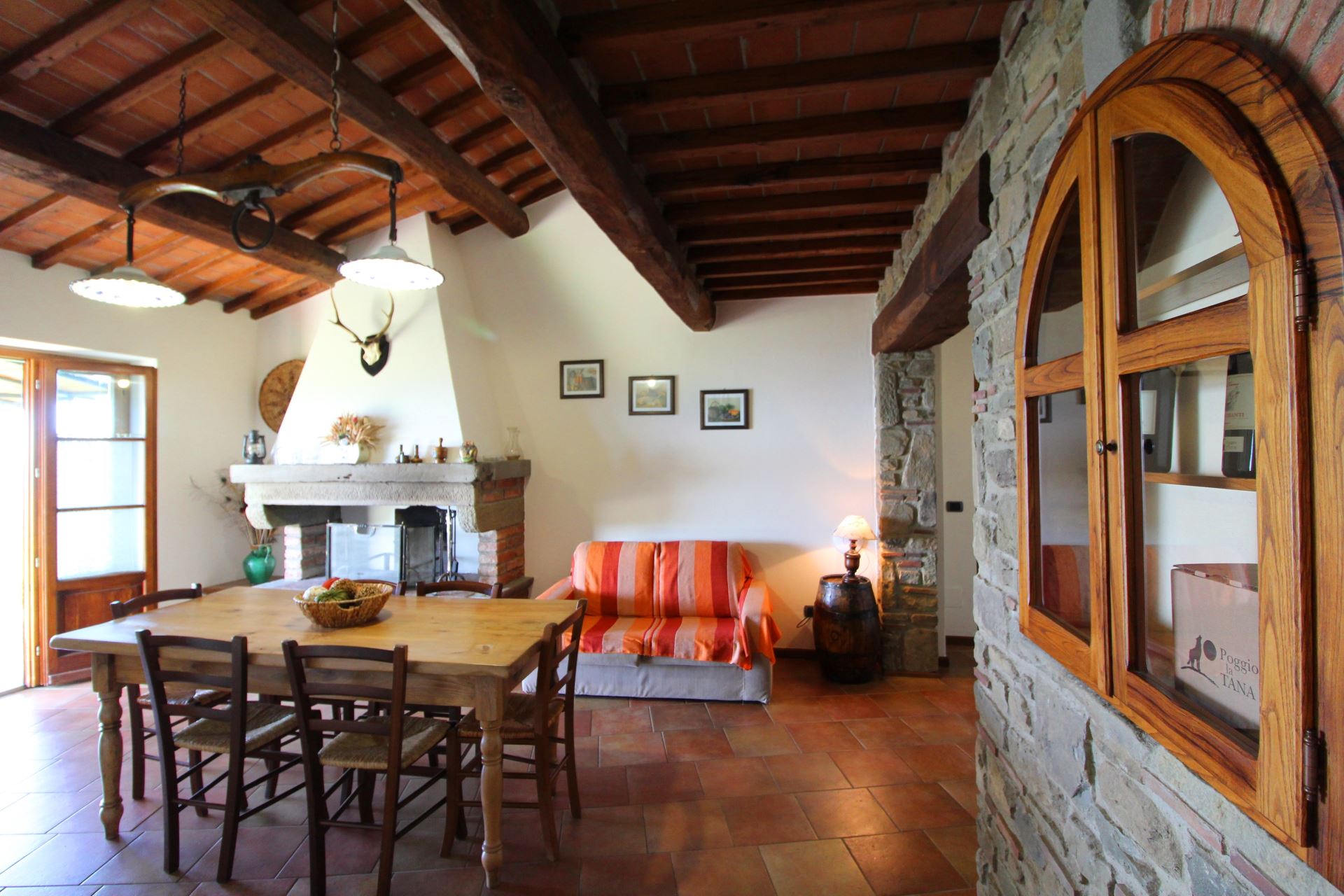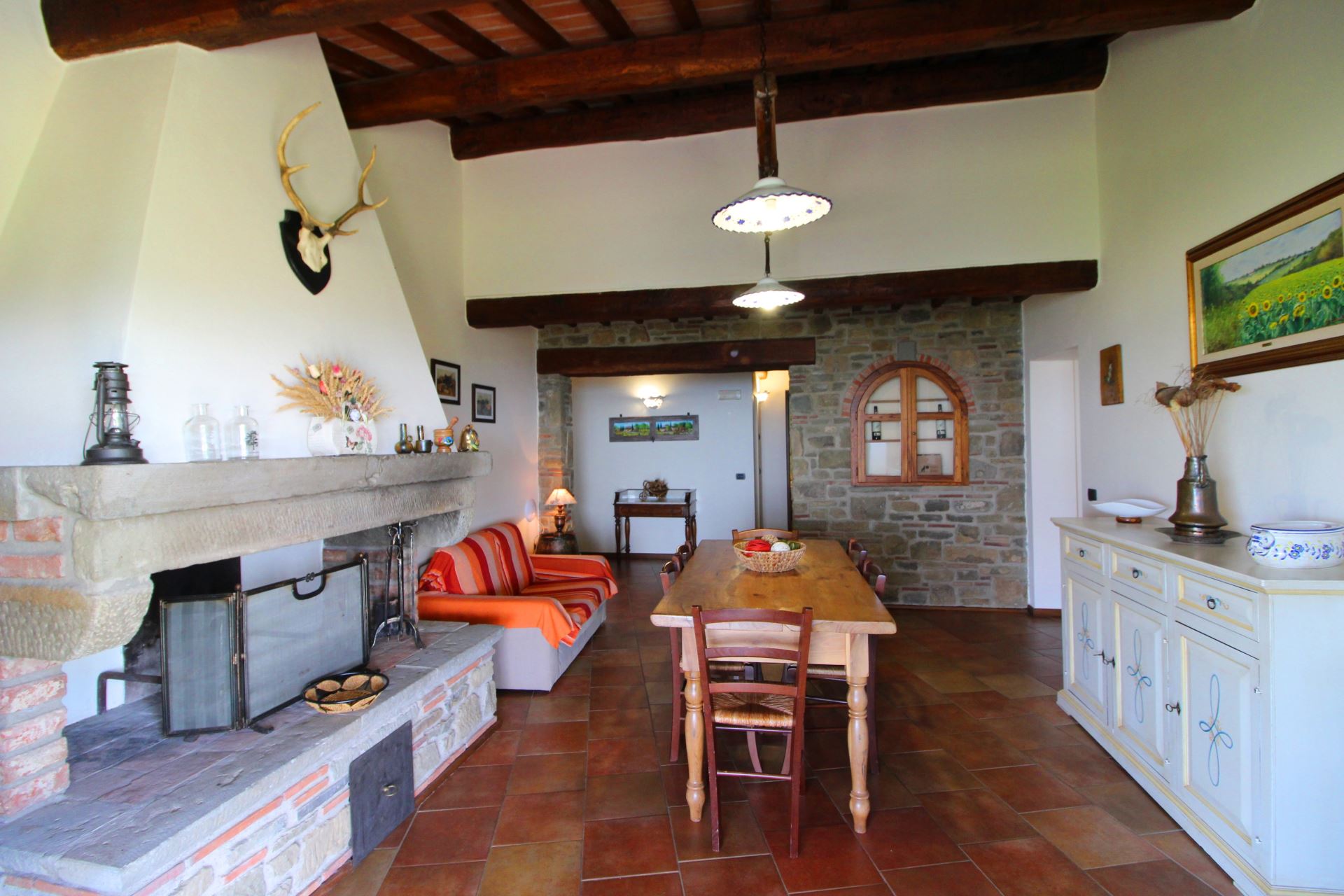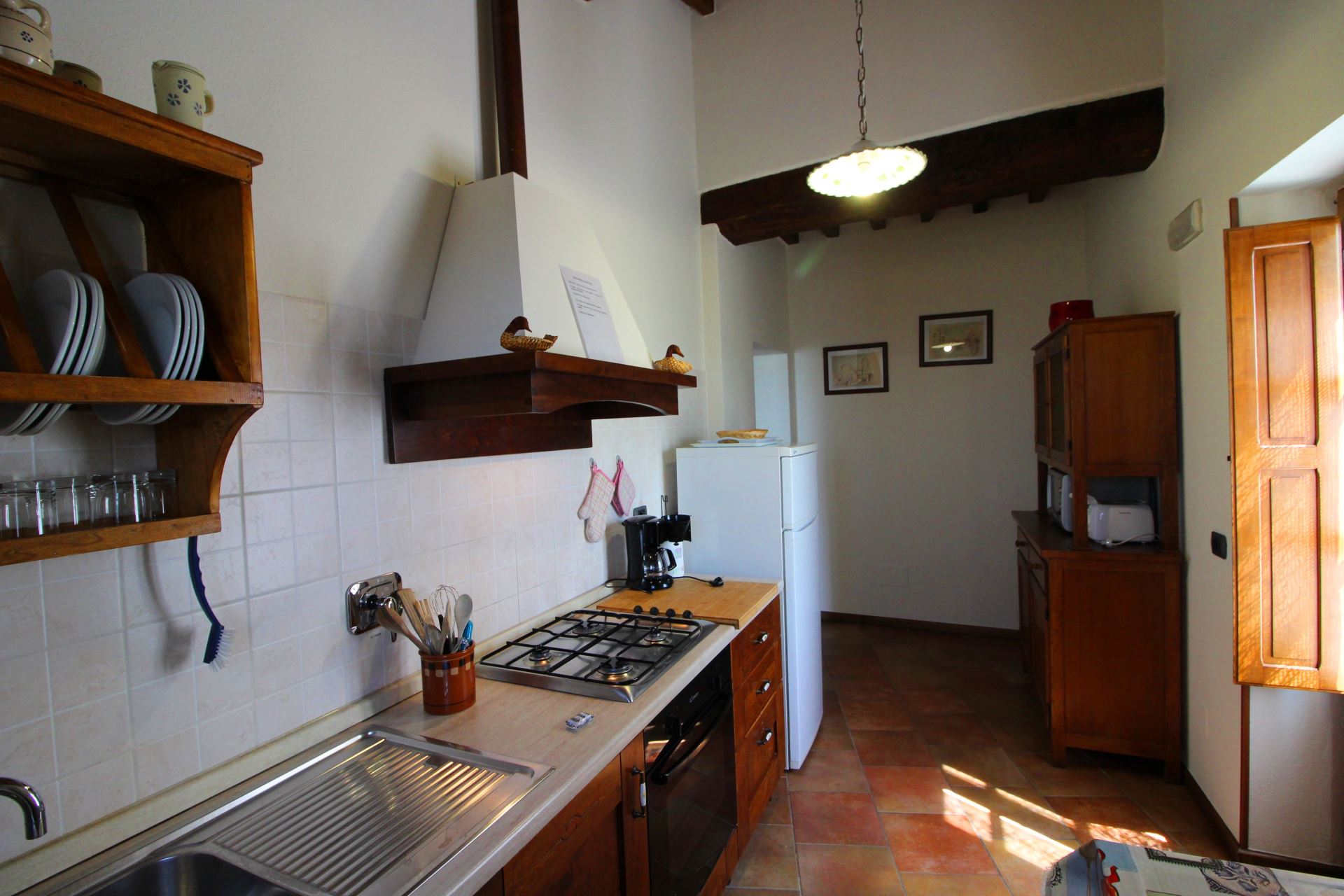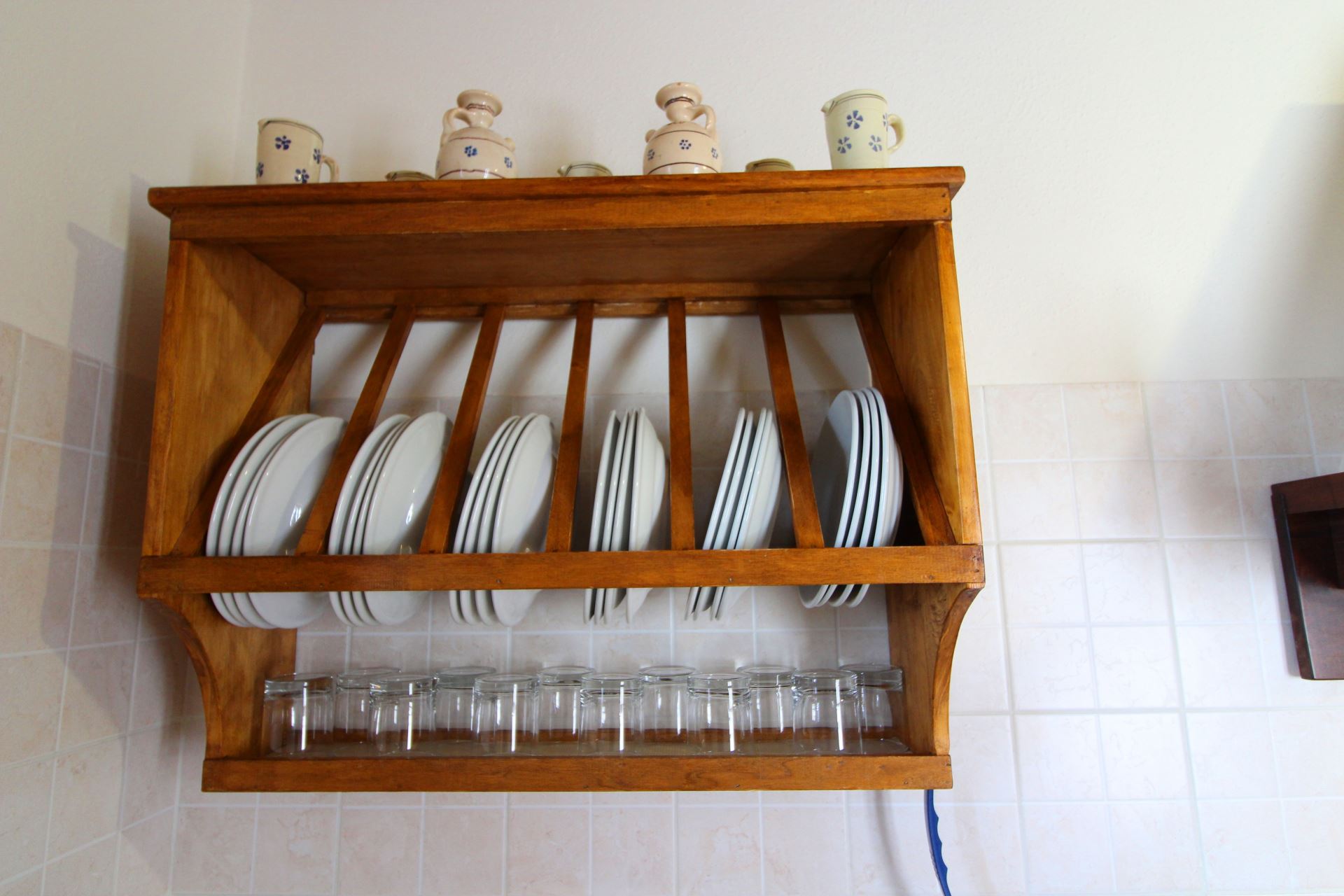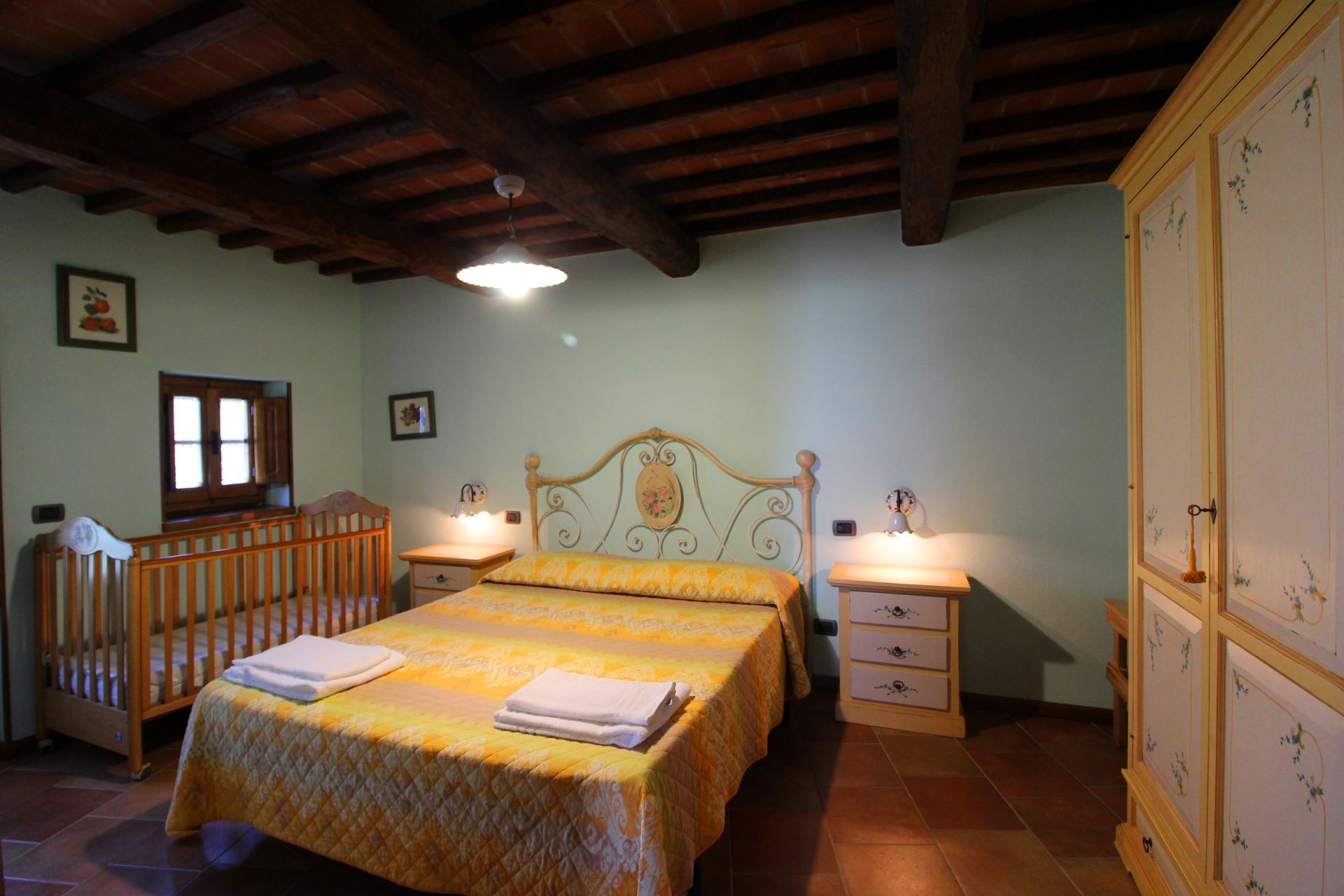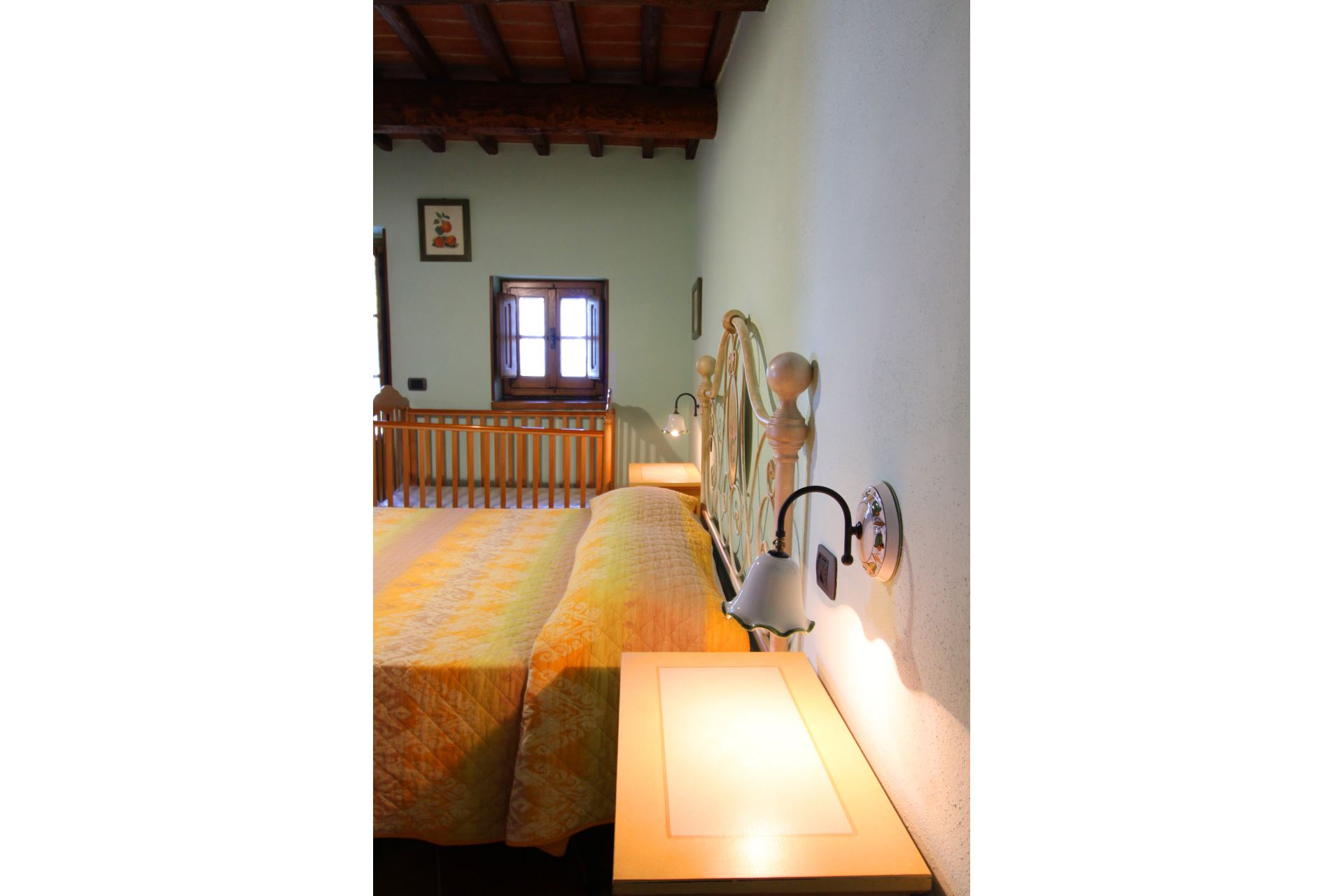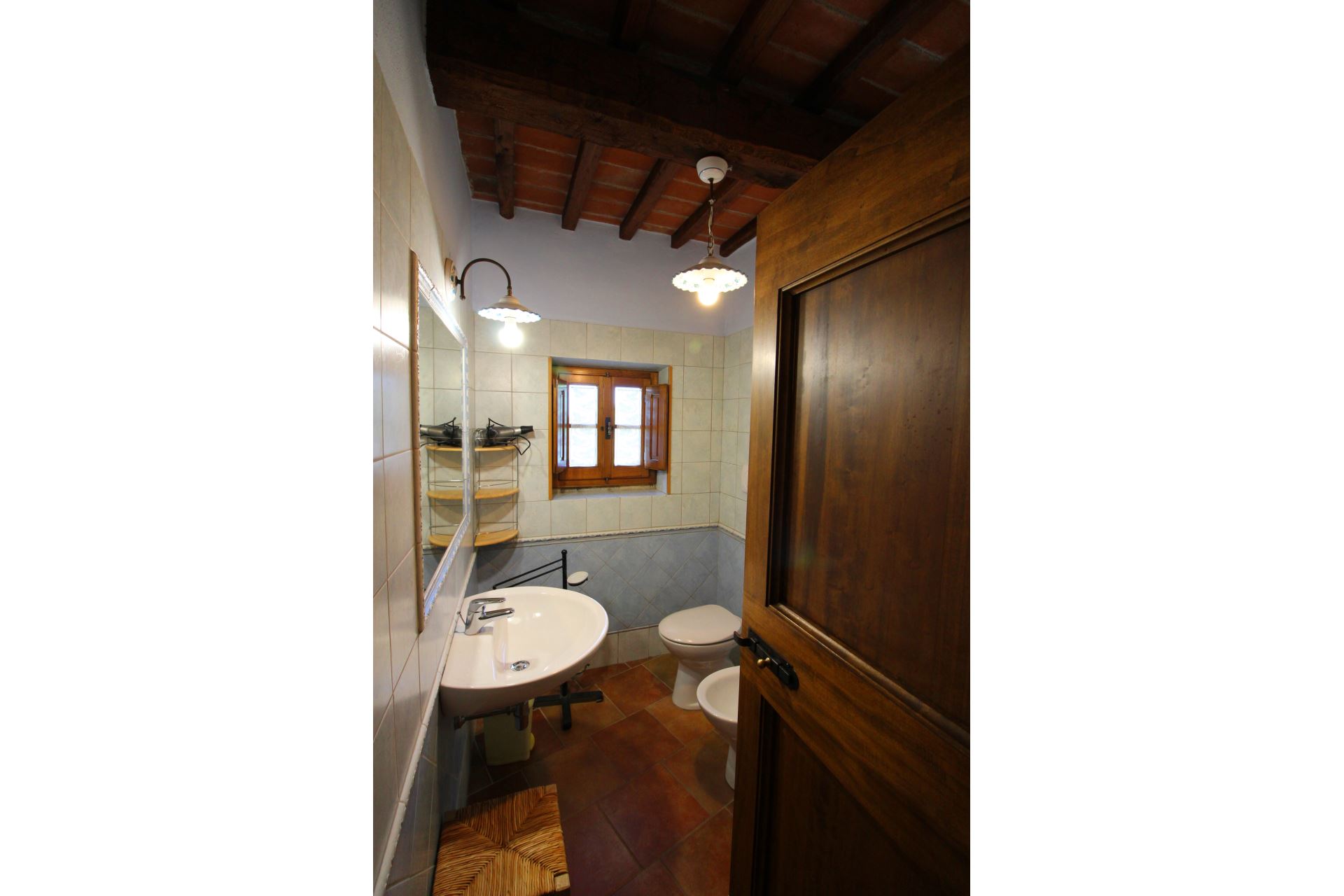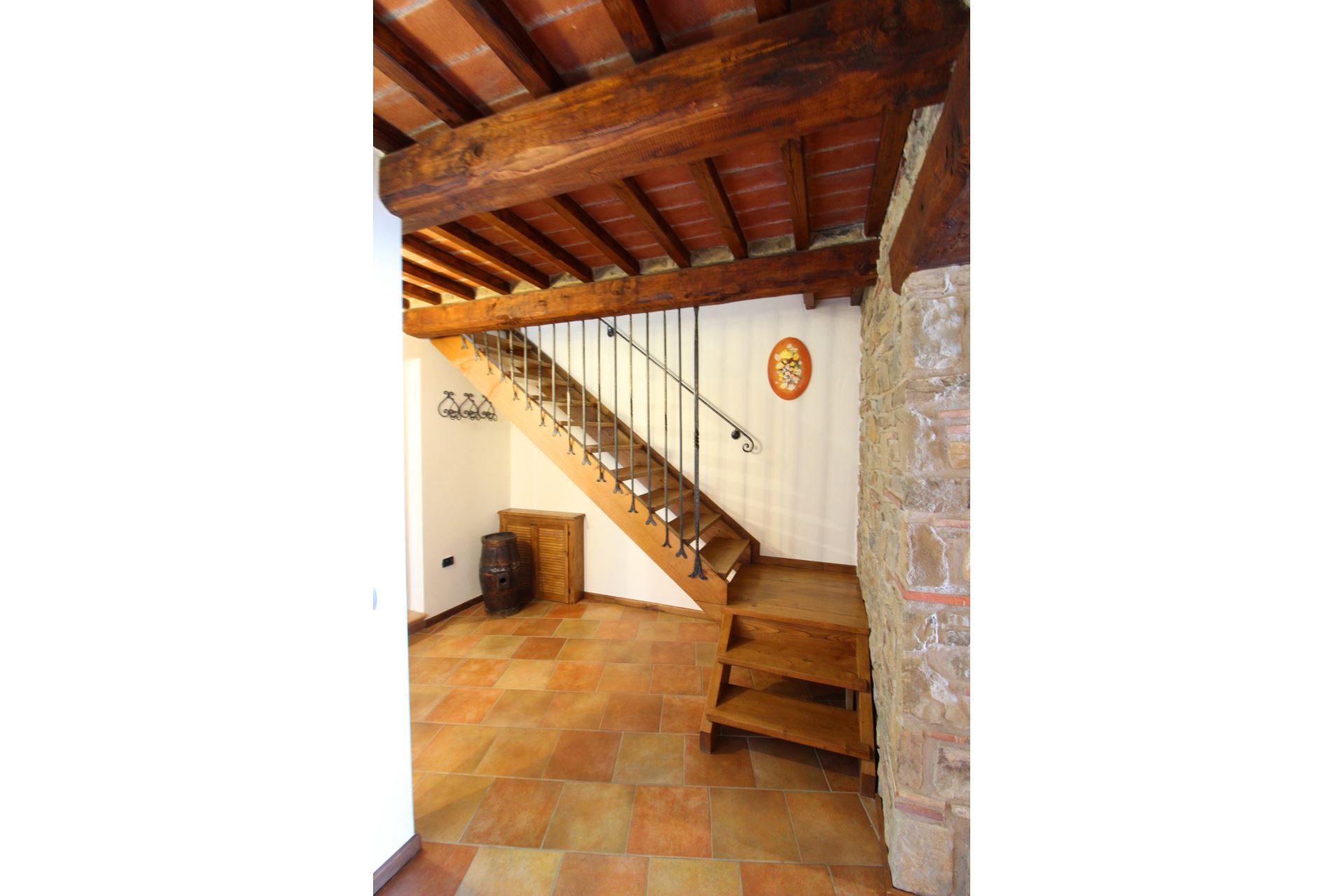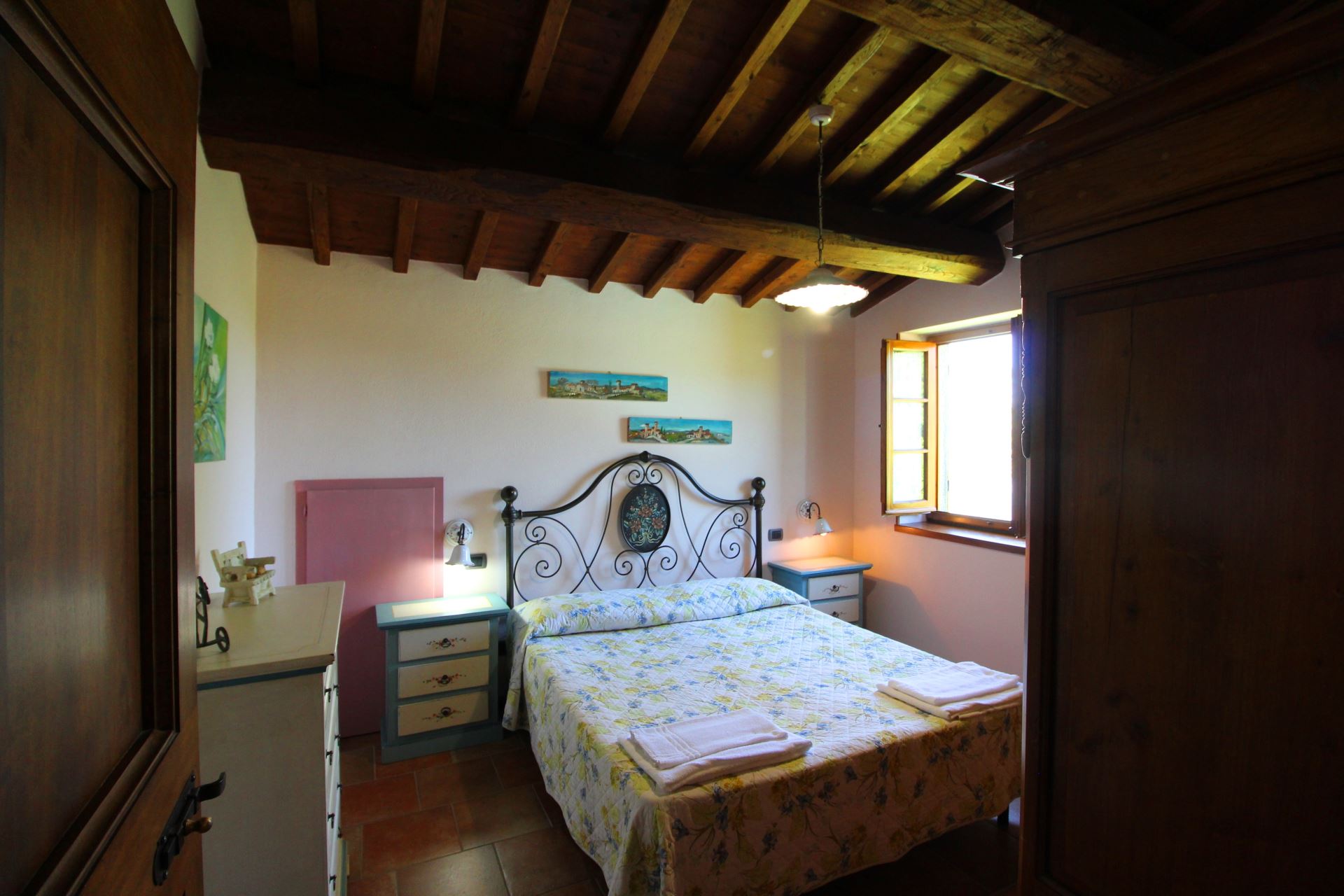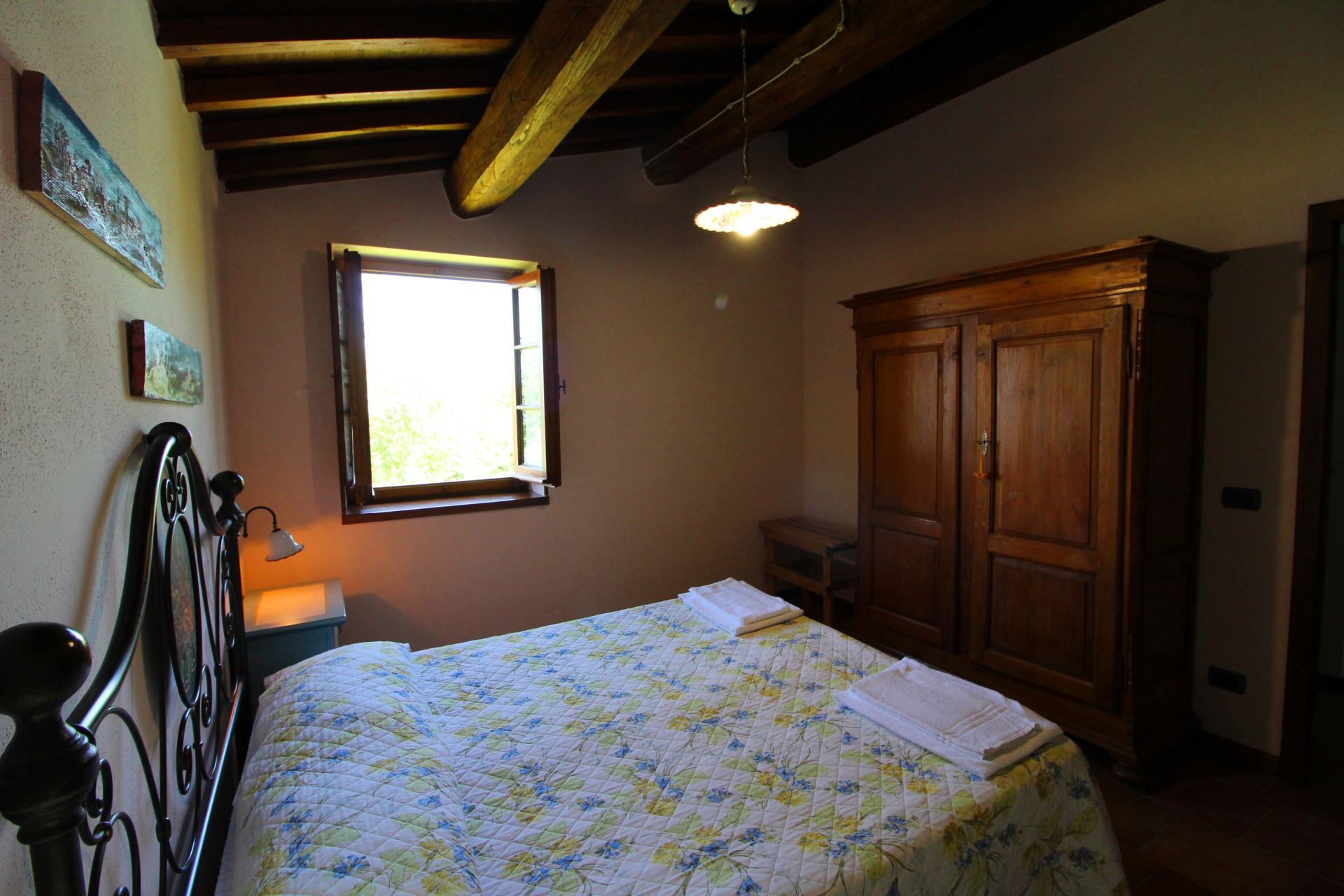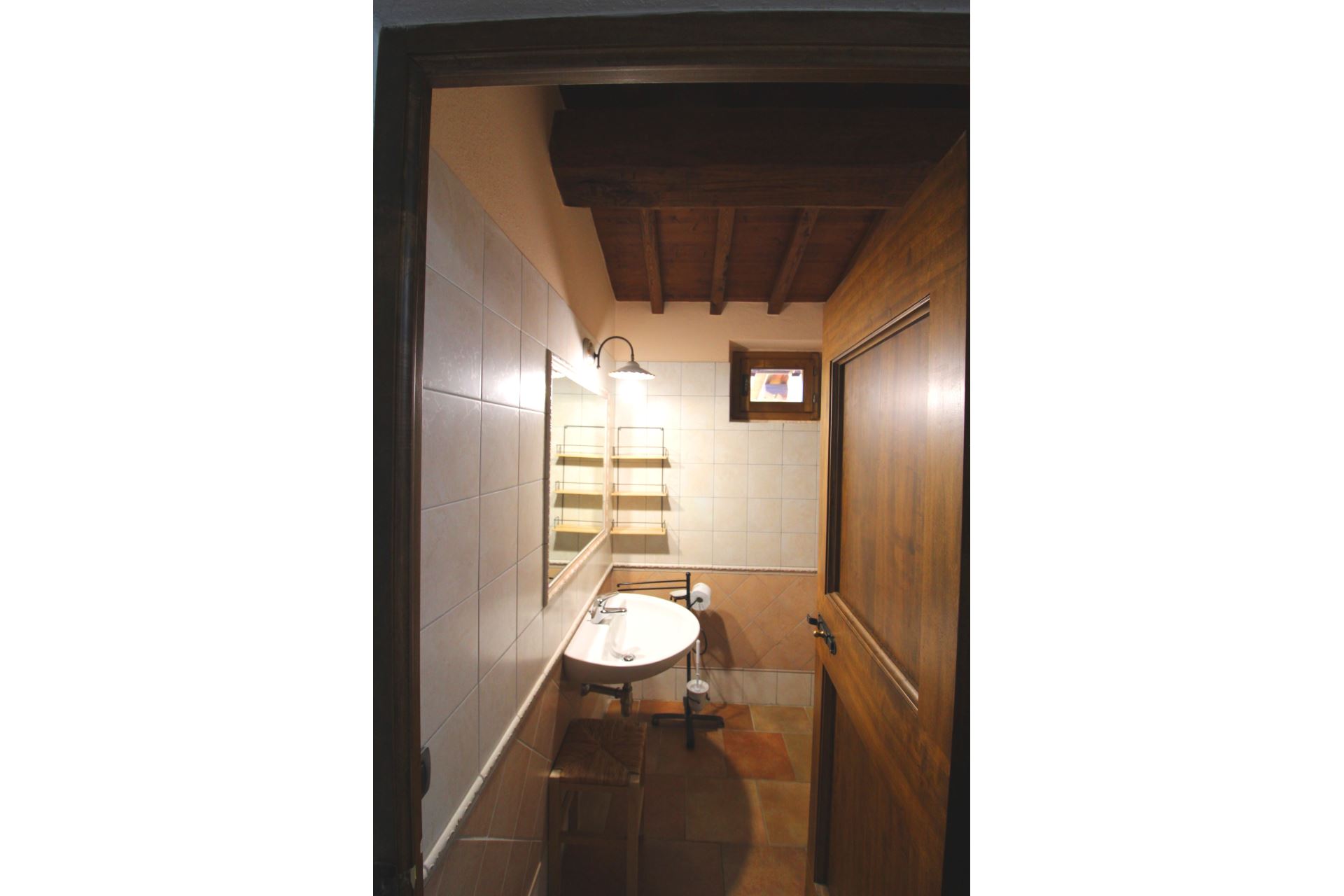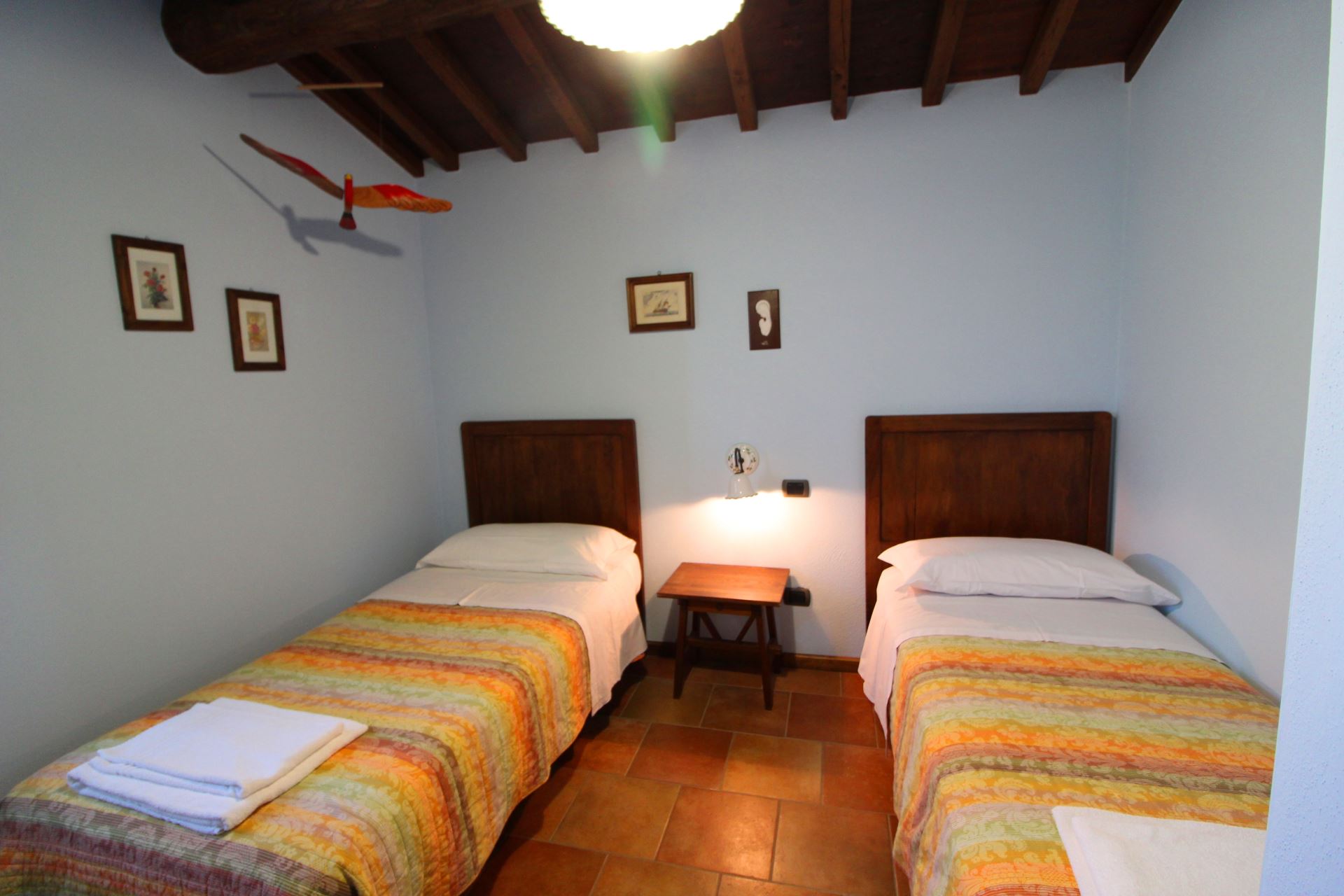 ---
For groups
Families with kids
Televisions
Dishwasher
Washing machine
Private pool
Barbeque
Pets Allowed
Parking area
Toaster
Microwave
Oven
Hairdryer
Fenced
San Giustino Valdarno at

8 km
Airport of Pisa at

150 km
Highway A1 Valdarno at

20 km
Hospital of Arezzo at

25 km
Villa selected and checked for you by Alice and Michela of Eurocasa Holiday, if you would like any further information please write to info@eurocasa.com
Very panoramic villa with private fenced swimming pool situated between Arezzo and Florence. The town of San Giustino Valdarno is 7 km away. Ideal for relaxing holidays in groups , or with your pets company.
---
Description
Breathtaking views, old-fashioned tranquillity and unspoilt nature combined with the high level of comfort of the villa make Agriturismo Casavecchia the ideal location for those who want to spend a relaxing holiday in Tuscany.
The farmhouse is situated on terraced olive groves surrounded by cool oak woods that cover the high massif of Pratomagno, which at 1592 m above sea level dominates the green valley of Casentino, the lush Arno valley and the picturesque Chianti hills. The area around the house is ideal for wonderful walks, where you can meet roe deer, fallow deer and all the other forest's inhabitants. The last part of road to reach the villa (about 2 km) is unpaved.
Casavecchia is a stone farmhouse divided into three comfortable, well-furnished apartments, each with an independent entrance and three bedrooms. It is so particularly suitable for families who want to spend their holidays together while having the possibility to maintain their privacy.
The ground floor apartment is equipped with everything necessary to be able to gather and eat all together (up to 20 people).
All around the house there is a large garden where each apartment has a private area with a gazebo furnished with table and benches for eating outdoors. Next to the house there is a beautiful panoramic swimming pool completely fenced (size 5x10 m - depth 1.20 m - open from 01st May to 30th September) equipped with solarium, sunbeds and umbrellas and built on a natural terrace that offers a unique view over the Arno valley and the town of San Giustino Valdarno.
The barbecue and the wood-burning oven will be the highlights for your evenings of grilled meat and pizza to be enjoyed in good company. In a terrace at the back of the house there is a slide and a swing for the fun of the little ones. Inside the property is the small wine cellar where you can taste and buy excellent organic wine and extra virgin olive oil.


Interior description
Ground Floor apartment comprising sitting-dining room with fireplace and kitchenette, equipped to eat all together, two double bedrooms, twin bedroom with added single bed, two bathrooms with shower.
First floor apartment with entrance via external stone staircase with typical loggia. Wide living-dining room with fireplace, double sofa bed, kitchen, two double bedrooms, twin bedroom with added single bed, two bathrooms with shower.
Apartment on two levels. GROUND FLOOR: sitting dining room with fireplace and sofa, kitchen, double bedroom, bathroom with shower. FIRST FLOOR: with access via internal staircase, double bedroom, twin bedroom, bathroom with shower.

EQUIPMENT:
Dishwasher (3), oven (3), fridge with freezer (3), filter coffee maker (3)
Satellite TV (3), Wi-Fi Internet access
Washing machine (2), hairdryer (3), iron and ironing board, high chair (3)
Price notes
Arrival: in the afternoon between 4 p.m. and 7 p.m. - Departure: in the morning between 8 a.m. and 10 a.m.

INCLUDED IN THE PRICE:
Private pool is open from 01/05 to 30/09.
Wi-Fi Internet access.
Bed linen and bathroom towels (Initial set).
One baby bed (for children up to 3 years) on request at time of booking.

NOT INCLUDED IN THE PRICE:
Breakage deposit Euro 450 (payable in cash on your arrival and held by the owner for the duration of your stay). During their stay, should travellers cause any damage to the property, they will be liable for the associated costs.
Electric car charging on demand on payment.
Obligatory final cleaning Euro 270.
Heating Euro 36 per day (if used).
Pets are welcome on payment of Euro 5 each per day.
Swimming towels available on request on payment of Euro 3 each.
Wood for fireplace Euro 15 each 100 kg (if used).
---
Reviews
Tomaz (Slovenia) - maggio 2023
Very friendly hosts, always available for additional explanations or help. A magical location with a wonderful view. Even more beautiful as in the pictures. I highly recommend!
Colin (Italia) - aprile 2023
La Casavecchia is in a splendid location with vast vistas over the Arno river valley of fields, vineyards, olive gorves, forested hill tops and scattered villages. It is spectacular. The pool area is very comfortable. The house itself is very comfortable. The furnishings are of a high qualirty. The garden is and BBQ zone are fabulous. We really enjoyed the house, the location and the hospitality. Excellent!!!
Jessica (Deutschland) - ottobre 2022
Wunderschönes, sehr gut ausgestattetes Haus mit phänomenaler Aussicht. Ideal für große Gruppen. Die Gastgeber sind sehr hilfsbereit und helfen beim Organisieren. Wirklich sehr zu empfehlen, wir hatten eine gute Zeit. Danke!
************
Beautiful, very well equipped house with phenomenal views. Ideal for large groups. The hosts are very helpful and help with organising. Really highly recommended, we had a great time. Thank you!
Eleonora (Italia) - agosto 2022
La casa è fantastica. Siamo stati benissimo nonostante il tempo sia stato poco clemente. Accessoriata, pulitissima e gradevolmente arredata. Rapporto qualità prezzo più che ottimo. Voto 10 e lode.
Wolfgang (Germany) - agosto 2022
Urlaub in traumhafter Lage
Das Ferienhaus liegt in einer traumhaften Lage mit einem atemberaubenden Ausblick. Die Eigentümer des Anwesens waren unglaublich nett. Alles lief sehr unkompliziert ab. Als unser Hund sich verletzt hat, ist der Eigentümer mit zum Tierarzt gefahren und war während der ganzen Behandlung anwesend zur Unterstützung. Wir hatten zwei wunderschöne erholsame Wochen und haben uns auf dem Anwesen so wohl gefühlt. Das Haus ist sehr gepflegt, liebevoll eingerichtet und super ausgestattet. Der Pool liegt richtig toll und ist wunderschön angelegt. Unsere Erwartungen wurden weit übertroffen.
Engl
The holiday home is in a fantastic location with a breathtaking view. The owners of the property were incredibly nice. Everything went very easily. When our dog was injured, the owner went with him to the vet and was there to support him throughout the treatment. We had two wonderful relaxing weeks and felt so comfortable on the property. The house is very well maintained, lovingly furnished and well equipped. The pool is really great and is beautifully landscaped. Our expectations were far exceeded.
Jacopo (Italia) - aprile 2022
Salve Michela, siamo rimasti veramente molto soddisfatti della villa, difficile trovare qualcosa da migliorare. Forse, proprio per dire qualcosa, tra tutti i cuscini potreste metterne qualcuno di spessore diverso: un paio di persone avrebbero preferito un cuscino piú basso… ma in generale tutto perfetto!
Perfetti pulizia ed accoglienza, torneremmo molto volentieri in questa casa! Molte grazie per la gestione e per tutte le informazioni accurate.
Jacopo
Luzie (Deutschland) - ottobre 2021
Dieses Haus ist wirklich ein Traum! Lage unbeschreiblich schön , die Zimmer liebevoll und sehr geschmackvoll eingerichtet . Auch die Besitzer sind super freundlich und zurückhaltend. Einzig die Abfahrt ist etwas herausfordernd ( aber durchaus machbar) , aber dies ist der außergewöhnlich tollen Lage mit der herrlichen Aussicht geschuldet . Das nimmt man gern in Kauf.
Manuel (Italia) - settembre 2021
Casavecchia è un piccolo angolo di paradiso, luogo ideale per una vacanza in famiglia. Sia gli ambienti interni che esterni sono tutti puliti, curati, belli e funzionali. Noi abbiamo affittato tutta la casa e avevamo l'uso della piscina e dei giardini tutti per noi in totale privacy. La vista sulle colline è stupenda, la cucina dell'appartamento al piano terra è perfettamente attrezzata per mangiate di famiglia, noi eravamo in 15 e ci ha permesso di stare tutti insieme ad ogni pasto. I padroni sono super ospitali, gentilissimi e disponibili. Tutto perfetto e certamente da ripetere. It's a little corner of paradise. A picturesque beautiful view on the Tuscany hills. Unmissable, genuine and true Italian experience, if you can spend some time in Italy. Casavecchia is super well kept and clean, both in its inside and outside spaces. Ideal for families. We were 15 and enjoy the private pool and the big table where we could eat all together. The owners are super hospitable and nice. Hope we can go back soon for another holiday. It was all absolutely perfect.
Anna (Germany) - settembre 2021
It was fantastic! The house was very clean and the owners were very accommodating. Everything was there what we needed for a wonderful week. We can highly recommend this house.
Eli (Germany) - agosto 2021
Ciao, we really loved our stay in Tommasos beautiful casa, we were a group of 20 friends going on vacation together for many years! It really suited our needs perfectly we had a great great time. Would always come back! Much love!
Paul (Uk) - luglio 2021
We stayed four families (8 adults and 10 kids) and it was perfect. The kids loved the garden and the pool. We hope to come back.
Only comment is that we could have used a fan in the bedrooms, it was very hot at night in July, even with the windows open.
Erwin (Belgique) - luglio 2021
Petit retour sur notre séjour,
A notre arrivée, nous avons pu découvrir les bâtiments (et oui, nous avons loué l'ensemble car nous avons une belle grande famille). Nous avons été comblé dès le départ, la vue en vrai est nettement plus jolie que les photos du site de réservation. HEUREUX
Les propriétaires nous ont offert un panier de légumes, tous excellents!
Une belle attention de leur part.
Que dire de la tarte de la Nonna, un délice!
Casavecchia est un endroit où le repos est possible. Où vous ne dérangez personne, presque l'impression d'avoir un flanc de montagne pour nous seuls.
Frissons : oui, nous avons pu entendre le loup!
Nous avons aussi apprécié la dégustation au vignoble Campo del sol, Emanuele est un passionné, passionnant!
Délice, le repas concocté par Katalina et sa famille nous a permis de déguster les plats typiques régionaux, avec leurs productions ! Délectation!
Les quantités sont énormes! Rassasiés !
Si nous retournons en Toscane, nous reviendrons ici!
Florentine (France) - settembre 2020
Magnifique maison et vue incroyable sur les collines, au calme, idéal pour visiter la Toscane, je recommande vivement ce petit paradis.
Amanda D. (Australia) - agosto 2018 Casavecchia is amazing. If you want to be away from it all then this really is the place to visit. There were 18 of us and we used all three apartments. There was plenty of space for everyone and lots of places to get away from the noise. The pool is great (but the pesky wasps and flys were constantly biting us) and a perfect size for the number of people we had. The owners met us and were super friendly, dropped a basket of homegrown vegetables to us and then a basket of home made biscuits. They also own a winery and for 6 euro a pop you cannot go wrong. Had the best nights sleep ever with the shutters drawn as it is so dark. A great place to wake up and have coffee overlooking the valley. Could not have asked for more and lawny the trusty robotic lawnmower kept the grass trimmed perfectly. A huge thank you to the owners for allowing us to use this perfect property. A must visit for lunch to Gella Biscardi - the perfect Tuscan experience.
Stefano Gillis (Belgium) - settembre 2017
September ' 17 - An amazing holiday at Casavecchia
We stayed for 2 weeks , friends and family joining us for 2,3 days or 1 -2 weeks. Lovely place , nice garden , fantastic view over the valley. We had a splendid time , a lot of fun & drinks and everybody was having the time of their life. One small disadvantage is the road for about 1 km to the house ; difficult to drive , it needs some reparation. Owner was very nice , bringing us cake & cookies at the swimming pool. In total we were 12 coules and 4 bambini ( between 0-2 years old). A great time , grazie !

Sylvie (Belgique) - agosto 2017
Magnifiques vacances entre amis avec enfants
La villa est tout simplement fantastique. Nous étions 18 (8 adultes et 10 enfants de 6 à 11ans) et nous avons eu un super confort au niveau espace intérieur. A cela, il faut rajouter que nous avions une vue incroyable depuis notre terrasse. Les extérieurs sont aussi terrible avec une belle piscine aménagée (transat, parasol, ect.), un véritable four un pizza (nous en avons fait pendant notre séjour), un bbq, un espace de jeux extérieurs, ect. Enfin, la villa est trés bien retirée, elle assure une intimité totale et trés bien située pour visiter entre autres Florence (60kms) et Sienne (40kms). Vraiment une villa à recommander.

Genova Andrea (Italia) - agosto 2016
Paradiso ...
Se vi piace la campagna Toscana e siete un gruppo numeroso di amici questa casa e' perfetta. Pulitissima , Propietari gentilissimi e disponibili , giardino curatissimo in ogni particolare . Piscina sempre pulita. Vista bellissima.Consigliamo senza indugi , perfetta anche per bambini. Anche la cena in villa molto buona. Complimenti davvero!

K. Hans (GERMANY) - maggio 2016 Location is exquisit, well equipped. We were 18 people in 4 flats and had never had a place so convenient as this before. The view across the valley is fantastic. The whole area is perfect for long walks in beautiful forests with spectaculous views. And the location is central for visits in Arezzo, Siena, Firenze. The service was absolutely perfect. We decided to come again. Thanks to all!
---
Other structures
that may interest you
Other structures destination Chianti And Valdarno
AGRITURISMO ARCOBALENO - ARCOBALENO


Loro Ciuffenna
LA GREPPIA - IL COLOMBAIO


Pian di Scò
LA FERRIERA - LA CASCATA


Loro Ciuffenna