Villa Scianellone
Torrita di Siena, Toscana
à partir de / par jour €310
---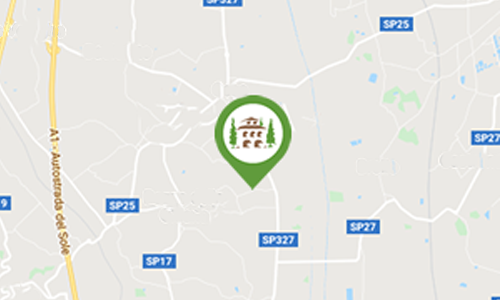 Où se trouve?
---
De luxe
Famille avec enfants
Téléviseurs
Lave-vaisselle
Machine à laver
Piscine privée
Barbeque
Animaux admin
Parking
Grille-pain
Micro-onde
Four
Sèche-cheveux
Torrita di Siena à

1,5 km
Aéroport de Firenze à

120 km
Autoroute A1 Valdichiana à

5 km
Hôpital de Nottola à

10 km
Élégante villa avec piscine privée, accès Wi-Fi et vue panoramique. À distance de marche de Torrita di Siena. Les animaux de petite taille sont les bienvenus. Bien meublé et équipé.
---
Description
Ancienne villa en pierre et en brique placée sur une colline panoramique. Belle villa en pierre et briques dont les origines remontent à 1300, elle garde toujours sa structure originale avec des sols en terre cuite et des arches de briques. La villa est située sur une colline panoramique, où vous pourrez vous détendre et profiter en pleine de l'harmonie et de la tranquillité de la campagne toscane.

Quelques minutes en voiture de Torrita di Siena, Montepulciano et Montefollonico. A 1,5 km se trouve la ville de Torrita di Siena, un village médiéval typique, avec des magasins, restaurants et services en tout genre. Pour ceux qui aiment se promener, la ville est également accessible à pied. A' quelque km de voiture on trouve les beaux villages de Montefollonico (10 km) et Montepulciano (12 km) où on ne peut mas manquer une visite et faire une étape pour déguster les plats typiques et des vins prestigieux comme le 'Nobile di Montepulciano'.

Piscine et jardin parmi les olives et les vignobles. La Villa Scianellone est entourée d'un écrin d'oliviers, de vignes et de prairies qui font partie de la propriété.Tout autour de la villa, un grand jardin (5000 m2), où vous trouverez une fraîche pinède avec une aire de jeux pour enfants et une belle piscine (dim. 5x10m. - profondeur 1,20 - 1,80 m.). La villa est meublée avec des meubles de qualité et équipé de tous les conforts pour assurer un séjour agréable.
Description intérieure
REZ DE CHAUSSEE: de portique équipé avec table et chaises on accède à la cuisine avec cheminée, grand salon avec cheminée et canapés, salle à manger, salle de bains avec douche, buanderie.
PREMIER ETAGE: avec accès soit par escalier intérieur où extérieur, séjour avec cheminée et tv, deux chambres doubles avec salle de bains privée avec douche, deux chambres doubles dont une avec cheminée, salle de bains avec douche et baignoire.
MANSARDE: (hauteur 1,20 m - 1,80 m.) avec accès par une escalier intérieur en bois chambre avec deux lits simples, une chambre avec un lit simple, salle de bains avec douche.

ÉQUIPEMENT: four, lave-vaisselle, lave-linge, micro-ondes, frigo avec congélateur, grille-pain, presse-agrumes, cafetière électrique, sèche-cheveux, fer et planche à repasser, TV-satellite, connexion Internet Wi-Fi, moustiquaries.
Notes sur le prix
LE PRIX DE LOCATION COMPREND:
Piscine privée ouverte du 01/05 au 30/09.
Connexion Internet Wi-Fi.
Nettoyage final.
Propriétés livrées propres et équipées de draps et serviettes de bains (changement hebdomadaire).
Lit pour le bébé (enfants jusqu'au 3 ans) sur demande au moment de la réservation.
Électricité, eau chaude et froide.

LE PRIX DE LOCATION NE COMPREND PAS:
Caution Euro 400 (A correspondre à votre arrivée, et elle sera gardée par le propriétaire pour la durée de votre séjour).
Chauffage Euro 5 par m3 (si utilisé).
Animaux admis contre paiement de Euro 5 chacun par jour (seulement petite taille).
Taxe de séjour Euro 1 par personne par jour, enfants de moins de 12 ans sont gratuits.
---
Commentaires
Jörg (Deutschland) - giugno 2021
Urlaub in ruhiger Umgebung und tollem Ambiente.
Schöne Anlage mitten in der Toskana.
Monika (DE) - settembre 2020
Wir verbrachten 14 Tage in Scianellone!
Sie hat ihren alten Charme!! Tolle Ausblicke sowohl aus den Zimmern als auch vom Pool!! Mit 8 Erwachsenen wunderbar!
Danke
Familie 'Orneffo
Michael (FR) - agosto 2019
Nous avons vraiment apprécié notre séjour dans cette villa. Le confort, l'aménagement, la piscine et l'espace à disposition contribuent à rendre cette expérience unique. Une mention particulière aux propriétaires, toujours disponibles et sympathiques, ainsi que l'emplacement idyllique du lieu. A titre indicatif nous étions 6 adultes et 2 enfants de 1 et 3 ans.
Morelli Sue (USA) - giugno 2019
Best way to enjoy Tuscany
We have nothing but great things to say about Villa Scianellone. There were 8 family members and we utilized the entire house and has plenty of room. We cooked dinner 4 of the 6 nights we were there and found the kitchen had everything we needed. We did have to buy paper towels, Toilet paper and trashbags. The views were amazing as we sat by the pool to enjoy apertivo before we had dinner at the big table outside. Make sure you follow the directions they send you vs Google maps to find the place. It is centrally located and we were 15-45 min from everything we wanted to see (Siena, the Lake, Montepulciano Val d Orcia). We were there during a heat wave and I asked the owner if he had fans and he did get enough for each room that helped. The beds were not the most comfortable as they were a bit hard. We had an issue with the water pressure the first few days but the owner had someone there to fix it first thing Monday morning and issue was resolved. We are looking forward to going back and would definitely recommend this place.
Francis (USA) - aprile 2019
Everything worked out well for our family's week at VS: Very good house, grounds, location in Tuscany with access to other interesting towns, wineries and restaurants. Owners were a surportive, daily unobtrusive presence. Highly recommended.
Gert (DK) - luglio 2018
Forrygende sted
Alt klappede som det skulle. Værterne var utrolig venlige og kom med grøntsager fra haven, men trængte sig iøvrigt ikke på. Byen Torrita har en begrænset interesse. Man kan dog se indflydelsen fra Siena på våbenmærkerne. Men det var varmt og poolen var saliggørende med flot udsigt over Torrita. Gode resturanter i og omkring byen.

Reinhold Müller-Meernach (Deutschland) - giugno 2018
Patz für 10 Personen
Die Villa ist sehr gepflegt. Der Pool wird täglich gereinigt. Auch der (große) Grill wurde vom Hausherrn nach unserem Gebrauch wieder gesäubert. Eine Tüte Holzkohle war bei Einzug schon dabei. Beim Haus waren auch 3 Fahrräder - keine Sportqualität, eher was fürs Brötchenholen. Sehr eindrucksvoll ist der Blick über den Pool auf die erhöhte Altstadt von Torrita, die man auch in ca. 20 min Fußweg erreichen kann. Dort gibt es aber keine Restaurants, sondern nur Bars, einen Alimentari und einen sehr guten Metzger. Zum Essengehen muss man fahren, da gibt es nichts fussläufiges. Am nächsten: Il Brigante Gentiluomo auf der Str. nach Sinalunga - dort auch Takeaway Pizza. Etwas Besonderes ist die gestylte Stallung in Fraatta (La Toraia)mit viel Beef von lokalen Rindern. Etwas weiter außerhalb sind wir gerne in Macine auf dem Weg nach Montefollonico. Als etwas Besonderes hatten wir für 1 Abend "Chef in Villa" bei Eurocasa gebucht. Wer viel und gut essen will - das Geld ist es wert. Man wird in 4 Gängen mit lokalen Spezialitäten bekocht und bedient.

Jounquay Cathy (Australia) - luglio 2017
Fantastic stay
We had 7 adults & 4 children stay at this magnificent villa for a week in early July 2017. The villa is in a great location, with easy access to a nearby village with restaurants, supermarkets, etc. The villa exceeded our expectations. It was very comfortably furnished and well equipped. There was plenty of space for all of us. The views were amazing and there were places of places to stroll around. Olive trees and grapevines were in abundance, with a lovely vegetable & herb garden, which we were generously offered to utilise. We took the option of having a meal cooked for us one night by the very obliging Walter and we were served a magnificent and very generous meal, which we all thoroughly enjoyed. We would definitely recommend this villa to anyone looking for a relaxing holiday, or looking for a great base to explore Tuscany. Thank you to Elisa for always responding quickly to our emails and being very helpful and obliging.

Paul (United Kingdom) - luglio 2017 An excellent week (late July) in a most outstanding property - as others have said, the photos do not do it true justice. Family (9 adults, a 6 year old grandson and a 5 month old granddaughter and a dog) from all over the world gathered for a most memorable holiday. The villa, its expansive grounds and locality were everything, and more, that we could have hoped for. Sincere thanks to Ilaria (host) for her warm welcome and assistance and her wonderful parents who, daily and totally unobtrusively, tended the grounds, cleaned the stunning pool and even cleaned the BBQ! I cannot speak highly enough of what we experienced and unreservedly recommend Villa Scianellone as a perfect place from which to enjoy Tuscany.

Jørgensen Ralf (Norway) - aprile 2017
Magic Villa in the heart of Tuscany
We where 9 persons staying at the Villa for a week. Still early April so the pool was not available. Everything at the Villa was to our satisfaction. Everything was very clean and the garden was tended to every day. The view from the pool area is fantastic. Help for anything was never more than a phone call away. We used three offers from eurocasa and they where all fantastic. We had a half day wine tour to montalcino and tasted the famous Brunello wine. We also had a chef who came to the Villa and made a fantastic 4 course dinner for a very affordable price, and taking care for allergies that some of the guest had. We even got a norwegian speaking guide in Siena for half a day. (Go there, it is a must see!) We really loved our stay and are sure to return the next time we travel as a large group. Thanks to Ilaria, who are a fantastic host and owner of this Villa, and last but not least at lot of love to Michela at Eurocasa who is just fantastic and helped us out with everything before and during our stay. You will love your stay here at this beautiful Villa!

G. Marc (USA) - settembre 2016 Villa Scianellone was wonderful. It was as nice or better than the photos and in a very private setting. The owners were very nice and great on our arrival and departure. We had a great week and certainly would recommend this villa to family and friends.

Nitzan Shmuel (Israel) - aprile 2016 Excellent place, exactly as described and even more. I'd absolutely recommend the villa to my friends! Thank you.

LUDER Lionel (FRENCH) - agosto 2015
FAMILY HOLIDAYS IN A DREAMING LOCATION
Pictures of this villa before booking for a week made us dreaming. When arriving in this villa we found a house much more nice than expected ! Grand-father, children and grand-children were enthusiastic when being around the pool or when sharing wonderful dinners on the covered terrace. For sure we will come back within some years. Ideal location when part of the family likes to spend time for a rest around the pool and others like visiting famous cities such as Pisa, Assisi or Firenze. Many thanks to Mauro and wife for their kindness and gifts they let on the table (tomatoes from the garden) when we were still sleeping. We strongly recommend this villa for a family with children.

Amis français (France) - agosto 2014
à recommander
Une merveilleuse villa dans un endroit magnifique, des propriétaires adorables, à recommander les yeux fermés. Attention cependant aux chambres du dernier étage qui conviennent davantage à des enfants.

Samson Pierre (Canada) - luglio 2014
Fantastic location
Just a fantastic location. The villa is in great shape and the owners are on site every morning to clean the pool, clean the BBQ and fill up with wood and address any issue that may arise. All in all we can not think of anything negative to say. Pierre S.

L. Ursula (AUSTRIA) - luglio 2014 Wir verbrachten eine wunderschöne Woche in der Villa Scianellone. 2 Familien mit Kinder kamen alle voll auf ihre Kosten. Unbschreiblich schön ist nicht nur das sehr alte große Haus (Villa) sondern auch die riesen Parkanlage mit hunderten Olivenbäumen. Das ganze Areal befindet sich auf einem Hügel, somit geniesst man eine Traumaussicht auf das gegenüber liegende Dorf Toritta di Siena und sogar Montepulciano kann man noch erkennnen. Der Pool ist größer und schöner als er im Internet erscheint und wurde immer frühmorgens um ca. 5.30 vom Eigentümer gereinigt- ein tolles Service! Überhaupt sind die Eigentümer sehr herzlich und man merkt, dass ihnen dieses Haus samt den Besuchern sehr am Herzen liegt. Wir kommen wieder! 2 Familien aus Österreich:)
---
Autres propriété
qui peuvent vous intéresser
Autres propriété dans la destination Siena Et Valdorcia
SANGUINETO - DOLCE DORMIRE


Montepulciano
AIA VECCHIA DI MONTALCETO - COSTANZA


Asciano
IL POGGIARONE 6 - POGGIARONE 6


Montepulciano