Villa Degli Olivi
Castiglion Fiorentino, Toscana
---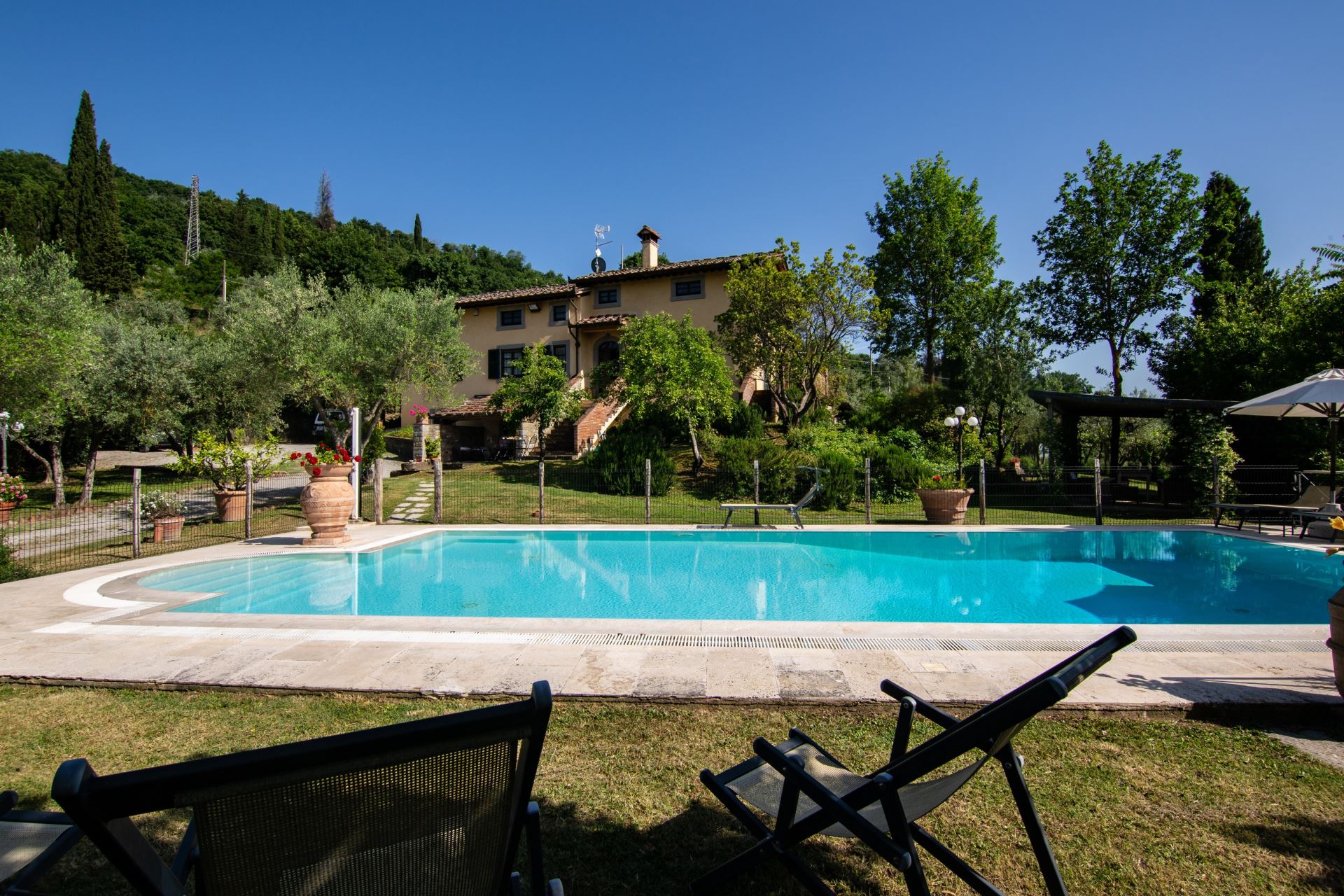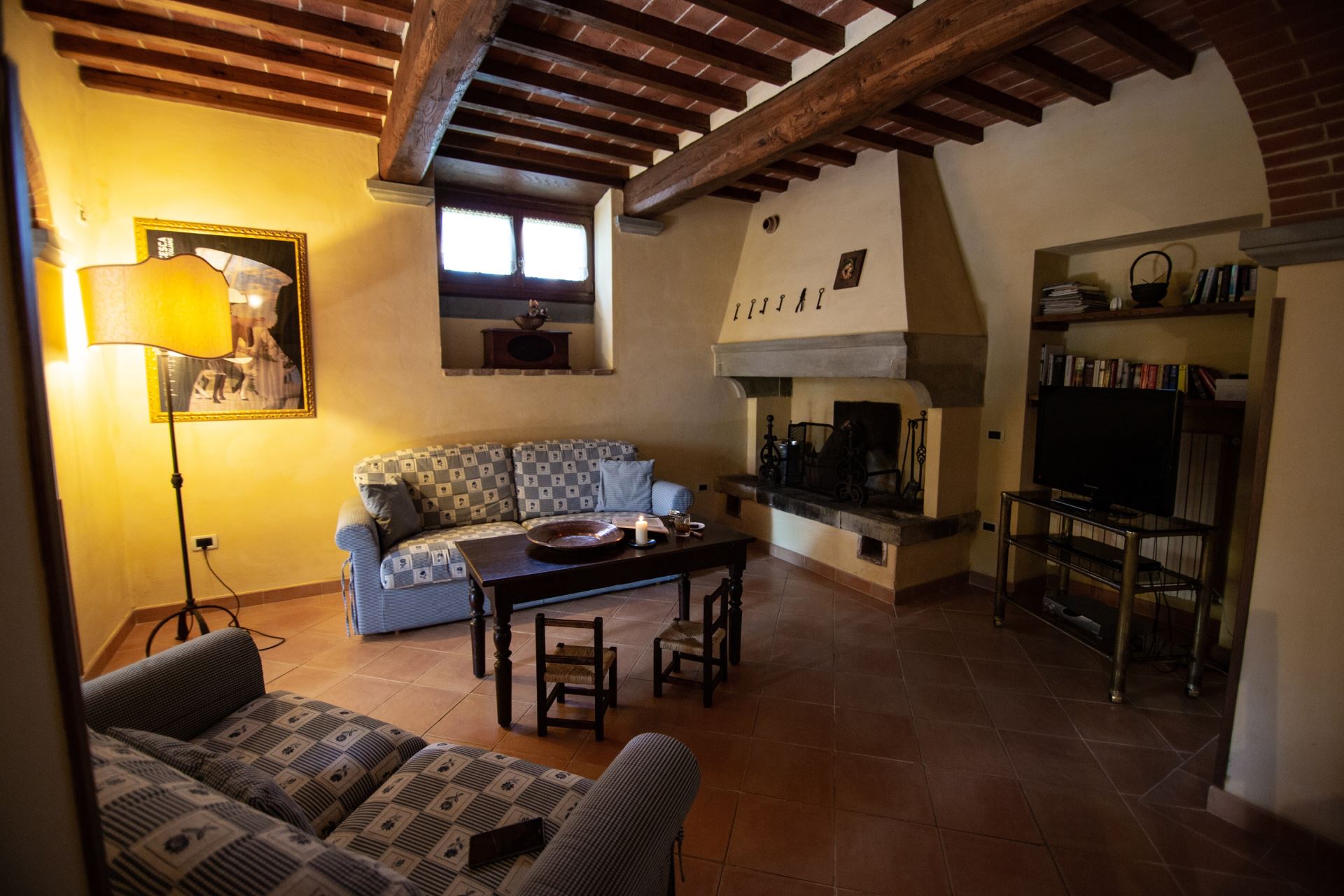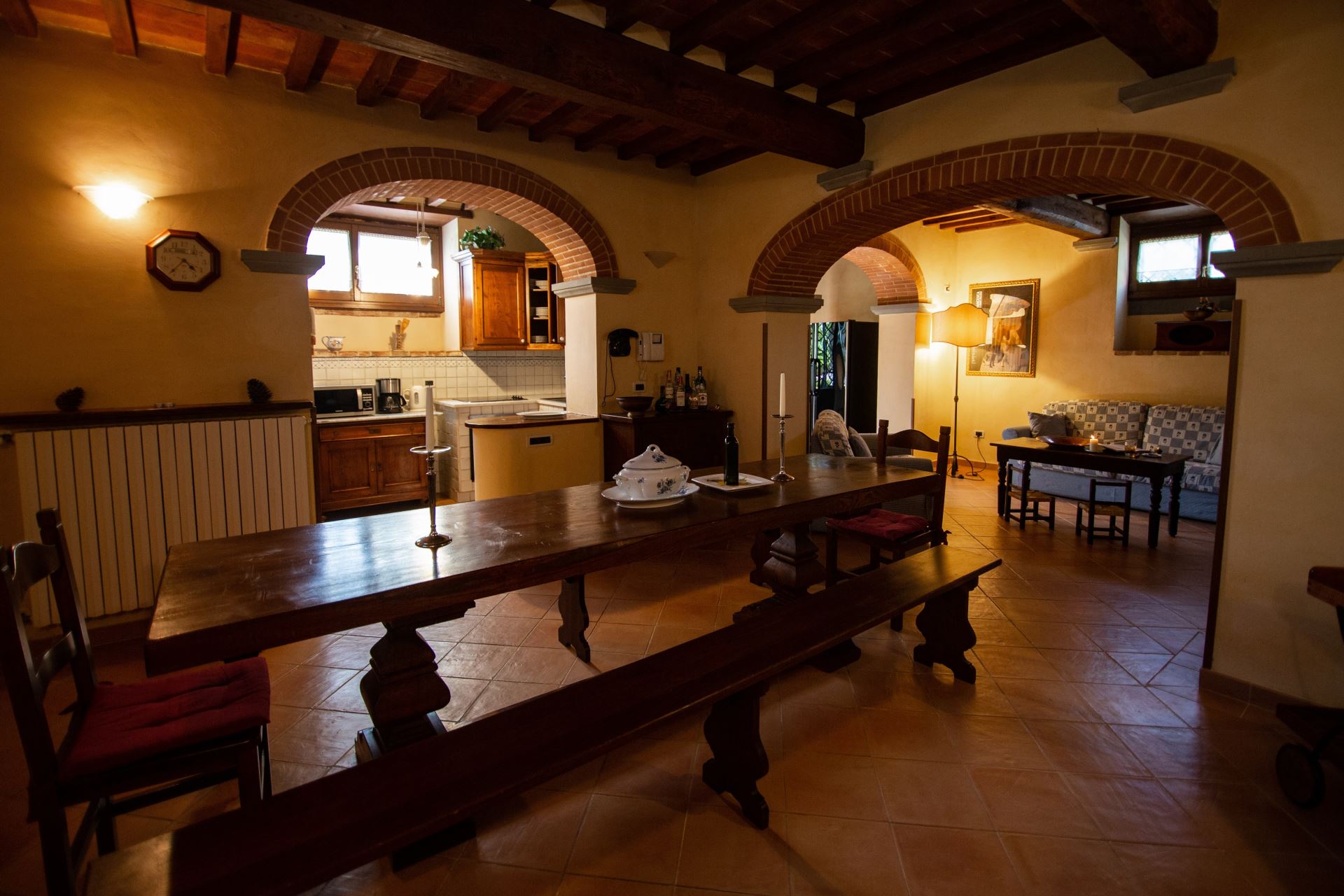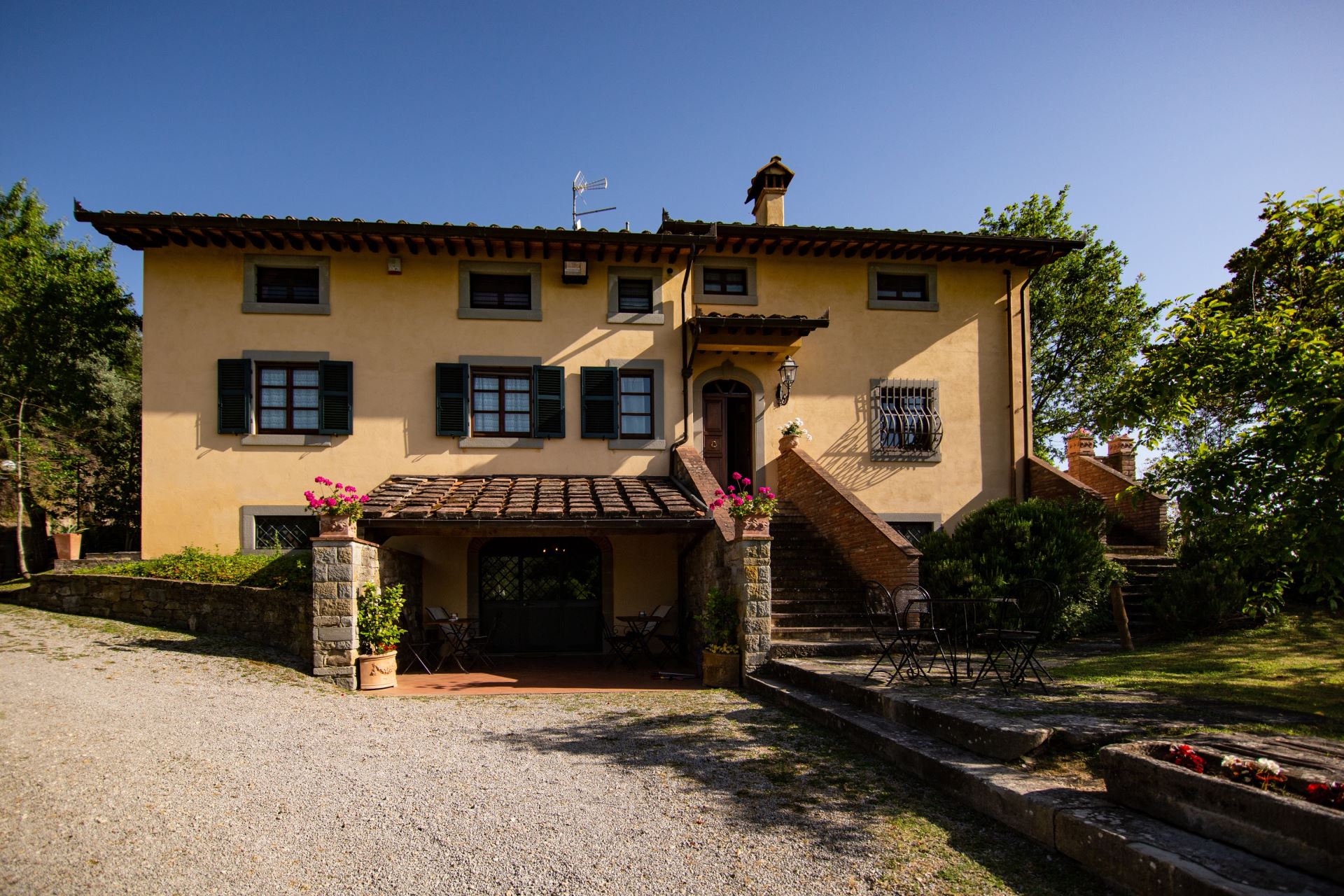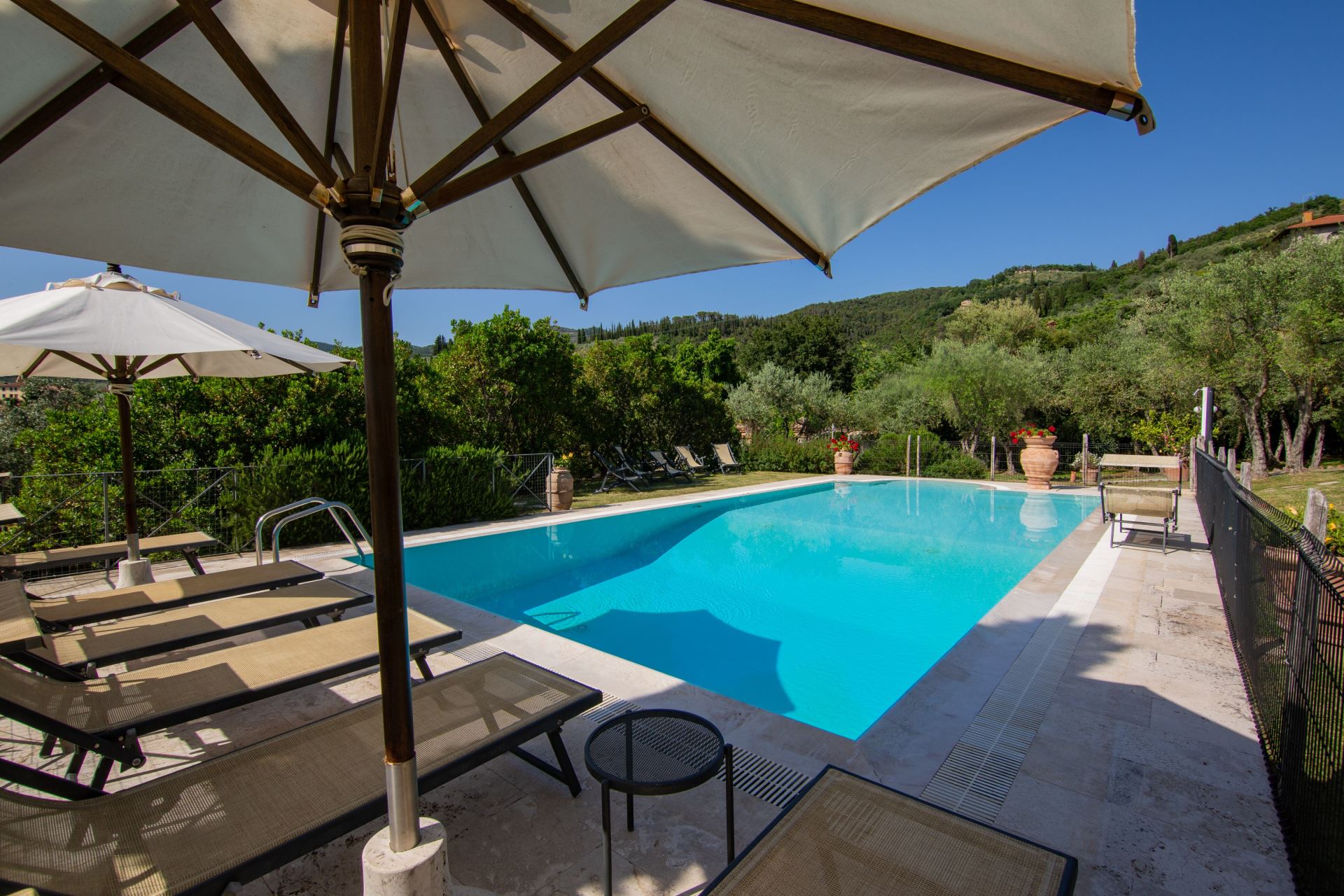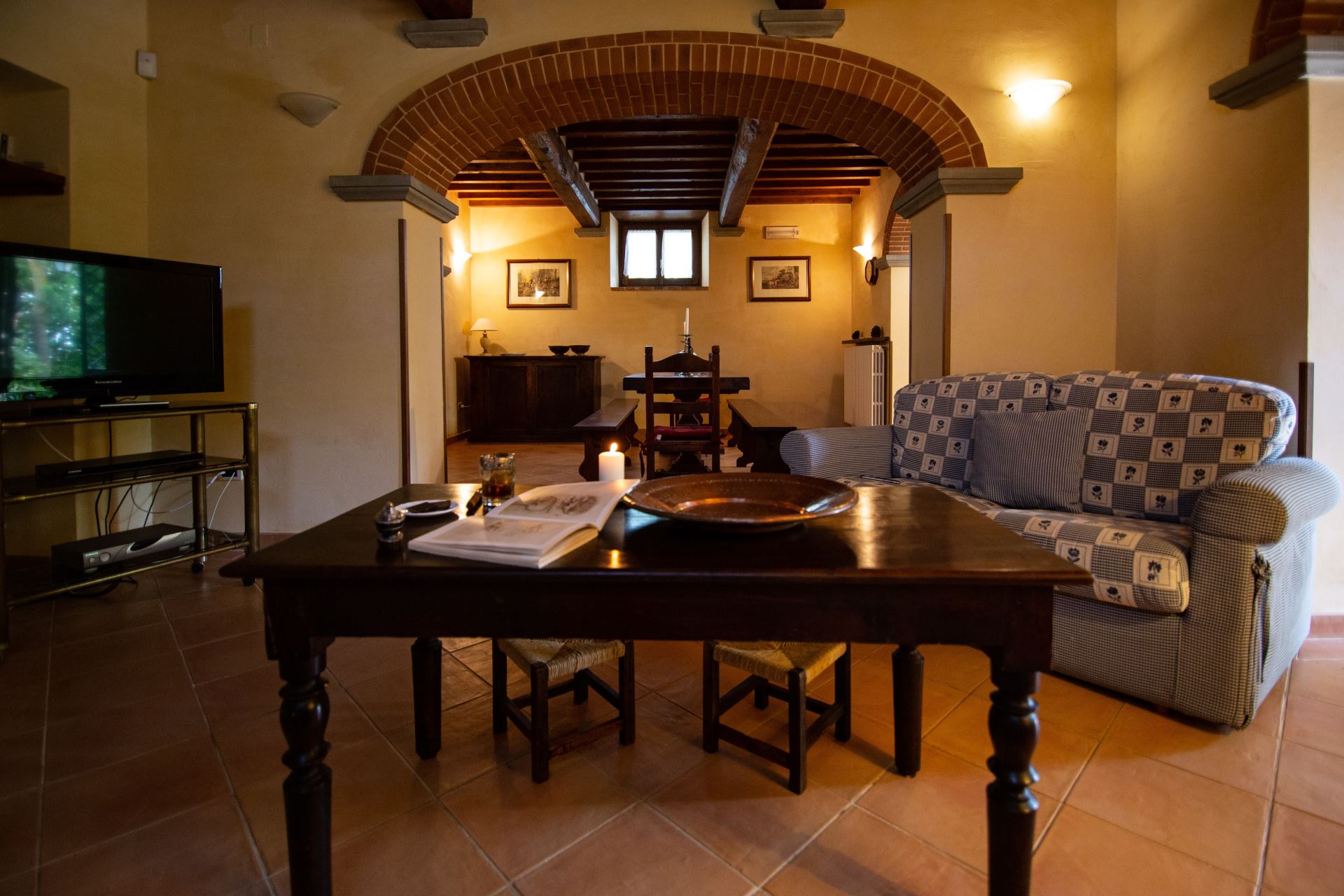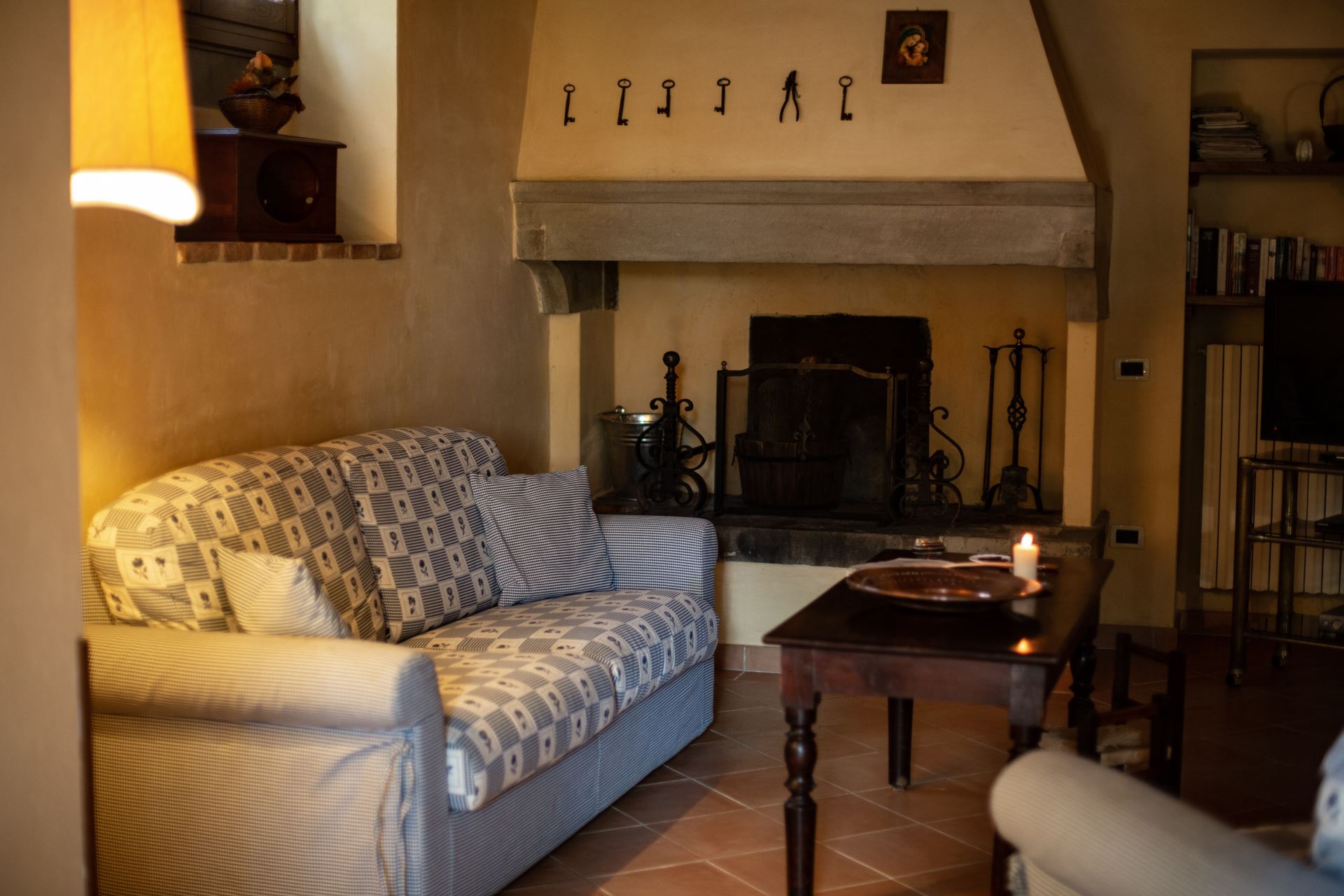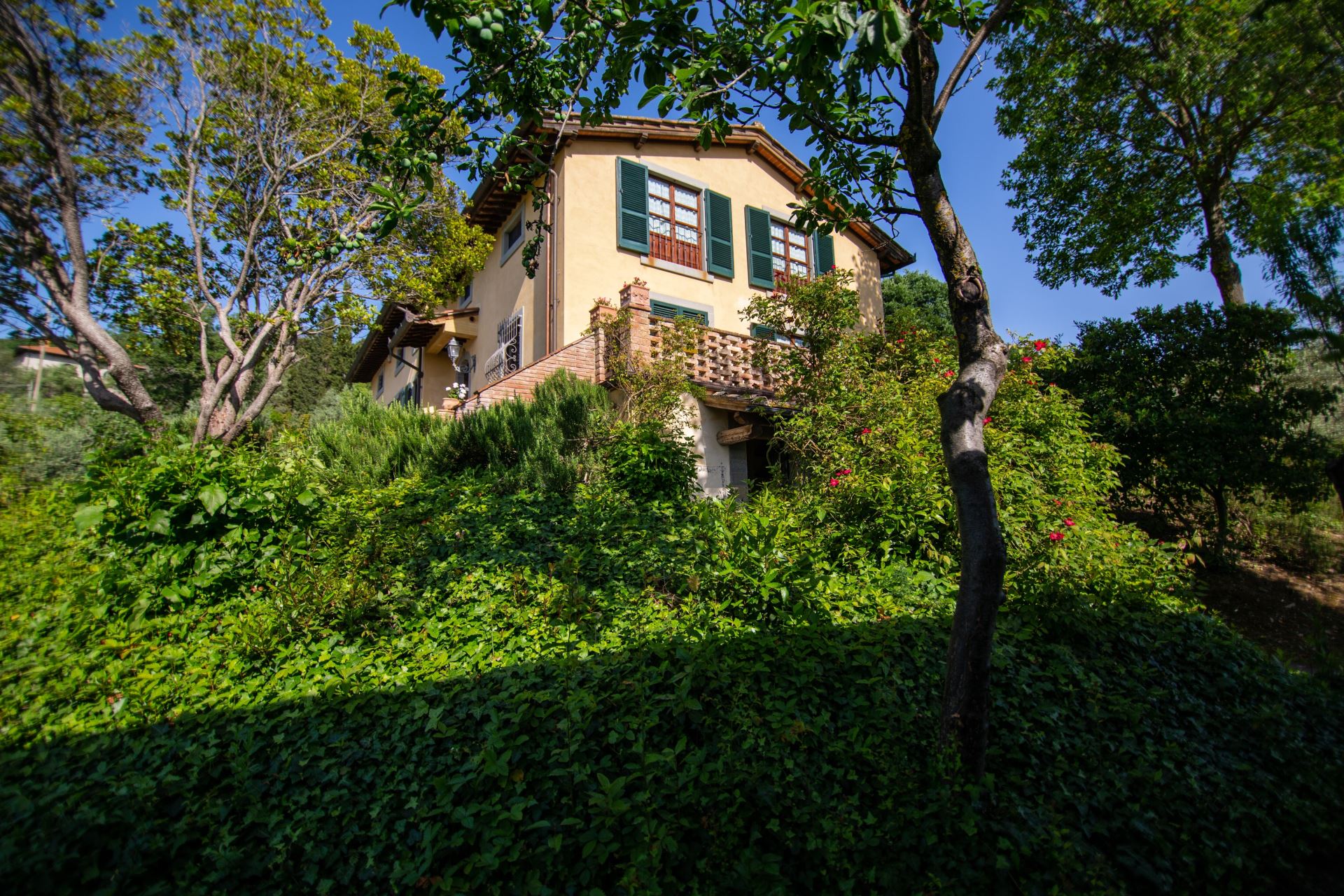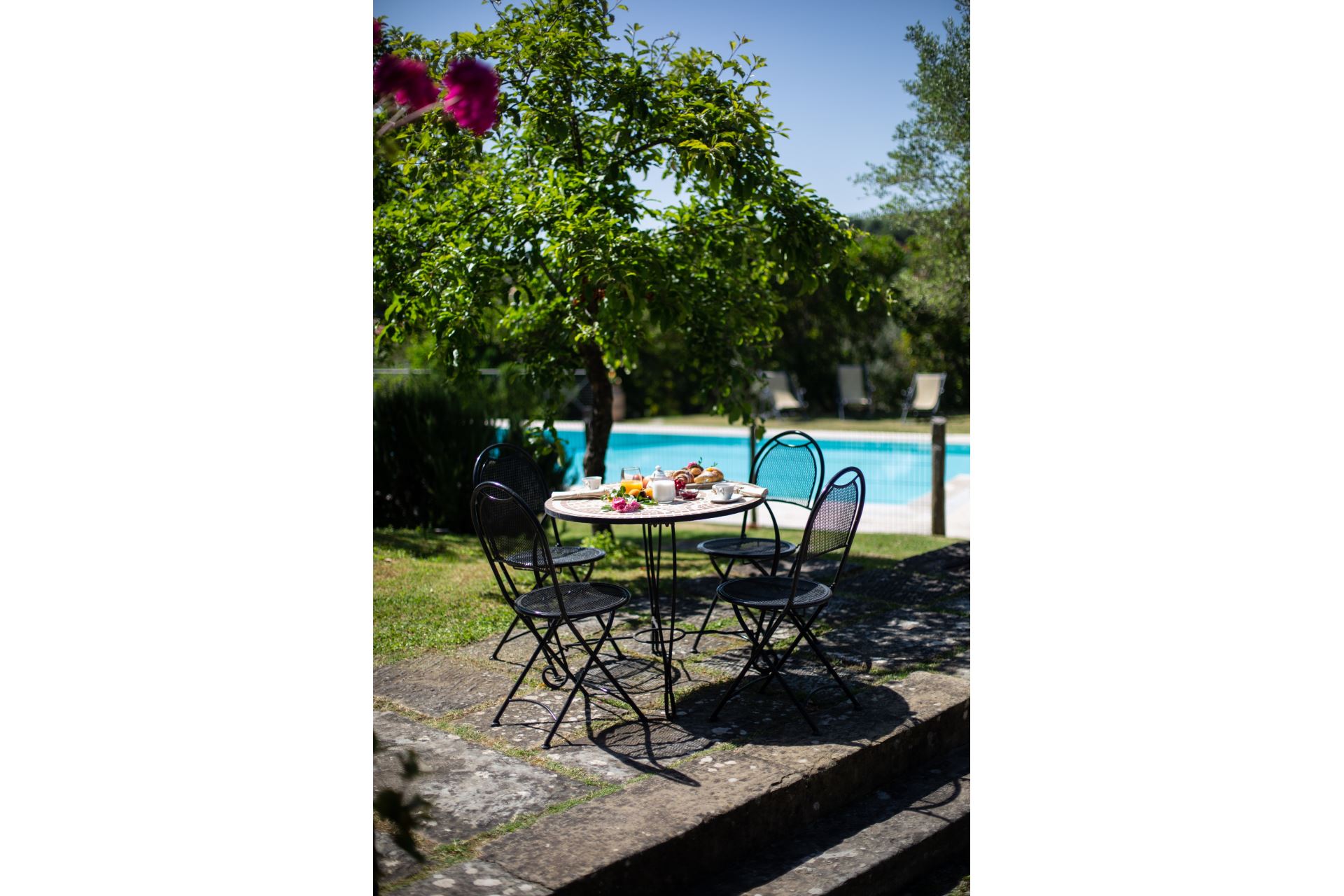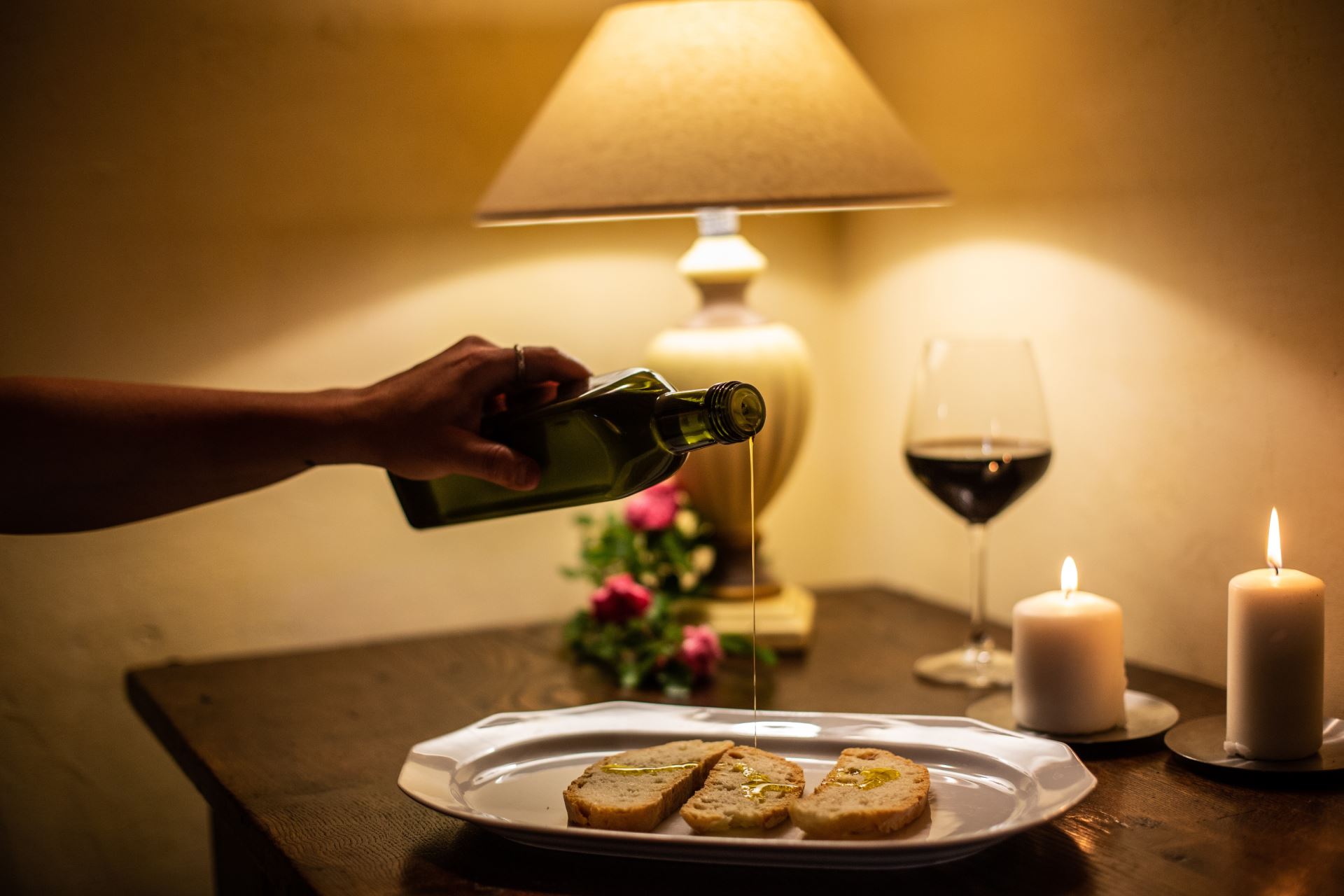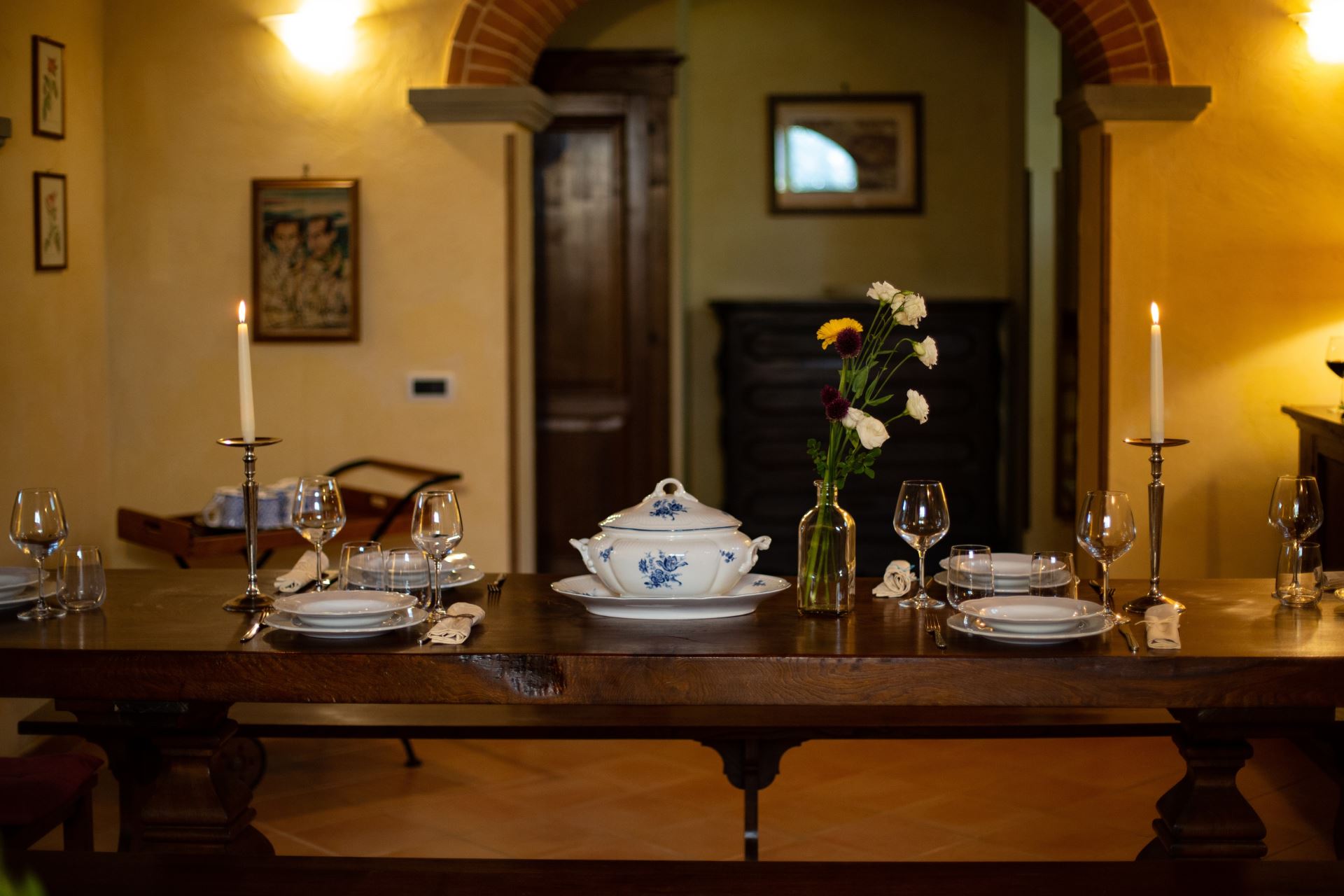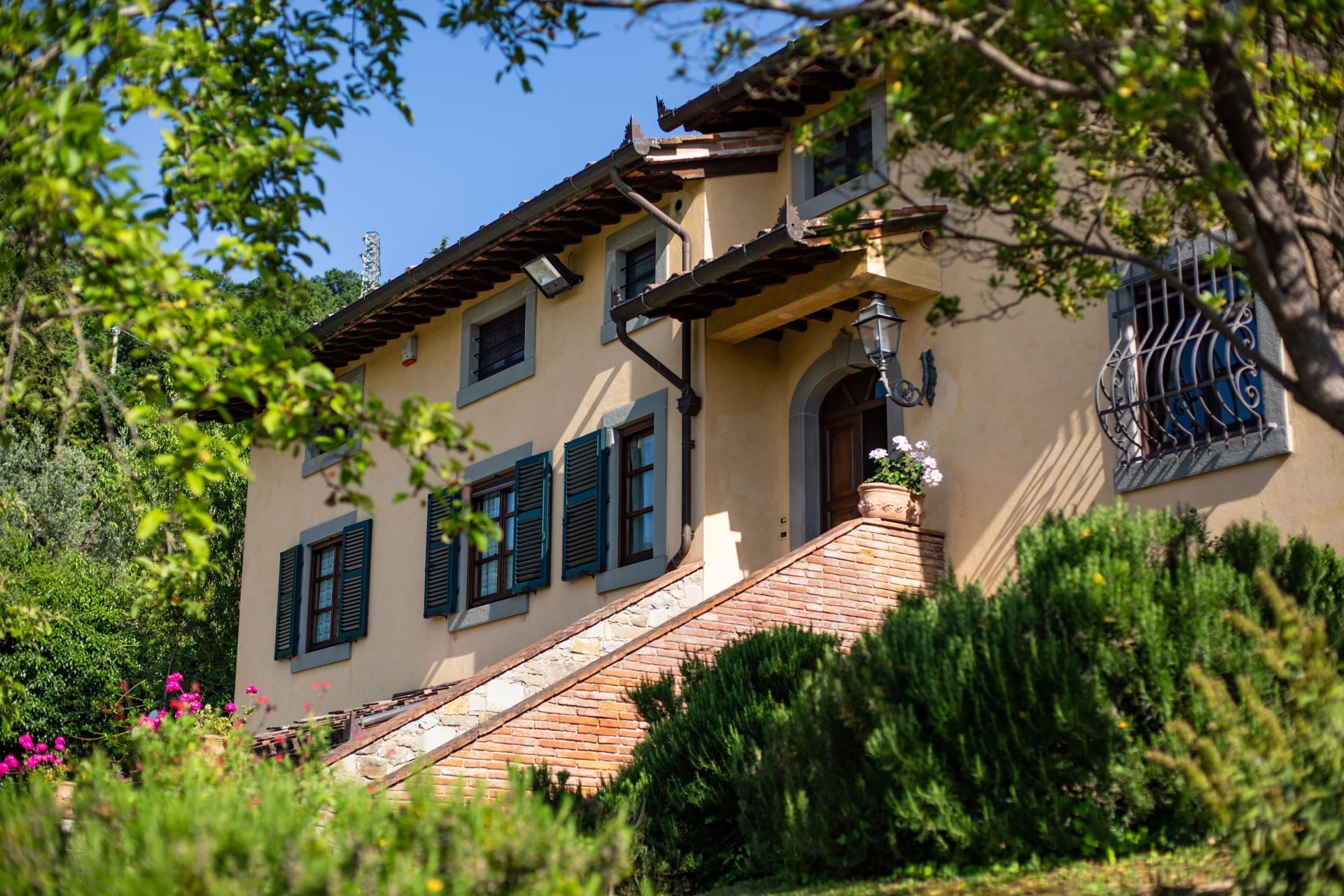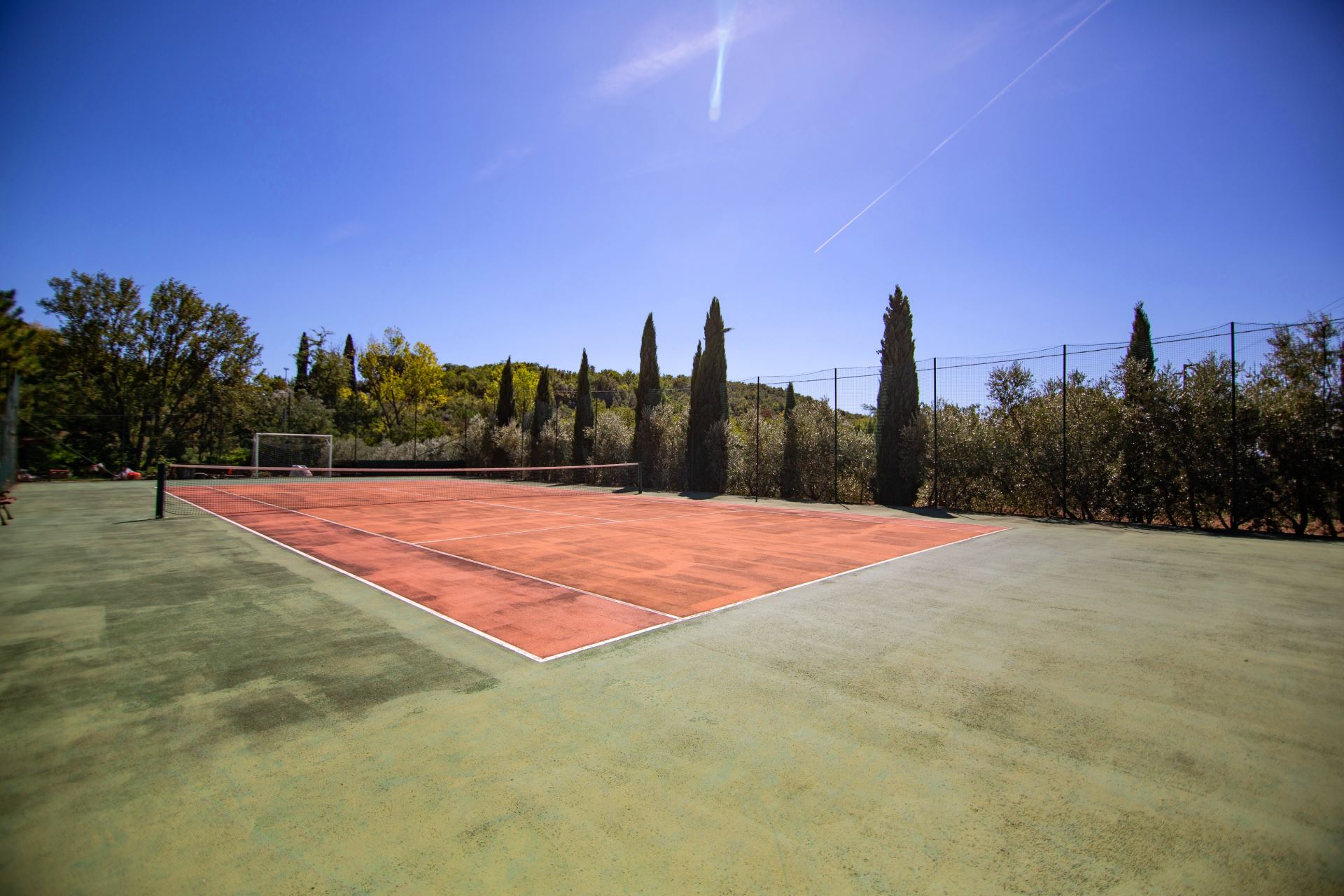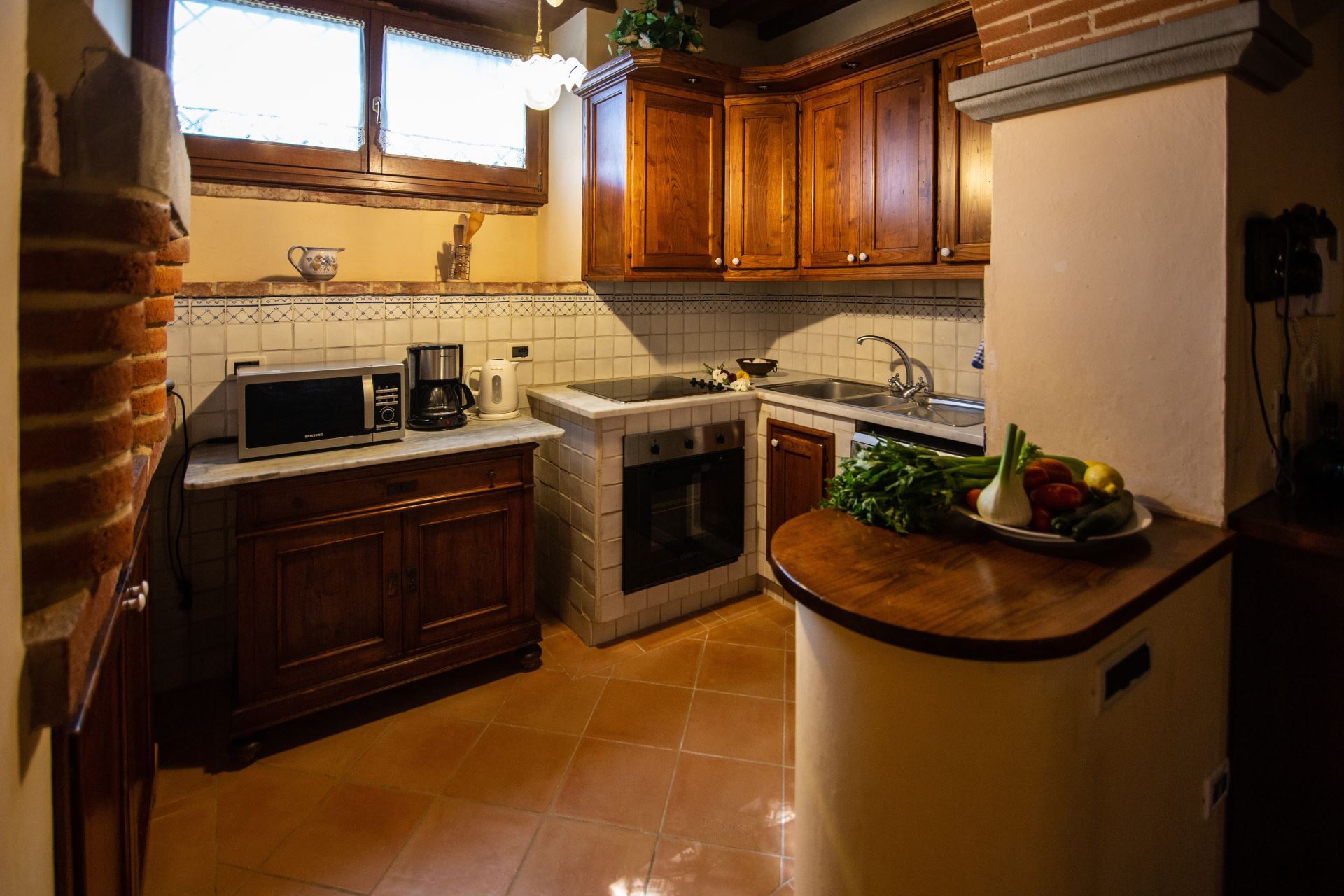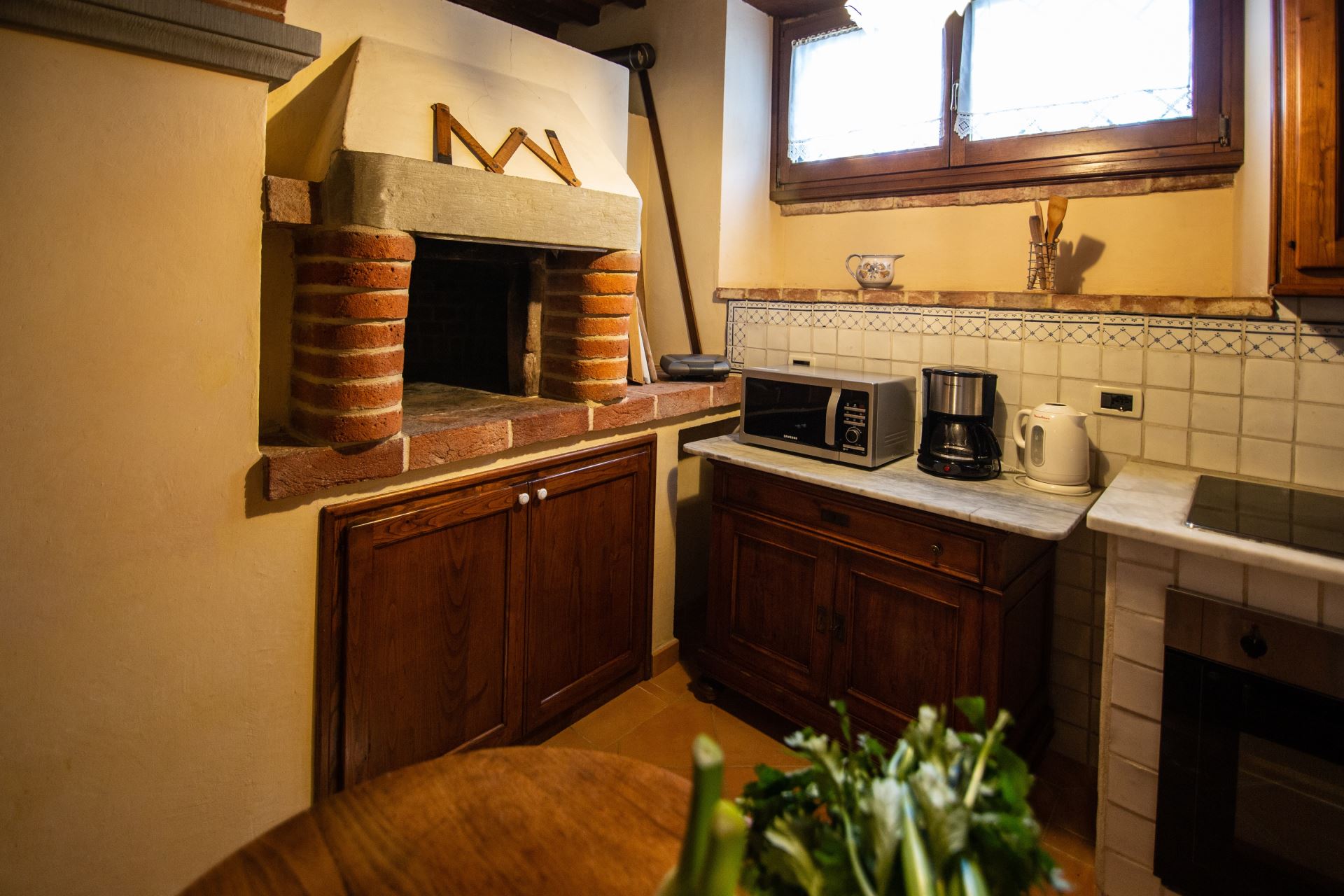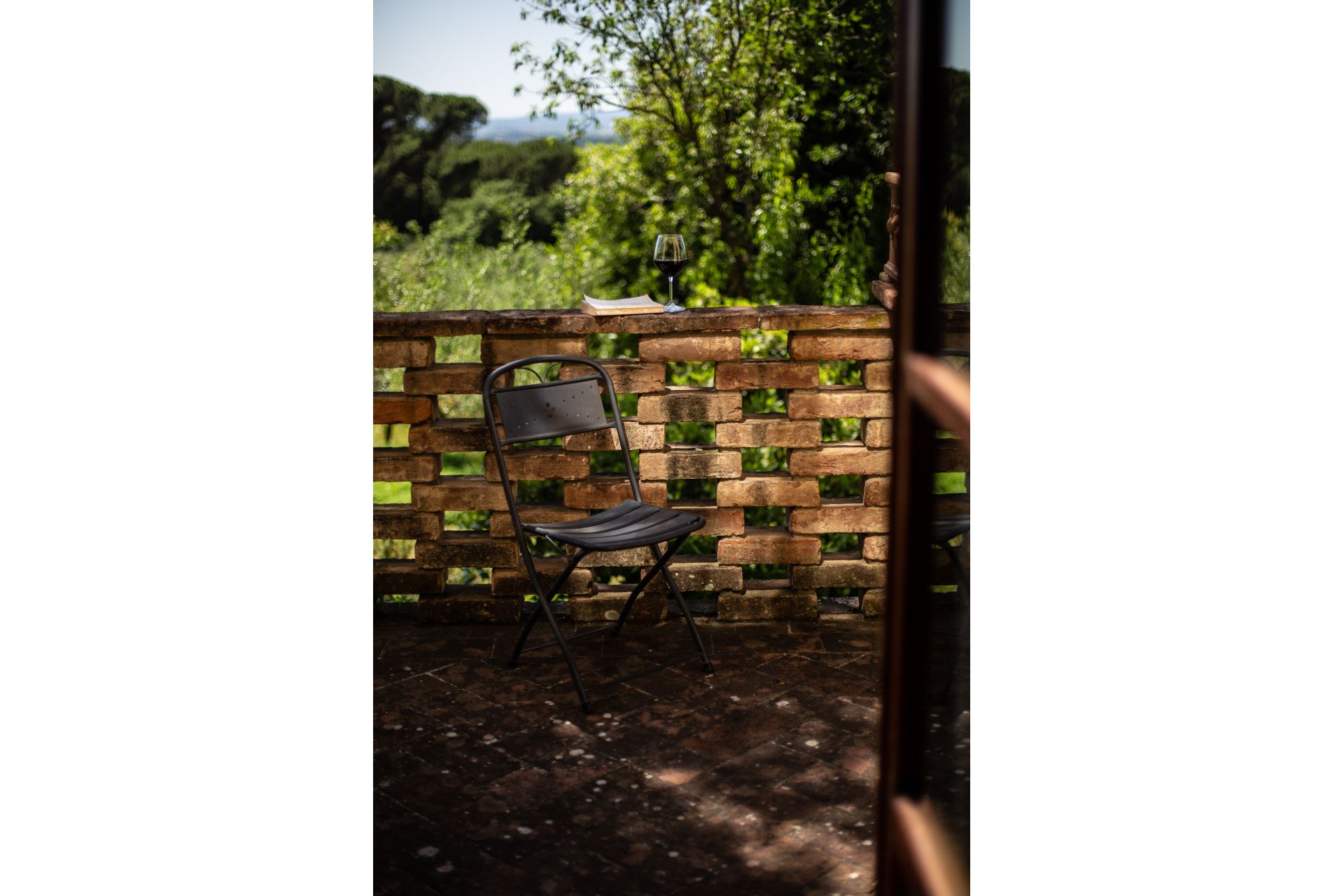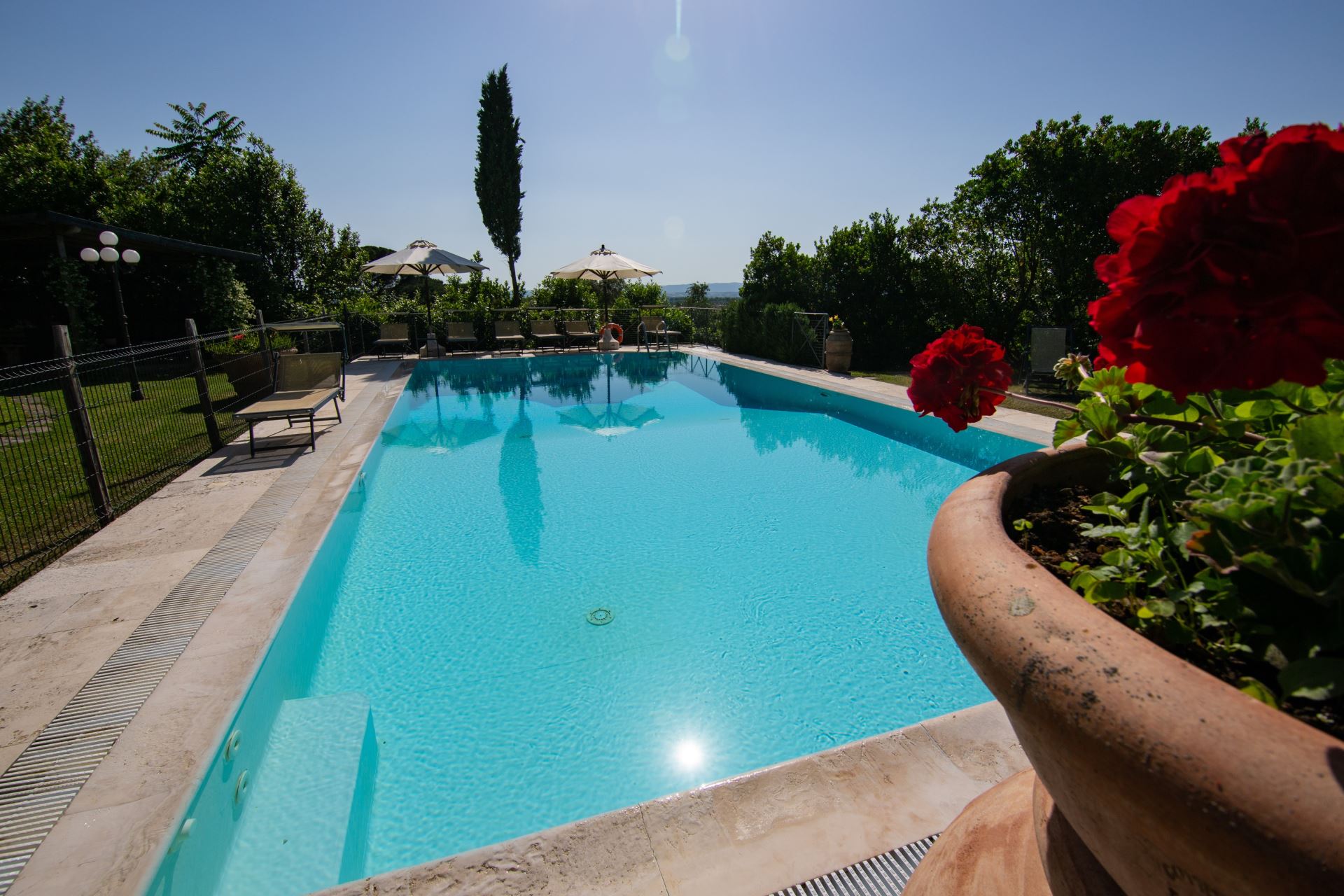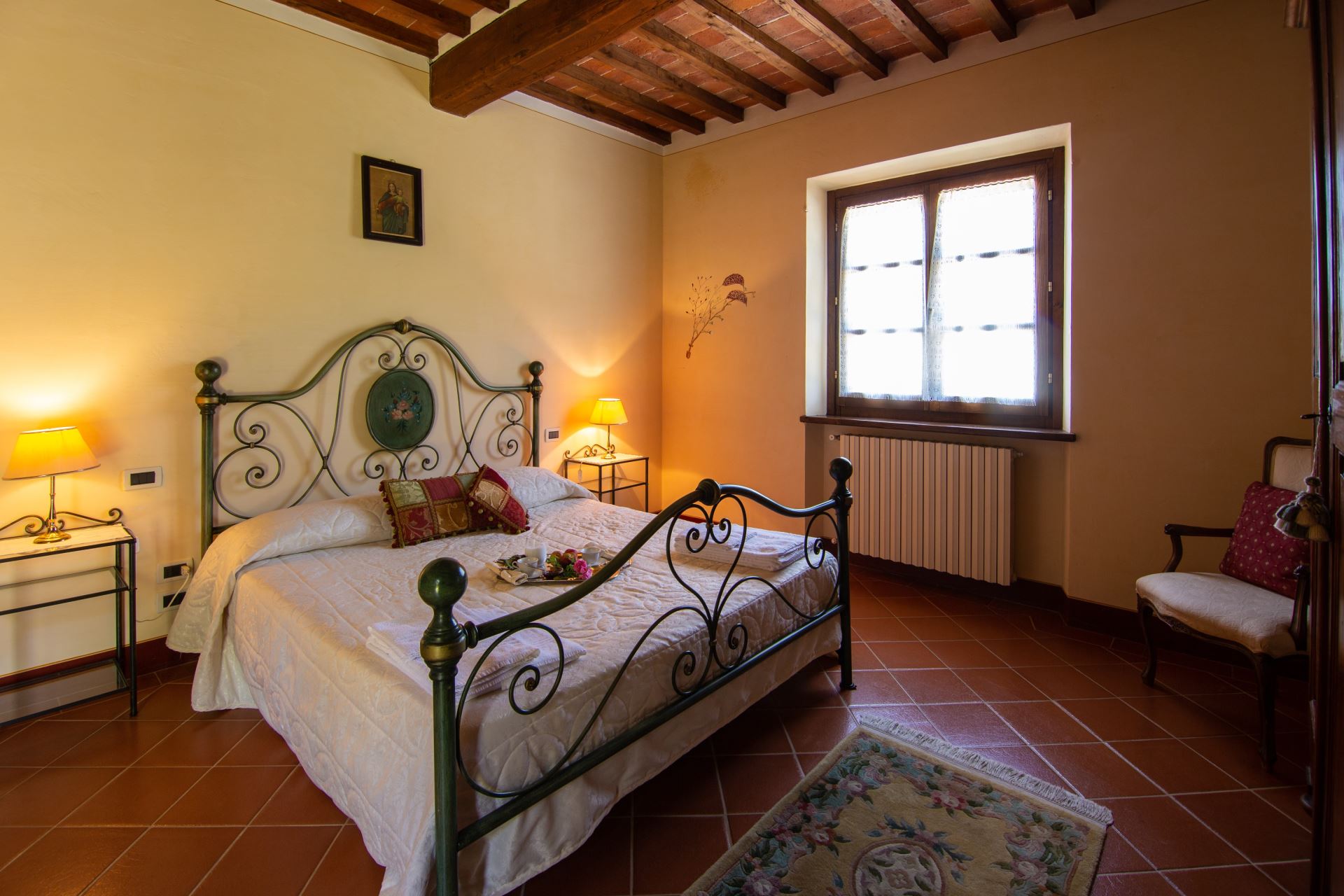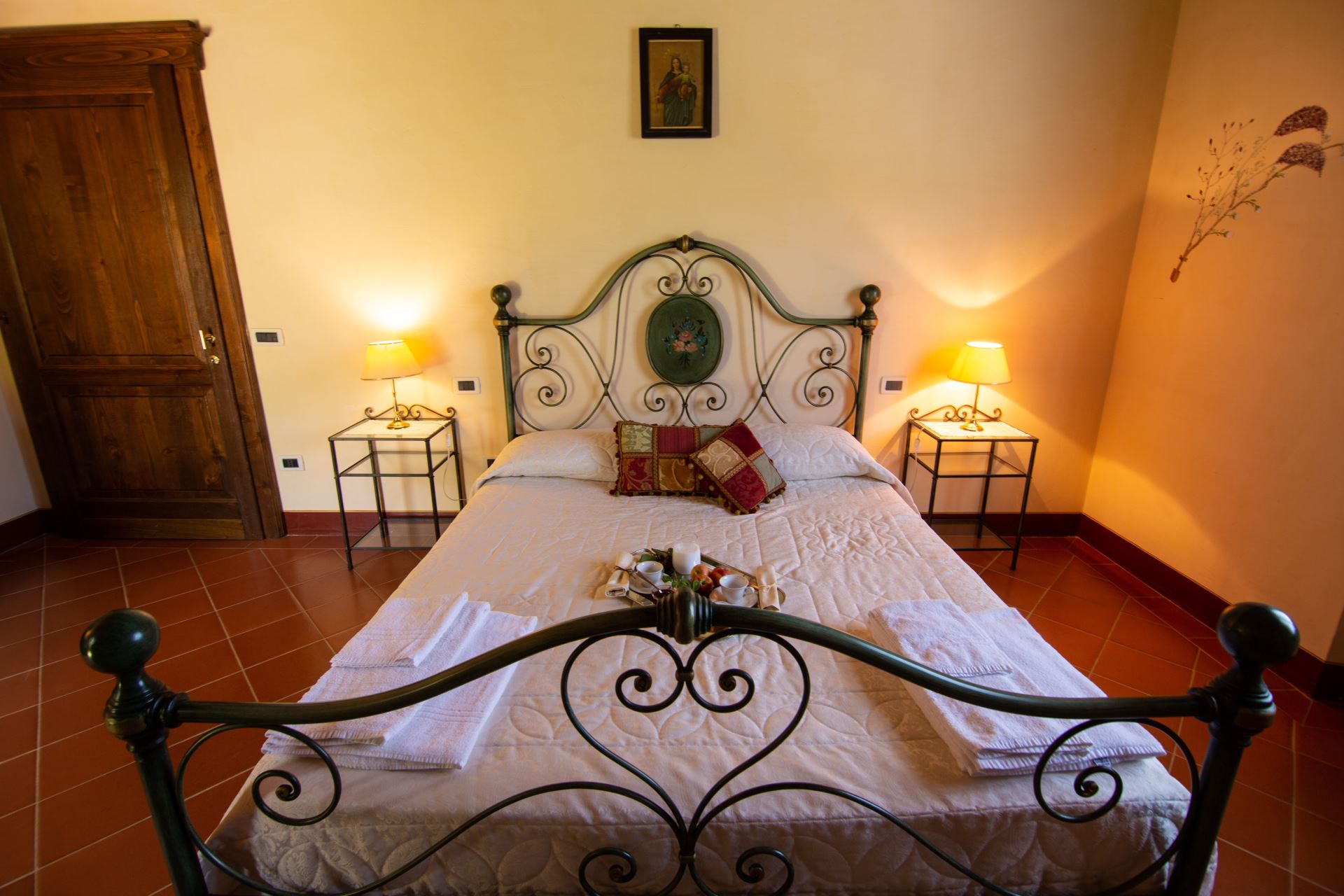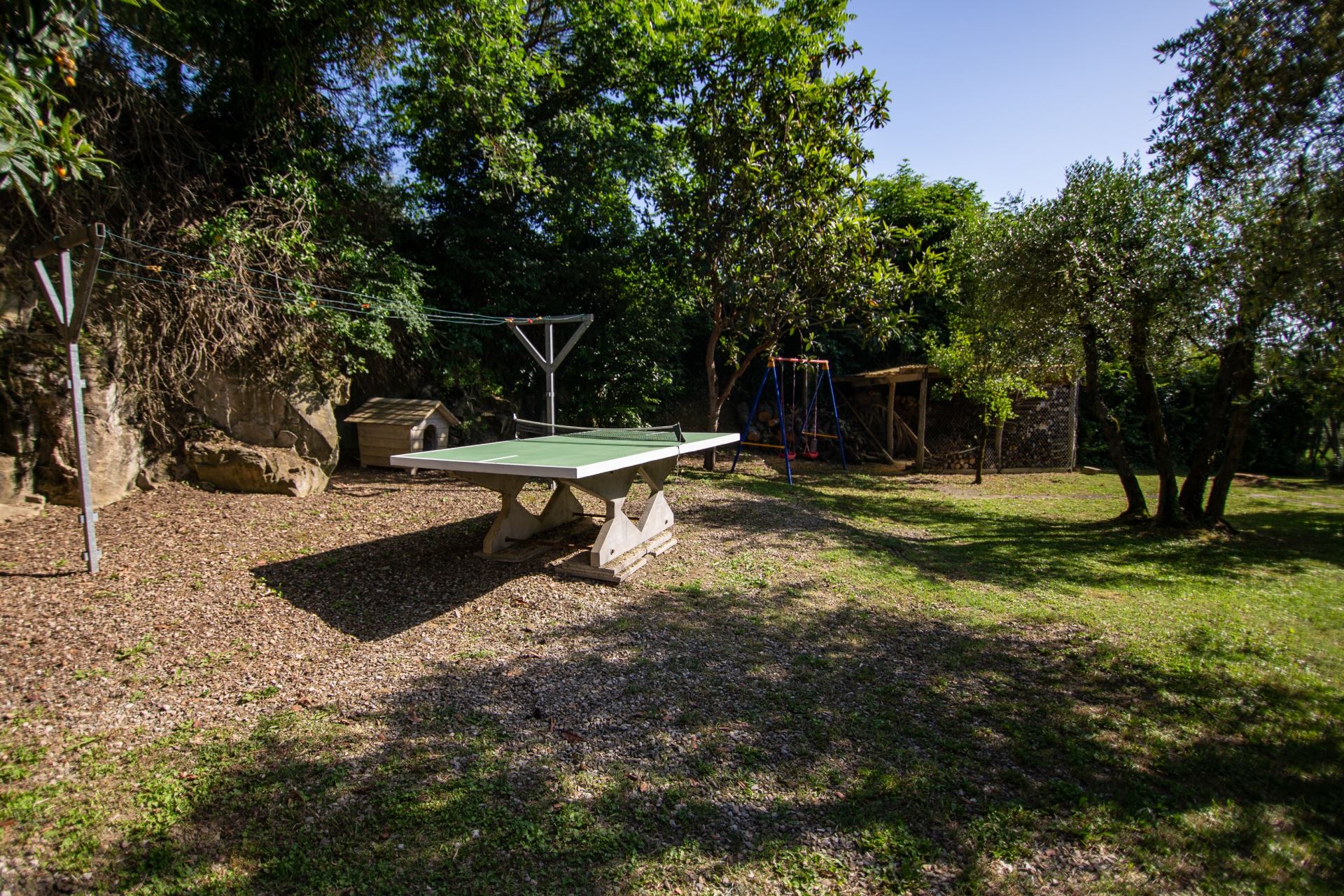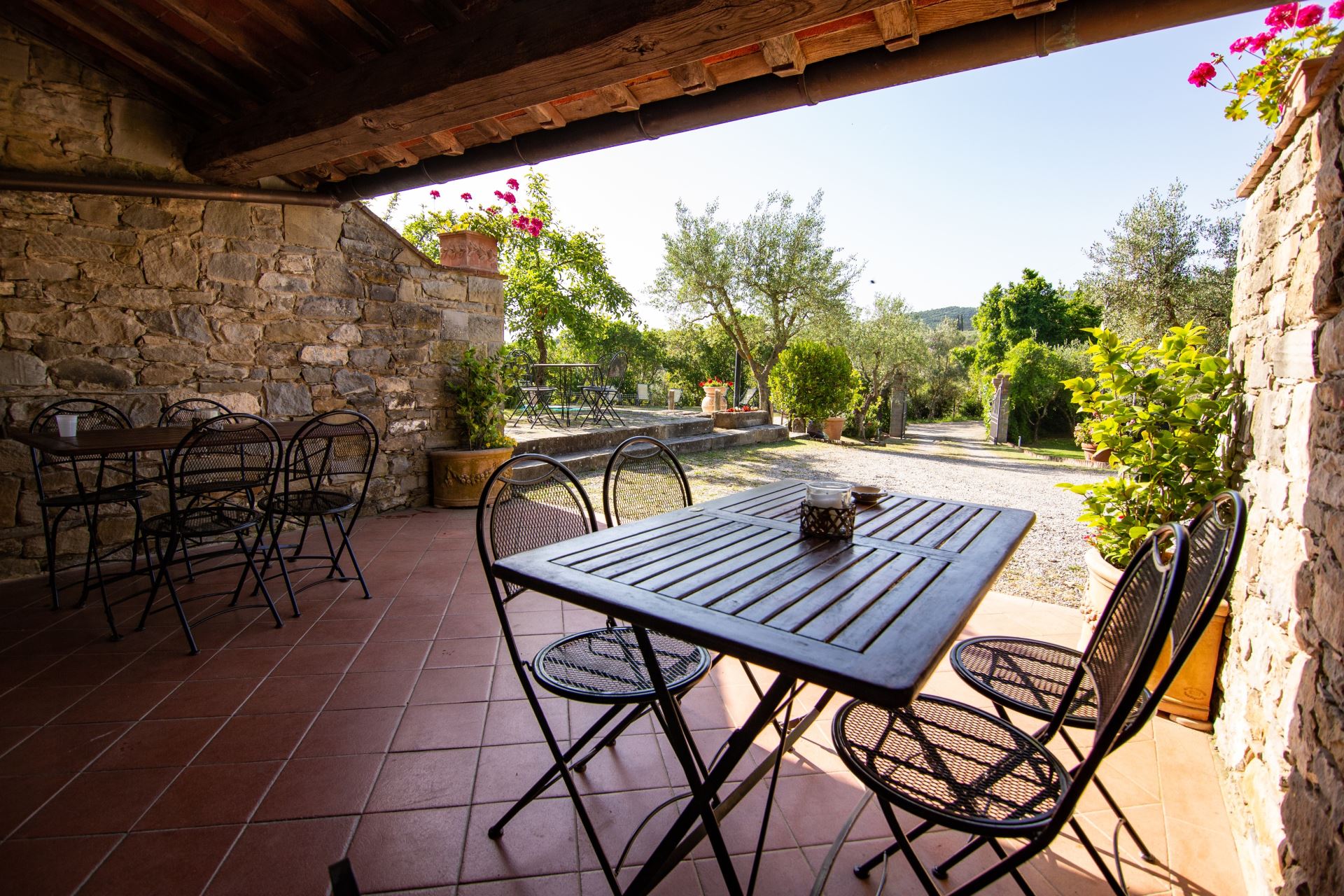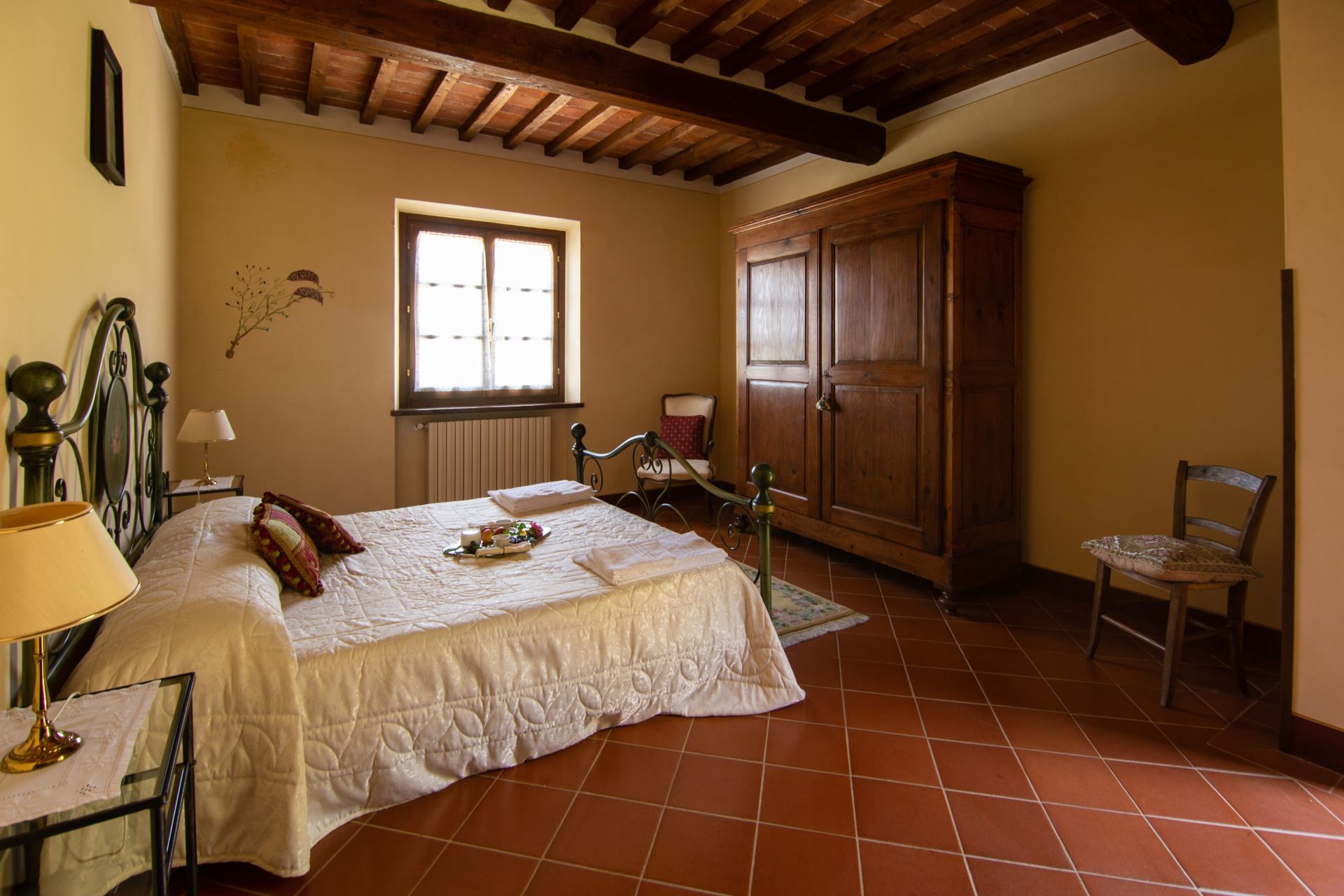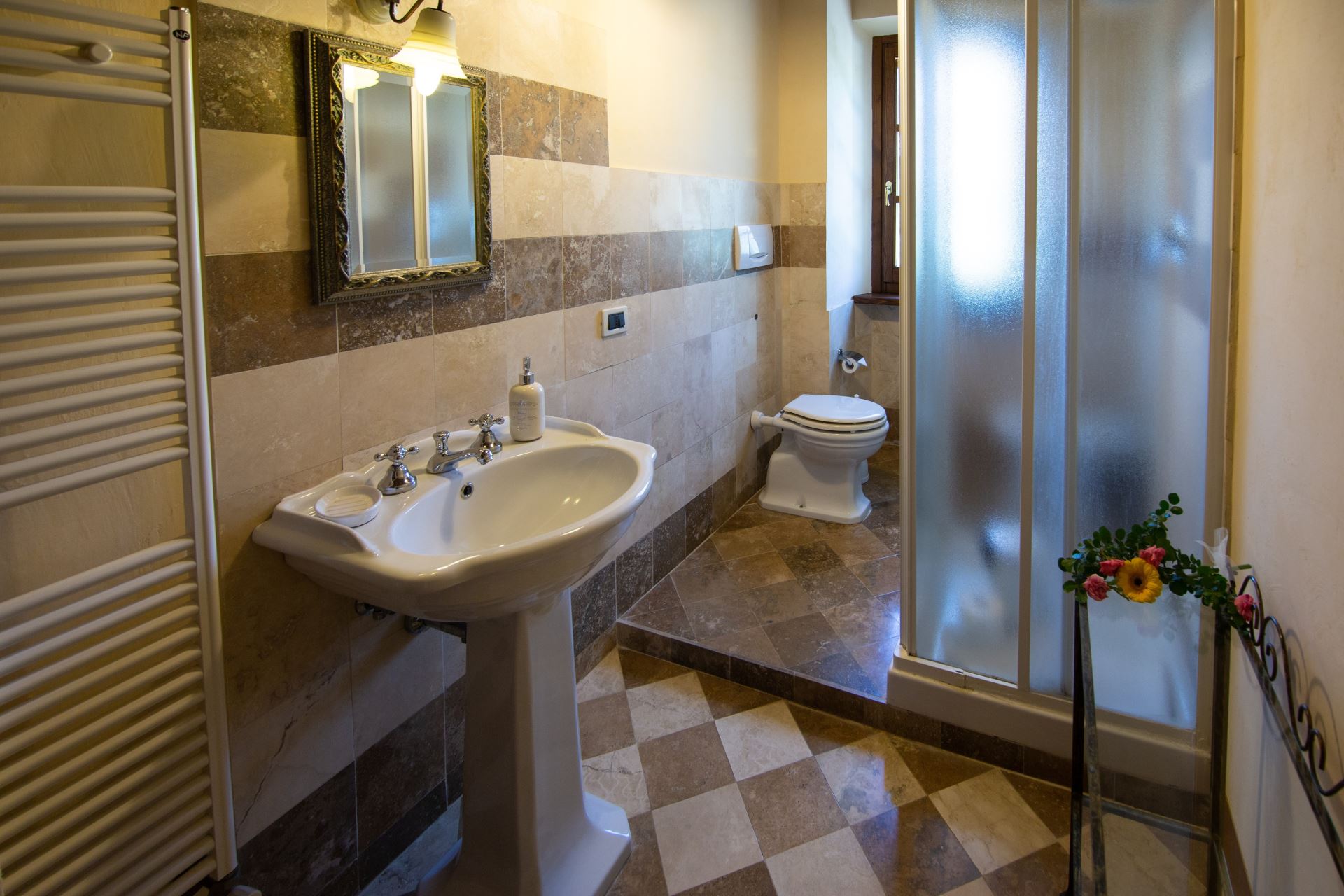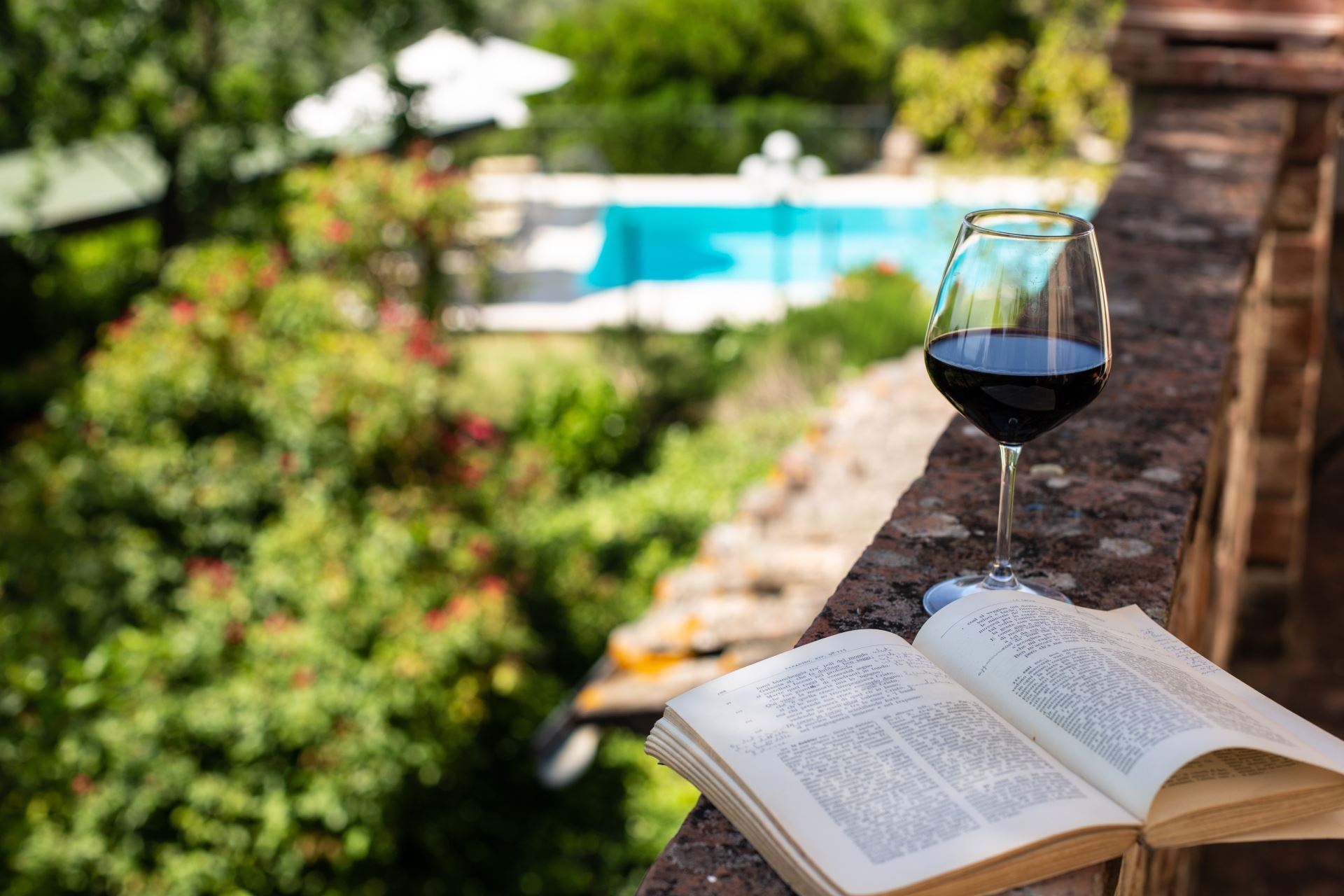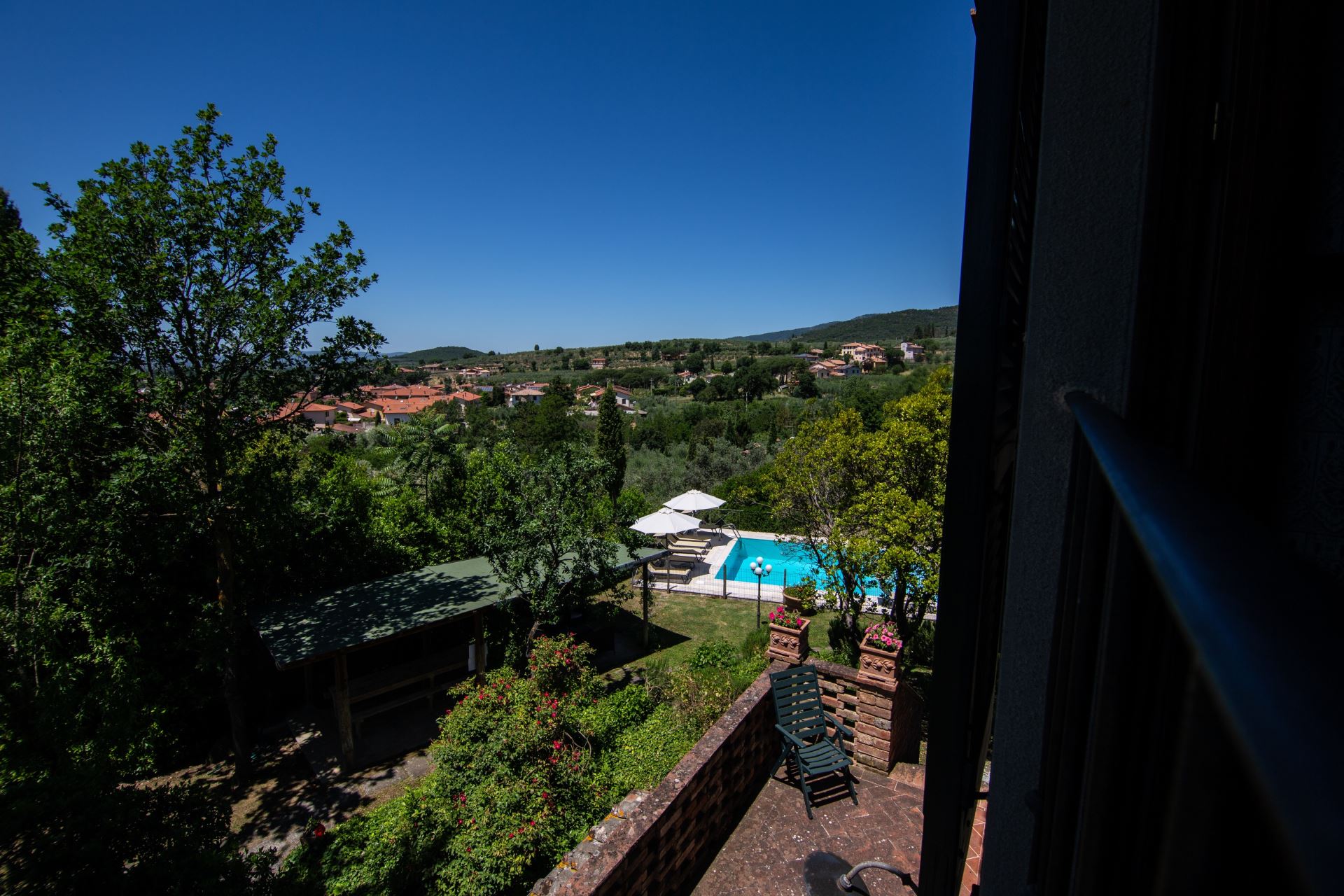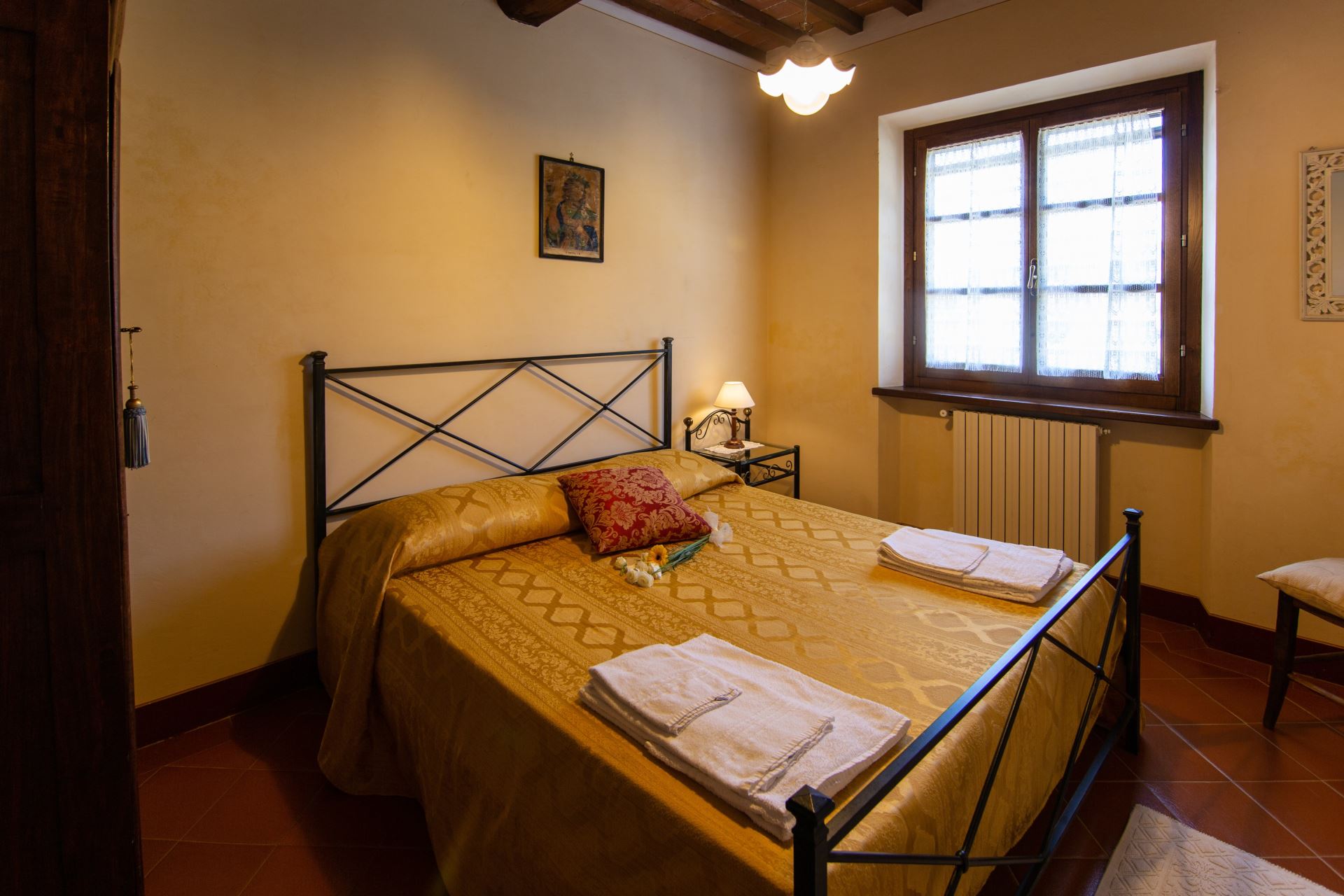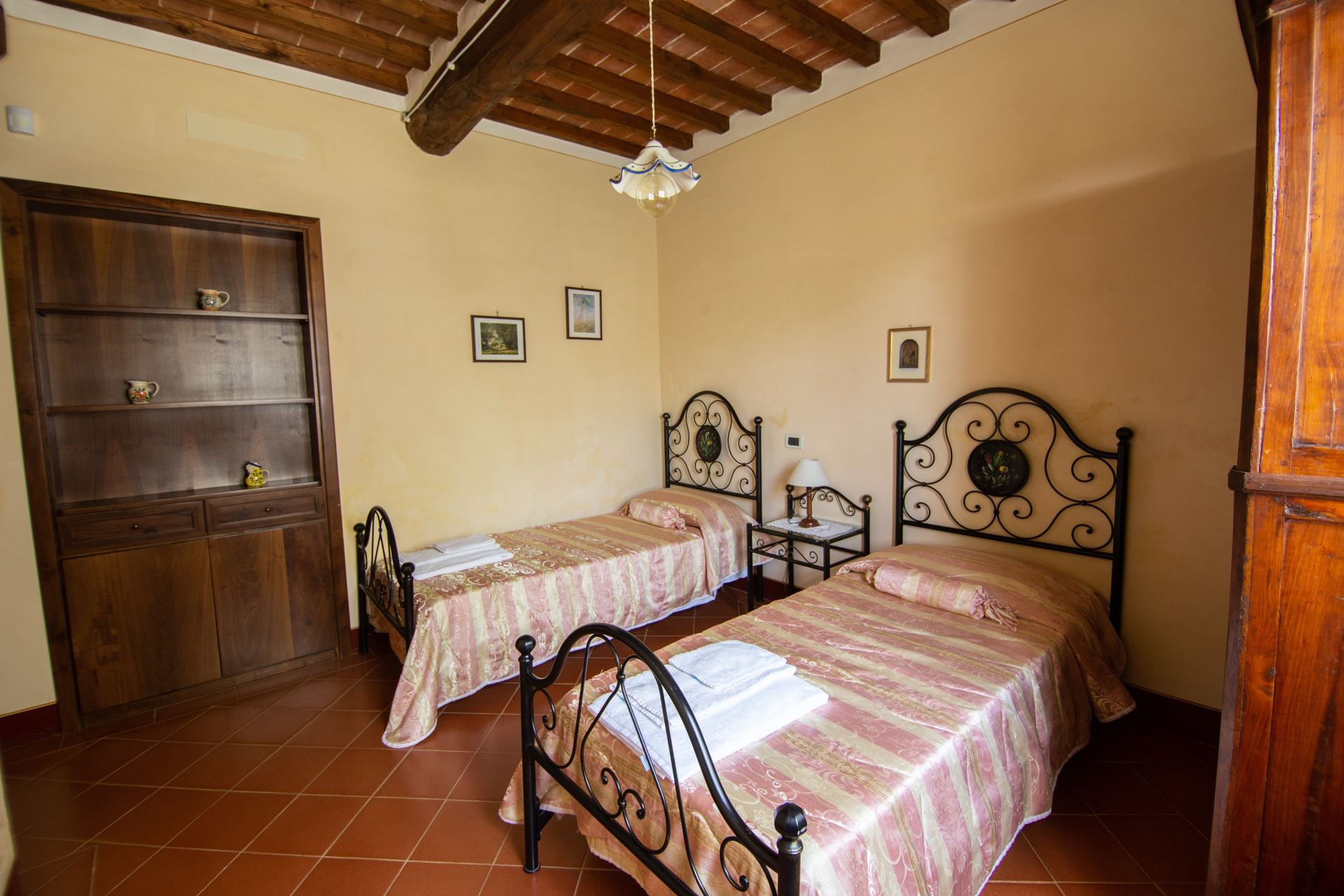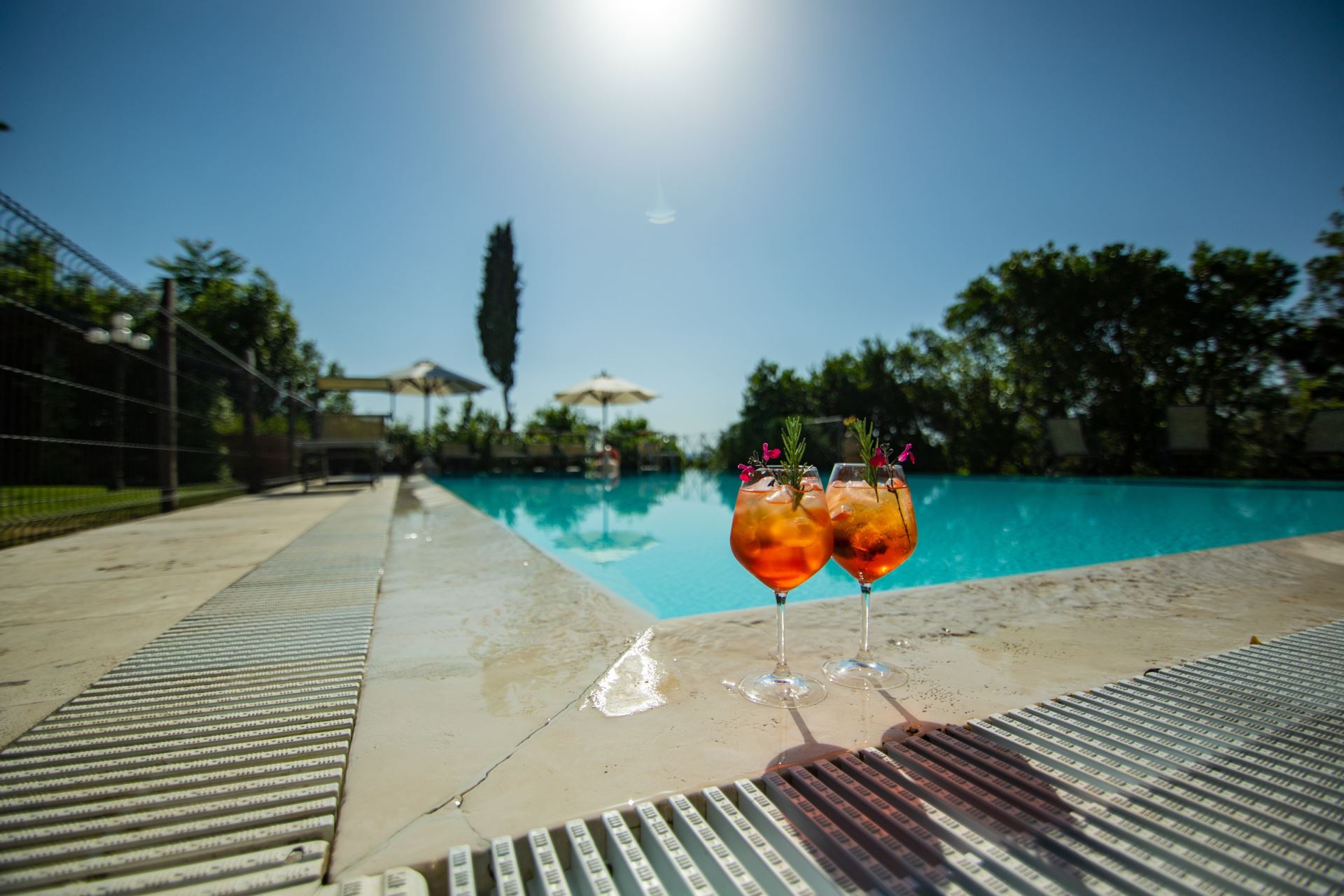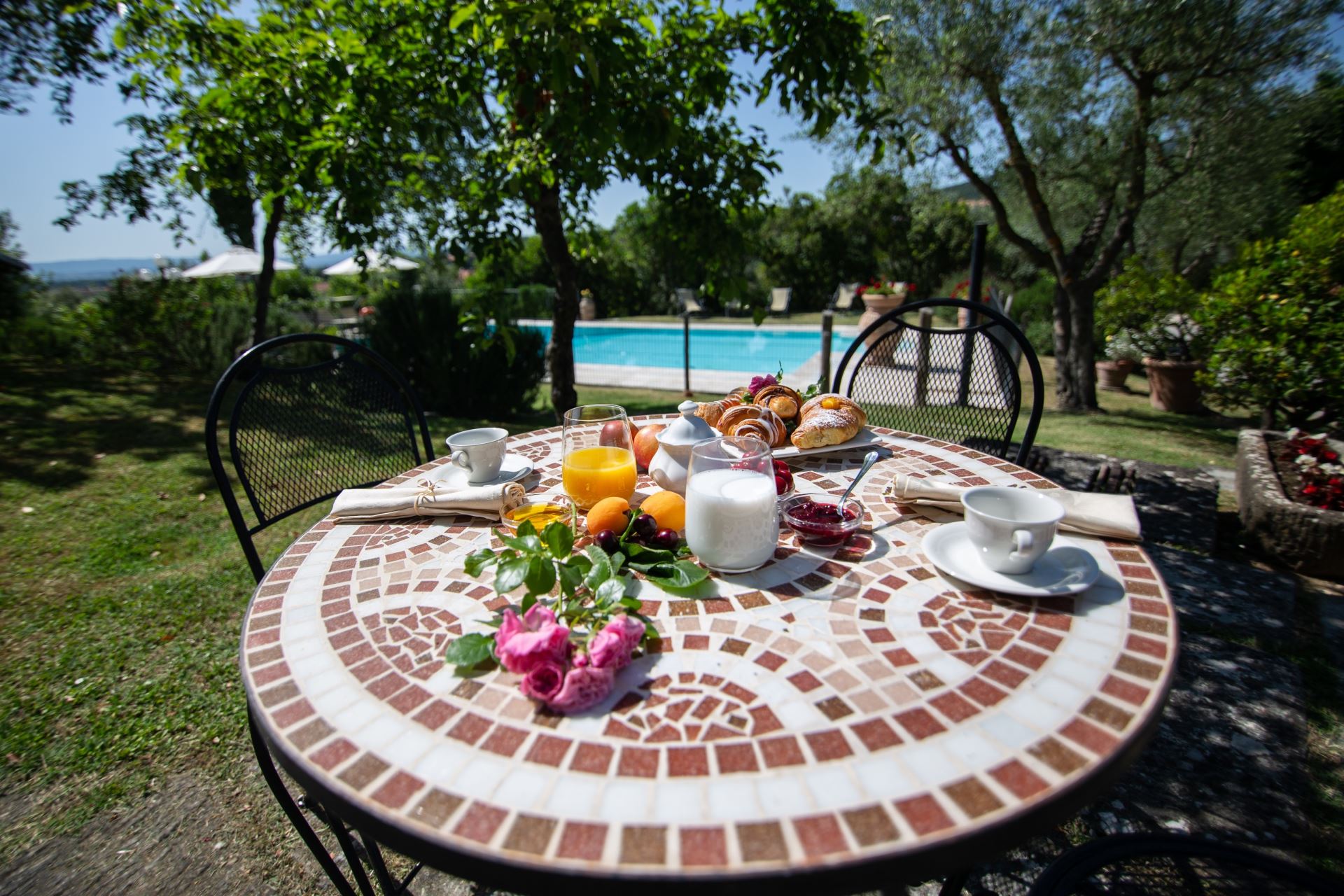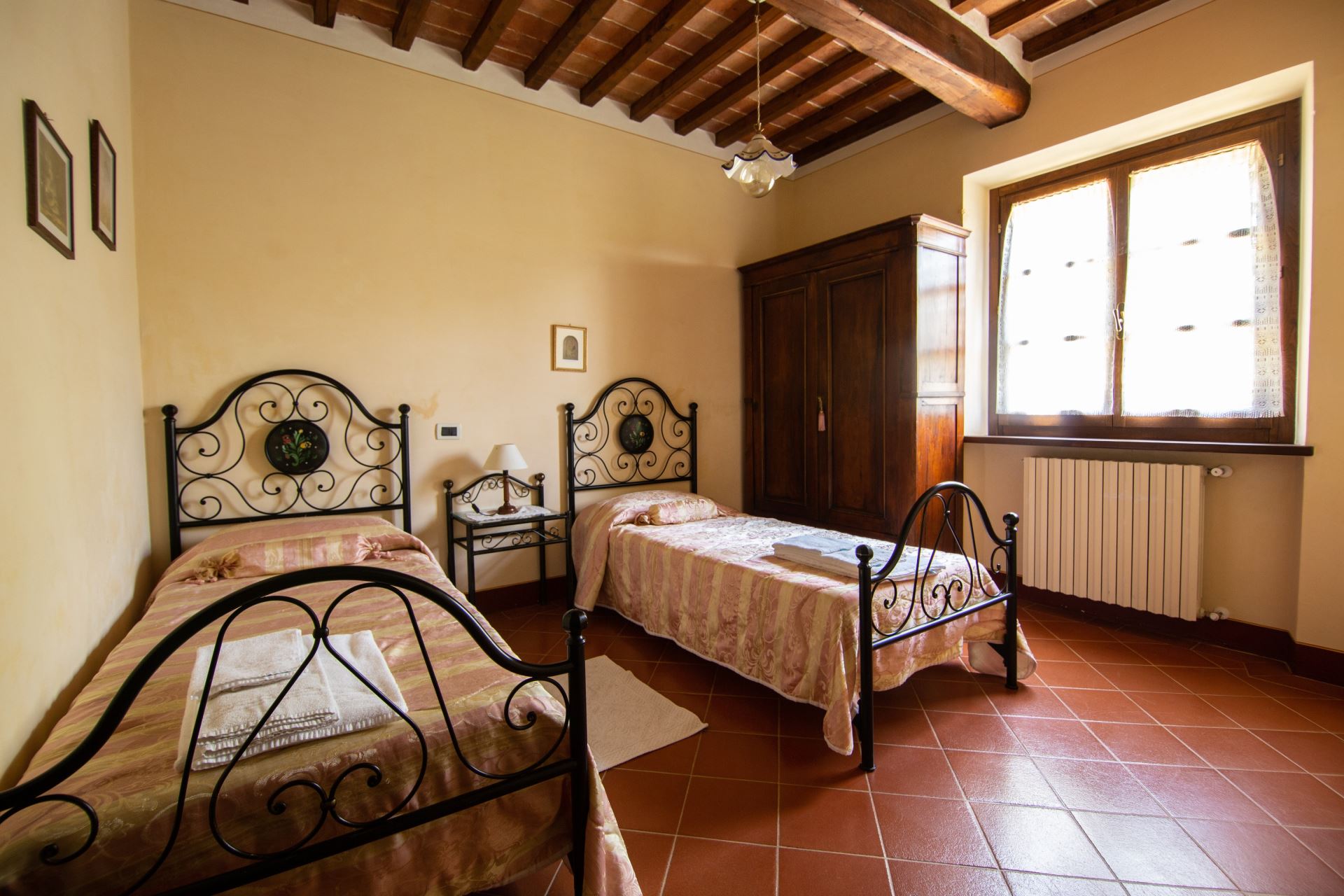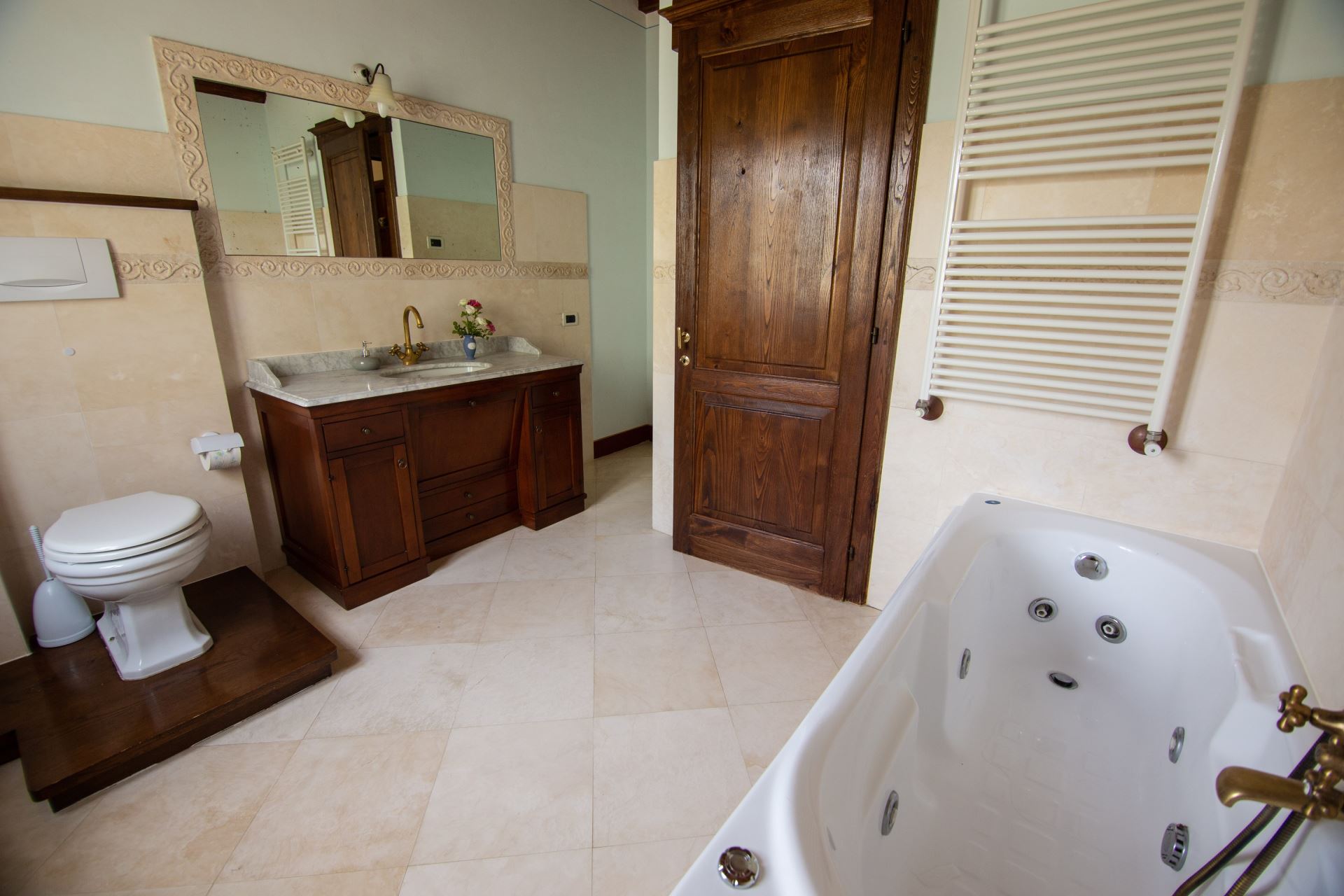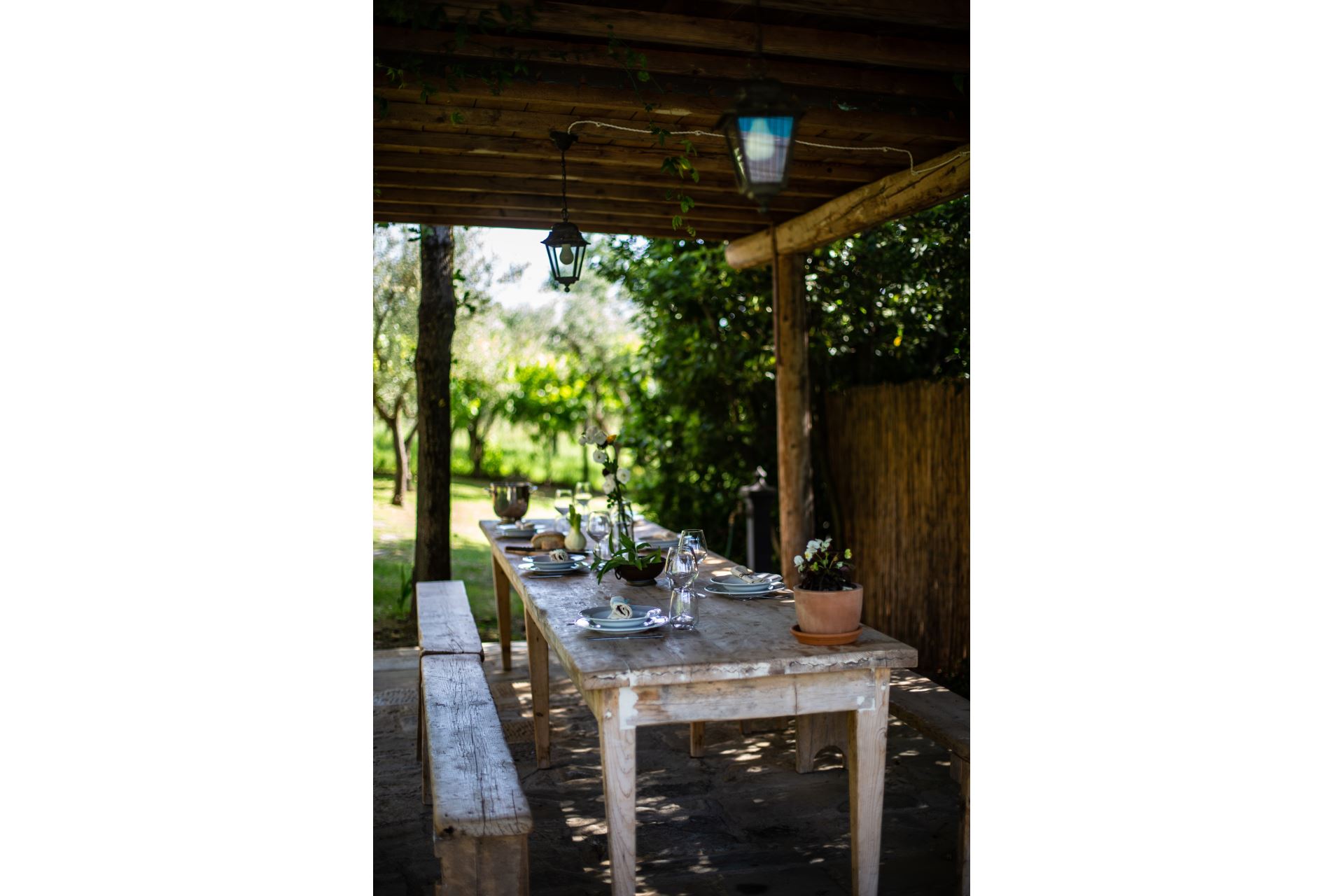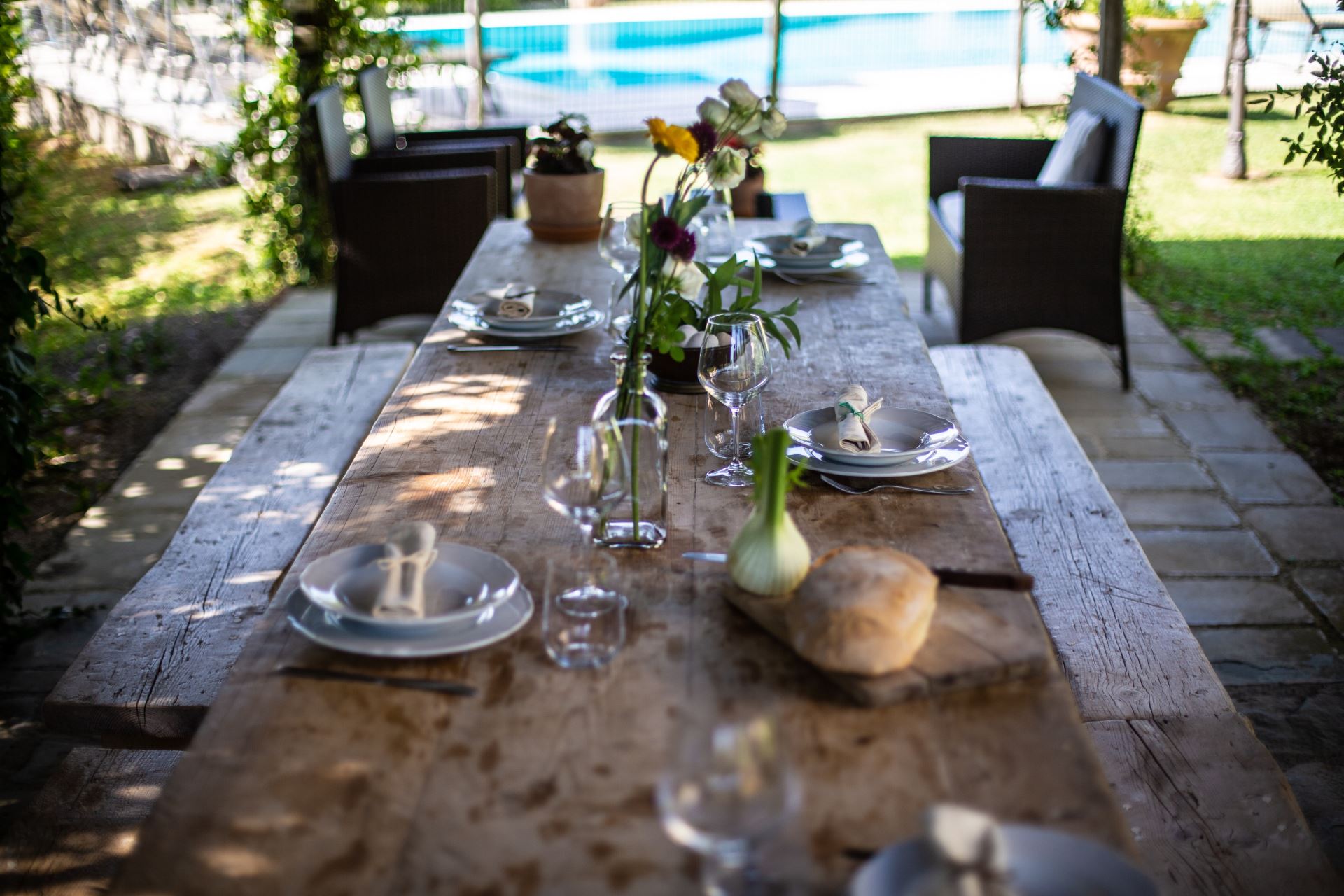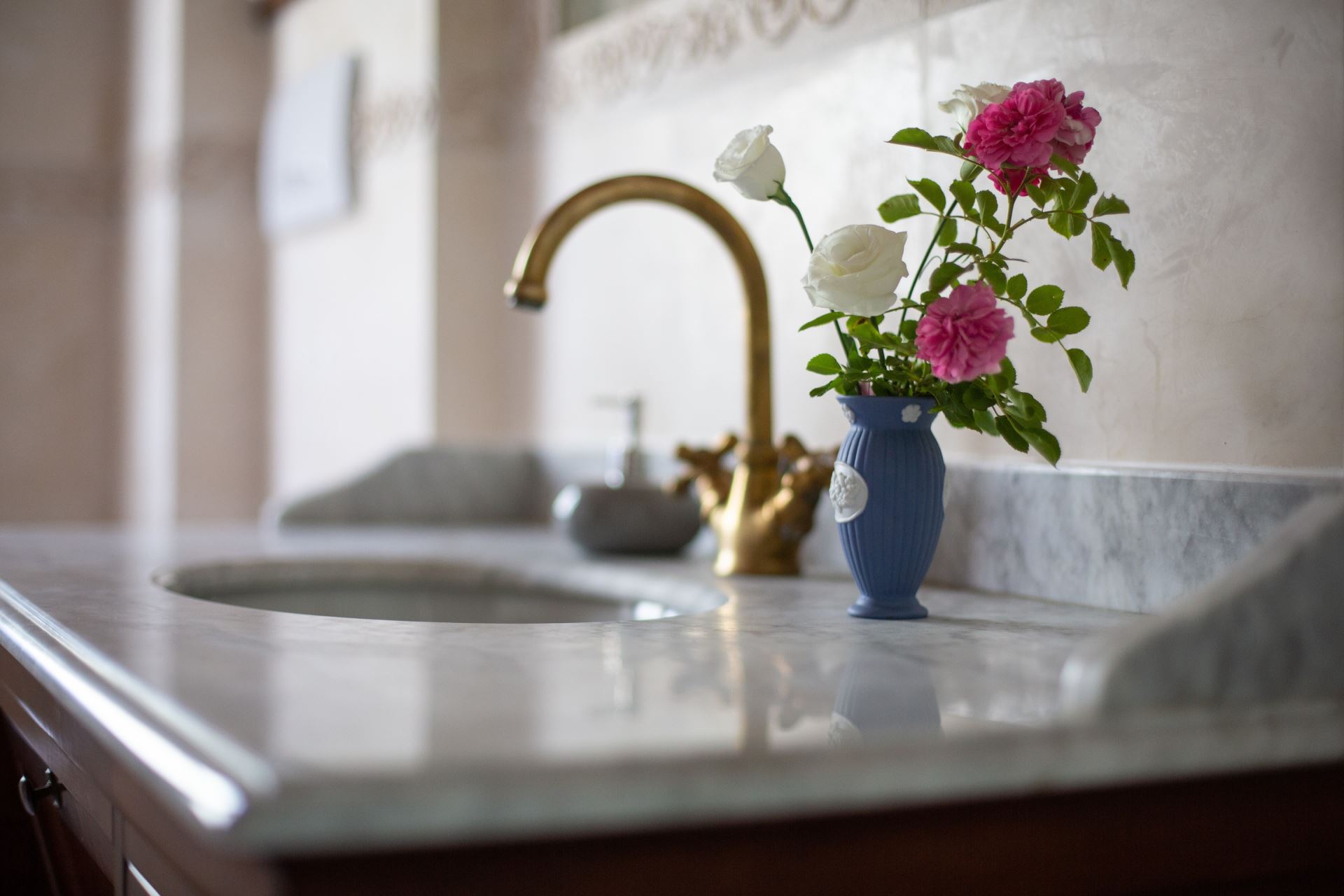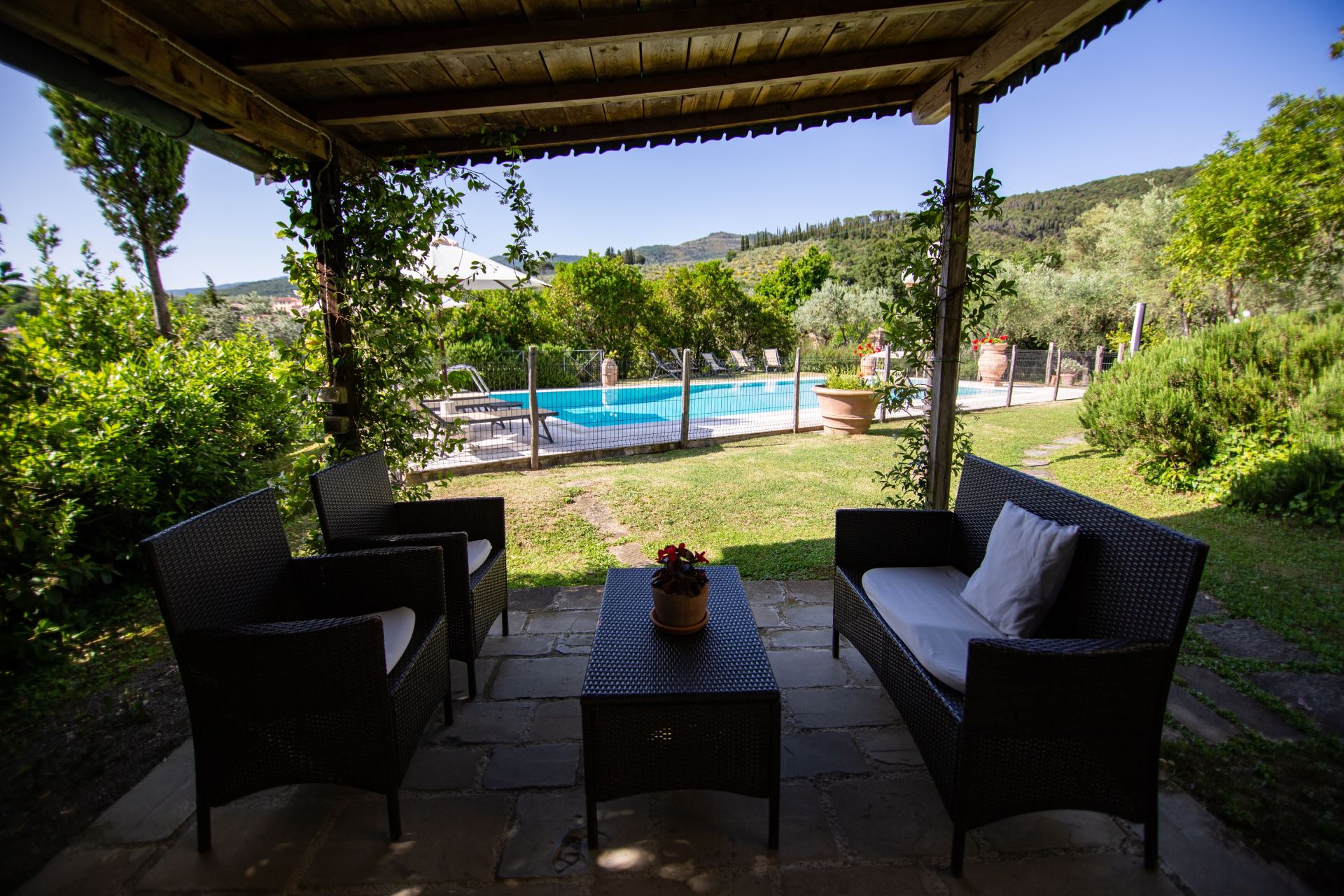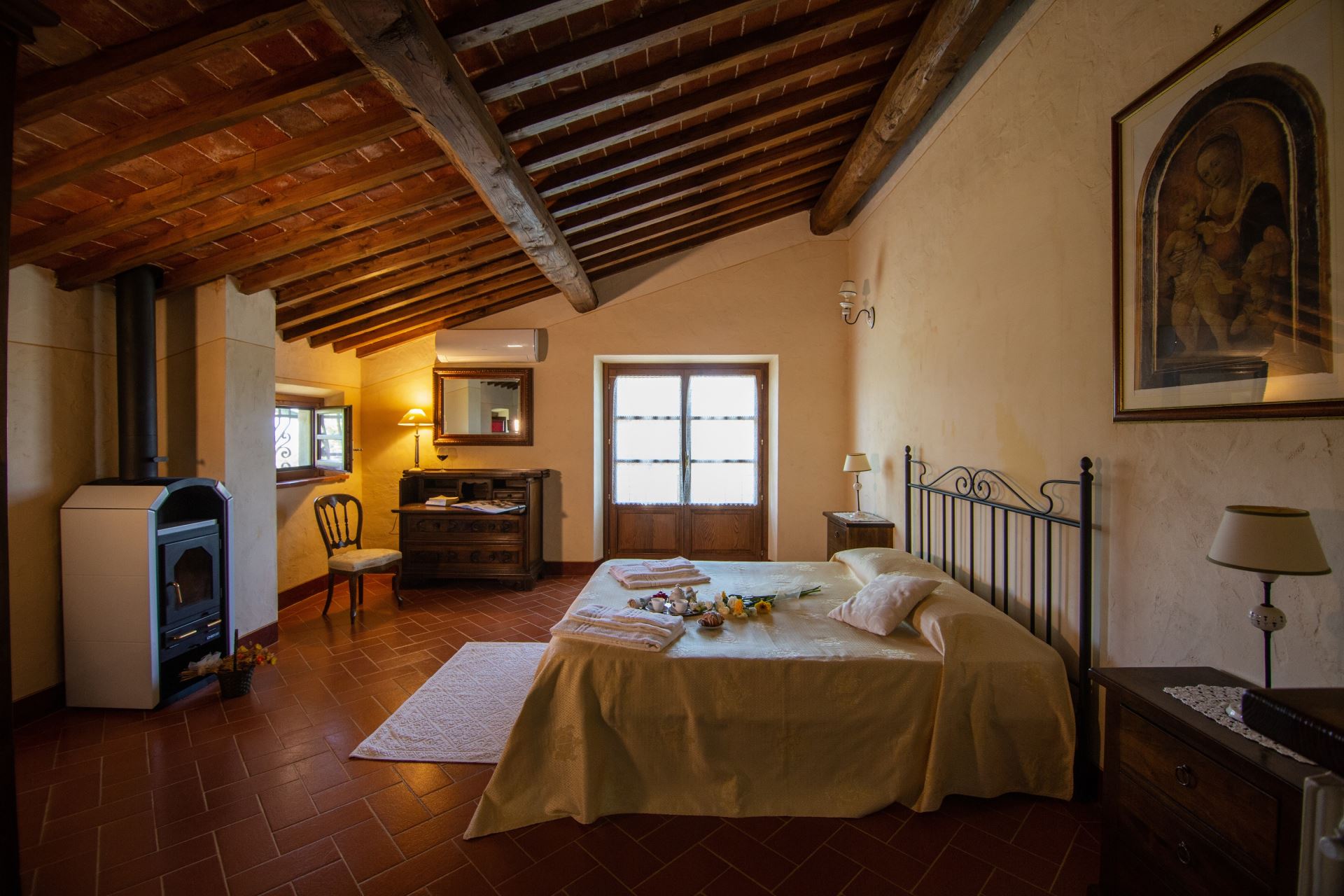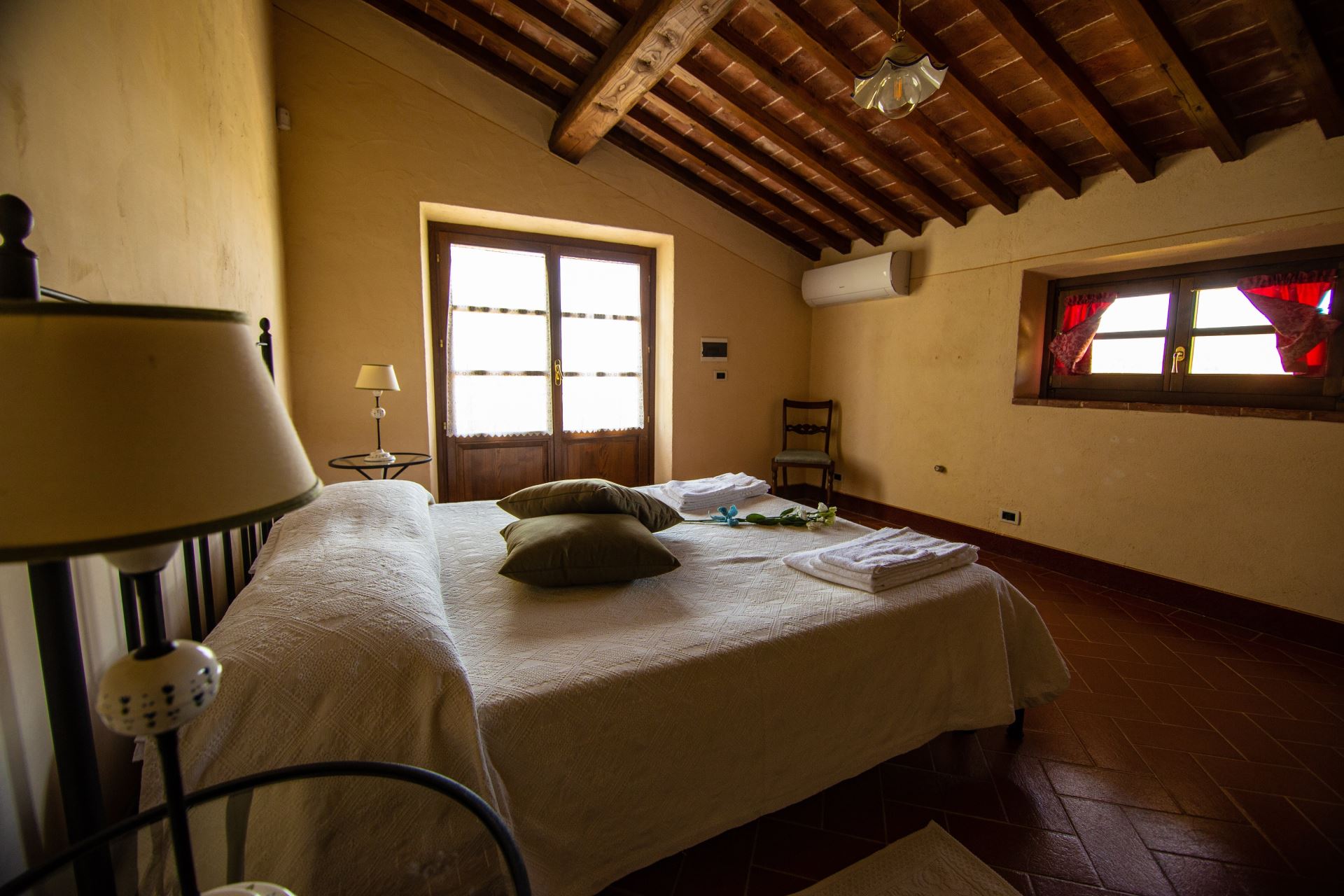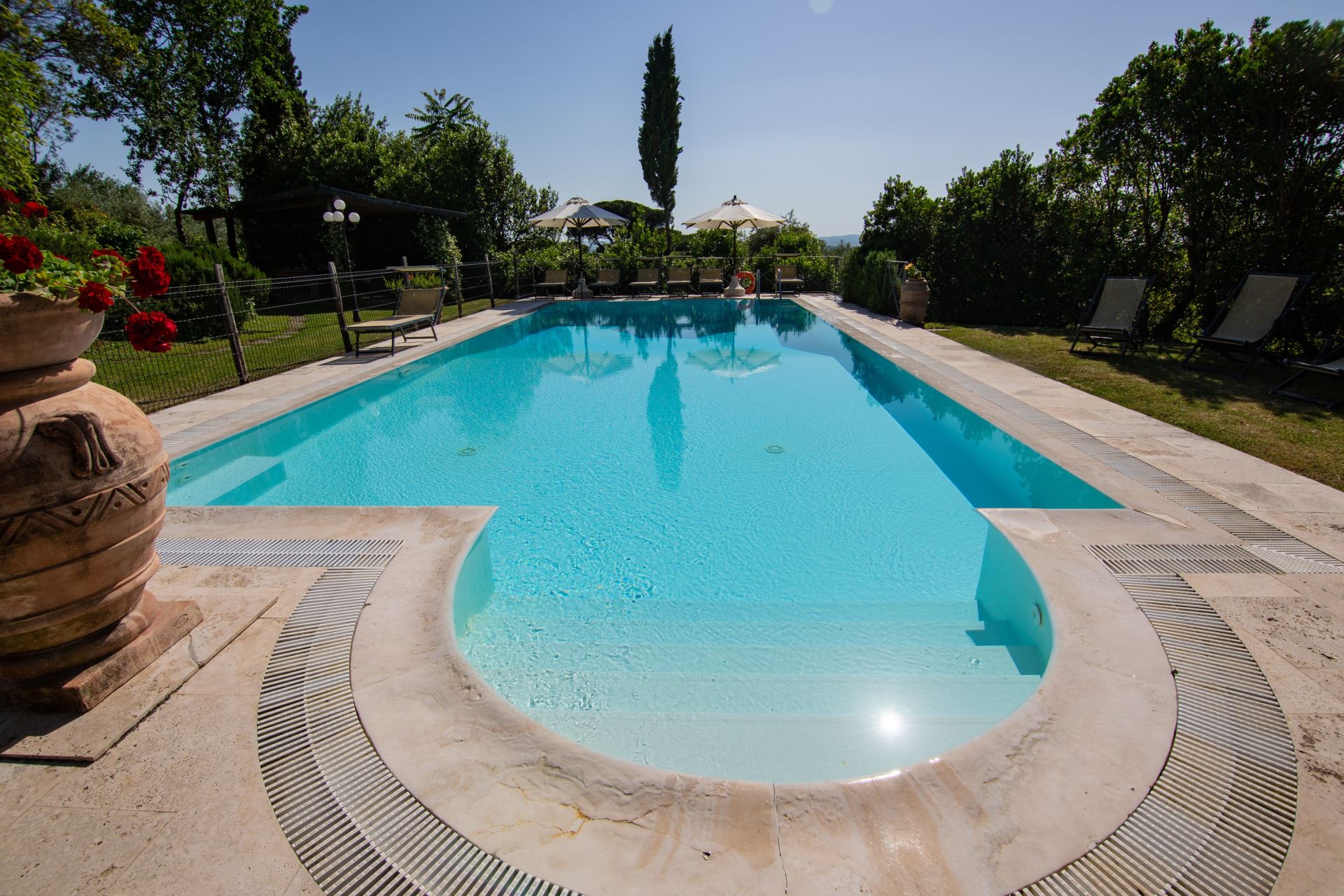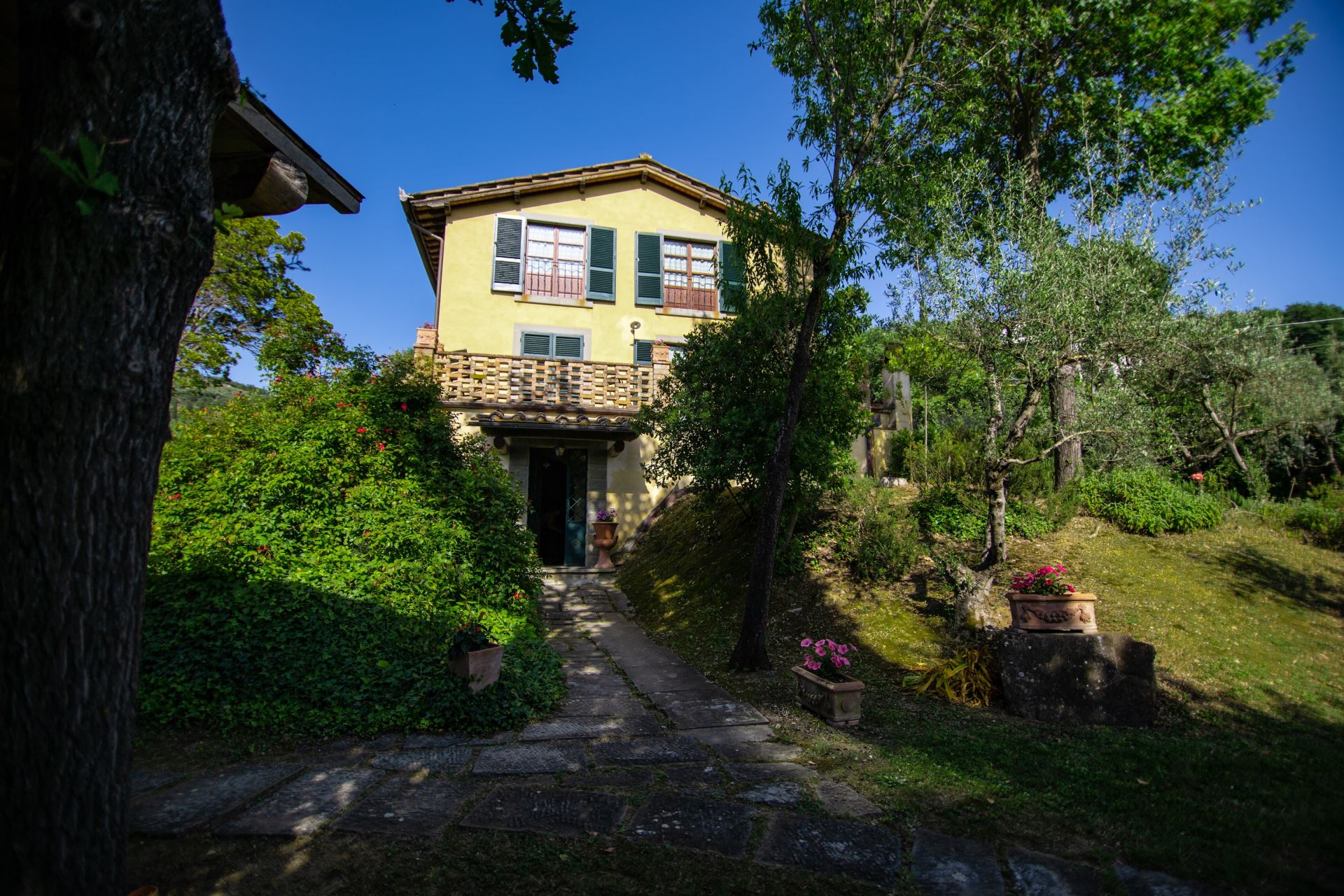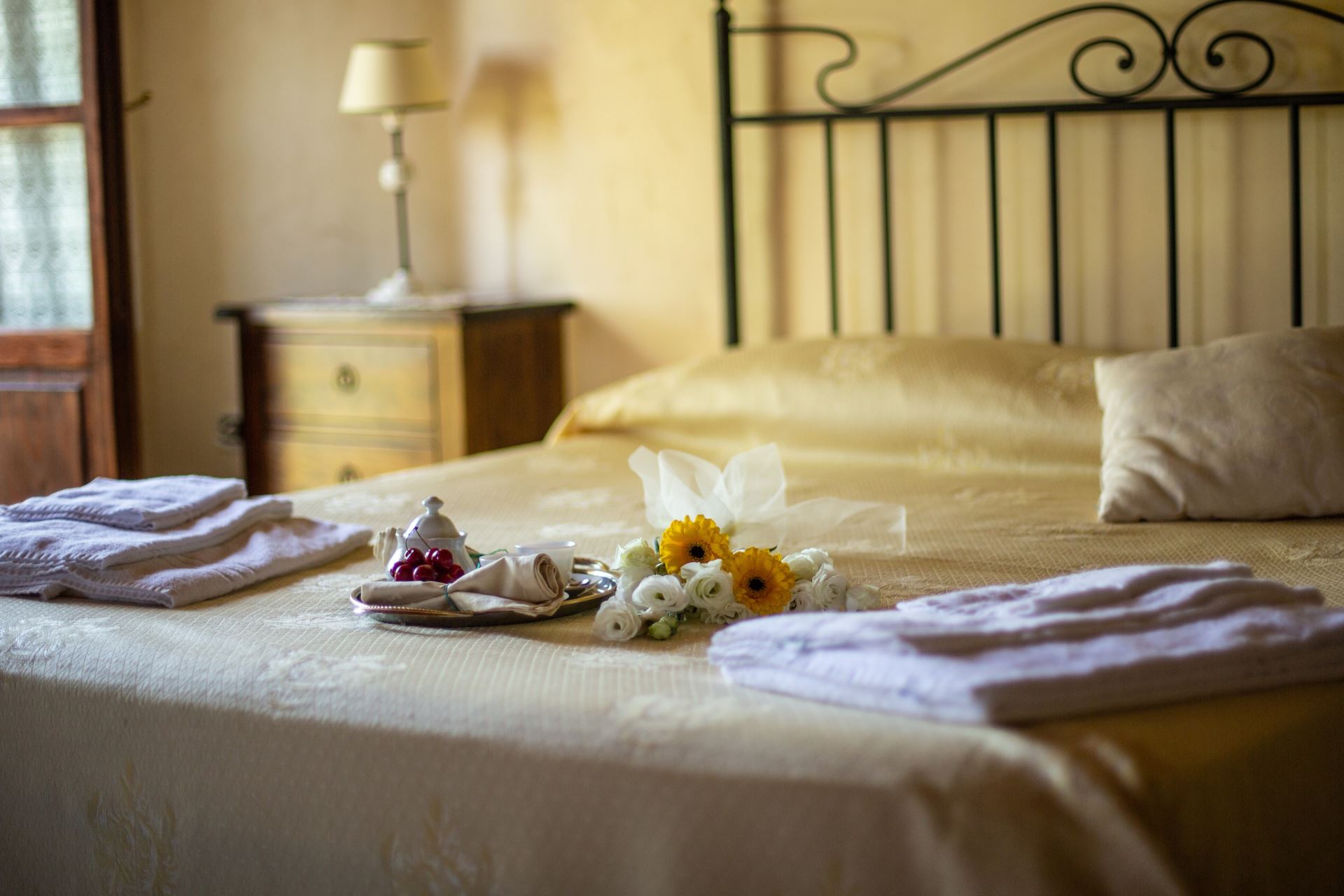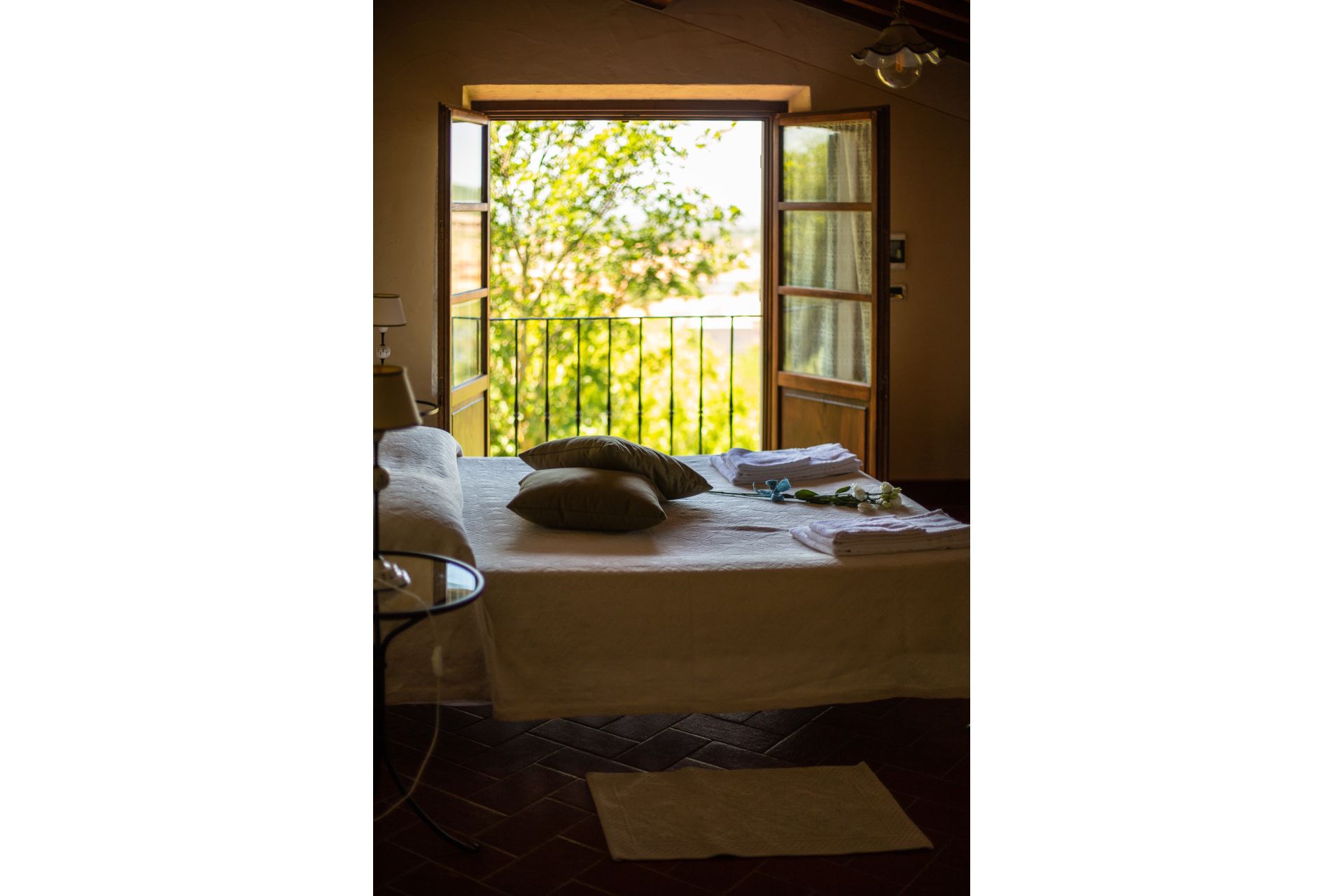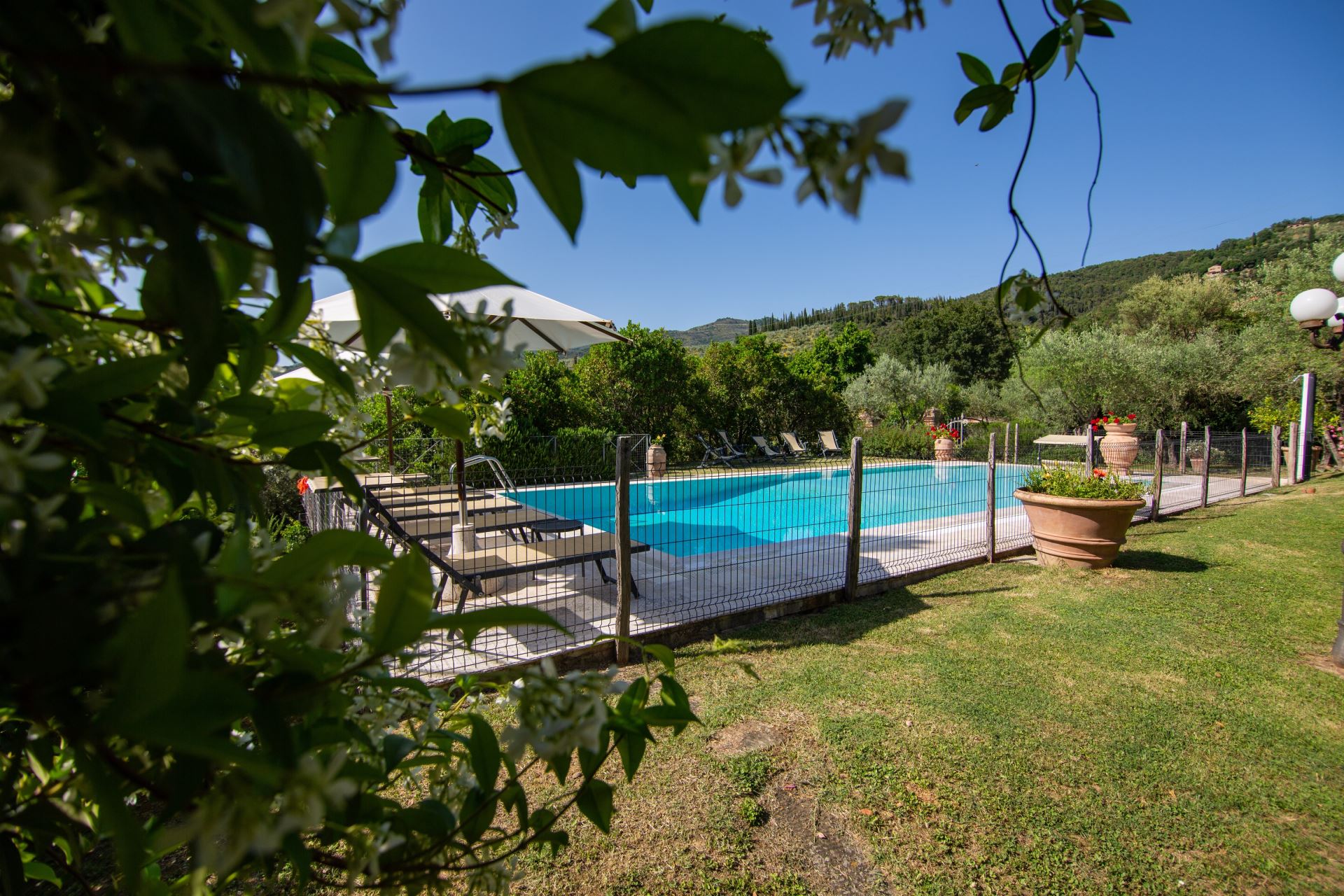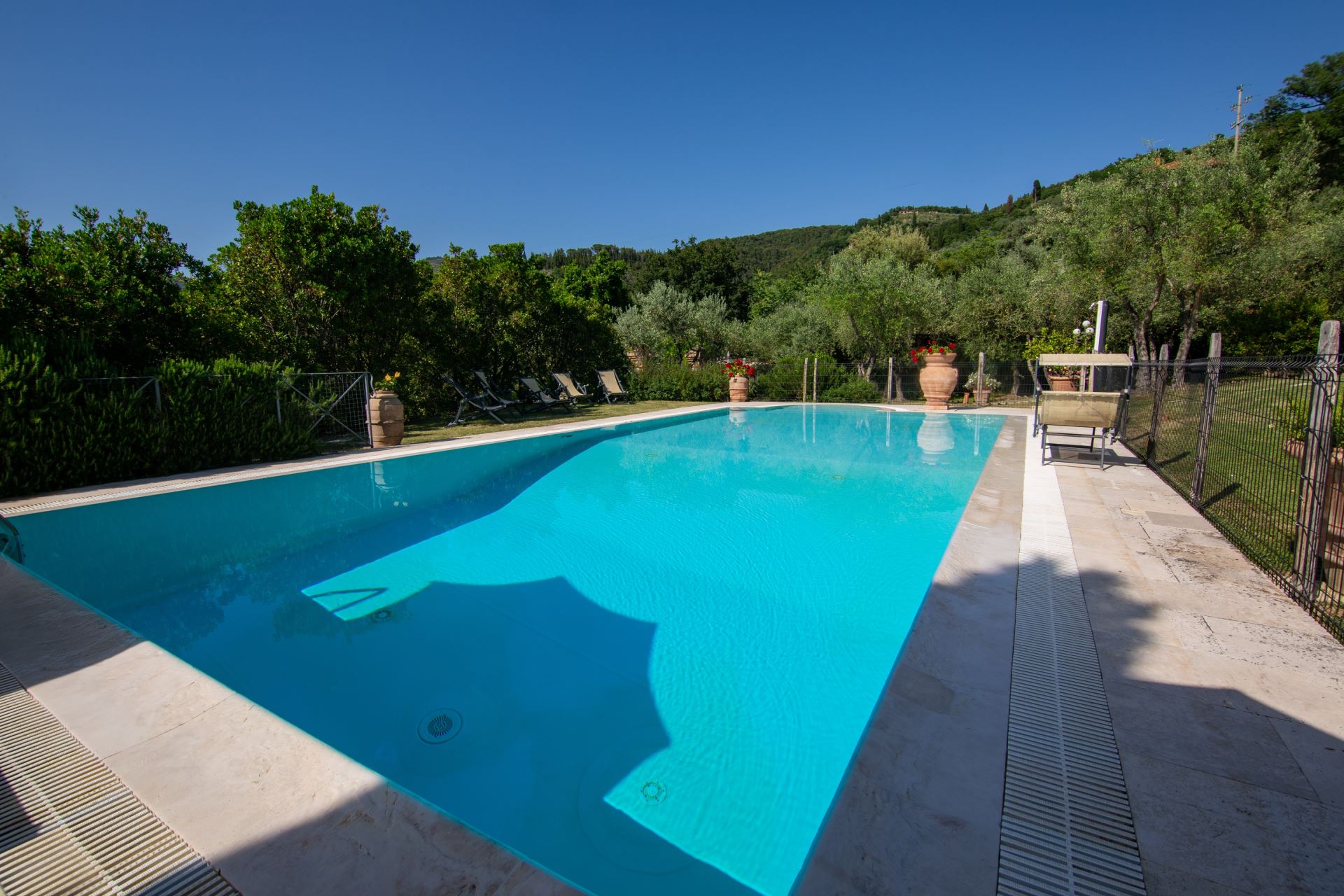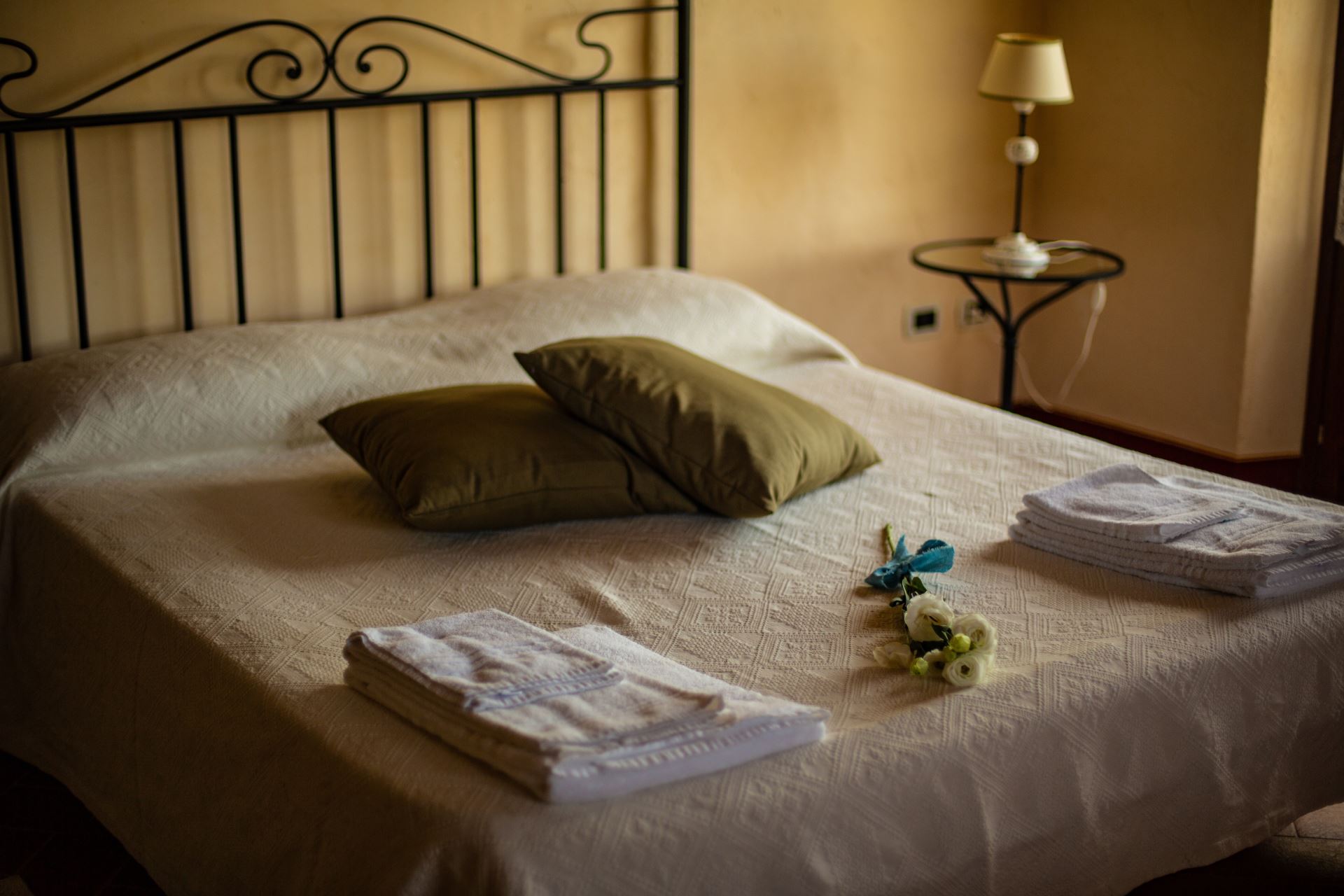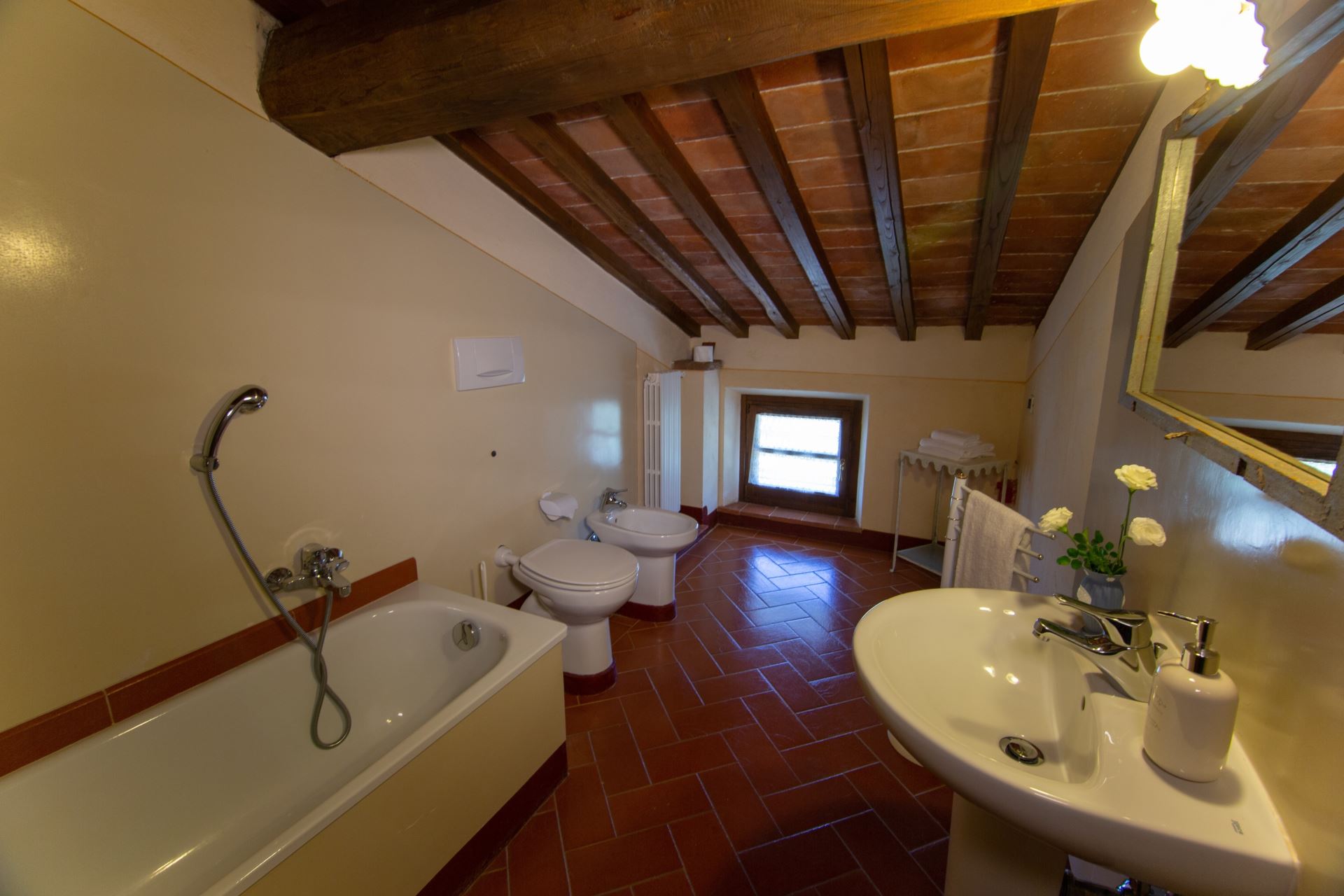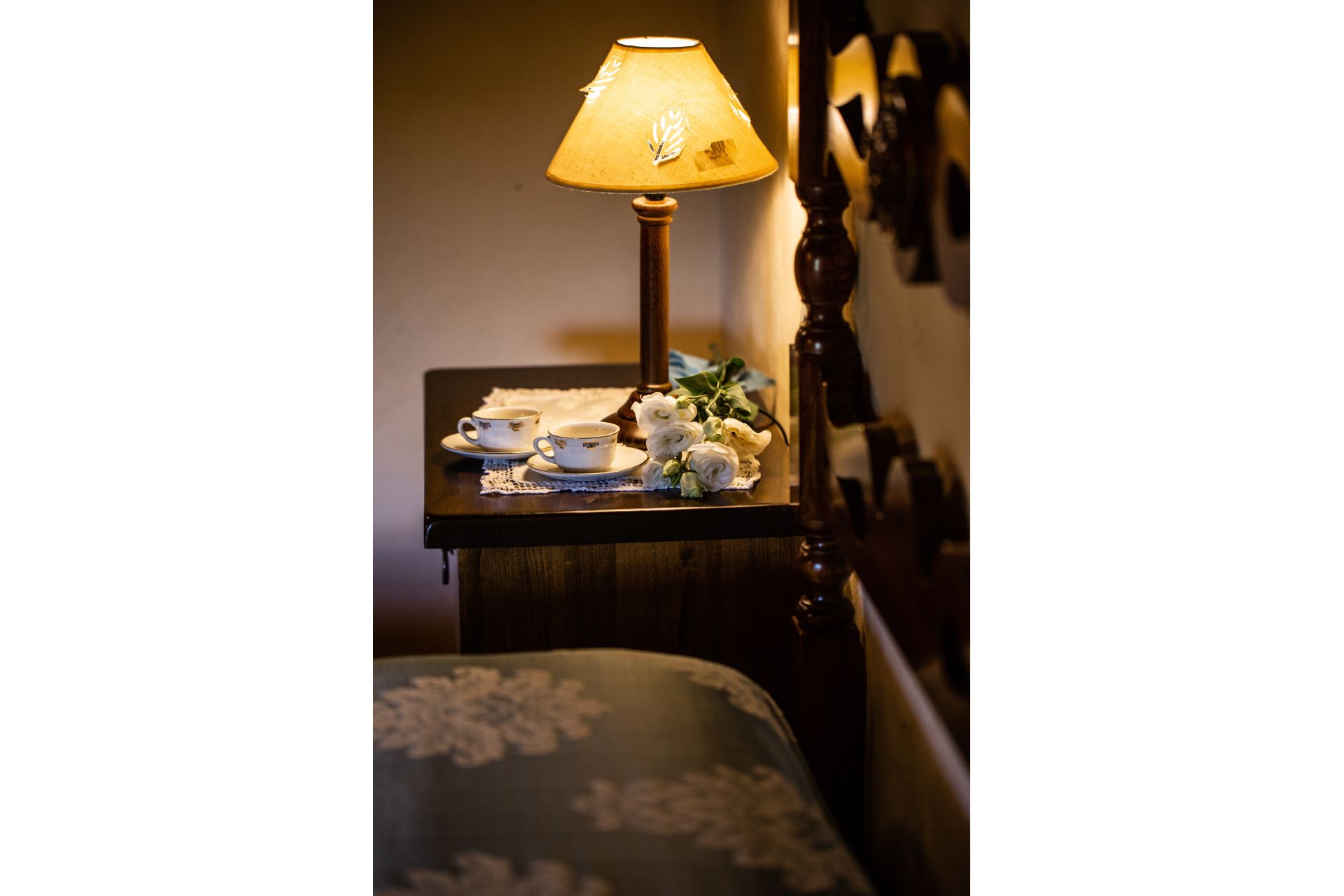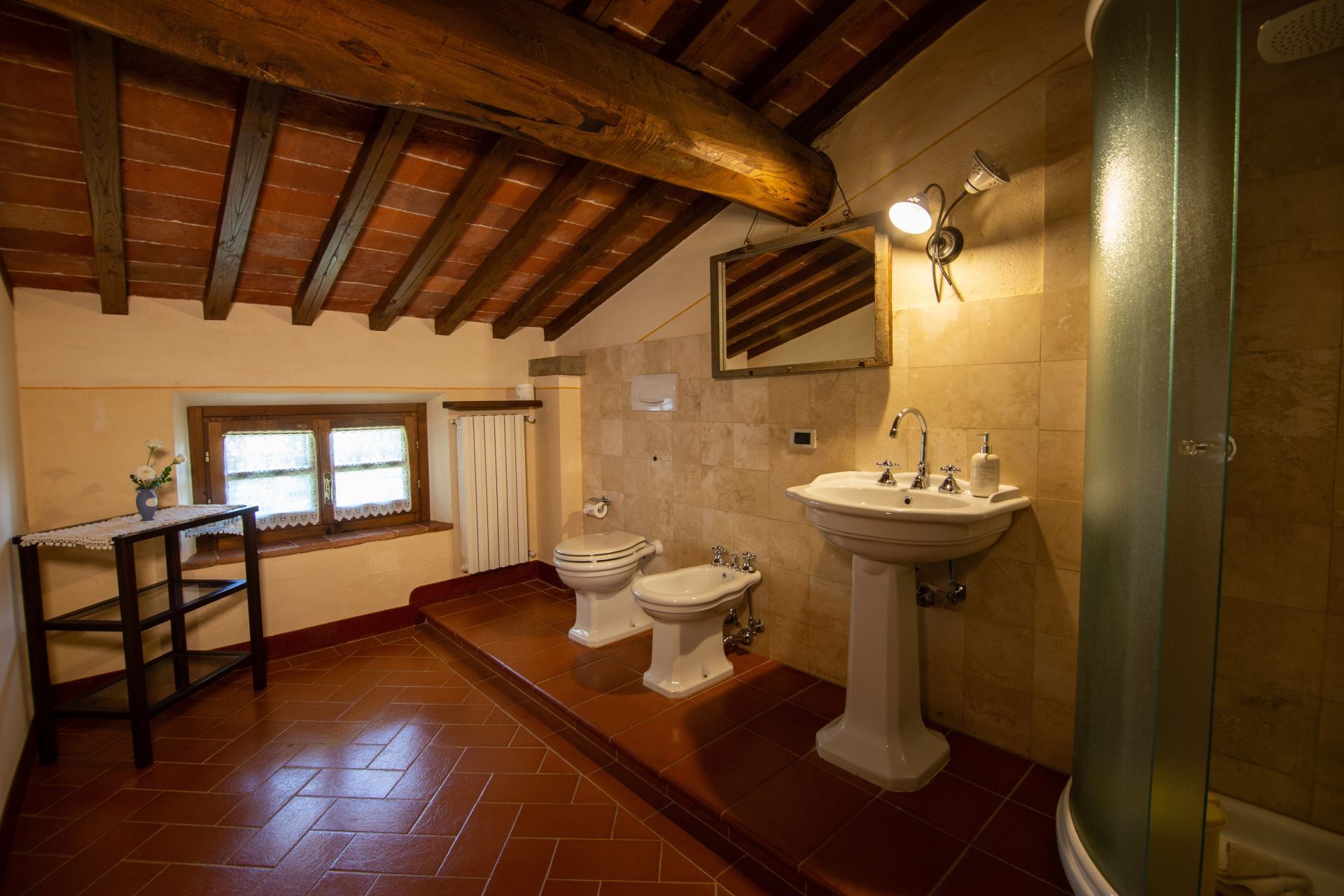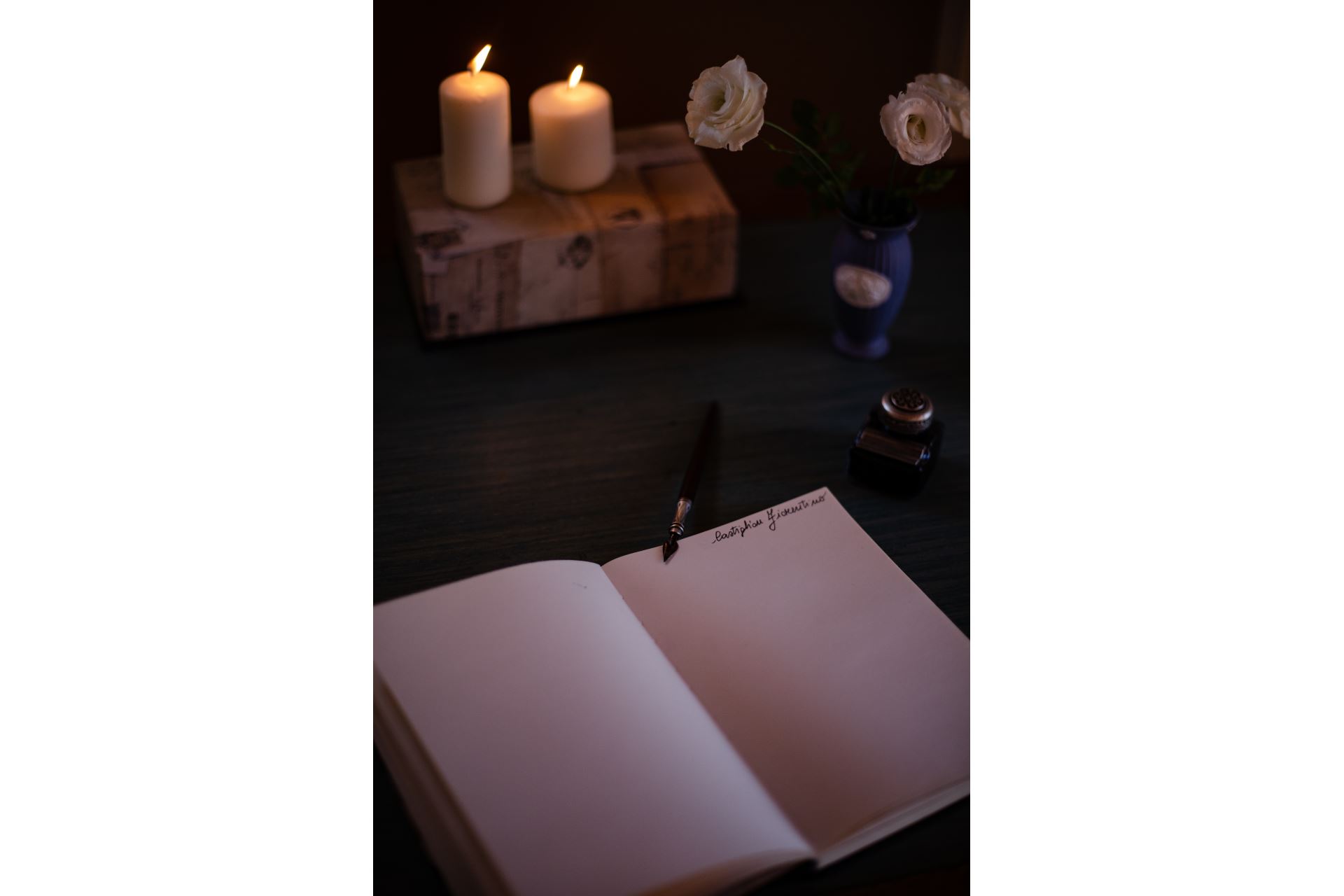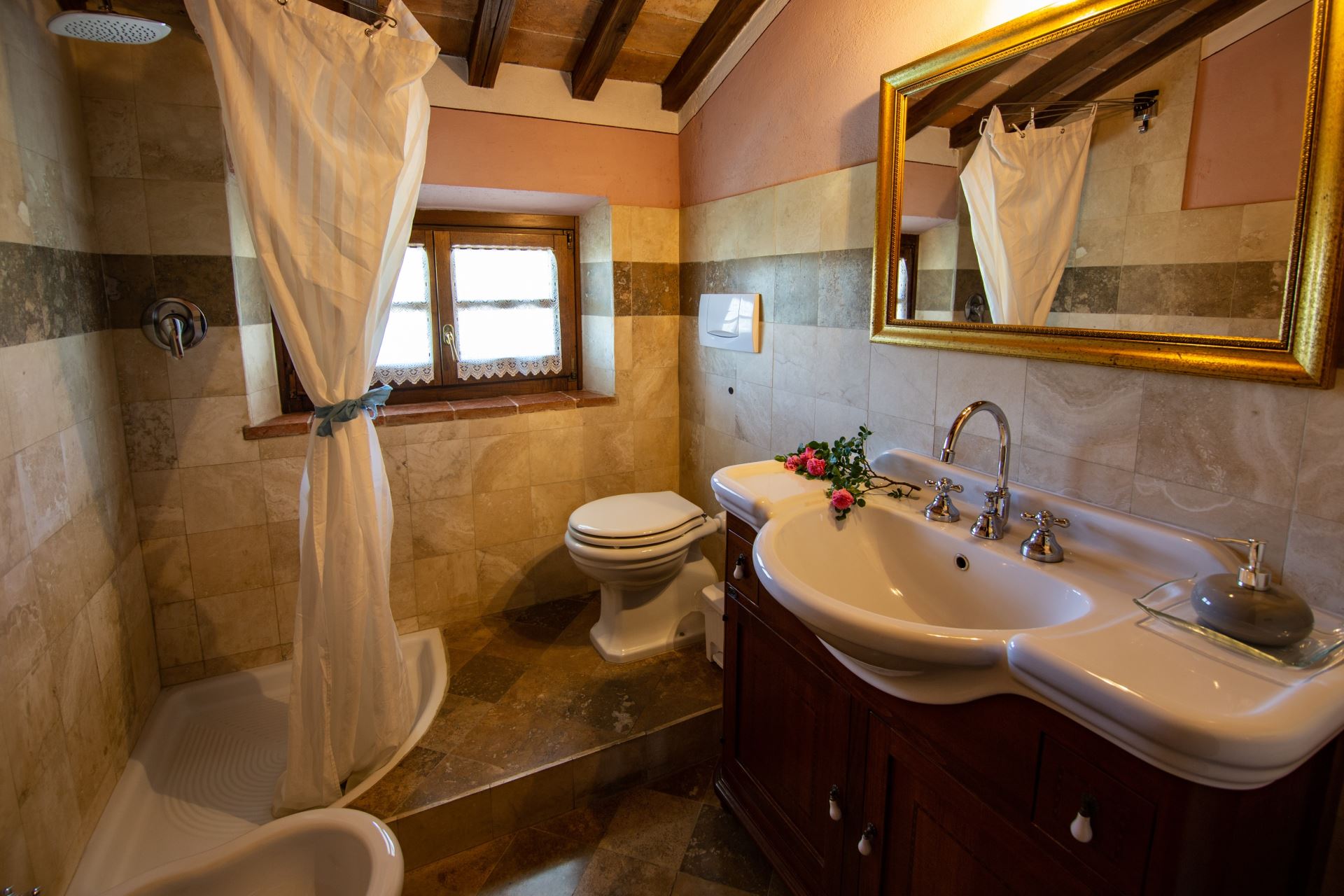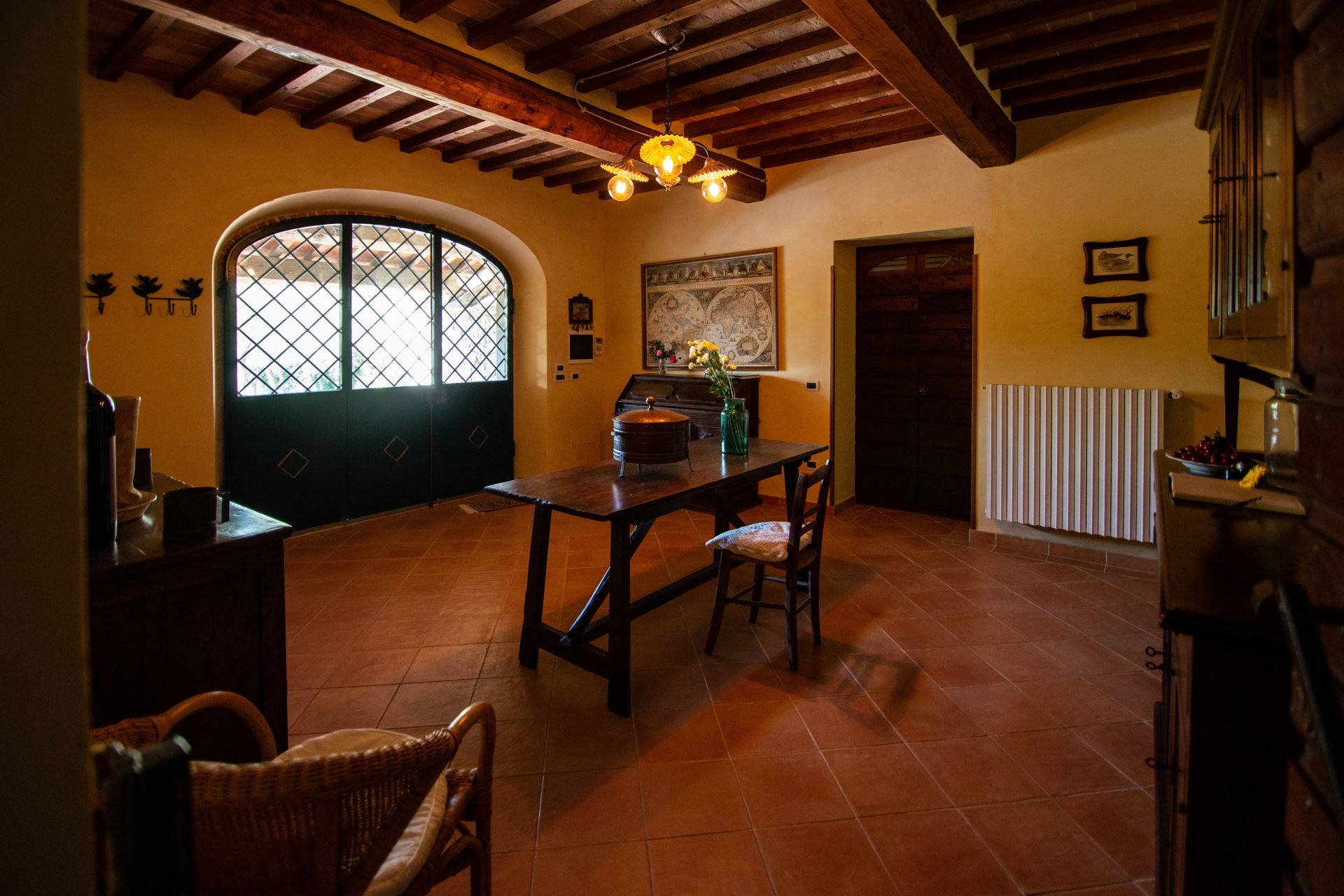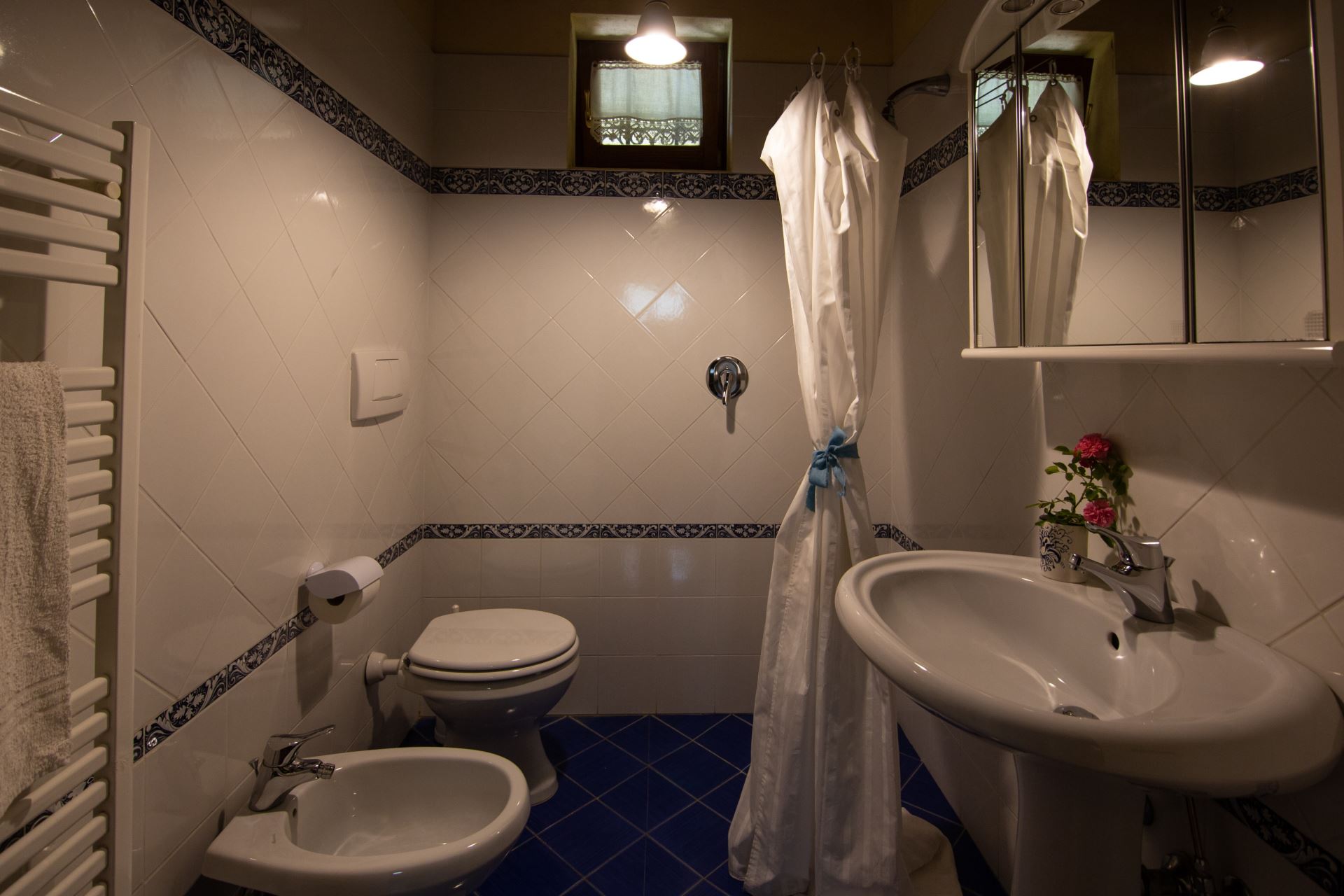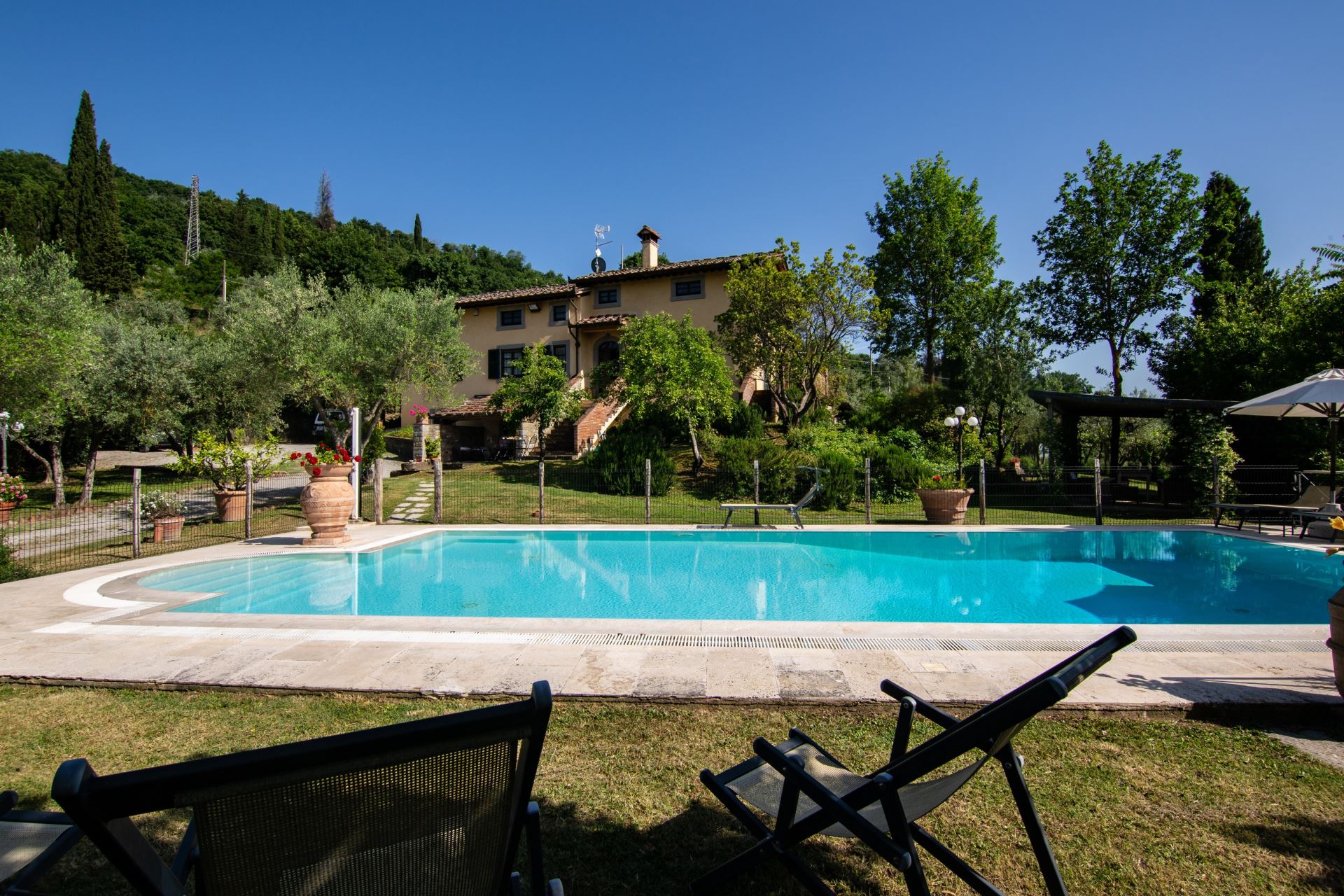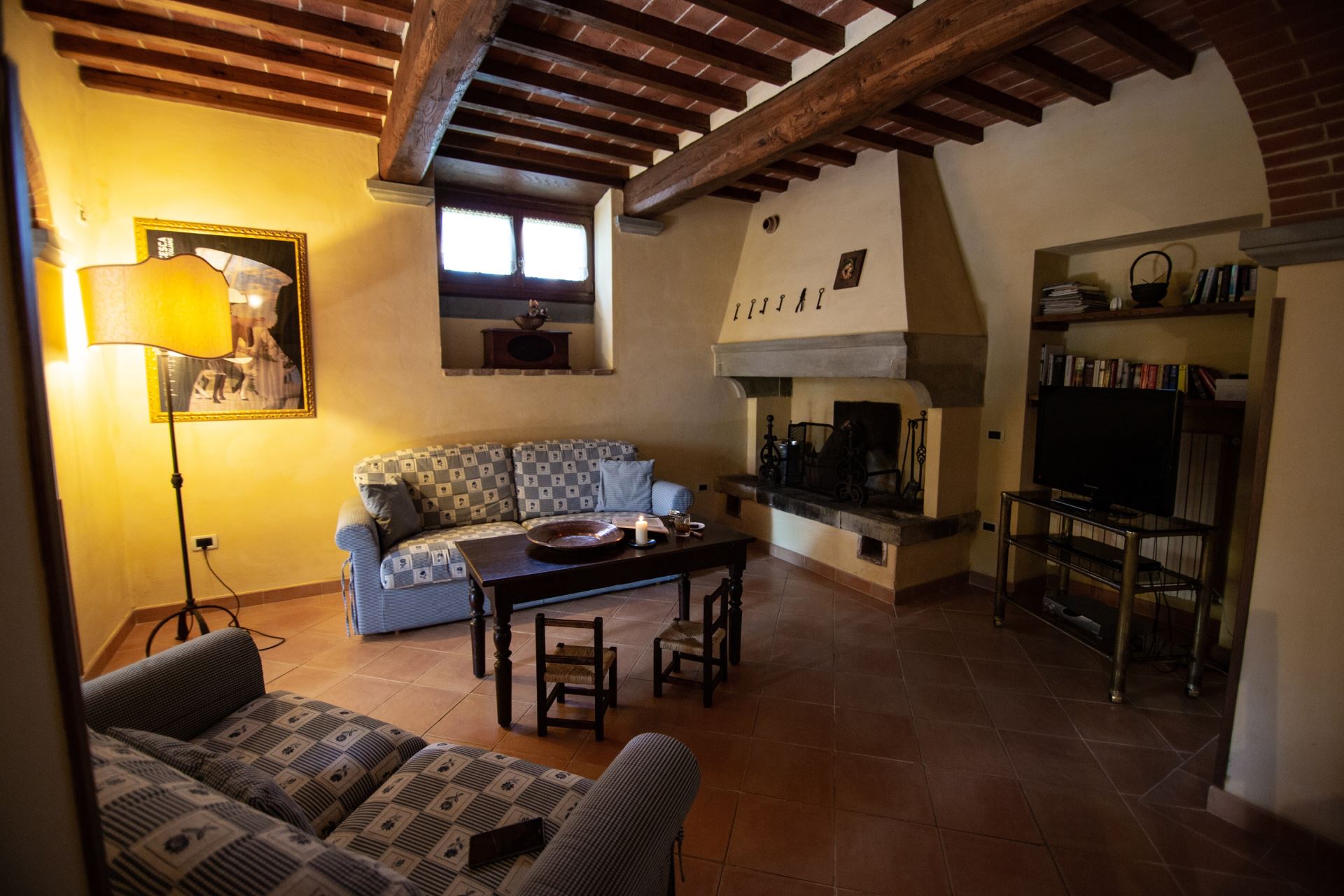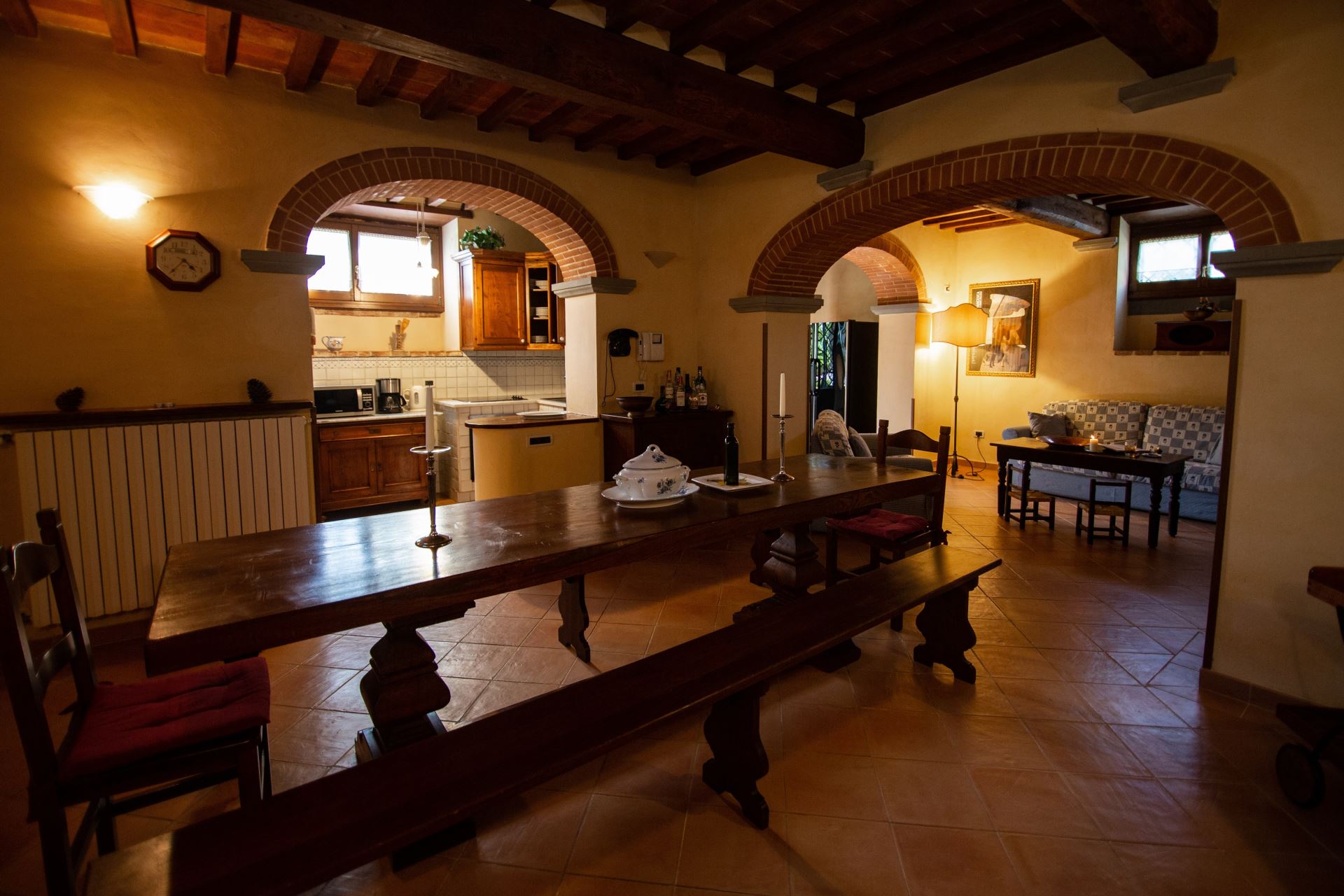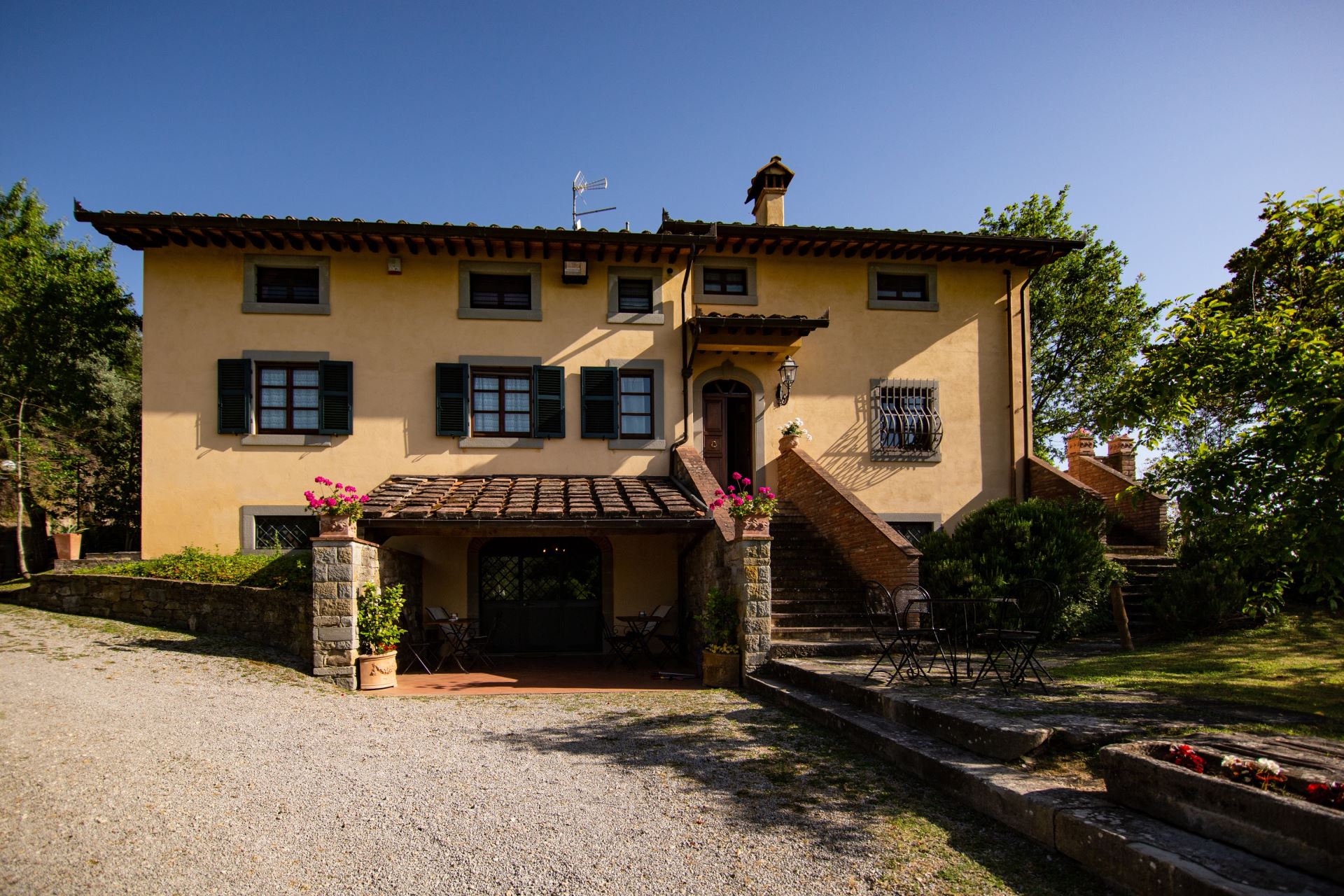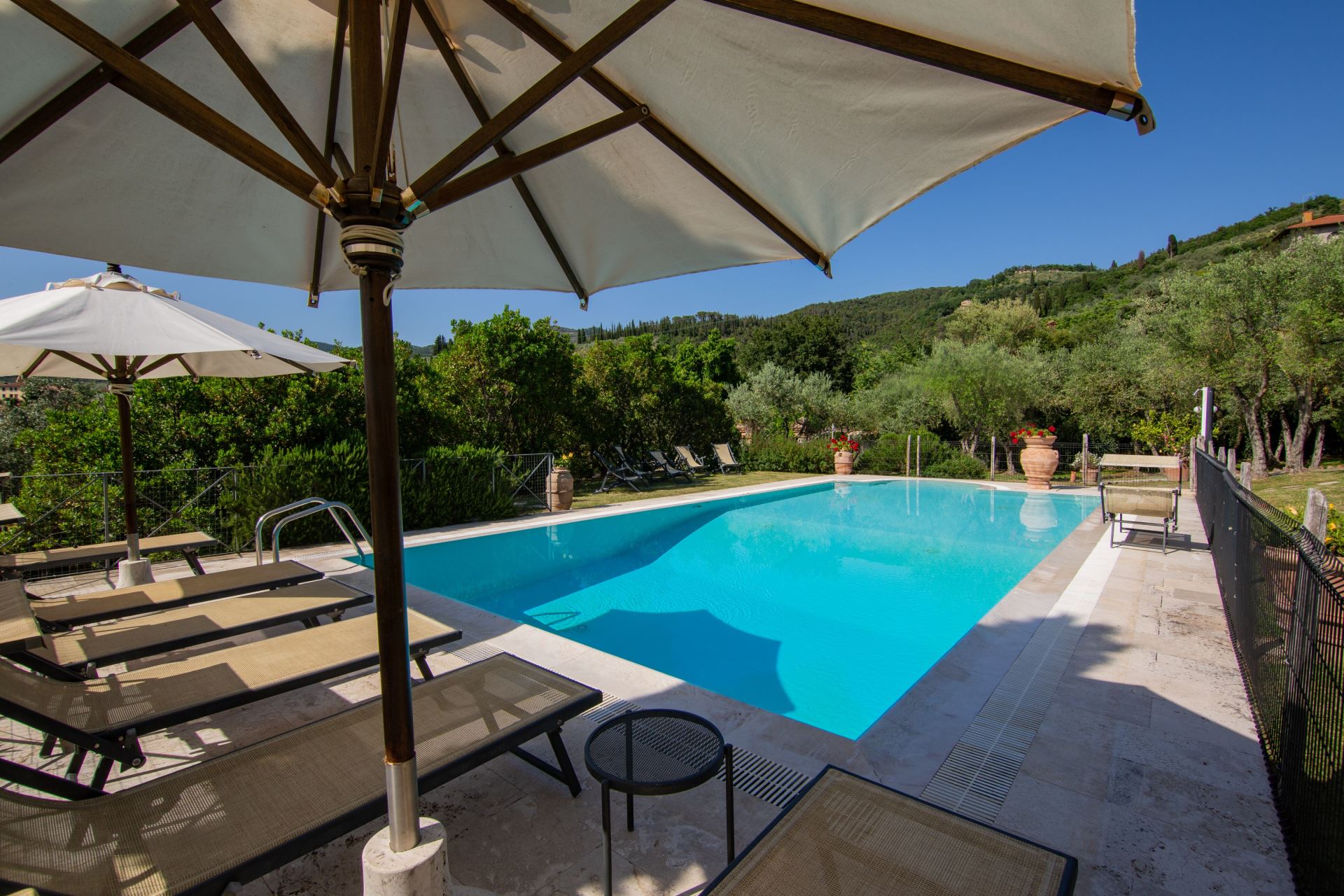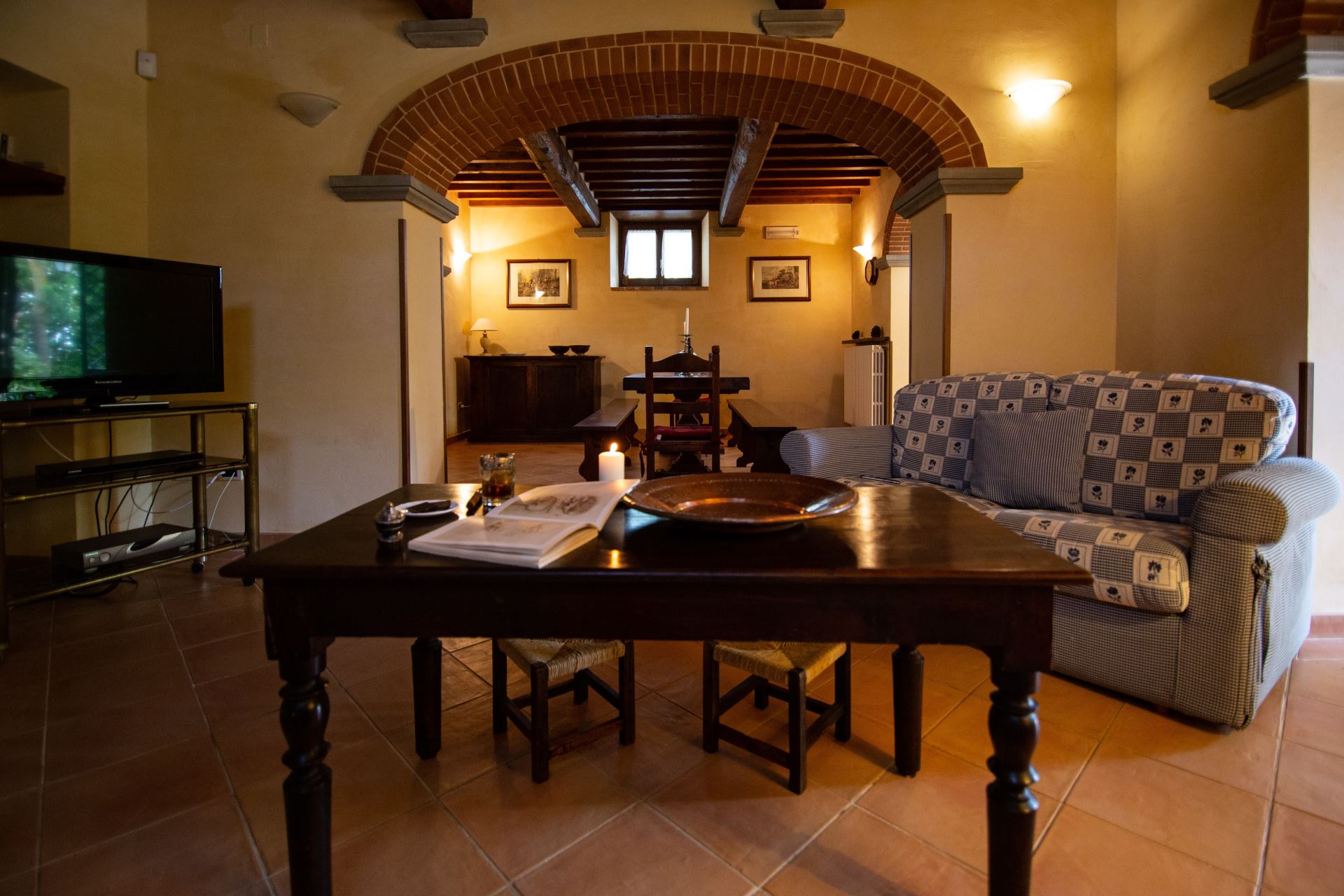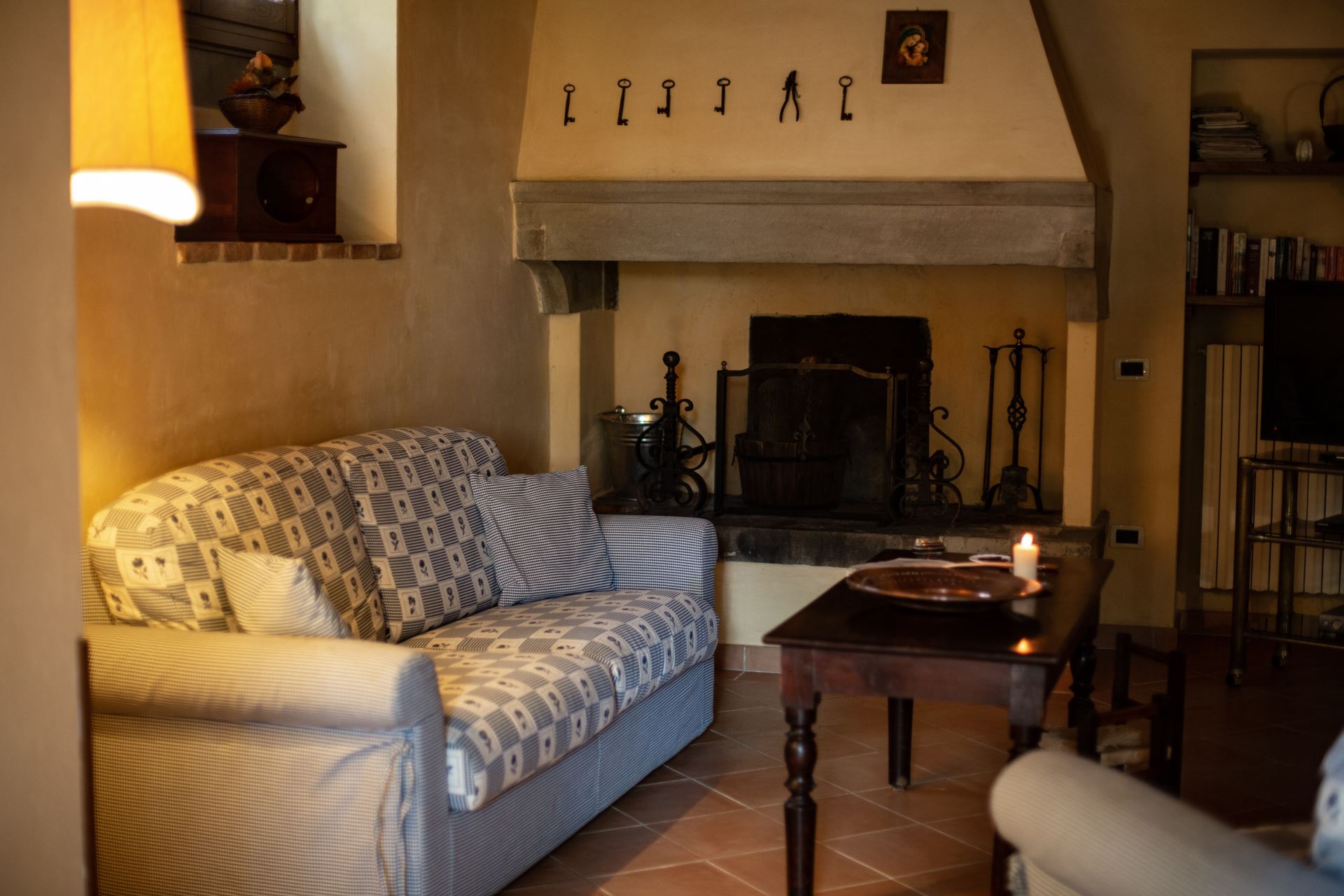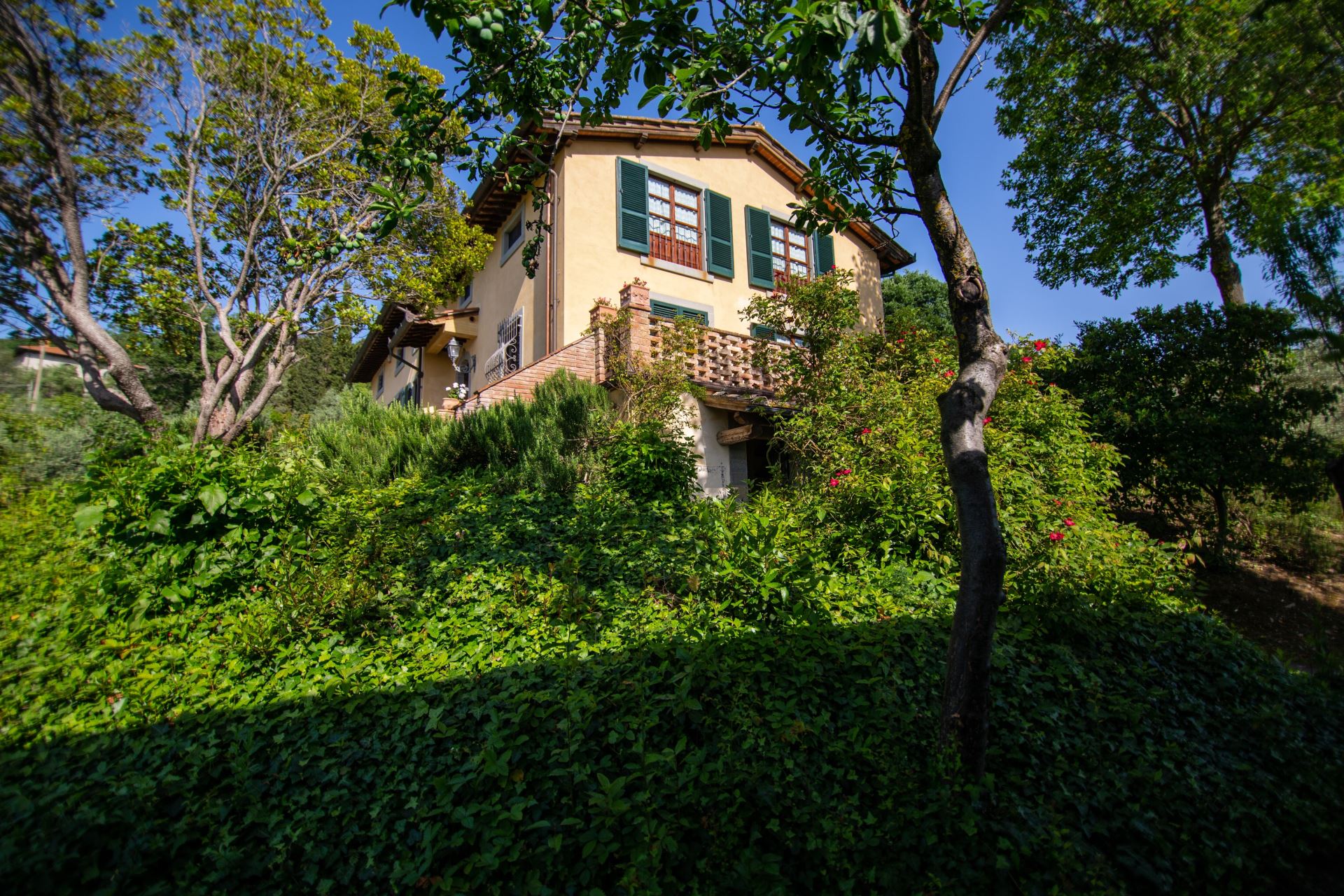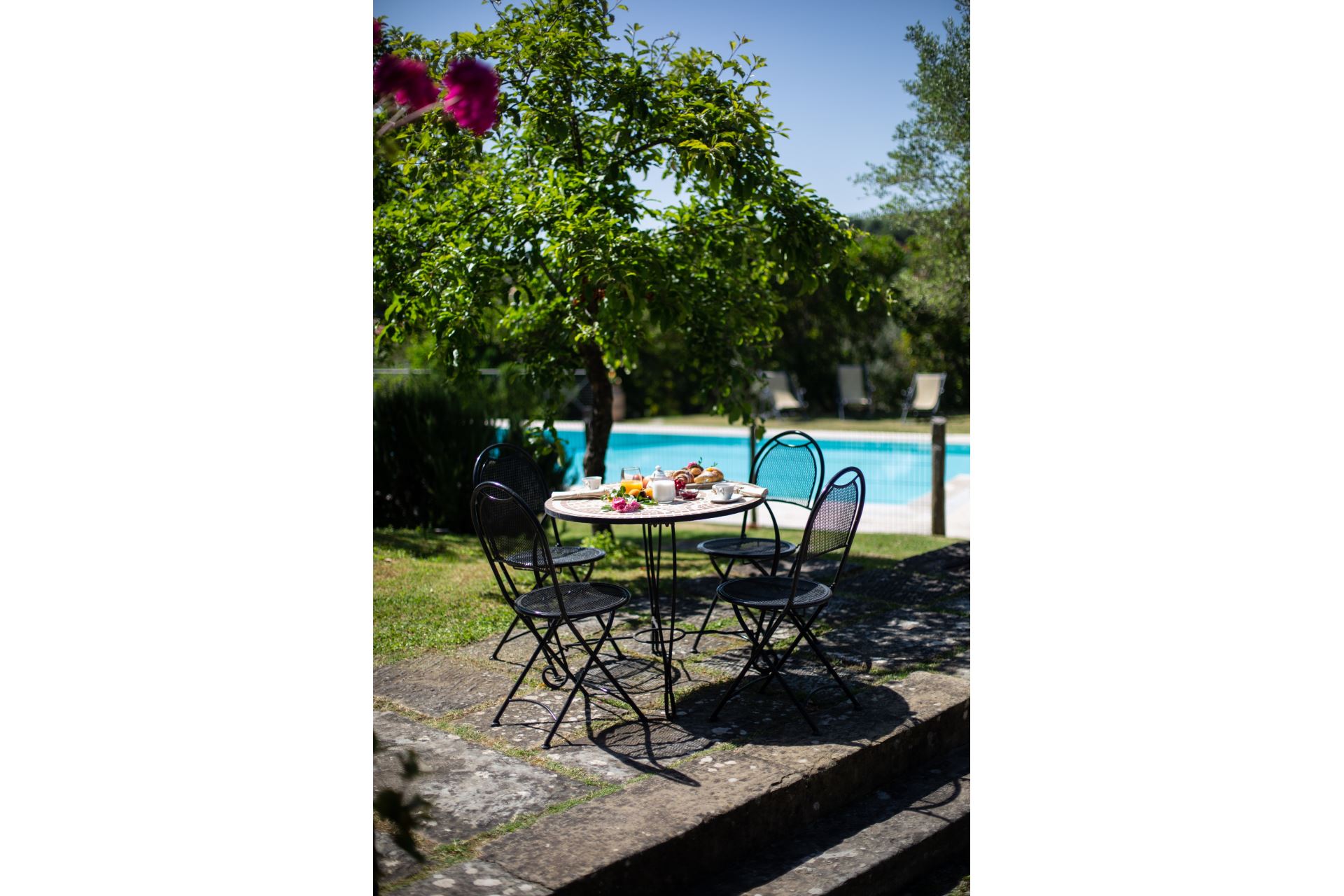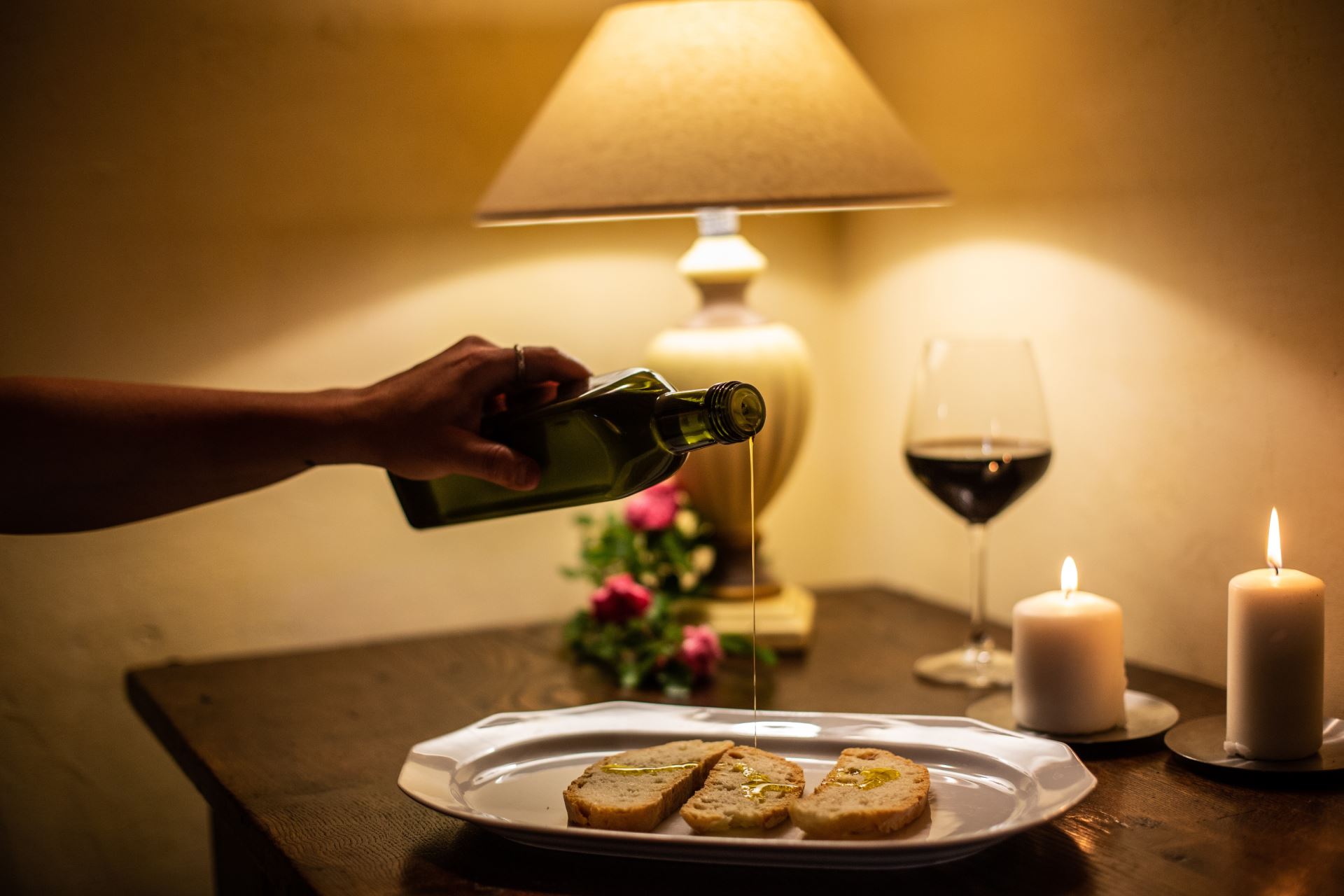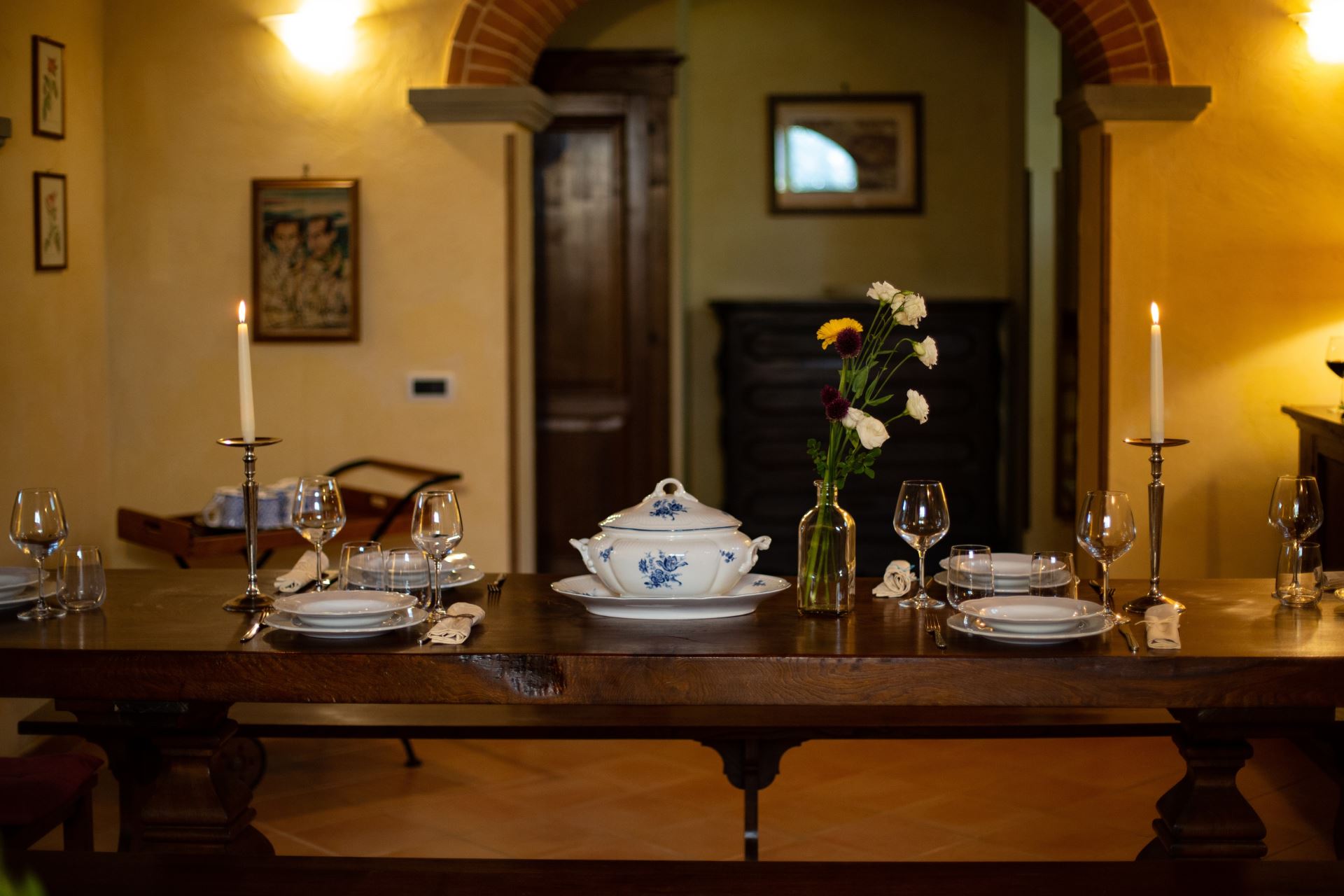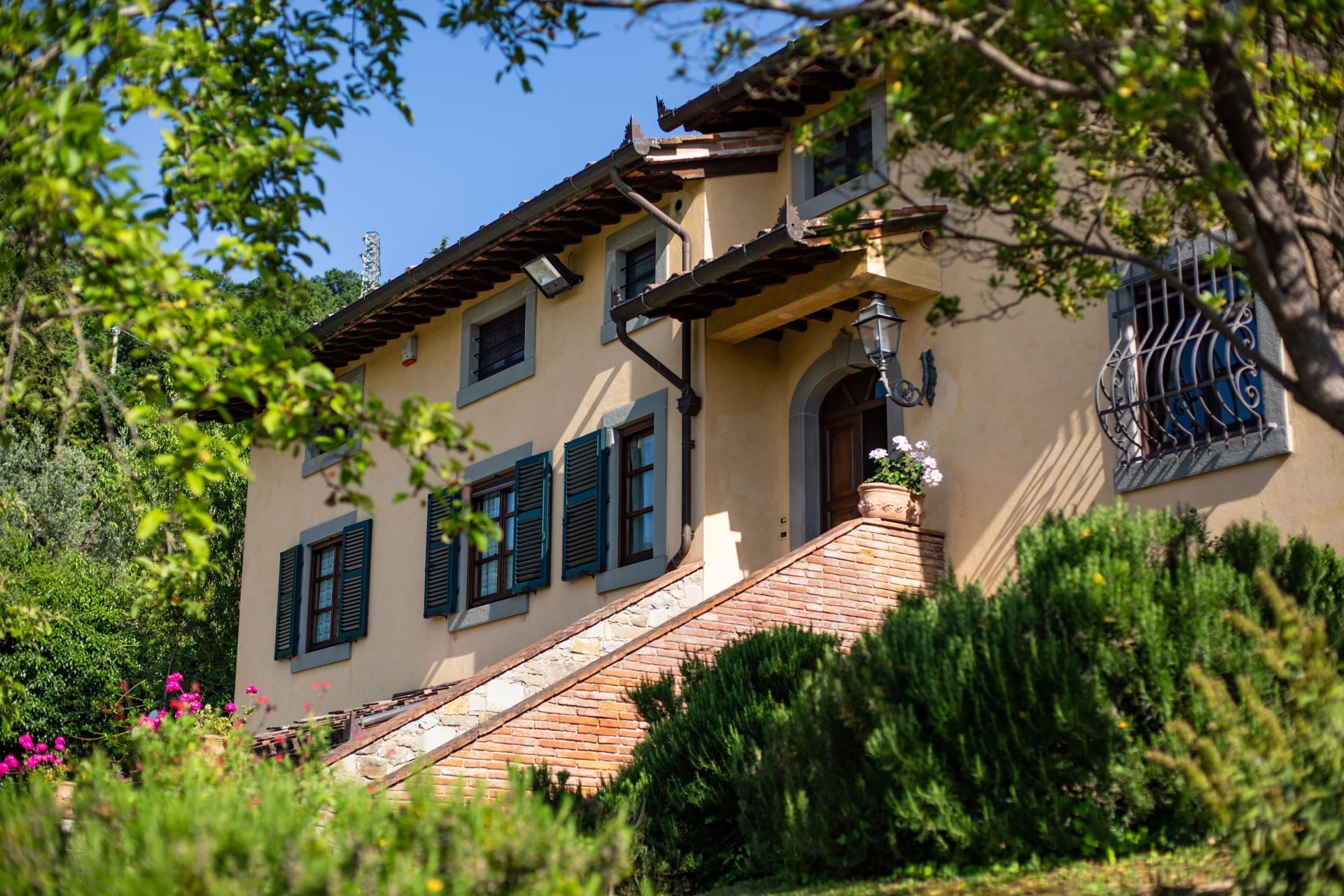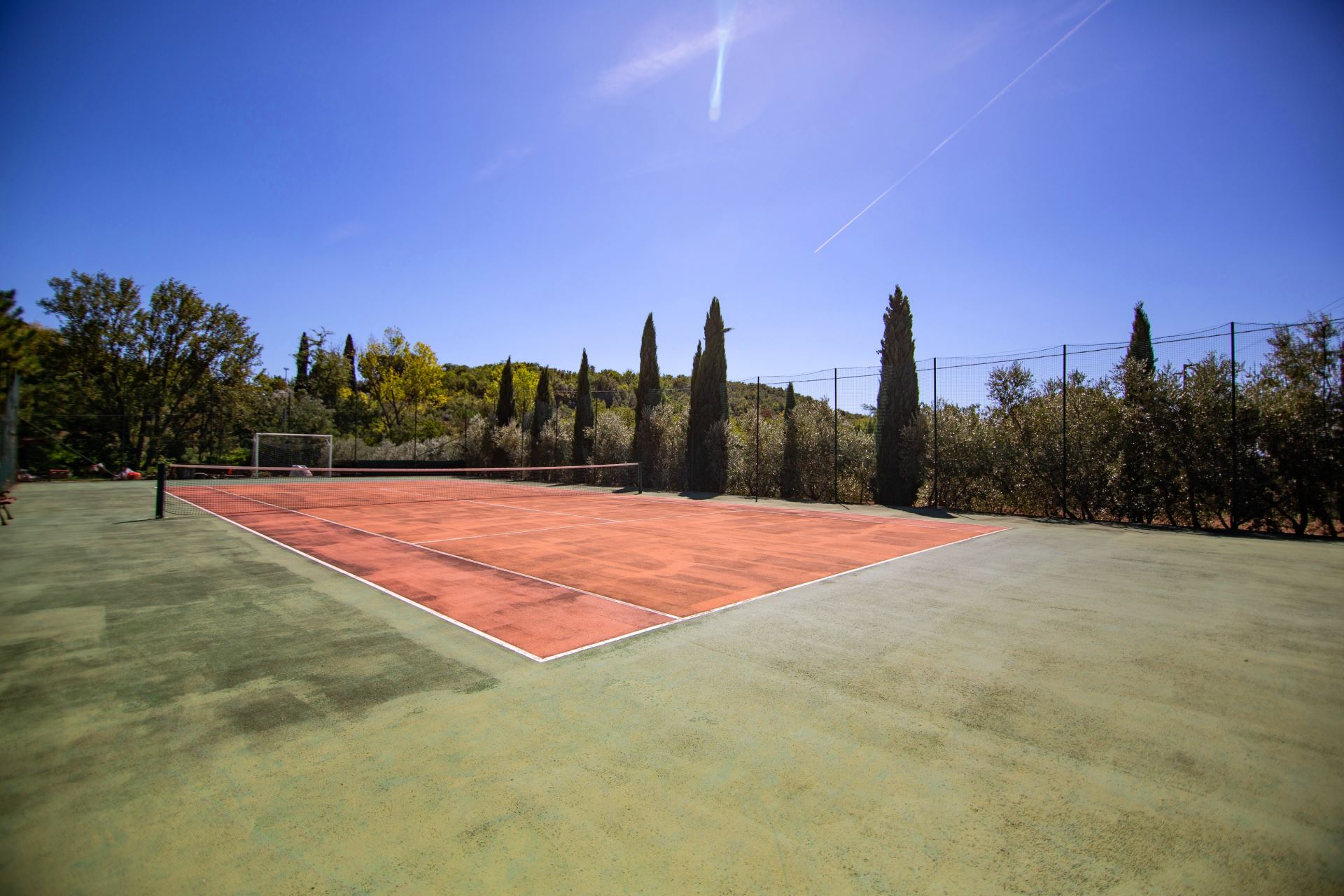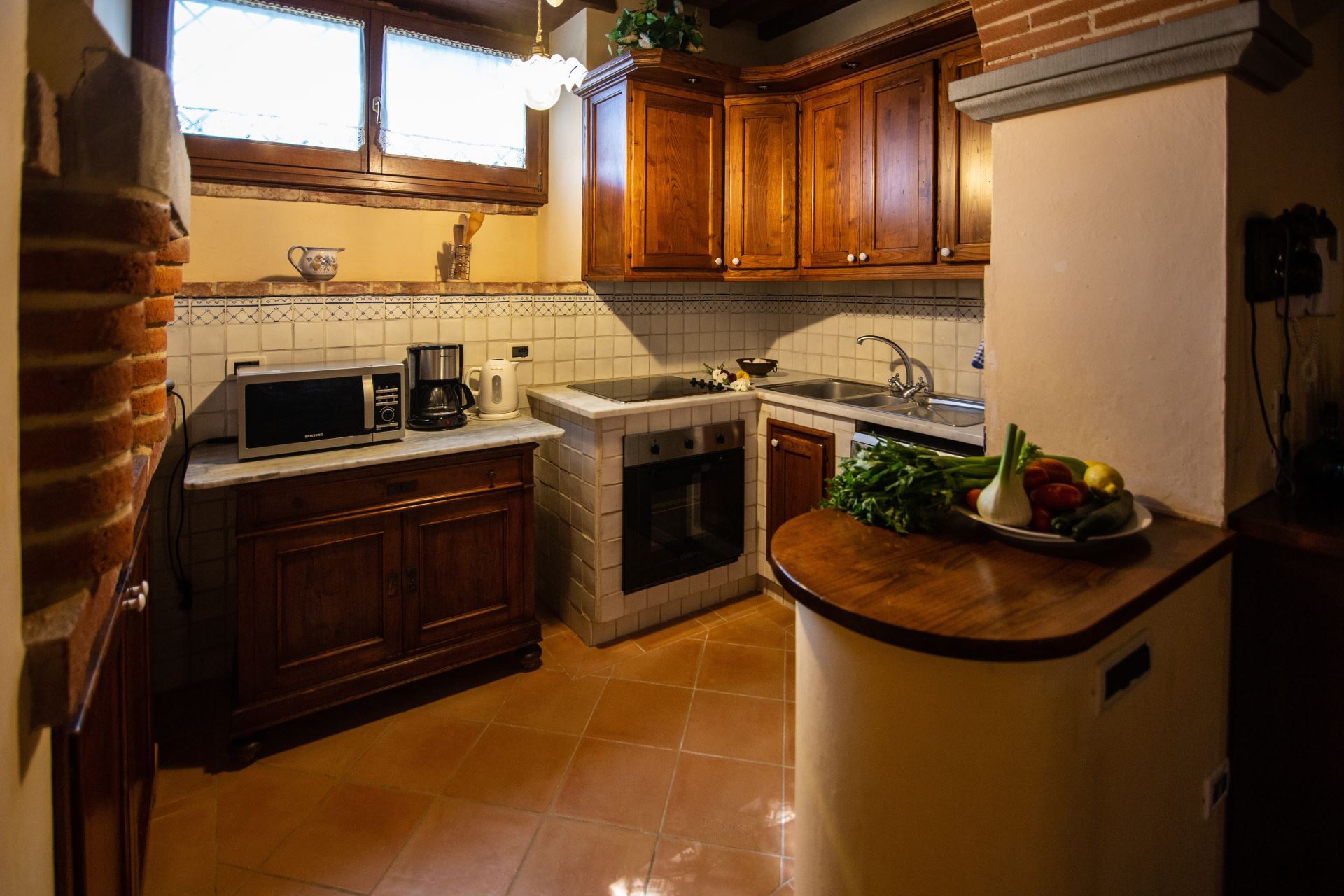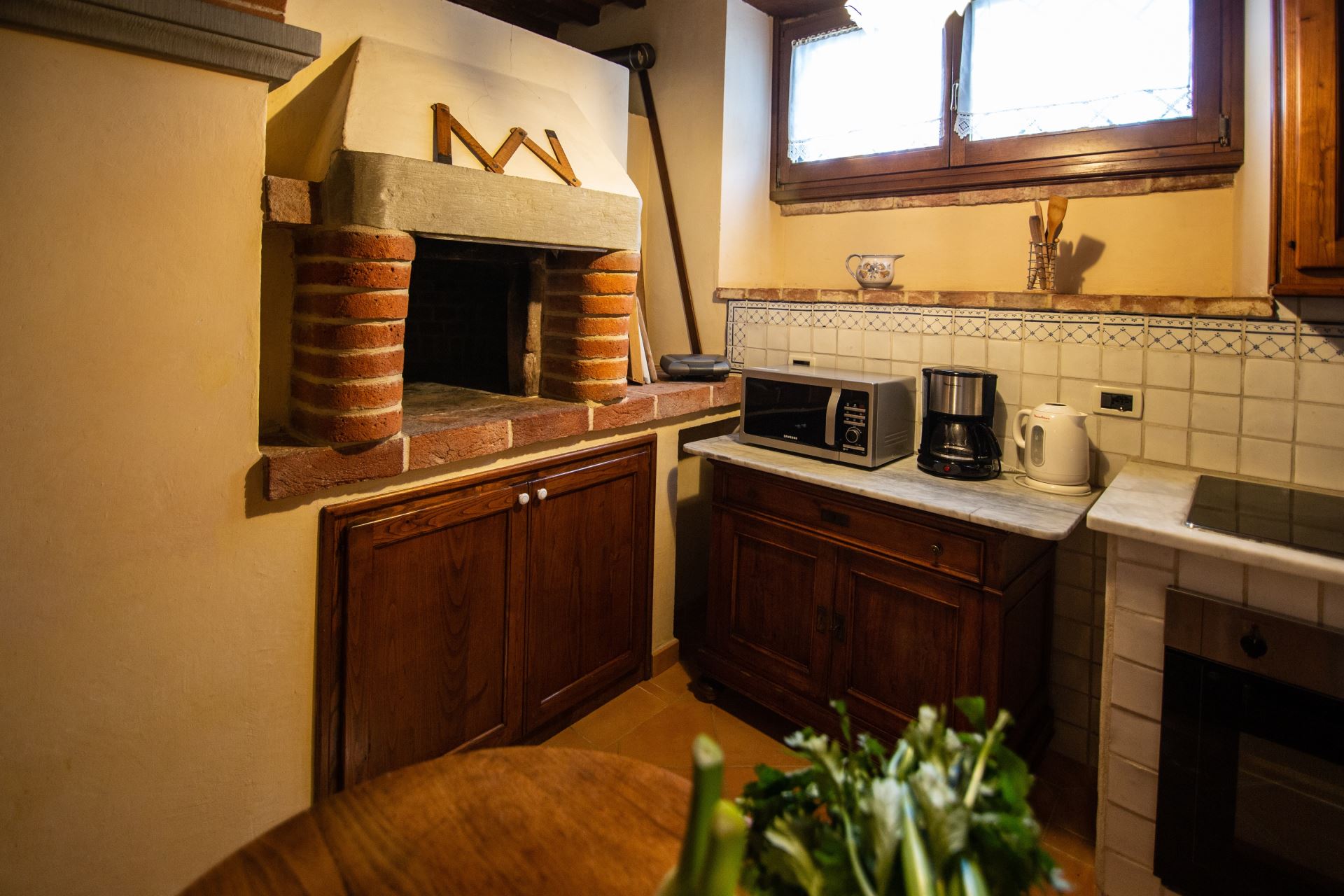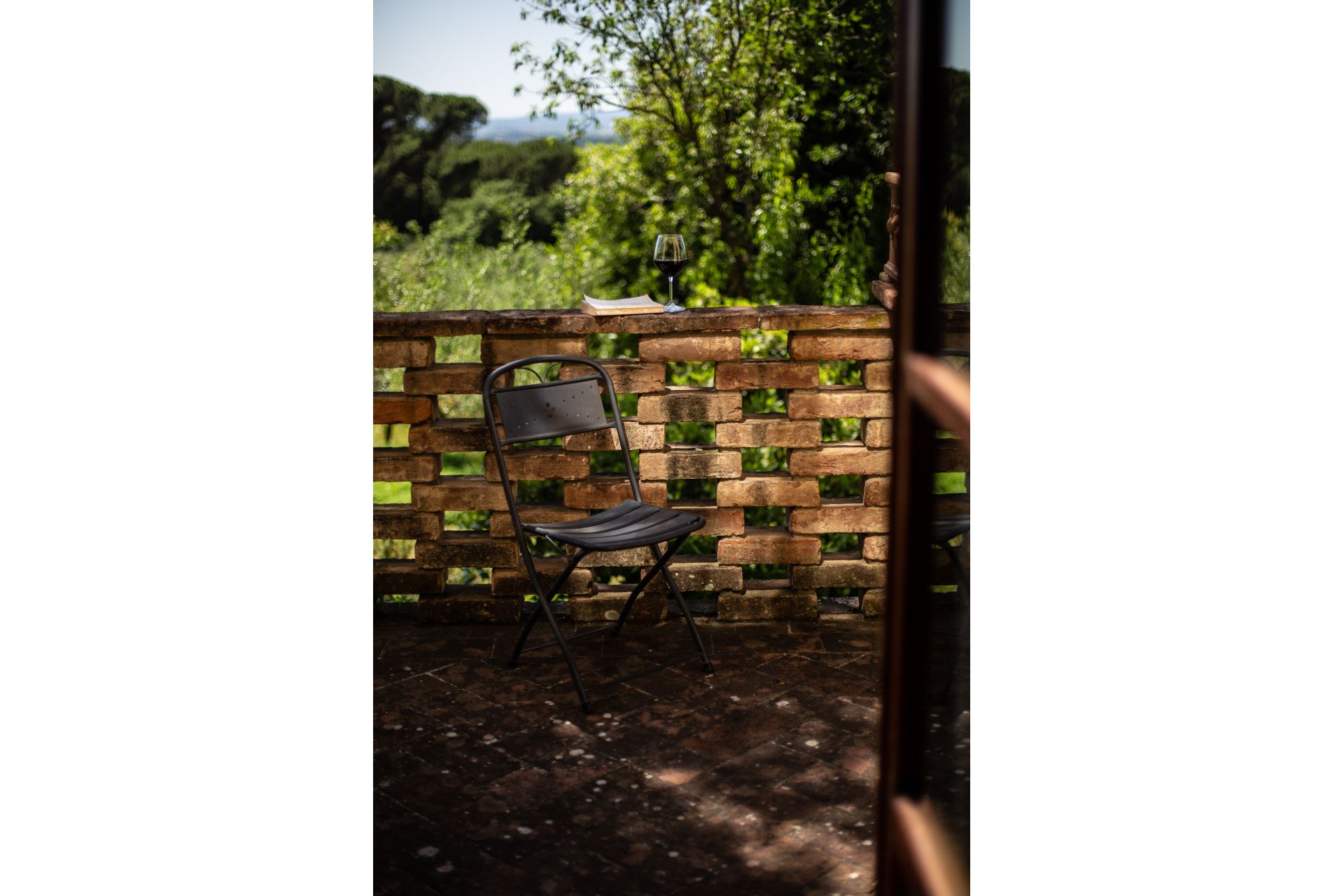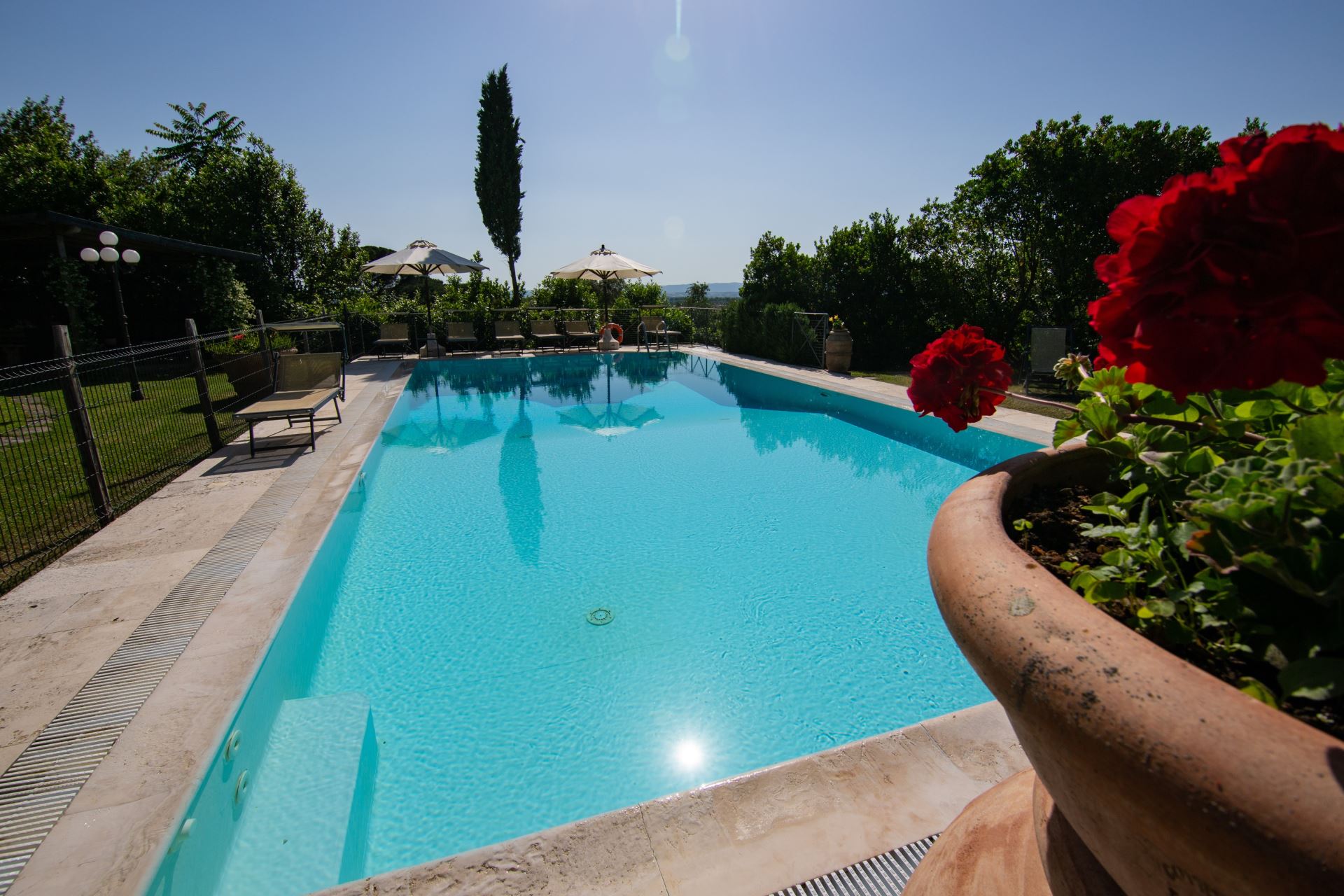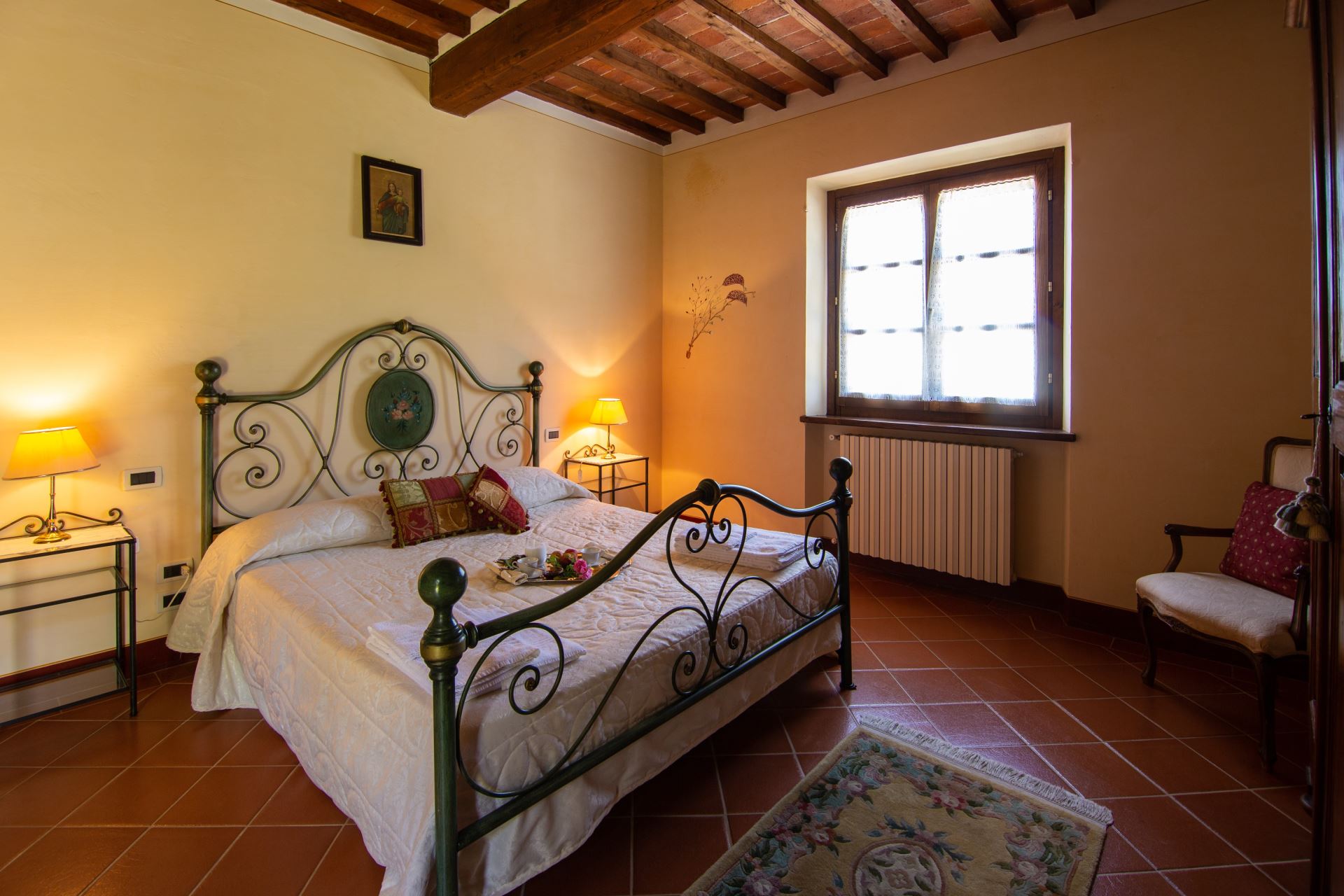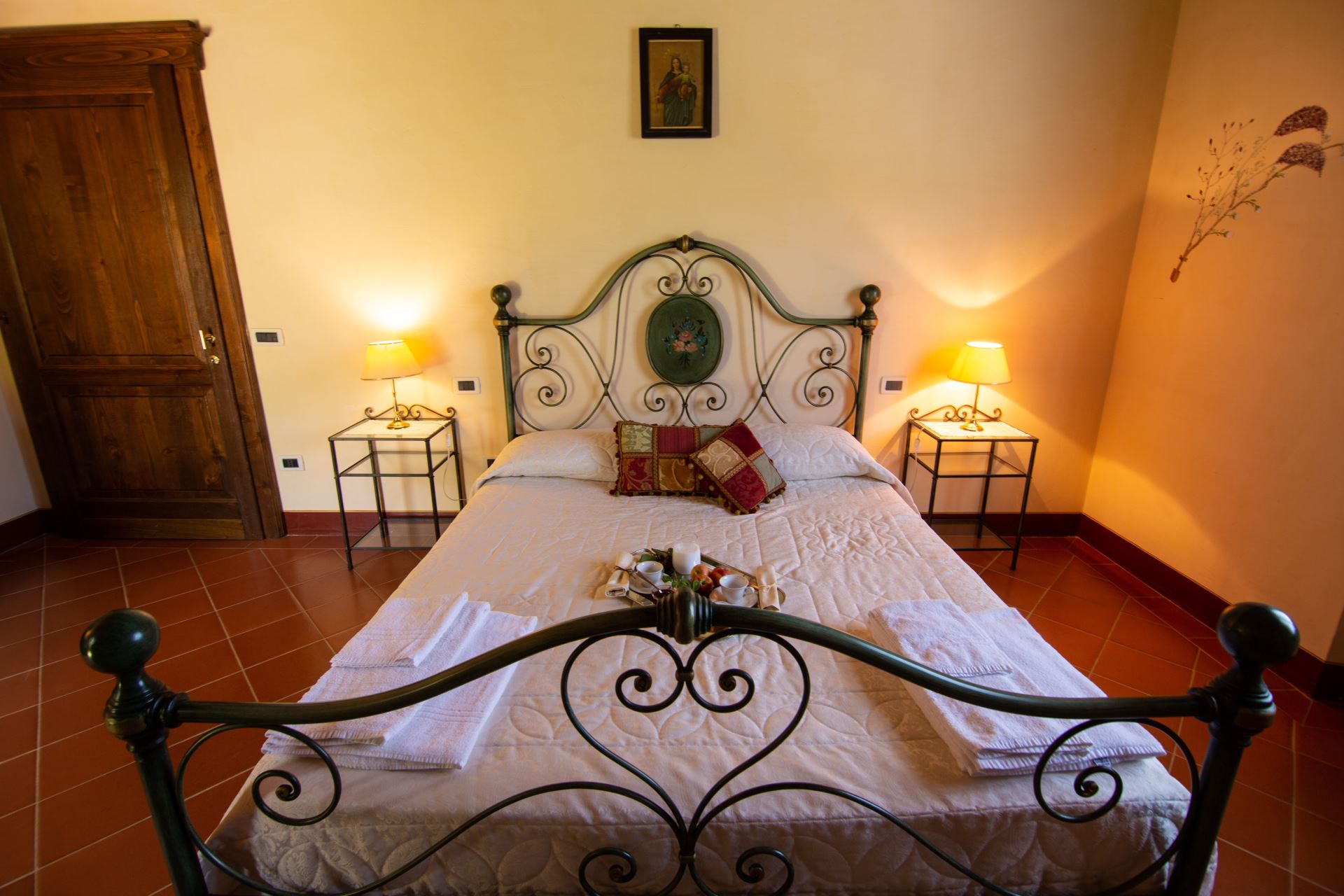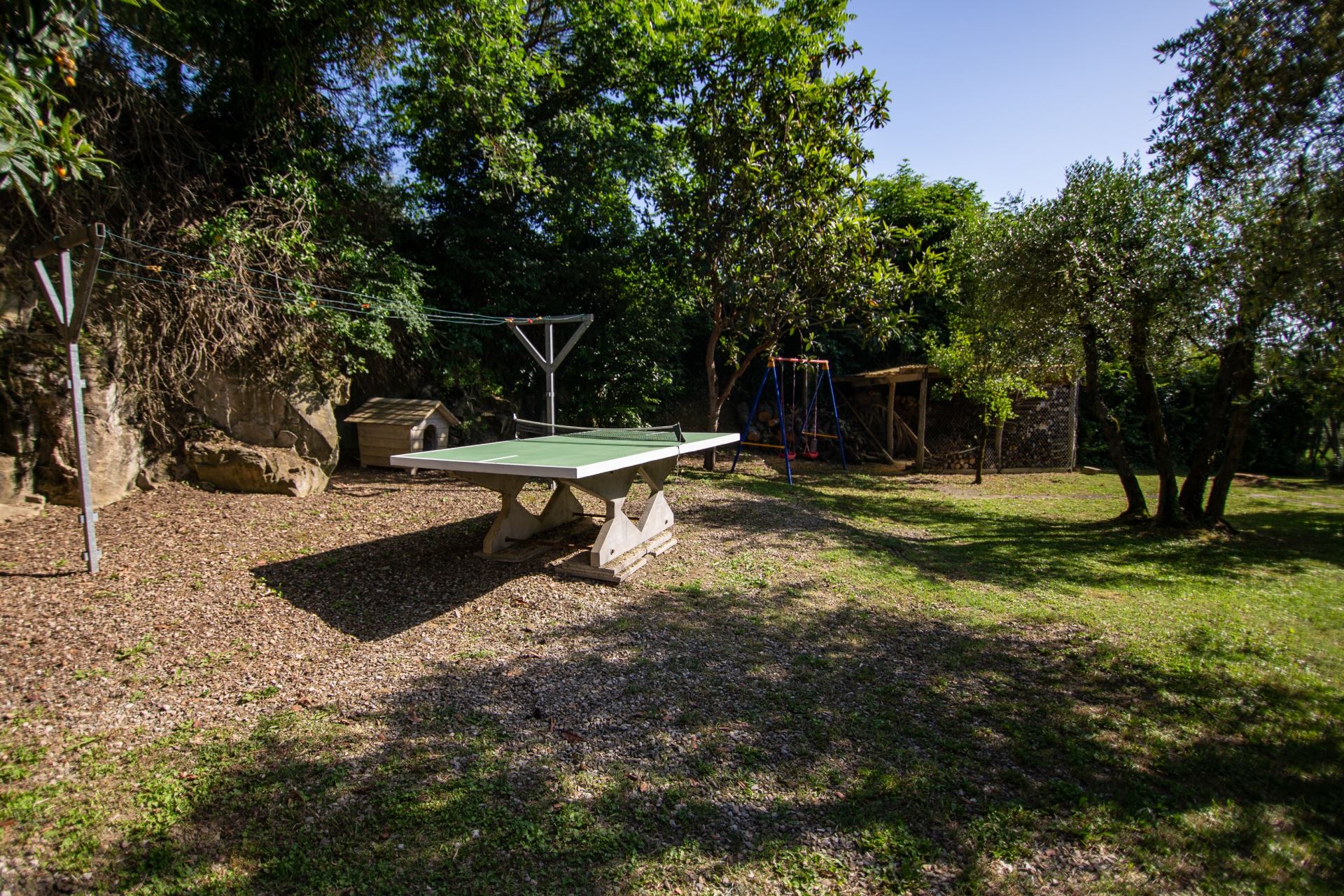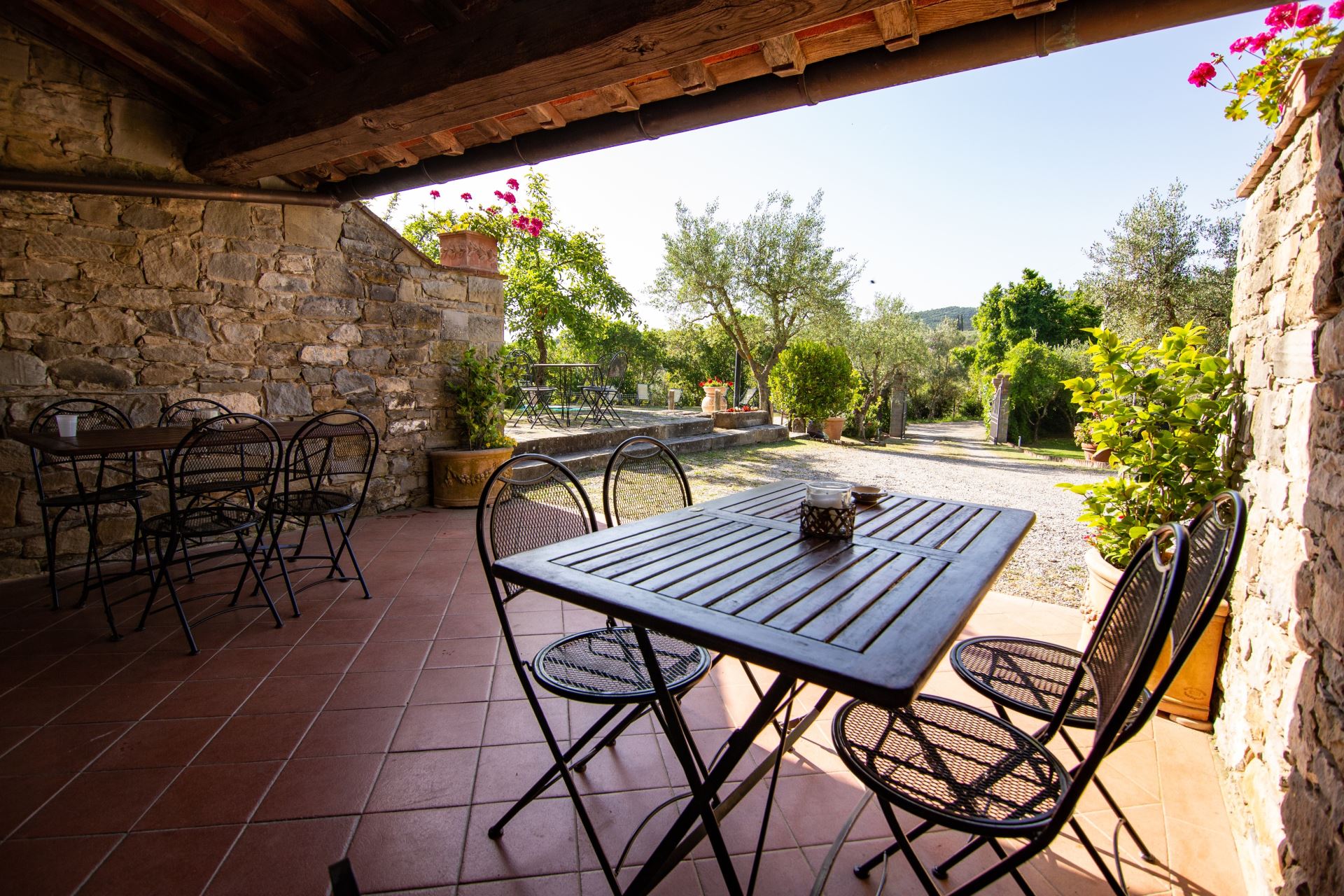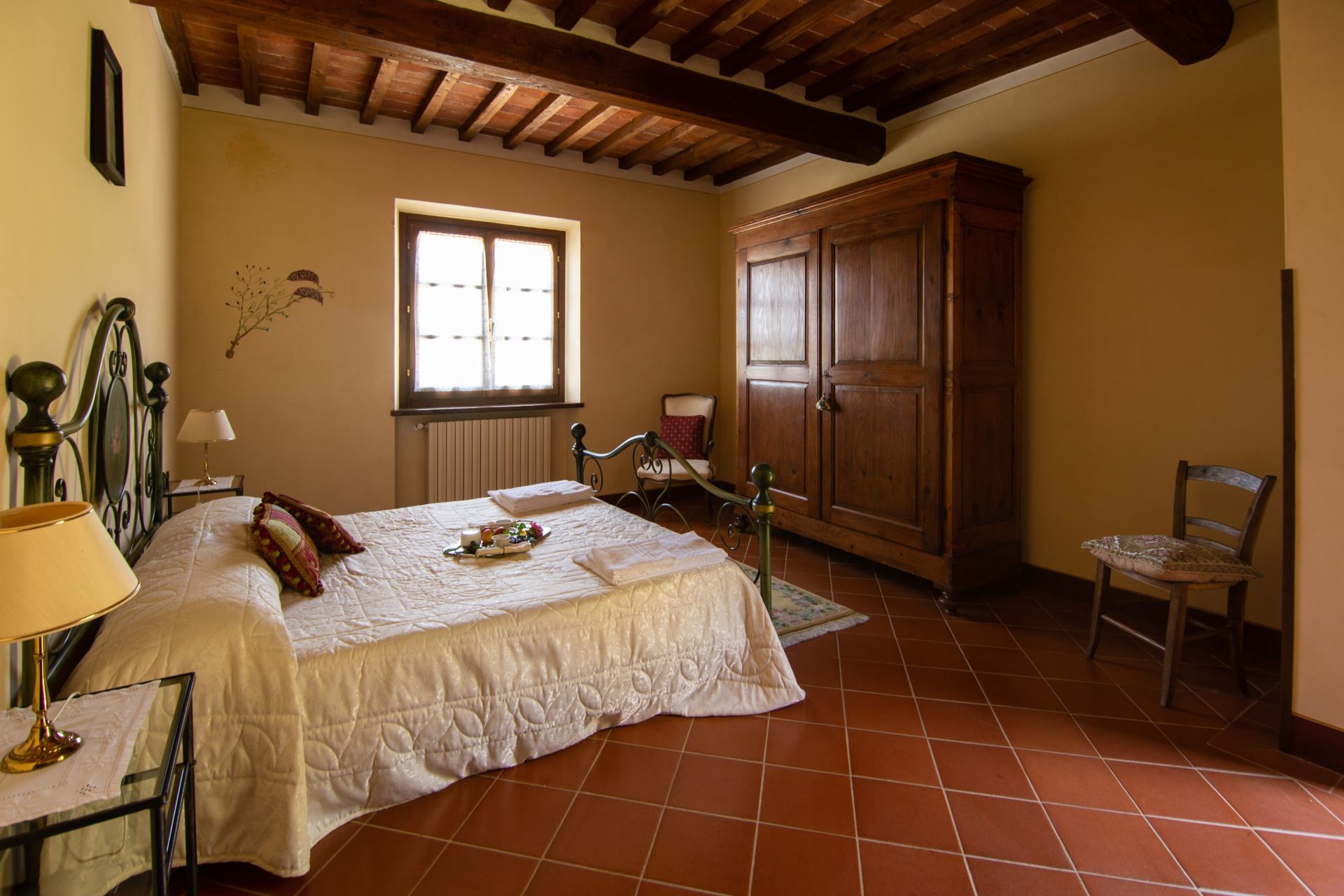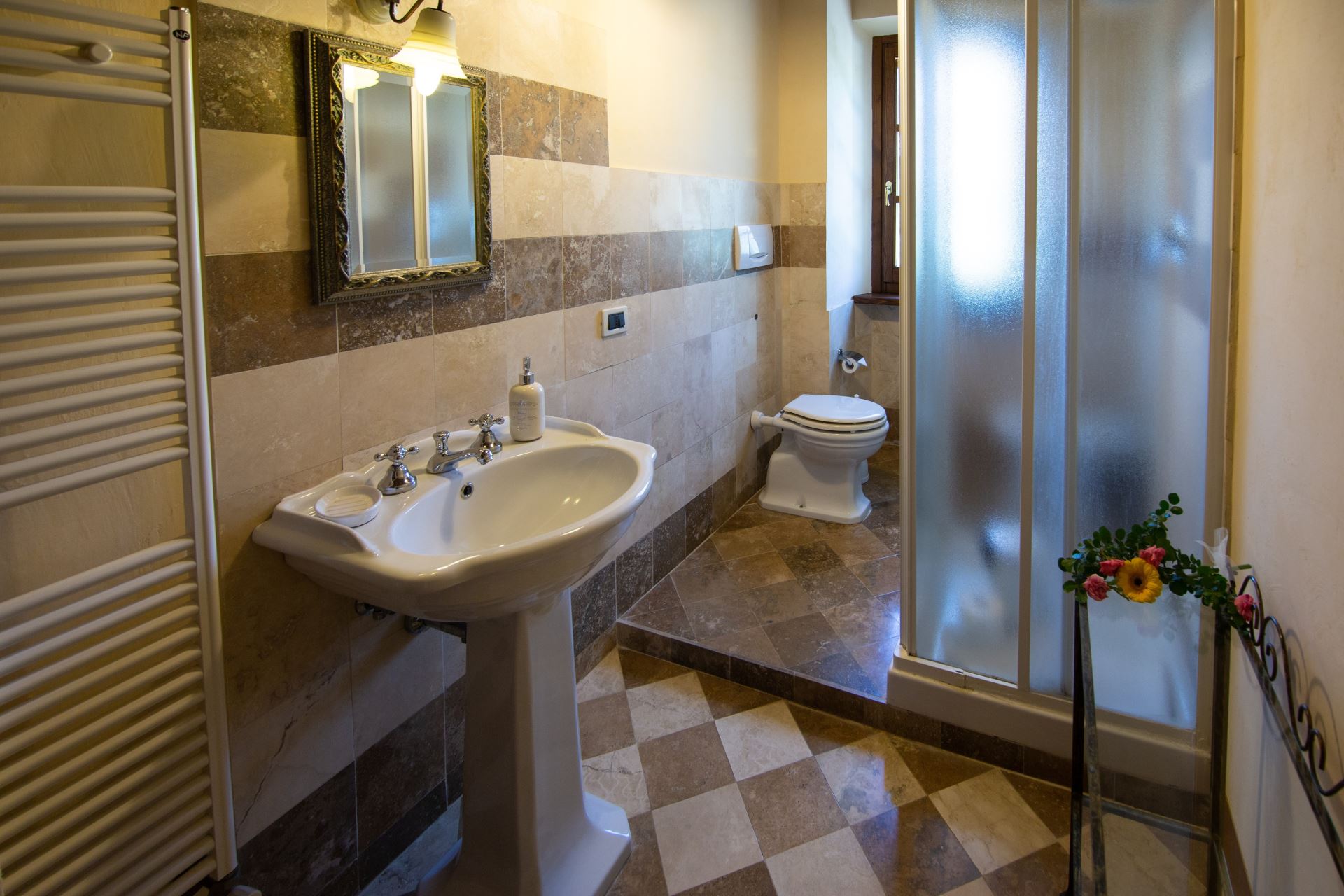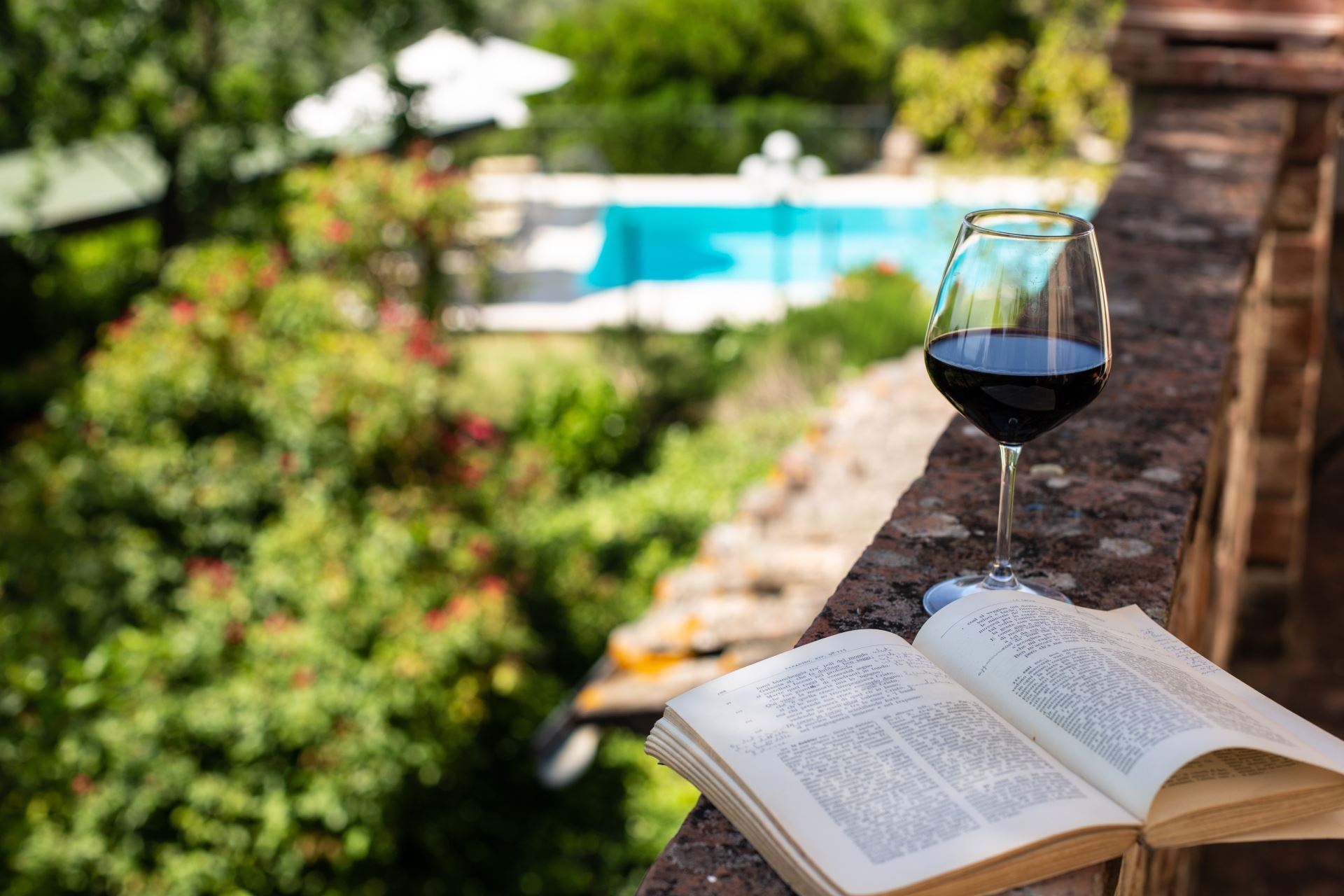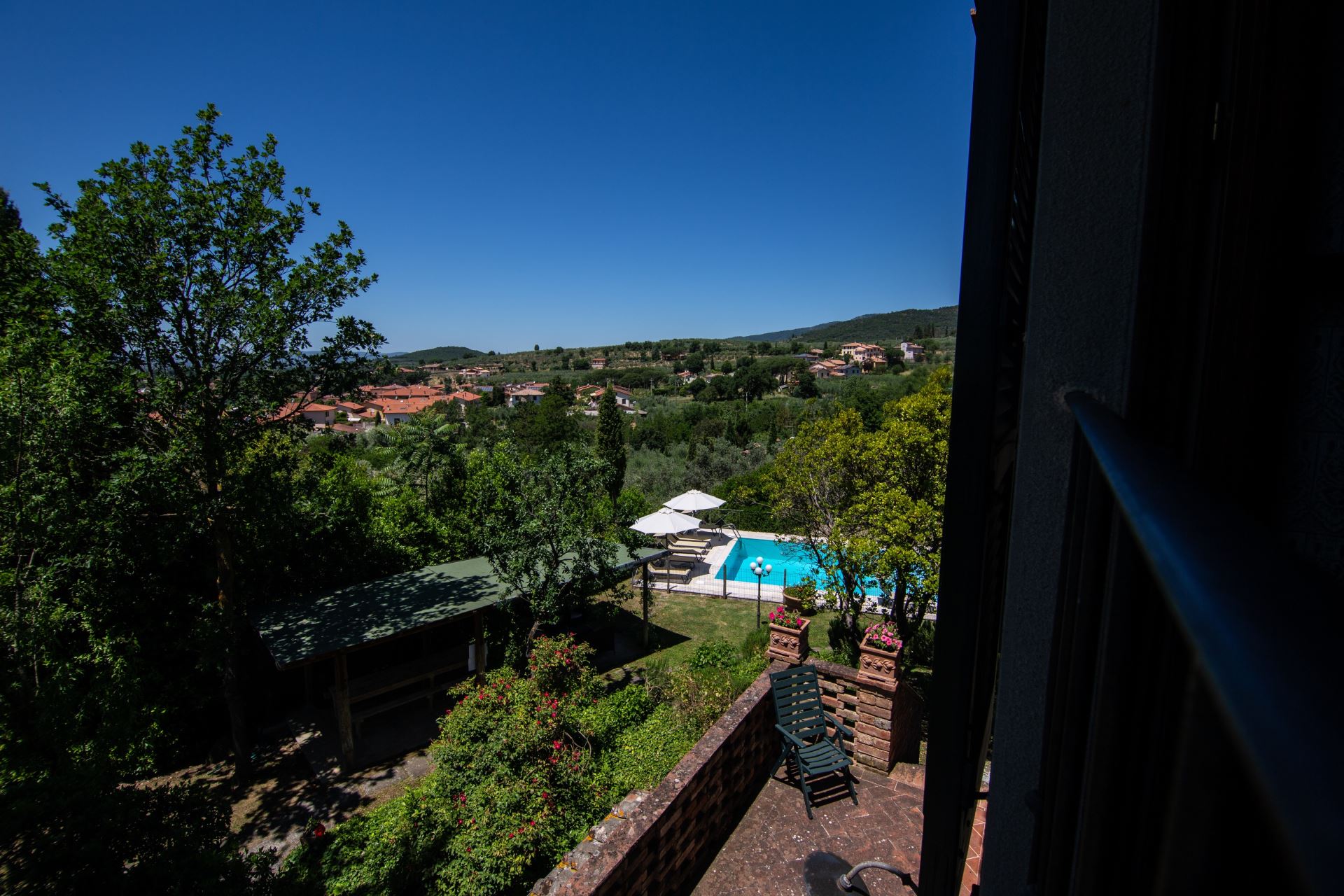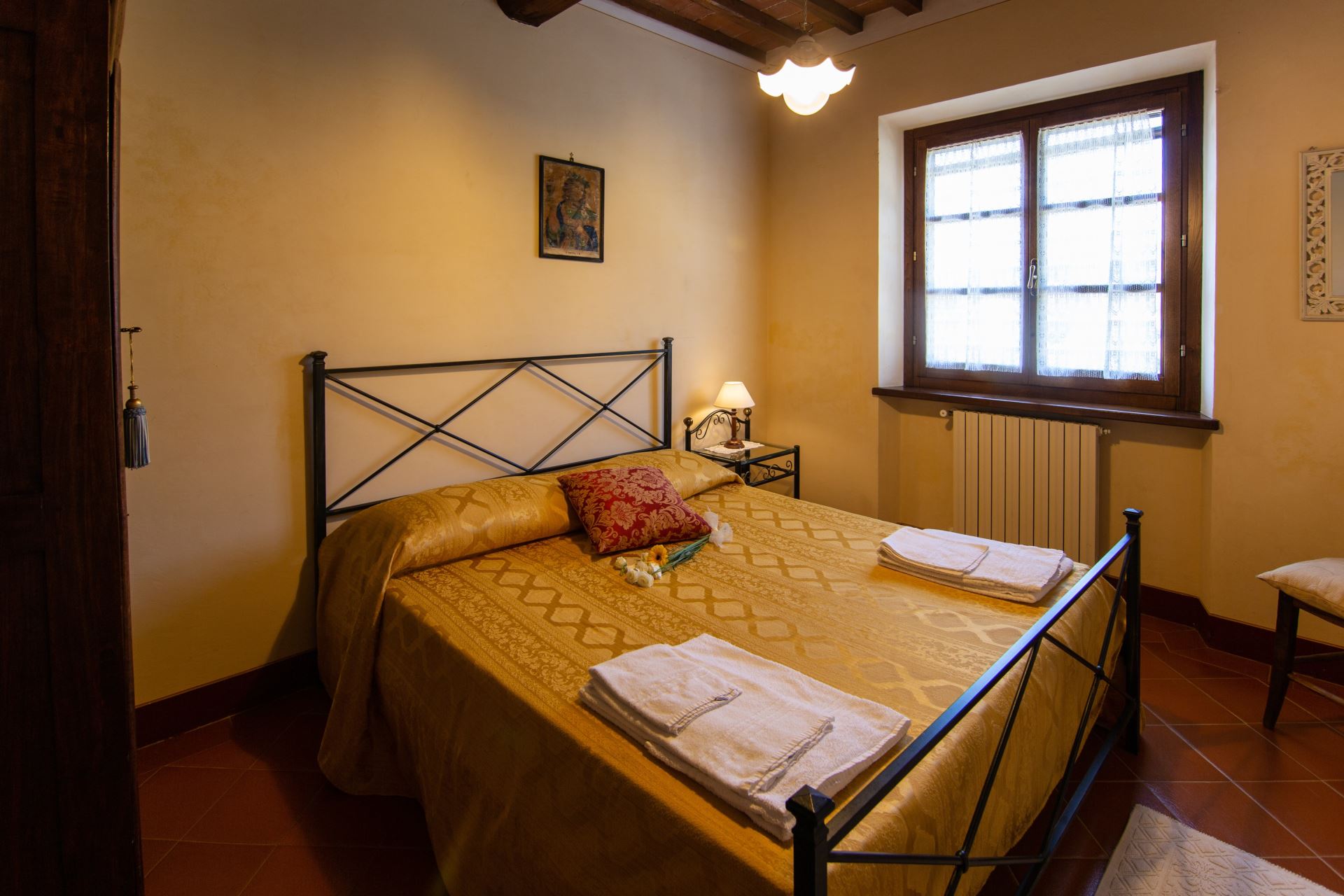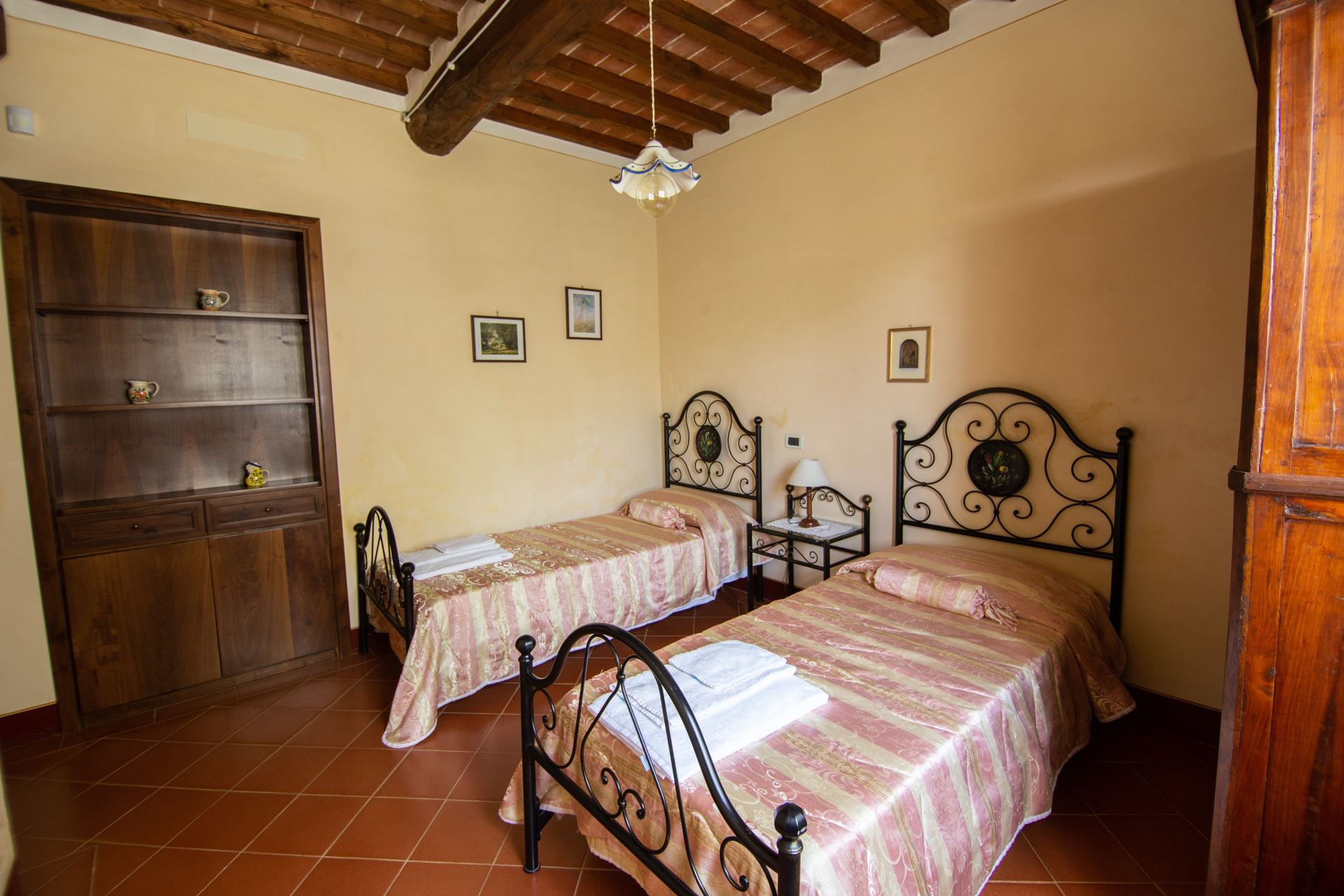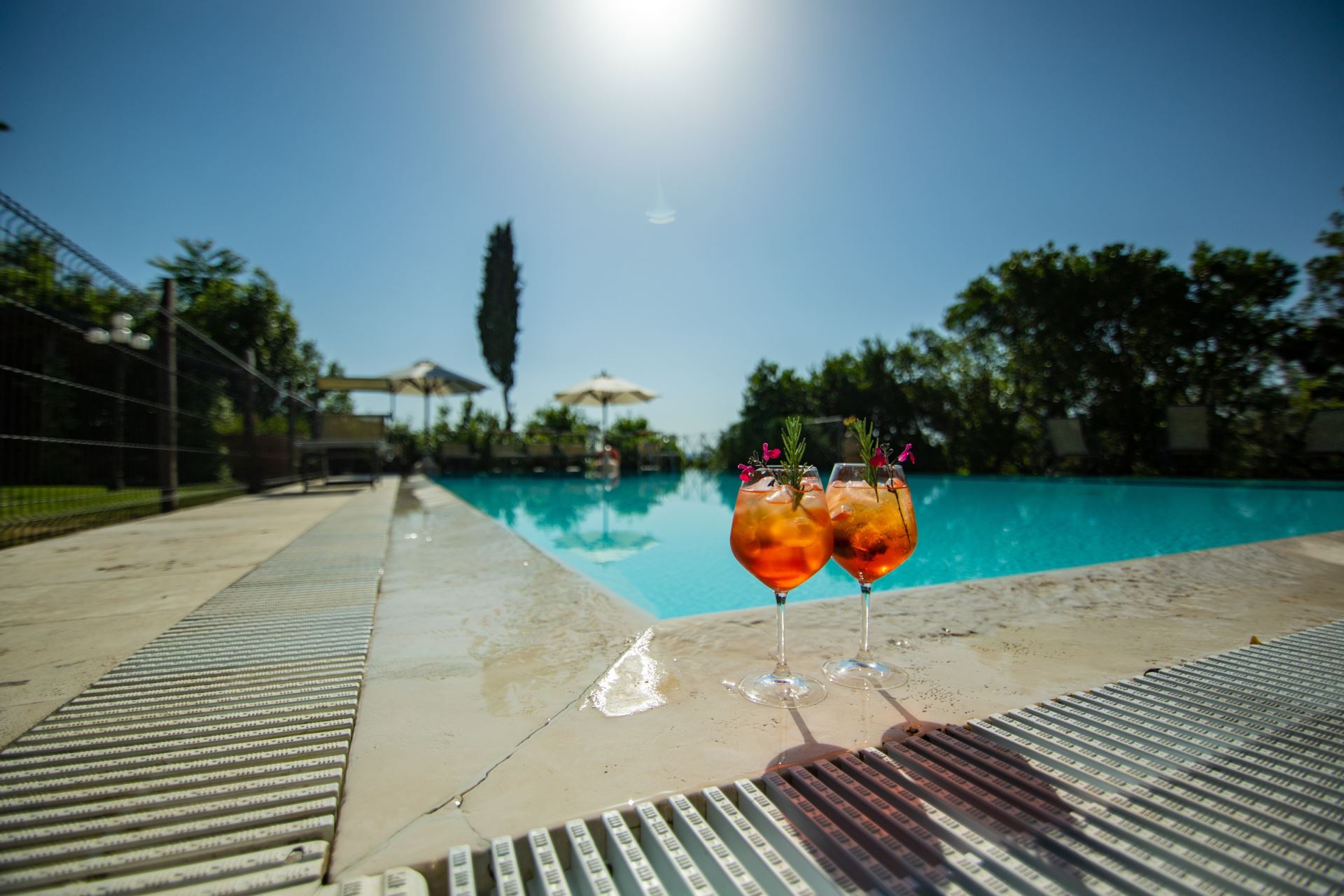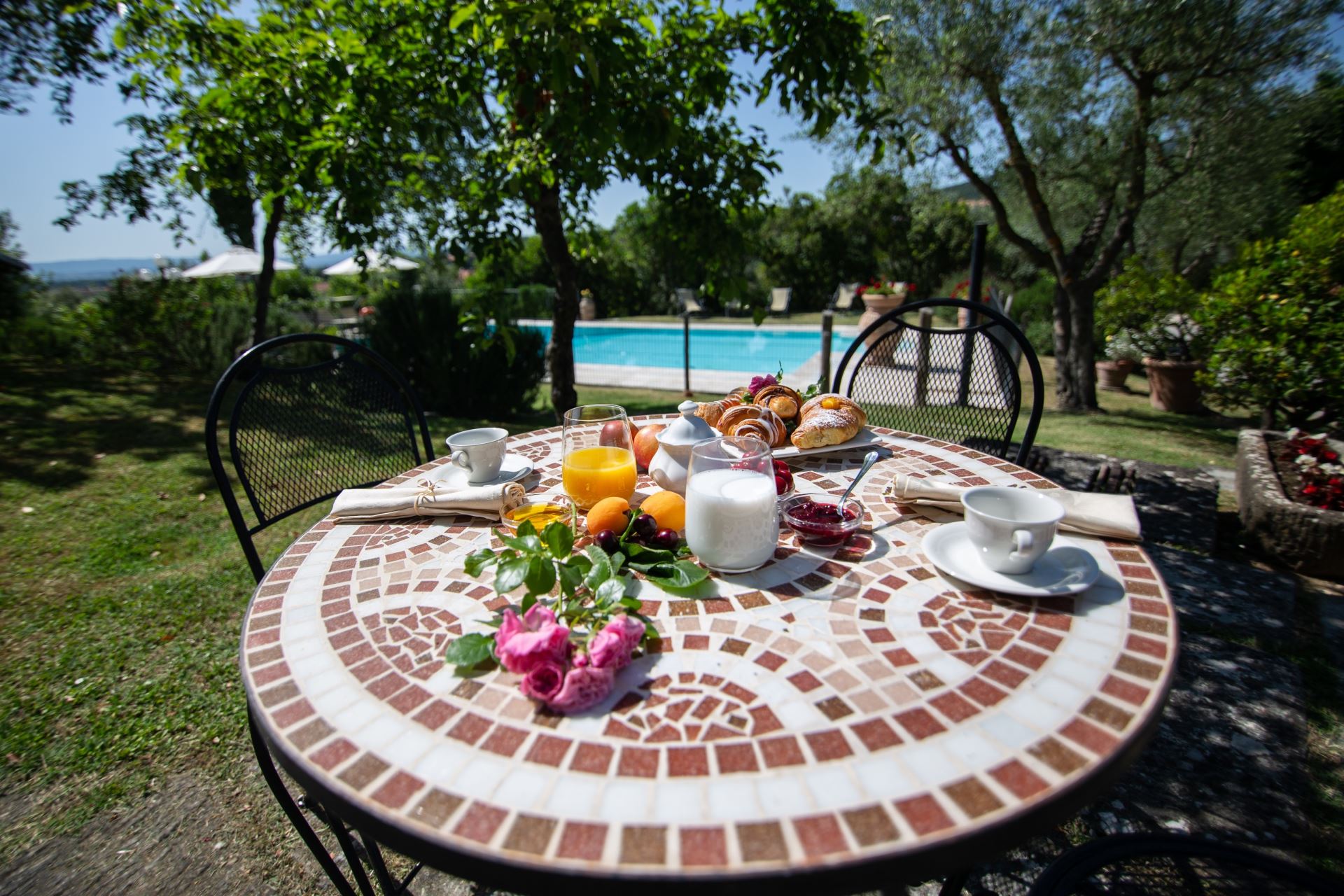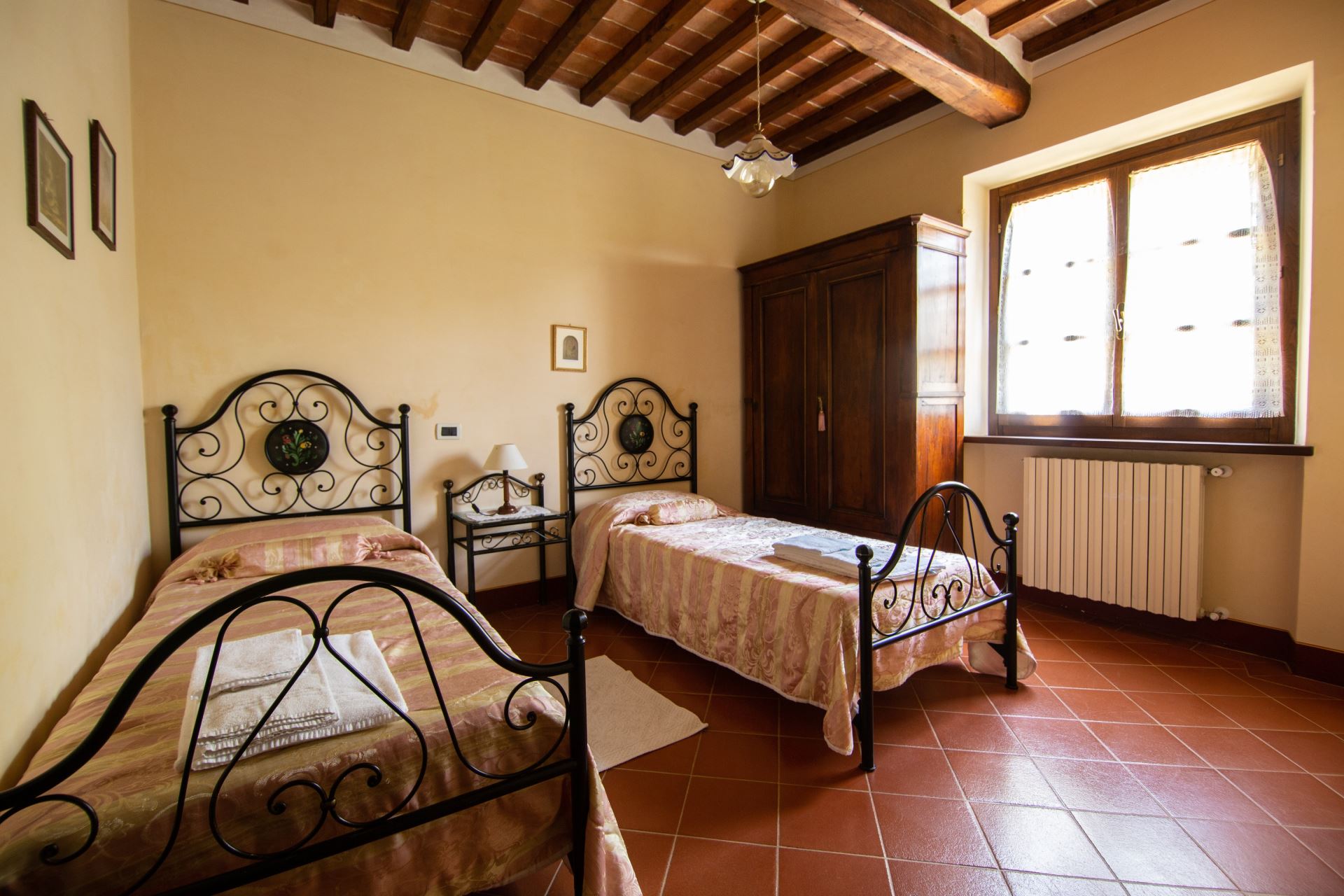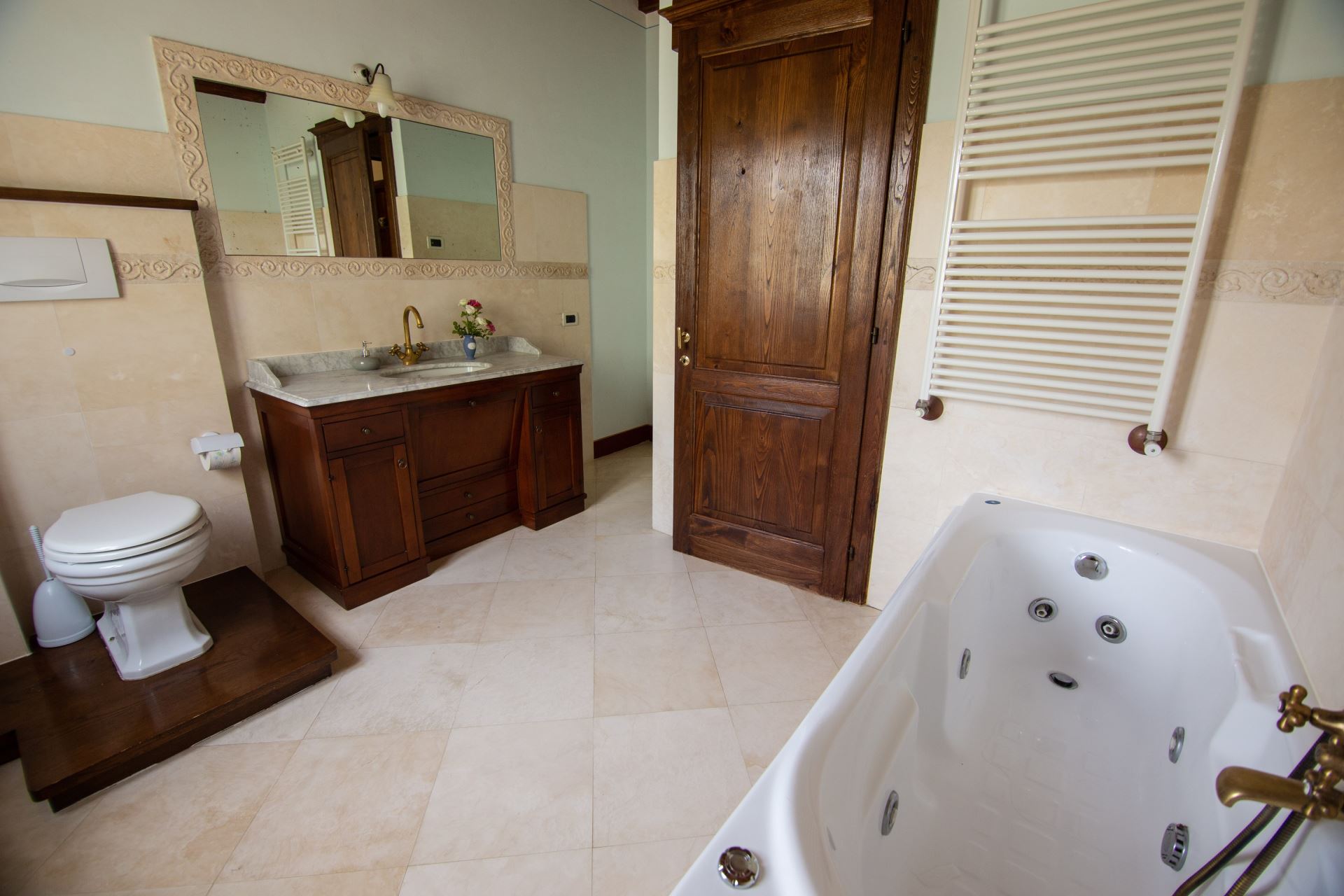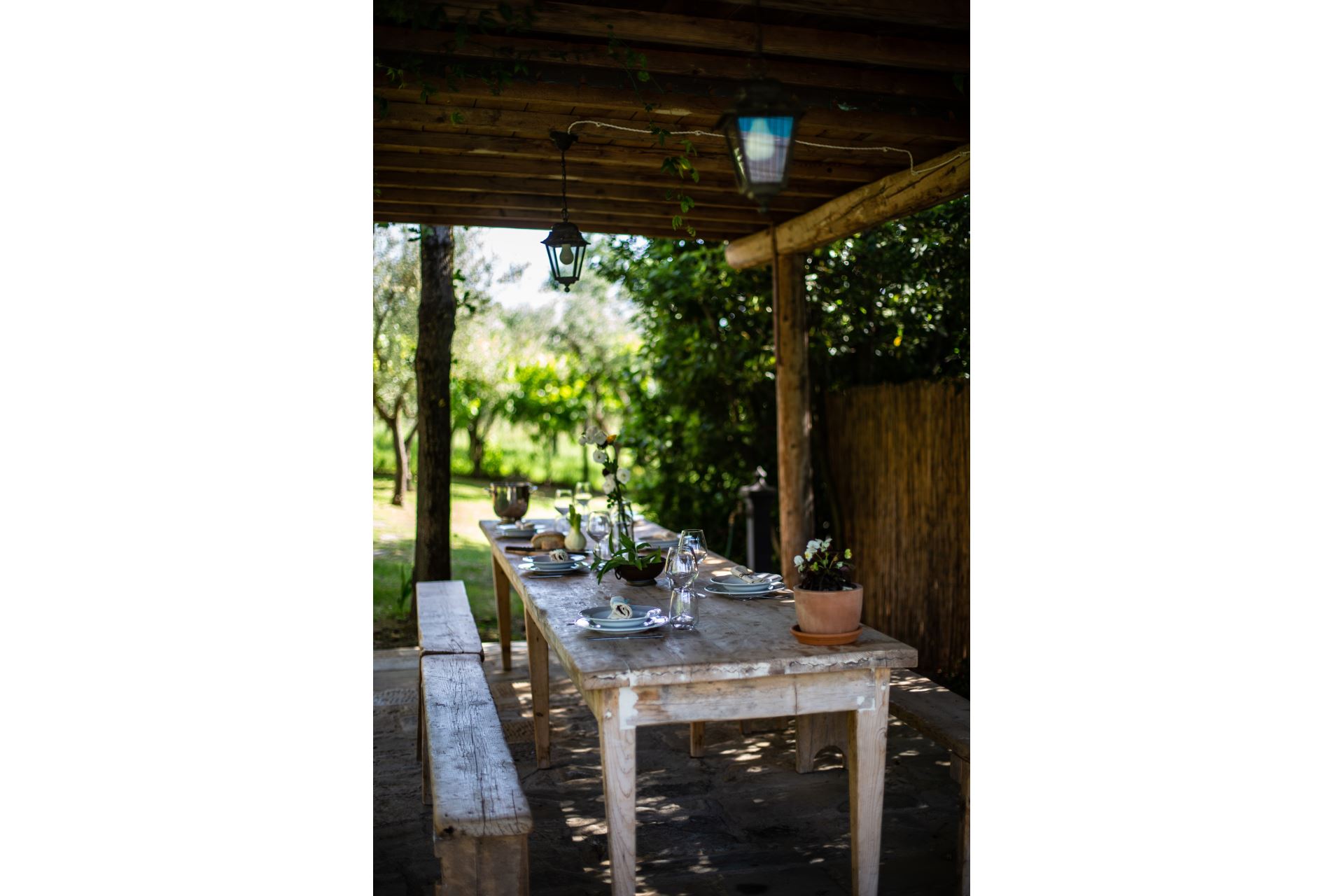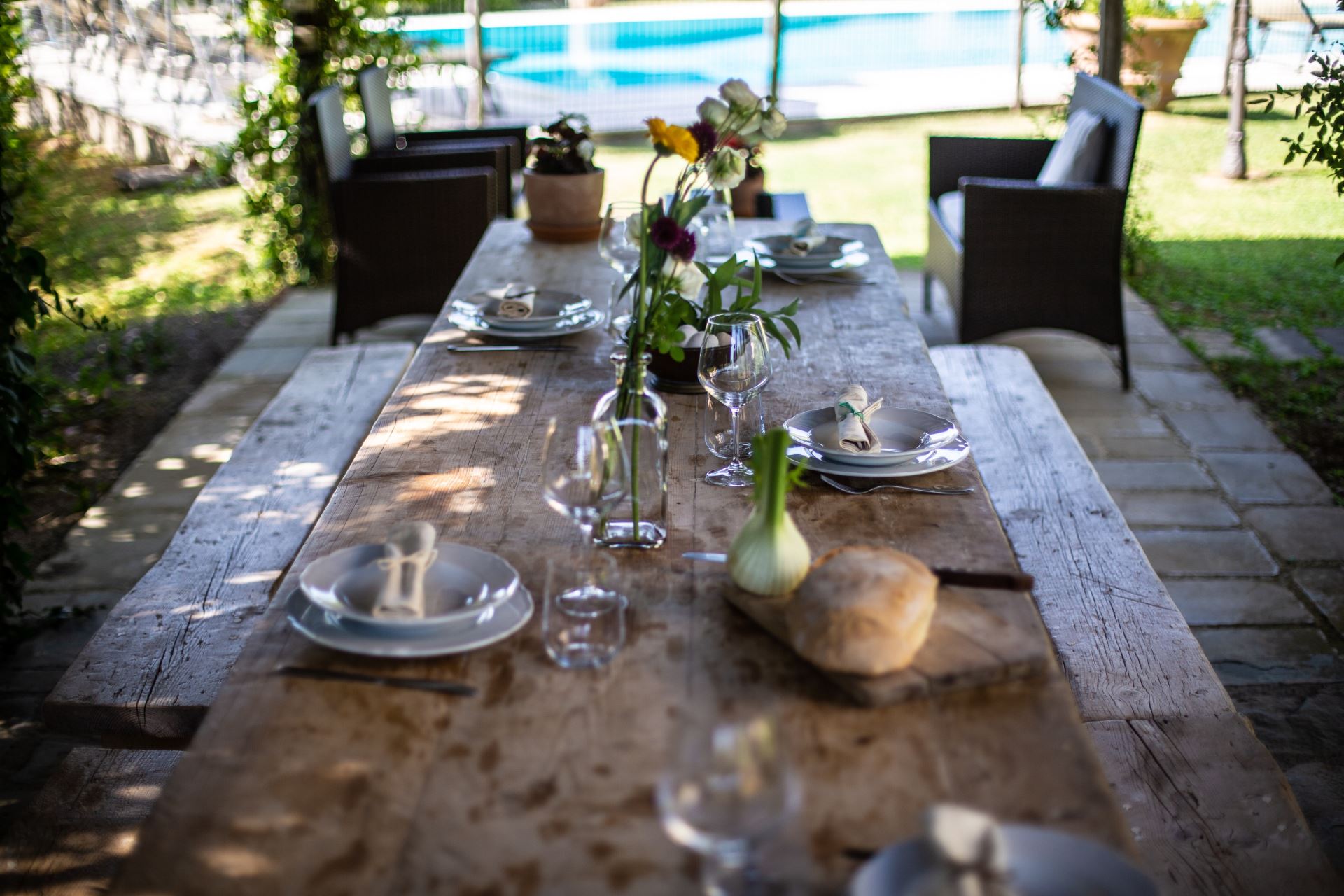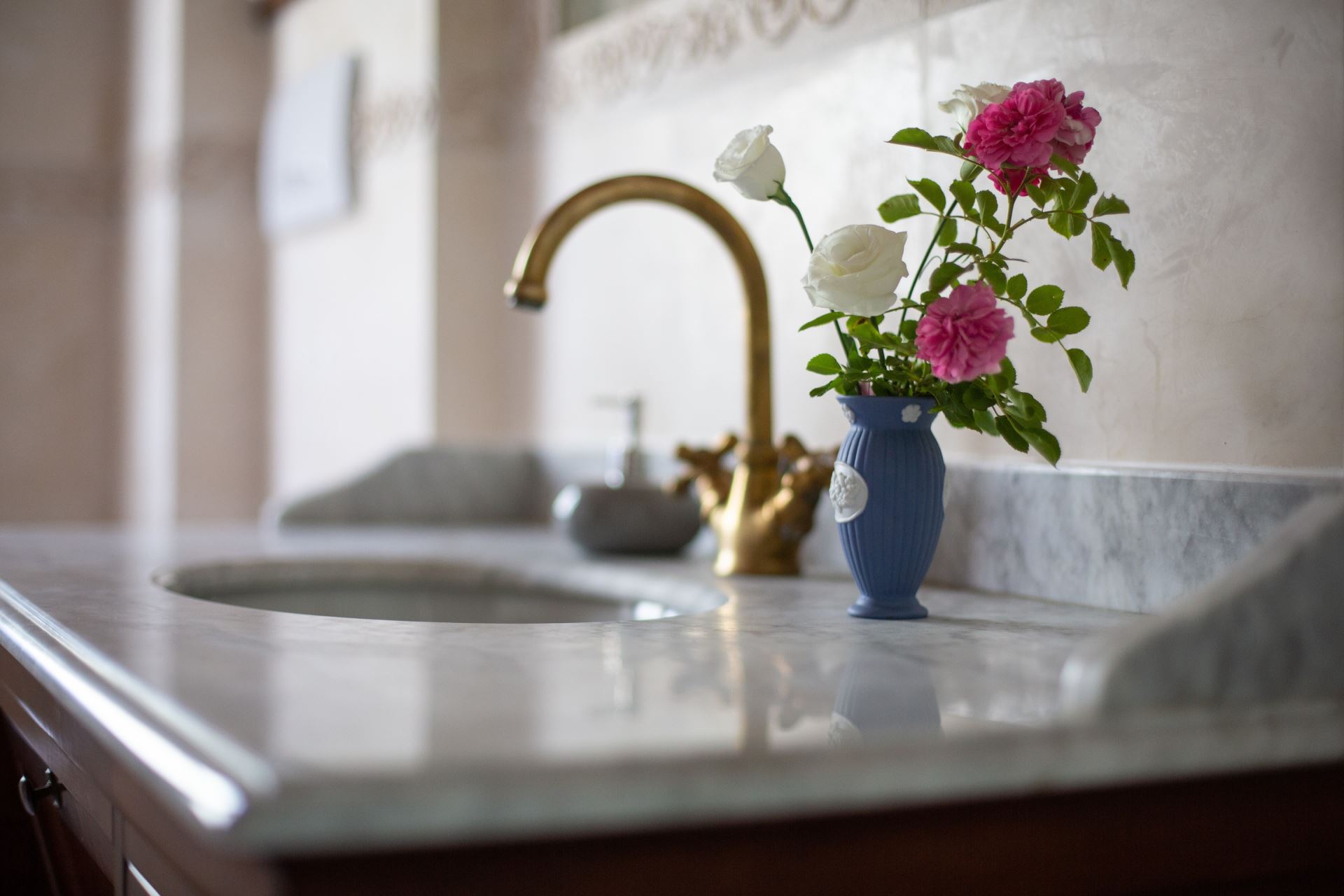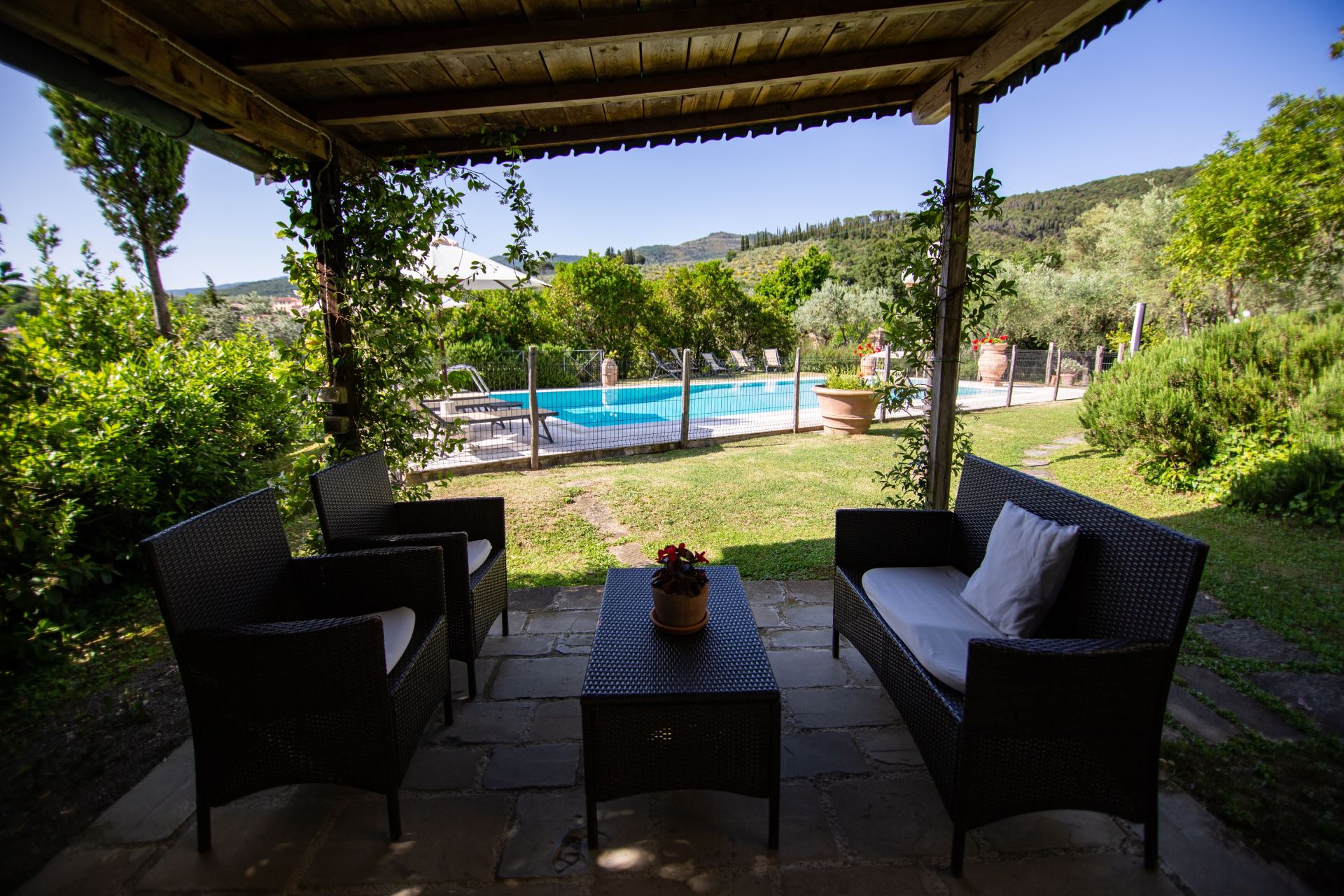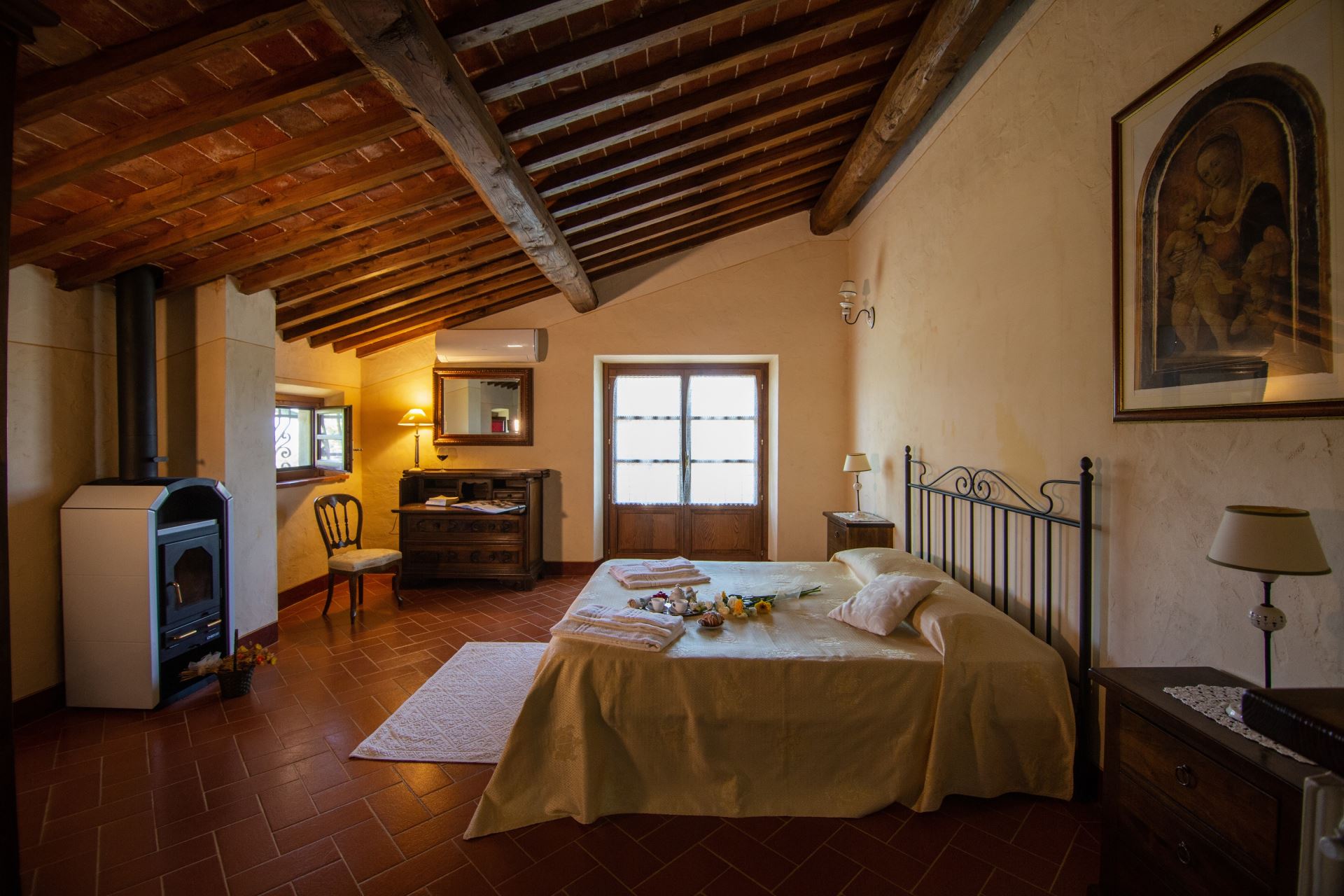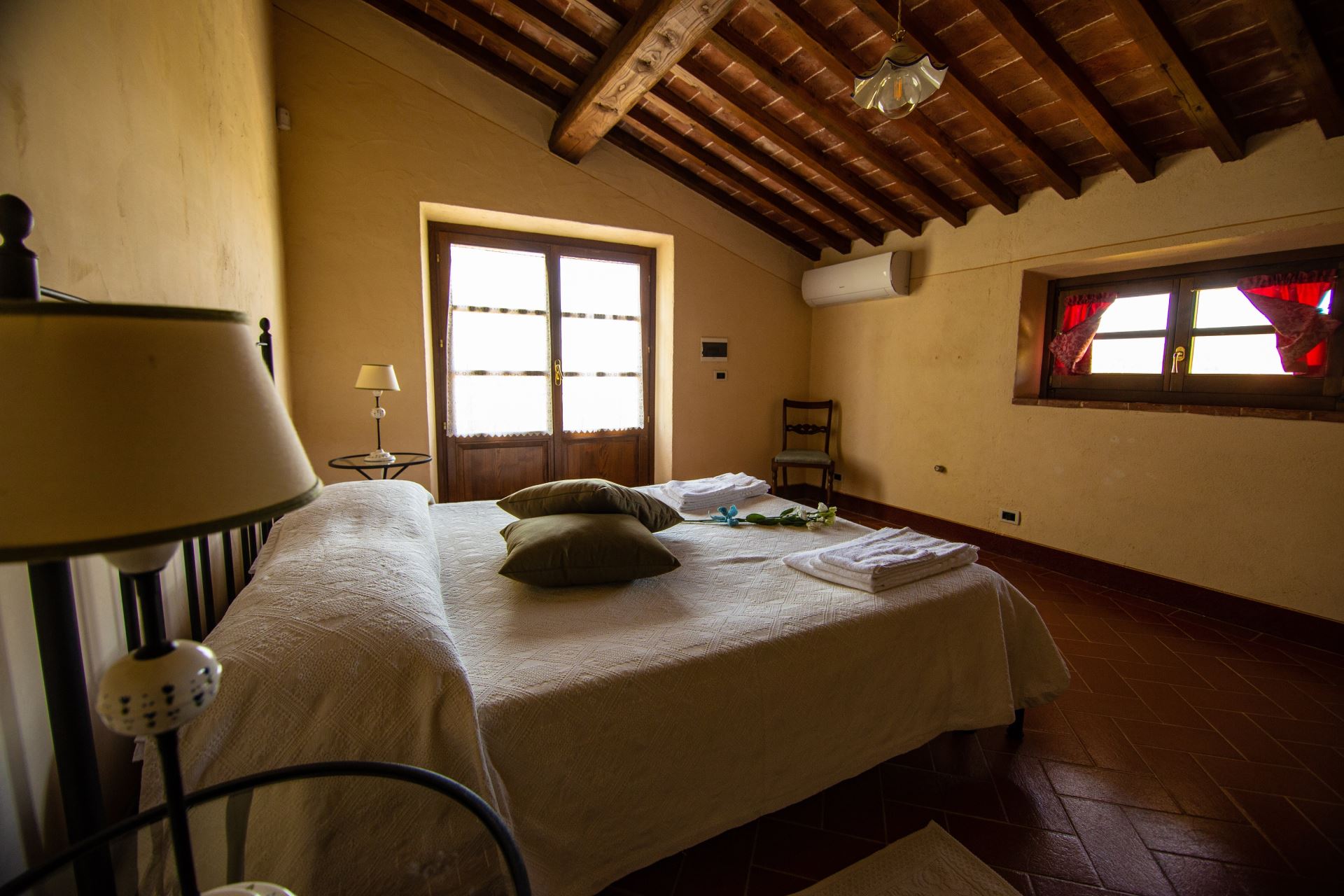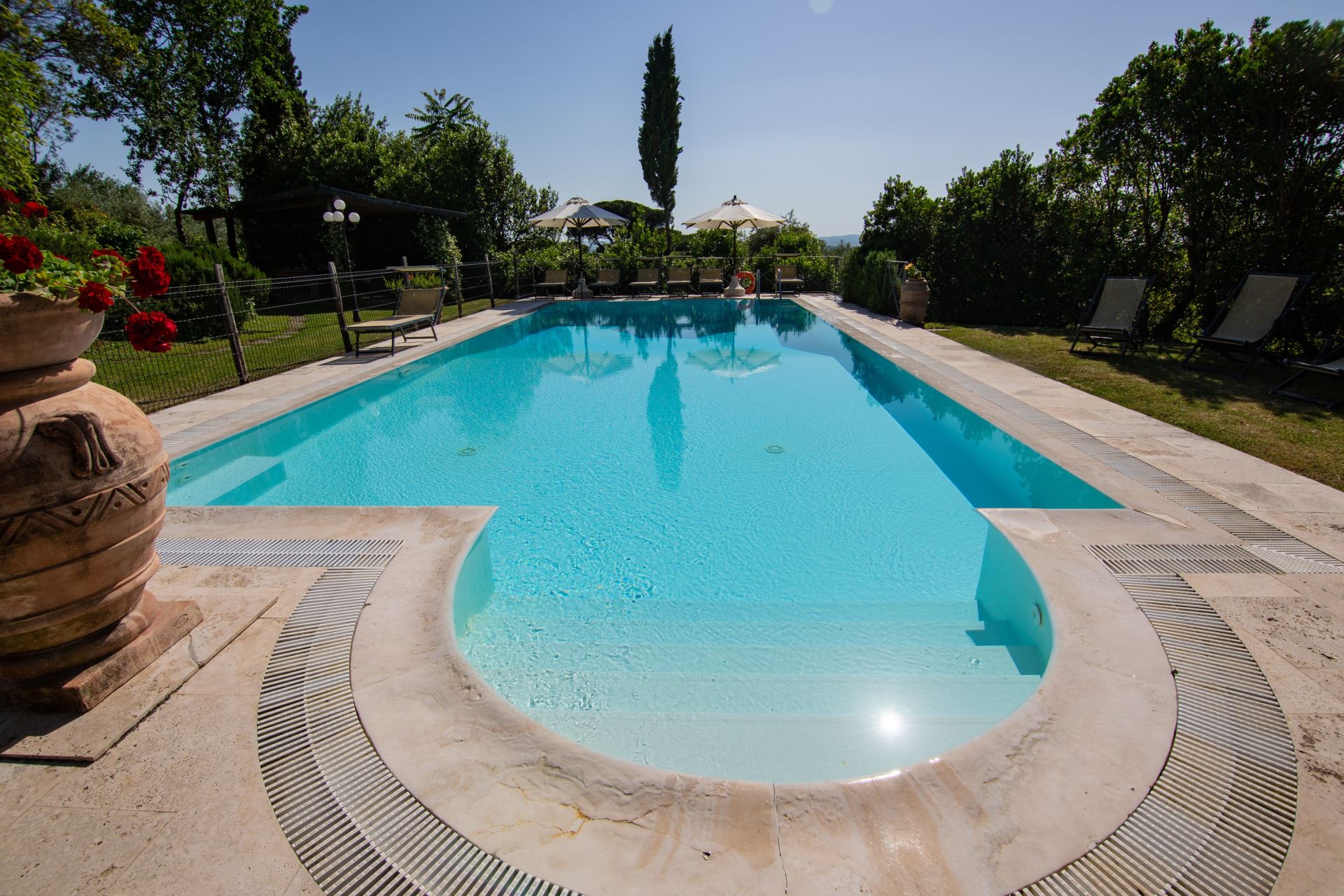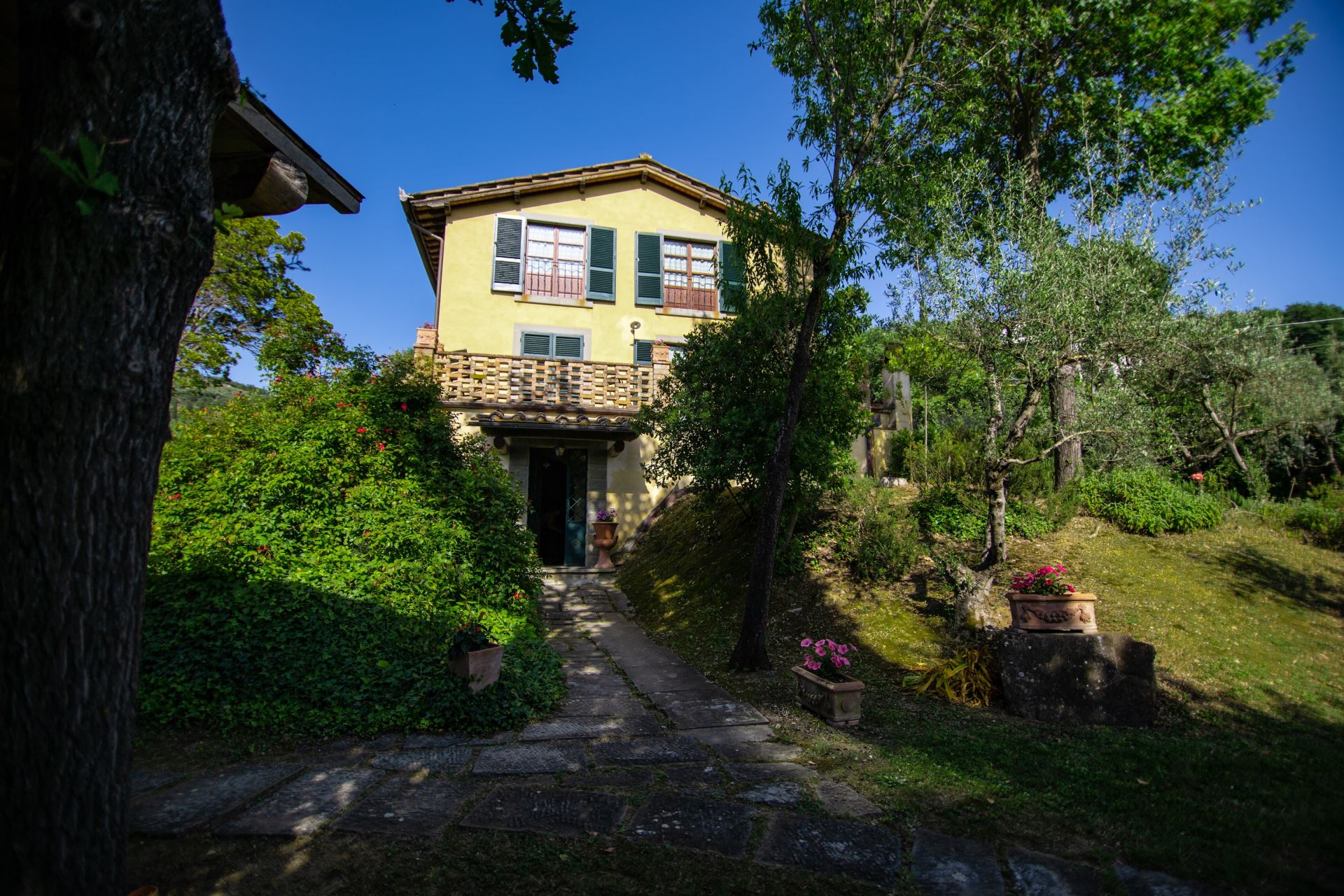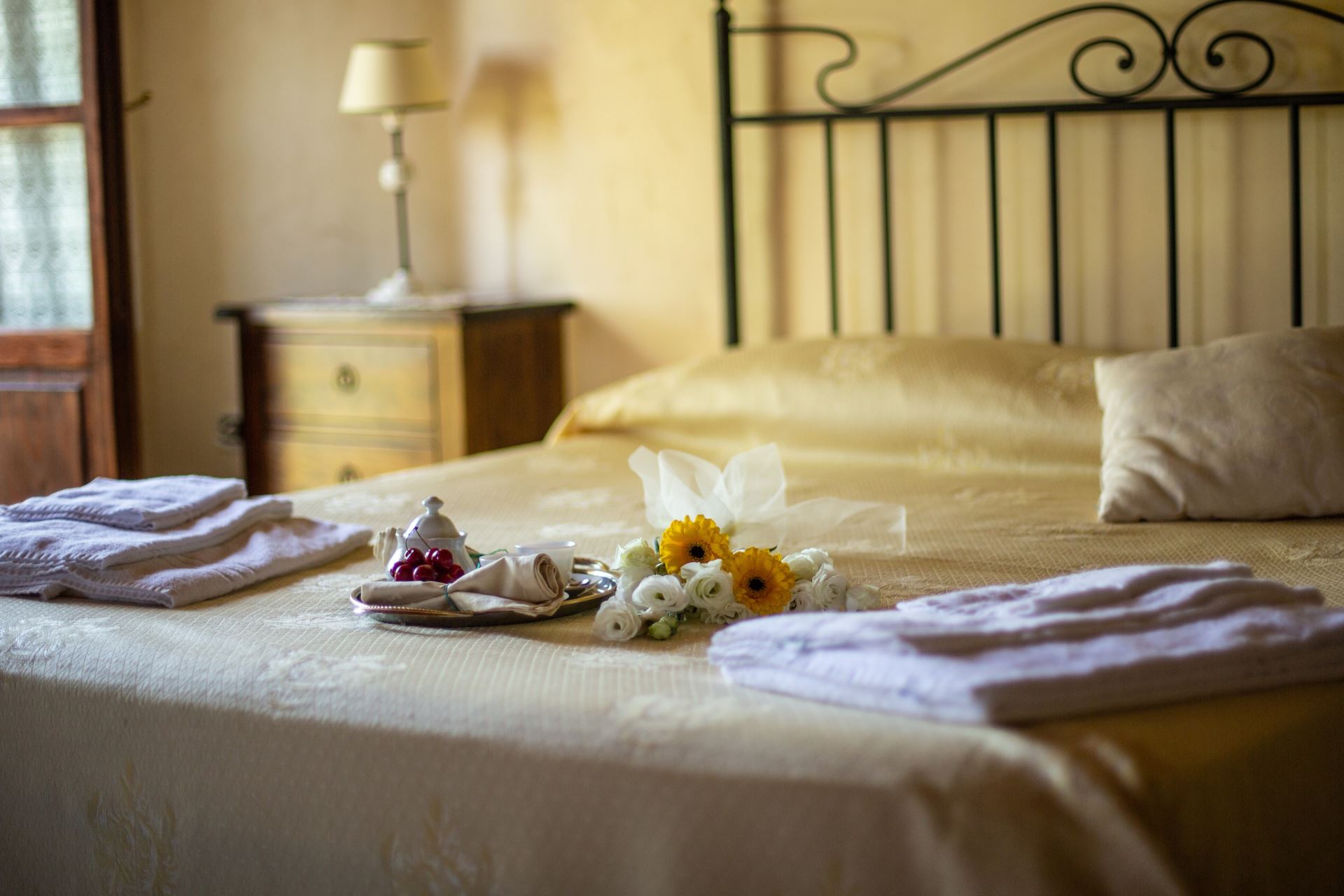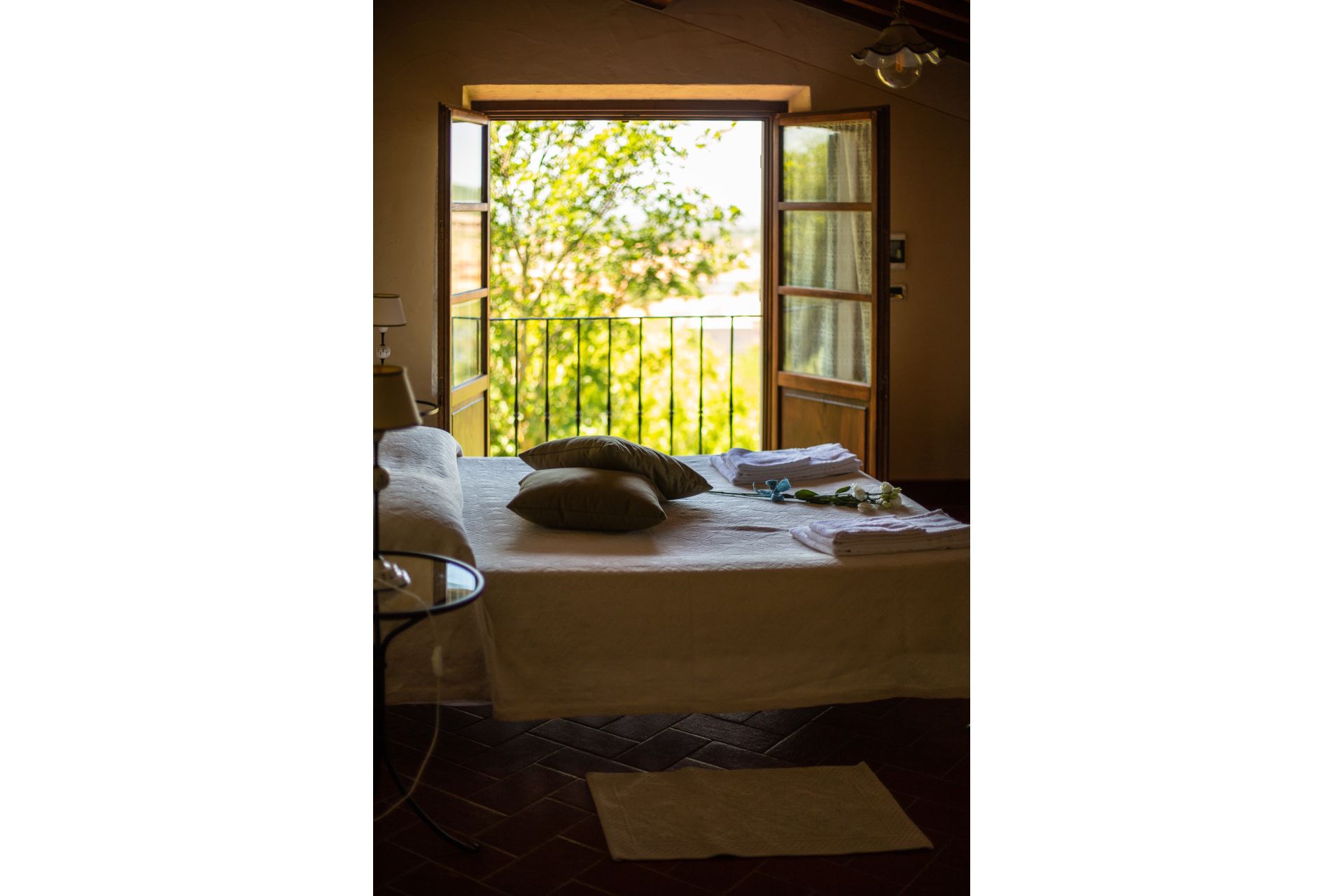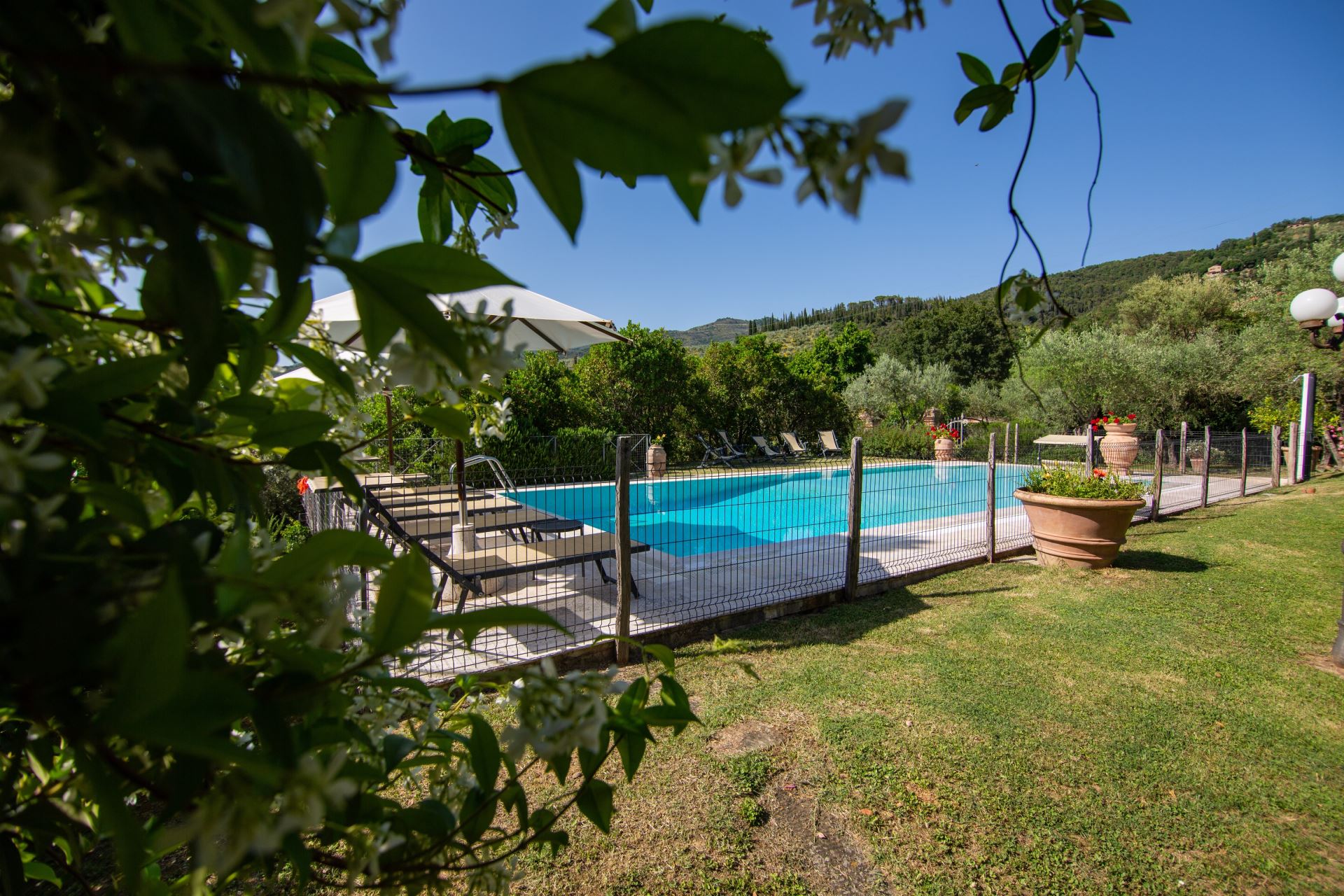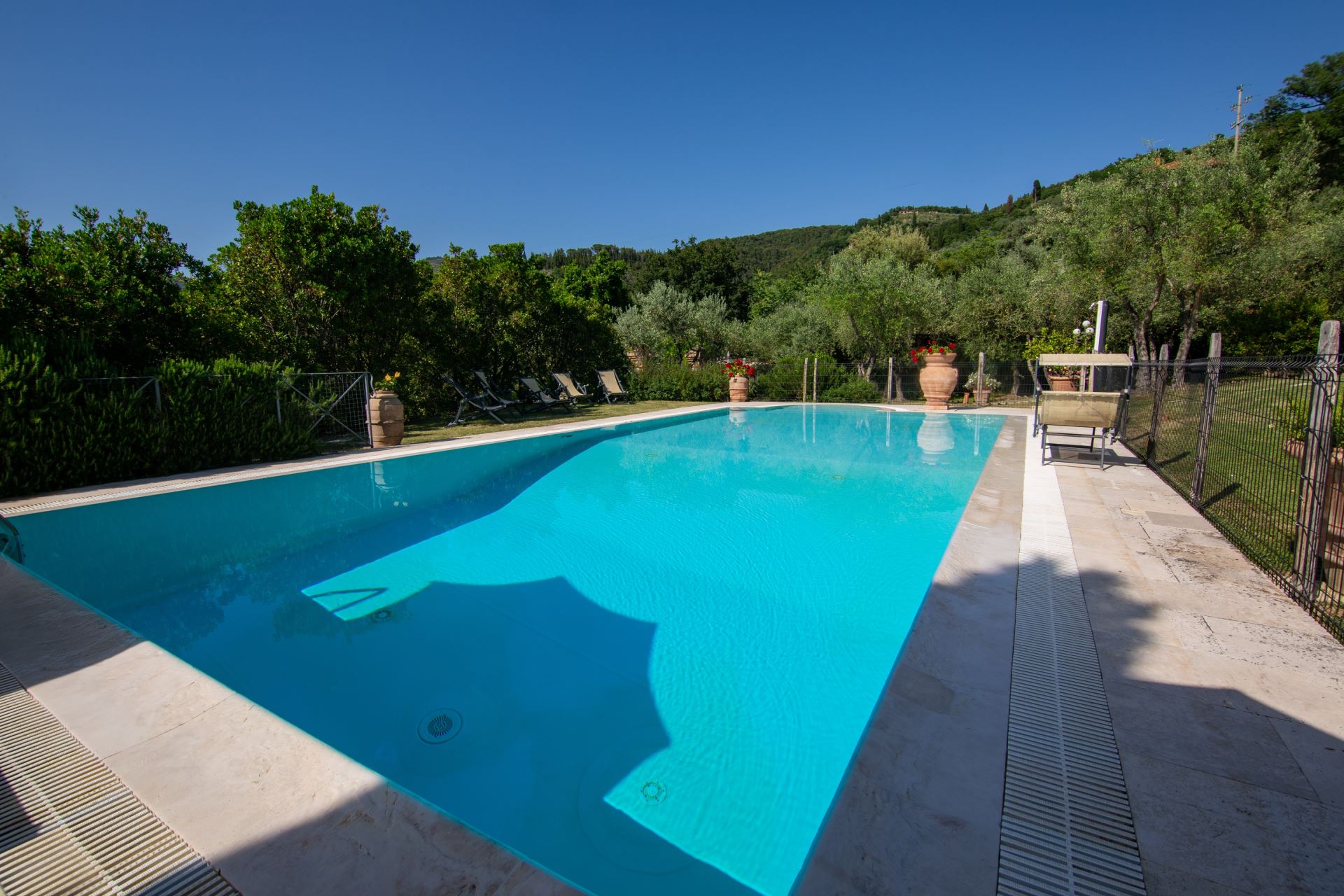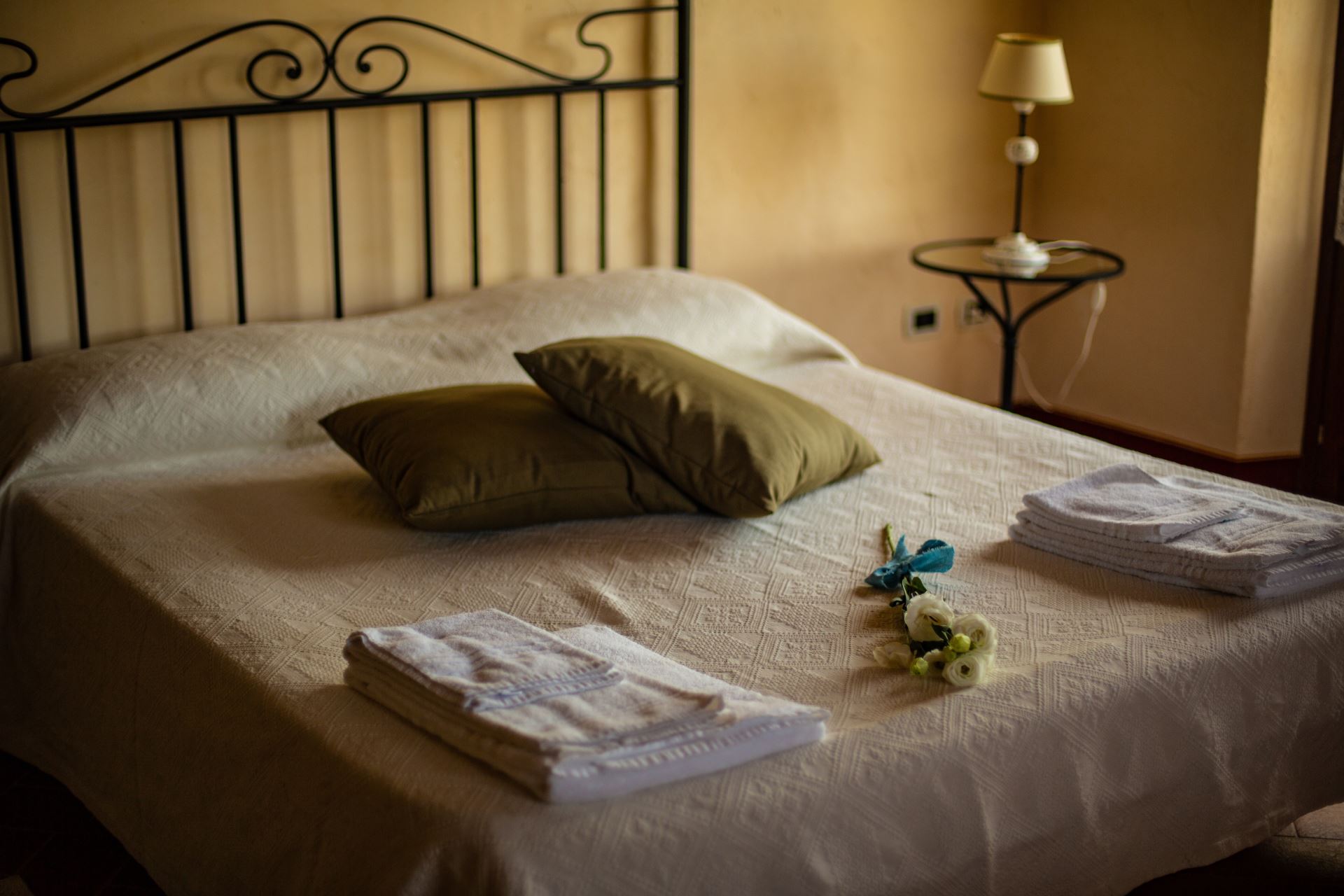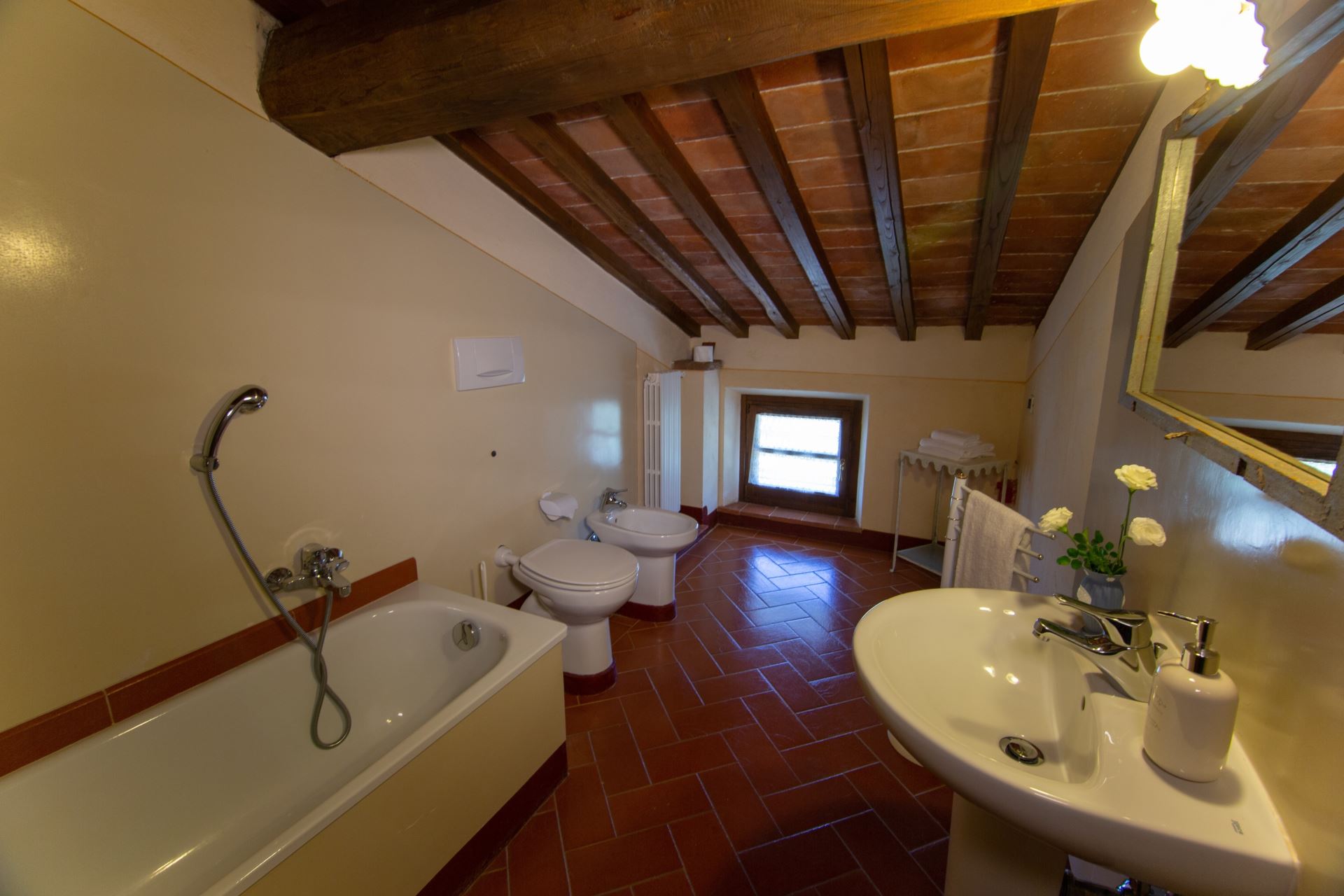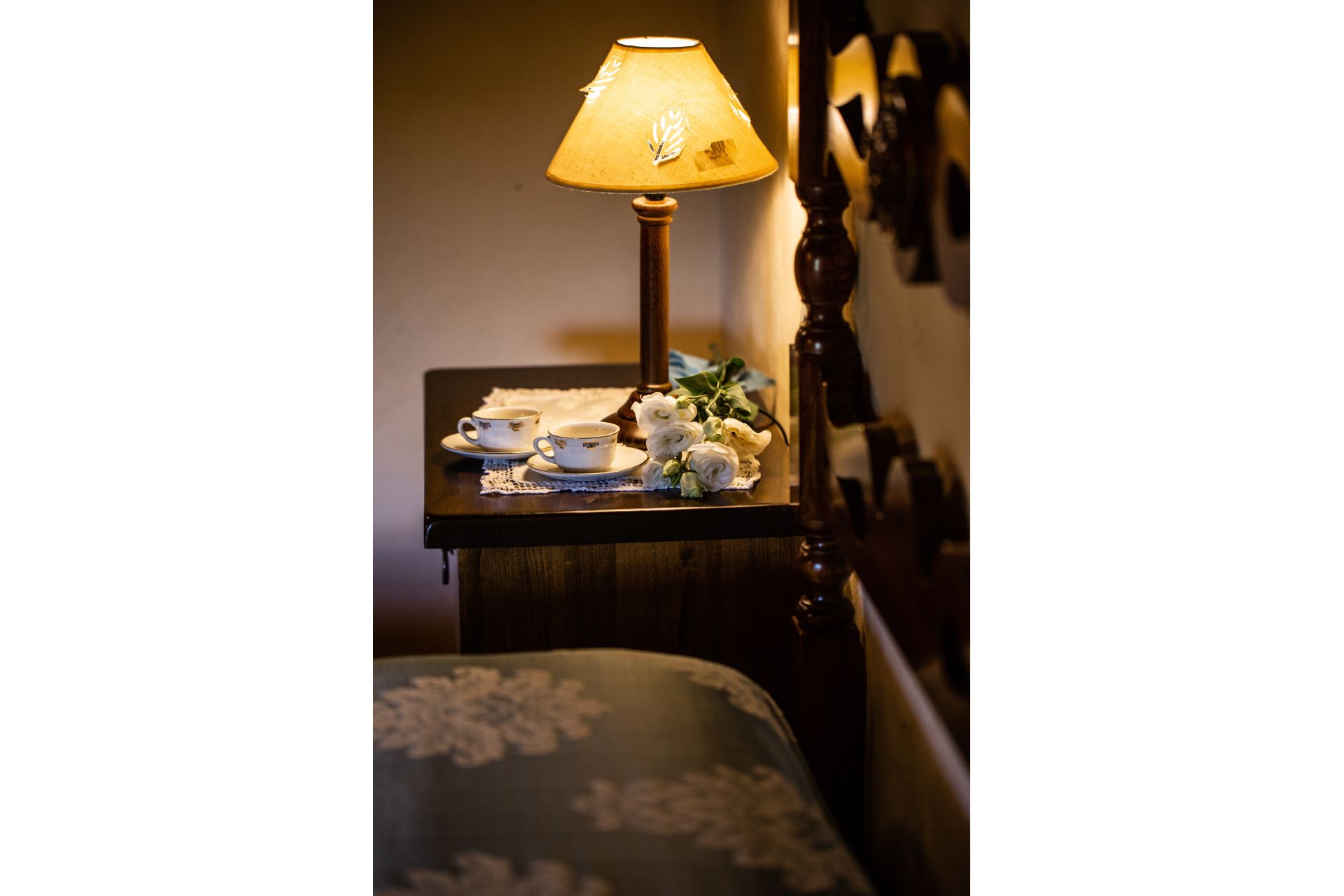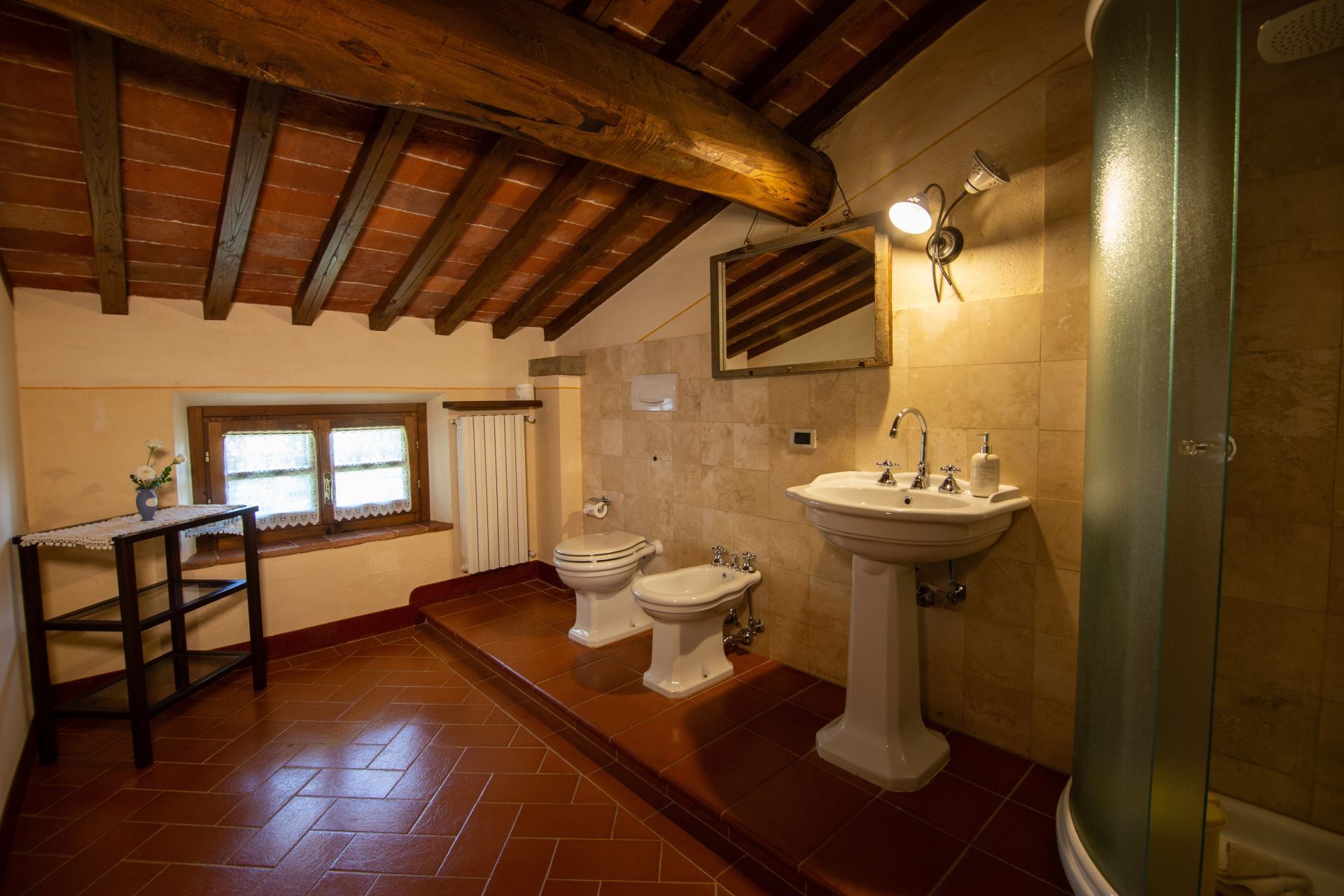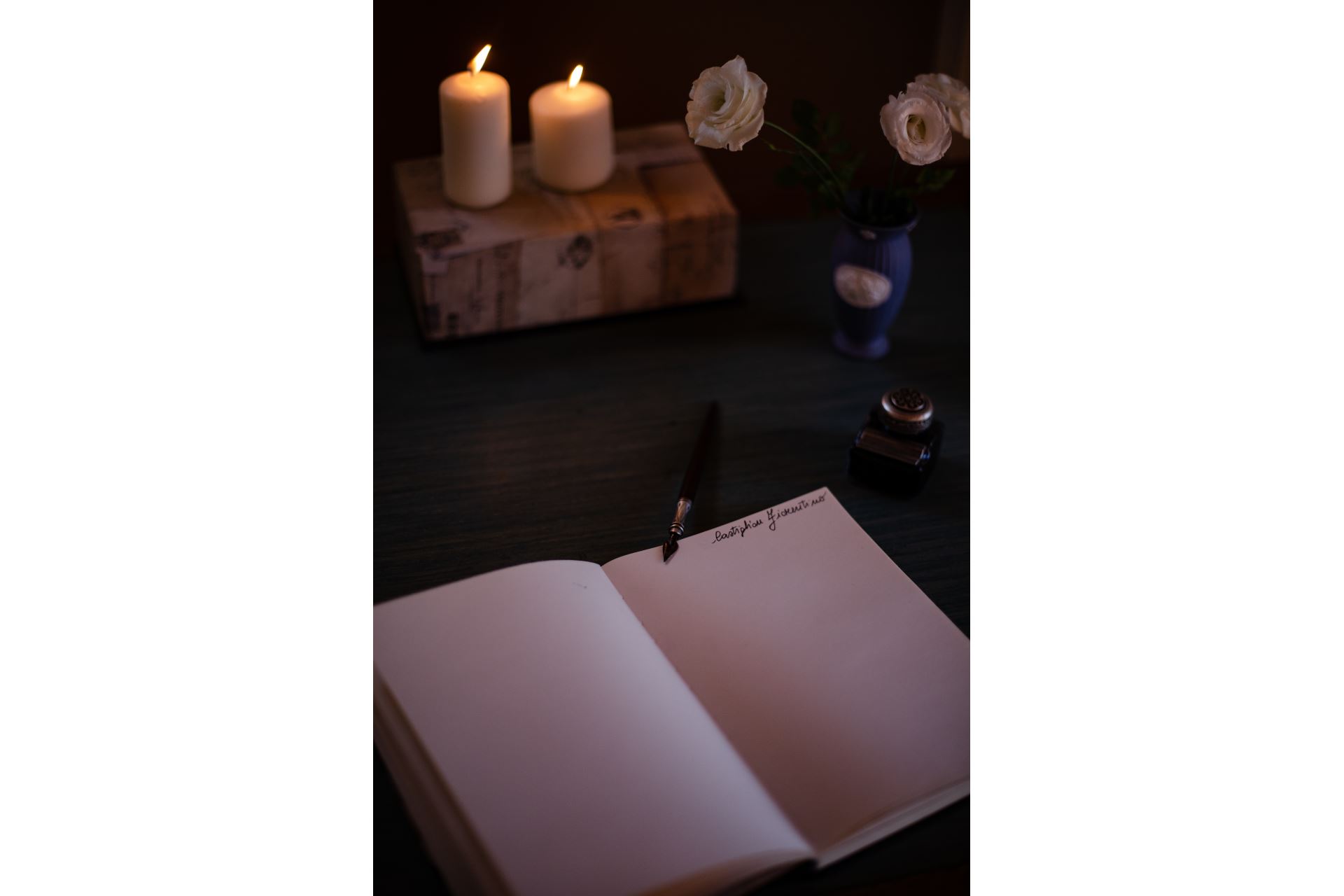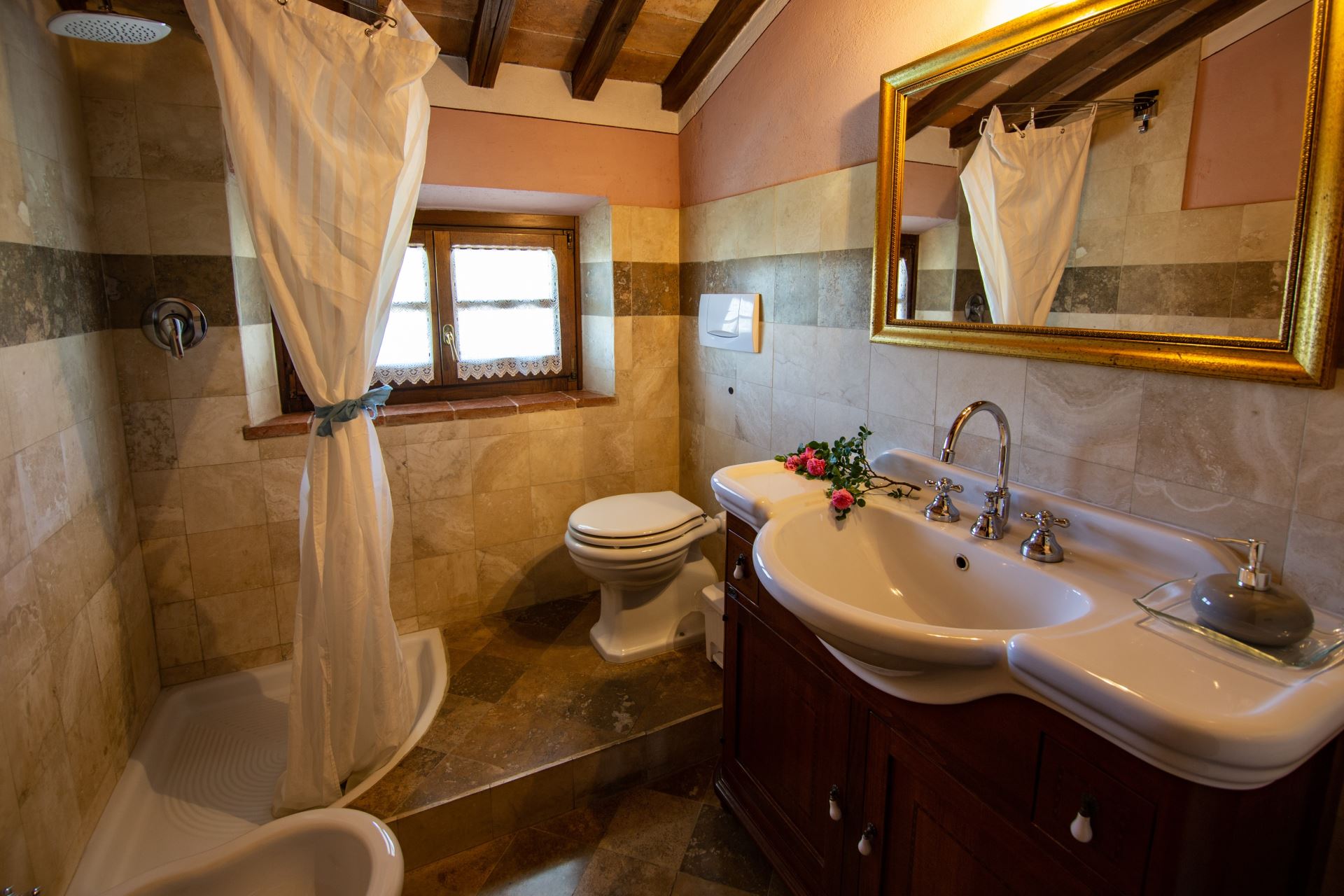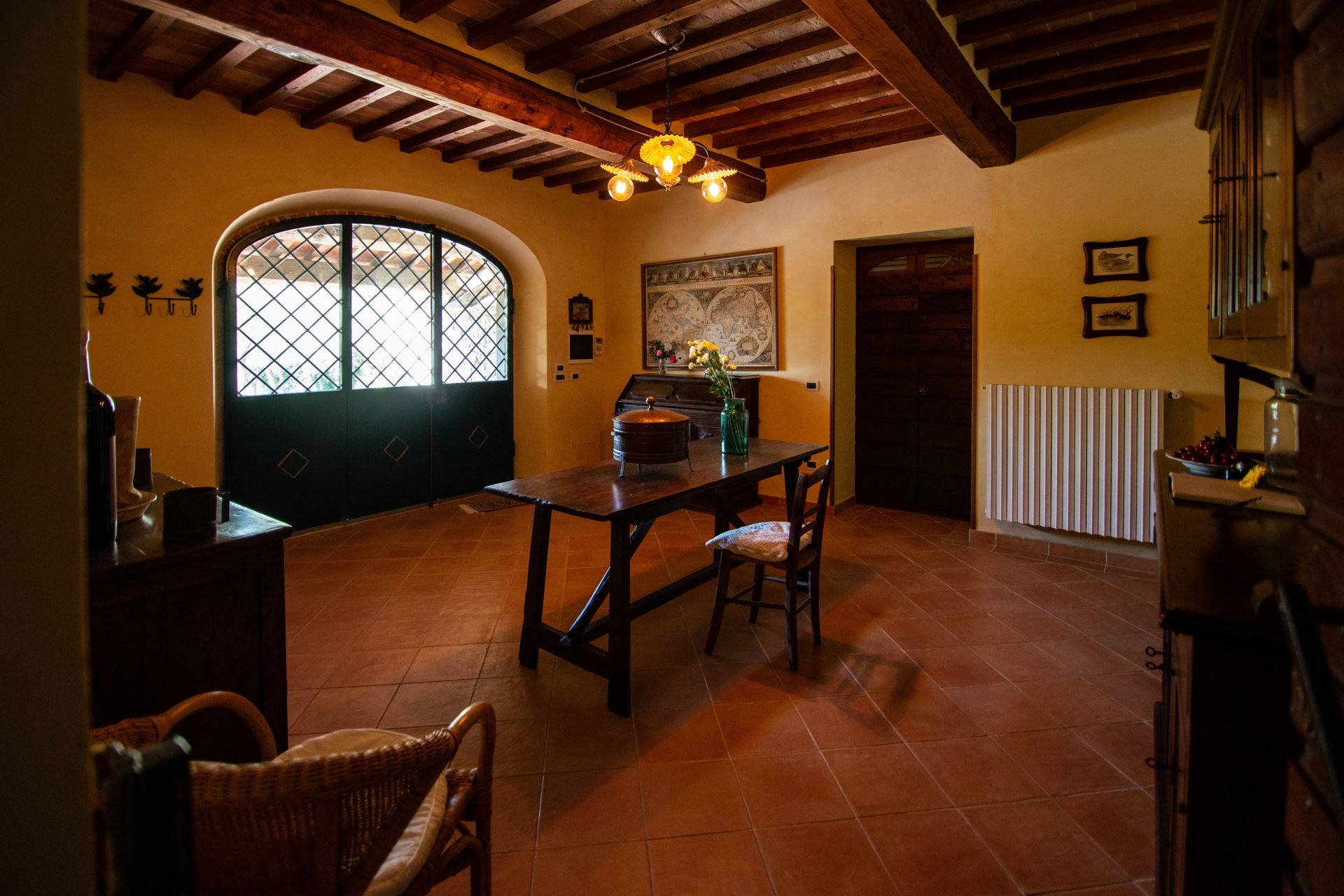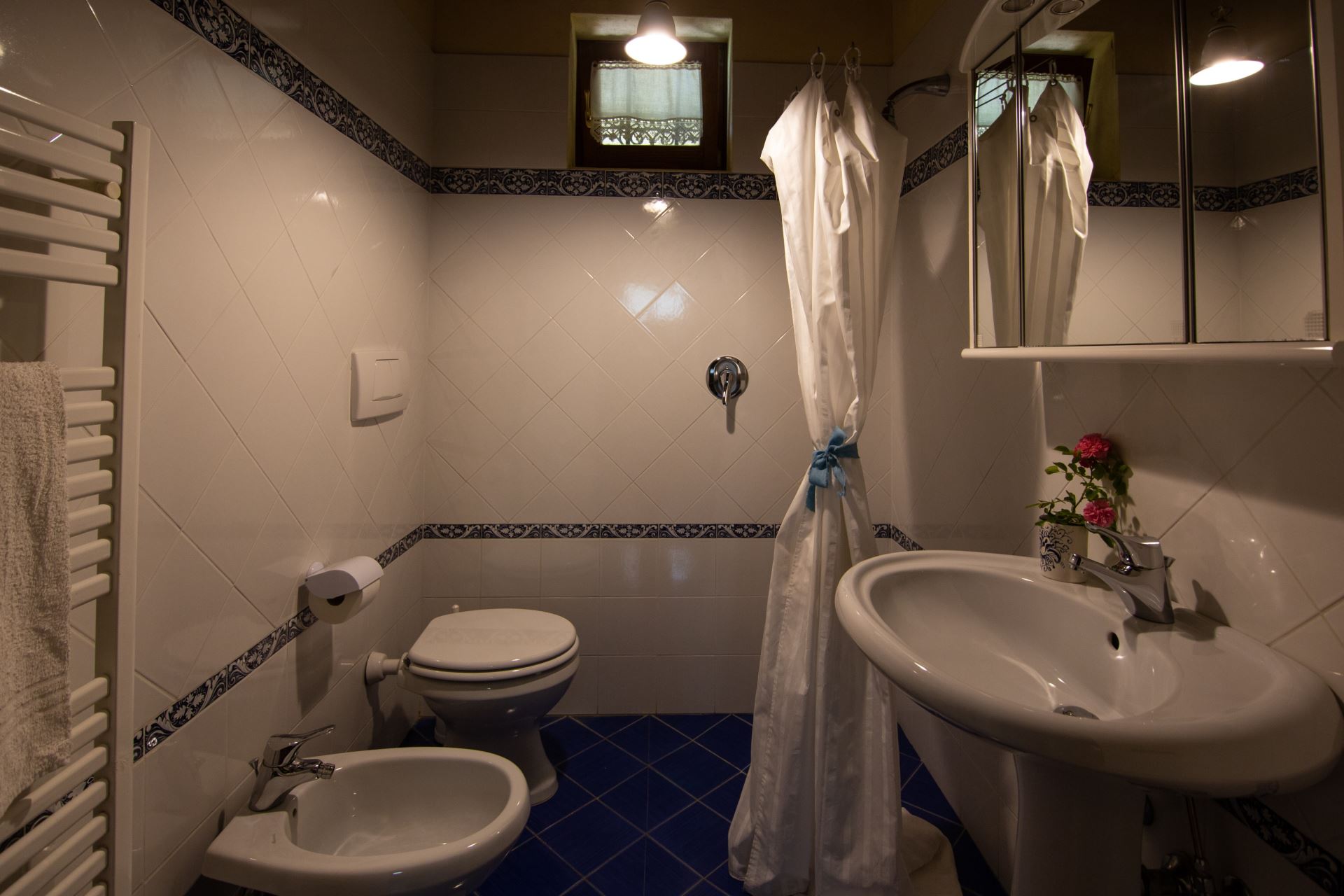 ---
Exklusive
Nahe Der Dorf
Fur gruppen
Fernseher
Spülmaschine
Waschmaschine
Klimaanlage
Privater schwimmbad
Grillen
Haustiere erlaubt
Parkplatz
Backofen
Haartrockner
Eingezäunt
Mit Tennisplatz
Castiglion Fiorentino

1,5 km entfernt
Flughafen Firenze

100 km entfernt
Autobahn A1 Monte San Savino

15 km entfernt
Krankenhaus Fratta

10 km entfernt
Villa ausgewählt und überprüft für Sie von Alice und Michela von Eurocasa Holiday, wenn Sie weitere Informationen wünschen, schreiben Sie bitte an info@eurocasa.com
Villa mit Pool, Tennisplatz und Tischtennisplatte ideal für Sport- und Unterhaltungsliebhaber. Großer eingezäunter Garten, um die Ferien mit Ihren Hunden in Ruhe zu verbringen. Castiglion Fiorentino ist bequem zu Fuß zu erreichen.
---
Beschreibung
Schöne Villa mit feinen architektonischen Formen am Rande von Castiglion Fiorentino, einem typisch toskanischen Dorf auf den Hügeln von Valdichiana, umgeben von Olivenhainen und alten Zypressen. Die Ursprünge der Stadt sind in der Geschichte verwurzelt. Heute ist es eine fleißige und ruhige Stadt, die ihren Besuchern, neben zahlreichen historischen und künstlerischen Funden von hohem Wert, das ganze Jahr über kulturelle und gastronomische Veranstaltungen bietet.
Villa degli Olivi liegt an den Hängen eines Hügels mit Blick auf das Valdichiana und ist sicherlich der ideale Ort für diejenigen, die einen Urlaub in einer charmanten Landvilla verbringen möchten, ohne auf die Annehmlichkeiten des modernen Lebens zu verzichten. Der Innenausbau, die Ausstattung und die Möblierung des Hauses sind repräsentativ und sorgen für einen hohen Komfort.
Rund um die Villa befindet sich ein großer Park mit alten Olivenbäumen, komplett eingezäunt mit einem 1,70 m hohen Zaun und ausgestattet mit Pavillon, Gartenmöbeln, Barbecue und Holzofen wird der ideale Ort sein, um entspannte Abende mit Freunden zu verbringen. Zum Vergnügen von Erwachsenen und Kindern gibt es: den schönen eingezäunten Infinity-Pool (Größe m. 6 x 12, Tiefe m. 1,20-3,00 - geöffnet vom 01. Mai bis 30. September), die Tischtennisplatte und ca. 2 km entfernt den privaten Tennisplatz (Größe 18x36 m.) zur gemeinsamen Nutzung nur mit den Gästen der anderen 3 Villen, COLLINA DEI FIORI, CASALE IL TRECENTO und VILLA GIOTTO.


Innenbeschreibung
Erdgeschoss: Eingang über einen mit Gartenmöbeln ausgestatteten Bogengang der sich zum Essen im Freien eignet. Geräumiger Wohnraum mit Kamin und Kochnische, Bad mit Dusche, Waschküche mit Bad mit Dusche und Waschmaschine.
Erster Stock: sowohl über eine Außen- als über eine Innentreppe erreichbar. Wohnzimmer mit Sofas, und Zugang auf die Panoramaterrasse, Doppelzimmer mit Klimaanlage, Doppelzimmer, Zweibettzimmer, Bad mit Dusche, Bad mit Hydromassagewanne.
Mansarde: drei Doppelzimmer eines davon mit Privatbad (Dusche), Zweibettzimmer, Bad mit Dusche, Bad mit Wanne. Alle 4 Schlafzimmer des Mansarde sind mit einer Klimaanlage ausgestattet.

AUSSTATTUNG:
Backofen, Kühlschrank mit Gefrierfach, Spülmaschine, Zitronenpresse, Moka, Mixer, dt. Kaffeemaschine,
Satelliten-TV, Wi-Fi Internet Verbindung, DVD Player
Klimaanlage (in 5 Schlafzimmern), Waschmaschine, Bügelausrüstung, Staubsauger, Haartrockner
Tischtennis, Kinderstuhl, schattiger Parkplatz
Preisnotizen
Ankunft:
nachmittags zwischen 16.00 und 19.00 Uhr -
Abreise:
morgens zwischen 8.00 und 10.00 Uhr.
IM PREIS INBEGRIFFEN:
Privater Pool vom 01/05 bis 30/09 geöffnet.
Wi-Fi Internet Verbindung.
Holz für den Kamin.
Bettwäsche und Badetücher.
Ein Kinderbett (Kinder bis 3 Jahre) im Voraus zu verlangen.

NICHT IM PREIS INBEGRIFFEN:
Kaution Euro 400 (Bargeld nur bei Ihrer Ankunft und vom Besitzer für die Dauer Ihres Aufenthaltes gehalten). Verursacht der Reisende während seines Aufenthalts Schäden am Objekt, so haftet er für die damit verbundenen Kosten.
Aufladen von Elektroautos auf Anfrage und gegen Gebühr.
Heizung Euro 8 pro Std. (Falls verwendet).
Klimanalage Euro 1 pro KwStd. (Falls verwendet).
Haustiere sind bei Zahlung von Euro 10 pro Tier pro Tag gestattet.
Badetücher für den Pool auf Vorbestellung vor Ort erhältlich, sie können zum Preis von 3 Euro / Badetuch ausgeliehen werden.
Kurtaxe Euro 1 pro Person pro Tag, nur für die ersten 7 Tage. Kinder unter 14 Jahren sind frei.
---
Bewertungen
Akusti (Finland) - settembre 2023
Kaunis ja viihtyisä talo. Lomamme oli mahtava!!!
*************
Beautiful and cosy house. Our holiday was great!!!
Robert (USA) - agosto 2023
Carlotta, the home owner, was the most amazing person to work with. She was kind, caring responsive, knowledgeable and just plainly sweet. The house itself was beautiful with so much character. Not to mention the gorgeous pool and outdoor eating area. We had a wonderful time.
Ciara (UK) - luglio 2023
The house was lovely and met all our expectations. The host was extremely responsive and answered all our questions very quickly and in a friendly manner. Would definitely recommend staying in this beautiful house.
Celine (Deutschland) - giugno 2023
Der Ausblick war wunderschön, die Unterkunft war wie beschrieben. Wir hatten sogar nahezu täglich perfekten Blick auf den Sonnenuntergang. Wir können die Unterkunft nur empfehlen, wenn man mit einer größeren Gruppe etwas Ruhe genießen möchte - Einkaufsmöglichkeiten waren um die Ecke.
Alison (Australia) - maggio 2023
Beautiful villa, very peaceful, very well equipped with everything you need. Only a 20 minute walk to town/station. Panacotta made for us one evening by the host.
Keaghan (UK) - maggio 2023
Perfect place to stay. Very responsive host who helped out a lot. Wine and Olive oil that is provided and for sale us delicious. Can't fault this place.
Herve (France) - settembre 2022
Excellent séjour, avec de très nombreux sites à visiter à moins de 100km. Même le voyage à Rome est facile par le train en 1 journée. Je recommande la villa et ses hôtes.
Johannes (Austria) - settembre 2022
We are a large group of friends from work (13 people) and stayed at Villa degli Olivi in Castiglion Fiorentino (close to Arezzo) for a week. I highly recommend this villa as our stay was truly exceptional! Organization for a big group is tough so we had quite some questions regarding our stay. All of them were answered swiftly and very politely. When we arrived, we were greeted warmly by Carlotta, who was very nice and helpful in all matters! The villa is located at the outskirts of the small village Castiglion Fiorentino, in the middle of an olive grove. You can find it easily using G maps by typing in "Villa degli Olivi". It is of typical Tuscan style with lots of wood and stone. The house boasts seven bed- and bathrooms (all wonderful, clean and tidy), a big garden and a beautiful swimming pool (ranging from 1.20 to 2.70m in depth). The carport is designed for two cars but there is plenty of space for more in front of the villa. The kitchen is small but very well equipped, with plenty of cutlery, knifes, cutting boards, wine glasses, huge pots, dishwasher etc. Thanks to the induction hob we were able to cook quickly and efficiently even for 13 people. Of course, we also made delicious traditional Italian Carbonara with spaghettoni, guanciale, eggs and pecorino/parmesan. You should do as well, but be careful not to add cream as this is considered treason in Italy! Still, our personal highlight is the pizza oven on the backside of the house. We happily received the owner's family recipe and if you are patient and let the dough rise over night at a cool place (instead of 1-2 hours at a warm place), you will be rewarded with the best pizza you have ever made by yourself. I promise! The house comes with free bed sheets and towels for each person. We even received a bottle of homemade olive oil and red wine as welcoming gifts! Furthermore, towards the end of our stay, Carlotta surprised us with panna cotta made by Mamma, which was simply delicious! Wood for the fireplace and the pizza oven is included as well (even nice and fragrant olive wood). Air conditioning and electrical heating is billed separately, at least during the summer months. I like this approach because it supports sustainability. In summer, you will need neither of them as the house is well insulated. Simply open windows and blinds during the cool night, yet leave them closed during the hot day ¬in June, July and August – vice versa in May and September. In summary, there is nothing to complain but plenty to love about the Villa degli Olivi. In the name of our group, I want to thank you again for this wonderful holiday!
Jorieke (Netherlands) - agosto 2022
We had a really nice stay at this villa! With 3 families we had enough space, the garden is beautiful, the town nearby is lovely and we enjoyed the pool! The villa was very clean and well positioned and the owners very helpful, so nice!
Anne (Denmark) - luglio 2022
Vi rejste med min mands familie og var 8 voksne og 7 børn. Huset fungerede perfekt til os med opdeling af værelserne og fællesområderne. Pool området var hegnet af, hvilket var trygt med børnene. Der var rent og pænt og værterne var super søde og kom med Panna Cotta til dessert en aften. En stor anbefaling.
Engl
We traveled with my husband's family and were 8 adults and 7 children. The house worked perfectly for us with the division of the rooms and common areas. The pool area was fenced off, which was safe with the children. It was clean and tidy and the hosts were super nice and brought Panna Cotta for dessert one evening. A great recommendation.
Hilly (UK) - giugno 2022
This is a fantastic villa with brilliant facilities for a large family gathering. All communication from check-in was with Carlotta and her mother, who are most charming and attentive hosts - the villa is owned and has been renovated to a very high standard by the family. The pool is gorgeous and the outside eating area is just wonderful. Bedrooms + bathrooms are excellent, with good air-conditioning on top floor. Kitchen/living room is darkish but helpfully therefore remains cool in the heat - it's probably very snug in winter with log fire. We found the delightful bright upstairs living room is perfect for inside reading with fabulous light through the open doors to side terrace. (There's one sofa bed in here - it would be great to have an extra sofa or two). Beautiful hillside views from inside + outside are a real highlight and the sunrises + sunsets will be my enduring memory of our stay, plus very great enjoyment in the pool throughout a number of days. Thank you Carlotta and family - you made us so welcome and saw to everything - exceptional!
Aleksandra (Slovenia) - aprile 2022
We had really unforgettable time in Villa degli Olivi. We were really very much satisfied with the house. More than expected. It is really very nice and very clean. The hosts more than helpful and very nice. I was also very happy with everything and with the all information which I got. There were no surprises and this is more than nice. I had my birthday and the chef prepared to much food, ha, ha… but very good and birthday cake was really excellent! We would very much go back on holiday here, grade is a 10 :):) really nothing to complain! Everything was really the best!!!
L. Aleksandra (Slovenia) - aprile 2022
It is perfect stay for a bigger group. We all have so nice memories and would luke come back by another opportunity! Big thanks to our host. It was pleasure to meet you both.
Eliza (UK) - settembre 2021
The most delightful and wonderful house I have ever stayed in! I really cannot recommend enough, the hosts were so lovely and it was a short walk into town which was such a bonus! The tennis court was great and loads of space for outside eating. We did day trips to Perugia and Florence, we rented cars and was a 1hr drive, but I believe you can get the train too. All of these made for the most wonderful holiday, topped off by the outside pizza oven!! You simple must visit! Thank you so much to the hosts!
Bettina (Germany) - agosto 2021
Wir hatten eine wunderschöne Woche im August in der Villa degli Olivi. Für unsere Großfamilie (8 Erwachsene, 7 Kinder/Jugendliche) war sehr viel Platz durch die vielen Zimmer und Bäder, die Einrichtung ist geschmackvoll und praktisch, an den großen Tischen drinnen und draußen konnten alle gemeinsam essen. Pool und Garten sind sehr gepflegt und schön. Auch die Tischtennisplatte und der Außengrill wurden gut genutzt. Die Vermieter sind sehr freundlich, Eier können von den eigenen Hühnern bestellt werden, ebenso Olivenöl von den Plantagen ums Haus. Als wir den Steinofen im Garten für Pizza nutzen wollten, haben sie uns am gleichen Tag einen Pizzaschieber besorgt und an einem Tag gab es sehr leckeres Panna Cotta als Überraschung. Anmeldung und Übergabe sowie die Kommunikation im Laufe des Aufenthalts liefen reibungslos. Die Umgebung ist schön, Arezzo und Cortona sind nicht weit entfernt und auch Castiglion fiorentino ist fußläufig erreichbar und einen Besuch wert. Insgesamt ist die Villa degli olivi als Unterkunft auch für viele Personen sehr zu empfehlen!
Engl
We had a wonderful week in August at the Villa degli Olivi. For our large family (8 adults, 7 children / teenagers) there was a lot of space through the many rooms and bathrooms, the decor is tasteful and practical, at the large tables inside and out, everyone could eat together. Pool and garden are very well maintained and beautiful. The table tennis plate and the outdoor grill were also well used. The landlords are very friendly, eggs can be ordered from your own chickens, as well as olive oil from the plantations around the house. When we wanted to use the stone oven in the garden for pizza, they got us a pizza slicer the same day and one day it turned out to be a very tasty panna cotta as a surprise. Registration and transfer as well as communication during the stay run smoothly. The surroundings are beautiful, Arezzo and Cortona are not far away and also Castiglion fiorentino is within walking distance and worth a visit. Overall, the villa degli olivi is also highly recommended as accommodation for many people!
Greta (Deutschland) - luglio 2021
Nur zu empfehlen!
Finn (Denmark) - settembre 2019
Good holiday with family
We had a really good holiday. The home lived up to our expectations and everything was fine. It was clean all over, the pool and surroundings were just fine. We experienced no problems.
The owner came one evening with Panna cotta to all of us - a lovely experience.
Castiglion Fiorentino as a holiday destination The town is a nice old town with several good places to eat or just drink a cup of coffee. There are several cities within affordable reach eg. Cortona, Muntepulciano, etc. all some lovely places to visit
Simon (Germany) - giugno 2019
We will rebook this house 99% of the time.
Beautiful house with great pool :-). Supernice owners.
Marie (Sweden) - giugno 2018
Suverent!
Vi blev modtaget rigtigt godt. Det var lidt svært at finde, på trods af vejbeskrivelse. Såå dejligt hus, Godt udstyret køkken. Gode sovepladser på første sal. Desværre var det lidt for varmt på anden sal. Der var vifter men der var stadigt vældigt varmt. Herlig have med pergola hvorfra du nyder udsigten over poolen. Vi var 12 personer og alle trivedes. Kan varmt anbefales.

Clara (Sweden) - maggio 2017 Otroligt fint läge, känns avsides trots närhet till byn. Fint hus och en fantastiskt fin trädgård, toppenpool och härliga hängställen. Fräscht och välstädat i huset. Byn i närheten är mysig och inte särskilt turistig. Jättetrevligt värdpar som månade om att vi skulle ha det bra.

Elise Maury (France) - luglio 2015
Une très belle villa
Excellent séjour dans cette maison très bien restaurée, spacieuse, avec un espace jardin et piscine très agréables. Proche des commerces et bien situés par rapport aux excursions. Seul bémol: beaucoup de moustiques. Mais sinon une maison à recommander sans hésiter.

Müller-Meernach Reinhold (Deutsch) - giugno 2015
Eine sehr schöne Villa
Der Garten und der Pool sind sehr gepflegt. Der große Pool wird 2-tägig gereinigt. Bemerkenswert ist die große Anzahl von Bädern/Toiletten. Wenn man draußen essen/frühstücken will, ist der überdachte Sitzplatz sehr schön. Der größte Essraum innen ist etwas dunkel, sollte aber nur im Winter oder bei kaltem/schlechten Wetter eine Rolle spielen. Der Außengrill ist für italienische Verhältnisse ebenfalls durchdacht und gepflegt. Kinder freuen sich über die Tischtennisplatte. Mir fällt eigentlich kein wirklicher Mangel ein. (Wir waren mit einer 10-Gruppe bereits 3 mal in der VdO).
---
Andere Strukturen, die Sie
interessieren könnten
Andere Strukturen Ziel Cortona Und Valdichiana
CASA ANGELA


Castiglion Fiorentino
POZZONOVO - IL SUSINO


Castiglion Fiorentino