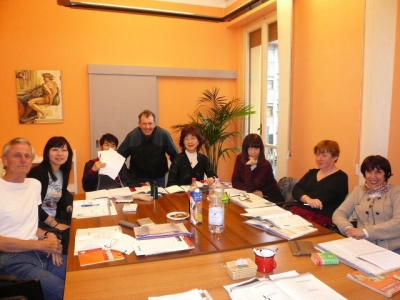 Tailored Italian classes at school or at your holiday home
We propose a real Italian course arranged by a specialized school of Arezzo, a perfect place to study and discover the Italian culture, get in touch with the local population in a way that you can still appreciate the authentic Tuscan life.

Highly qualified teachers, many years of experience and the recognition by Eduitalia, (Association of Schools and Universities - Italian Ministry of Foreign Affairs -) and ASILS (Association of Schools of Italian as a Second Language), will make this experience, a growing and excitment time.

All courses will be tailor made on your needs concerning time and method, and they may be held both in the premises of the school (in the center of Arezzo), and at your holiday home.

We offer intensive courses, private lessons, semi-private lessons, evening classes, courses for families where also children could take part ...everything to combine the study of the language with some aspects of Italian culture such as cooking, art history, movies, literature, art, jewelery and sculpture.

Thanks to the skill and professionalism of this school and its teachers, you will be able, even during your vacation, to easily and enthusiastically learn the Italian language. You would chose both classes subjects and how many hours to attend, to fully respect the holiday atmosphere.

You will be able to experiment a basic knowledge of the Italian language even with a few hours of learning: try it and see for your self!

Some examples:

Individual lessons from Euro 38,00 per hour; Euro 342,00 for 10 hours.
100%, Customizable and tailor made. You will be able to learn at school or even at your holiday home.

Courses for families (3 or 4 of the same family) from Euro 180,00 per person for 10 hours (2 hours per day).
You will share the experience with your loved ones and take great memories home. This option is also possible at the school or your accommodation and is fully customizable.

The courses held at the vacation home, may require a little extra.

Please contact us to get a customized quote.