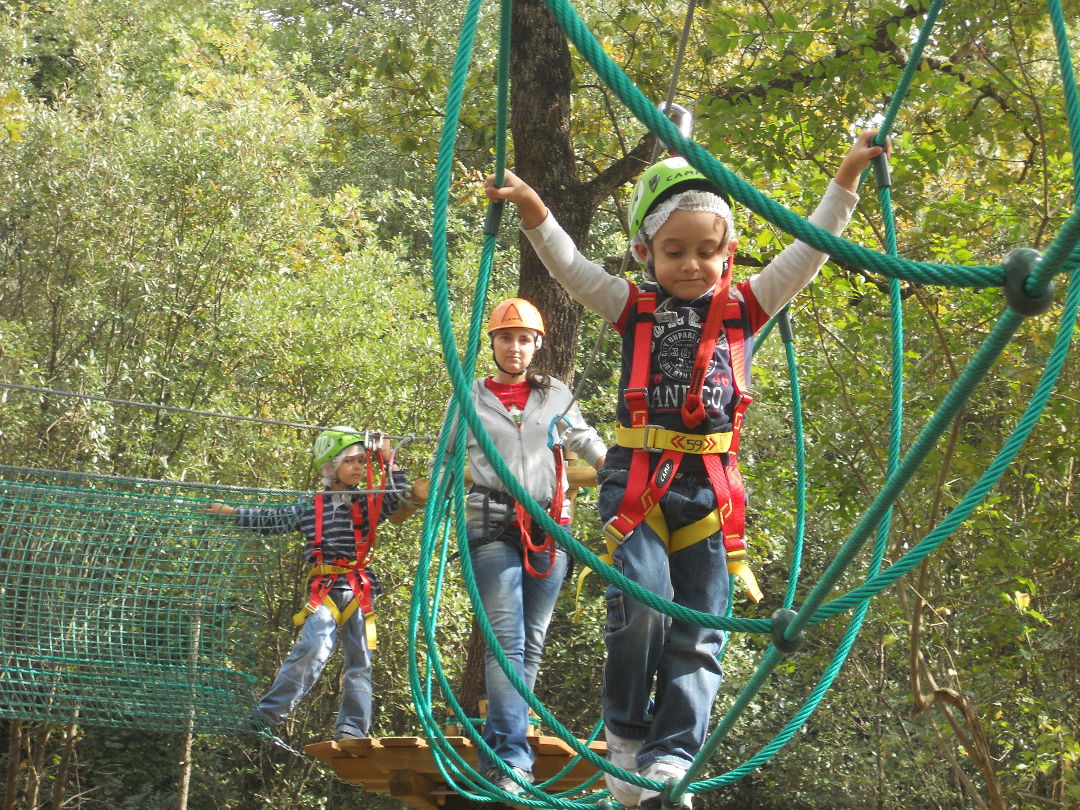 Spend a day at an Adventure Park in Tuscany
In the Saltalbero wood there are paths to go to discover local flora and fauna. Even hidden corners to explore with small water springs and particular clearings from which you can admire unforgettable panoramas and sunsets.
It may seem impossible to someone but in Saltalbero you can experience the thrill of climbing into the foliage of majestic oak trees and passing from one tree to another through suspended paths. All in safety and followed by qualified instructors who will equip and train you to climb independently and safely.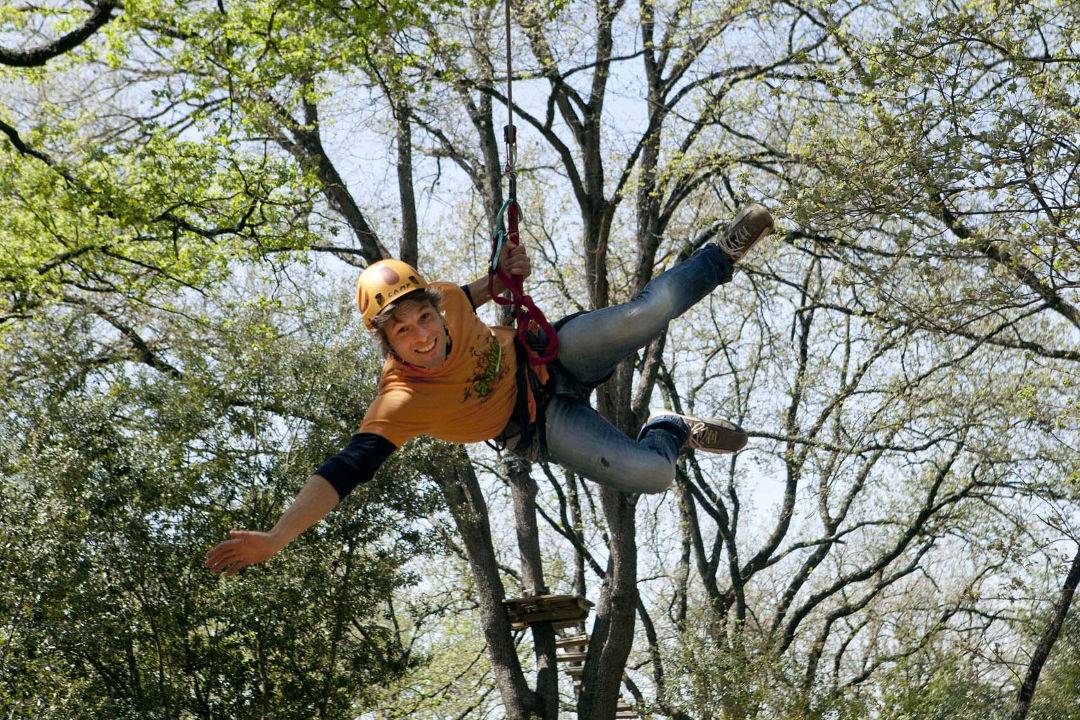 A self-challenge a good moment for children, teenagers and adults who can try their hand at Tibetan bridges, pirate ladders, cableways, swinging trunks to give life to that spirit of adventure that is within us, each following their own path according to the preferred age and / or degree of difficulty.
In this beautiful Adventure Park you will also find: minigolf, children's area, equestrian center, picnic area with barbecue, sports area and hiking trails.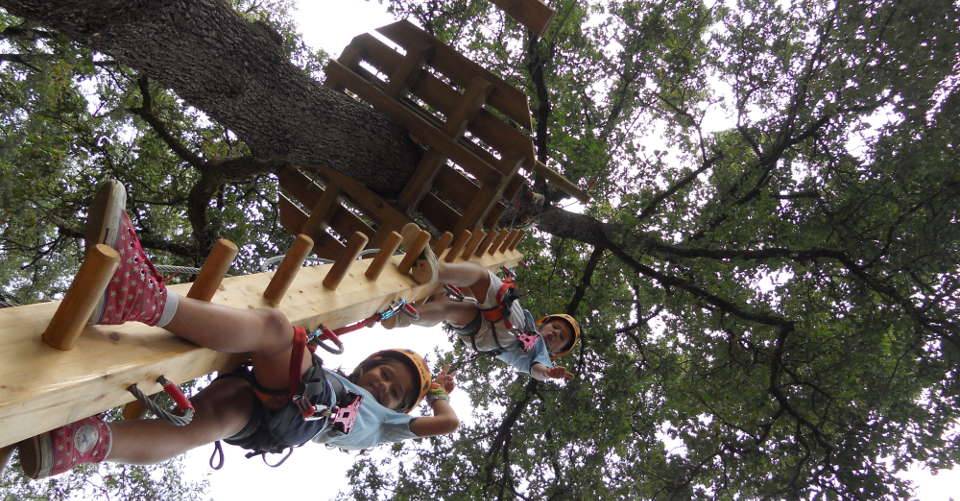 Entrance with all activities + lunch (appetizer, first course, drinks and coffee):
Adults and children aged 6 years and over Euro 35.00
Children under 6 years Euro 23.00
If you are wondering if you can bring your pet with you, we will answer you immediately: yes our four-legged friends are welcome, always with their leash!
"Do not forget that the earth delights in feeling your bare feet and the winds long to play with your hair."
(Khalil Gibran)
Some insights on the park:
ADVENTURE ROUTES
Safety first of all, but fun is still guaranteed between Tibetan bridges, pirate ladders, cableways, swinging trunks to give life to that spirit of adventure that is within us, each following their own path based on age and / or your preferred degree of difficulty.
Practice Path - 3 Ladybug Routes for the little ones 3-5 years old.
Wren - Woodpecker and Cip & Ciop path for about 5 years and with a height of 1.10 m at the wrist, with raised arm.
Hare – Owl and Gecko path from about 7-8 years upwards and with a height at the wrist, with arm raised, of 1.40 m.
Squirrel and Buzzard path for older children and with a height of 1.60 m at the wrist, with raised arm.
N.B. For minors who get on the routes, the presence of a responsible adult is mandatory.
For children up to 6 years of age it is mandatory that a responsible adult go up the routes with them.
CELEBRATE YOUR BIRTHDAY AT THE PARK
Surprise your friends with an original and fun birthday in Saltalbero.
We will also be happy to organize a nice reception for you and your guests.
BACHELOR / BACHELORETTE PARTY
Doing an adrenaline-pumping outdoor activity with your group of friends is definitely the perfect choice to celebrate your bachelor or bachelorette party.
You can do the paths and then have a nice barbecue, taking advantage of the picnic areas or also have lunch comfortably at the refreshment point.
And after what about an outdoor hammock for a nice nap?
In the afternoon you can choose between a challenge in football or volleyball or mini golf or street games or why not ... a nice horse ride in the park's equestrian center.
To end the day properly…. RELAX at Terme di Rapolano, with the Saltalbero receipt you will benefit from a discount at Terme Antica Querciolaia.
Why spending a day at the Saltalbero adventure park?
To leave mass tourism for a while and rediscover the importance of being in contact with nature and the pleasure of spending time with your loved ones.
To regenerate your energy and get involved with activities suitable for everyone and fully enjoy your short or long stay.
To rediscover the importance of protecting and respecting certain natural places to be active in their safeguard.
Contact us for a personalized quote, we will be happy to help you!
info@eurocasa.com
0039 0575 84 53 48
0039 3357604638