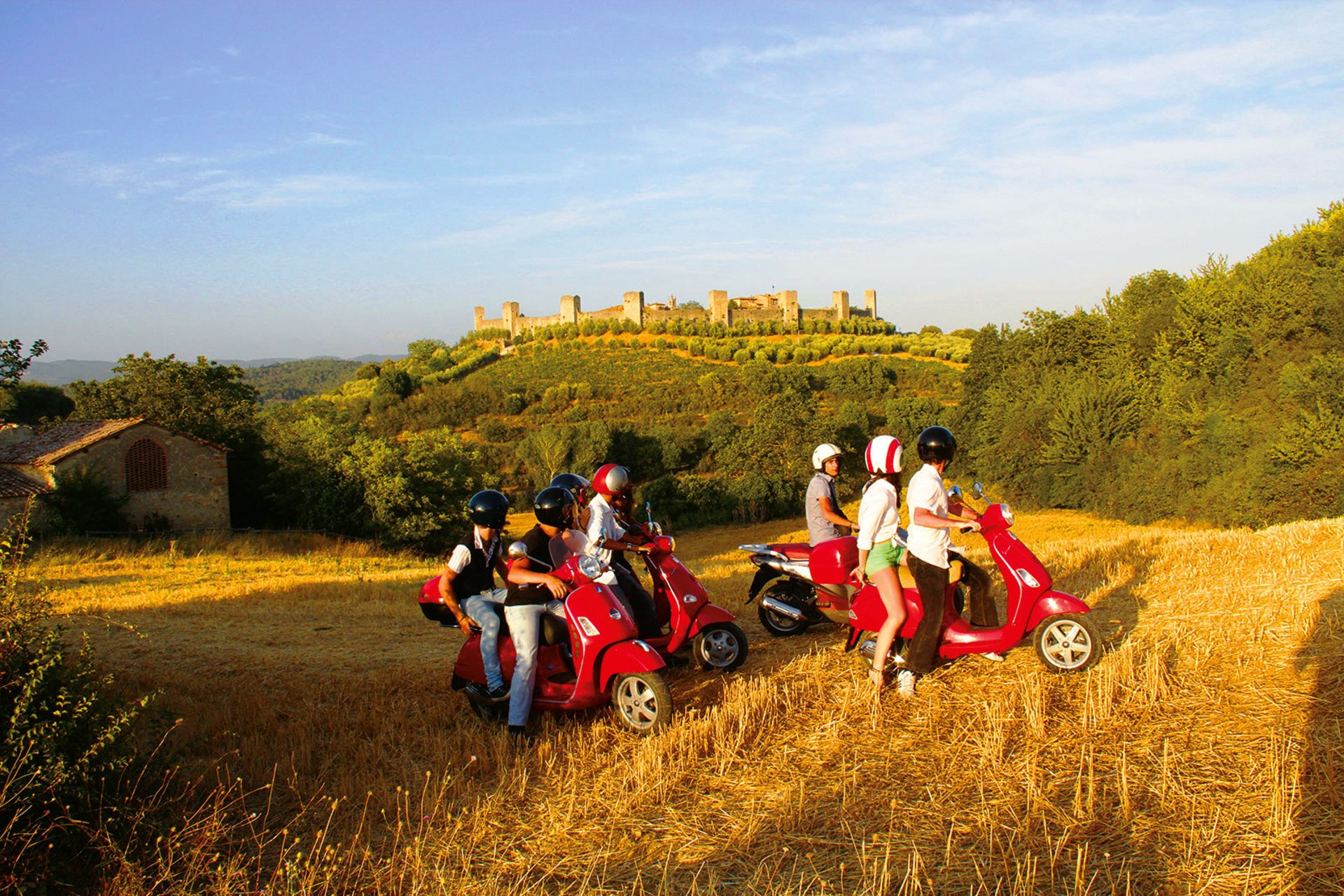 Ride a Vespa in the Chiantishire and Wine Tasting
Explore the Chianti region on board a symbol of Italian culture: the legendary Vespa.

Have fun riding a Vespa along the scenic and peaceful roads of the Tuscan hills.
An alternative way to admire the views of Chianti, surrounded by the scents of the Tuscan countryside and the sound of working farms.
Eurocasa Holiday is happy to arrange for you this unique day, so that you will be able to live an authentic experience in true Italian style.

You will always be accompanied by a guide who will show you the small medieval villages located in the heart of Tuscany. If you do not feel confident enough to drive the Vespa, you can rely on one of our expert drivers.

During the journey then, you will have the opportunity to stop at a farm to taste excellent wine and have a light lunch.

Prices per person for the group tour:
€ 129
Schedule: Tour duration: 6 h
Meeting point: Siena
Departure time: around 09:30 am
Return time: around 05:00 pm

Included:

• Pick up and Drop off service only in Siena.
• Travel by minivan to the Chianti area
• Professional tour leader
• Original Vespa scooter (automatic transmission)
• Light lunch (vegetarian Is possible)
• Guided tour of the winery and wine tasting
Additional information:

•A valid driving licence is required to ride a Vespa. You must take the licence with you the tour day otherwise you won't be allowed
to drive.
•Drivers must be at least 18 years old and passengers at least 13 years old.
•A valid credit card is required in order to do the tour as a driver, otherwise won't be possible to attend the tour (no refund will be
issued if you forgot your card)
• If you sign up as a driver you must be able to drive the scooters.
• The tour will take place also with rain
• In case a storm occur during the tour and the guide decide that for security reasons is better not to continue with the tour you will be escorted back to the departure place but if this happen no refund will be issued as this is beyond our control
•Please note that pickup and drop off are included in the price for accommodations located within 20 km from center of Siena.

On request, we can arrange a private tour according to your needs.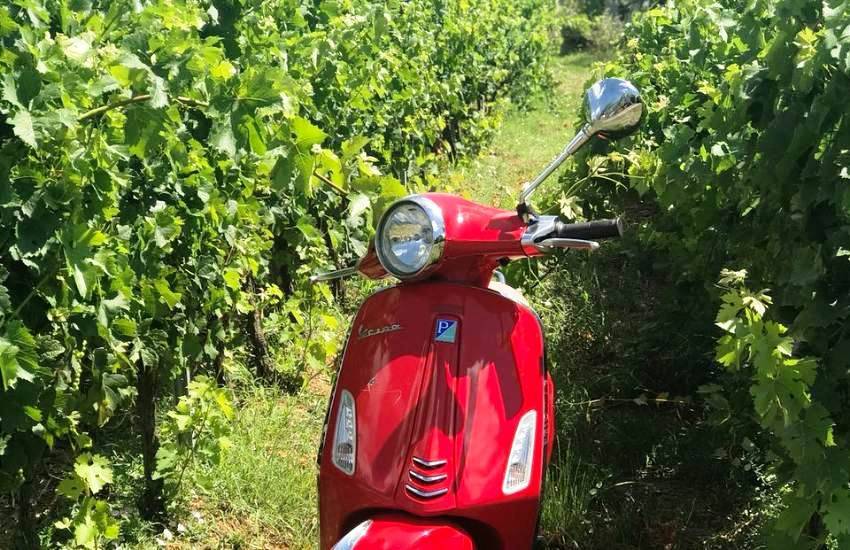 History of an authentic icon!
Why is Vespa so revolutionary and innovative? You can surely find the answer is her "first steps". 1946 - the year of her birth - contains all the elements that make this formidable scooter an icon of style and innovation even today. Quite simply, over the years Vespa has added to its lucky DNA the extraordinary ability to interpret the "territory in which you have traveled" in a unique way, often ahead of its time.
Vespa is an original, useful and beautiful invention that conquers immediately, especially in a moment - the second post-war period - when the desire for redemption is loudly felt. And it is no coincidence that its creator was Corradino d'Ascanio, a brilliant designer with an eclectic mentality who blends creativity and mechanical engineering in a functional, aerodynamic and simple vehicle.
But the innovation from the vehicle also extends naturally to the language that still today makes the Vespa an icon with a thousand kaleidoscopic facets that extend with spontaneity and irreverence into the lifestyle world and make us travel on trails of color and sympathy. A revolution in the language of the scooter itself and its communication.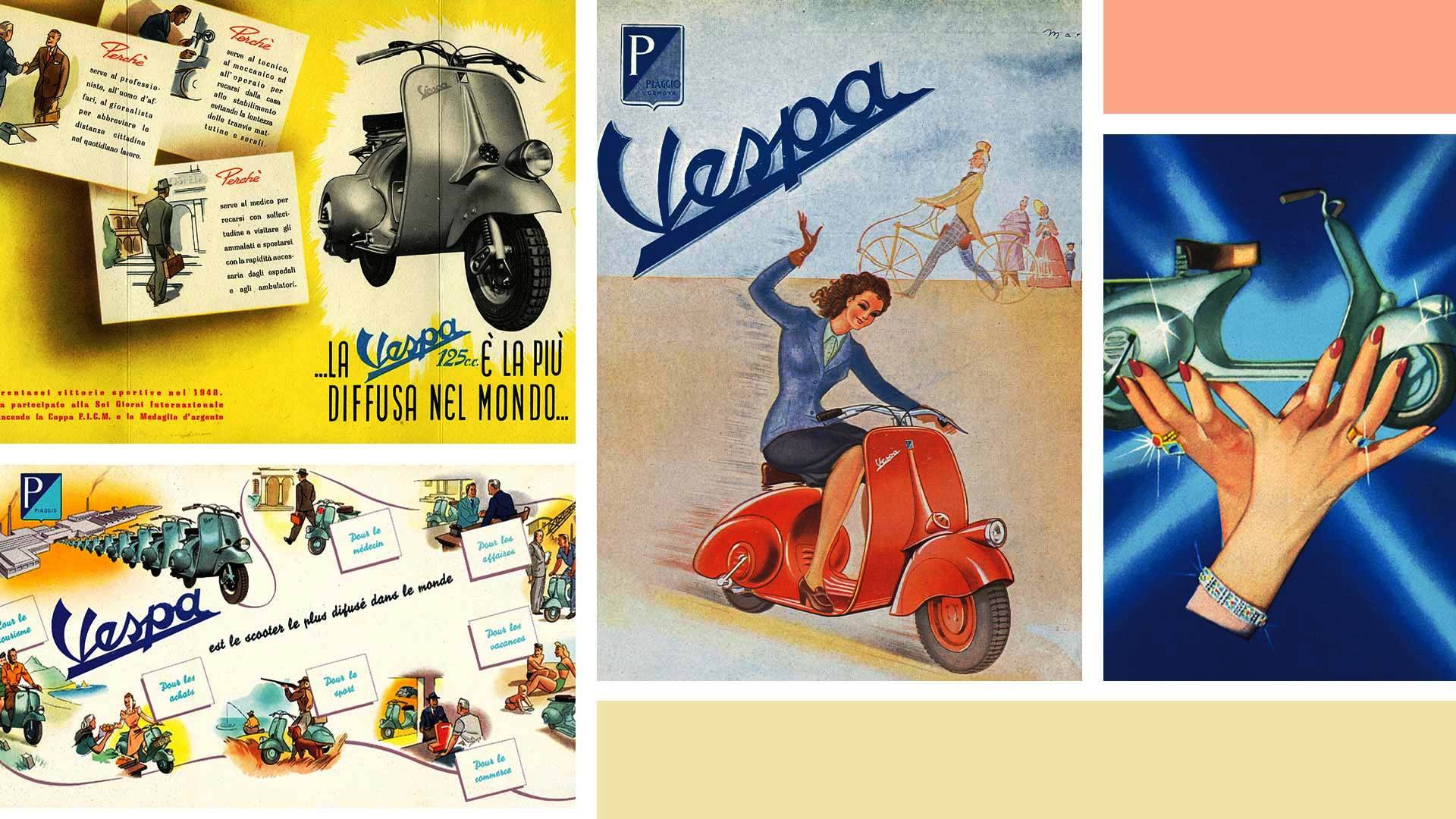 Observing the sinuous shapes of the first scooter prototype (MP6) and listening to the hum of its 98cc engine, Enrico Piaggio cannot help but exclaim: "It looks like a wasp!". And from that word a real communication revolution is triggered that goes around the world and gives life to iconic advertising campaigns.
Vespa, in fact, conquers everyone with its unique and inimitable appeal that revolutionizes the way people move on the roads around the globe and inaugurates an unprecedented way of expressing themselves.
Since the 1950s, the slogan "Vespizzatevi!" (Get your self a Vespa) creates a verb starting from a proper noun, inviting action and making the Vespa a fantastic antidote to traffic. An avant-garde concept already for the time and which is revived today thanks to a "contemporary remake" capable of revitalizing the origins of the Vespa myth. By launching a new appeal to "vespizzarsi", this two-wheeler proves once again that it is not just a means of transport, but a real state of mind that, with freedom and spontaneity, is capable of moving a unique energy that makes exclaim in a loud voice Live more Vespa!