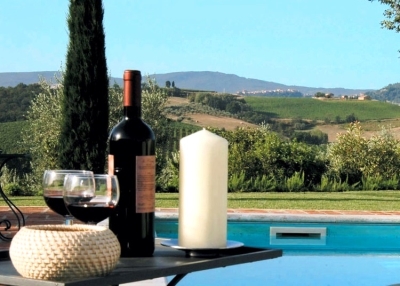 Relax and Taste in Tuscany
Planning a vacation is not only book a house or a hotel to stay but there are many details to organize.
Rely on us for the organization and the holiday schedule will be a guarantee to save time
twice, before leaving, because you will not have to spend evenings doing search on the web for the right accommodation, and during the holiday you will have everything already planned according to your needs.
When you arrive in your chosen destination
you only have to enjoy your holiday, and you'll have free time for you and your friends.

What we offer is a
vacation
giving you a chance
to combine the relax of a villa with private pool
in the Tuscan countryside
with the taste of local food
and products
and the art
that in our cities is hidden behind every corner.
Book your holiday in one of our villas with pool in Tuscany and add at any time the RELAX AND TASTE PACKAGE HOLIDAY,
which includes:
-1 Typical Tuscan Dinner at the villa
with appetizers, first course, main course, dessert and wine. With Personal Chef and waiter.
Example of Typical Tuscan menu:
APPETIZERS: mixed bruschetta; ham and melon; Tuscan salami; seasoned and fresh pecorino cheese with honey.
PASTA DISH: pappardelle with Tuscan meat sauce (ragu) ;
MAIN DISH: mixed roast (rabbit and roast duck) with roasted potatoes,
DESSERT: tiramisu;
Wine included.
On request we can arrange vegetarians, vegans, gluten-free, or eventual allergies free menu.
-1 Visit to the historical city center of Siena with private guide
. Transfer not included.
Starting from the Basilica of San Domenico, where we find the relics of St. Catherine, we follow the path of the ancient Via Francigena, the backbone of the great medieval Siena. Salimbeni square with the headquarters of Banca Monte dei Paschi di Siena, the oldest bank in Europe, Piazza Tolomei, the Assumption Cathedral, a superb example of Gothic architecture where Michelangelo, Donatello, Bernini, Nicola and Giovanni Pisano left their great works, the Accademia Chigiana and the majestic Cathedral.
There is no better ending than, the worldwide famous Piazza del Campo.
-
1 Wine Tasting of 3 wines with a selection of local products
(salami and cheese) at the House of Wine of Arezzo. Transfer not included.
The lands of Arezzo always produced great wines, red wines are the best known and appreciated but also white wines give great expression thanks to the land, the sun and the passion of the people working its cultivation and production.
The main grape of the Terre di Arezzo is Sangiovese, which gives the character to the most of our wines and is recognized for its tannins and freshness.
The wines of Terre di Arezzo available for tasting are: :: Chianti DOCG :: Chianti Colli Aretini DOCG :: Valdichiana Toscana DOC :: Cortona DOC :: Vald'Arno di Sopra DOC :: Colli dell'Etruria Centrale DOC :: Vinsanto del Chianti DOC
Price for the package Euro 110,00 per person

Minimum 4 persons