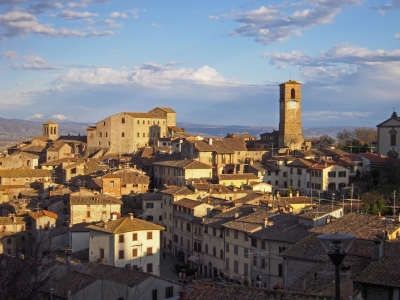 Discover Anghiari and its artisan labours with a private tour
Anghiari is a very ancient town and it has been able to combine tradition and quality, that's why it has been labelled as one of the most beautiful villages in Italy, according to ANCI (Association of Municipalities of Italy). Because of "strong historical and artistic interest".
Anghiari, recently acquired also the flag of « Slow Cities », conferred by Slow Food and earlier, the Orange flag by Italian Touring Club.

Its land border location made this medieval town become the scene of some important facts in the history of Tuscany, but also for the history of Italy.

The episode that has marked its history the most, was the Battle of Anghiari, which in 1440 saw a clash between the Tuscan troops, along with those of the Papal States, against the lordship from Milan. The memory of this battle is collected in the Palazzo della Battaglia Museum.
The city is also rich in treasures and historical great value testimonies. Walking through the medieval old town, you will be attracted by some of the medieval and Renaissance architectural gems that make this village, a point of reference for art and architecture lovers.

Anghiari is also full of traditional and less traditional workshops and activities and this tour is specifically intended to immerse you in this reality also taking part to classes with the artisans we're going to meet.

Private Guided Tour details:

Meeting point at the old town of Anghiari with the tour guide, who will take you for a walk in the maze of streets of the medieval town, which, starting from the steep "ruga", divides into small squares and narrow streets where you will see antique shops and workshops restoration of furniture; museums and preserved churches with masterpieces of painting and sculpture on every corner. You will be able to enjoy also breathtaking perspectives and unbelievable panoramas.

Upon request, we can organize workshops with local artisans.

Tuscan lunch in a famous castle near Anghiari included in the price.

Always accompanied by our guide, you will continue the tour with a visit to the underground route of the beautiful medieval city of Citerna and visit to the Madonna del Parto of the maestro Piero della Francesca.

Price per person:

4/5 persons Euro 100
6/7 persons Euro 70
8 persons Euro 55

Transfer not included.

Possibility to book a private transfer with driver. Quotations on request.